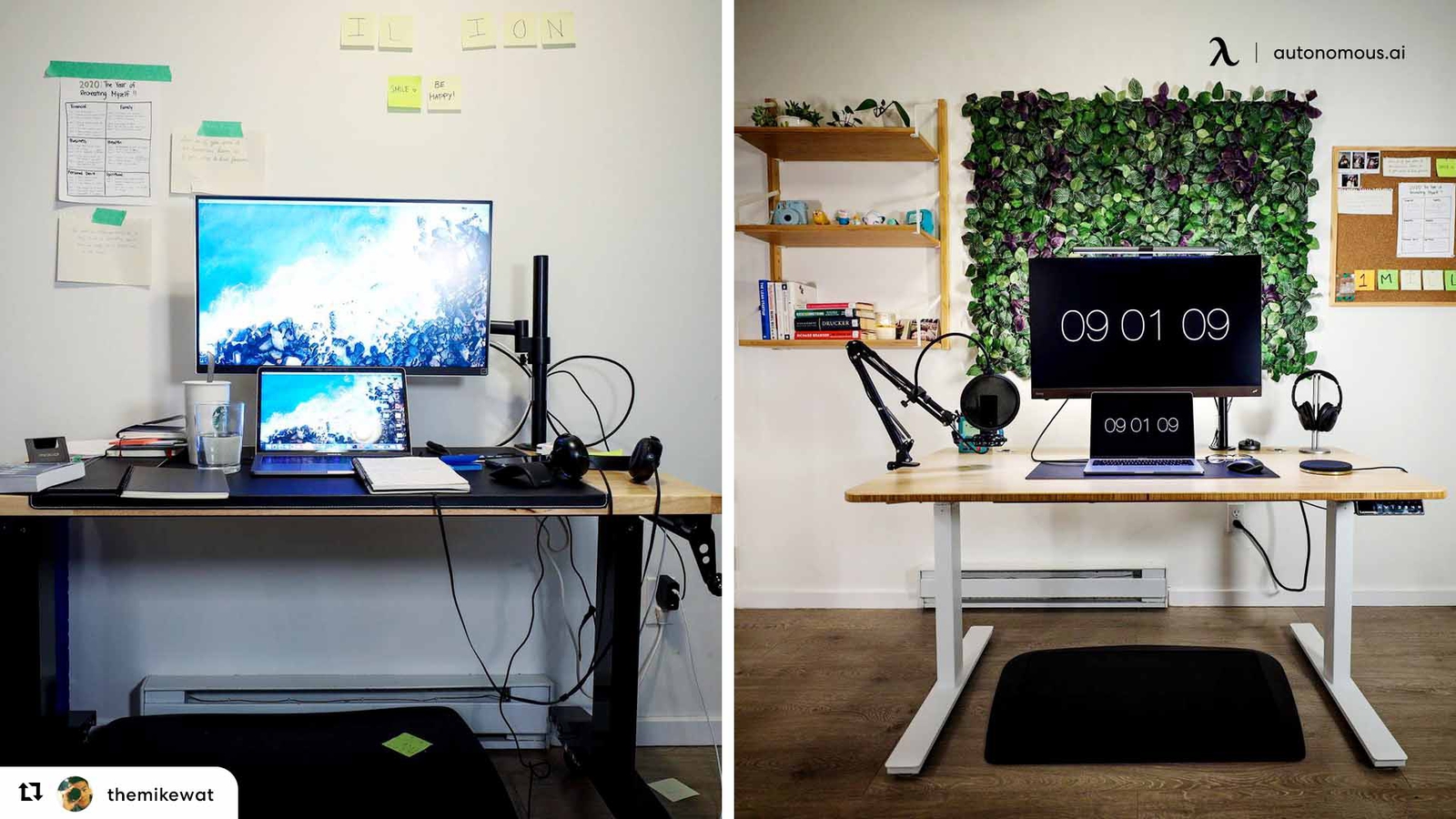 Productivity
Cable Management for Standing Desk: 10 Items & Useful Tips

Autonomous
|
Sep 30, 2020
66,737 Views
No one likes all the wires coming from the desk. It's unsightly and could pose a trip hazard, depending on how everything is set up. Therefore, standing desk cable management is essential. It's almost like a chore at first because you know you have to do it, but you don't want to. When you're done, though, it's all complete, and you may not have to do so again.
Learning how to cable manage a desk requires a plan of attack and an hour or two to get everything hidden. We offer a variety of under desk cable management solutions. In fact, we've condensed it all down into a five-step guide so that your sit-stand desk cable management job goes faster.
1. Start from the Beginning
It's best if you consider standing desk cable management when you purchase your new equipment. However, if you've had it all set up for a while, now you can start over and ensure that it's done correctly.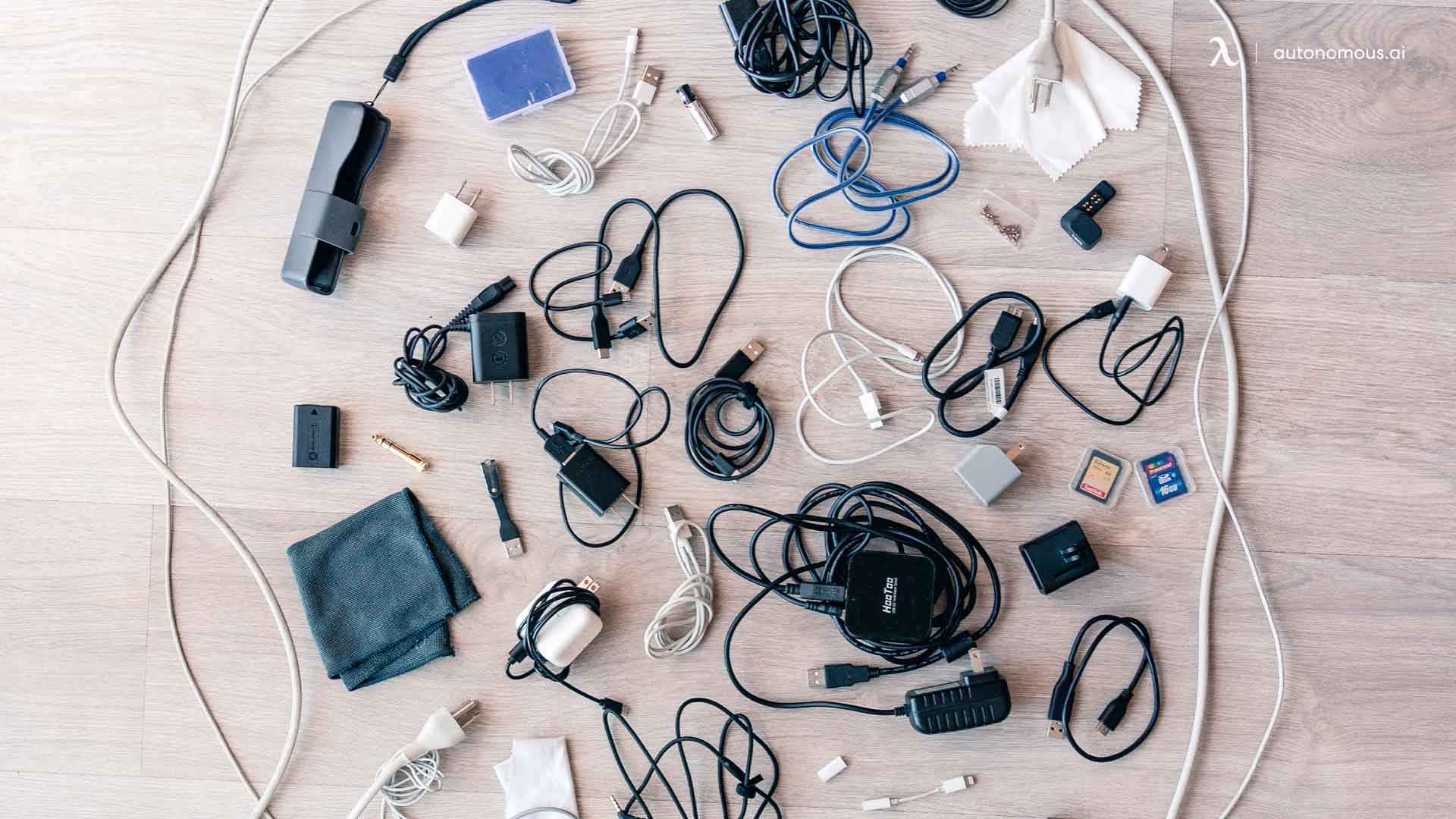 Disconnect everything, including printers, monitors, towers, and other equipment you may have. These can include fans for comfort. 
2. Position the Power
You must learn how to cable manage a desk correctly. A key apart of the sit-stand desk cable management puzzle is the positioning of the power strip. Your natural tendency is probably to plug it into the first power outlet you can find and add all the plug-ins you need. However, you should focus on positioning the surge protector strategically. This is one of the best under-desk cable management solutions we can offer.
Of course, we should mention that you can hide the cables on the floor and stick it out of sight. This includes furniture and between the wall and desk. The issue is that you've got a standing desk, so it needs to accommodate it at various heights.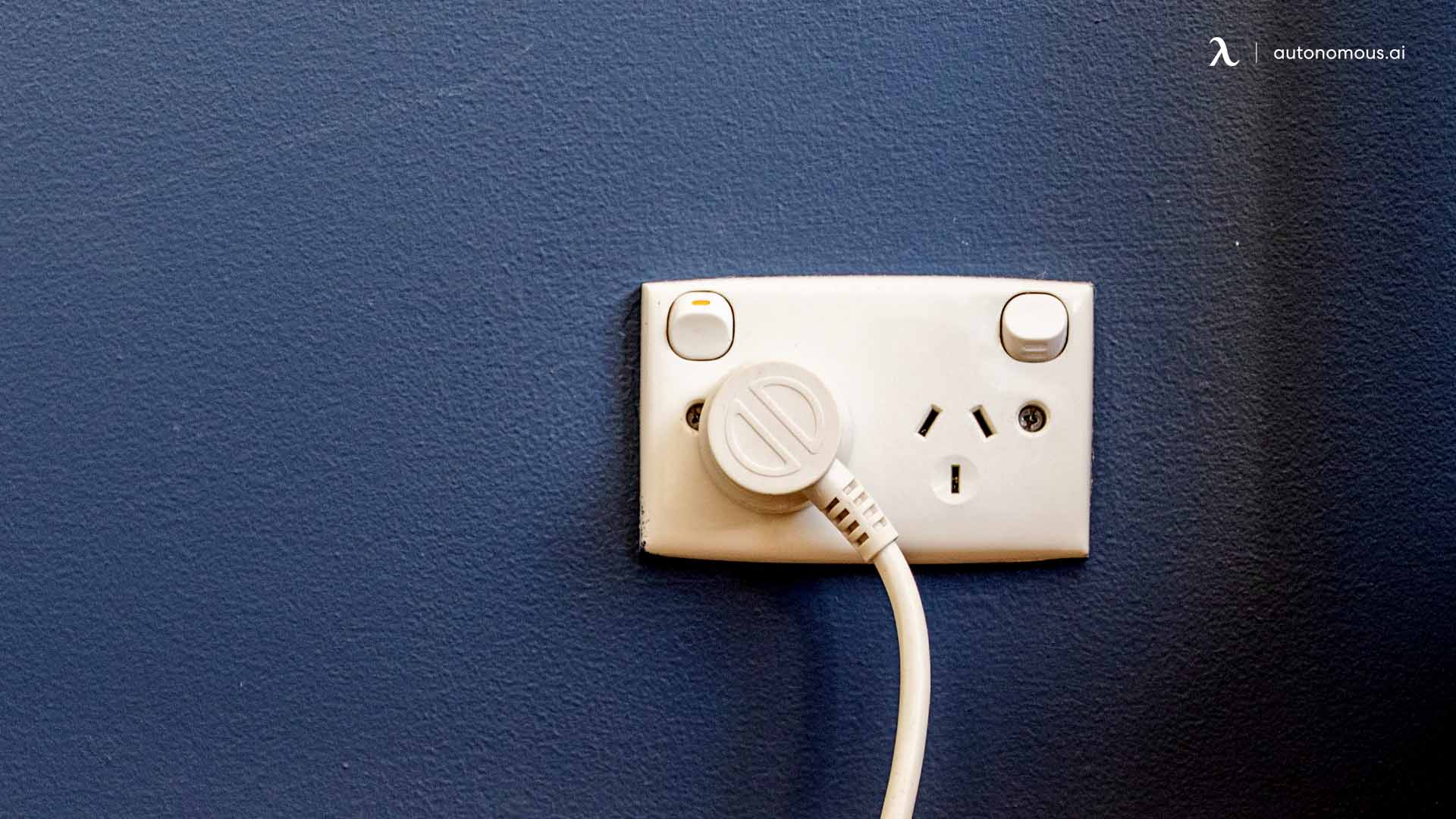 Therefore, under-desk cable management solutions are the best choice for you, and it works for almost any setup. When you mount the surge protector beneath the desk, the power cables get routed away from view behind the desktop. This is the ultimate option for standing desk cable management. 
To do this, you can use double-sided tape, making sure that it is strong enough to support the power surge protector and all the cables. Don't start mounting things yet, though. You're still getting everything laid out correctly before you decide on the best permanent under-desk cable management solutions for your needs. 
Will this option Work for Sit-Stand Desk Cable Management?
Yes! In fact, if you own a standing desk, this is the best option for managing the cables. You only have the single surge protector cord to deal with. Of course, you must leave plenty of slack so that the desk can rise to its full height. That way, you can adjust the standing desk without issues.
Should I Mount the Surge Protector?
When learning how to cable manage a desk, we feel that it's a good idea to mount your surge protector when dealing with standing desk cable management. There aren't many hidden areas with this type of setup, so you can't easily hide it behind other furniture or tuck it beside the wall. You can see everything under the desk, which means you might see that box, or it might get kicked by you while you're sitting.
Of course, some people have a naked setup because it's minimalistic and more organized. If that's the case, under-desk cable management solutions could still work for you. In fact, you shouldn't have to leave the surge protector box on the floor and can mount it. When that can't happen, though, you can use the floor and protect the cables.
3. Add the Features
Some desks may already have built-in management features. However, if not, you can learn how to cable manage a desk. Most of the time, though, standing desks don't have built-in under-desk cable management solutions. This doesn't mean you can't come up with ways to handle standing desk cable management on your own.
Add a Standing Desk Cable Management Compartment
These compartments are similar to trays or raceways that attach underneath the desk to guide the cables and hide them. For sit-stand desk cable management, these can work quite well. You can find them from various online retailers, stick them on the underside of your desk, and you're done!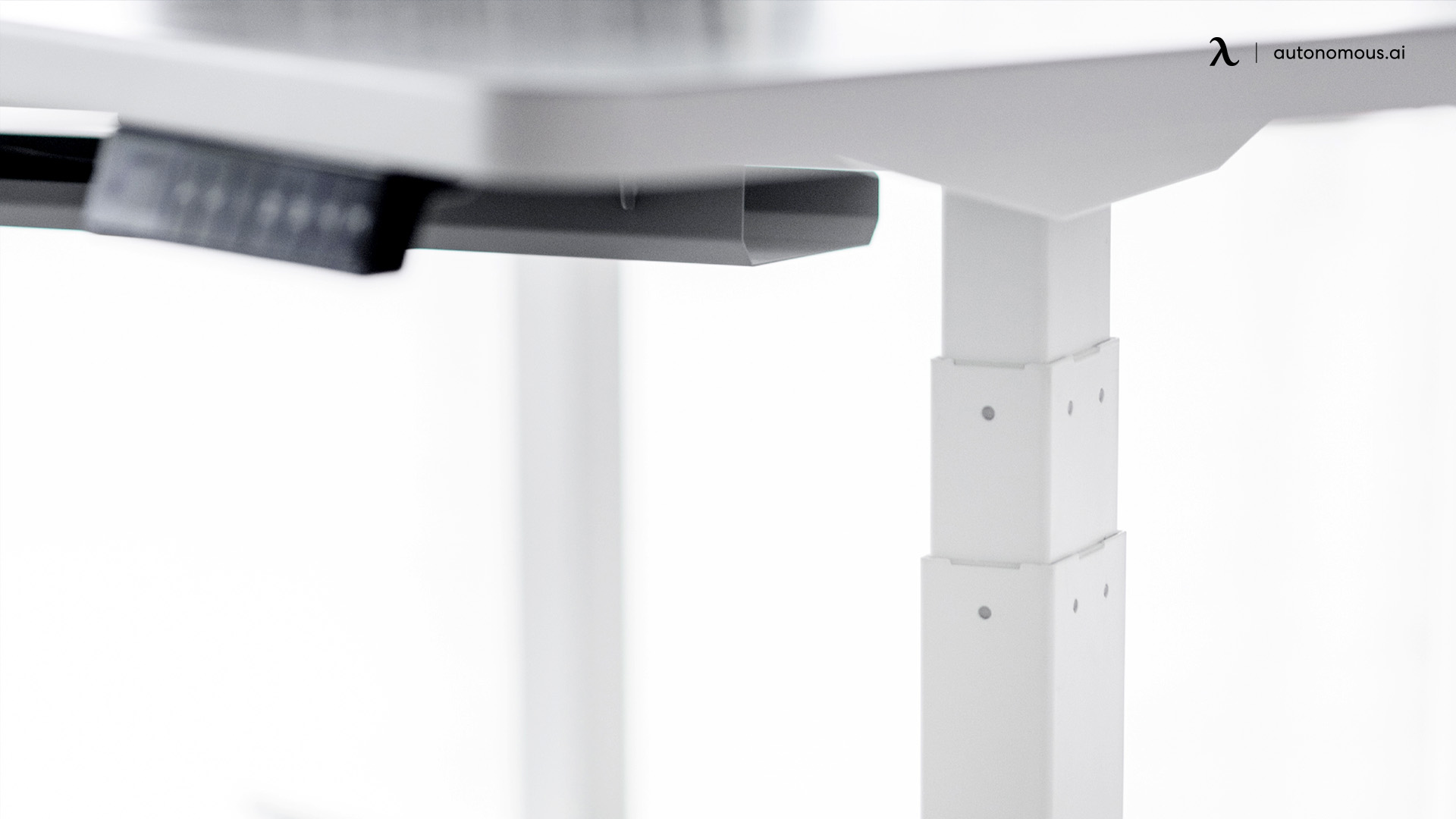 Grommets and Holes
As you continue learning how to cable manage a desk, you may come upon some under-desk cable management solutions that seem odd. Some people choose to drill holes directly into the desk so that they can direct the mouse and keyboard cables underneath. Usually, you can hide the holes or use a grommet to make it look better.
We don't recommend you use this option because it could do damage to the standing desk. Remember, they are motorized, and you could sever the ties, creating an electrical shock and causing the desk not to run anymore. Consider using a wireless mouse and keyboard instead.
However, many of the standing desks from Autonomous like SmartDesk Core (Home Office) have precut holes with grommets. Therefore, you can easily handle your standing desk cable management without having to add more holes or potentially damage it.
4. Mount Monitors (Optional) 
If you choose to mount your monitors over the wall of the desk, this can save space and help with standing desk cable management. However, you may need to figure out how to lower and raise the monitors so that they work regardless of whether you're sitting or standing. 
The best way to deal with this is to hide the cables behind (in) the wall. An alternative to that is to run them and hide them with a raceway or other objects. However, you may not be able to achieve this look with sit-stand desk cable management. 
Therefore, monitor arms may be more suitable. You can keep them on the desk, which means once you set it up for sitting and standing, you're golden while using your desk. Often, the monitors can swivel around (if there is enough room behind the desk so that it doesn't hit the wall.) If you plan to have to walk around a little while standing or do some exercises at your desk, you can keep an eye on the monitor at all times.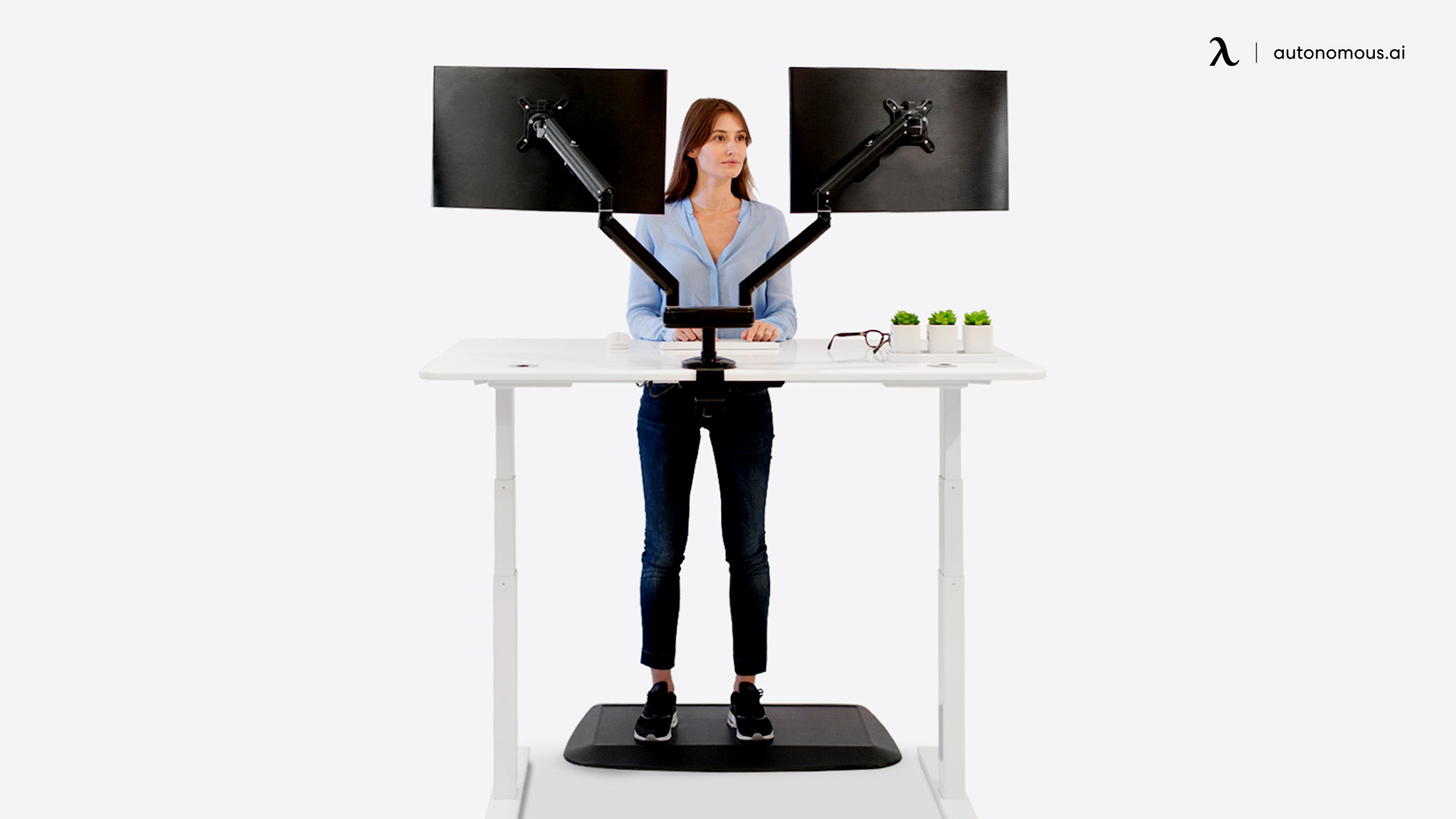 It can take some work to get the monitors sorted out, but don't skip this step. Of course, you can leave them on the desk and hang the cords from the back or through the holes/grommets. This works well for most people and doesn't require any extra tools or products.
5. Route the Cables and Finish Up
Now that you have everything required and know what you have, it's time to reconnect everything. You have your under-desk cable management solutions ready. Now is the time to put your computer/laptop, monitors, and everything else on your desk. Position them where you want them to be, so that's all done.
Now, you should start reconnecting each of the wires, taking your time to guide and hide the wires. If you're using the holes/grommets on your standing desk, feed them through and let them drop. Those who plan to hang the cords from the back can do so, as well.
Make sure all the cables get into the surge protector or the cable management compartment. Some desks have this already, and it's hidden underneath.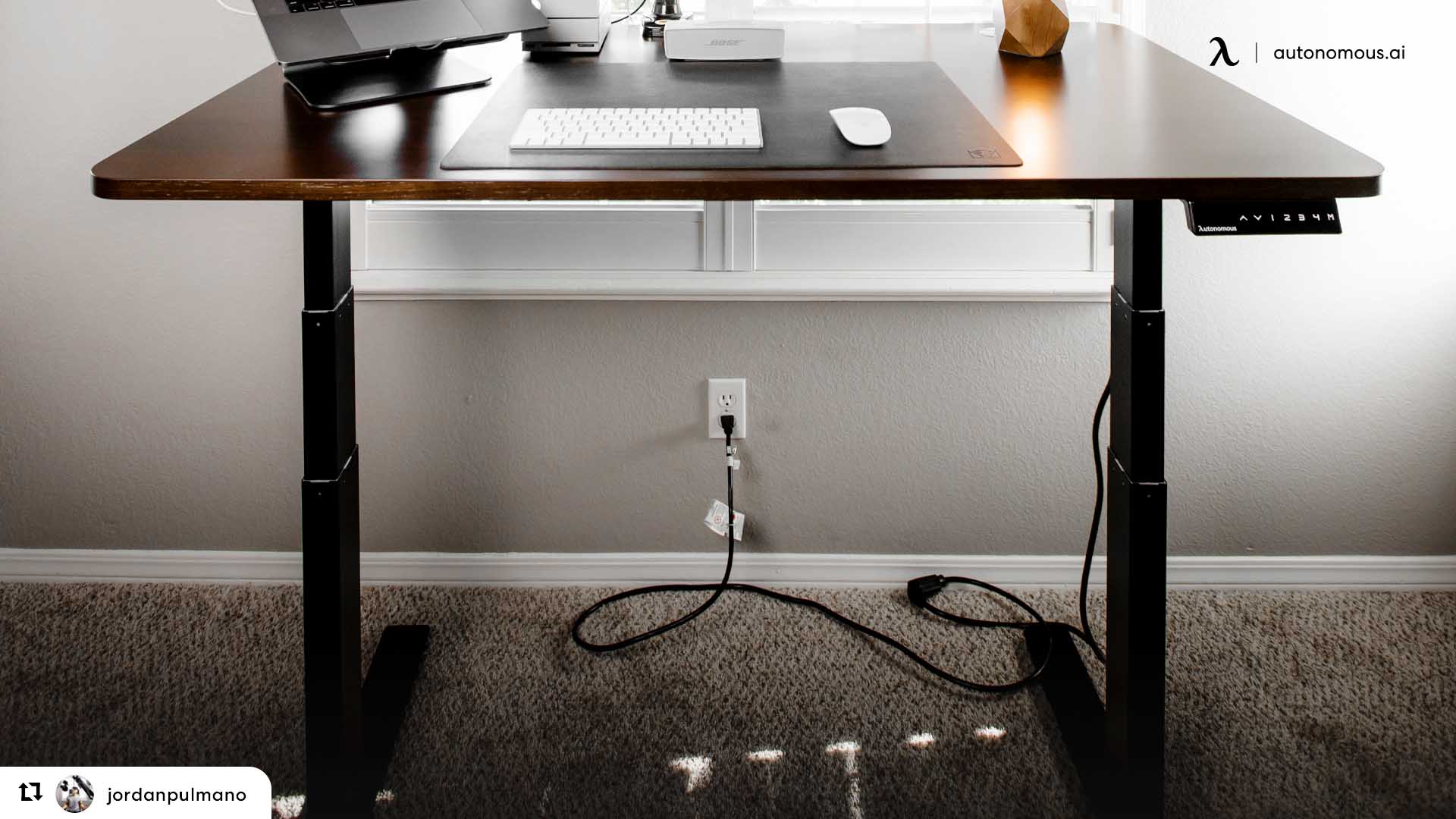 Once everything is hidden beneath the desk, you can plug the surge protector into the outlet. Of course, you might not get to hide this component, but having one cord is much better than having many. 
Even with careful sit-stand desk cable management, there are sure to be a few that don't get into the compartment. You may have a few that just don't fit inside because they are so thick or for other reasons.
Unless you are a severe nitpicker, this is okay. You can always use a zip-tie or a cable protector to keep them together and untangled. This still looks better than having wires all over the place.
Likewise, some of the cables might hang too loosely. Of course, large cable bundles don't look all that great, so you can tidy things up to complete your standing desk cable management routine.
6. Manage the Strays and Keep It Tight
Learning how to cable manage a desk isn't hard, but figuring out what to do about the strays and looseness can be. Consider buying some cable clips, Velcro ties, and zip ties. These are going to help you clean everything up and make it look effortless. While you are going to remember all the effort you put in, others are just going to see the amazing results.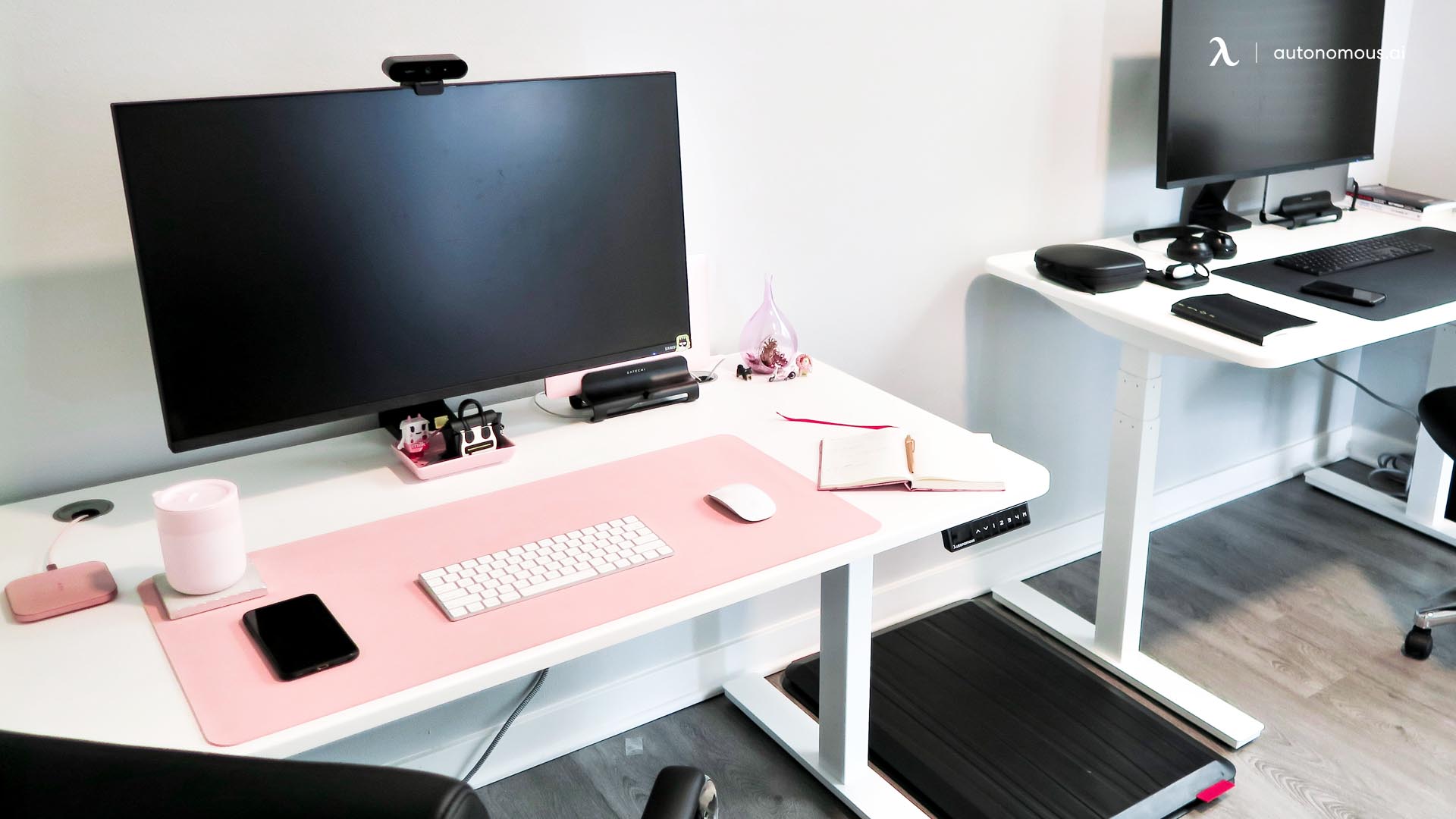 The cable clips can help you deal with stray cables that just didn't fit into the compartment or weren't long enough. Of course, if you don't want to buy one and your desk doesn't come with one, you can use a bunch of the clips to keep it all organized.
Zip or cable ties can be used in places where things connect to the computer. This includes the cables connecting to the monitor and PC. If you've got a few cables in a group, zip tie them up to make it easier on yourself and less of an eyesore. You can also try to push all the grouped cables toward the back, which is helpful if your standing desk is near to the wall. Everything just looks better when it's tightly bound.
7. Wrap It All Up 
In some cases, there are just going to be cables showing under the desk or toward the back. If that's the case, consider purchasing a cable sleeve and wrap it all up neatly. They come in many colors, but the prominent one is black. At least they are somewhat hidden from view and all together in a bundle. 
Plus, it can look more professional, which is good if you're in a room with others or you've got clients coming in and out of the home office.
4 Best Desk Cable Management Accessories
So far, you know how essential it is to keep your office desk organized at all times. Whether you are working from home or a regular office, your expensive equipment can convert into a mess within no time. However, the relieving news is that you can manage all this with a few accessories.
Apart from that, you need to understand the essence of quality equipment. Opting for good quality accessories can help you eliminate the need for replacements and also extend longevity.
Though choosing the correct equipment and add-ons may sound intimidating, you have nothing to worry about. Here are the 4 best desk cable management accessories to ease your selection process.
1. Autonomous Cable Tray
The Autonomous Cable Tray offers a convenient solution for maintaining a tidy workspace. Designed to seamlessly integrate with all Autonomous current SmartDesks, this cable management for standing desk ensures your cords stay organized, allowing you to focus on your work without the hassle of tangled cables.
Key features of the Autonomous Cable Tray:
Easy Installation and Customization: No drilling is required to install the cable tray, making it hassle-free to set up. You can easily customize its position to suit your needs.

Strong Load-Bearing Capacity: With a robust load-bearing capacity of up to 35 lbs, the cable tray can securely hold a power strip and multiple cables, keeping them off your desk surface.

Spacious Design: The cable tray provides ample space to accommodate various cables, ensuring efficient cable management.

Durable Construction: Constructed from solid steel, the cable tray offers long-lasting durability. Its anti-rust finish further enhances its resilience.

Compatible with Autonomous SmartDesk Frames: The cable management for standing desk is designed to pair perfectly with Autonomous SmartDesk Core, Pro, Corner, and Duo frames, ensuring a seamless integration with your desk.

Not Compatible with Collaborative Desk Frames: Please note that the cable tray is not compatible with desk frames made in collaboration with partners.
The Autonomous Cable Tray is an essential accessory for achieving an organized and clutter-free workspace, compatible with Autonomous SmartDesks. Its easy installation, sturdy construction, and compatibility with a range of desk frames make it a practical choice for keeping your cords and thoughts untangled while maintaining a clean and efficient work environment.
2. Function101 Cable Blocks - 4 Packs: Magnetic cable management
Introducing Function101 Cable Blocks - a magnetic cable management solution that revolutionizes the way you keep your cables organized. This cable management for standing desk set includes four premium silicone blocks designed to keep your cables neatly arranged on your workspace while preventing them from cluttering the floor.
One of the key features of Cable Blocks is their movability. You can position them anywhere along your cables and on your workspace, and easily reposition them as needed. Unlike adhesive-based solutions, these blocks are weighted, providing stability to keep your cables in place without leaving any residue.
For added versatility, each Cable Block is equipped with embedded magnets. This feature allows you to connect multiple blocks together, ensuring extra security for heavier cables or when dealing with slick surfaces. By connecting the blocks, you can effortlessly align all your cables on your workspace, creating a clean and organized environment. If desired, you can simply move the connected blocks to the edge of your desk for a seamless workspace appearance.
In addition to their functionality, Cable Blocks also offer style options. Along with the standard color, Cable Blocks are available in Navy, Orange, Pink, and Light Blue variants, allowing you to choose the color that best suits your preferences and workspace aesthetic.
Function101 Cable Blocks provide an innovative and convenient solution for cable management, enhancing the organization and tidiness of your workspace while adding a touch of personalization with color options.
3. Function 101 Desk Mat Pro: DESK PROTECTION / MAGNETIC CABLE MANAGEMENT
The Function101 Desk Mat Pro is a versatile accessory that offers both desk protection and magnetic cable management. Designed with style and functionality in mind, this mat not only safeguards your desk's surface but also provides a seamless solution for organizing and securing your cables. The mat features metal-infused Eco Leather, which enables magnetic connectivity with a set of silicone cable accessories.
By magnetically attaching these accessories to the mat, you can effortlessly keep your cables organized and secure, promoting a clean and productive workspace. The Desk Mat Pro is an excellent addition to any workspace, combining aesthetics with practical cable management functionality.
4. Mount-It! Cable Management Spine
The MI-7280 cable management spine is an essential tool for maintaining a tidy and organized workspace. It efficiently guides power cords, electrical cables, AV cables, and other connections from the floor to your laptop or monitor, ensuring a clutter-free desk. This cable management for standing desk offers flexibility, safeguarding your cables from strain and providing added protection.
The snap-together segments enable you to adjust the height according to your desk's specifications, making it compatible with various setups, including sit-stand desks. To ensure security, the under desk cable management system includes a mounting plate that securely attaches to the underside of your desk, table, or counter, keeping everything in place and within easy reach.
5. Mount-It! Under Desk Cable Tray
Securely hang the tray on the crossbar of a sit-stand desk or conveniently attach it directly to your desktop wherever it suits your needs. This cable management for standing desk maximizes the utilization of the space beneath your desk, allowing you the flexibility to prioritize essential items within your workstation area.
6. Burotic Under & On Desk Power Plug: 5" Extension Cord
The power bar offers all the power needed to support your work tools and make your workspace functional. You have the possibility of connecting your monitors, computer, etc. All your electronics are protected by the built-in surge protector.
The era of old, bulky power bars is now over. Indeed, adding a power supply should not negatively impact the aesthetics of your work environment. Available in black or white, the burotic power bar will add a touch of elegance to your office.
7. J Channel Raceway
Cable channel raceways are hands-off the best cable management for standing desk to help you declutter. While hanging cables can lead to knots, untidiness, and fire hazards, a raceway is a one-stop solution to all these problems.
It is a tube-like structure neatly located at a corner. This under desk cable management accessory is thick enough to house all your equipment cords conveniently. Furthermore, it is effortless to set up and gives you a tidy workspace within minutes.
An appropriate J Channel Raceway features a non-locking J-design, easing the process of wire. Moreover, it is a premium-quality product that is sure to last long, look elegant, and perfectly blend with your setup.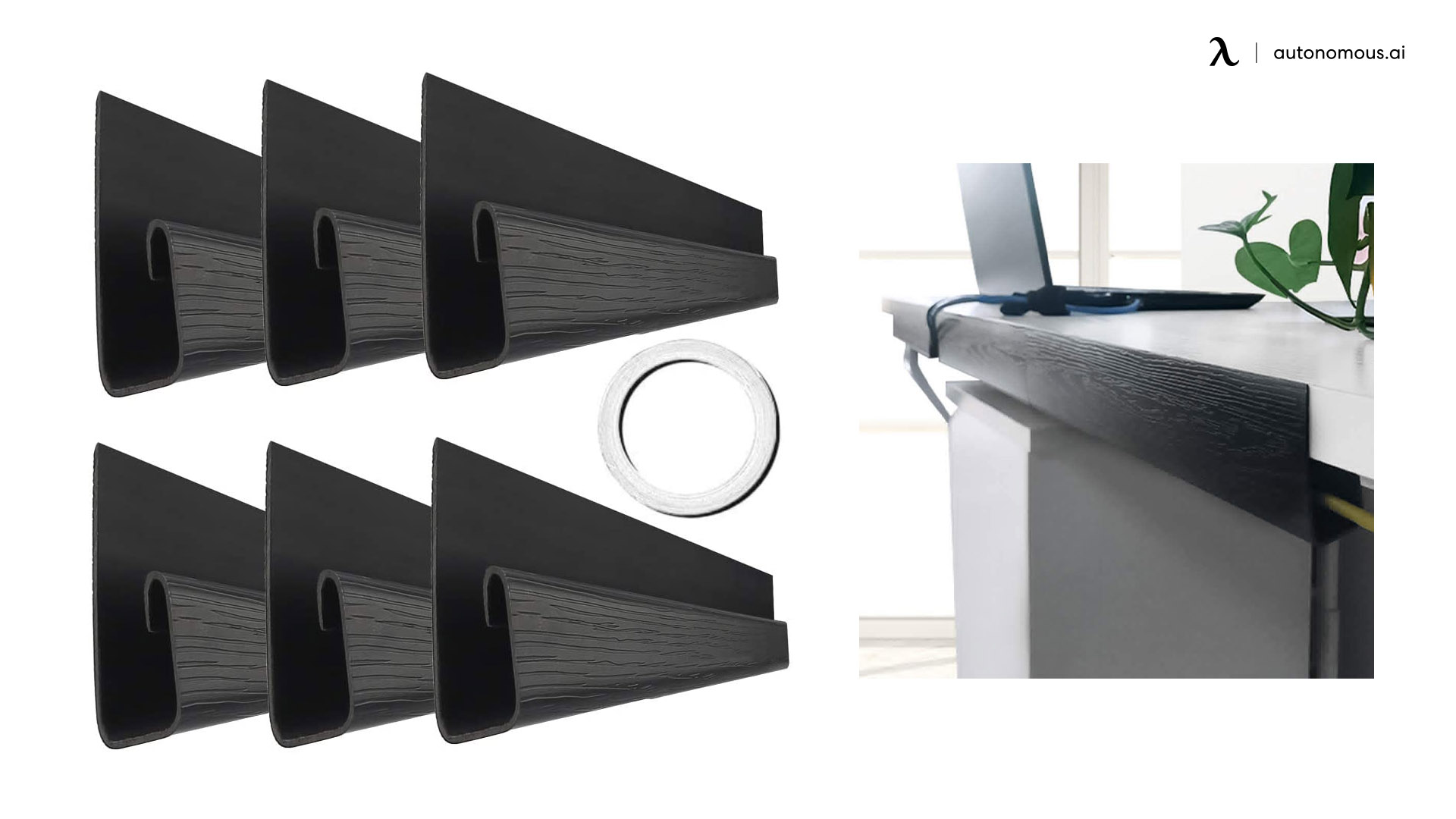 8. Nylon Cable Straps/Ties
You may have some cables that are unnecessarily lengthy, increasing your work instead of reducing. Nylon cable straps are the supreme desk cable management solutions to these long cables.
It is a self-fastening tie that can let you store bulky cables safely and neatly. Moreover, you can also use them to wrap all your pens, markers, and other space-consuming items. With a set of these by your side, you can say goodbye to workplace clutter forever.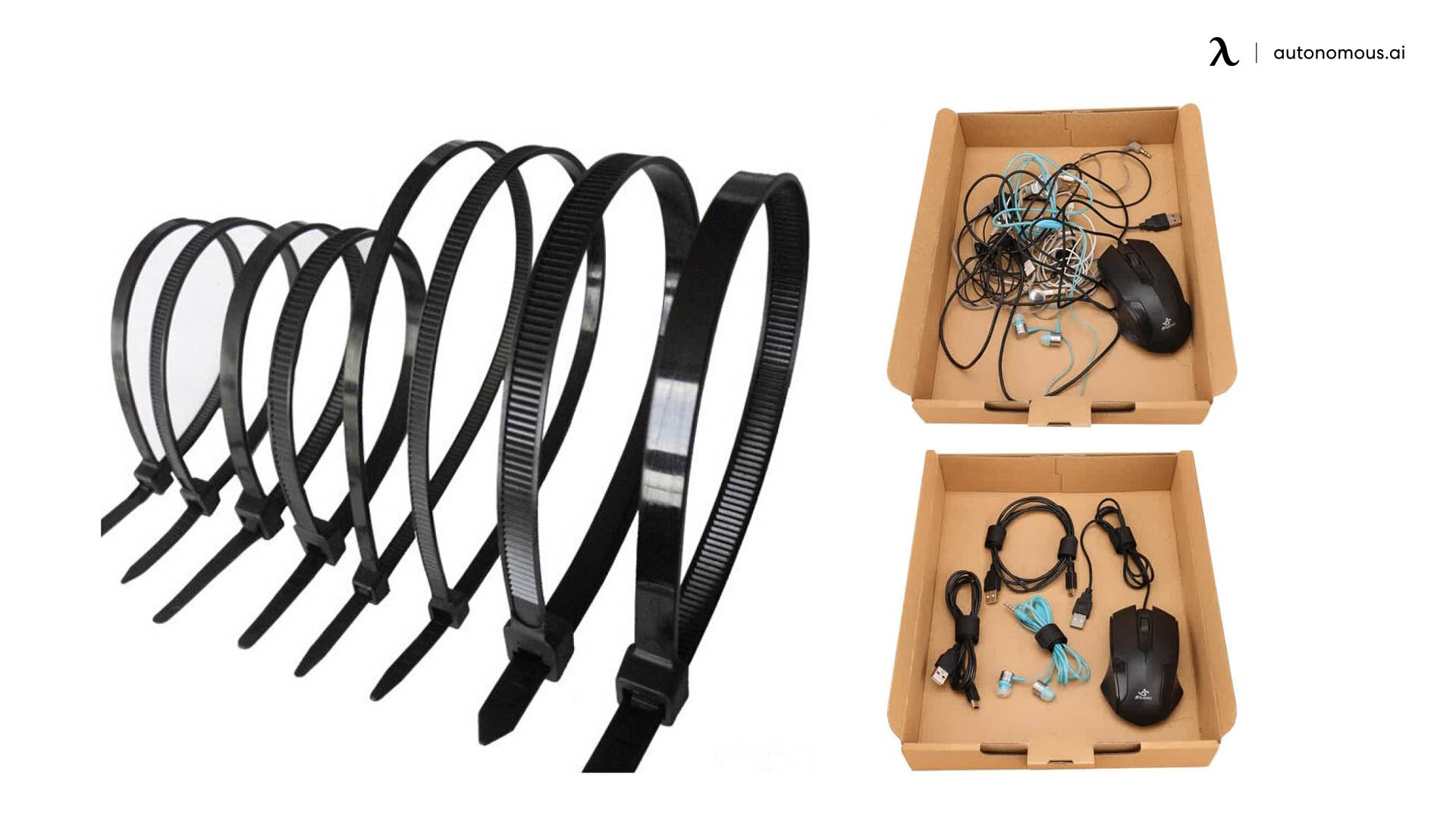 9. Cable Management Clips
Another useful wire management tool is the cable management clip. It is a tiny holder, perfect for organizing urgent cords. Be it your phone and laptop charging cable or other important ones, digging for the same can be time-consuming.
You do not want all your morning efforts wasted due to a tangled web of cables. Such a tool will let you access all your go-to wires in seconds. You can stick a cable management clip just about on any furniture piece as they come with a strong adhesive.
10. Cable Management Box
Do you want to keep all your chords out of your sight? A cable management box is a super-efficient tool to store the bulky cables in a perfectly-neat manner. It ensures safety, organization, and access while adding a minimalistic look to your workspace.
The best cable management box is a sleek tool to conceal the cord mess at your work desk. You can place it either on top or under your desk while having access to the wires without any hassle. It is durable, has multiple openings, and is ideal for a minimalist desk.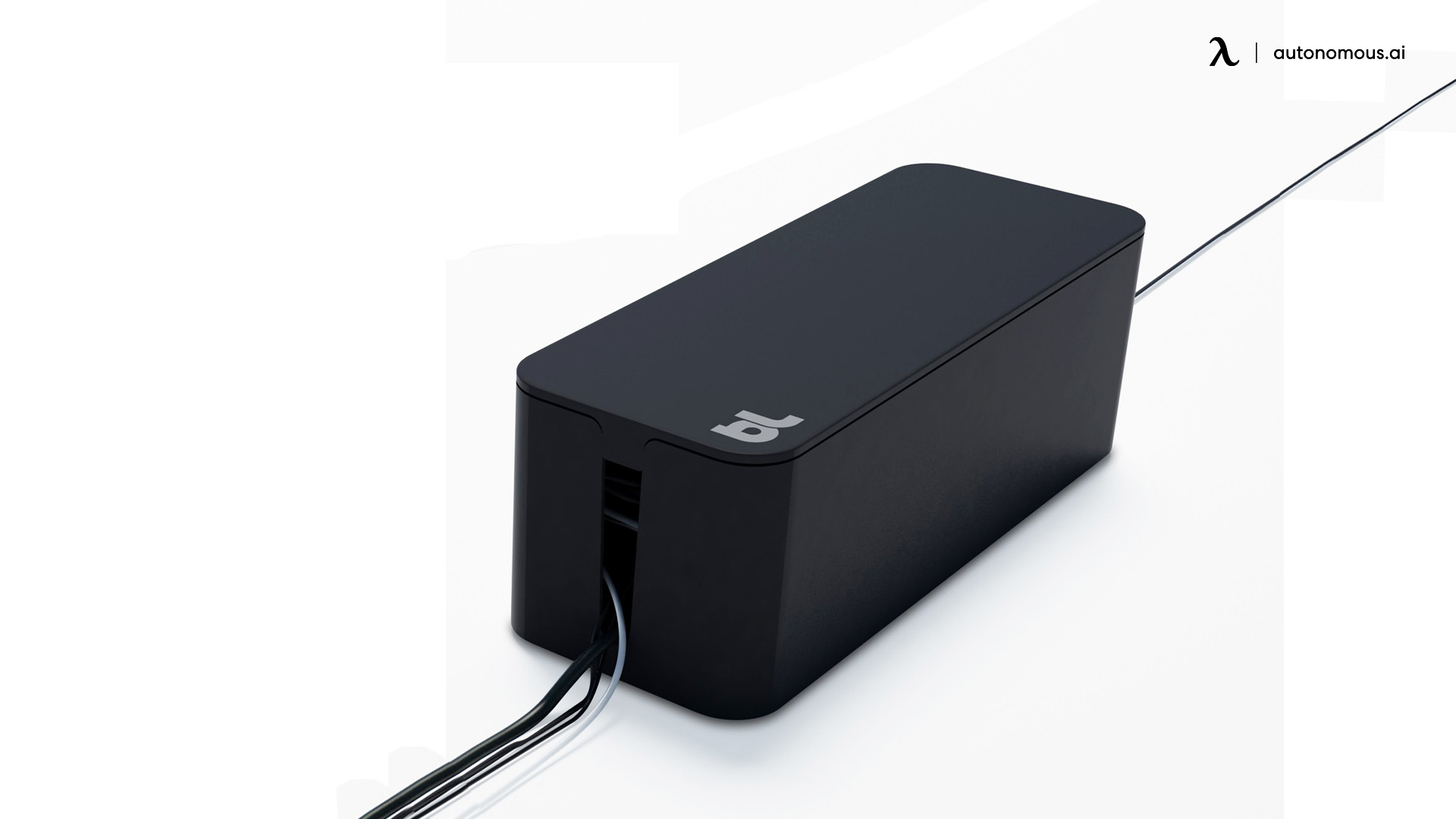 Summing Up
A standing desk will not only help you maintain an ergonomic posture while working but will also make cord-management easier. In this comprehensive guide, you got 7 useful tips to keep your workplace tidy.
An organized work environment can significantly boost your efficiency and also help curb unnecessary expenses. In this article, you got your hands on the 4 best desk cable management accessories for workplace orderliness.
So, execute these helpful desk setup ideas and watch your productivity thrive!
A List of Desks with Holes for Cables
If you're tired of dealing with messy cables and want a more organized workspace, consider desks with holes for cables. These desks are designed with strategically placed openings that allow you to route your cables neatly, keeping them out of sight and untangled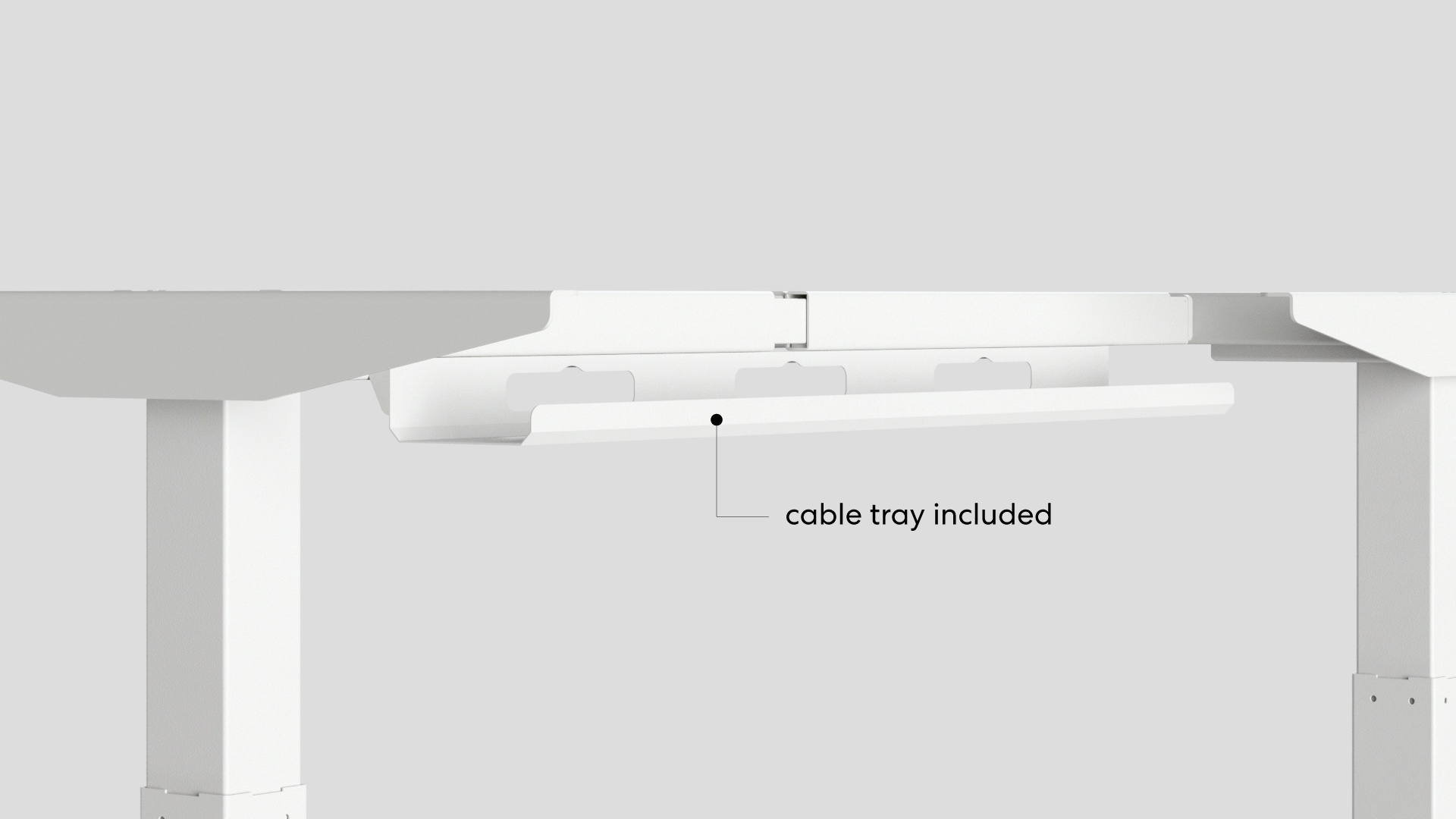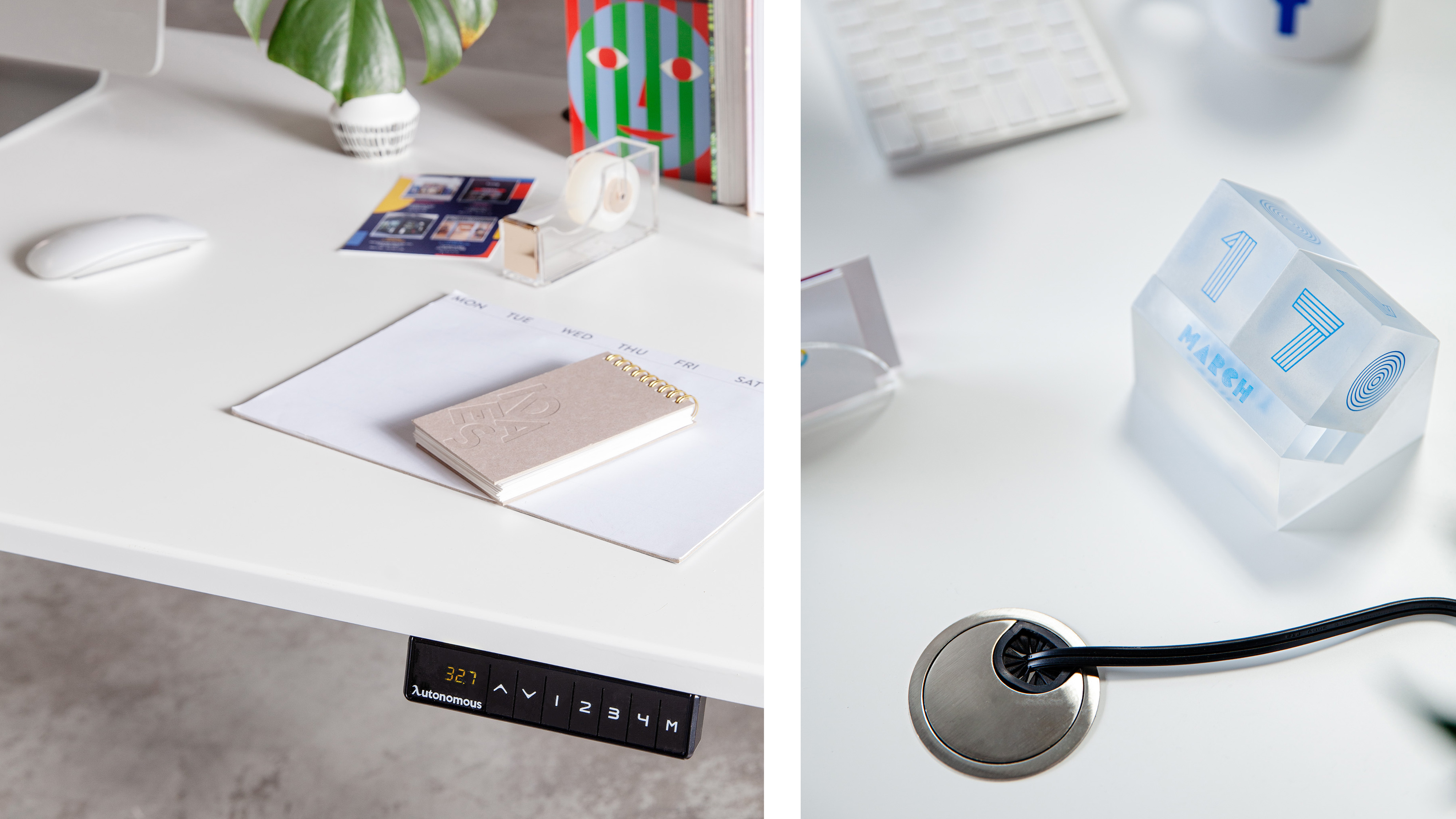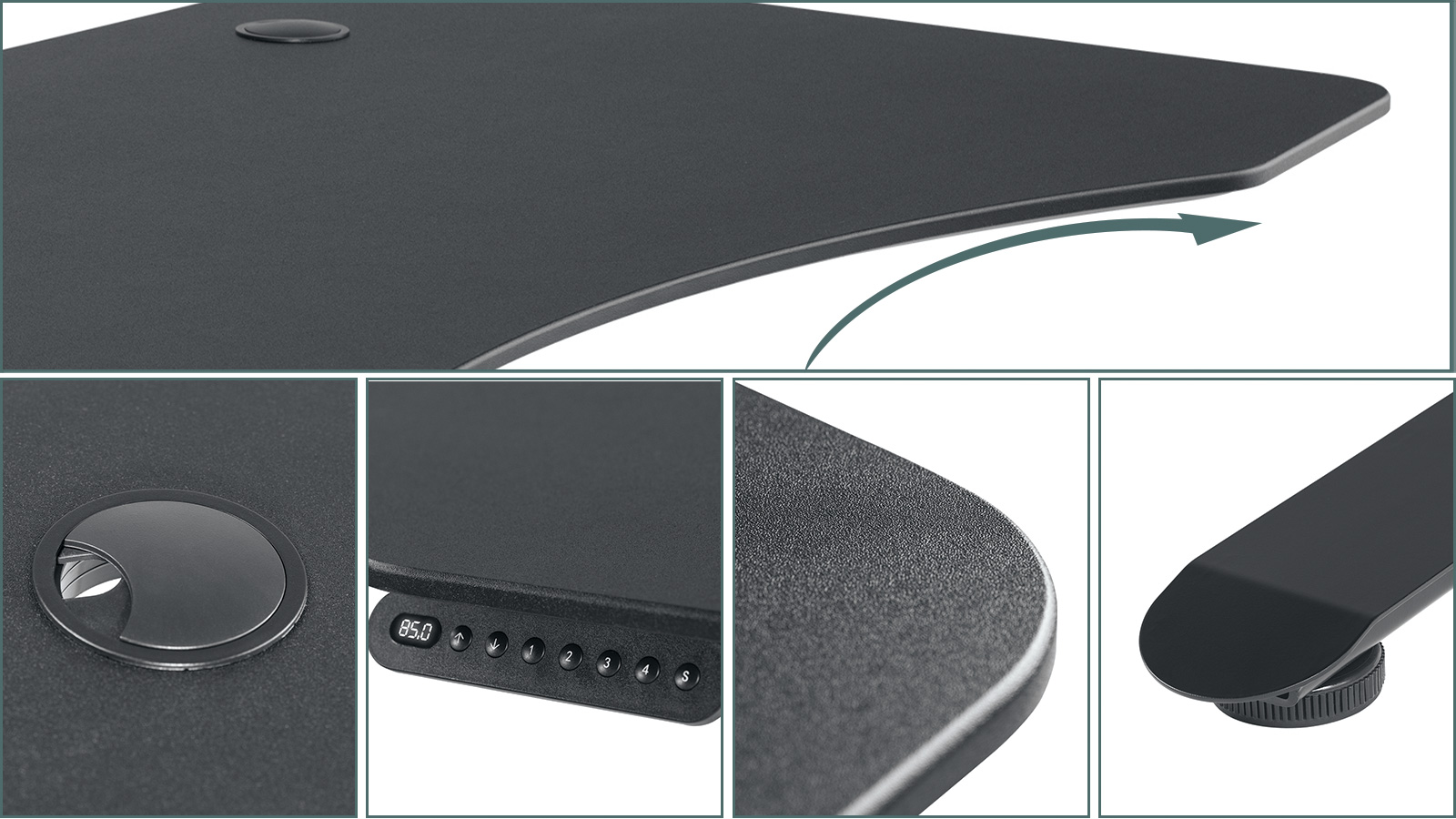 Whether you're setting up a home office or a professional workspace, desks with holes for cables offer a practical and efficient solution for keeping your cables organized and your desk clutter-free. By investing in one of these desks, you can enjoy improved productivity, aesthetics, and overall workspace functionality.
Cable Management System Benefits
Now that you know how seamless it is, why not get down to desk cable management right away! It is highly essential as organizing your workplace can directly affect your productivity along with multiple other aspects.
Do you want to know how under desk cable management can help you? Here are a few cable management system benefits.
1. Maintaining Organized Workspace
Do you often find yourself detangling cords and wires instead of focusing on important tasks? Clutter and disorganization can lead to time wastage and hamper workflow. Furthermore, you do not want to be digging for essential wires when it is time for maintenance.
An organized workspace, on the other hand, makes the work process seamless. It is vital to mark and tag the cords to eliminate confusion and mess. You can refer to some of the easiest ways to organize an office desk and maintain your workspace effortlessly.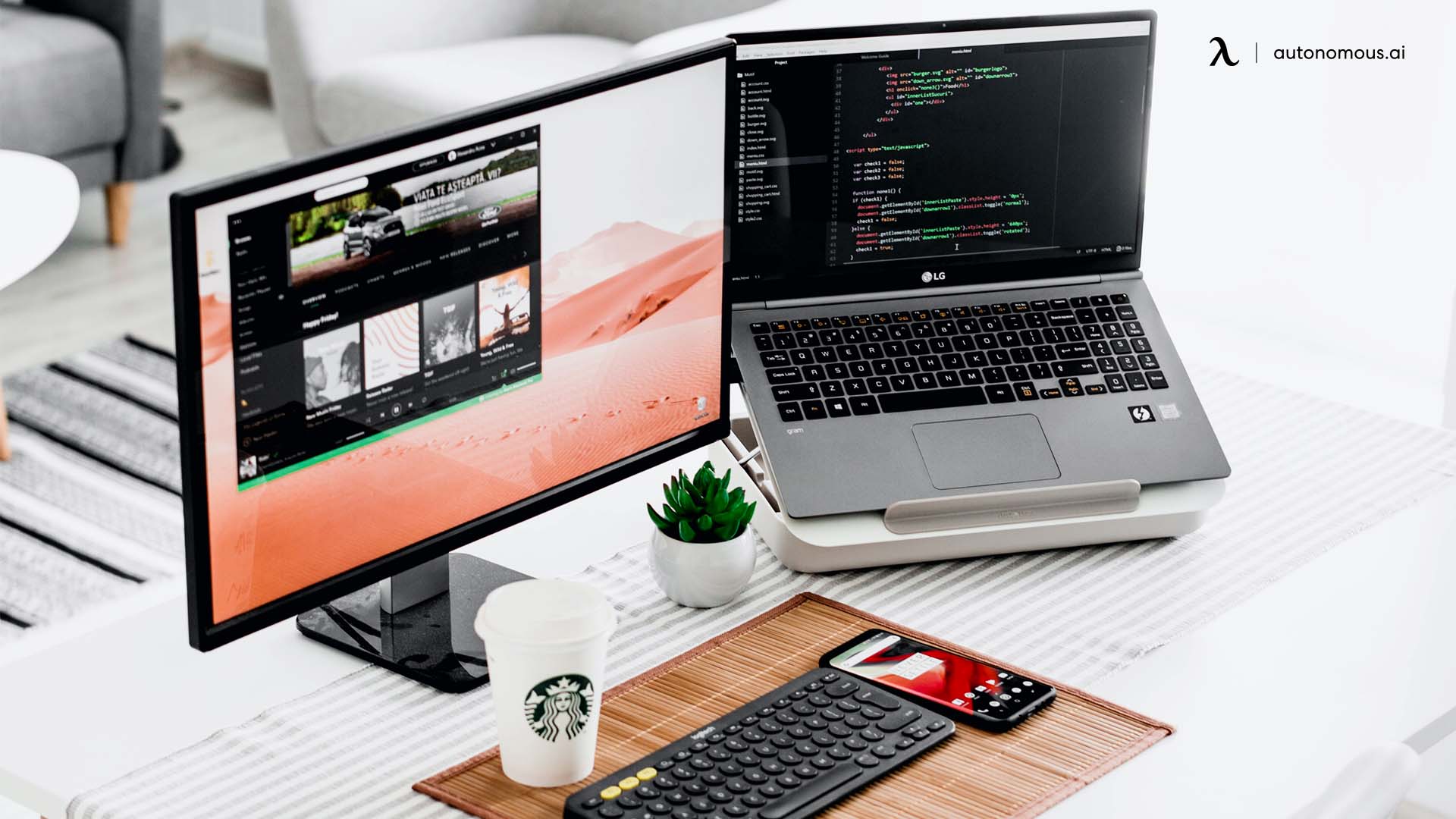 2. Increase Wire Life
Leaving the cords entangled or hanging on the floor can significantly decrease their lifespan. Turned and twisted wires can lead to equipment damage and will require quick replacements. You will eventually spend more on purchasing new cords and devices instead of other essential office items.
Apart from that, tangled cords can result in overheating and fire hazards. This, in turn, will further cost you more and lead to losses. If you pay attention to wire management in your office, you can avoid any additional expense and maintain workplace safety.
3. Easy Cable Replacement Process
You may often need to unplug the cables of your equipment to troubleshoot any existing issues. Testing a wire is an easy process unless you have a whole lot of cord webs. Such clutter can lead to inefficiency at the workplace, making a simple task unnecessarily complicated.
You need to set up your desk in a manner where all the cables are appropriately organized. For example, you can use cable straps and ties to avoid complexity and make cable replacement a breeze. You can also refer to these desk setup ideas to improve your workplace productivity.
4. Tidy Working Space
A messy working environment always leads to stress and confusion. Instead of concentrating on work, you get busy finding the important items from the muddle. Moreover, such a workplace is a big distraction. Therefore, your first step must always be clearing up your workspace.
Another excellent way of having a tidy workspace is by following an efficient cord management system. System cables occupy a large space, and managing these will instantly enhance the look of your desk. It will not only get free of allergy-causing dirt but also leave a courteous impression on your clients.
FAQs for Desk Cable Management
While we did try to cover everything we could, we know that some people have specific questions.
This list should be able to help you: 
1. How can I easily hide cords on my standing desk?
Follow this guide to know how to hide cords on any desks, which includes a standing one. A quick summary: 
Unplug everything, make sure you have a surge protector, and check the underside of the desk. Many have built-in compartments to hold the cables. Also, look at the corners of your desk because there may be precut holes to guide the wires out and downward. Otherwise, you can hang them from the back of the desk. 
Put all of the cables into the compartment on the underside of the desk. If yours doesn't come with one, you can still do this, but you need to use double-sided tape to attach the compartment to the bottom of the desk. 
Plug everything into the surge protector and then plug that into the wall outlet. Consider tidying everything up with cable or zip ties. 
2. Why do the cables on a standing desk look bad?
Some people don't care that the cables show. However, when working in an office and having clients visiting you at your desk, it looks more professional to hide the cables. It can also prevent falls because no one's feet are going to get tangled up in the cords.
3. Should I label the cables?
You may choose to label your cables before you put them in the sit-stand desk cable management compartment. That way, if you need to remove the monitor, you can easily pick it out of the mess of cables. You may still need to open the compartment to get to it, but you don't have to follow the wire trail to find the one you need, saving time. 
4. My desk is in the middle of my room. What can I do to hide the cables?
When desks aren't against the wall, hiding the cables is more important. For one, you don't want anyone to trip over them, but they look unsightly when they're all over the place. You can use the tips found in this article to help you hide those cables, as well. Again, you may not be able to get rid of them completely, but you can gather them together and use cable sleeve protectors to make it look more professional. 
Conclusion 
Learning how to cable manage a desk is essential. It may not be perfect, but it's going to be more organized and presentable than if you do nothing. Generally, standing desk cable management can seem like an impossible feat, but knowing what to do is half the battle. With a little effort and energy, you can spruce up the desk area and ensure that it's presentable. Make sure to make your home office more ergonomic with our tips and Autonomous standing desk, ergonomic chair, accessories,...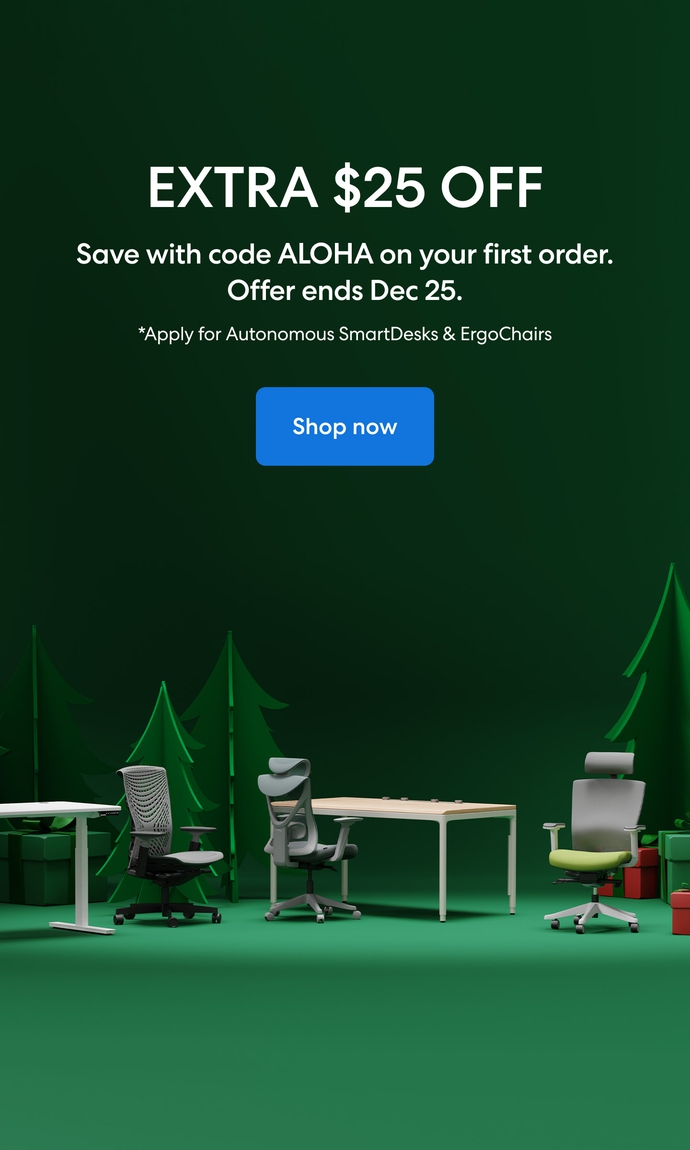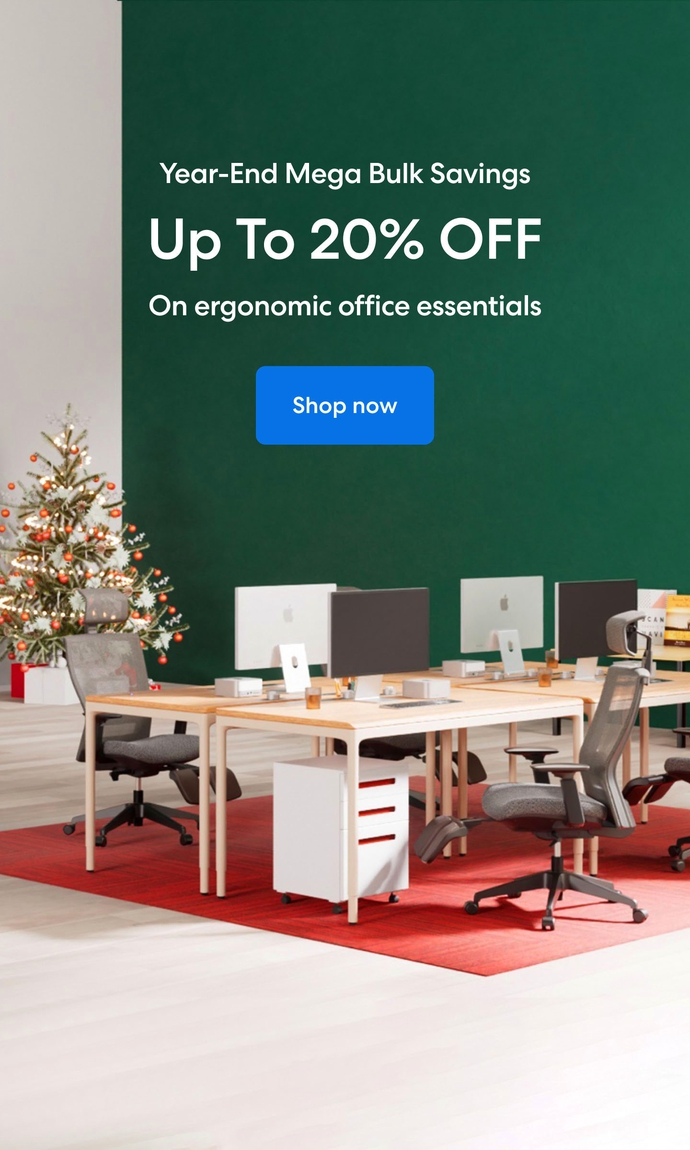 Subcribe newsletter and get $100 OFF.
Receive product updates, special offers, ergo tips, and inspiration form our team.