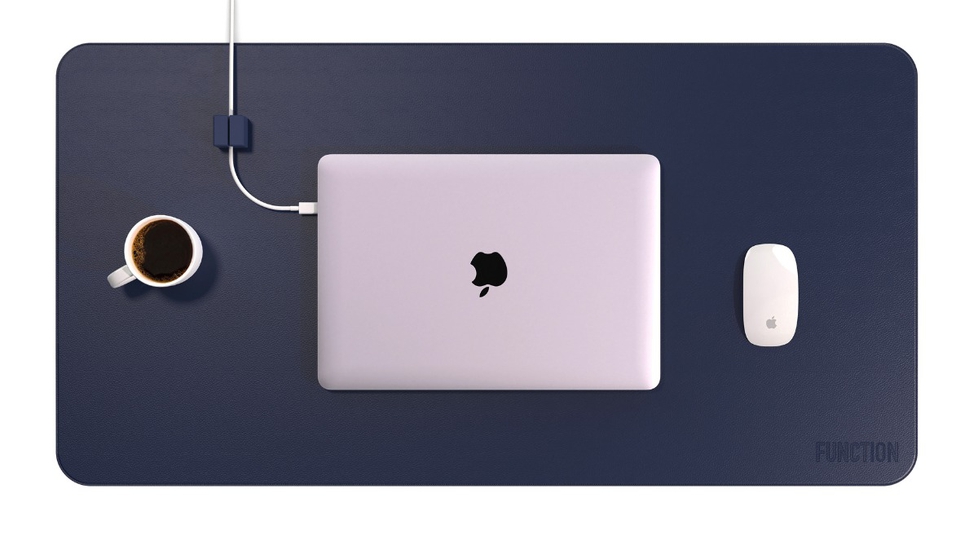 Function 101 Desk Mat Pro: DESK PROTECTION / MAGNETIC CABLE MANAGEMENT
- Function 101 Desk Mat Pro
1 Review
Visit our store
Color: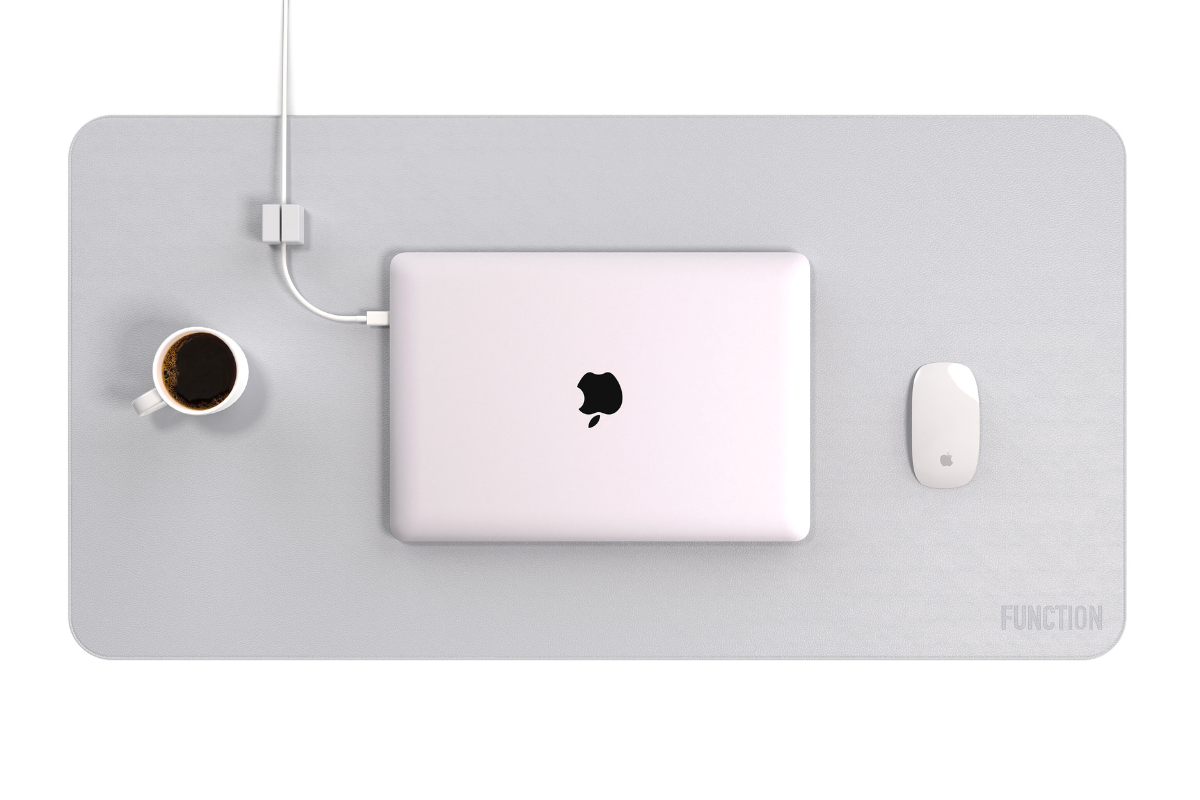 Not available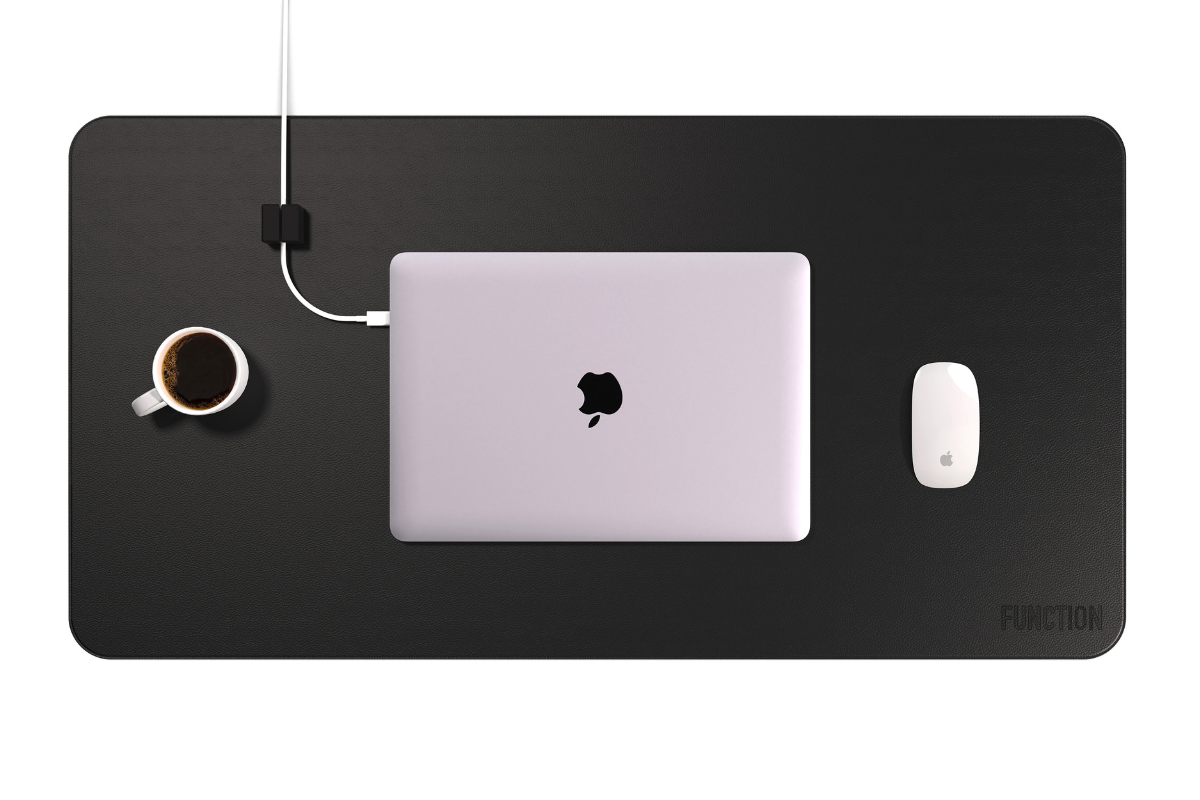 Not available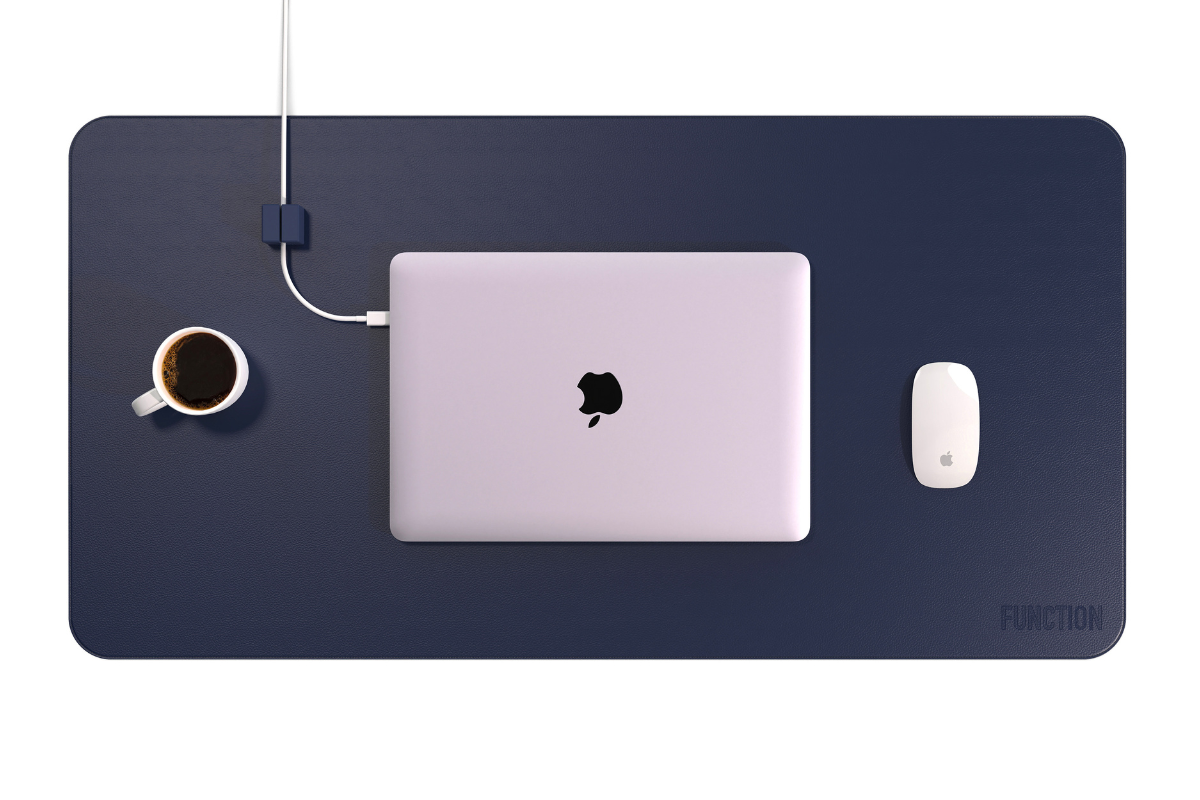 Not available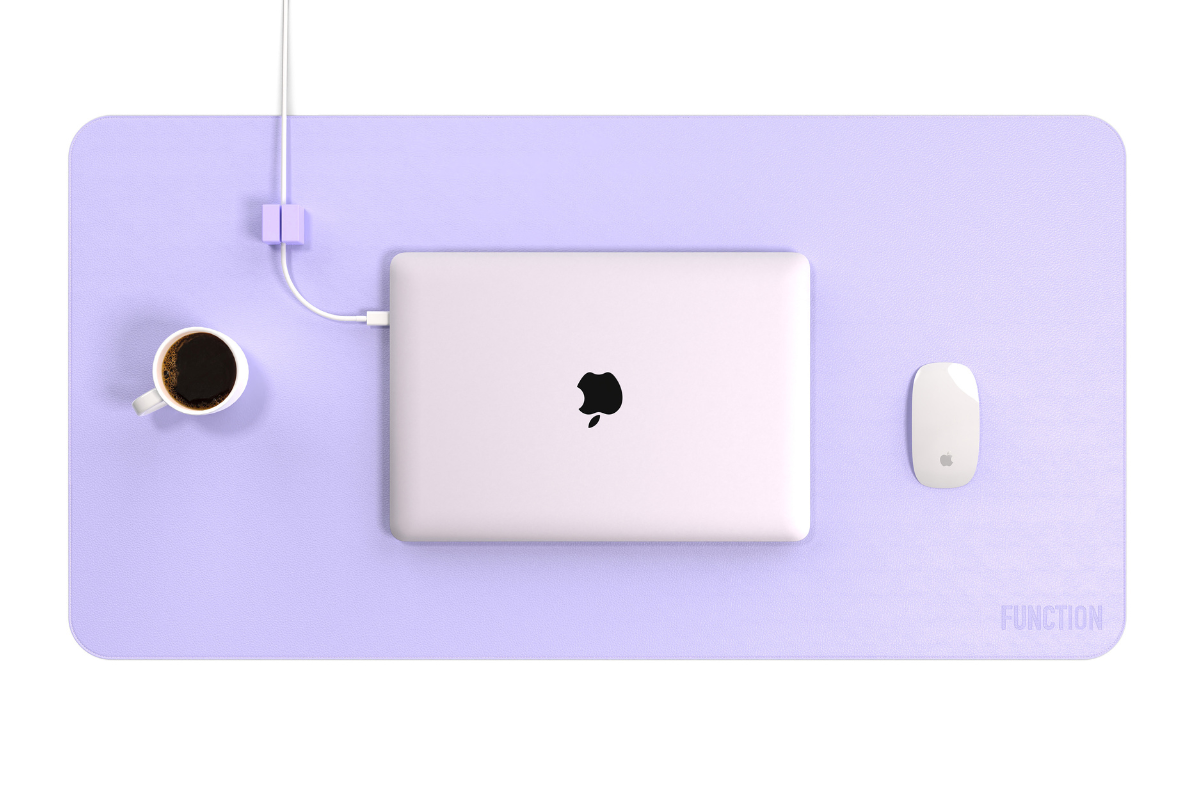 Not available
Buy now
Add to cart
FREE shipping Dec 13 - Dec 15. FREE 30-day returns.
Sold and shipped by Function101

Price Match Guarantee
Desk Mat Pro is the ultimate Apple Accessory Management System designed for both home and office use. Crafted from premium PU Pebble Leather with a faux suede bottom, the Desk Mat Pro protects your desk in style. The differentiator is our one-of-a-kind metal-infused inner layer which creates a connection with our magnetic cable accessories allowing you to organize your cables anywhere on your Desk Mat Pro - no messy adhesives needed! Dimensions: 31 in x 16 in / 79 cm x 40 cm
• 1-year warranty
DESK MAT PRO protects your desk in style AND provides unparalleled cable management. A collection of silicone cable accessories magnetically connects to our metal-infused Eco Leather Desk Mat keeping your cables organized and secure, creating a clean and productive workspace.
Deep dive into specs
Features
FAQs
Specs
reviews
5.0
The Function101 Desk Mat Pro: The Ultimate Desk Mat for a Clean and Organized Workspace
Are you in search of the best leather desk pad to transform your workspace into a clean and organized haven? Look no further than the Function101 Desk Mat Pro. Crafted with high-quality PU pebble leather, this leather desk mat combines durability, water resistance, and easy maintenance, making it an essential accessory for any computer or PC gaming setup. Discover the key features, benefits, and expert tips on how to make the most of this versatile laptop mat. Whether you're seeking office desk accessories or PC gaming accessories, the Function101 Desk Mat Pro is here to fix your workspace problems and add to its functionality (and aesthetics).
Function101: Redefining Workspace Excellence with Innovative Accessories
Function101 is a renowned company that designs and manufactures high-quality computer accessories. Founded in 2017 by two friends frustrated with the market's lack of quality and organization, Function101 set out to create innovative products to improve workspaces. Their product lineup includes desk mats, cable management systems, and desk organizers, all made from premium materials that seamlessly blend functionality and style. With a variety of colors and finishes available, Function101 allows customers to personalize their workspace to suit their unique style. Function101 takes pride in their commitment to customer satisfaction and offers a satisfaction guarantee, ensuring customers feel confident in their investment. Experience the difference of Function101's innovative accessories and elevate your workspace to new heights. Visit Function101 to discover their range of products and redefine your computing experience today.
Function101 Desk Mat Pro: The Ultimate Office Desk Mat
The Function101 Desk Mat Pro is the ultimate keyboard pad and computer accessory for those seeking a clean and organized workspace. Crafted from high-quality PU pebble leather, this magnetic mat is durable, water-resistant, and easy maintenance. Its innovative design includes a metal-infused inner layer, allowing you to attach your cables magnetically, ensuring they stay organized and out of the way. When it comes to enhancing your home office setup, the Function101 Desk Mat Pro is a game-changer. It keeps your workspace tidy and efficient and adds a touch of style. Whether you're a professional seeking productivity or a gamer looking for an immersive experience, this leather desk pad and computer accessory deliver on all fronts.
Discover the exceptional benefits of the Function101 Desk Mat Pro
With its unmatched durability, this laptop mat is built to withstand the test of time, ensuring long-lasting performance. Crafted from hypoallergenic materials, it provides a comfortable and allergen-free workspace, promoting productivity and well-being. As a vegan-friendly choice, it aligns with the values of eco-conscious individuals. Whether you're setting up a home office or looking to enhance your workspace, the Function101 Desk Mat Pro is the perfect addition. It also serves as an ideal keyboard pad for both gamers and professionals, offering a smooth and reliable surface for optimal performance. Upgrade your desk setup and experience the difference with the Function101 Desk Mat Pro. The Function101 Desk Mat Pro offers a seamless solution to pristine and organize your workspace. Crafted with high-quality materials and packed with convenient features, it ensures a clutter-free and efficient environment. If you're seeking a magnetic mat that combines durability, functionality, and style, look no further than the Function101 Desk Mat Pro.
Understanding PU Pebble Leather: Benefits of this Premium Material
PU pebble leather, a synthetic leather alternative, resembles genuine leather and provides several advantages. Often employed in office accessories like leather desk pads, PU pebble leather is favored for its durability, water resistance, and ease of cleaning. Furthermore, individuals with leather allergies can find solace in this material. Let's delve into the notable benefits of PU pebble leather. Firstly, it boasts impressive durability, capable of withstanding heavy usage and maintaining its original appearance. Additionally, its water-resistant properties make it an excellent choice for desk pads, protecting surfaces from spills and damage. Maintenance is a breeze with PU pebble leather, as a simple wipe-down with a damp cloth keeps it clean and pristine. Furthermore, it offers a hypoallergenic alternative for individuals with leather allergies, providing the luxurious look and feel without any allergic reactions. Lastly, PU pebble leather is a vegan-friendly option, aligning with ethical principles and allowing you to accessorize your workspace in a way that reflects your values. Experience the benefits of PU pebble leather and elevate your workspace with style and practicality.
Key Considerations When Purchasing a Leather Desk Pad
1. Size & Material
The size of the laptop mat will depend on the size of your desk. You want to make sure that the mat is large enough to accommodate your keyboard, mouse, and other essential accessories. A good rule of thumb is to choose a leather desk pad that is at least as wide as your keyboard and mouse, and slightly longer. The material of the desk pad will affect its durability and how easy it is to clean. PU pebble leather is a good option because it is durable, water-resistant, and easy to clean. Other materials to consider include mouse pads, neoprene, and felt.
2. Features
Some desk pads offer additional features like magnetic cable management or built-in wrist rests. Determine which features are essential to your workspace needs before making a purchase. For example, if you have a lot of cables, you may want an office desk mat with magnetic cable management. Or, if you have wrist pain, you may want a leather desk pad with a built-in wrist rest.
3. Color
Desk pads come in a variety of colors. Choose a color matching your home office setup or style so it looks in place with the rest of your stuff.
Proper Usage Techniques for Long-Lasting Office Desk Pad Performance
To maximize the longevity of your leather desk mat, it's important to follow these usage tips. First, keep it clean by regularly wiping down the mat with a damp cloth to remove dust and debris, preserving its cleanliness and visual appeal. Avoid placing heavy objects on the mat to prevent potential material damage. Additionally, resist the urge to roll up the laptop mat as this may cause stretching and looseness in the material. Proper storage is key, so store the office desk mat in a cool, dry location to protect it from deterioration over time. By adhering to these guidelines, you can ensure that your leather desk mat remains in optimal condition for years to come, providing a reliable and visually appealing addition to your workspace.