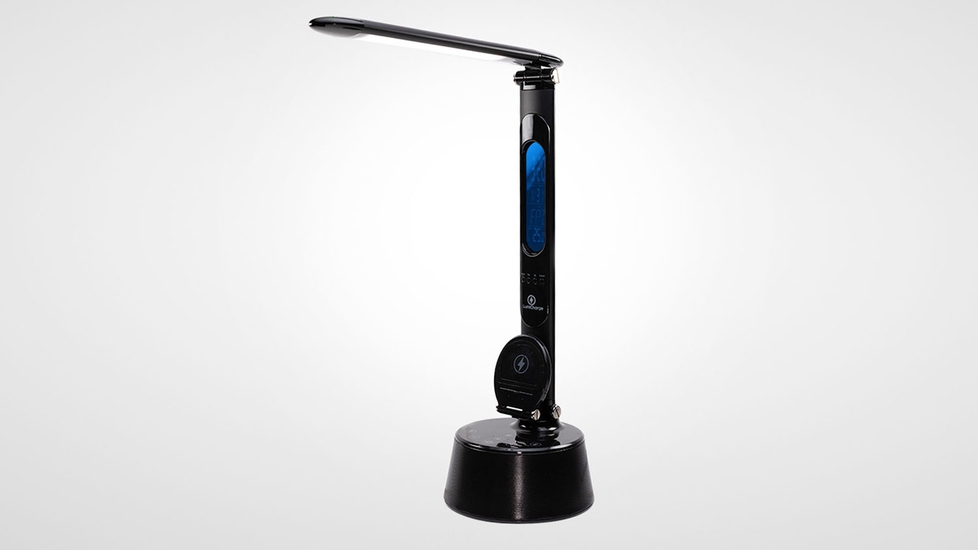 Lumicharge LED Lamp with Wireless Charger & Speaker
15 reviews
Visit our store
$72
$89
(-19%)
Free shipping
Buy now
Add to cart
FREE shipping Oct 04 - Oct 06. FREE 30-day returns.
Bought by 1+ saconstructionnc.com employees.
Sold and shipped by Lumicharge

Price Match Guarantee
Lumicharge LED Lamp with Wireless Charger & Speaker at a glance.
A wireless charging lamp with fast charge for iPhone/Android. This LED lamp with speakers plays your favorite music too!
• 03 light colors and 10 levels of brightness
• Built-in fast 10W universal wireless charger
• Built-in Bluetooth speaker
• Built-in digital calendar display
• Certifications: CE, FCC and RoHS
Deep dive into specs



Features
Specs
FAQs
reviews
4.3
LumiCharge T2W – The Best LED Lamp with Speakers for You
Going wireless is something that every office worker or college student likes to do these days. So Autonomous has come up with the idea of introducing its new product – LumiCharge T2W to meet this requirement just in time. Our all-new LumiCharge T2W is a unique LED lamp with speakers. Don't you think that's interesting? You might not have thought of having a desk lamp with Bluetooth speakers previously, but using them would make you believe that LumiCharge T2W was all you needed throughout this time. Since this wireless charging desk lamp has LED lighting, you must be thinking why we didn't go for the common fluorescent light. There were a few reasons for that purpose, or more precisely, the benefits of using LED lighting outnumber that of any common fluorescent light or incandescent light. Do you wish to dig in deeper? Let's go ahead!
Why Should You Use Wireless Charging Desk Lamp?
Different Brightness Levels to Illuminate Your Workspace While Providing a Safe Charging Port
A wireless charging desk lamp not only illuminates your workspace but also provides a safe charging port. Talking about LumiCharge T2W specifically, you get dedicated charging ports in this model that help you charge both iPhone and Android devices. Wireless charging lamp is installed with multiple brightness adjustments, so you can have a wholesome experience round the clock. Out of the three main adjustments, the warm white light or yellow light is best for late-night reading, while the cool white light comes in handy during the day, especially in the office environment.
Solution for a Small Space - User-Friendly
A wireless charging lamp favors the minimalist desk setup, as it helps you avoid clutter. Therefore, you can use this lamp even while working in small spaces. This means space is never an issue with wireless charging lamps. The design of a wireless charging lamp is such that it comes with many adjustable features. Therefore, these lamps are comparatively more user-friendly. The use of a desk lamp LED becomes a whole delight when it has a wireless charging option. This is because it becomes more functional and serves better. We know that you must be wondering what extra perks a wireless charging lamp provides that made us go for this design. So, let's dig deeper.
Autonomous LumiCharge T2W Highlight: Desk Lamp with Bluetooth Speakers
Coming towards Autonomous' all-rounder, LumiCharge T2W LED lamp with speakers; this lamp is designed to provide you a more immersive work experience. What makes it different from the common wireless charging desk lamps is its built-in speaker. In addition, LumiCharge T2W comes with a built-in Bluetooth speaker. What can be more amazing than your lamp playing some ambient music while you work peacefully? In addition to the Bluetooth speakers, you also get accessibility to all features of any wireless charging desk lamp. The good part is that LumiCharge T2W also serves as a wireless phone charger lamp, so you will have a great work experience. To summarize, it is a great accessory for everyone.
Back-To-School Season & Work From Home Office
If you are a college student who is thinking of some desk lighting ideas to create an ergonomic study corner as the back-to-school season is here, LumiCharge T2W must be your go-to choice. Considering the perks you get with this LED lamp with speakers, you can confidently expect an overwhelming experience. If you're an office worker who is a part of the remote work team, you should not think any further. LumiCharge T2W is efficient enough to provide you a lit work experience with your favorite background music. So, overall, we can promise you a great work experience with the all-new LumiCharge T2W.