While having a spacious, ergonomic standing desk or a comfy cushy ergonomic chair are a great way to jazz up your home office, there's always a few handy accessories you should consider as well. Perhaps nothing should be taken for granted more than great lighting. According to a Harvard Health research, staring at a computer screen for long periods of time or reading without adequate light can strain your eyes and cause them to get tired more easily. One great way to mitigate the harsh glow of the screen and illuminate everything on your desk is with a great LED desk light.
We've consolidated 10 of the best LED desk lamps money can buy in 2022. Read on to discover which one could fit perfectly into your space!
Top 10 LED Desks Lamps For Your Workstation 
1. Autonomous Ultra Wide LED Desk Lamp
Designed for maximum flexibility, usability, and adaptability, the Autonomous Ultra Wide LED Desk Lamp is an excellent tool for anyone who wants an effective and affordable option for their home or work office.
This desk lamp is sleek and minimalist, with a super wide 31.5 inch LED light bar for full desk coverage, and features a rotating and bending neck that allows you to spotlight your work at the perfect angle. It also includes 4 temperature modes and 5 brightness levels.
2.TaoTronics TT-DL16 Metal LED Desk Lamp
Though somewhat less flexible and "full coverage" than the Autonomous Ultra Wide LED desk lamp, the TaoTronics TT-DL16 Metal LED desk light does offer up to 5 color modes and 6 brightness levels. It's got a distinctly angular, modern, industrial design that gives off an air of sophistication.
It also includes a memory function, up to 60 minute timer, and a handy USB port you can use to charge your small electronics. Overall, this is a full-featured option that could serve you well.
3. JUKSTG LED Desk Lamp
The JUKSTG LED desk lamp is a little more simple and features a lighter more polished chrome feel. It includes touch controls, an arm that can rotate up to 180 degrees, four lighting modes, and seven brightness settings.
You'll also get a USB charging port with this light, as well as an energy-saving automatic shut-off feature. This is a great LED office desk lamp option with a well-rounded feature set.
4. TaoTronics TT-DL13 LED Desk Lamp
TaoTronics is a familiar name in office peripherals, and the TT-DL13 desk LED lamp is a good quality option for most people. It features a modern, simple design made of plastic and aluminum alloy, which helps dissipate heat and extends the life of your LED. The rotation angle is a little more limited with this model with only 90 degrees to the left and right and 135 degrees lifting and lowering, however you'll still find handy features like a USB charging port.
You can also customize the brightness and temperature with 5 color options and 11 brightness levels.
5. Brightech – Circle LED Desk Lamp
No, this isn't a ring light for selfies...the Brightech Circle LED desk light is a desk lamp for work! This Circle LED Desk Lamp offers an energy sipping solution for people who want a bright, illuminated desk. It's also an eye-catching feature for any office or home.
This light comes with a compact base that makes it fit easily in any space, so you can even use it for your bookshelves or bedside table too. If you're looking for a more unique take on LED desk lights, this one is worth checking out.
6. Tomons Swing Arm Desk Lamp
A classic desk lamp silhouette, the Tomons Swing Arm desk LED lamp might remind you of the cute hopping Pixar logo! Though its iconic shape is instantly recognizable, this lamp features a more rustic wooden frame that is compact and adjustable.
It's a no-frills desk lamp that is very straightforward compared to the bells and whistles offered by some of the other lamps. If minimalism and classic style is what you're going for, this lamp could be the one for you.
7. Phive Dimmable LED Desk Lamp
This is a thoroughly modern and fully-equipped desk lamp with a USB charging port, only the Phive Dimmable LED desk lamp features a fast-charging port which works particularly well with larger electronics such as tablets. The modern and clean design of this desk LED lamp is particularly striking.
This LED office desk lamp can be adjusted for temperature and brightness up to 8 levels, making it a more eye-friendly option. It's also highly adjustable so you can hit your desk at many different angles.
8. Lightblade 1500S Desk Lamp
If you're serious about power and brightness, the Lightblade 1500s desk lamp is the lamp for you. Up to 1500 lux of brightness means you'll bring additional illumination even on a bright sunny day.
This powerful light emulates sunlight for a more natural feel, making it a standout feature of this premium LED office desk lamp. If you want the best quality light and the most power, consider adding this lamp to your minimalist desk setup.
9. Luxe Cordless LED Desk Lamp
Clutter begone! The Luxe Cordless LED desk lamp is wireless, rechargeable and long-lasting thanks to its energy-efficient LED light. In fact, it'll keep your standing desk lit up continuously for up to 40 hours on a single charge.
It's sleek, stylish, and modern, constructed with high quality materials. Although it's not quite as adjustable as some of the other lamps, its clean design and freedom from wires may be exactly what you're looking for. It can also be adjusted for color temperature and brightness like some of the more full-featured models.
10. Tomons Wood Swing Arm Architect Desk Lamp
The Tomons Wood Swing Arm Architect desk lamp is a simply adorable LED office desk lamp featuring a thoroughly modern and simple design while being constructed from high quality wood and metal. It's distinctive Scandinavian design is sure to be a standout in any office.
This best LED desk lamp is more traditionally designed yet has a distinctive modern and edgy feel to it. It doesn't have adjustable light and temperature settings like other lamps, however if interior design is something you care about the most, this stylish addition won't let you down.
Benefits of Having an LED Desk Light
You might not have made up your mind to get your hands-on an LED desk light, but we are sure that its associated benefits will grab your attention and end up buying the best desk lamp. Do you wish to know what you can expect from an LED desk light to boost your work experience? Well, read ahead to explore further… 
Longer Lifespan
LED desk lights are designed to last longer. Once you invest in one of these amazing desk lamps, you can sit back and relax as you have invested in a durable long-term work partner. Do you know why? Well, LED desk lights have a generally longer lifespan.
These lamps usually last 30000 – 50000 hours which is quite a big sum!
If you compare them with the traditional incandescent bulbs, the halogen bulbs, or even a typical CFL, LED bulbs outperform them all in providing the longest lifespan overall. Even if you use the LED light for 10 hours every day, it will last more than 13 years. 
Generate Less Heat
A longer lifespan means that the bulb usually doesn't heat up or fuse. Any traditional bulb produces heat when you are working for longer hours. This can be very hazardous for your health and even put a strain on your eyes. That's why we never recommend traditional bulbs for your desk.  Since an LED desk light generates less heat, you stay more focused and do not face headaches, nor do you experience any strain. 
Amazing Design Options Available
There is a wide range of LED desk light collections available in the market, so the design has never been an issue in this variant. These lights are available in various sizes, shapes, and colors, so they can fit easily with any desk setup and give it a unique look.
You might be someone who is obsessed with the minimalism trend, so the LED desk lights have something for you, too, as the market is too expensive. These sleek LED desk lights can be a unique yet useful addition to your workspace. 
No UV Emissions
LED bulbs are eco-friendly. Unlike the traditional bulbs, these bulbs are not designed using mercury or lead, so they tend to produce less carbon.
In addition to this, these lights do not emit UV or infrared radiation, so they are quite safe to use. 
Brighter Than Older Bulbs
The LED desk lights have a white light that is similar to daylight. Therefore, they are better than any traditional bulb.
In addition, they are brighter and clearer and provide a unidirectional light that boosts your focus and improves visual accuracy. 
Adjustable Light Intensity and Angle
The best office desk lamp comes with adjustable light intensity. However, almost all LED desk lights come with an adjustable neck that gives you the liberty of adjusting your light's angle. It helps to create a productive work environment.
When you are working at a different point of the day, say, if you are working at night, you may wish to have a lesser intensity light that does not put much strain on your eyes. In such a case, you would look for a dimmable bulb.
The good news is, LED desk lights are easily available with this feature, so it is never a big deal to get this option. Therefore, working with these lamps is always pretty convenient. 
Medical Benefits of LED Desk Light
The benefits don't end up with the features that the LED deck lights offer. Instead, there are certain medical benefits that you can expect to get from these lamps. Your desk lamp's intensity can have a great impact on your eyesight. You can conveniently find the best desk lamp for eyes that have a dimmable intensity.
Both higher intensity bulbs and lower intensity bulbs can lay a negative impact on your eyesight. The LED office desk lamps give you a plus point here as their intensity is adjustable. So, you can easily adjust which intensity is suitable for you and lets you work without any optical strain. In addition, these lamps do not have any hazardous filament like the older bulbs, so they are safer to use. Consequently, LED desk lamps do not create any optical damage. Instead, their use is lauded on medical grounds. 
FAQs for Desk LED Lamps
What Are LED Bulbs?
An LED bulb is a standard bulb that uses a light-emitting diode to produce its light. These bulbs are designed to be energy-efficient while ensuring that you get a well-lit work experience. These bulbs are installed with a semiconducting device that allows a unidirectional current flow. These bulbs do not have any filaments for producing light; instead, their lighting is entirely dependent upon a light-emitting diode (LED). 
How is LED Different from Incandescent?
An incandescent light bulb is the typical light bulb you would have been using since you were a kid. This is a traditional bulb that produces light due to the presence of a filament that heats up to produce light energy. On the other hand, LED bulbs lack any such filament and have electrons (electrical flow) that are generating light. 
Do LEDs Save Energy?
Yes, LEDs save energy and are typically the most energy-efficient desk lamps available in the market. The LED desk light uses more than 75% less energy than an incandescent bulb. If you usually work at lower power levels, this energy difference is even larger. A typical 11 – 12 watts LED bulb's output is comparable to a 50 – watt incandescent bulb, so you can do the math.
Conclusion
And there you have it, our top ten best LED desk lamps to complement any style of work or home office. If we missed any great lamps that you love, be sure to leave a comment and let us know which ones are your favorites!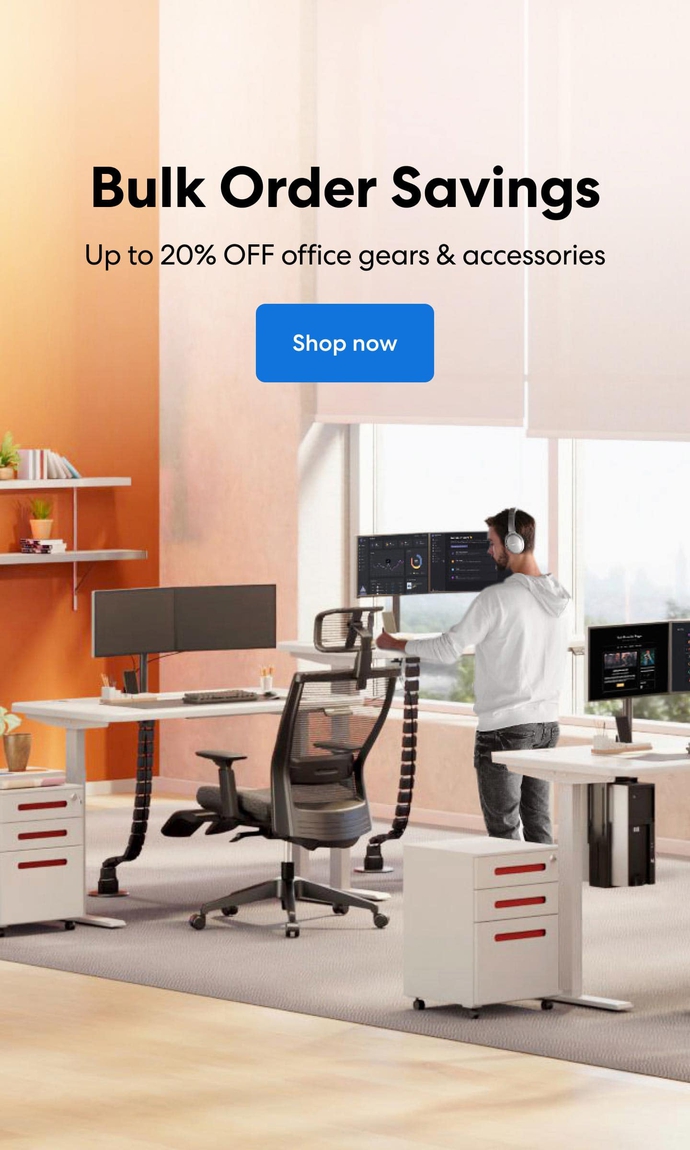 Subcribe newsletter and get $100 OFF.
Receive product updates, special offers, ergo tips, and inspiration form our team.