Workplace Inspiration
How to Setup a Homeschool Room that Actually Works?

Autonomous
|
May 21, 2021
2,771 Views
Many parents are experiencing a debate between homeschool vs public school. Most of them decide that homeschooling is the best idea possible. However, do you really need to have a homeschool room design or a specific space?
Yes! There are many reasons to consider having a separate homeschool desk space. Now that you understand why you need one, it's important to get tips on the right homeschool room setup. This should focus on the desk itself, having an ergonomic office chair, and much more.
Tips to Set Up a Homeschool Room
As you start your homeschool desk tour journey, it's important to consider a few tips. While you may ponder various ergonomics for yourself (or your employer does), these ergonomic essentials for homeschooling can ensure that your setup is correct.
That way, you know your child isn't hurting themselves while sitting in class all day with you. This also ensures that they use computers correctly, have the right chair and homeschool desk setup, and all the rest.
1. Appropriate Desk
The first step on the homeschool desk tour is to consider the right desk. Most kids are used to sitting all day, but that can lead to various health issues. Instead, they need to stand up at times, but that might not be possible when working on extensive projects.
With a smart standing desk, there's no problem! While assembly is required for your homeschool desk setup, it's often easy to do, and you can find helpful videos or read the instructions that come with the package.
Ultimately, you're not done after you buy a home standing desk for your kid homeschool room setup. The homeschool desk space is one of the most important, but there are other factors to consider. For example, you need to ensure that all of the supplies are easily attainable.
You don't want your child getting up every five minutes to grab a book, pencil, or anything else. That takes their focus away from the task and leads to poor productivity. However, you don't need a cluttered space, either.
While many parents claim that you don't need a special desk (or chair) for your student homeschool room setup, this could be misleading. Ergonomics start at a young age (or they should). If you're not focused on the well-being of your child, they could do significant damage to their bodies as they get older.
Therefore, it's best to make sure that your child can sit at the desk comfortably with their feet on the floor. If that's not possible, consider getting a computer chair with a footrest at the appropriate height.
Most standing desks raise and lower significantly, but it might not be enough, depending on how tall your child is right now.
2. Proper Chairs
Your homeschool room design should also focus on the chair. Again, most people don't think they need an ergonomic chair. However, think about how often your child sits there. If their feet dangle or they have to sit at the edge of the chair to get work done, it's uncomfortable.
With that, it can also be dangerous in the long term. Ergonomics might not have been prevalent when you were younger. However, you may now be feeling the effects of that (wrist pain, carpal tunnel syndrome, and more). You don't want that for your kids!
Ultimately, the best idea is to consider the ErgoChair Pro because it's comfortable and easy to adjust to meet your child's needs for their homeschool room setup. It offers an adjustable armrest, headrest, seat-tilt, and height to match whatever your child requires.
Plus, it's a great way to explain sustainability and "going green" because it's made of earth-friendly materials.
If the space often gets warm because of a window letting in sunlight, that's no problem. The woven mesh back allows more airflow, which means kids are sweaty and tired.
During moments of reading or thinking, kids can safely recline in the chair without slouching. There are five lockable positions, which means your child can feel confident and not worry about falling over 
3. Wall Space
Within the homeschool room design, you also have to think about what to do with the wall space. Your classroom is sure to take up plenty of room. Therefore, take down some pictures. That way, you can add shelves, whiteboards/chalkboards, and everything else.
Those items can be put in other rooms if there's space. Otherwise, you may want to wrap them up and store them until your child is out of school or the family decides to start using public school again (if that were to happen).
4. White Board
It's time to invest in a whiteboard for homeschool room setup so that you can stand at the front of the room and show your child what you're trying to teach them. Most public school systems use whiteboards for every subject (or nearly all of them).
With that, your child might be a visual learner, so they want to see what you're writing or talking about. Plus, you can write largely so that it's easy for them to glance up while taking notes.
There are many options available, and most of them can be bought online. However, make sure that you know where you're hanging it before you buy. That way, you can measure the space and read the dimensions of the products.
Many brands come with markers, a dry-eraser, and magnets, too. It's not necessary, but it's a good bonus.
Don't get alarmed if you feel that the dimensions feel large when ordering. In fact, it's best to go with the biggest one possible for your space. You don't realize it now, but as you're teaching, you're sure to need to write a lot. 
Though it's not necessary, a magnetic whiteboard can be very beneficial. That way, you can use the magnets to hang up the schedule, important documents you use a lot, magnetic markers are easy to grab and write with, and more.
Don't feel bad if you can't afford a magnetic whiteboard for your homeschool room setup. Buy a regular one, get some magnetic paint, and make your own. There are plenty of tutorials online to help you get started!
5. Shelves
Next on the homeschool desk tour is to have shelves. They're nice to keep your most-used supplies close to you. If you do get a large homeschool desk space, the desk can hold some of these things.
However, you don't want to clutter it up so that your child can't use it efficiently.
With that, you may have young children in the house that you're not teaching. You can easily put up things that they shouldn't play with!
Many parents find that they forget to measure, so they receive shelving units that are smaller or larger than they imagine. Make sure that you take measurements where you want the shelves to be. Then, read the descriptions of the products.
Floating shelves are a great idea for homeschool room setup since you can mount them on the wall and still have space below/above. Plus, you don't need to take up precious floor area.
Others may already have shelves installed in the area where the homeschool room is. If that's the case, you don't have to do anything; just use them efficiently!
6. Storage
There are tons of ways to get more storage in the homeschool room design. Consider adding small filing cabinets under the desk. Fun cubby hole shelves are also a great way to add storage and keep all of the supplies organized.
It really depends on how many children you have, what ages they are, and the curriculum you use. On top of that, you should consider where the homeschool room setup takes place. If it's in a kitchen, you might be able to clean out some drawers and put school items in there!
When the year begins, you can assess your needs and make sure that there's plenty of room for everything you require!
7. School Supplies
Buying school supplies is still a necessity, even if you homeschool. It is one of the most important homeschooling advice for your child. Usually, it's best to choose your curriculum before you buy anything. From there, you get a list in the teacher's manual to tell you what's required.
Many times, homeschooling parents are shocked that they don't need as much as when their kids were in public school.
You may also need to think of your children's ages. If they're young and still learning the alphabet, it's nice to have it displayed. That way, they can easily remember how to write letters.
As you get going during the year, you can get ideas of what things other homeschoolers want and like. That can help you decide if it's something your kids can benefit from having.
8. Bulletin Board
While many parents-turned-teacher like bulletin boards for homeschool room setup, they're not often necessary. It's nice to have one, but you can get by with peg-boards and other options.
If you regularly let the kids do crafts during the school day, it's nice to display their work for everyone to see. Plus, you can use it to store the calendar, have a smaller whiteboard (such as for daily tasks), and much more.
Some homeschooling parents prefer to put up everything their child accomplishes throughout the year. When summer rolls around, it's a great way to see what they've done. Commemorate it, take photos, and keep the crafts as memories.
Other Things to Consider
It's important not to get frustrated, especially when you're setting everything up. You can probably get by with what's in your house right now. As you progress throughout the year, it's easy to make changes. Ultimately, the desk and chair are the most important. With that, you should:
Keep an open mind: the homeschool room setup doesn't have to look just like a classroom. Though you require a flat surface, comfy seats, and good lighting, there are workarounds for just about anything. In fact, you might be able to let your child go off to space and work while you do other tasks.
Comfort is imperative: Both you and your child need to be comfortable. You're spending a lot of time in the same room, and it's easy to get frustrated. Children often have smaller attention spans, so you need to keep them busy and productive while they're supposed to be working.
Keep everything nearby: There's bound to be a few things you don't use that often. However, if you find your child constantly asking for this or that, it's important to keep those materials close to their workspace.
Consider a rolling cart: If you can't have a dedicated homeschool desk space, you can still keep important materials at the ready. Put everything into a rolling cart and move it around as necessary.
Eliminate distractions: Kids are naturally curious, and some like to procrastinate. Make the space as distraction-free as possible. That might include covering the television, turning off the phone, and more.
Get in the habit of cleaning up: Young children (and older ones) often leave their work areas a mess. Teach them how to clean up after themselves; it's something they need throughout their lives.
Go outside: Outdoor areas are also a great option, especially if you've got a busy household during the day. On nice days, let your child work outside.
Take frequent breaks: You're happy with your homeschool desk setup, but that doesn't mean you have to spend the full workday there. Get outside and enjoy some fun. Take some effective breaktime. Play catch, take a walk, or just listen to the birds.
Conclusion
The right homeschool room setup can make or break your efforts. You want it to be easy for your kids to learn (and you to teach), but you might not have as much space as a regular classroom.
Think about the things you already have that can be repurposed for homeschooling. From there, make sure that you have the right homeschool desk setup and chair.
This is the most important aspect because it's where your child is for most of the day. It needs to be comfortable, allow them to move freely, and have their supplies within reach.
Setting up the homeschool desk space is easy with these tips. Though the homeschool desk tour is now over, you have many ideas that can be used in your homeschool room design.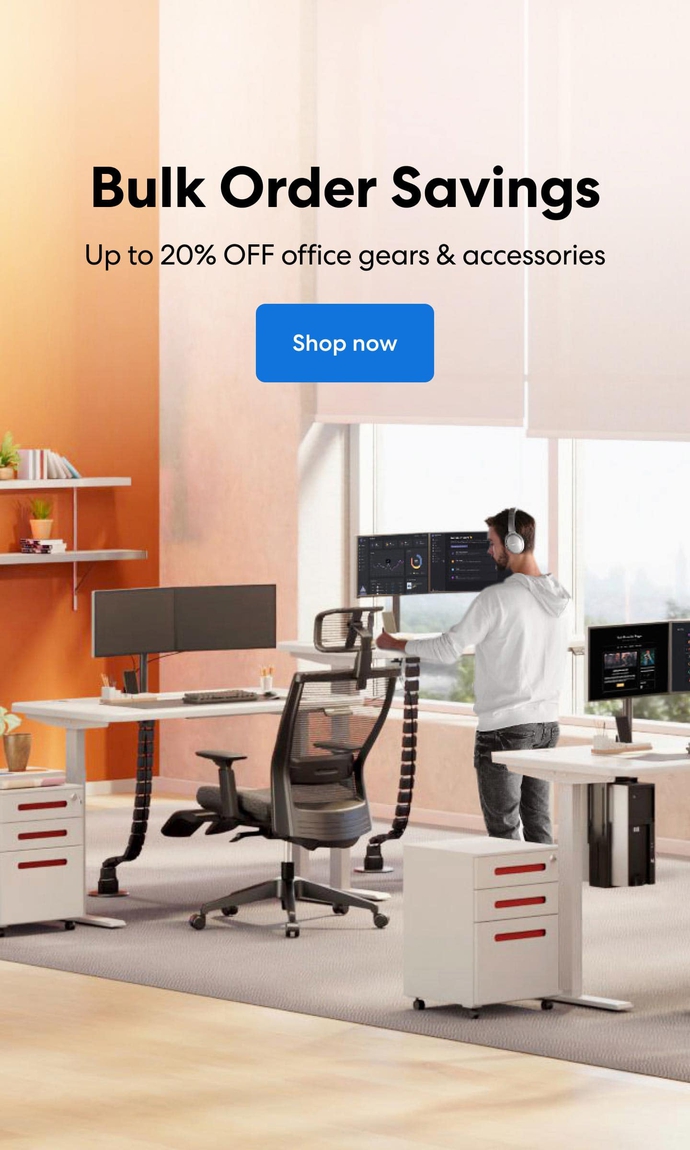 Subcribe newsletter and get $100 OFF.
Receive product updates, special offers, ergo tips, and inspiration form our team.