Decorating a dorm room might be challenging because you share it with a complete stranger and there is a stupidly small amount of usable space. However, because it's your first time doing so, it's crucial to pick a few items that reflect your particular style and make you feel at ease. You'll need a small, comfy, and aesthetically pleasing dorm room desk chair. Hard, but absolutely possible. To help you plan to return to school in style, we've compiled a list of the top dorm chairs available to purchase right now (without burning a hole in your wallet).
Top 35 Dorm Chairs for Students
1. Autonomous Ergostool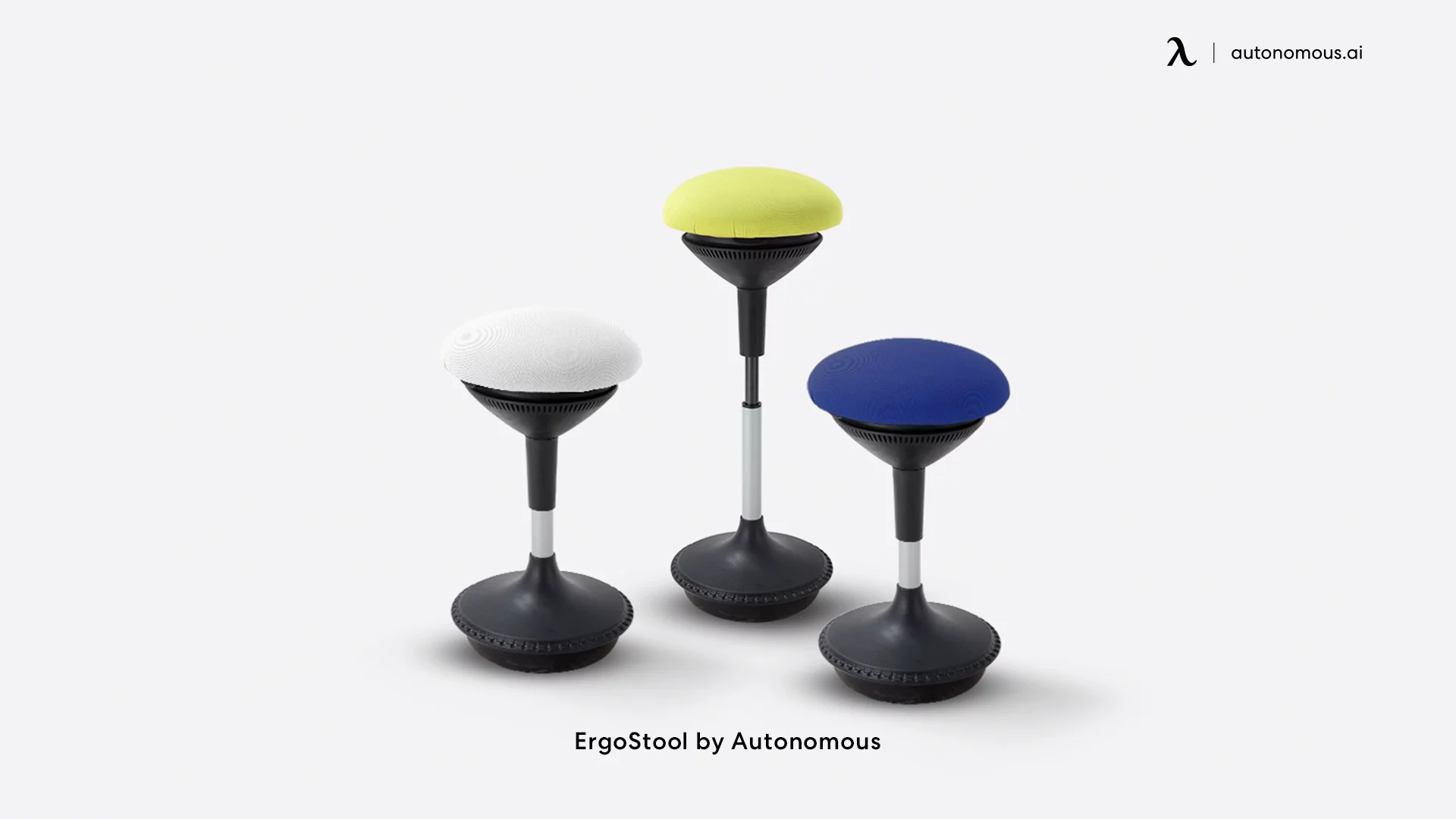 Working at your desk while actively sitting allows you to avoid the chronic pain and degenerative conditions that come with the prolonged use of traditional dorm chairs. The Autonomous ErgoStool is a full seating option for a dorm room chair that enables you to work while enhancing the power of your back and core.
Since a standing desk enables you to take useful pauses and obtain the exercise you want, it works extremely well with this stool.
Owning an Autonomous ergonomic stool has many advantages, but it takes some time to get used to using it properly and comfortably. 
2. Autonomous AvoChair
The company's highest-quality dorm room chair, AvoChair, is without a doubt, the best. It perfectly combines modern styling with various global designs and technological advancements. German textiles are used to assure luxury seating, which is supported by an overall Italian framework.
Performance-oriented materials are used in the manufacturing process. As a result, the product has unmatched durability. All the materials used by the business are of the highest quality, whether it is the mesh back of the chair or the stainless steel used in the gas lift. These chairs have successfully passed tests to ensure their long-term durability, toughness, and effectiveness in distributing heat and pressure.
A distinguishing feature of the comfy dorm chair is that its designers avoided using any type of unfriendly textiles in its production. Additionally, no foam of any kind or leather harms the earth in this chair. 
3. ErgoChair Pro
4. ErgoChair Plus
5. KERDOM Ergonomic Chair: Advanced Contoured Seat
The KERDOM Ergonomic Chair: Advanced Contoured Seat provides support for the neck, back, hips, and wrists, as well as the proper lumbar alignment. It's easy to modify for a variety of requirements. Both the cushion and the excellent mesh fabric backrest are flexible.
Unlike regular seats, it prevents your back or buttocks from becoming moist, allowing you to comfortably sit in this dorm chair for an extended period of time. The wheels of this seat may turn in any direction. It won't produce any noise or harm your floor because it is flexible. Additionally, it works on any surface, such as wood, carpeting, etc. 
6. KERDOM Office Chair: Adjustable Armrests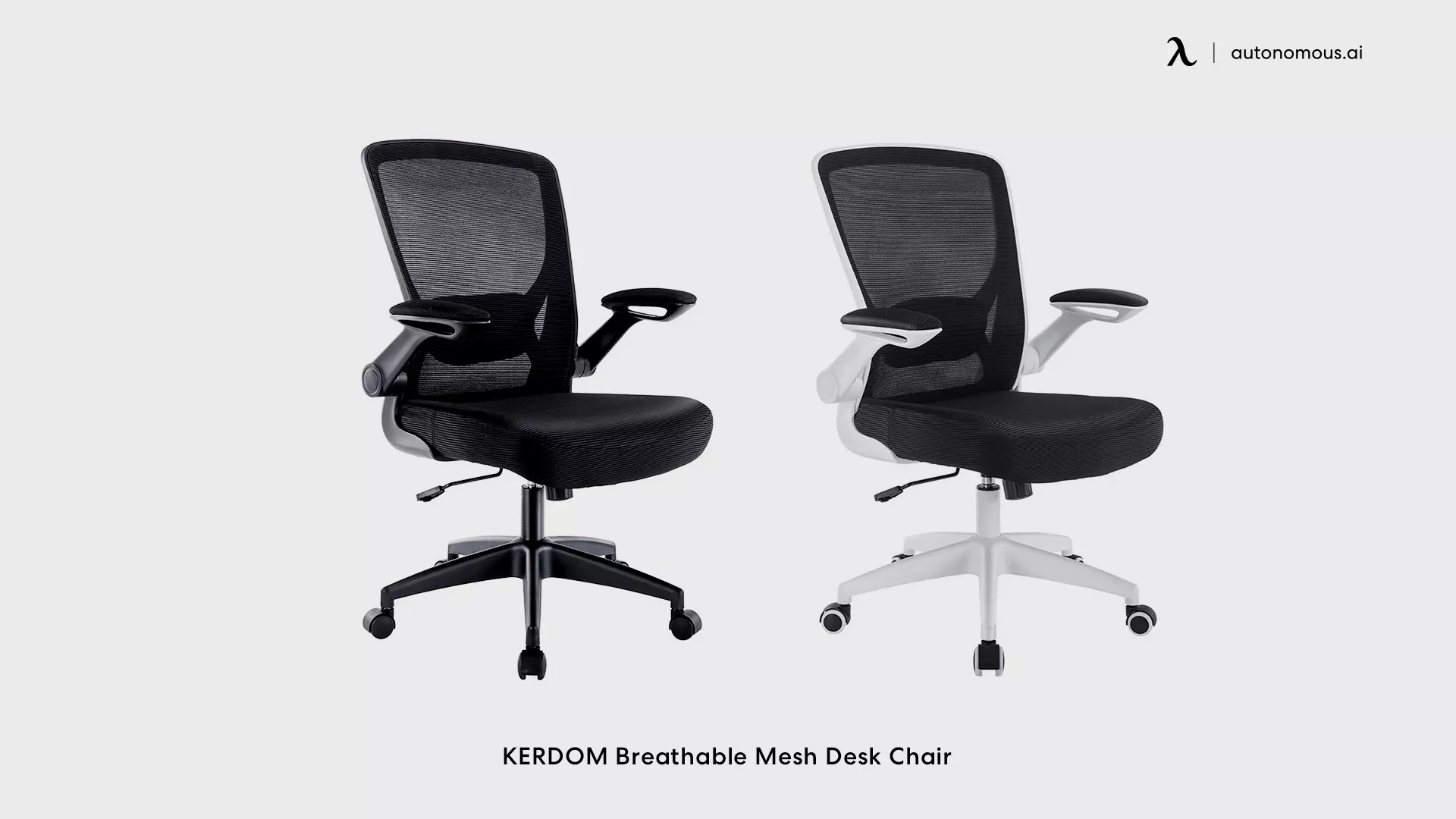 KERDOM office chairs are made with an ergonomic, human-centered design that offers comfortable assistance to help you keep a neutral position while working for extended periods.
Additionally, this KERDOM Office Chair: Adjustable Armrests is really comfortable. The armrests of this desk chair, in contrast to some of the others, were easily adjustable to suit almost any sitting position or style. Its backrest also mimics normal body movement by automatically adjusting to your vertebrae. 
7. KERDOM Office Chair: Adjustable Armrests & Headrest
We won't sugar coat it: this chair is pricey. However, given its distinctive style and benefits, the - KERDOM Office Chair: Adjustable Armrests & Headrest might be among the best you can find.
When you're standing up, the headrest is neutral, but when you're lying down, it cradles your head and neck. Additionally, as it is an articulating headrest, no manual adjustments are required.
The seven-degree tilting backrest pivots to ensure lumbar support in any position, and the contoured cushions make sitting comfortably for extended periods possible by evenly distributing your weight and minimizing pressure spots. Its arms can be easily adjusted and, because they are connected to the backrest, they move with you when you do.
8. KERDOM Ergonomic Chair: Breathable Mesh Cushion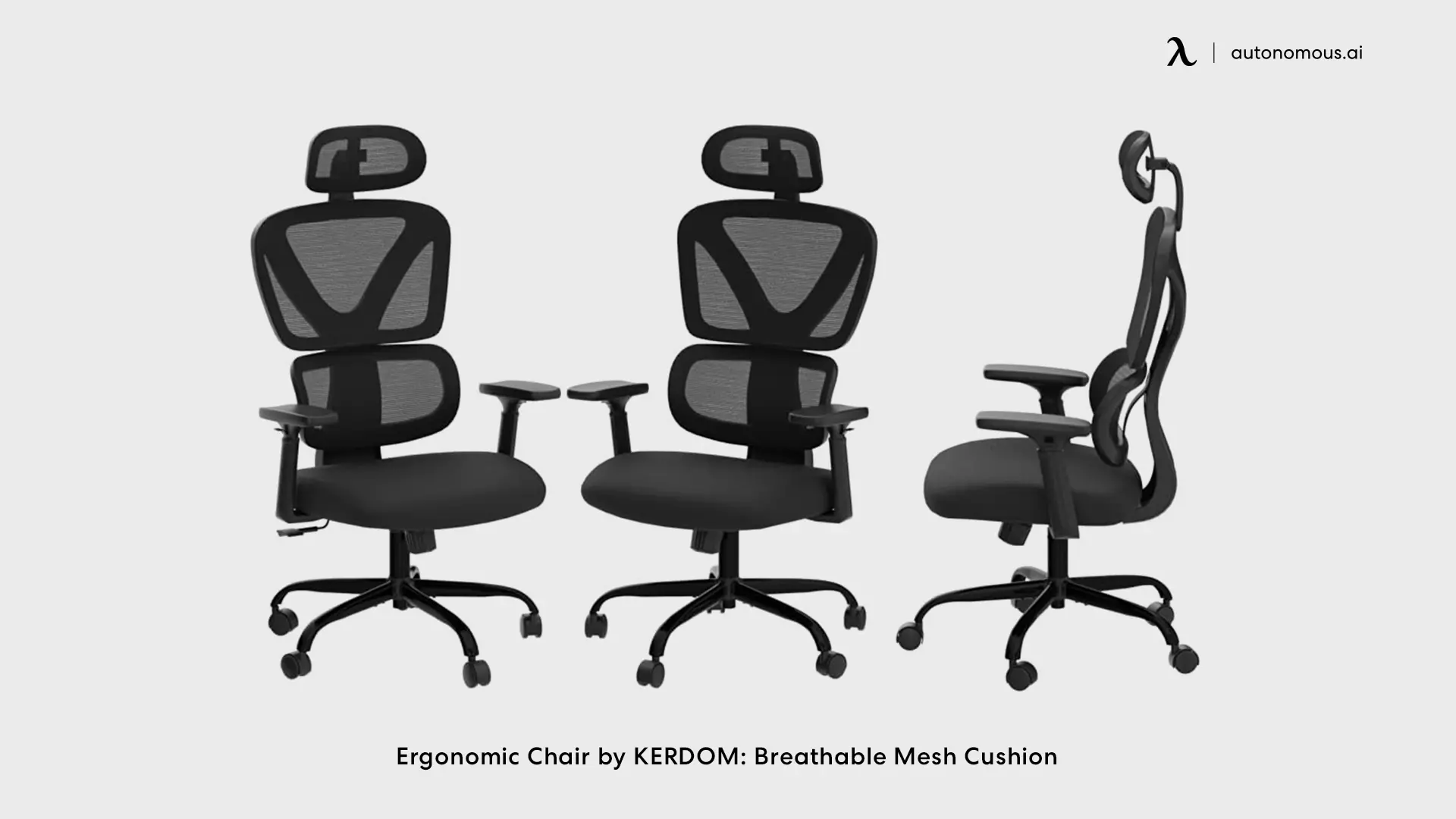 This KERDOM Ergonomic Chair: Breathable Mesh Cushion chair is exceptionally comfy because of its ergonomic S-shaped curve design. Both muscular relaxation and tension release are much simpler.
Nevertheless, you won't become tired if you sit still for a while. This chair is among the top ergonomic desk chairs assessed because of its unusual and well-designed construction. The best dorm chair for back issues is this one. Even the pickiest clients should find it attractive because it looks terrific. 
9. KERDOM Office Chair: Flip-up Arms
The KERDOM Office Chair: Flip-up Arms offers suitable waist support in addition to three support points for the back, hips, and hands. To suit various purposes, the seat's height can be easily changed.
In order to save room, you can flip the arms up and place the chair under the desk. The home desk chair can fit in a space that is not too wide.
10. Logicfox Ergonomic Office Chair: Saddle-shaped Mesh Seat
11. Logicfox Ergonomic Office Chair: Double Lumbar Support
12. Logicfox Ergonomic Office Chair: Saddle-shaped Sponge Seat
13. The Office Oasis Ergonomic Chair: Hardwood Floors Caster
14. Skyline Decor High Back Swivel Chair
15. Techni Mobili LUX Ergonomic Executive Chair
16. US OFFICE ELEMENTS Conference Chair: Lumbar Support
17. US OFFICE ELEMENTS Ergonomic Office Chair: Head Rest
18. US OFFICE ELEMENTS High Back Big & Tall Office Chair: Headrest
19. FinerCrafts The Office Chair: Headrest and Legrest
20. Northread Ergonomic Mid Back Swivel Black Mesh Desk Chair
21. Techni Mobili Home & Office Chair
22. Techni Mobili Modern Studio Office Chair
23.  Big Joe Beanbag Chair
This beanbag chair's SmartMax fabric makes it sturdy and stain- and water-resistant. Use a soft bristle brush and a combination of water and mild soap to quickly and easily clean it. UltimaX beans mold to the contours of your body. When the chair starts to compress, as many well-loved bean bag chairs eventually do, you can replace it with fresh beans. The large built-in pockets are a great place to store your books and refreshments. 
Although it may not be the most fashionable chair, this one is unquestionably cozy and functional. If you want a place to sit down with friends and play video games or watch a movie in the dorm, the Big Joe bean bag chair is a terrific choice. 
Eight more colors are also available: gray, ivory, sapphire, black, mint, navy, pink, and white. 
24.  Gtracing Ergonomic Swivel Chair
The ergonomic design of this comfy dorm chair will provide you with the support you require, whether you need it for studying, gaming, or both. It assists you in maintaining a neutral, balanced posture, which lessens the pressure on your bones and joints and the pain that goes along with it. To increase your comfort, there is a lot of padding on the lumbar, headrest, and seat cushions. 
Its height, armrests, tilt rock tension, and a huge angle adjuster that offers a wide range of angle support — from 90-170 degrees — are just a few of the many adjustments available for this office/gaming chair. This best-construction seller has premium elements such as a strong aluminum frame, plush PU leather, easy-rolling casters, and a supportive molded foam. 
25.  Chill Sack Bean Bag Chair with Microfiber Cover
The large bean bag dorm chair allows you to curl up in it by yourself or with a friend. Your body is cradled by the memory foam blend stuffing as it adapts to your shape. The machine-washable, detachable, double-stitched microfiber suede cover is gentle on your skin. Additionally, the cover's resistance to stains and discoloration raises the level of convenience. All these details ensure that this chair can withstand normal wear and tear. 
26.  Modway Ripple Mid-Back
Most dorms have desk chairs, although they may not be particularly comfortable, and the seat cushions may be seriously worn. Replace the standard chair with this contemporary one instead, which has a ripple back and can withstand even the most strenuous all-nighter. Due to its mid-back height and lack of arms, the chair won't take up much space and will easily fit completely under your desk. 
The chair's height may be adjusted to meet your own preferences, and the base is composed of five completely swivel-capable dual-wheel casters. This chair comes in eight colors, from white to scarlet, and has a sleek, polished chrome base. 
27.  Intex Inflatable Chair
Lacking room yet still needing more seating? This inflatable chair is a wonderful choice because you can blow it up when you need a second seat and deflate it and pack it away when you don't. It's perfect if you have friends or relatives staying with you over the weekend because the chair can also be extended to become a twin-sized bed. This folding dorm chair has a supportive backrest and armrests in the chair position, making it simple to relax. The additional wide opening on the two-in-one air valve makes it easy to set up and take down. 
28.  Kneeling Office Chair
This kneeling chair is excellent for maximizing space and enhancing posture. Since it can be stored underneath your desk when not in use, it barely takes up any space. Unlike standard office or desk chairs, this chair's unusual design allows you to kneel while working at your desk, which improves posture and builds back muscles. 
29.  ALPHA HOME Saucer Moon Chair
If you want to get a model that is trustworthy and comfy, this dorm chair is a wise choice.  
Because it is rather large, you won't need to adjust your body as much as you would for a poor chair. You can sit or relax on the cushions at any time because they are thick. Additionally, it is durable, so you won't need to consider getting another one in the future. 
In addition, it can support up to 250 pounds of weight. Also, faux fur was used, which doesn't shed under any conditions. It may be cleaned whenever you like, and the process will be simple and easy. 
Furthermore, you can unwind by using the seat cushion and backrest's cotton (silk) stuffing. 
30.  ZC MALL Velvet Chair
When choosing the best seats for college students, this model can be a great option for students. It will raise the quality of your saucer chair to a new level while also having a stunning appearance.
Because of the fabric's elasticity, you won't experience any discomfort when resting on it. You will feel how soft it is when you touch it, and for your benefit, it is manufactured in a way that prevents wear or other types of damage. 
This dorm chair is both strong and stylish. You won't need to worry about whether it will look well in your space since it will. Fortunately, it is breathable and won't wrinkle. The setup is also quick and easy. 
31.  OSP Papasan Chair
With this wonderful dorm chair, your space will have a lively atmosphere. This chair competes fiercely with the others in the field of chairs for college students. 
Furthermore, not all models may be used for various purposes, but this product gives you the option. You can use it for homes or even apartments in addition to dorms. You can sit on it to study, watch movies, chat with friends, etc. 
It includes a tufted cushion, which is primarily intended to give you the utmost comfort. Additionally, the seat height of this dorm chair is appropriate, so it won't matter if you are tall or short. 
Furthermore, it can support up to 200 pounds of weight. Because the frame is built of high-quality steel, you will be amazed by its appearance. The producer added woven polypropylene wicker to it to boost strength and durability. 
32.  Cotton Craft
Because it has so many characteristics that can't be overlooked, this folding dorm chair made it onto our list of the best dorm chairs rooms. 
Its entire structure is made of cotton, which has a smooth touch and will help you relax as you sit in the chair. Additionally, the cushion is thick and comfy and contains polyester, which further enhances the wonderful experience. 
When you finish shopping, you will see that the cushion is already overstuffed, and you can start using the item right away. 
33.  Blush Pink Dorm Chair
Looking for the most luxurious dorm desk chair? Many are obsessed with this blush-colored task chair. 
There is a ton of cushioning, and the gold base gives it a luxurious appearance. Even though it needs to be assembled, reviewers claim that it just takes 10 minutes to put together.
34. Milliard Faux Fur Saucer Chair
This lounge chair is the most adaptable seating choice for dorm rooms. Faux fur is used to make the Milliard Saucer Chair, making it a really comfortable place to relax. 
Additionally, this comfy dorm chair is foldable, allowing you to store it when not in use beneath your bed or behind your dresser. Depending on the amount of space you have and the price you want to pay, you can get this dorm chair in either an extra-large or a mini size. 
35. Ergonomic Swivel Desk Chair
In your dorm room, you may already have a college desk chair, but it definitely won't be the most comfortable. You need an ergonomic chair if you're seeking for dorm seating to use while doing your schoolwork or studying. 
Ergonomic seats are made to enhance posture, lessen stress, and boost concentration. Reviews for this comfy dorm chair are fantastic, and it costs less than $100.
Conclusion
Now that you have a brief idea of the type of dorm chairs available, which one's your favorite?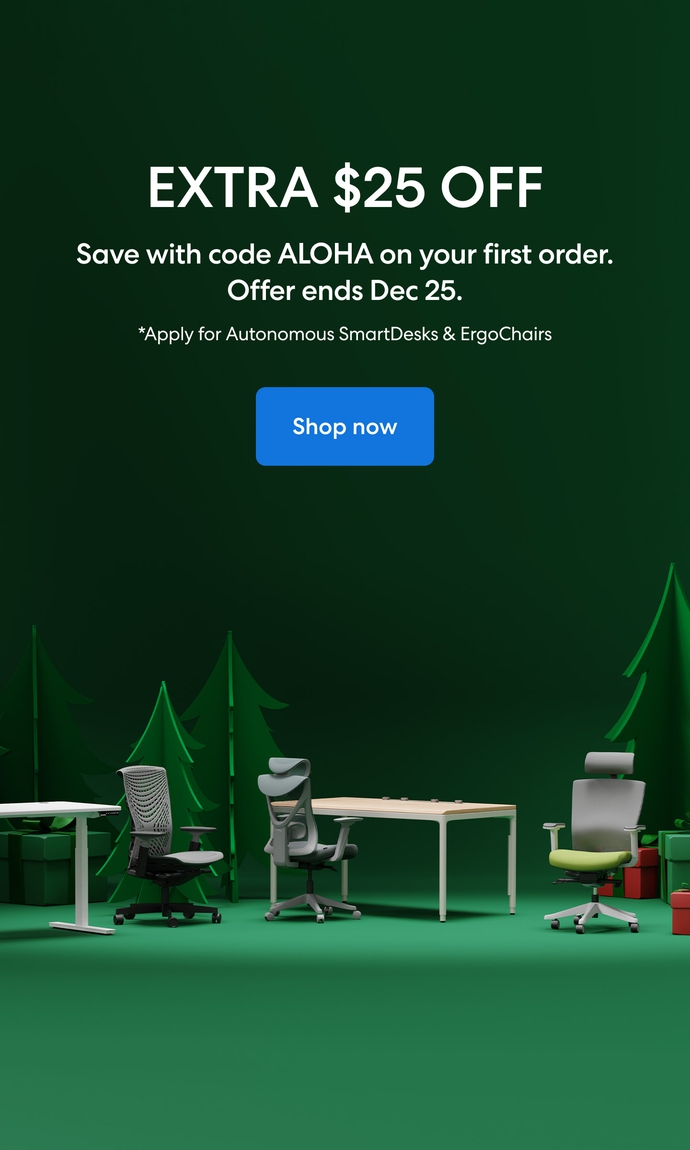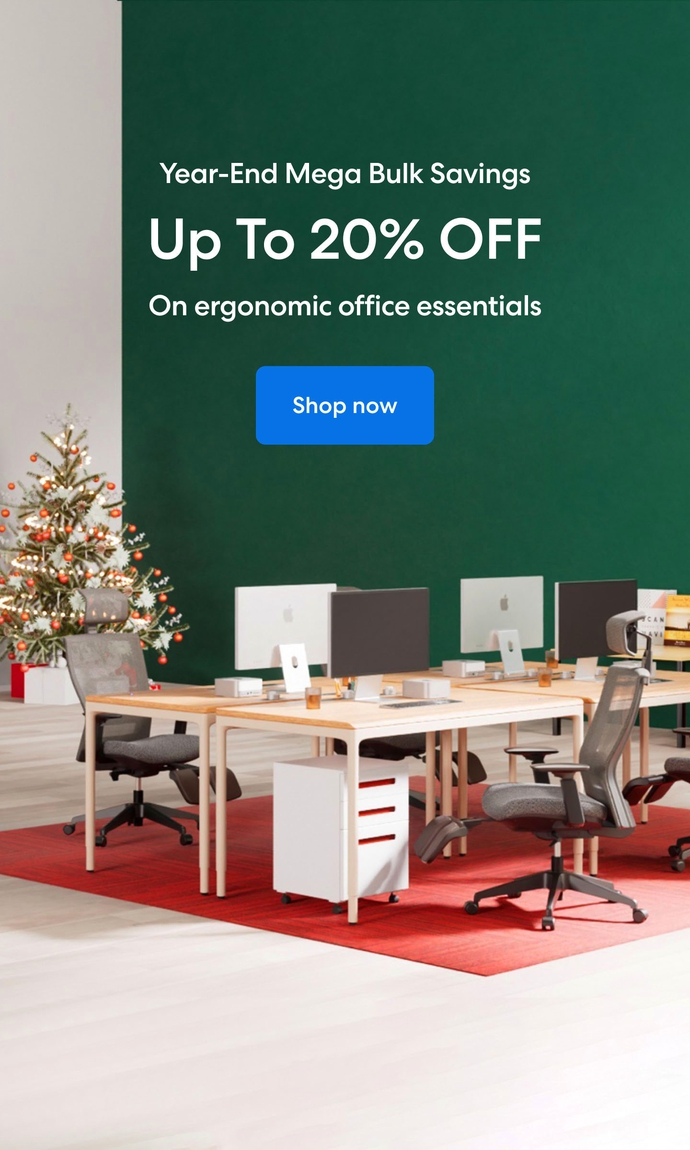 Subcribe newsletter and get $100 OFF.
Receive product updates, special offers, ergo tips, and inspiration form our team.