Desks come in different shapes and styles, all of them tailored to the needs of gamers, office workers, students, or any other person who may be in need of a work surface, such as a secretary desk. While buying it is the standard option, some people also like to make their desks even more special by making them themselves.
A DIY pipe desk can be a good project if you want a unique style in your home office. If you're looking for a way to build a custom desk, then this guide will serve you. We'll describe some pipe desk ideas you can use to renovate your current home office and give it a more personal touch.
Is it Costly to Make a Pipe Desk?
It truly depends on what you're looking forward to. For instance, a DIY industrial pipe desk can be very costly, especially if you're hiring someone to do it for you. However, if you utilize more affordable and equally-resistant materials, you might be able to build a proper desk without having to spend thousands of dollars on a single object.
That said, the general cost of a DIY pipe desk is around $50-$70 if you take into account that you'll need the following materials:
EMT conduit can cost around $0.65 per foot. You can ask the personnel at the store to cut the pipes to the desired length for less trouble if you don't want to cut them yourself.
You will also need a wooden desktop. The average cost per square foot is usually between $8-12. Wood tabletops can be a bit costly, but you can also choose cheaper options like MDF if you want to save more money.
You will also need flanges, which typically come with the pipes. You can find sets of four metal pipes and flanges for as low as $28.
Lastly, you will also need structural pipe connectors or T-connectors. These aren't too expensive, being around $2-3 dollars each.
As you can see, building a DIY pipe desk isn't that expensive. It can also be a fun project you can work on during the afternoon. You can also try to make a small corner desk out of pipes if you want to save space.
How to Build a DIY Pipe Desk: Step-by-Step Guide
It isn't too complicated to build a DIY pipe desk, but it can take a bit of effort. This guide only contains five steps, each of which shouldn't take you that long. If you want a DIY pipe desk with shelves, you can also integrate them somewhere on the tabletop. The pipes will work as the desk legs and overall architecture. The pipes will also define the desk height.
This guide contains detailed instructions on how to build a basic pipe desk.
Step 1: Gather Your Materials
The first step is to gather all the materials and tools you'll need to complete your new desk. You will need the following items to get started with the project:
Pipes
Flanges
Screws
Desk top
Drill
You won't need too many things to get started with this project, but the result will be very rewarding.
As mentioned, it's typical for pipes to come with their flanges and all the necessary hardware, which means that once you purchase them, all you need is the desktop and the drill to start working on the desk. If you want a small desk with drawers made of pipes, then you'll have to gather a few more materials.
Step 2: Clean and Seal the Pipes
Now that you have everything nearby, it's time to get started with the project. The first step is to clean and seal the pipes. For this basic project, you will only need four pipes of equal length, which means you'll also need eight flanges, half so that you can attach the pipes to the desktop, and the other four will work as the feet for the desk.
Some pipes may not need it, but if you're using steel pipes, you may need to seal them before you can get started with the project. This way, you can remove any residual material that may have been left during the manufacturing process. You can do this by using paper towels, a cleaner, and a clear coat.
You should wait until the pipes are completely dry before you can start working with them.
Step 3: Attach the Flanges to Your Desktop
For this step, you'll need to lay the desktop on the flop, facing down. Now you should place the flanges in the place you find the most convenient, depending on the overhang inches you would like for your desk. You can use a pencil and a tape measurer to mark the right distance between each option.
You can start drilling the flanges into the desktop once you've located the perfect place for them. This process only applies to wood, which means that if you're using glass, you'll have to use an adhesive to keep the flanges and legs in the same place.
Step 4: Insert the Pipes into the Flanges
You can now start inserting the pipes into the flanges. Ensure that the pipes are firm but not too tight, as you'll need to adjust them later in the process.
Step 5: Attach the Floor Flanges
Once you've attached the pipes to the desktop, you can now start attaching the flow flanges into the lower area of the tubes, as those will act as the feet of the desk. And like this, your new desk has been completed. It's a simple project that you can modify or adjust based on your needs and preferences. You can now utilize it as intended without problems.
Conclusion
A pipe desk can be a portable desk since you can easily attach and detach the legs. This project in particular doesn't take too much time and is quite easy, allowing you to enjoy your new desk the same day when you started building it.
Pipe desks can be exciting, but ladder desks can also be interesting if you want to try out new layouts. What other interesting desks do you think could be a good match for people who work at home?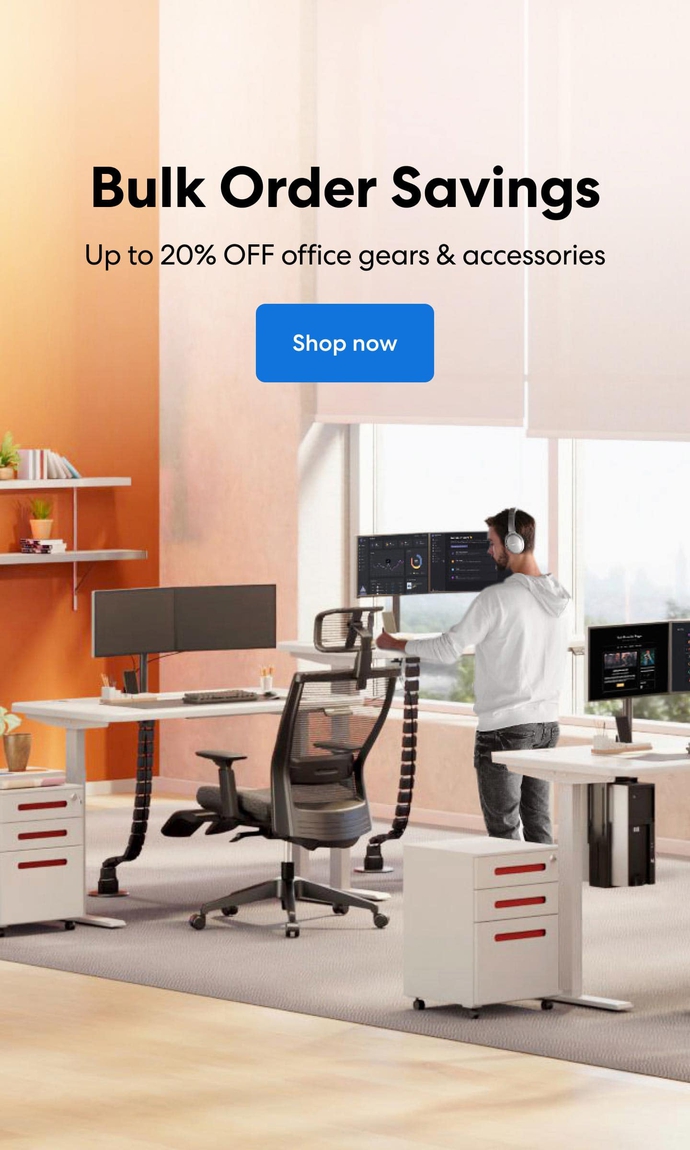 Subcribe newsletter and get $100 OFF.
Receive product updates, special offers, ergo tips, and inspiration form our team.