Smart Products
Pros And Cons of Using Portable Laptop Desk | Top 5 Choices
1,316 Views
Are you suffering from neck and back pains? Are you struggling with frequent headaches and poor eyesight? Are you working from your home office, trying to keep up with the goals?
The pandemic surely has changed the way we work. Most folks are now working remotely or on a hybrid model. Companies have ensured they provide computer systems to those working from home. Those on the move, shuttling between a home office and a central office, have been equipped with laptops.
While laptops are helpful for mobility and easy catch-up at work, they have their drawbacks. Let us explore more about portable laptop desks.
What is a Portable Laptop Desk?
Many folks have been using their laptops on the regular work desk. This is not the best idea. Why? The Occupational Safety and Health Administration, USA, highlights the need for correct working postures. Their research mentions the need for a portable laptop desk with the right desk height standard. This will help attain the correct sitting posture, given that each individual had a different height. Hence, many folks use laptop stands or portable laptop desks. These can be moved around in the house and aid in maintaining good health.
Pros of Using a Portable Laptop Desk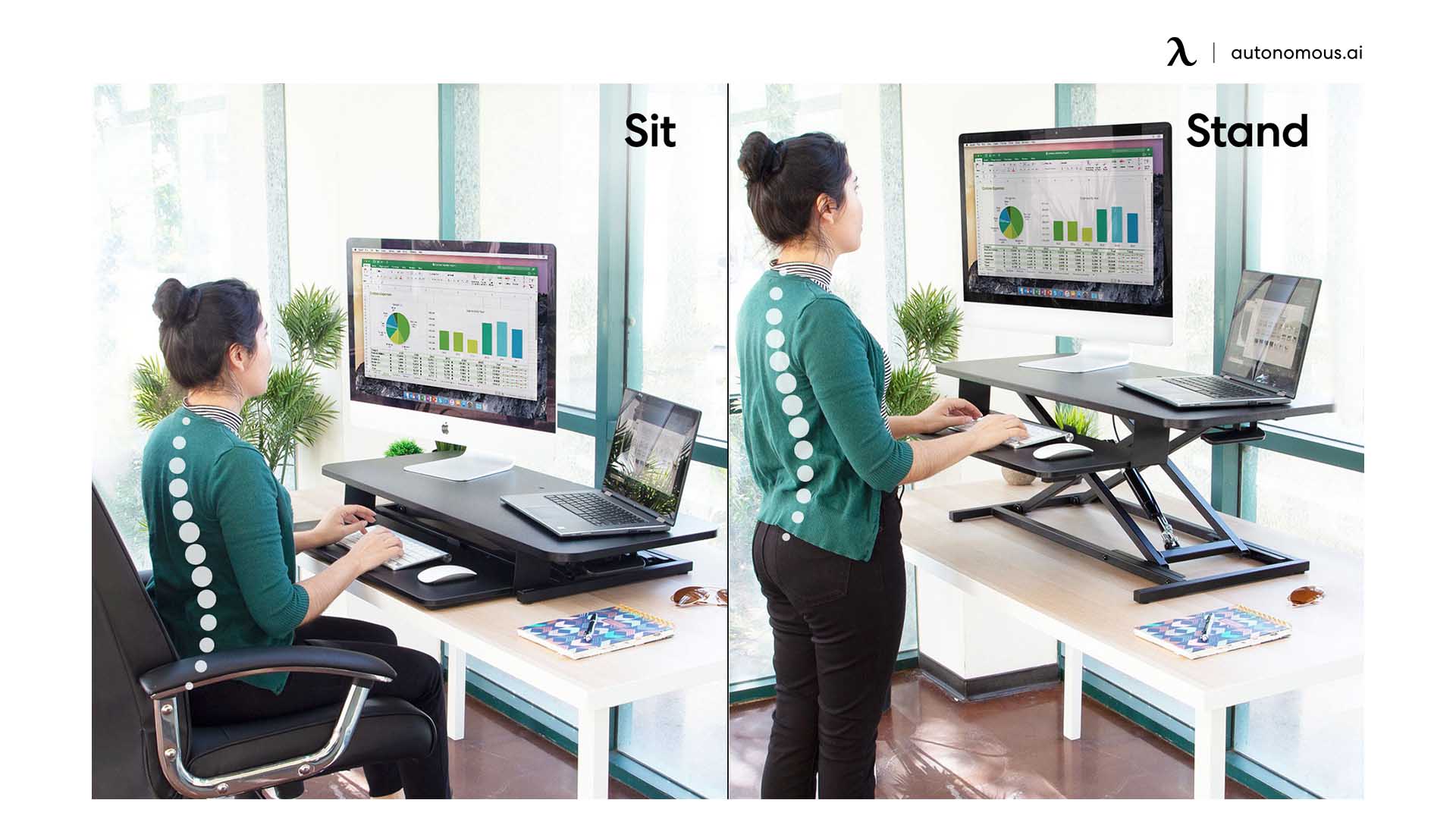 Portable laptop desks have their pros and cons. Here are the top ones.
Adjustability and Posture
A portable laptop desk stand has better working postures to offer you. How? You don't need to bend from the neck downwards. Since you can raise them, you can easily adapt your posture for greater comfort. Many laptop desks allow the laptop to be slanted at an angle comfortable for your hands to type. As a result, you are much more comfortable as your writs are safely placed on a wrist rest. This reduces the pressure on your wrists, fingers and entire arm. And further, this reduces the chances of health issues like carpal tunnel syndrome. This also reduces the strain on the eyes, as a laptop is now at eye level.
Ergonomic design
Laptop desks are usually ergonomically designed for your overall health. Medical research proves the importance of an ergonomically designed desk to maintain good health and productivity.
Prevent burns
Many folks prefer to rest their laptops on their thighs or legs as they work. Due to this, the heat from the laptop tends to damage their skin. This is also known as toasted leg syndrome. You can easily prevent burns from the laptop's heat with a laptop desk.
Cooling
With a raised laptop desk, your laptop system is easily cooled. This avoids any problems relating to overheating and more. Your laptop then has increased longevity.
Mobility
Since most laptop desks are lightweight, you can easily carry them to your home office setup or central office.
Cons of Using a Portable Laptop Desk
On the contrary, laptop desks can be a challenge for a few people. Why?
Difficult to operate
Some laptop desks may be slanting and are easy to use. However, many folks find them difficult to operate as the keyboard is now at an angle. The next variety of dual-rise laptop desks is the most complex. As you type, your hands are in the air at times.
Not ergonomically designed
Many laptop desks are not ergonomically designed. Especially left-handers may find them troublesome to operate. This poses challenges in completing one's work.
Let us explore the top five choices of a portable laptop desk.
Portable Laptop Desk - Top 5 Choices
1. Dual Elevated Workstation by Mount-It!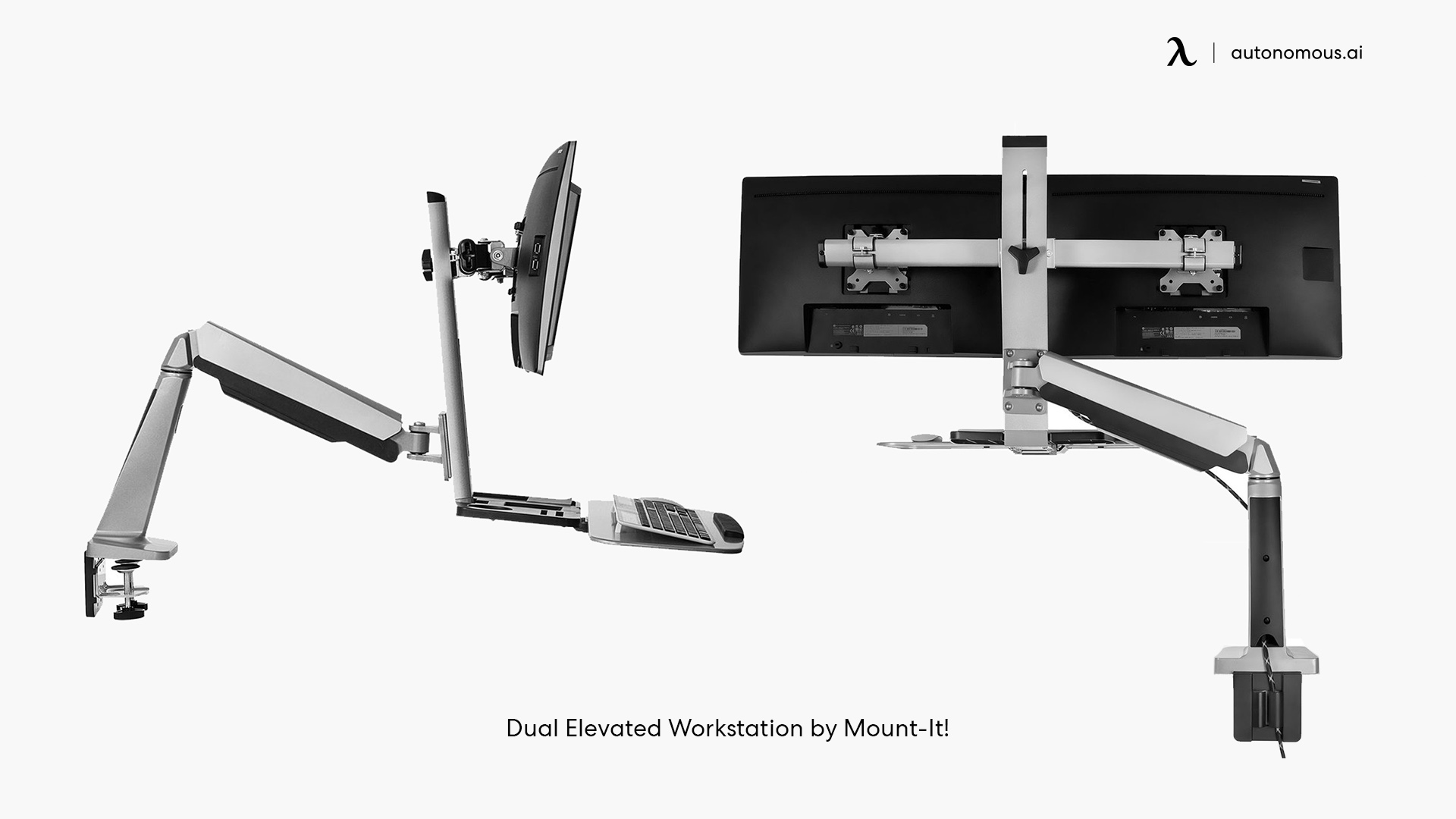 Did you know that you are at risk of various diseases like diabetes, cardiovascular disease or more? How is that? When you are seated, the blood glucose is not used by muscles. As they are not being used, muscles don't need them. This blood glucose then piles up and accumulates, which increases your risk for diseases. Hence, it would help if you had a sit-stand laptop desk.
As you search for a laptop desk, you cannot miss this sit-stand desktop workstation. Now adjust your posture from sitting to standing to flex those muscles. Or sit down as you feel tired.
You can even mount two monitors on this stand. Add mouse, keyboard and other accessories that help you work. The arms are fitted with gas springs, making them easy to operate. It is easy to install on your existing desk.
2. Electric Monitor Riser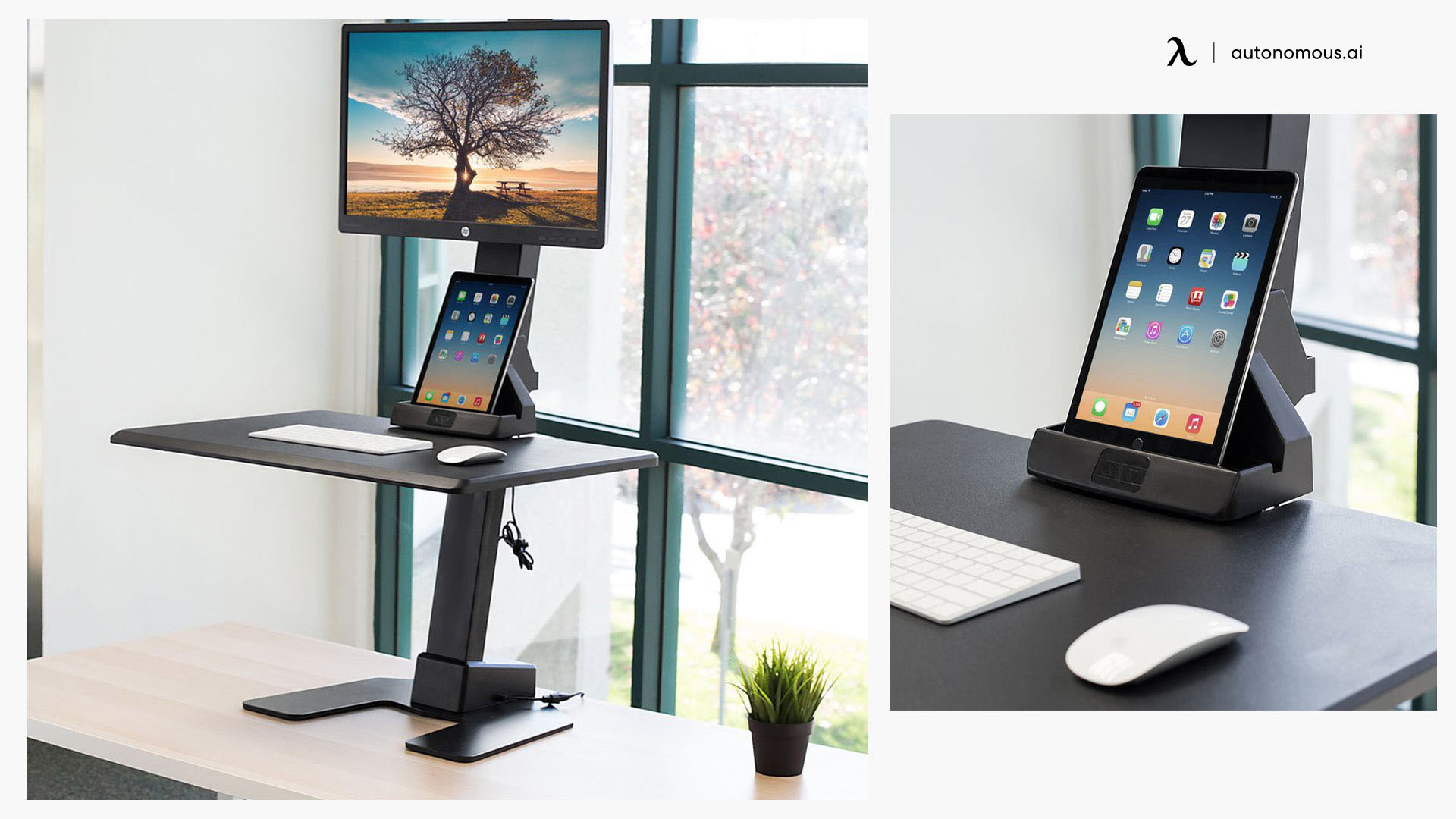 Want to free up some space to work? Have heavier monitors than the usual ones? Now get rid of all other concerns using this motorized standing desk converter. It allows you to tilt your screen up forty-five degrees. You can rotate the screen three hundred and sixty degrees. Awesome, isn't it?
This ergonomic and mobile laptop desk adjustable height is VESA compatible. You will love the height adjustability it offers between 1.75" to 20.75". Keep away your smartphones safely, in the space provided.
3. Standing Desk Converter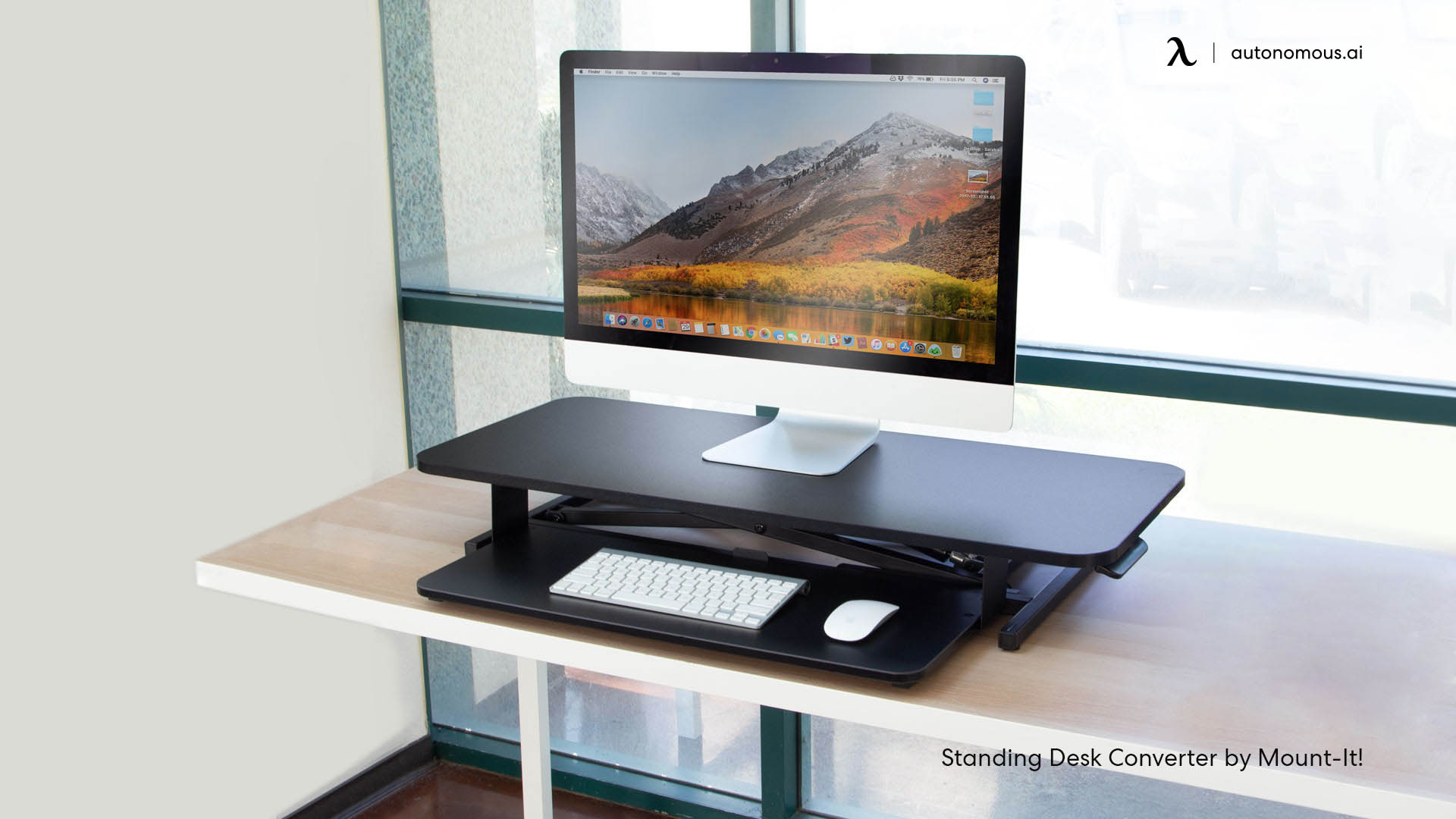 Tired of sitting as you work long hours? Now alternate your working postures between sitting and standing and stay healthy! How? Use this standing desk converter that gives you a healthy balance. The gas spring arm is easy and smooth to operate.
You can adjust the height nearly up to twenty inches. This makes the screen for most folks (including tall people) come up to eye level. You don't need to bend at your neck to look down with your laptop elevated. Work comfortably and avoid any health challenges.
4. Superjare Foldable Laptop Desk
You may like this small portable laptop desk that is foldable too. You can use it as a multi-purpose table, including having breakfast in your bed. It has a non-slip bottom for stability. It even has a cup holder for you to place your coffee cup. The distance between the legs is more than twenty-two inches. This gives you ample space to place things under the table as you work at this portable desk.
5. CosyFame Laptop Table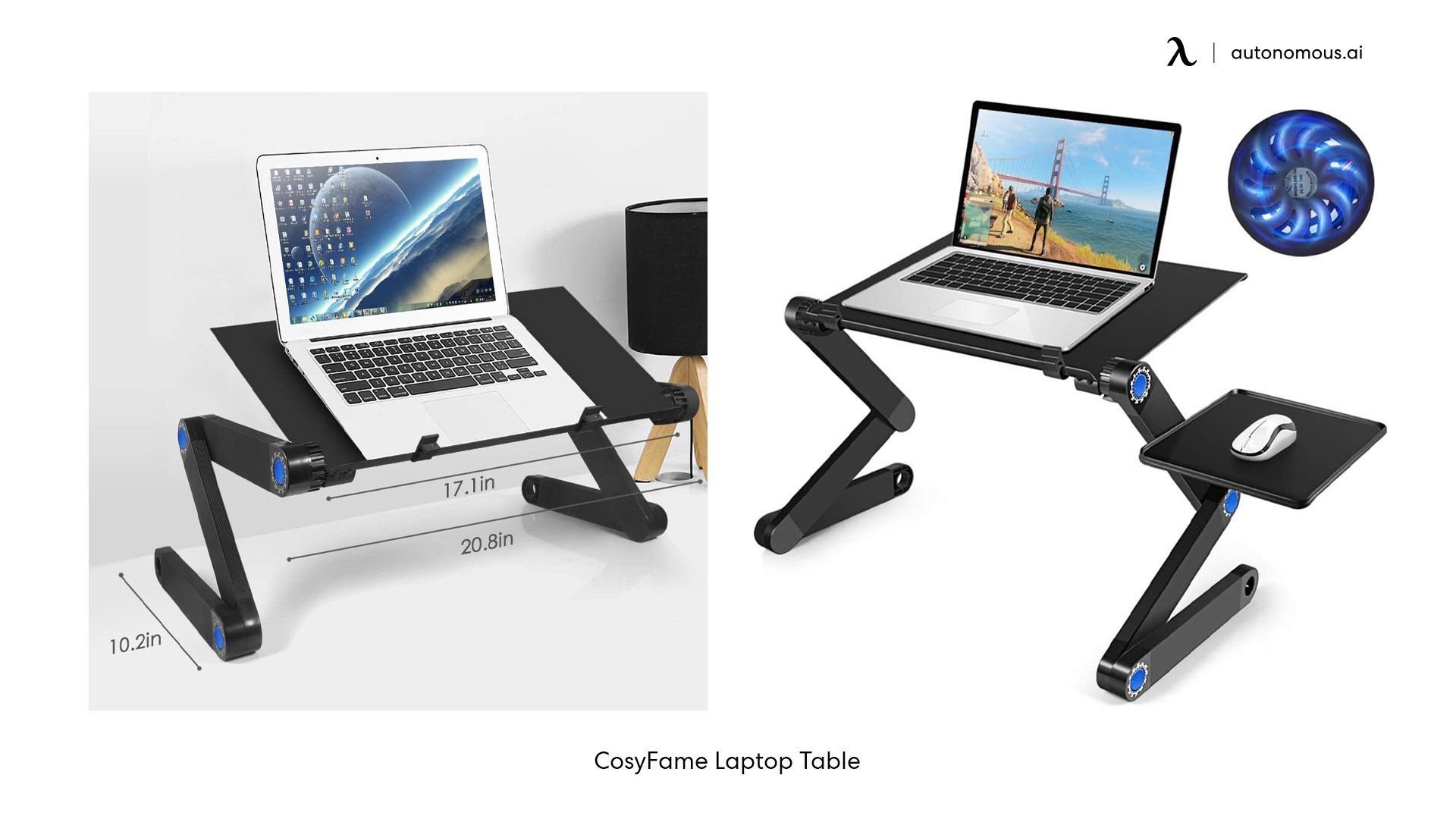 This portable laptop computer desk is a good choice for your comfort. Adjust it to suit your convenience as you work from your home office or office. It fits onto most work desks easily. This ergonomic laptop desk has a separate place to keep your mouse as your work.
Get more ideas for your monitor and laptop setup.
Wrap-up
It is established that a portable laptop desk is something that you should not ignore for your good health. As you explore a portable laptop desk, be sure to select those that offer you greater adjustability. Keep in view all your portability needs, weight to be placed and more as you choose one. Happy working!
Keep up with Autonomous news
Stay informed, stay inspired with our new blogs.
WRITTEN BYAutonomous
We build office products to help you work smarter.