Are you suffering from neck and back pains?  Are you struggling with frequent headaches and poor eyesight?  Are you working from your home office, trying to keep up with the goals?
The pandemic surely has changed the way we work.  Most folks are now working remotely or on a hybrid model.  Companies have ensured they provide computer systems to those working from home.  Those on the move, shuttling between a home office and a central office, have been equipped with laptops.
While laptops are helpful for mobility and easy catch-up at work, they have their drawbacks.  Let us explore more about portable laptop desks. 
Best Portable Laptop Desk Picks
Ability to work and be productive while on the road is becoming more vital in today's fast-paced environment. Having a portable laptop desk may make a world of difference in comfort and productivity whether you're a freelancer, student, or regular business traveler.
But choosing amongst the several possibilities might be challenging. We've rounded together the most convenient and comfortable portable laptop desks so you can get your work done from wherever you are. We have you covered with everything from portable standing desks to mobile desk on wheels. All right, let's get this party started!
1. Mount-It! Mobile Standing Desk: Lockable Casters
This adjustable portable standing desk is ideal for individuals who want to switch between standing and sitting during the workday. The desk's lockable wheels make it mobile, and its height adjustment function makes it comfortable to use in either a seated or standing position. Everyone who requires a flexible and transportable desk will find this one ideal for their precious laptop.
2. Modernsolid Mobile Laptop Cart
The Modernsolid Mobile Laptop Cart is a versatile and sturdy option for anyone who needs an adjustable portable standing desk. It has four lockable casters and a gas spring lift for adjusting the height and angle of your laptop. This vertical laptop desk also features a built-in mouse mat and a storage tray for your portable machine.
3. Trio Supply House Rolling Adjustable Laptop Cart With Storage
When you need a transportable workstation with plenty of room, look no further than the Trio Supply House Rolling Adjustable Laptop Cart With Storage. The desk can be moved about on lockable rollers and has a built-in drawer for supplies. The roomy surface is perfect for setting up your laptop and even includes a mouse mat integrated into its design.
4. Modernsolid Mobile Computing Cart with CPU Holder
If you're looking for a computer portable desk that can be adjusted to suit both seated and standing work, look no further than the Modernsolid Mobile Computing Cart with CPU Holder. The desk's lockable wheels make it mobile, and the adjustable portable laptop desk's changeable surface may accommodate a laptop or tablet. A mouse mat and a cup holder are already installed in the desk.
5. Finercrafts Desk Convertor with Anti-slip Pads
The design of this desk converter is just incredible. With its sleek, modern look and sturdy construction, it's the perfect addition to any workspace. And once you start using it, you'll wonder how you ever got by without it.
The anti-slip pads on this converter are a real game-changer. They keep your laptop or monitor securely in place, no matter how much you move around or adjust the angle. And with the ability to adjust the height and angle of the converter to your own preferences, you can be sure that you'll be working in the most comfortable and ergonomic position possible.
6. Modernsolid Rolling Computer Cart: Height Adjustable
For those who require a mobile workstation on the go, the Modernsolid Rolling Computer Cart: Height Adjustable is an excellent option. The computer portable desk has a height adjustment mechanism and four lockable casters, so you can work comfortably whether you like to sit or stand. Also included are a mouse mat, a place to rest your coffee cup, and a roomy platform on which to set your laptop.
7. Trio Supply House Folding Table Laptop Cart: Graphite
The Trio Supply House Graphite Rolling Laptop Cart with Storage is perfect for streamlining your workspace. It features graphite-finished MDF wood panels with a PVC laminate veneer and a powder-coated steel frame that is scratch-resistant and moisture-resistant. It assembles quickly since it ships in a single box.
8. Trio Supply House Rolling Adjustable Height Laptop Cart With Storage
Home offices benefit from Trio Supply House's Rolling Adjustable Laptop Cart with Storage. Two hinged drawers offer storage. Two knobs change the height from 75 to 5 inches, and the tilting table panel has a safety edge stopper. The cart comes with a single box delivery, fault protection, and two locking wheels.
9. Enkel Studios Laptop Stand: Solid Birchwood
Say goodbye to slouching while you work with the Enkel Studios Laptop Stand! This ergonomic computer portable desk is made from 100% genuine birchwood, and is designed to raise the elevation of your laptop screen to prevent slouching and help with posture. Show your support for eco-friendly materials by choosing Enkel Studios Laptop Stand - made with materials that won't deplete the planet's supplies.
10. Mount-It! Height-Adjustable Laptop Notebook Desk Stand
If you want a laptop desk for bed, Mount-It! Height-Adjustable Laptop Notebook Desk Stand is a great option. You may effortlessly modify your laptop's height and viewing angle thanks to its gas spring system. A mouse mat and a document holder are integrated into the desk's design.
11. Modernsolid Folding Table: Height-adjustable
The Modernsolid table may be used as a vertical laptop stand in addition to being a height-adjustable mobile desk. This folding table is incredibly easy to use and set up, and it can be adjusted to the perfect height for your specific needs. Whether you're using it as a workspace, a crafting table, or a portable desk, this table is the perfect solution.
The height-adjustable feature is especially useful for those who need to switch between sitting and standing positions throughout the day. And with its sturdy construction and durable materials, you can be sure that this table will hold up to even the most demanding use.
12. Uncaged Ergonomics WorkEZ Light Laptop Stand & Lap Desk
Comfortable and portable work may be yours with the help of the Uncaged Ergonomics WorkEZ Light Laptop Stand & Lap Desk. The elevation of your laptop can be adjusted with this stylish stand, and the included mouse mat makes it ideal for either lap or on-the-go usage around the world.
13. Mount-It! Portable Height Adjustable Laptop & Projector Stand
This adjustable portable laptop desk is ideal for individuals who are always on the go. It can hold laptops, projectors, and more thanks to its height- and tilt-adjustable system. The desk's broad base and integrated mouse mat increase its usefulness, and its foldable construction allows for convenient storage and portability on the move.
14. Mount-It! Bamboo Laptop Tray Bed Stand
Using your knees or the bed as a makeshift desk to type just won't cut it. When it comes to laptop accessories, Mount-MI-7212 is your best option. It is suitable for storing computers up to 20 inches in screen size because of its enormous size and it will fit other office necessities as well. You may use your laptop in bed with this handy portable workstation.
15. AOTHIA Laptop Stand
You can rest easy knowing that your laptop is secure in this AOTHIA Laptop Stand since it is crafted from highest quality plywood and quality cork. It comes with an easy to use design which means no installation is required. The surface's texture guarantees that no laptop will slide and fall. Enjoy an ergonomic design that helps you streamline work without any distractions.
Video ads for product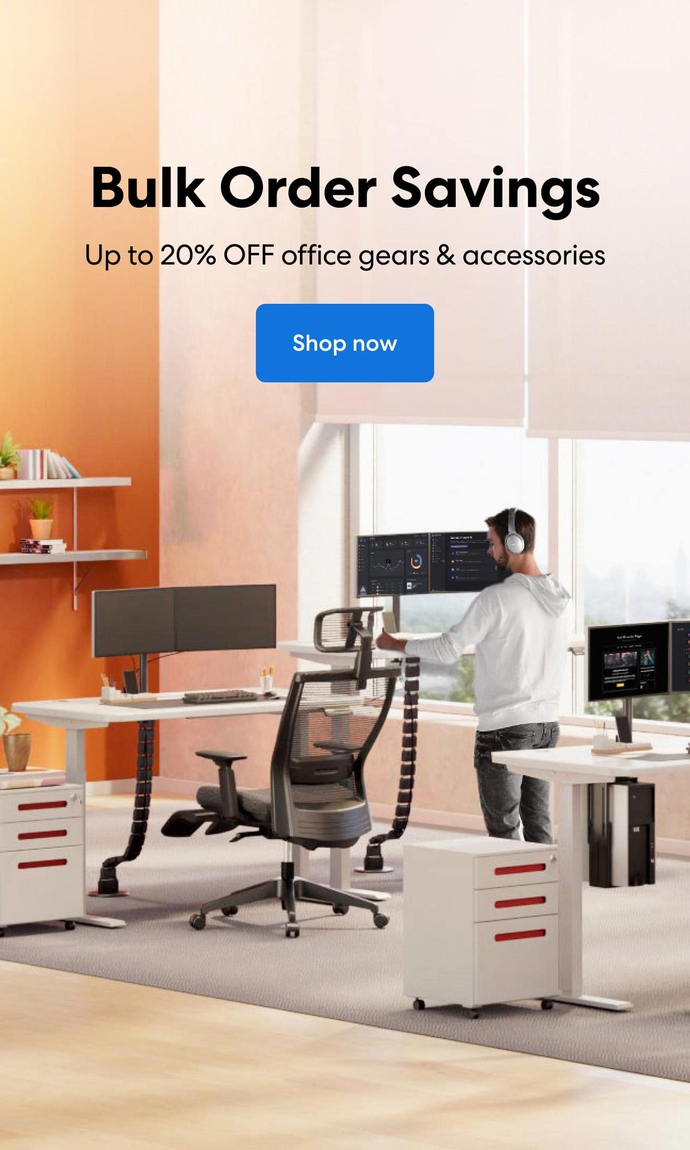 Subcribe newsletter and get $100 OFF.
Receive product updates, special offers, ergo tips, and inspiration form our team.