Smart Products
25+ Portable Standing Desks to Work from Anywhere (2023)

Autonomous
|
Apr 28, 2023
9,162 Views
Traditionally, when you hear people talk about standing desks, they're talking about full-sized models that allow them to work using a standing position. Some of these are static, meaning you must stand consistently, while others are adjustable, allowing you to capitalize on sit-stand sessions. What about a portable standing desk, though? 
It's not necessarily the most common trope in the world, but some office contexts are conducive to portable sit-stand desk designs, and even thrive on them. Of course, some people are quite familiar with this, while others may not necessarily be aware. Regardless of which camp you are in, there is something for you to learn here today. 
First, you are going to get a brief overview of what a portable standing desk is, especially since there are a few distinct styles that the term can encompass. 
Additionally, you get an intimate look at 25+ such designs, which should make your selection process barely an inconvenience. 
What Is a Portable Standing Desk?
A movable standing desk allows you to either transport it from one building to the next, or is so easily movable that with minimal effort, you can take it from one position to the next. Note that this does not include your typical full-sized models, because moving them around is a pain and people don't do it very often. 
However, a true portable sit-stand desk is one that if you wanted to, you could easily take from one place to the next or push it with no challenge whatsoever. You tend to find that these fall under several categories. 
The first type sits atop casters just like an ergonomic chair would. They are often best suited for small workspaces that may require a lot of movement. For example, there may be a shared area in the office with a small portable workstation that needs to be shifted from time to time. 
Alternatively, there could be a presentation room that has two optimal locations for a workspace. One is used when it's presentation time, while the other is used when it's not.  
Since there is no need to have a machine in the presentation area when no presenting is happening, it may not necessarily be feasible to purchase a second one, so a movable standing desk is used to fill that gap since it's on wheels. 
There is also the foldable standing desk style, which as the name implies, allows you to fold it for transportation reasons or when you are simply not using it and want to tuck it away. There are a few implementations of this one, but you tend to find that the form factor is pretty small and the weight loads that they can handle are quite low. 
Finally, there are standing desk converters, some of which are technically folding standing desk options. These convert your existing office desk into a standing design by presenting you with a height-adjustable unit to place on your tabletop. 
Your workstation elements, such as your screens, laptop, and peripherals, are then placed on the converter. Depending on its size, you may end up having to clear the entirety of your existing tabletop with everything being placed on the top-level unit. 
However, other designs allow you to retain some of your existing real estate, which means you get to take advantage of the best of both worlds. 
20 Amazing Portable Standing Desks
After the advent of Covid-19, many businesses permanently offer work-from-home options to employees. In this ever-evolving world of flexible work arrangements, having the freedom to set up your workspace wherever you go is essential.
Whether working from home, in a coffee shop, or in a co-working space, these portable standing desks offer the convenience, flexibility, and ergonomic benefits you need to stay productive and maintain a healthy posture. Here are 25+ best portable standing desks to check out!
1. Modernsolid Height Adjustable Folding End Table
Introducing the ModernSolid Folding End Table as our first product of the list: the epitome of functionality and style. Crafted with wood and aluminum alloy, its adjustable height (21.26" - 27.56") and sturdy build ensure versatility and durability. With a weight capacity of 11 lbs and a 2-year warranty, it's a winning choice for any space.
2. EUREKA X1S X-Shaped Gaming Desk
This EUREKA X1S gaming desk is great if you want a simple and effective piece for your setup. It is made up of heavy-duty steel, which gives it an impressive weight capacity of 132 pounds. Moreover, multiple accessories are also included with this product, such as a mousepad, headset hook, and whatnot.
3. Modernsolid Folding Table
The Modernsolid folding table is great in many ways. With a 360-degree rotating tabletop, sturdy wood, and aluminum alloy construction, it effortlessly adjusts from 21.26" to 27.56" in height. It is lightweight yet capable of holding up to 11 lbs and has a 2-year warranty.
4. Trio Supply House Sit to Stand Mobile: Laptop Computer Stand
Next, we have the Trio Supply house laptop computer stand. Elevate your productivity with this sleek and versatile stand. It's adjustable height and sturdy construction make it perfect for any workspace. Enhance your work experience and easily conquer the day with this great option.
5. Trio Supply House Folding Table Laptop Cart: Graphite
This sleek and versatile Trio Supply house cart features an adjustable chromed steel frame, unfolded panels measuring 14 inches, and can accommodate laptops up to 16.5 inches wide. Its weight capacity of 22 lbs is perfect for work or leisure.
6. Techni Mobili Compact Computer Cart With Storage
This next product is the Techni Mobili computer cart which is perfect for your workstation. Crafted with heavy-duty particle board panels and a durable PVC laminate veneer, it can support up to 100 lbs. Its stylish black color and ample storage make it perfect for organizing your essentials.
7. Mount-It! Large Height Adjustable Rolling Stand up Desk with Monitor Mount
The Mount-It! Large Height-Adjustable Rolling Stand-Up Desk has a height range of 37.25 to 55 inches and a sturdy weight capacity of 132 lbs. It offers seamless adjustments for ultimate comfort. Compatible with screens up to 27 inches, it provides 360-degree rotation, 180-degree swivel, and 80-degree tilt for optimal viewing angles.
8. Trio Supply House Rolling Adjustable Height Laptop Cart With Storage
Looking for a style with great functional benefits? This functional graphite cart offers flexibility with its adjustable height, providing a perfect fit for any user. Its sturdy MDF construction and ample storage make it ideal for your work-from-home setup. Get yours today!
9. Rolling Computer Work Station with Monitor Mount
This sleek and sturdy steel workstation offers ultimate flexibility with adjustable height (37" - 54") and a weight capacity of 132 lbs. If you are looking for a sturdy workspace desk, use this option easily. It comes with a solid 10-year warranty as well.
10. Large Height Adjustable Rolling Stand up Desk
This next rolling stand-up desk option perfectly blends style and functionality. It offers ample space and adaptability with dimensions of 29.5"W x 36"D and a height range of 37.25" - 55". Boasting a weight capacity of 132 lbs and a sleek black color, it's built to last.
11. Trio Supply House Sit to Stand Mobile: Laptop Computer Stand
The Trio Supply House Sit-to-Stand Mobile Laptop Computer Stand is a versatile solution for your workspace. Its sleek white design, adjustable height range of 30-43.5 inches, and sturdy weight capacity of 33 lbs, it effortlessly combines style and functionality.
12. Techni Mobili Compact Computer Cart
The Techni Mobili computer cart is something to talk about. It has an adjustable shelf, durable construction, and a sleek black design. The cart can hold a weight of up to 100 pounds. It's perfect for your home or office and is backed by a 5-year warranty.
13. Modernsolid Mobile Computing Cart with CPU Holder
Next, we have the Modernsolid mobile computing cart made of high-quality aluminum alloy. Thanks to its casters, this foldable standing desk is perfect for on-the-go work. Apart from that, the product comes with a 2-year warranty as well.
14. Modernsolid Mobile Laptop Cart
The Modernsolid mobile laptop cart can hold your bulky laptop with ease. It is made of strong aluminum alloy painted with a sleek black color for added style. It also has a mouse tray; the best part is the 2-year warranty.
15. Modernsolid Rolling Computer Cart: Height Adjustable
The Modernsolid Rolling computer cart is much of a stylish standing desk. It comes with a height-adjustable option for holding a laptop and mouse tray. It is made of strong aluminum alloy, which allows it to hold 17.6 pounds.
16. Mount-It! Mobile Standing Desk: Lockable Casters
The Mount-It! The standing desk allows you to work on the go by locking the position with lockable casters. The cart is made from heavy-duty steel, aluminum, and MDF, providing additional structural integrity. Overall it is a great product.
17. Trio Supply House Compact Computer Cart With Storage
The Trio Supply house computer cart offers ample storage space apart from keeping your computer in place. It is truly a mobile workspace that you can carry wherever you wish. It is made from a high-quality MDF panel.
18. Skyline Decor Clifton: Computer Desk
The Skyline décor desk is a traditional-style computer desk in Maple and Walnut color options. The desk is great in terms of structural strength and also comes with a brief 1-month warranty.
19. Electric Desk Converter with Built In USB Port
This futuristic electric desk converter is perfect for gaming and work. It has an added keyboard tray, mouse tray, and many USB ports to help you with your accessories. It comes in a sleek black color along with a 10-year warranty.
20. FinerCrafts Desk Convertor with Anti-slip Pads
The FinerCrafts desk converter screams style from a mile away. It features an upper and lower shelf in milky white color, presenting the desk with a classic and sophisticated feel. It has a weight capacity of 33 pounds.
21. Mount-It! Height Height Adjustable Rolling Desk
This height-adjustable rolling desk by Mount-It! is a wheeled design featuring two upper platforms for screens and peripherals and two lower ones exclusively for storage. 
It's sturdily built, and you are even offered a 10-year warranty, just in case you run into any challenges down the road. Take advantage of the small yet effective footprint. 
22. Mount-It! Height Adjustable Laptop Tray
The Mount-It! height adjustable laptop tray, as the name implies, is only for your laptop, and offers both height and angle adjustment for the most optimal workflow. 
The safety ledge prevents any slipping, while an incredibly ventilated surface prevents you from having to worry about overheating challenges. Like the previous entry, you get a 10-year warranty here. 
23. Mount-It! Desk Converter
Next on the list is the Mount-It! desk converter gas spring design. It has an aptly sized tabletop, able to fit two screens quite well. You also get a separate peripheral tray, and the Z-lift mechanism is quite smooth. 
It doesn't necessarily need to consume your entire tabletop space, but that depends on what your traditional desk looks like. Again, you are covered by a 10-year warranty. 
24. Mount-It! Rolling Standing Desk with Tray Retraction
The final entry is none other than the Mount-It! rolling standing desk with retractable keyboard. It is much like the previous rolling wheeled model, with the difference being that you can tuck away your keyboard tray when you need to. Beyond that, just about everything is the same as the number four entry on the list. 
25. Grandma Shark Laptop Table
No one can say that this portable standing desk doesn't have one of the most interesting names on the market. What you get here is a typical wheeled model standing atop four casters with quite a wide stability bar running across its lower area. 
It's height-adjustable and provides a small yet workable tabletop surface for you to take advantage of. 
Other options
SIDUCAL Mobile Stand Up Desk
This wheeled unit provides generous height adjustment and features three separate desktops that you can angle to create one large flat surface. Alternatively, you can have a tabletop, peripheral tray, and accessory tray, all separated effectively. 
Note that you get value for your buck here, considering it is well designed and aptly featured, yet it is incredibly cost-effective.
Bontec Mobile Standing Desk
The Bontec wheeled design is next, and instead of having a frame with two leg areas, it has one central beam running from the base to the tabletop. Note that there is a headphone hook along the beam for effective storage. 
The tabletop space is nothing to write home about, but you come to expect that from designs such as these. 
Avantree Neetto Adjustable Laptop Bed Table
This portable standing desk from Avantree falls under the foldable standing desk category, allowing you to fold its legs inward after use, which contributes to flat storage. Its size makes it portable, and it could even double as a breakfast tray if you wanted it to. 
As far as tabletop space goes, you are not going to be fitting more than your laptop and your mouse atop this one, but the chances are that you didn't purchase it for much more than that. 
S Stand Up Adjustable Mobile Desk
If you're going to be opting for this one, you should note that it's not the most cost-effective option on the list. Nevertheless, it is sturdily built, and you can get it in manual crank or electrically adjustable versions.  
With a tabletop of either 48 inches or 60 inches, it's one of the few models that can rival your typical standing desk in surface area. 
Huanuo Adjustable Laptop Stand
This one from Huanuo falls under the folding standing desk category, and it has an incredibly small footprint. The only thing you're fitting atop this portable standing desk is a laptop though, so if you have anything more, you are going to need to look elsewhere. 
With the Z-lift mechanism, you get a smooth and sturdy experience in a durably built package. It's incredibly easy to get set up, and transporting it is going to be no challenge whatsoever.
Zinus MollySmart Adjustable Desk Converter
This is one of the smaller portable standing desk converter designs out there, it's very effective at what it does. It has an X-pattern lift and can fit a screen, a laptop, and two small peripherals, though it may be a little bit of a tight squeeze. 
One of its benefits is coming pre-assembled, meaning that you can take it out and start using it. You should have a smooth and comfortable experience if you should opt for this one. 
Songmics Bamboo Standing Desk
Again, you are getting a portable standing desk that falls under the converter umbrella, but this one is made entirely out of bamboo, meaning there is no reason to question the durability.
The unique thing about it is that you don't adjust the unit as a whole. Instead, there are two shelves that you can move along several grooves, meaning that you can place your monitor and your peripherals as high or as low as you need to. 
DlandHome Laptop Stand
While the name of this one can be a little awkward to say, there is nothing strange about its wheeled design. A thick stability bar is used just below the vertical halfway mark, meaning that you shouldn't have to worry about any wobbling when you get to higher heights. 
The bar and the tabletop are both made of high-quality wood, giving an earthly aesthetic to your ergonomic office space. No peripheral trays are included here, but you do have a respectable tabletop size to make up for it.
Tounee Laptop Stand
No one can say that this design doesn't stand out among the rest. It's most accurately placed in the foldable standing desk category, though it's nothing more than a thick beam with a shelf at the top, allowing you to suspend your laptop in the air and angle it as you wish. 
It supports units up to 21 inches, and its small footprint means that transporting it is a very easy task. 
BonVIVO Standing Desk Converter
What BonVIVO designed here is a fully-featured standing desk converter with an incredibly respectable tabletop size, able to fit two full screens and even a tablet if you want it to. 
There's a separate peripheral tray that can handle a full-sized keyboard, just as well as it can handle a smaller one. The converter uses an integrated gas spring, and you don't have to worry about a productivity cut in the slightest.
Dripex Sit-stand Desk
The level of sophistication in this wheeled design cannot be overstated. The black frame and dark wooden aesthetic are very easy on the eyes. Enjoy a tabletop for your screens, as well as a generously sized peripheral or laptop tray that you can angle as you desire. 
A system unit stand is included, as are stability bars running horizontally and vertically to maintain a grounded experience for users.
 Tangkula Standing Desk
Tangkula offers yet another wheeled design here with a generous tabletop that can accommodate your screens and your peripherals quite easily. A high-quality gas lift is used to achieve adjustment. 
Having two lockable wheels is also a plus since there are always concerns about desks on wheels slipping or shifting as they're being used. 
Fully Cooper Converter
Fully is certainly well known in the ergonomic office furniture design space, and it's no surprise that an excellent portable standing desk converter comes from the manufacturer. Ergonomic features are found throughout, such as the beveled edge the keyboard tray features. 
The wooden surfaces are durable and pleasing to the eyes, and the X-pattern lift provides a streamlined look and function.
Ergotron WorkFit-T
This standing desk converter is quite compact, but large enough to accommodate a screen and a laptop on its upper surface. The adjustment mechanism is electric and operates using the press of a button. As always, having a separate peripheral tray is a welcome design choice. 
VIVO Electrical Dual Platform Standing Desk
This is yet another wheeled design featuring two platforms, one of which is for your screen, while the other is for your peripherals. 
It's another ergonomic design that fits incredibly well into small spaces and takes advantage of electric adjustment.
Final Remarks
If you didn't know what a portable standing desk was before, you should be acutely familiar with the term now. Certainly, this is not to say that there is no longer a need for your traditional standing desk type, especially since these movable options tend to be quite restricted where size is concerned. 
However, there are some contexts in which it may simply be more convenient to rely on one of these models that allow for fluid movement, as opposed to opting for an immovable design.  
With so many portable standing desk options available, select the one that suits your needs. There are so many benefits of a standing desk that you have to capitalize on. Stay fit with the most unique and sophisticated furniture items from Autonomous. Thanks for reading!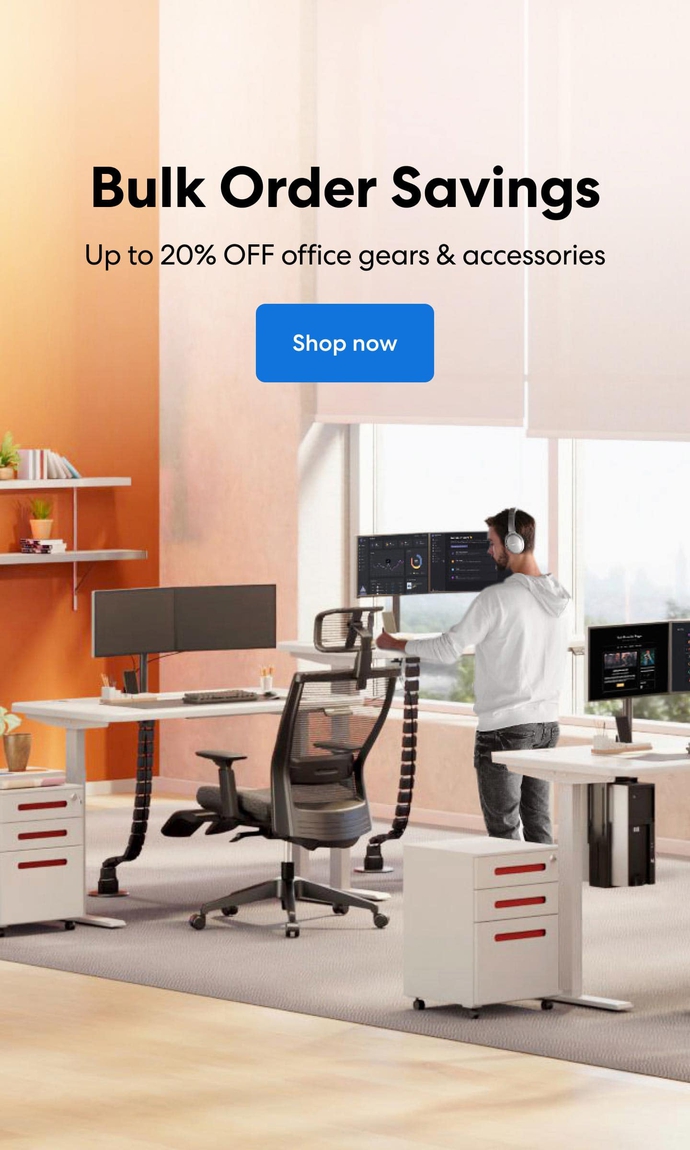 Subcribe newsletter and get $100 OFF.
Receive product updates, special offers, ergo tips, and inspiration form our team.