Among a laptop's major advantages is its versatility, but its small size also has certain drawbacks. On average, laptop cooling is not nearly as effective as Windows desktop cooling, which you may customize by installing CPU coolers. Laptops often feature very small in-built vents or depend on passive cooling. Because of this, temperature rise might become an issue with these compact devices, resulting in a significant performance drop.
Perhaps, even your powerful gaming laptop might benefit from using a cooling laptop stand to manage a system that is becoming overly heated. Such cooling pads for laptops can guarantee improved airflow throughout your device. A laptop cooling pad stand also protects your laptop from overheating rapidly by preventing the intake vents from being blocked whenever they are placed on a pillow or blanket. Let's now look into the must-have laptop accessories for your laptop.
List of the 10 Best Laptop Cooling Stands to Use at Your Desk
Overheating is the largest performance restriction for laptops, forcing even the finest gaming laptop computers to decrease the power sent to their CPUs and graphics chips to maintain a safe working temperature. The best course of action is to aid your laptop by using a laptop cooling stand for the desk, which provides maximum heat control to ensure your laptop operates at optimal efficiency.
But given its potential importance, selecting the ideal laptop cooling stand is crucial. Thankfully, we've gathered our top selections for the best cooling laptop stands in the industry to assist you in choosing one that matches your demands and budget.
1. Mount-It! Laptop Tray with Cooling Fan & Mouse Pad
This laptop stands from the Mount-It! Store is quite adjustable and can be employed for various purposes beyond merely your laptop. You may use this laptop lap stand as a lunch tray, a study table, or a workspace once you're done using your laptop! To get rid of the heated air from beneath your laptop, this laptop tray with a cooling fan & mouse pad has two air conditioners powered by USB connections.
2. Mega 20 RGB from Thermaltake
Most likely, your pc has a few little fans operating as quickly as possible to keep your machine cool. Additionally, if you passively chilled the laptop, it would not be necessary for any blowers. This laptop stand offers a method to move a portion of that heated air out from your pc.
3. Small Chill Hub by Targus
Besides helping your system run at a reduced temperature, this pc conditioning mat from Targus is made to keep you relaxed and efficient as you work. The two high-speed blades on the laptop rack can pull in cold air more effectively since they are steel and include vent openings to assist remove waste heat. The silicone pads on the ledge allow you to properly secure your laptop and prevent it from falling on other desk accessories.  
4. Laptop Cooling Pad by AICHESON
You can employ this cooling pad more easily because it has several speed adjustment options. The fans on the laptop cooler are silent. It merely produces a moderate 21 dB of sound at maximum strength. For a non-slip surface, rubber is also used to construct the stand. It is an entirely worthwhile investment.
5. Ultimate Klim Cooling Stand
This is the cooling device you need if you recently purchased a gaming laptop but discovered it runs a little bit warmer than you'd prefer. It has a 200mm blade that can operate at a silent 750 RPM while still providing enough airflow, making it ideal for any gaming demands. Even though this pad is intended for computer accessories up to 17", your 19" device will fit easily on it.
6. TopMate C5 Gaming Laptop Cooling Stand
This monitor and laptop stand have more fans and controls than competing products for pcs below 16 inches. It contains over four smaller fans around the larger central fan on the inside, and the pad has nice blue Led bulbs on the blue blower. It also has a woven USB wire and an extra USB connection for charging your preferred accessory.
7. Best Mate C11
MacBooks don't have an internal fan and instead rely on passive cooling; buying a cooling pad is crucial to keeping your computer secure and operating well. With its assortment of six tiny turbines operating at speeds up to 2400 RPMs instead of being noisy and intrusive, this is a great option. Additionally, it includes a built-in phone stand that makes it simple to FaceTime loved ones, acquaintances, and colleagues, as well as transfer files from your iPhone or Mac.
8. IETS GT300 Cooling Stand
This creates negative tension that pulls excess heat out from your pc more effectively than a conventional cooling pad using two fans with velocity up to 4500 RPMs and a rubberized coating ring. The clean air vents keep your cooling laptop table operating at a lower temperature by trapping dust, fur, and other material that may block your laptop's built-in motor blades.
9. Laptop Cooling Pad from TeckNet
The cooling pad has strong, extremely silent fans. Additionally, it contains a second USB device enabling a simple plug-and-play setup. You may purchase the device to acquire a quick-use power switch layout. It contains blue LED indications that tell you whether the device is functional. The ergonomics of using competing laptop fans have drawn criticism from many customers. However, this stand excels in this area.
10. Kootek Chill Mat 5 Cooler Pad
To keep your laptops and some other gadgets cooled, this laptop stand with cooling fan has five independent 5.9-inch blades and a black exterior with something like a blue LED inside. Three options let you choose whether to use one, four, or all five of the fans. Several switches control the number of runs, and the mat has six variable elevation and inclination settings.
Summary
A decent and practical cooling laptop stand would include at least some of these qualities, while they can each differ slightly and offer a range of benefits. Go for a laptop cooling mat or a stand that can rest on your desktop and adapt to various perspectives, as it's likely that you wouldn't just use your computer on your lap. This makes it easier to see displays of various sizes and keeps your office ergonomic.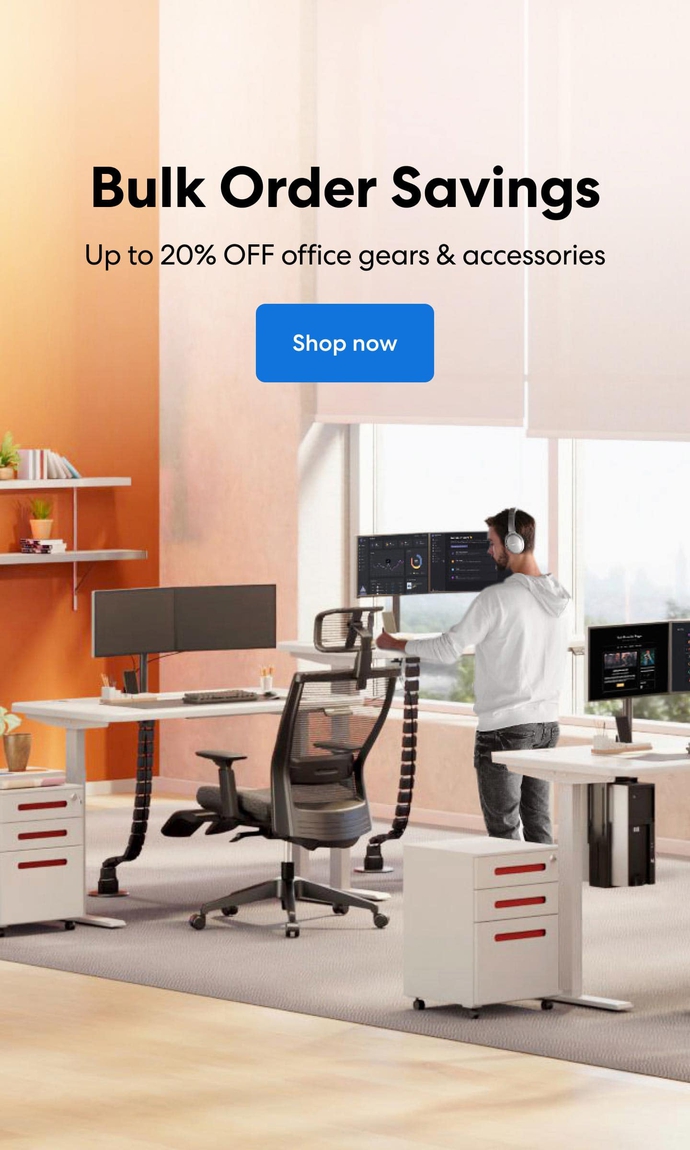 Subcribe newsletter and get $100 OFF.
Receive product updates, special offers, ergo tips, and inspiration form our team.