You can convert your regular desk into a standing desk using an adjustable standing desk lift. As more people become aware of the dangers of prolonged sitting and the health benefits of standing, these 3-stage standing desks have become more popular. More people are working from home, which necessitates standing desk lifts to promote a healthier workplace.
Two sections make up the telescopic section of the 2-stage legs, and three sections make up the 3-stage legs. Since 3-stage standing desk legs overlap more than two-stage legs, they will be more stable than desks with two-stage legs. Getting a desk with three-stage legs will ensure stability, which is the key feature of any desk.
The Ideal Height of an Electric Standing Desk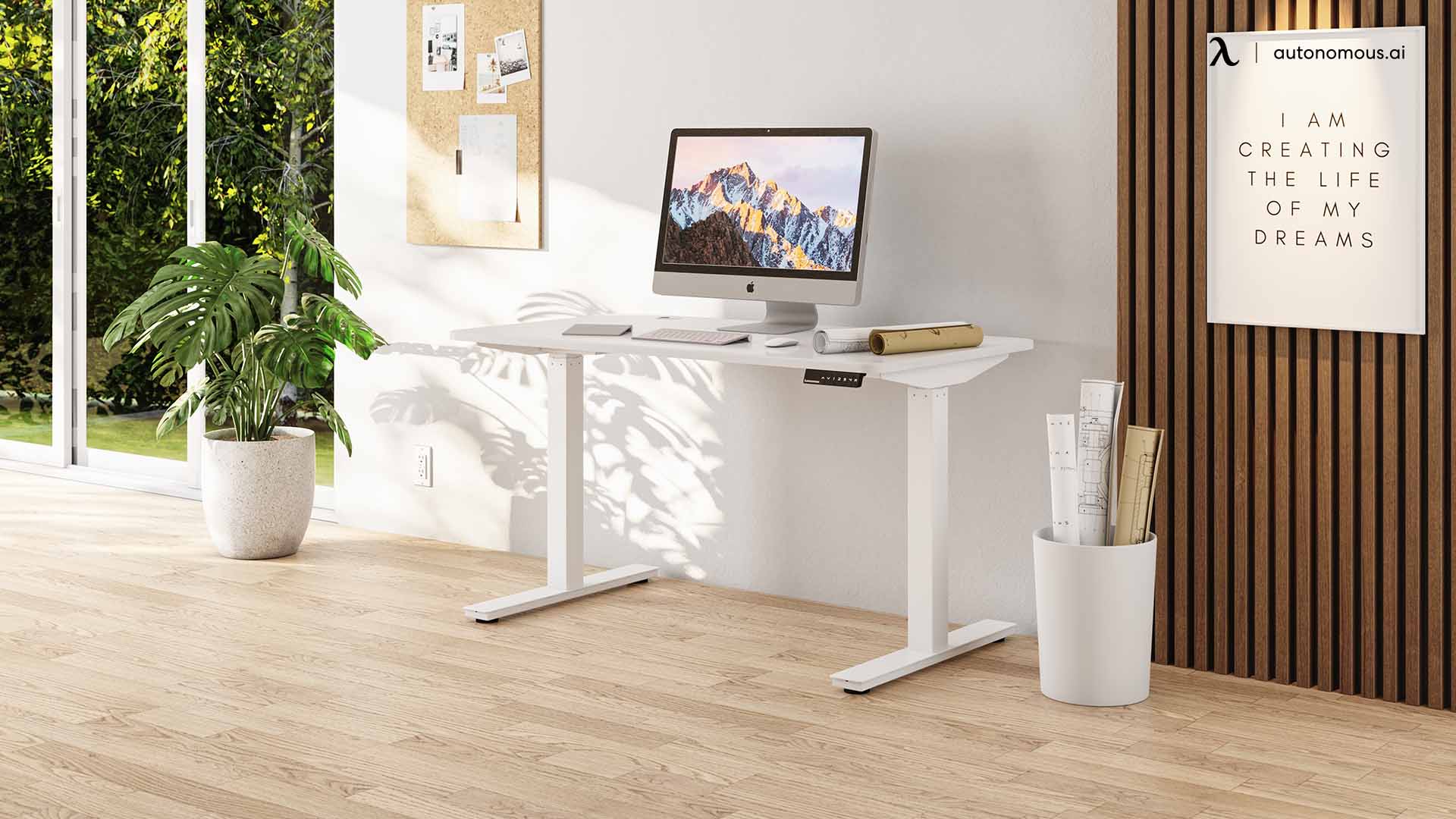 Standing desks should be placed at elbow height. This measurement is done by measuring your elbows from the ground at a 90-degree angle from the ground. Using this measurement, you can decide what height you should have your 3-stage height adjustable desk.
Standing desks are ideal for people who are 5'11" tall, so the guideline above is just a suggestion on how high you might want to elevate. You can also get an adjustable standing 3-stage sit-stand desk if you'd like.
You might obtain the most accurate estimate by using this trick if you are comfortable. Standing desks can come in a range of sizes and heights, as there is no standard height. Many standing desks will be between 40 and 55 inches high.
According to the standard height, the standard height for someone of your height would be 44 inches. The following standing desk height chart can help you find the perfect height for your 3-stage height adjustable table:
Standing tall and holding your shoulders back, parallel to the ceiling, with your head pointing upwards

Keep your arms by your sides as you bend your elbows to 90 degrees.

Your fingers should meet the keyboard keys lightly as you raise the desk.

You should set the Monitor height to allow you to see over the upper third of the screen.
Top 3-stage Standing Desks Options
1. Autonomous SmartDesk Pro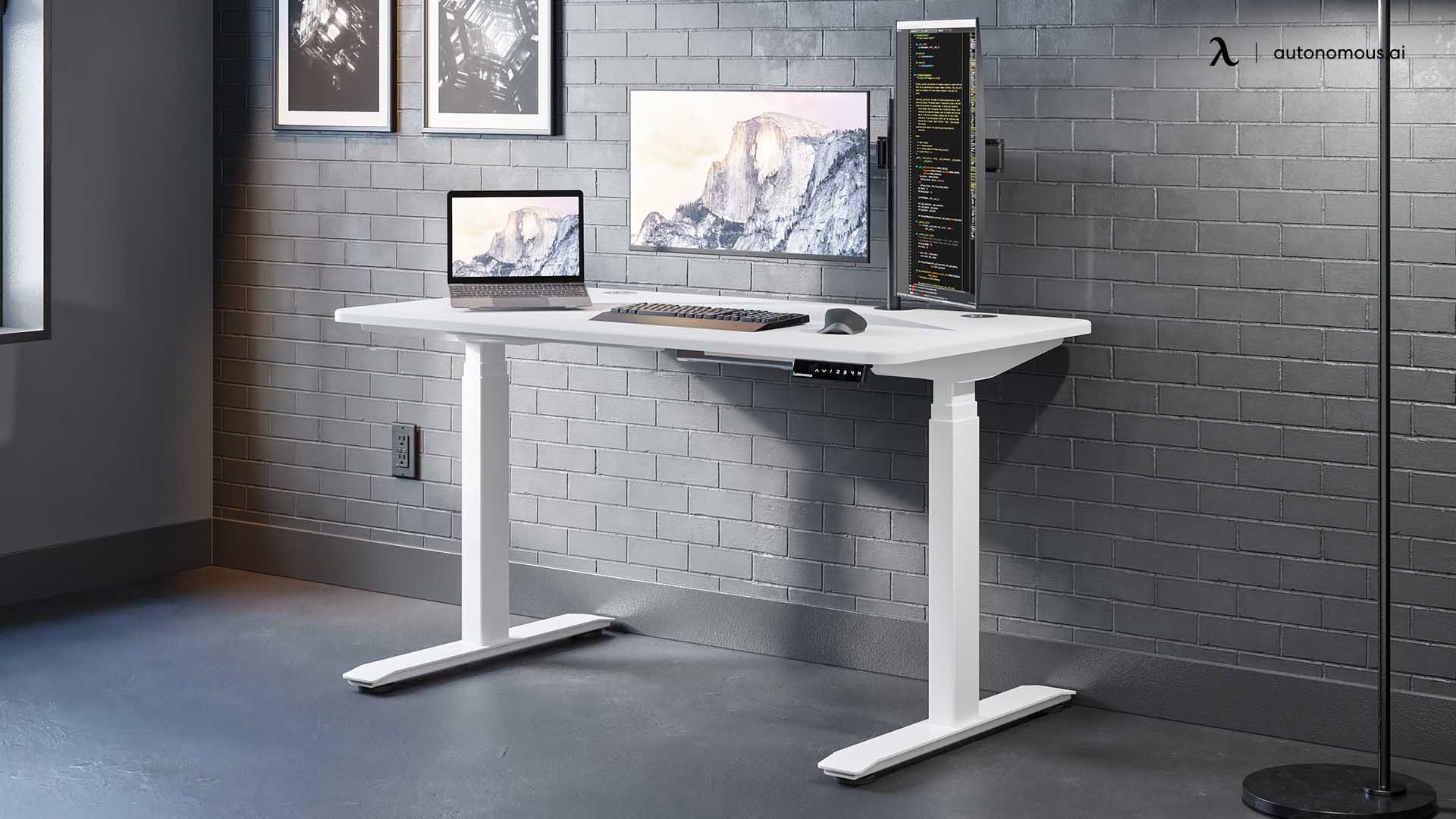 As soon as you see this desk, you will notice how large it is. SmartDesk Pro, from Autonomous, measures 53x29 inches. You won't worry about running out of space with so much to spare. We also commend the 3-stage standing desk frame for its solidity, stability, and its roominess.
Though it isn't one of the fanciest tables you'd want to take house with you, the tabletop is very sturdy. The tabletop structure attached to two legs is solid.
This steel SmartDesk Pro frame is unlike anything else. This principle also allows the desk to remain relatively stable at all heights. Unlike other desks, this one has no noticeable shaking, and you can adjust it to any height without wobbling. 
2. Autonomous SmartDesk Frame
By pairing your custom desktop with our height-adjustable steel frames, you can create a SmartDesk Frame that is perfect for your workstation. You have the Core, Pro, and L frames for varying space, height, and capacity needs.
A programmable keypad is included with each model, and all frames are built from stainless steel and powered by whisper-quiet electric motors. They are adjustable in length to design your desktop to your tastes.
3. Elegante XT desk from New Heights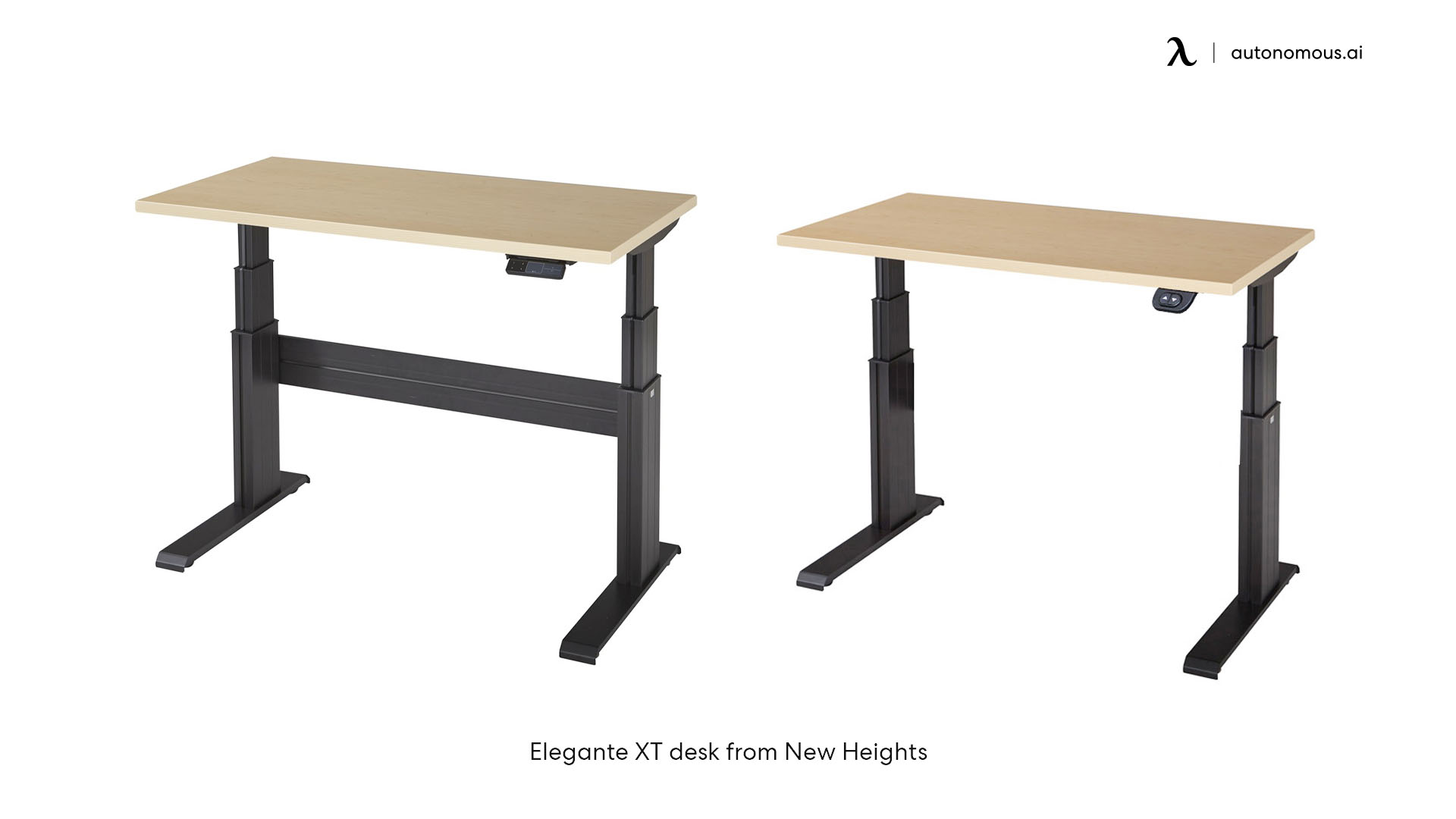 A USA-made desk surface and frame components comprise the NewHeights XT desk system. Custom extruded aluminum columns support the NewHeights XT, with a wide range of 27" of adjustment and a minimum lifting capacity of 325 lbs.
You won't be disappointed whether it's the Ketterer gears or any other things inside the columns. The New Heights XT comes with a lifetime warranty on the 3 stage standing desk and an electronics package from Laing Innotech.  
4. v3 desk from VertDesk
With the VertDesk v3, you get traditional cross support, and the wall columns are extra-thick steel tubing. Standing desks that reach tall heights use these thick tubes to eliminate flexing. The columns have the upper supports and feet attached, eliminating the need for loose connections after assembly.
The VertDesk v3 has an adjustment speed of 1.55 inches per second. It even has a single motor system that's capable of lifting 275 lbs at 1.35-inch per second. If you switch off the safety mechanism, the frame can lift 350 lbs at 1.27 per second.
5. Uplift's v2 Standing Desk
The Commercial Frame has the lowest desk height setting making it ideal for shorter people. This frame is made to go with the Uplift desktop variants and can go as low as 22.6 inches.
The new model of this 3-stage standing desk even includes a six-way accelerometer that improves the anti-collision mechanism. In both frames, there is overload protection that prevents movement of the desk if it holds extra weight. 
6. FlexiSpot EF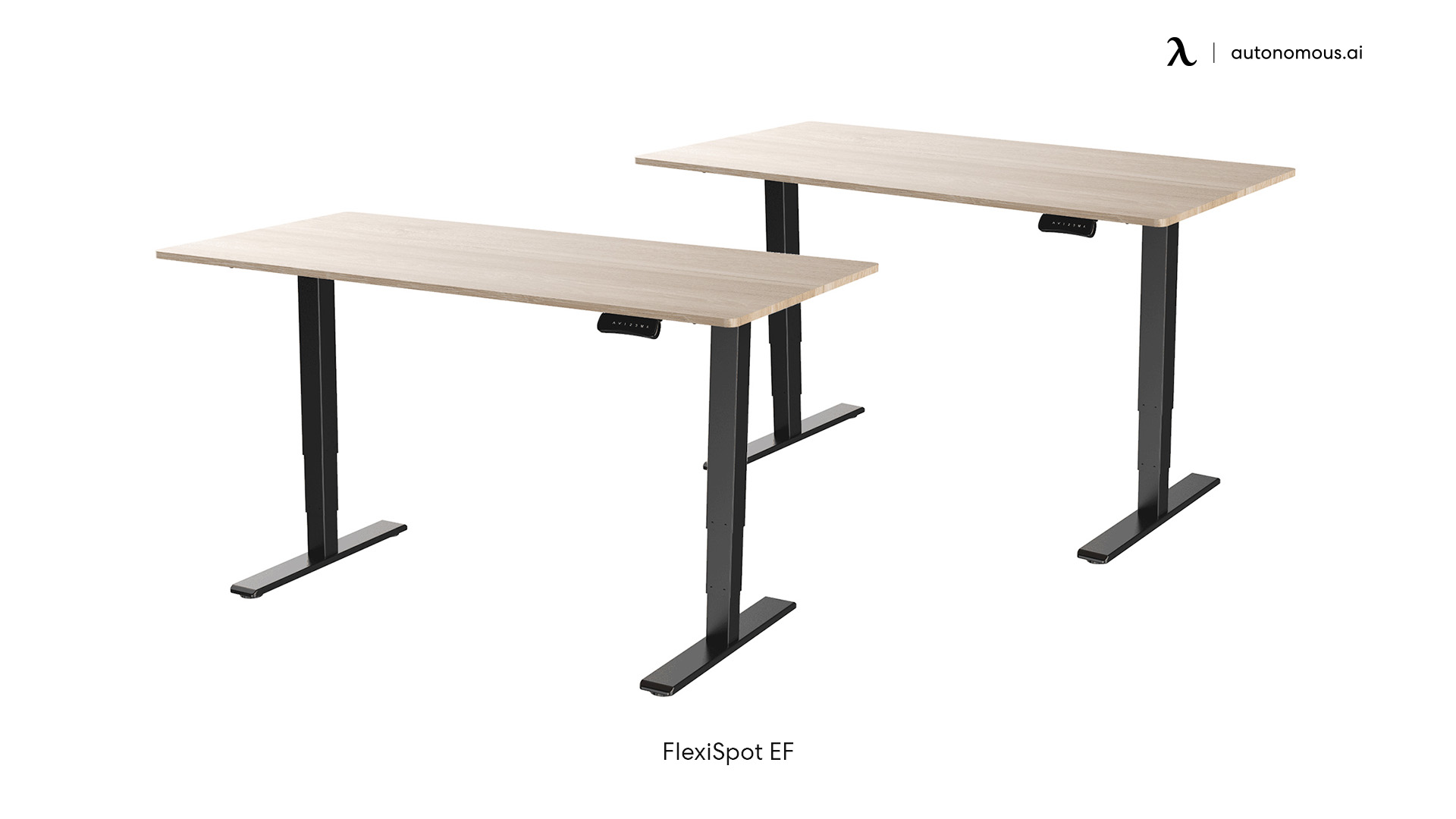 The FlexiSpot EF desk's best feature is the noiseless motor lift controlled via a keypad and has three height presets. It even features a customizable alarm to inform you when to change the desk height from sitting to standing. The frame is made out of stainless steel tubing and is very durable. This material reduces the wobble effect of the desktop when it's raised to the proper height for a standing desk.     
FAQs
Do I need a standing desk?
These days, you can accomplish quite a few tasks without stepping away from your desk. In many aspects, it may be a boon; however, it has its downsides as well. Keeping your back rigid and sedentary for long periods at your desk is harmful to your health and well-being.
Your posture can be affected when you sit for long periods, resulting in weakened back muscles and tight abs. In addition, the condition may cause conditions such as Piriformis Syndrome (aka Sciatica) or Sacroiliac Joint Dysfunction.
By maintaining a 1:1 or 1:3 balance of sitting and standing, you will avoid injury. To better achieve that, you should invest in a compact standing desk for your workstation. Studies have shown that alternately standing and sitting can improve weight loss, concentration, and productivity.
What to look for when buying a desk?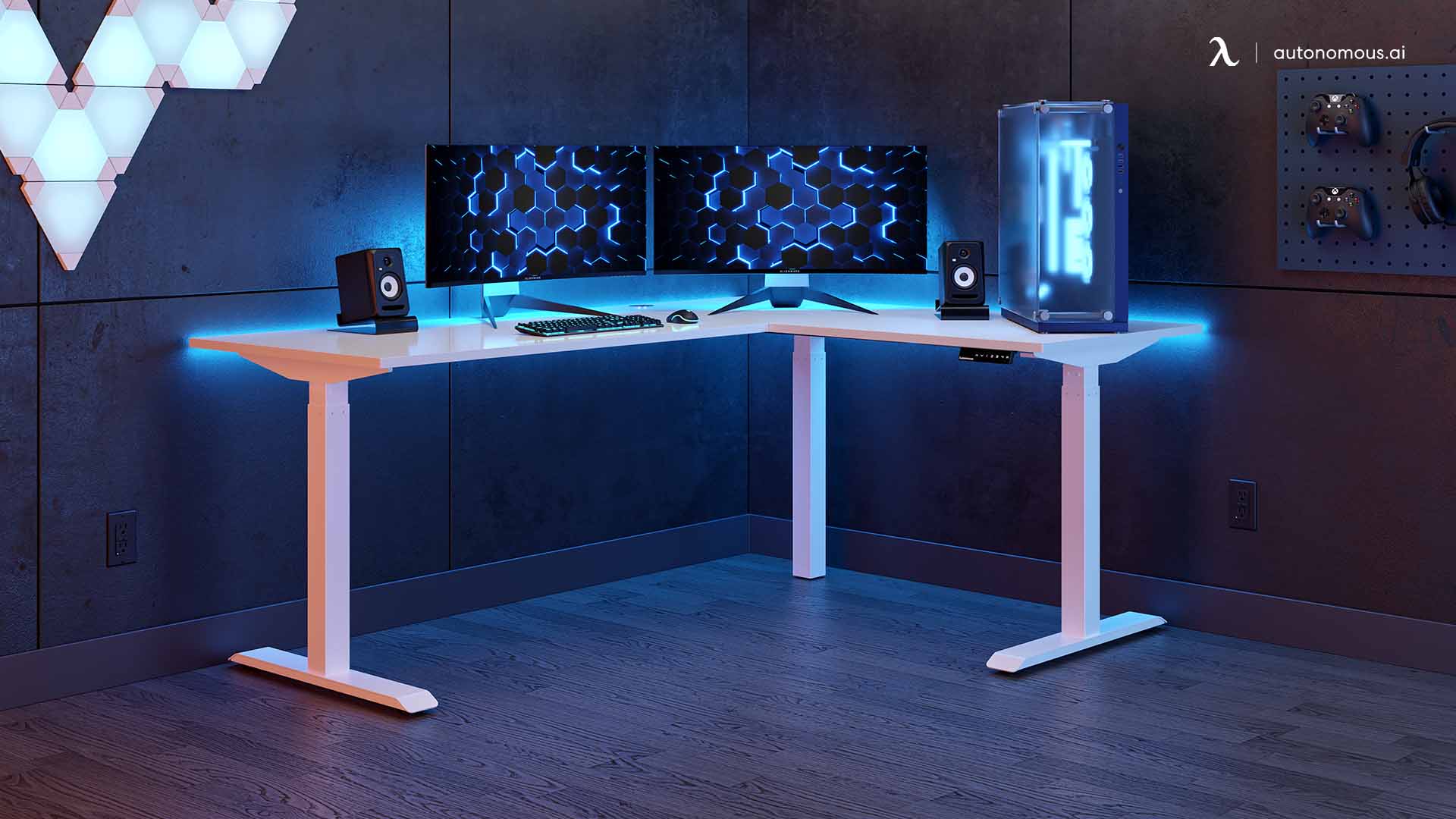 It's desirable to have space on the desktop to accommodate a large monitor or two monitors in addition to having room for a mug and notebook. It is important to ensure that the desk surface provides adequate space for a mouse and keyboard, and keyboard.
Up to six-footers can use standing desks. If you are taller than 6 feet, the ability to raise your standing desk to comfortable standing desk ergonomics is a crucial consideration. A standing desk with three stages is a good choice if you're extremely tall so that you can rise several inches higher.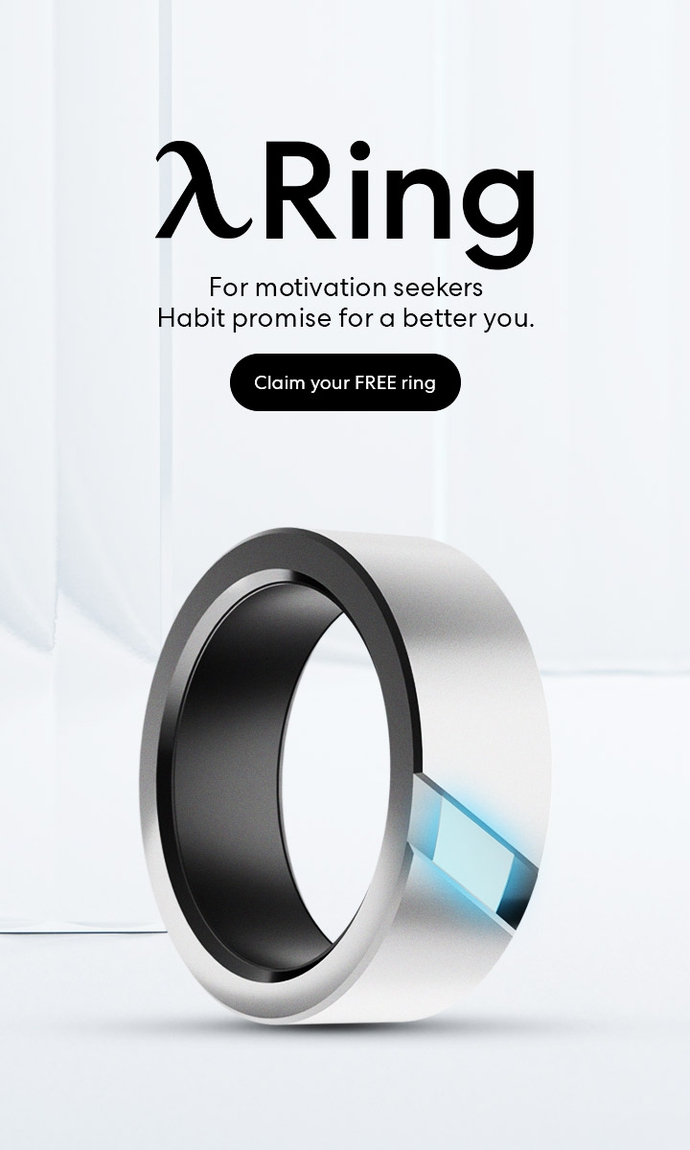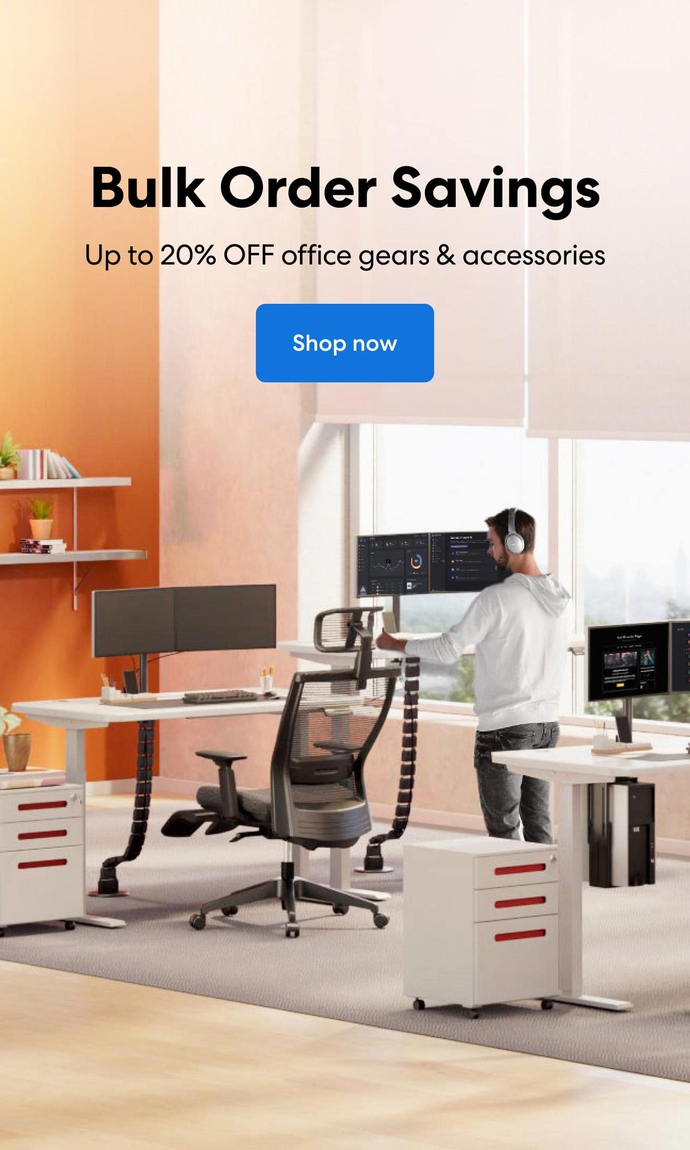 Subcribe newsletter and get $100 OFF.
Receive product updates, special offers, ergo tips, and inspiration form our team.