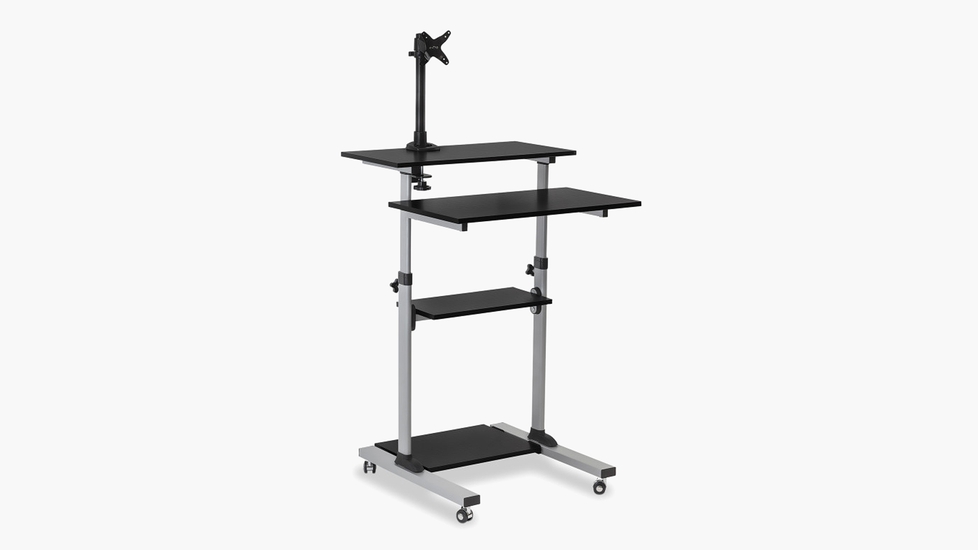 Mount-It! Rolling Computer Work Station with Monitor Mount
3 reviews
Visit our store
$153
$189
(-19%)
Free shipping
Color: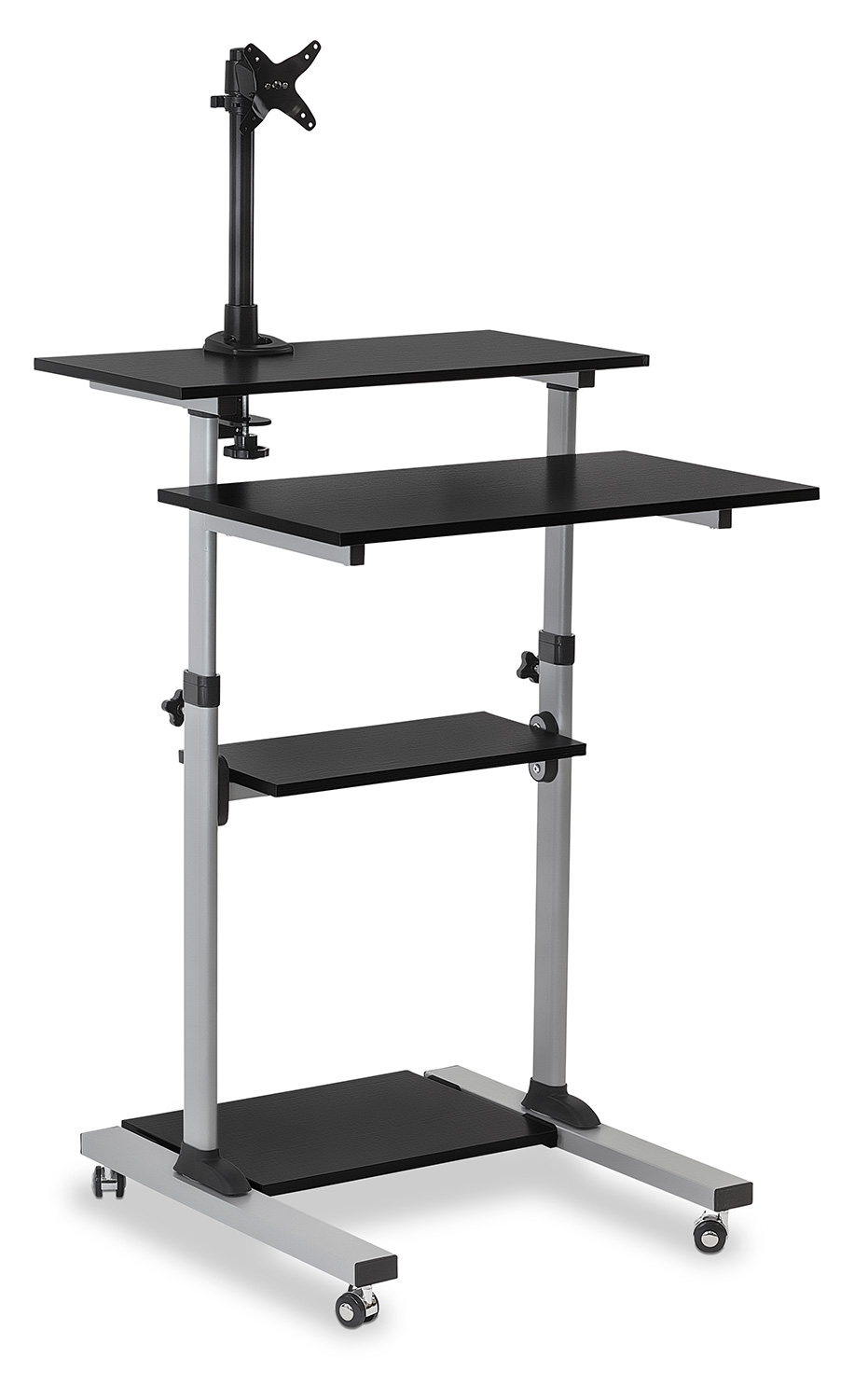 Not available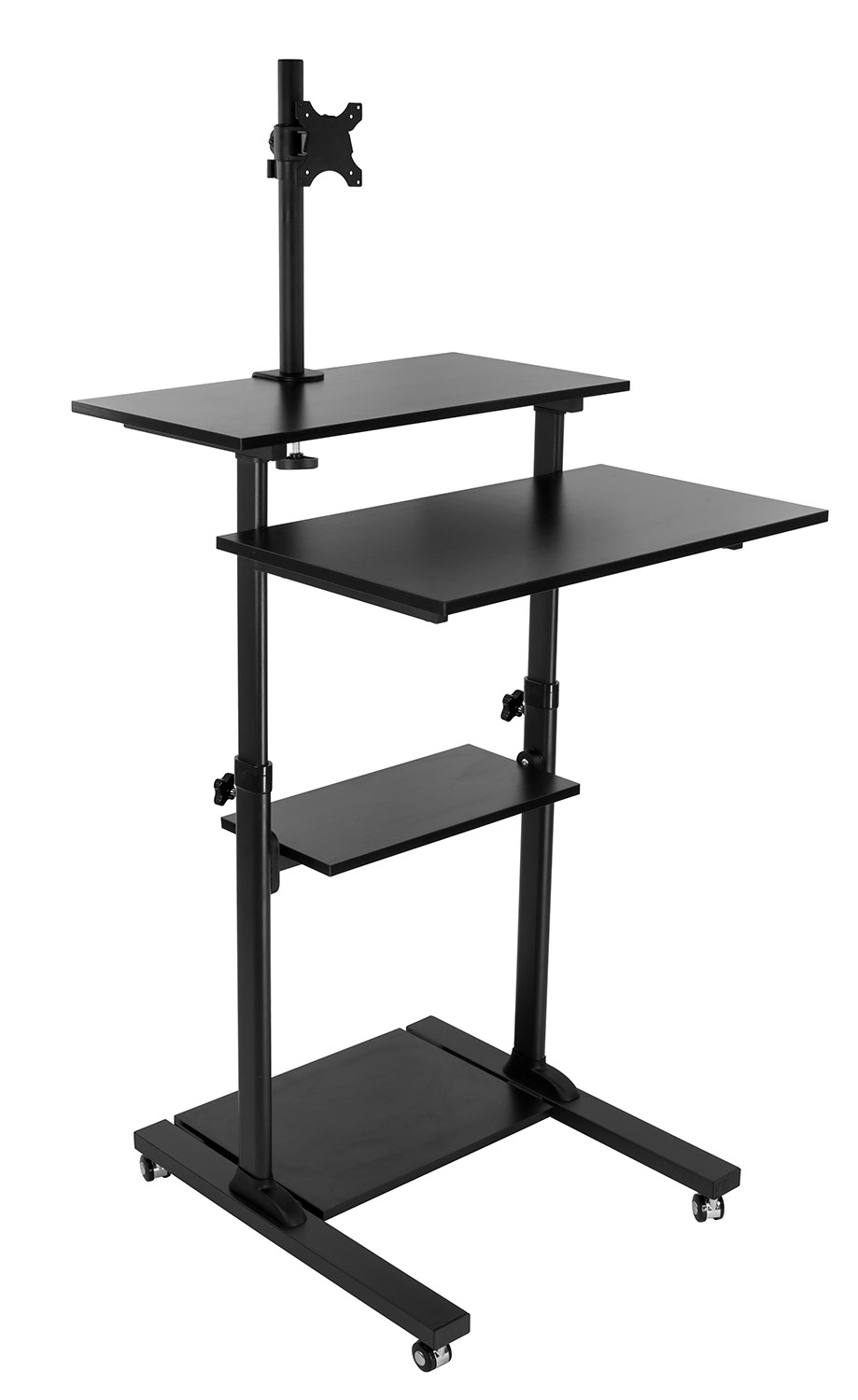 Not available
Buy now
Add to cart
FREE shipping Oct 04 - Oct 06. FREE 30-day returns.
Bought by 2+ Lucky Foods employees.
Sold and shipped by Mount-It!

Price Match Guarantee
• Capacity: 132 lbs. total, 33 lbs. per shelf • Height adjustment: Top shelf sits at 37" up to 54" • Dimensions: 28" (w) x 27.5" (d) Colors: Black, silver
• 10-year warranty
This sleek workstation is made with a high-quality steel frame and is carefully designed with platforms that provide plenty of space for monitors, keyboards, a mouse pad, a PC tower and a printer. Use with or without a monitor stand for an ergonomic layout.
Deep dive into specs
Features
Specs
FAQs
reviews
4.0
Do you know what a rolling computer work station is? Have you been thinking about getting a new standing desk like a SmartDesk Pro or a SmartDesk Core? You've come to the right place! This piece was composed in order to guide you on a rolling computer work station. Look at the advantages of using a rolling computer stand and look at some of the more popular options.
What Is A Rolling Computer Work Station?
Many of us work 5 days or more a week and spend the majority of that time sitting; that's a lot of sitting. Have you ever thought about how bad it is for your health to sit in the same posture for hours on end? According to research, a variety of health concerns have been linked to sitting for lengthy periods of time. It might be time to look for a rolling desk workstation for your needs. Rolling computer work station is even preferable to a typical standing desk since they allow employees to move around freely and make their workplace more mobile. A rolling computer station's mobility and flexibility are features that every office worker will enjoy. A rolling computer desk cart with wheels at the base of its legs makes it simpler to move about during an otherwise inactive day. If you want a change of pace, need to attend a remote work-from-home conference, require a quiet workspace, or need to move your office equipment, a standing desk configuration will make it much easier.
How Rolling Computer Work Station Benefits You
After reading the above, you should be able to see how a mobile standing desk might benefit your heart, but you might be asking how they function. The movement of the rolling computer monitor stand comes from the caster wheels mounted to the bottom of the desk legs. It allows these tables to be moved more easily without sacrificing their solidity. Whether you work from home or in a traditional workplace, this may be quite beneficial, and if someone is wondering, do you burn calories with a standing desk? then yes you definitely do. Many types are height-adjustable, either automatically or manually, so you can get the perfect fit. This lets you stand or sit as needed and move the desk about your business or home with ease.
Some Considerations
When looking for a rolling desk cart, it's important to think about your possibilities. Mobility and wheels are the two most important factors to consider. You should also seek for a rolling computer work station that suits your budget, complements your business or home, and also has a distinct design. If you want to alter the desk, don't get one that doesn't have these functions. Another factor to consider is how frequently you want to adjust the height settings; if you plan to do so frequently, you may want to consider purchasing computerized choices.
You'll also want to select rolling computer work station that is sturdy enough to handle all of your crucial business documents. Weight limits apply to all types of mobile standing desks, so keep that in mind. You should consider the model's weight because you want a rolling desk cart. You'll want to be able to move your rolling standing desk about without jeopardizing its stability. When moving a rolling desk, the legs must be stable, and a crossbar can guarantee that they are, even if the furniture is pushed through bumps or fissures. If you intend on transporting the desk a long-distance or frequently, be sure it includes a crossbar.
Some rolling desks can't be adjusted
The height of these rolling computer work station tables is fixed and cannot be altered. For those who prefer a standing posture, this implies you won't have the option of sitting down at any time. Because of the above remark, this particular kind of mobile computer desk is often less expensive than adjustable variants. If you decide to take this route, be sure the height of your standing desk is appropriate for your height.