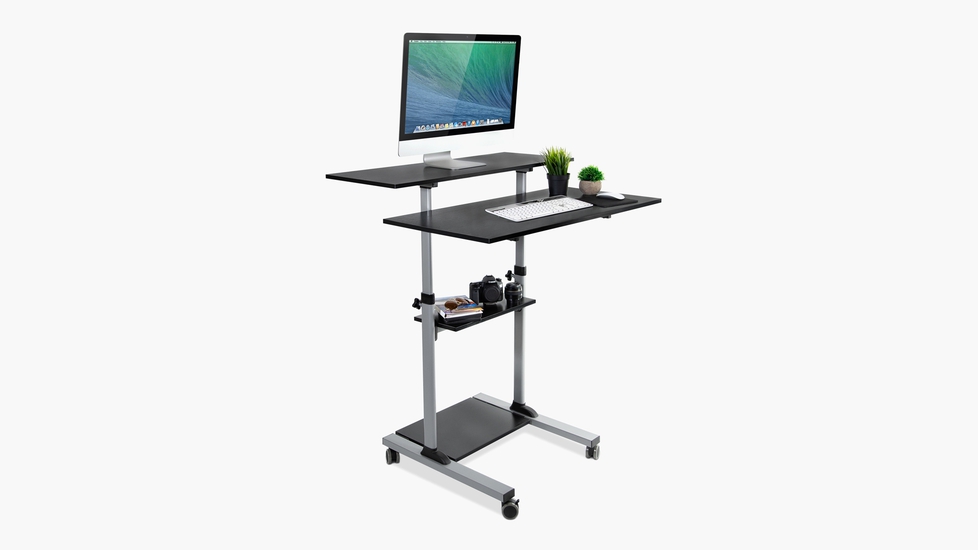 Mount-It! Large Height Adjustable Rolling Stand up Desk
5 reviews
Visit our store
$174
$219
(-20%)
Free shipping
Buy now
Add to cart
FREE shipping Oct 05 - Oct 09. FREE 30-day returns.
Sold and shipped by Mount-It!
• MI-7970 is compatible with all brands of computer and A/V products, and has a total weight capacity of 132 lbs. on four shelves (33 lbs. each) • Easy-roll, locking casters make moving the cart or locking it in place a breeze • Large upper shelves are wide enough to support a full-sized keyboard and mouse together Ideal for home, office, medical facilities, and classrooms
• 10-year warranty
MI-7970 is ideal for use as a mobile computer/laptop station for at the office, home, hospitals, showroom, and classroom.
Deep dive into specs
Features
Specs
FAQs
reviews
4.8
Many of us work five days or more and spend much of that time sitting as we work; it is a lot of sitting. Have you ever thought about how horrible being in the same posture for hours at a time is for your health? Research has proven a correlation between a multitude of health concerns and sitting for far too long. It may be time to choose a suitable workstation for your job needs. Compared to some standard standing desks like a SmartDesk Core, a Mount-It height adjustable rolling stand up desk provides greater mobility and freedom of movement for workers. The mobility and flexibility of a rolling workstation are something that any office worker will enjoy. A height adjustable rolling table at the bottom of their legs to make it simpler to move about during otherwise sedentary days. Using an adjustable height rolling desk makes it much easier to switch locations, join a virtual conference from home, find a quiet place to work, or change your office furnishings. After the preceding information, you now comprehend how an adjustable rolling standing desk may be excellent for your heart, and health, and sitting at a desk maintains a good posture.
Working Of A Mount-It Height Adjustable Rolling Stand Up Desk
Caster wheels provide the movement of a rolling standing computer desk mounted to the desk legs. It makes these tables more portable while maintaining their structural integrity. This may be quite handy, whether you operate at home or in a regular office environment. Many types are adjustable to change the height to your chosen level, either automatically or manually. This lets you stand or sit when you choose and swiftly move the desk about your business or house. A Computer workstation is perfect for usage in the workplace or at home, as well as in hospitals, showrooms, and classrooms. Carefully built platforms give adequate room for monitors, laptops, a PC tower as well a printer. Use even with no monitor stand for just an ergonomic configuration. With 360-degree swivel casters, Mount-It height adjustable rolling stand up desk can easily be moved from one place to another. the casters enable the cart to be fixed or mobile as required. For assembly, you'll find all the tools you need along with step-by-step instructions.
Different Types of Height Adjustable Rolling Stand-up Desks
Rolling standing desks come in three basic varieties, and which one is right for you will depend on your needs and budget.
1. Should Not Use Rolling Standing Desks That Can't be Adjusted
These tables have a preset height that can be adjusted. That implies you will lack the option of moving to a sitting posture, but it may not fit everyone's height evenly. This sort of mobile height adjustable desk is often cheaper than adjustable variants because of the aforementioned point. If this is the route you want to go, verify that you almost double-check the standing desk height and make absolutely sure it is suitable for your specific size.
2. How about Rolling Standing Desks That Are Manually Adjustable?
Ergonomics-wise, adjustable standing workstations are the best option since they let you work while standing or sitting. Cranks and levers are often used to alter these height adjustable rolling tables. Some models are more difficult to change than others, so they may take longer to adjust to your preferred height. These height adjustable rolling stand up desks, on the other hand, are maybe found at a lower price than their electronic-controlled equivalents on the market today.
3. Best Solution - Rolling Standing Desks That Are Electronic Adjustable
This is the most recognized sort of mobile height adjustable desk due to its simplicity of use and functionality. Because all you have to do to change the height is press a switch, it's easier and faster. Some height adjustable rolling tables contain programmable buttons to suit your exact height demands for sitting and standing.