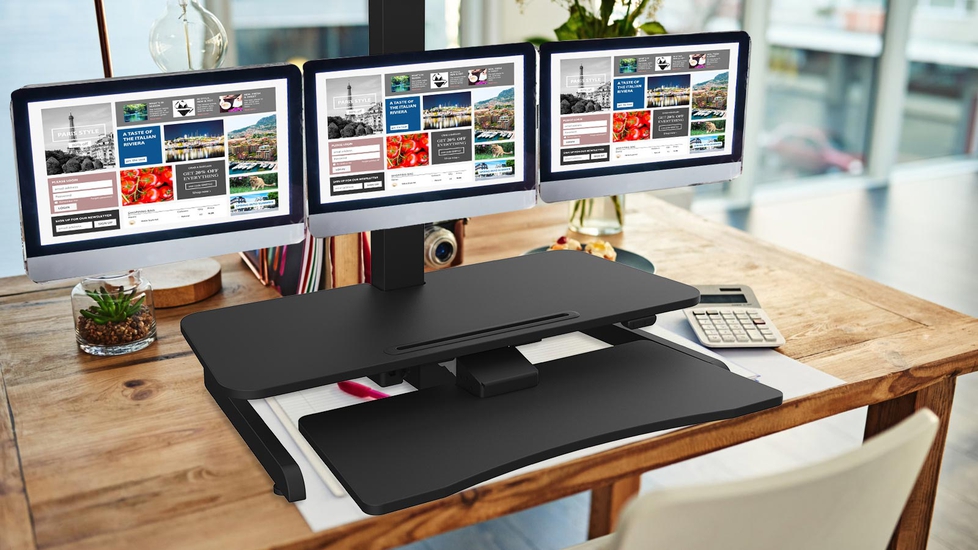 Northread Triple Monitor Electric Sit Stand Workstation
Northread Triple Monnitor Standing Desk
Notify me when this item is available
Enter your email below. We'll let you know when it's back in stock.
Sold and shipped by Northread
• Supports 3 monitors • Sleek and ergonomic design • Dual worksurfaces • Adjustable VESA monitor mounts • Transportable and compact • Vertical adjustment • Quiet electric height adjustments • Scratch resistant
• 3-year warranty
Ergonomic monitor adjustment - All monitors move independently, allowing you to further customize your sit stand desk experience.
Deep dive into specs
Northread Electric Workstation for 3-Monitor Setup
Are you tired of feeling cramped at your desk, squinting at multiple screens, and hunching in discomfort? Say hello to the best 3-monitor standing desk - the Northread Electric Workstation! With its innovative triple monitor design, this desk can elevate your screens to eye level, improving your posture and reducing strain. But that's not all - the Northread Triple Monitor Electric Sit Stand Workstation is also a sit-stand desk, allowing you to switch positions throughout the day and boost your energy and productivity. Once you experience the benefits of this triple monitor standing desk, you'll never want to go back to your old setup.
What Is A Standing Desk Converter?
A standing desk converter, also known as a stand up desk converter, is a versatile accessory that allows you to turn any traditional desk into an ergonomic workstation. Specifically, a 3-monitor standing desk converter elevates the monitors to eye level, promoting better posture and reducing discomfort. With the option to switch between sitting and standing positions throughout the day, these desks can improve your health, productivity, and overall well-being. If you want to transform your workspace, a standing desk with 3 monitor mounts is a great investment.
Benefits Of Using 3 Monitor Standing Desk
Not only does a 3-monitor standing desk converter elevate your screens to a suitable height, but it also offers a range of benefits for your health and productivity. You can say goodbye to hunching over and hello to better posture by elevating your screens to the height of a desktop. Standing desks have been shown to boost energy levels and productivity, and with three monitors, you can work on multiple projects at once without needing extra desk space. Sitting for extended periods can lead to discomfort and even pain, but with a standing desk, you can stretch your legs and move around more freely. Research shows that sitting for long periods can have negative health effects, such as an increased risk of obesity and heart disease. A triple monitor standing desk can help you avoid these risks by promoting a healthier, more active lifestyle.
Northread Triple Monitor Electric Sit Stand Workstation
This Northread Electric Workstation is a simple way to improve your office's setup and provide a more comfortable and efficient ergonomic experience. This standing desk with 3 monitor mount has been designed to maximize efficiency and comfort, so you can do more and feel happier.
Features
This stand up desk 3 monitors can accommodate up to three monitors, giving you plenty of workspaces. The vertical adjustability and silent electric height modifications make moving from sitting to standing a breeze. The two work surfaces and changeable VESA monitor mounting allow even more personalization. Thanks to its sturdy construction and three-year guarantee, this 3-monitor standing desk converter will stand the test of time in your office.
Design
The Northread Triple Monitor Electric Sit Stand Workstation is small and easy to move, which makes it a great choice for people who need a flexible workspace. A scratch-resistant coating and user-friendly ergonomics mean it will look great for years.
How To Use It
Using this standing desk with 3 monitor mount is simple - just plug it in and adjust the height to your desired position. As each screen can be adjusted separately, you may fine-tune your viewing experience in any way you choose. Whether you sit or stand, this 3-monitor standing desk converter enables you to find the optimal working posture.
Improve your workday today with its unique features and design!
As you can see, the Northread Stand Up Desk for 3 Monitors is more than just a desk - it's a game changer for your workspace. With its sleek design, easy adjustability, and triple monitor capacity, this desk takes your productivity and comfort to the next level. And let's not forget about the added benefits of using a triple monitor standing desk. You'll work more efficiently and feel better by improving your posture, reducing discomfort, and promoting a healthier lifestyle. So why settle for a cramped, uncomfortable workspace when you can have the Northread Electric Workstation? Upgrade your setup today and experience the power of a standing desk with triple monitor capability. Trust us, your body (and your boss) will thank you. Good luck and enjoy the experience.