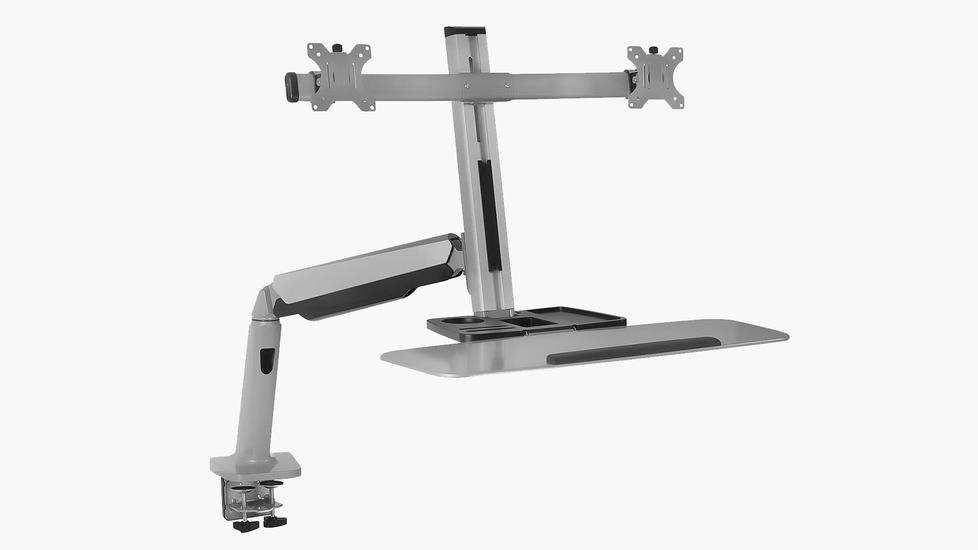 Mount-It! Dual Elevated Workstation by Mount-It!
Buy now
Add to cart
FREE shipping Jun 01 - Jun 05. FREE 30-day returns.
Sold and shipped by Mount-It!.
Adjust from sitting to standing with your desk setup with this affordable add-on, capable of supporting 2 monitors, plus your mouse, keyboard, and other peripherals.
• Dual monitor support
• Gas spring arm
• Lifts up to 26.4lb per arm
• Compartmentalized tray
• Clamps to your existing desk
• Supports monitors, laptops, and other devicess
MI-7904 holds two monitors with 75mm x 75mm or 100mm x 100mm VESA patterns and up to 26.4 pounds Clamps to your existing desk, making it an affordable solution for healthier work habits Gas spring arm makes up and down adjustments smooth and easy Compartmentalized storage tray to hold office essentials, your phone, and coffee mug
• 10-year warranty
MI-7904 is affordable solution for working while sitting or standing without having to buy an entirely new desk.
Deep dive into specs
There are many reasons why stand up workstations have become popular. There are noticeable health benefits to having a standing workstation in the long run, which you might not know about. That is why we are here – to show you how much good buying a Mount-It Dual Monitor Stand Up Workstation can do for you. Workstations are an important aspect of your office. This is especially true if you have been working long hours on a desk job. Long hours on a desk can mean severe health issues for you in the future, such as back pain, abdominal pain, swelling, a sedentary lifestyle, weight gain and obesity, as well as negative impacts on your mental health. However, desks can be a costly option, and not an ideal one if your work takes you everywhere. This is why we recommend a dual monitor sit stand workstation like the ones from Mount-It. There are many benefits to a Mount-It Dual Monitor Stand Up Workstation, and we will take you through all of them.
Benefits of dual monitor setup
One of the biggest benefits of dual monitor sit-stand desktop workstations is that they help a lot with productivity instead of regular displays. This is because although you may not realize it, it does take a lot of time to toggle between numerous tabs and applications on a regular display. All of that time eventually piles up and becomes a considerable amount of time that you're spending on not working. Not to mention it's also incredibly inconvenient and it often kills the momentum of working, this can lead employees to take more and more breaks or get distracted from their work. You also have limited screen space on a singular display whereas on Mount-It Dual Monitor Stand Up Workstation you have a lot more space to keep multiple applications and projects open. They are also easy to set up, especially with monitor arm desk mounts. This can help you keep track of your work easier as well as work in a smoother manner because you do not have to switch between multiple tabs and windows. There are also benefits to the quality of work, not just the quantity of work when it comes to dual monitors.
Should you buy a Mount-It dual monitor stand up workstation?
The first reason is that it is significantly more ergonomic than a normal desk. This can help with a lot of offices that simply are looking to cut costs but still make a transition to a more ergonomic workspace. This is especially true for home offices, which have seen a massive increase in popularity ever since the pandemic. Not everyone has the budget to immediately transform their home into a workspace with a top tier setup with things like a quality standing desk, although a good office desk is a great investment. And for people like that who still want to avoid the dangers of sitting by a desk all day, Mount-It dual monitor stand is a great purchase. The other reason is that it's very portable. This is actually an advantage that a standing desk converter has over proper standing desks because those desks are something that you can only keep in your office. A standing desk converter can be taken anywhere and can be applied on any desk. This is great for someone whose work takes them everywhere or for people that just don't like to work in the same place again and again and want to keep things fresh.
Mount-It Dual Monitor Stand Up Workstation
The Mount-It Dual Monitor Stand Up Workstation comes with a gas spring arm system that makes it very easy to convert your desk into a standing one. Contrary to what you might believe it does not take much effort to change it from a sitting desk to a standing desk. The stand-up workstation from Mount-It also comes with a keyboard tray with a soft wrist pad that is specifically meant for comfortable usage. It also comes with an office storage tray that allows you to store and hold many essentials including personal items like your phone, coffee mug and other office accessories that help you get to work. It comes with a heavy duty base that makes for a very firm base that will support your monitors perfectly. The assembly is also quite simple and does not take a lot of time to complete. This dual monitor sit-stand desktop workstation is designed to hold dual monitors and can support up to 28 pounds of weight.
About Mount-It
Mount-It is a company that was established in 2006 in San Diego CA. They are a business that offers mounting solutions for all kinds of needs and situations. This includes things like the dual monitor workstation which we have talked about, monitor desk mounts, wall brackets, and other kinds of hardware that you can purchase for a good price. If you have any needs for a mount for any kind of surface, chances are Mount-It has you covered.
FAQs
Don't see the answer to your question?
Why is the gas spring arm/mount not supporting the weight of my TV/monitor?
Gas spring mounts must be adjusted to counterbalance the weight of your monitor. Simply turn the adjustment bolt several times until you reach your desired tension. To learn how to adjust the tension of your monitor mount,
watch this video
.