Smart Products
Shop the 25 Best Portable Computer Desks for Your Flexibility

Autonomous
|
Nov 12, 2022
2,625 Views
People are changing the way they work. Four-legged heavy, standing desks are slowly becoming a thing of the past. Instead of settling for a traditional desk, a portable computer desk is far more budget-friendly and ergonomic. Why is that? 
Besides being compact and easy to move, such desks allow you to work from the comfort of your bed, living room, or kitchen. You can take your workspace wherever you go!  
The entire point of a small portable computer desk is to let users work in an angle and position they prefer. You're no longer restrained to sitting in one chair, hunched over your desk all day.
The 25 Best Portable Computer Desks
After years of working on a conventional one, it can be challenging to switch to a small portable computer desk. The section below can help you pick the best one in the market!  
1. Mount-It! Height-Adjustable Desk Stand
This Mount-It! stand is an ergonomic alternative to large desks. The budget-friendly product has a weight capacity of 22lbs and comes with a 360° swivel. In addition, it can accommodate screens up to 17 inches.
2. Modernsolid Folding End Table
Consider this portable folding table if you lack space in your room/office. The adjustable stand can hold up to 11 lbs and has an in-built handle for easy portability. You can also tweak the rotation of the tabletop, thanks to its 360° swivel.
3. Mount-It! Extra Wide Adjustable Standing Desk Converter
The following product is yet another Mount-It! desk converter in a solid black shade. This portable computer desk can support up to 33 lbs. You can place your keyboard, phones, tablets, and more on this mobile height-adjustable desk.
4. Modernsolid Rolling Computer Cart
A rolling computer cart can be great for those who like to move around while working. With a weight capacity of 22lbs, this product lets you transport your workstation on wheels. You can also store pens and other essentials in the extra baskets equipped on this portable computer desk.
5. Mount-It! Rolling Desk: Tiltable Desktop
This Mount-It! Rolling Desk is an excellent addition to any workstation, especially for those looking for a budget-friendly portable computer desk on wheels. Equipped with an 80° tilt, this desk stand allows you to extend the height to a maximum of 37.75".
6. Techni Mobili Rolling Writing Desk
Up next, we have the Techni Mobili rolling standing desk in white. This wide desk converter comes with a cup and headphone holder too. On top of that, it can support up to 44 lbs, allowing you to keep essentials on the table at once.
7. Mount-It! Portable Laptop & Projector Stand
Go with this portable laptop desk if you want something to support a projector. The stand has an impressive weight capacity of up to 88 lbs, making it, by far, the most robust product on this list. On top of that, the laptop and project trays are ventilated to prevent overheating.
8. Mount-It! Large Height Rolling Stand Up Desk
Complete projects on two monitors simultaneously on this mobile monitor cart by Mount-It! There are four trays on the stand so that you can work simultaneously with dual monitors, a laptop, and a tablet. On top of that, the pneumatic wheels make it easy to transport the product to different rooms.
9. Uncaged Ergonomics Rise Up Essential Standing Desk: Electric
Working is easier than ever on this small portable computer desk by Uncaged Ergonomics. The product comes with three surfaces, including a pull-out keyboard tray. You can also compress the surfaces to create one raised platform.
10. Mount-It! Standing Desk Converter with Gas Spring
The smooth tilt on this gas spring standing desk by Mount-It! makes it easy to open and close the product once you're done working. The stand comes with one surface and a pull-out keyboard tray. On top of that, it can support up to 38 lbs.
11. Mount-It! Sit-Stand Desk Converter with Dual Monitor Mount
This Mount-It! model comes with a dual monitor mount attached to the portable computer desk for efficient productivity. The product can also hold up to 33 lbs and has a maximum height range of 16".
12. FENGE Standing Desk Converter: 32'' Height-adjustable
Available in three solid colors, the FENGE desk riser is made of durable engineered wood. It can easily support up to 33 lbs, including a laptop, keyboard, and two monitors. In addition, the non-slip feet prevent the product from falling over.
13. Uncaged Ergonomics CHANGEdesk Mini Standing Desk: Converter
This small portable computer desk has four adjustable height settings, reaching up to 14". On top of that, it is lightweight and easy to carry and store. The best part is that you don't have to assemble or install it, as it comes ready to use.
14. Techni Mobili Compact Computer Cart
The compact computer cart by Techni Mobili is perfect if you lack space in your office. This product is also equipped with an adjustable tray that you can install on any side of the cart. The particle board surfaces are also resistant to moisture, making the cart long-lasting.
15. Techni Mobili Compact Computer Cart With Storage
Similar to its predecessor, the model also has PVC laminate panels that prevent moisture build-up. However, this upgraded version also comes with a storage rack, complete with a keyboard tray and locking caster.
16. Mount-It! Rolling Computer with Monitor Mount
Mount-It! never fails to impress with its production line, and this portable computer desk with a mount attached is a good example. The product is available in two shades and can support up to 132 lbs!
17. Mount-It! Mobile Standing Desk: Lockable Casters
Go with this model if you want a product with lockable casters for improved support. The standing desk is equipped with a gas spring lever for a smooth closing. Thanks to the hook and holder, it can easily hold up to 33 lbs and accommodate a bag and tablet.
18. Modernsolid Mobile Computing Cart
This portable rolling computer desk has a convenient CPU holder, making it ideal for gamers. On top of that, the stand also has a durable keyboard and mouse tray. The best part is that it comes with a free mouse pad!
19. Modernsolid Mobile Laptop Cart
Transport your laptop from room to room on this portable laptop desk. The product has a solid built-in handle and wheel castors for smooth braking. You can also adjust the height of the stand, allowing you to work in a comfortable position.
20. Mount-It! Standing Desk Converter
The next Mount-It! product on this list is this fantastic desk converter. This model is wide enough to accommodate two monitors simultaneously easily. On top of that, you can also keep your keyboard and mouse on the bottom shelf.
21. FENGE Standing Desk Converter: 30'' Height-adjustable
We have another impressive portable computer desk by FENGE, with a height extension of up to 16". Available in a matte black shade, this metal standing desk can support dual monitors/laptops, thanks to its 22 lbs weight capacity.
22. Mount-It! Electric Desk Converter with Built In USB Port
This desk converter is perfect for those looking for a product integrated with an in-built USB port! Supporting up to 33 lbs, the small portable computer desk comes with a convenient push-button that lets you lift the tray to head level.
23. Finercrafts Desk Convertor with Anti-slip Pads
Constructed with commercial-grade materials, this high-quality desk converter is ideal for tight places. Each shelf can support up to 33 lbs. The built-in grooves can also hold your tablet or phone while you work. Expect zero skids, thanks to the silicone pads on the bottom.
24. Northread Triple Monitor Electric Workstation
The penultimate product on this list is this fantastic electric portable computer desk by Northread. Overall, the model has dual monitor mounts, so you can work on two projects simultaneously. Of course, you can also place your laptop and keyboard on the second shelf.
25. Uncaged Ergonomics WorkEZ Laptop Stand
The final portable laptop desk is this Uncaged Ergonomics adjustable stand. It also comes with a side tray where you can place your mouse. In addition, this product has three USB ports to charge and transfer files from your phone to your laptop.
The Benefits of a Portable Computer Desk
Anybody can go for a standing desk converter, but why should you? Well, there are multiple advantages to them.  
Good Posture
It can be tiring and physically painful to slump over a high desk for an extended period. The list can go on, from back aches and neck pains to joint stiffness.  
However, a portable laptop desk can be the solution. You can now work from your bed, sofa, or even divan with such desks. Throw in a few cushions to brace your back, and you're good to go. 
Did you know that some chiropractors and physicians also recommend switching to a portable alternative as well? The medical benefits of using these kinds of desks make them all the more desirable.
Lightweight
Moving a standing desk around can be difficult, especially if you have to do it alone. On the other hand, assembling and relocating a portable computer desk on wheels is super easy. You don't even need to put in much effort! 
Consider a portable rolling computer desk with pneumatic wheels if you ever purchase one. This alternative is easy to transport and also doesn't leave long-lasting scratch marks on wooden floors.  
Adjustable Height
Another reason people are turning to a rolling desk workstation is that you can adjust the height of the product. Whether you need it to rise higher or want it to be set low – tweak it to any range you prefer.  
You will find plenty of portable desks with a moderate height range between 3" to 16". As a result, such products give you the liberty of working while sitting, lying, or standing.  
Moderate Weight Capacity
There's a common misconception about the weight capacity a portable rolling computer desk can support. Surprisingly, these products tend to be really durable. We kid you not; you can actually find models that can hold up to 40lbs!
Conveniently Sized
An adjustable standing desk converter can be an excellent solution for working in tight spaces. The raised surface allows you to keep essentials underneath, such as plants, penholders, bottles, and more. 
Many portable desks also come with extra storage, including cabinets, shelves, or drawers.  
Price
A portable computer desk is comparatively cheaper than standing desks, which can cost a fortune. 
Although it depends on the brand, features included, and size, most portable desks fall within a $300 price range, whereas for a traditional desk, you'd probably have to pay over $500!  
Portable Computer Desk on Wheels Vs. Standing Desks
Choosing between a portable workplace and a standing desk depends on what you seek from the two products. A small portable computer desk, for example, might be the answer if you're looking for a workstation that allows you to move around or sit whenever desired.  
On the other hand, go with a standing desk if you're more likely to sit around for hours without leaving your chair. However, that's really bad for your body and posture, so you might want to reconsider.  
Much research has shown that sitting for long hours can harm your health, causing limited blood circulation, weight gain, diabetes, etc.
All of the fore-mentioned issues, and more, can be tackled through a portable desk riser. Such a product allows you to be more mobile, therefore preventing many known diseases. You can also practice good posture when working on a portable computer desk.  
People are turning to this alternative in flocks recently because it allows you to put your health first. However, portable standing desks are also lightweight, unlike traditional desks.  
On top of that, such products also require little to no assembly or installation. This means you can get to work right away!
Conclusion
Finding a portable computer desk is time-consuming, but you can speed up the process by remembering a few key points.  
When shopping for one, look for an ergonomic, compact, and lightweight product. You don't want your portable workstation to weigh a ton! Also, extra trays and storage racks are even better.  
Consider checking out the products mentioned in this review, and start working efficiently and comfortably from today!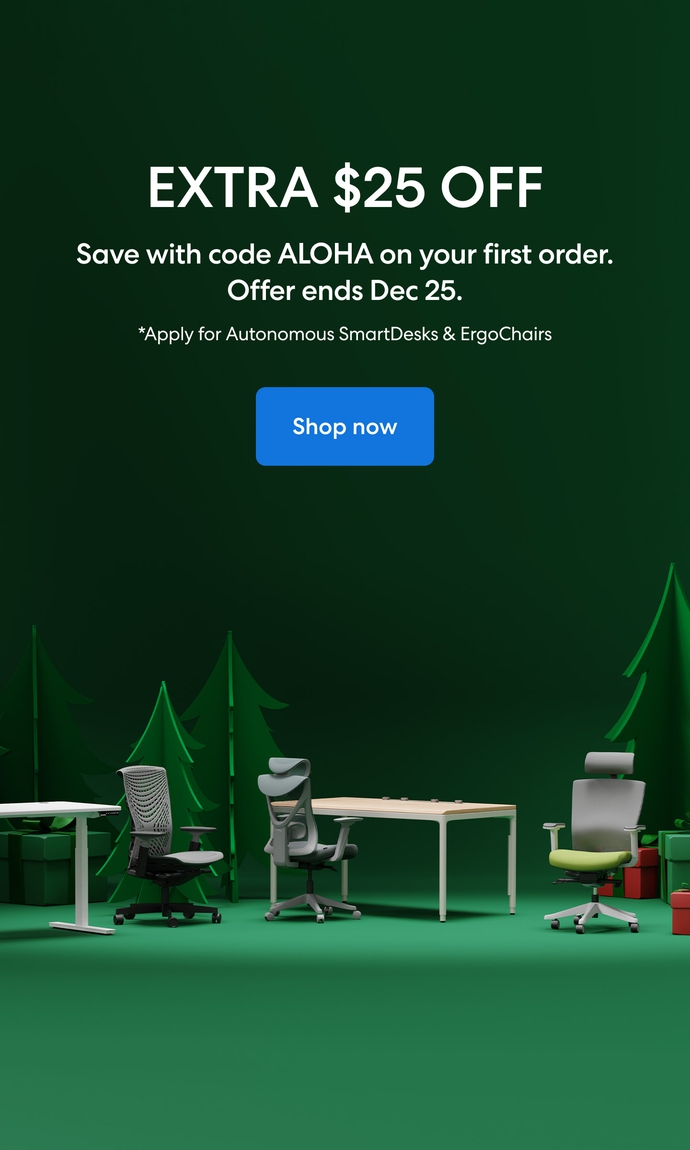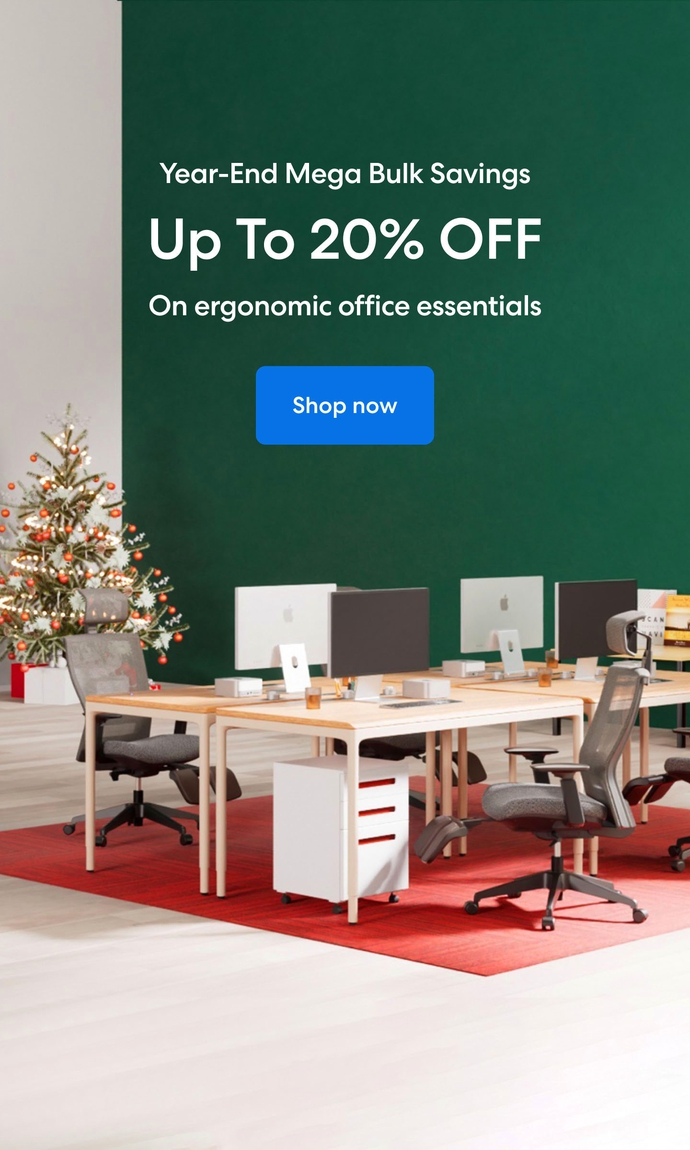 Subcribe newsletter and get $100 OFF.
Receive product updates, special offers, ergo tips, and inspiration form our team.