Smart Products
Shop 25+ Desks on Wheels for 2023 - Mobility Meets Functionality

Autonomous
|
May 29, 2022
2,695 Views
Sometimes, you may be required to move your heavy computer desk around. This can be an extremely tedious activity, especially if you have no one to help you. However, when you have a desk on wheels, you will never have to break your back again by trying to move one that doesn't. See 29 of the best options for desks on casters in this round-up.
Top Desks on Wheels and Casters for This Year
1. Mount-It! Mobile Standing Desk: Lockable Casters
This portable, compact computer desk on wheels can make for an optimal workstation. It has a sturdy build and is made of high-quality aluminum, making it long-lasting. This small desk on wheels can fit in any space as it barely takes up any room. It also has the capacity to 33 lbs of equipment. This desk also comes with a solid 10-year warranty.
2. Mount-It! Rolling Computer WorkStation with Monitor Mount
This is another example of a suitable office desk with wheels. It offers excellent utility, with multiple shelves and under-desk storage where you can place different desk items. You can purchase this desk with drawers in black and silver color, and you can easily set it up. This desk's sleek design and steel finish make it a contemporary furniture option for your space.
3. Modernsolid Mobile Computing Cart with CPU Holder
A highly flexible small desk on wheels allows you to adjust its height based on your preference. This is an excellent option if you want a suitable desk to set up your computer as it offers various features such as a keyboard tray, mouse pad, CPU stand, etc. It also comes with a 2-year warranty, making it a convenient and reliable option.
4. Modernsolid Mobile Laptop Cart
The modernsolid mobile laptop cart is the perfect small computer desk to set up your PC or laptop on, as it has a sleek and modern design with multiple casters that make it a great holder for your computer.
This desk also comes with heat dissipation, which prevents your devices from overheating. The mobility and convenience offered by this desk, along with the 2-year warrant, make it a highly worthwhile option.
5. Trio Supply House Rolling Laptop Cart with Storage: Graphite
This stylish and modern office desk with wheels is made of premium-quality wood, which not only offers beautification for your space but also makes for a viable desk because of the material's durability. The desk also includes compelling features such as considerable storage space, locking casters, etc. This white desk with drawers can be set up quickly and comes with a 1-month warranty.
6. Trio Supply House Folding Table Laptop Cart: Graphite
Suppose you are looking for a compact desk on wheels that only takes up a little room and can easily align with your existing interior. In that case, the trio supply house laptop cart is undoubtedly an appropriate option.
It contains foldable panels that can adjust various accessories that may need to go with your laptop. If you don't need to use these panels, you can fold them up, which saves even more space and adds to the product's overall utility. You can also adjust the desk's height.
7. Trio Supply House Rolling Adjustable Height Laptop Cart
With its unusual design and modern finish, this adjustable laptop cart can amp up your office space. It makes for the perfect stand to place your laptop on, as it does not require any elaborate installation and takes up just the right amount of room.
It also comes with storage space, which you can use while setting up an office desk. The desk's wooden look adds to its aesthetic appeal and value.
8. Trio Supply House Sit-to-Stand Mobile: Laptop Computer Stand
This is a highly worthwhile option if you are looking for an appropriately sized computer stand that can effectively replace a large desk that takes up more room. Its adjustable and sturdy build allows you to set it up based on your space.
9. Trio Supply House Compact Computer Cart with Storage
This computer cart is made of high-quality wood that can retain its quality and hold heavy objects, making it a durable furniture option. This desk-on-wheels option may be your best bet if you want to set up a contemporary and valuable work-from-home desk. The desk also contains several shelves to keep your computer accessories such as CPU, keyboard, speakers, etc.
10. Trio Supply House Rolling Adjustable Laptop Cart with Storage
A sleek and efficient cart that can make for an excellent mobile desk on wheels to hold your laptop. The dark wood design and the provided storage space make a great addition to your home office space.
11. Modernsolid Rolling Computer Cart: Height Adjustable
This mobile desk is one of the most practical options available that allow you to carry out your work on your computer in a disciplined manner without tiring yourself out. Its height can be adjusted, and it has room to accommodate all the accessories that may come with your PC.
12. Mount-It! Mobile Cart with Monitor Mount & CPU Holder
This standing desk makes for an optimum computer holder as it can adjust your monitor, keyboard, and CPU in the provided compartments with great ease. The desk also comes with a 10-year warranty.
13. Height Adjustable Rolling Stand-Up Desk by Mount-It!
The Mount-It! Rolling Stand-Up Desk makes for a great portable standing desk on wheels. It is sturdy, mobile and is a fantastic candidate for a portable workstation in your home, office, classroom, and showroom. 
Its carefully designed platform provides more than enough room for keyboards, monitors, mouse pads, PC towers, and even printers. Those that are wanting an ergonomic setup can choose to use the detachable monitor stand, something that is also featured in this rolling desk. 
All in all, the easy-to-roll casters of the Mount-It Rolling Stand-Up Desk allow the desk to move in all directions, achieving convenient relocation from room to room and place to place. Doing exactly what a rolling desk is supposed to do and doing it well.
14. Mount-It! Rolling Standing Desk with a Retractable Keyboard
The only thing bigger than the Height Adjustable Rolling Stand-Up Desk by Mount-It! is the Large Height Adjustable Wheels Desk by Mount-It!, providing freedom of movement and mobility for its users on a much larger scale. 
If size happened to be your only concern regarding the rolling standing desk above, then this rolling desk is the next best thing. 
15. Large Height Adjustable Rolling Stand-Up Desk by Mount-It!
The Mount-It! Large Height Adjustable Rolling Stand-Up Desk with Monitor Mount features not just one but two monitor mounts. Mount-It provides a standing desk on wheels for just about every need. A larger version of this mobile desk on wheels was discussed above, but now, the same large version with a dual-monitor mount is being discussed; specifically for those users who require a rolling desk where two monitors can be utilized at once. 
Obviously, it is important to note that the more improvements that are made to the same mobile desk, the more money you are going to pay for it in comparison to its counterparts. Nonetheless, this standing desk is still a perfect choice for anyone wanting space, storage, functionality, and comfort all wrapped up into one mobile desk on wheels. 
If the price does happen to play a very big part in your purchasing decision, you will be happy to know that Autonomous offers an employee purchase program to anyone currently working from home, and if this is the case, you will be able to use employee benefits to receive special pricing on ergonomic chairs and sit-stand desks. It is an opportunity worth exploring for sure!
16. OneSpace Desk on Wheels
While the OneSpace Desk on Wheels is, in fact, titled as a writing desk, it is much more than that. This desk provides ample room for all your work needs, which happen to be supported by a steel frame foundation and a fetching wood tabletop. Overall, it appears to be much larger than most traditional desks on wheels but a lot simpler in terms of design. 
It plays its part regarding your decorative needs by having a structure available in three colorways. Moreover, it is an extremely sturdy, easy-to-move desk due to the desk's heavy-duty lockable castors. This is what allows the desk to be moved out of the way and secured in a safe place easily and instantly. The OneSpace Desk on Wheels really does tick all the boxes for what it is.
17. Moveable Four-Wheel Computer Desk
You already know that keeping your workspace clean and simple is one of the best ways to stay efficient. With this Moveable Four-Wheel Computer Desk, you will be able to accomplish just that and possibly even more all while staying on the move. Finish your projects today using this all-steel, basic black portable desk on wheels. Its setup leaves plenty of room for your keyboard, monitor, and PC tower to be stored on hard clipboard material shelves. 
The great thing about this mobile desk on wheels is that if you don't need to use it anymore for any reason, it can easily be repurposed elsewhere in your office or home. However, the only downside to such a viable option for a desk on wheels is the mere fact that its wheels don't lock. 
18. Gymax Folding Computer Desk
If the Gymax Folding Computer Desk could be described in one word, that word would be "genius." It offers a simple style and charm with white steel legs that support the framework of the desk and a light-colored veneer for the drawers and work surface. This color scheme is exactly what will allow this desk to fit well into any home in terms of design and size, as its size will not overcrowd a workspace either. 
Still speaking about size, this is even more true when you come to find out about its foldable option. The size of this already small unit is cut in half as the top is folded down into the cabinet space. On top of all this, it has six heavy-duty casters that make for easy and swift mobility as well.
19. Baillargeon Pewter Computer Desk
An attractive option for a computer desk on wheels that befits a modern type of style is the Baillargeon Pewter Computer Desk. Its smooth sliding features and futuristic appearance make the desk feel like it traveled back in time to accommodate the lovers of this look. The lines and edges of the desk are curved, which is not something that every desk on wheels is able to feature, setting this desk apart from the rest. 
On the other hand, the clear glass tabletop is big enough to fit either a monitor or a laptop as well as speakers, should you need to fit speakers. While the keyboard and mouse fit on a whisper-quiet keyboard tray track. Just below that is a large sturdy shelf with enough room for a PC tower and any other desk accessories. 
What's better? All of this is mobile on wheels making for a perfect desk on casters. 
20. Mobile Standing Desk by Amazon
Over the years, desk technology and design have changed so much, and a fantastic innovation that resulted was the standing desk, especially this Mobile Standing Desk by Amazon. This desk is the perfect solution for active work habits. You are able to move your laptop or computer all around the room, office, and even the building you are in, all without needing to bend over either. 
This model is very sturdy, all-steel, and comes in a standard black color suitable for almost all modern office spaces. The only downside to this impressive innovation is the lack of mobility on the bottom shelf.
21. Olivieri Computer Desk on Wheels
Overall, this desk is the perfect setup for a country home or a home with farmhouse accents. The Olivieri Computer Desk on Wheels boasts many features that you will hardly find in any other models of a computer desk on wheels. To elaborate, the Olivieri Desk has many shelves, and every single one, other than the bottom one, is adjustable. 
Featuring two heavy-duty casters as well and two brakes, it can both be moved with ease or kept firmly in place, especially when mobility is not necessary. More so, the entire steel unit has a polished white color finish with light color veneer shelves. It is more than just a desk on wheels; it is a centerpiece that will occupy as little space in your home as possible. 
22. Merax Overbed Computer Desk
Many of you will be blown away by an option that has the ability to go over your bed completely, meaning that both legs touch the ground on either side of your bed. The Merax Overbed Computer Desk on Wheels is a model that cannot be beaten when it comes to working from your bed. 
All that you need to do when ill or wanting to relax while working is to roll this desk over your queen-sized bed. It's a wonderful concept that even entails a backlash to keep objects from being pushed over the back of the desk. While it is only available in black, everything else about this desk on casters is just too good to pass up.
23. Inbox Zero Desk
You'll find the Inbox Zero Desk with wheels where innovation meets desk concepts. If you're wondering what makes this desk so spectacular, your answer lies in the fact that it is height adjustable and hydraulically powered, meaning the desktop can easily be raised with minimal upward pressure and descend with the flip of a release. 
However, that is only the start; this desk on wheels has been specially designed for the purpose of sliding underneath a chair or bed to enjoy the concept of relaxing while working. In addition to the swivel motion, two small shelves, and a folding top, the Inbox Zero Desk is a pretty fantastic mobile desk on wheels. 
24. Tangkula Standing Desk
Another top pick for a rolling standing desk is the Tangkula Standing Desk. Having everything you require from a desk on wheels, this standing desk offers a strong iron construction on top of durability, portability, and flexibility. 
With this desk and its easy roll, you are able to convert any room into a home office setup instantly.
25. SIDUCAL Mobile Stand-Up Desk
Considering the affordability of the SIDUCAL Mobile Stand-Up Desk, this portable desk on wheels is an absolute steal. With three separate desktops, two being adjustable, and tilting surfaces, it is a sleek modern office desk that can work in perfect harmony with many rooms. 
26. Stand-Up Crank Adjustable Height Standing Desk
A high-end top pick in this round-up is the Stand-Up Crank Adjustable Height Standing Desk. Taking into consideration just how well-made this computer desk on wheels was made, its price is more than justifiable. 
While this model in specific is adjusted manually, there are other versions that offer electronic adjustability. Apart from that, it offers an extensive height range, it's extremely sturdy, and it's available in loads of colors. You also have the option to decide between two desktop sizes.
27. VIVO Electric Mobile Height Adjustable Dual Platform Standing Desk
A good option for a small office desk or for people wanting to add to their existing office space is the VIVO Electric Mobile Height Adjustable Dual Platform Standing Desk. With top-quality caster wheels and a three-year warranty, this desk is easy to roll and offers its users some peace of mind. 
28. Willbridge L-Shape Computer Desk
The Willbridge L-Shape Computer Desk is a versatile and stylish corner desk on wheels, making it the perfect solution for anyone who is wanting to utilize as little room as possible while working with as much space as possible. It is also a rolling desk suitable for gamers or anyone else utilizing multiple screens at once. 
29. 17 Stories L-Shaped Computer Desk
Last in this round-up, and the perfect spot for this desk to be mentioned, is the 17 Stories L-Shaped Computer Desk by Wayfair. With features ranging from pullout keyboard trays to foldable secondary desktops, this L-shaped desk on wheels makes for a perfectly designed contemporary computer desk that can move. 
Conclusion
Overall, if mobility is your number one concern when it comes to picking a desk for your home office space or workplace, then these 17 desks on wheels will afford you the freedom and flexibility to move them around as you wish.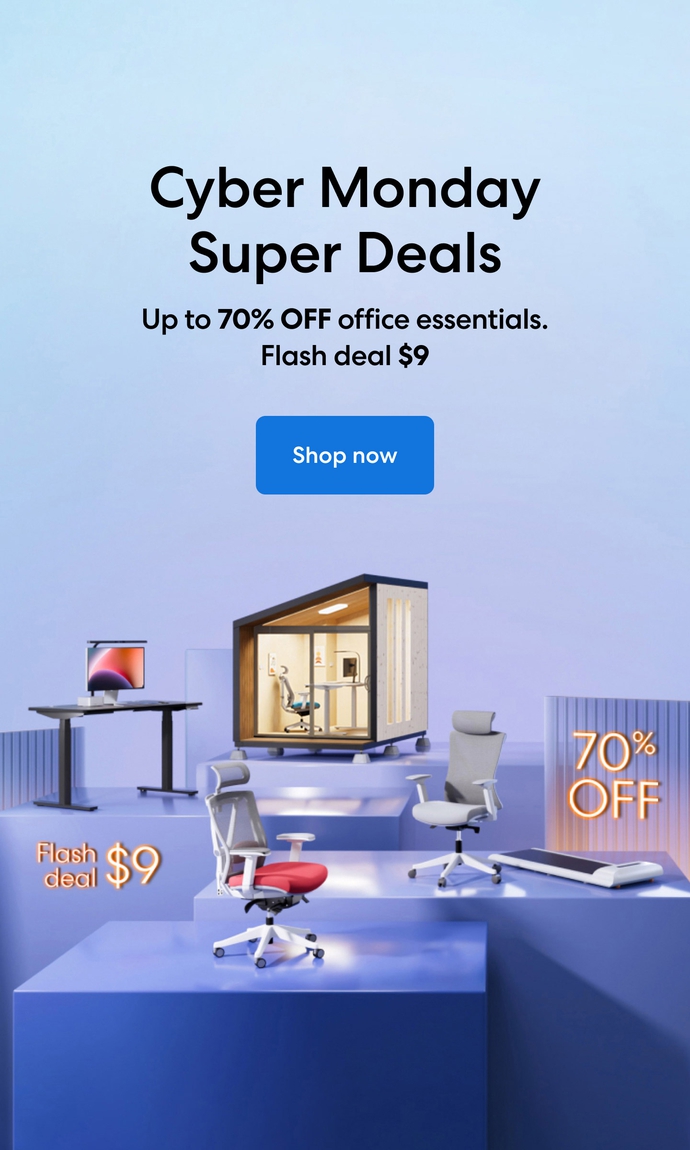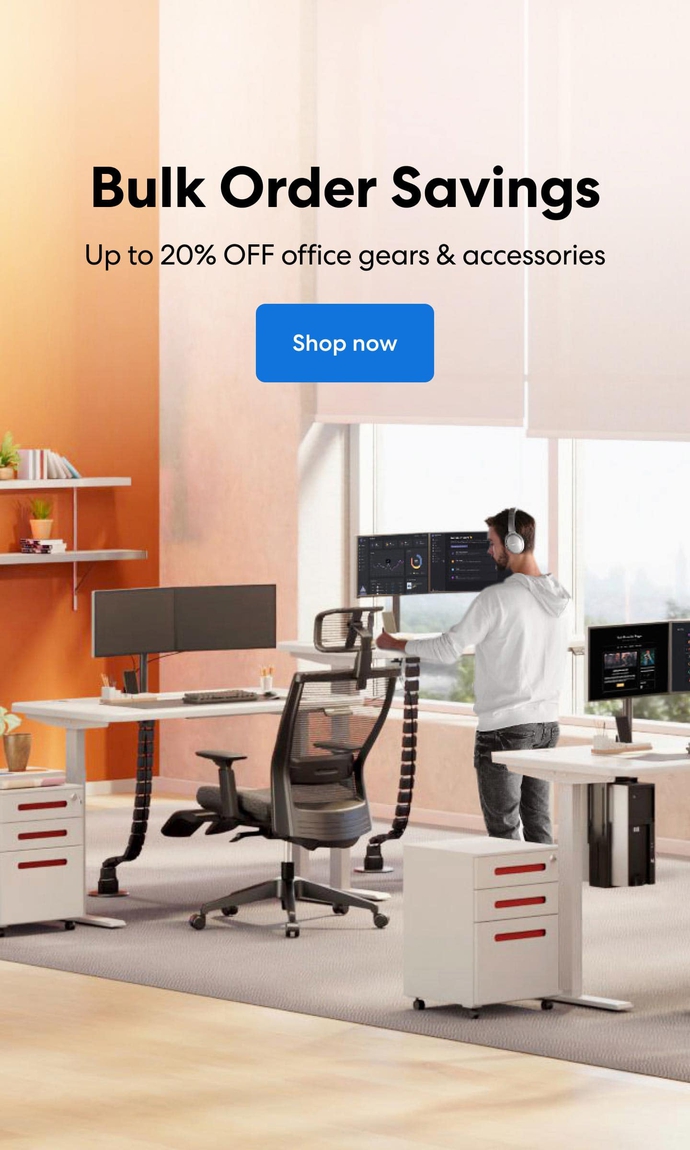 Subcribe newsletter and get $100 OFF.
Receive product updates, special offers, ergo tips, and inspiration form our team.