Smart Products
Top 13 Standing Desk Base Frames: A Full Buying Guide
43,356 Views
For many remote workers, a fully equipped standing desk is too expensive and out-of-the-question. It's understandable that you want a standing desk that is going to provide you with great ergonomic benefits. However, your budget may not allow you to purchase a standing desk that offers these features. In most cases, building your own and purchasing an adjustable standing desk frame is a better option to gain improved ergonomics while paying less.
Modern furniture lists among the most radical and groundbreaking changes between all innovative technical gadgets and software products that have flooded our residences in the current history. Hidden compartments in seats, couches, and sometimes even staircases, interactive cabinets, and wrap-up changing tables are just a few examples of objects with many approaches to opening, retracting, and changing direction.
These ideas are gradually becoming the standard for contemporary houses and businesses. Another common piece of equipment that has been providing excellent value for the customers in terms of technology and usability is a standing desk frame for a standing desk. These workstations' adaptability is accomplished by adjusting the desk frame or columns that hold a suitable tabletop.
The most popular option when choosing to build your own standing desk is to purchase a stand-up desk base and supply your own desktop lumber. This article will provide a comprehensive understanding of the distinct advantages of standing desk frames and columns. We have designed this guide to provide you with all the information you need to consider when choosing standing desk frame structures and picking the best sit-stand desk frame.
What Are the Best Standing Desk Frame Options on the Market?
There are a variety of different adjustable desk frames that can be considered as the best sit-stand desk frame. This can make finding the right one incredibly challenging. The best option for you is largely going to depend on your budget. For this reason, we have broken down the top eight options for the best standing desk legs and put these choices into two different categories to accommodate different budgets. These are:
Top 13 Standing Desk Base Options
You may select the optimal range for your desktop frame by knowing the right desk elevation. Additionally, you must consider the ideal desk height while standing and seated. Here are some of the desk bases which are now on the market and are affordable:
1. Autonomous SmartDesk Frame
The low-price associated with this product is incredibly attractive. This Autonomous DIY standing desk is equipped with an effective motorized system that allows you to transition from a standing to a sitting position quickly and effortlessly. It features dual motors and a higher lift capacity than most standing desks, along with an effective crossbar that efficiently supports wider desktops.
The adjustable standing desk frame from Autonomous allows users to craft their own unique workspace. This is due to its highly-customizable feature. Moreover, you don't need to spend ages trying to assemble the standing desk frame, as it's equipped with the ability to be completed in minutes effortlessly. It also holds the capacity to lift up to 330 lbs. Thus, you don't need to limit the desktop choices. You can use a heavy tabletop that fits best with your workspace. You don't need to sacrifice your choice of desktop.
You can also be assured that you are gaining a high-quality item without having to break the bank, as this Autonomous adjustable standing desk frame is produced by industrial manufacturers that are highly experienced. The product is also available at a reasonable price and entirely cost-effective. The product is made from durable materials and is created to stand the test of time. Moreover, this, along with other Autonomous products like SmartDesk Core, features global safety inspection body certification from EMC, BIFMA, and UL.
Pros:
It's equipped with the ability to lift 300-330 lbs.
This desk frame produces less than 45 decibels of sound when the motor is used.
The standing desk frame is built with incredibly durable materials.
2. AOKE Wistopht SmartDesk Frame: Pro
Even though the craftsmanship of the Aoke Wistopht SmartDesk Frame wasn't great when it was originally produced, this particular brand was the only one to sell it. Ever since the firm has much improved, and after some time, the company introduced their StandDesk Pro around 2017. This sit-stand desk frame contains several lovely and distinctive qualities not present in other bases, although it is fairly similar to many other bases. This table frame comes with an incredible 10-year warranty on most of its features sets it apart from other rivals.
3. AOKE Wistopht SmartDesk Frame: Core
This is the simplest electric foundation currently available. Yet, it is unfortunate about its design because you truly get what you paid for. Despite its appealing pricing, the Aoke Wistopht Standing Desk Frame offers consumers a poor, unsteady, loud, and unstable platform. There are commercial and domestic versions of this desk frame. The corporate variant has dual-stage and motors. It also features a larger life expectancy and surge protection on the engines.
4. AOKE Timotion SmartDesk Frame – Core
The standing desk frame by Autonomous x Timotion can help you get your office space off the ground. It has pro characteristics like a strong twin motor, a large height adjustment, and a solid structure that could last for years of operation, making it the ideal beginner desktop frame for students and employees across the country. Thanks to this item, you have the freedom to select the table of your choice. It is a standing workstation that you may customize and set to the elevation you desire. Among the most individualized standing desk frames commercially available is this one.
5. Northread Electric Stand-up Desk Frame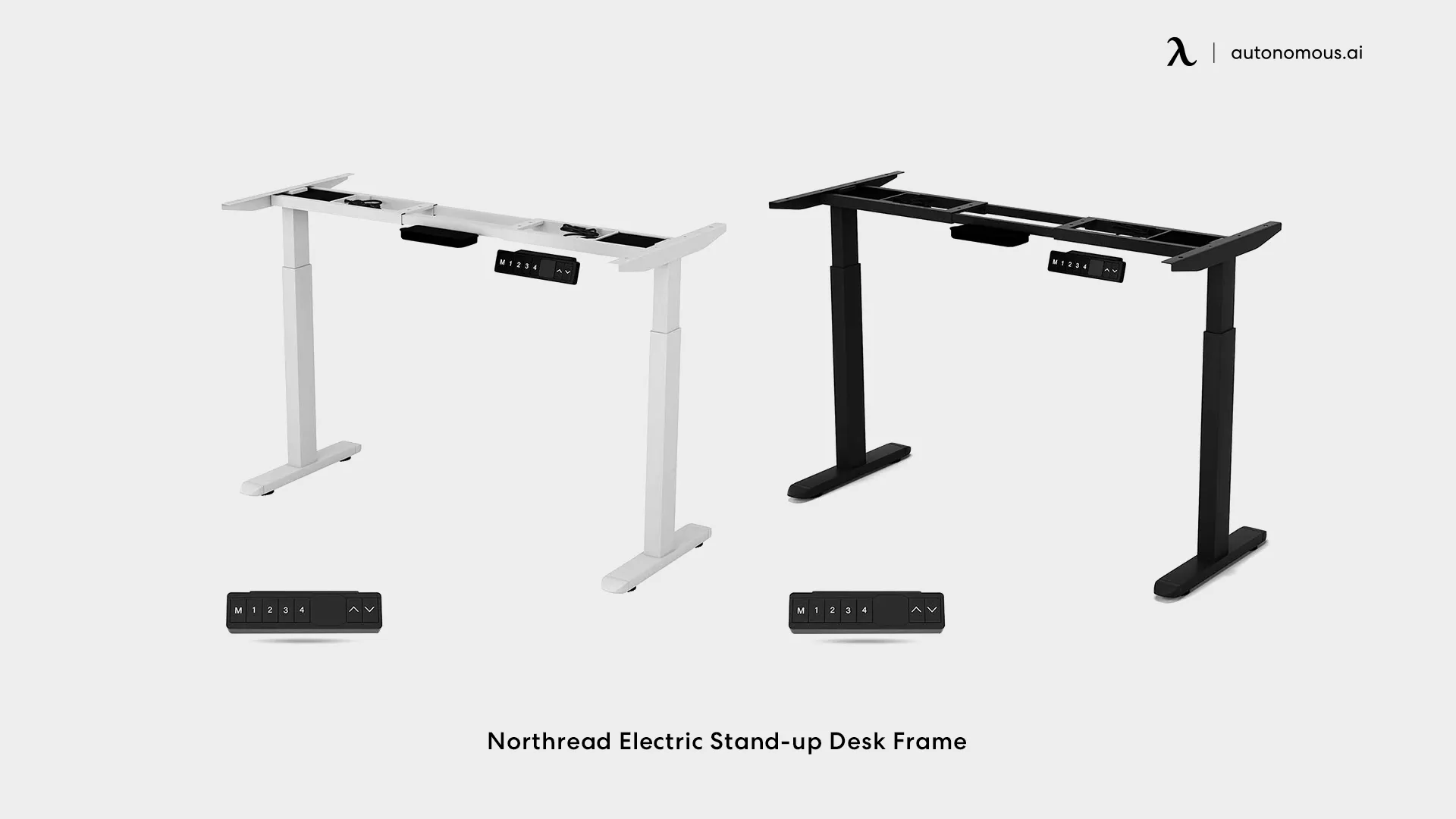 This standing desk base delivers exceptional performance in almost every area. It includes a workstation that is 7 feet in length, a suitable range that can fit even the tallest customers and a lift capability of roughly 365 lbs. It has an additional 6" leg extension component, making it the highest table on the marketplace with a top elevation of 56". With the Northread foundation kit, building a table is also incredibly simple and takes far less time than with virtually every DIY foundation. And it has a ten-year guarantee on all of its parts.
6. North Motor
You too can improve your workplace to a desktop that fits precisely even if you are sitting down or standing by purchasing this specialist sit-stand table frame. The Up/Down controls and 4 programmed recollection settings on the ergonomically designed electric standing table frame allow for quick and simple 1-touch changing. This structure has a three-stage construction, and the 3-stage piece's strong dual-motor lifting mechanism can adjust the position at a pace of 1.57" (4 cm)/second while making little noise. This adjustable desk frame's swift, silent movement increases concentration and productivity.
You are more prepared to make the proper decision when selecting the ideal structure for your DIY stand up sit-stand desks now since you have reviewed some of the best desk frames available today, both the affordable and the high-quality ones.
7. iMovR Studio 470 Base
This is the latest addition to the range of iMovR's four stand-up desk base frames. The Studio 470 is the perfect addition to a workspace and can function effectively as a compact workstation. Moreover, it's also the lightest-weight base option available for DIY sit-stand desk base frame structures.
It's equipped with a design that's compatible with commercial use, as well as home offices. The structure also features an easy-to-assemble design, as it's constructed without a frills base. All of the extra additions, such as a fancy multi-user control system and extra metal additions, aren't needed in the structure, unlike other, bigger frames. This also helps to keep shipping costs low.
Pros:
The device is exceptionally priced and can fit most people's budgets.
It comes with a decent warranty and a UL 962 and ANSI/BIFMA X5.5-2014 certification.
It's lightweight and the perfect compact size for most workstations.
Cons:
Some people may have a hard time adjusting to this new style
Ensuring that your desk won't be too big for your office space
8. StandDesk Pro Electric Base Frame
Although StandDesk.co was the first company to provide a standing desk for less than $400, the design of the structure left much to be desired, and it didn't compare to Autonomous' desk that was under $400.
Nonetheless, this newly released StandDesk Pro was brought onto the market in 2017 and has some excellent features. It does share a good number of characteristics with other Chinese stand-up desk base frames. However, it is equipped with additional features that aren't found in these models.
Pros:
This StandDesk Pro offers a ten-year warranty on all of the components the electric base frame is constructed with.
This frame is available for under $400, which helps to fit a wide array of budgets.
Cons:
For a minimalist, all the extra features may be 'too much' for their liking
9. Jiecang Electric Adjustable Standing Desk Frame Structure
The Jiecang Electric Standing Desk Base Frame Is the most commonly used and well-liked for its exceptionally reasonable price. This Chinese-made standing desk is brought over by the container to American resellers and is sold with minor customizations to better the product. However, it's important to keep in mind that these different Jiecang resellers are going to have slightly different variations. These variations are mostly between the hand and feet controller design.
Pros:
These standing desks can accommodate tabletops with a width between 48 inches and 72 inches.
The height-adjustable range is from 23.75 inches to 49.5 inches.
10. iMovR Lander DIY Standing Desk Base Frame Kit
This DIY standing desk base frame kit from iMovR offers a high-tech design with a Bluetooth-enabled height controller. This controller syncs with your smartphone. It holds the ability to lift up to 365 lbs. and transitions from a speed of 1.6 inches per second. It also features comfortability that accommodates taller individuals while supporting wider desktops.
These standing desk frames can accommodate a tabletop of up to 7 feet. You are also able to set four height presets for each user by syncing the device with your smartphone through Bluetooth. Moreover, these presets can be built-in with the 'health coach' so you can be reminded when it's time to stand or sit.
Pros
It works well as a shared workstation.
It's equipped with a high-res display and Bluetooth.
11. iMovR Freedom DIY Standing Desk Base Frame Kit
The Freedom base is equipped with a leveraging design that's made to answer Asian imports. The design of the base frame features a similar performance to Chinese models. However, the only difference is that this standing desk frame is built with durability in mind. Thus, the product is known to last longer than its Chinese competitors. Moreover, you're provided with domestic customer support and a 10-year warranty.
Pros:
Your preferred standing and sitting heights are stored in the digital controller to make transitions effortless and accurate.
The transit speed is 1.5 inches per second, and the structure can hold desktops of up to 30 inches wide.
12. iMovR Vigor Heavy Duty DIY Adjustable Standing Desk Frame
The Vigor standing desk frame is equipped to be a powerhouse. The structure is exceptionally strong, and it's one of the fastest and quietest bases on the market. You have the choice of either a three-leg or two-leg variation. These features provide you with the ability to construct a DIY L-shaped standing desk. It's robust structure also allows you to lift up to 490 lbs. However, the desk is known to become quite noisy and slower when lifting heavier loads.
Pros:
It features an adjustable width of up to 75 inches and is a heavy-duty electric base.
The product comes with a five-year warranty on all components making up the base frame.
13. IKEA Idasen DIY Adjustable Standing Desk Frame
Most IKEA products don't fit into the category of 'premium.' However, this standing desk frame structure does due to its premium price and the fact that the product is made in Scandinavia and not China. This adjustable standing desk frame is built with components that are a higher grade than the majority of Chinese-made standing desks. It also features a Bluetooth hand controller that allows you to control your height preferences through your smartphone. However, the assembling process can be a bit of a hassle for most customers.
Pros:
The product comes with a 10-year warranty.
Understanding Standing Desks
The two main components of any height-adjustable workspace are a flat desktop atop a movable frame or pillar. These elements work together to create a customizable standing desk that allows users to modify the table elevation to their liking. With so many variations available in various materials, dimensions, styles, and colors nowadays, it is simple to become lost in modern office furniture, given the extent of tabletops, casings, and columns.
The desktop's dimensions and design are heavily influenced by the area where you will place your table. As a result, you must be careful to choose the right size height adjustable table. The desk's color with all its movable components may be customized based on customer requirements and are a case of personal taste. But the composition that the adjustable standup desk is composed of occasionally restricts your options for colors.
Depending on the customer's needs, standing desk legs can be bought individually, forming an read Electric Sit Stand Desk Frame: Dualexcellent freestanding basis for standing workstations. A single frame, for example, is ideal for a bespoke workstation with an appropriate, compatible countertop. Many frames may be tailored to fit your needs, making them a versatile alternative for your furnishings needs.
Frame components come in a variety of variants with varying capabilities for extra devices as well as compartments. A cable control framework, keyboard tray, USB connector, power outlets, and some other relevant accessories may be added to your standing desk to complete it.
What Is the Average Cost of a Standing Desk Frame?
Purchasing a standing desk frame is the best option when looking to build your own standing desk. This is because an adjustable standing desk frame is already equipped with all the correct constructions, making the structure ergonomically beneficial.
A general rule of thumb that comes with buying an electric stand-up desk base is that spending a bit more is going to provide you with a longer stroke, longer warranty period, more reliable, heavier-lifting, faster, and quieter desk base.
One of the most important features of a standing desk is stroke capability. The stroke is known as the total distance between the lowest and the highest desk setting. A longer stroke is essential for taller individuals and gaining a sufficient stroke distance plays a massive role in ensuring your standing desk structure provides the necessary ergonomics.
Bottom-end models can run from anything between $250 to $450. This doesn't include shipping, and you're unlikely to find an effective model that costs less than $250. The majority, if not all of these models, are made in China.
Included in these bottom-end models are factory warranties that last for up to one or two years. However, many of the resellers based in the US usually feature its own warranty policies, which have longer coverage periods.
Models that are more advanced are typically made in Taiwan, Europe, or the US. These models tend to feature a greater range of adjustability, better collision detection, nicer and higher-quality handsets, quieter motorized systems, tighter manufacturing tolerances, along higher transit speeds. These types of advanced models are likely to cost you anything between $480 and $850.
The warranties offered on these models (American-made bases) usually have a period of ten years. Moreover, these particular models are also known to be more stable than that of Chinese alternatives. There are many reasons why some standing desks are less stable than others. Nonetheless, a large contributing factor is how these models are built, along with the materials used in the construction of the adjustable standing desk frame.
In addition, these more advanced sold separately standing desk frames are equipped with telescoping crossbars. The inclusion of this effortlessly accommodates a variety of different desktops.
Lift Capacity that Best Suits Your Specific Needs
It's imperative that you calculate or weigh the desired tabletop you wish to use when constructing your standing desk. You need to then minus this weight of the desktop from the lifting capacity that your desired adjustable standing desk frame is capable of holding. Doing this calculation helps you determine how much desktop equipment you are going to be able to fit onto your standing desk.
This calculation is incredibly important as determining this lift capacity after accommodating your desktop allows you to understand which tabletops are going to work and which ones won't. This step is crucial if you plan on incorporating a heavy hardwood, stone, or thick tabletop into the structure of your stand-up desk base.
Even purchasing the best standing desk legs can lead to disappointment if you don't take into account the lift capacity when installing a tabletop onto the adjustable standing desk frame. In addition, it's also crucial that you take into account and understand any side loading issues.
It's also important that you should make sure that your desktop is at least 1 inch thick if you want to use a tabletop with a width of more than 59 inches. Ensuring that this thickness is 1 inch or more prevents the desktop from warping. In addition, the risk of increased side loading on the lifting legs (actuator motors) is drastically decreased by ensuring the thickness of the tabletop is at least 1 inch.
FAQs
How much should I spend on a standing desk frame?
Typically a great value for a quality standing desk will be $300 to $400, depending on the manufacturer, construction, features, and engineering.
Is it worth getting a standing desk?
There are certain pros and cons elements while choosing to buy a standing desk or sitting desk. For many office workers working all day, it is easy to have trouble with back pain, fatigue, leg swelling, cognitive decline,... To minimize these health issues, standing desk models have been manufactured with more flexible and modern designs.
Why are standing desks so expensive?
Every furniture including electric standing desks comes in a range of prices, basically depending on the designs, quality of materials and some extra features offered by the desk you choose.
As a result, you should browse the Autonomous site when you desire to purchase an adjustable desk frame or perhaps the greatest ergonomic chair for the money.
Hey, you have special pricing through your company.
Get exclusive rewards
for your first Autonomous blog subscription.
WRITTEN BYAutonomous
We build office products to help you work smarter.