Workplace Inspiration
20 Creative DIY Cable Management Ideas That Work
15,604 Views
Good cable management can turn a messy and unappealing desk into the perfect space for being productive and getting everything done in no time. It's the art of organizing computer wires in a clever way that makes sure they're nowhere to be seen. 
The downside of this is when you realize most DIY desk cable organizers out there are way too expensive and out of your budget. Yes, they might work great and give you a professional and neat finish, but you can also achieve that look by yourself. 
That's why today, we bring you 20 creative DIY cable management ideas for you to try in your home office setup. Keep reading to find out how to make the best out of your setup with them. 
Why Should You Have Good Cable Management?
Knowing how to organize your wires goes beyond just an aesthetic solution. It can give loads of benefits to your workspace, some of them are: 
It gives you a neat workspace that helps you boost your productivity
It makes it easier to add or remove more cables and devices
It protects your wires from bending and damaging
It prevents cable interference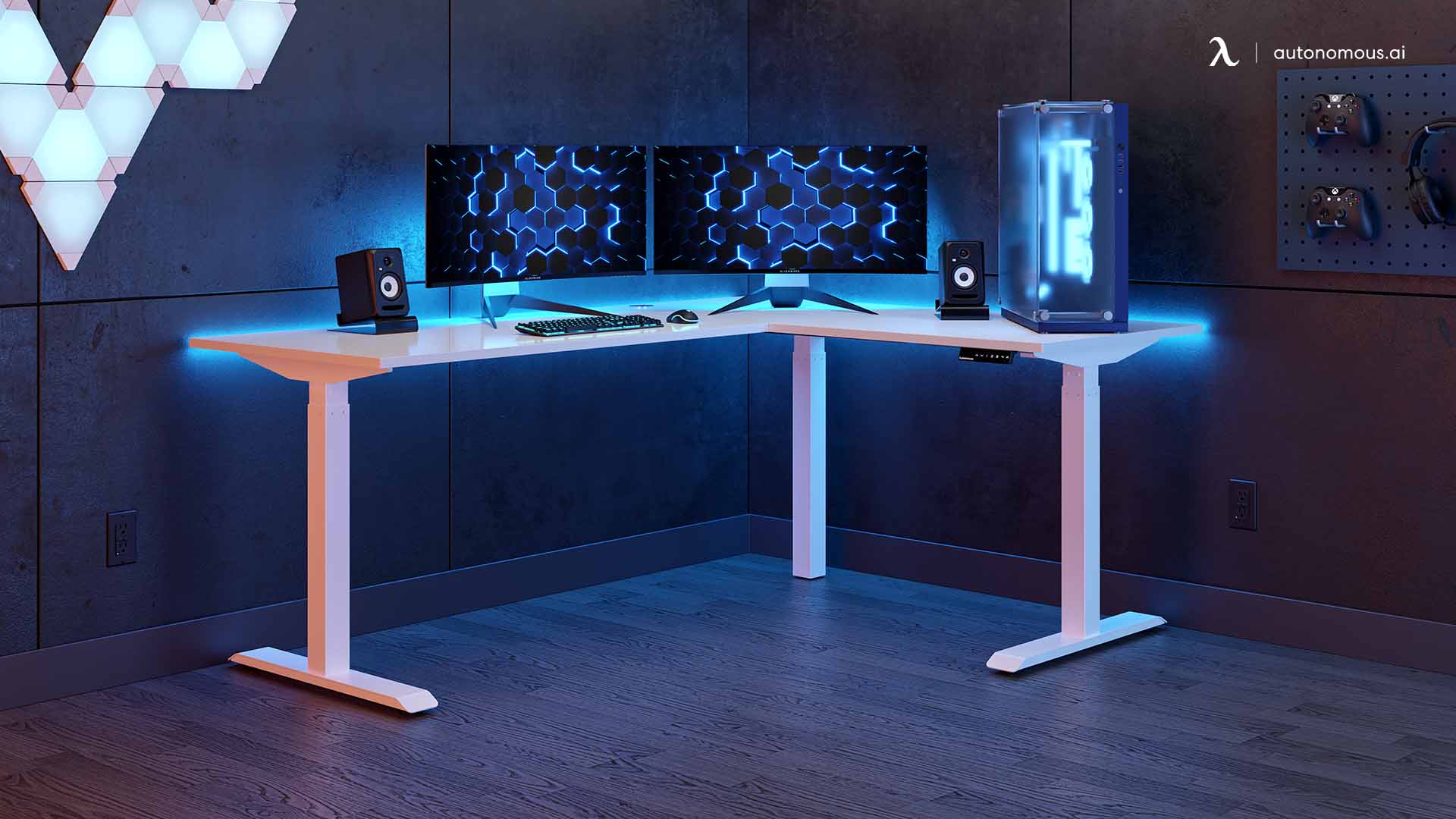 Types of Desk Cable Management
Having multiple monitors, gadgets, and a technologically smart work setup is all fun and games until you have to go through the rough and tough cable management process. From DIY cable management to buying accessories to keep your cables intact, here are some common cable management solutions you will find in a workplace.
Cable Hooks
Cable hooks are usually useful for under desk computer cable management because they are mounted on the desk surface or the wall. The benefit of using cable hooks is that they keep the cables out of sight and provide a cleaner interface. However, you would need to get up and move your desk to find or de-plug the right cable every time you need to shift the accessory.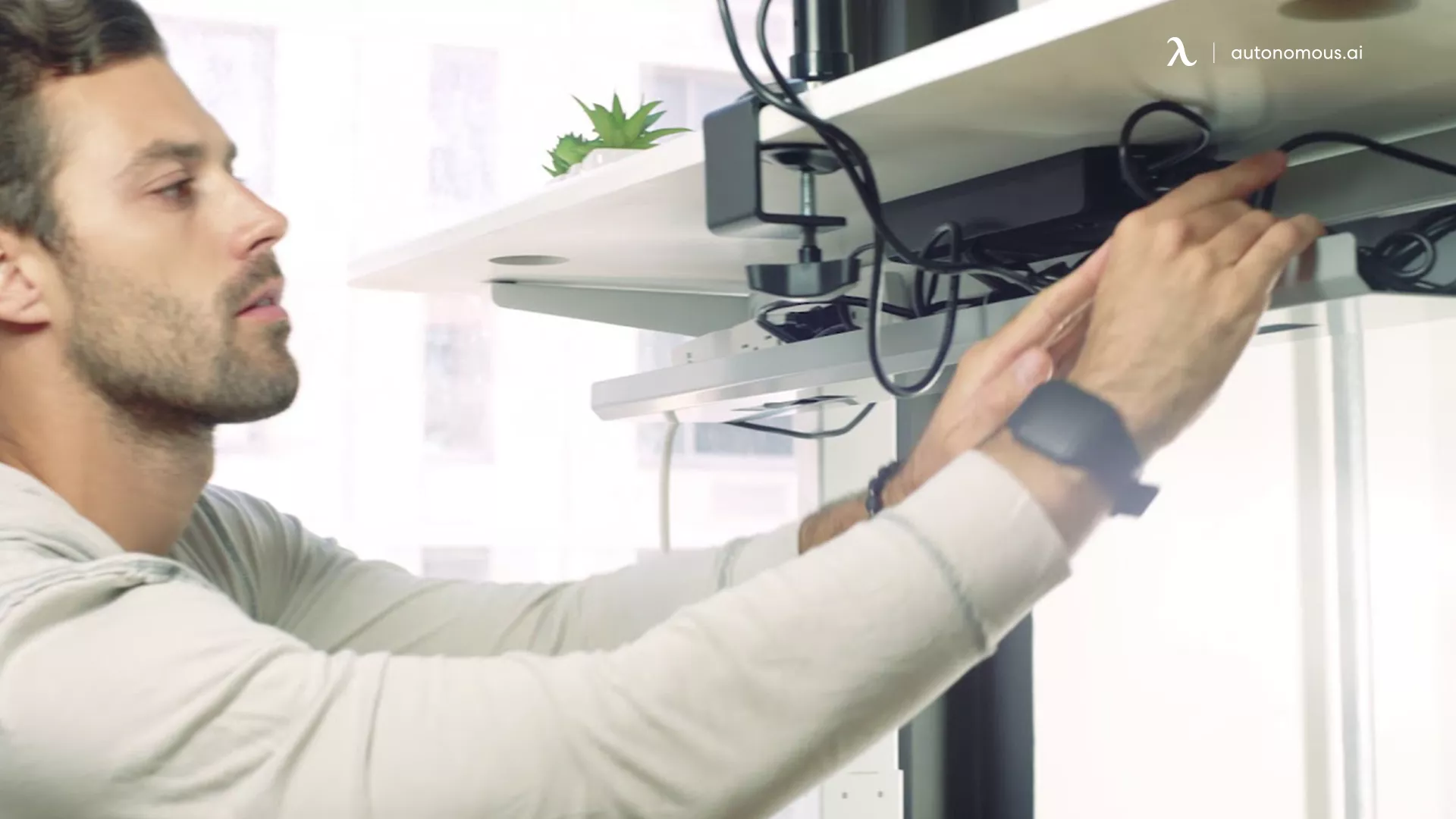 Cable Ties
Simply the easiest way to manage cables, a cable tie, also known as a zip tie, a tie wrap, or a wire tie, is a fastener used to attach wire bundles and harness components. It is a fastener used to connect things, primarily fiber optic and copper wires. Cable ties are inexpensive and straightforward components utilized in cable confinement systems. One benefit of cable ties is finding them in different sizes and picking them in different colors.
Over the Desk Cable Management
A product like a modern desk organizer can provide a cable management solution above the desk surface. This is usually useful when you need to find your cables right in front of you but don't want to invite clutter. Although this type may cover some extra space on your desk, it is useful for large desk setups.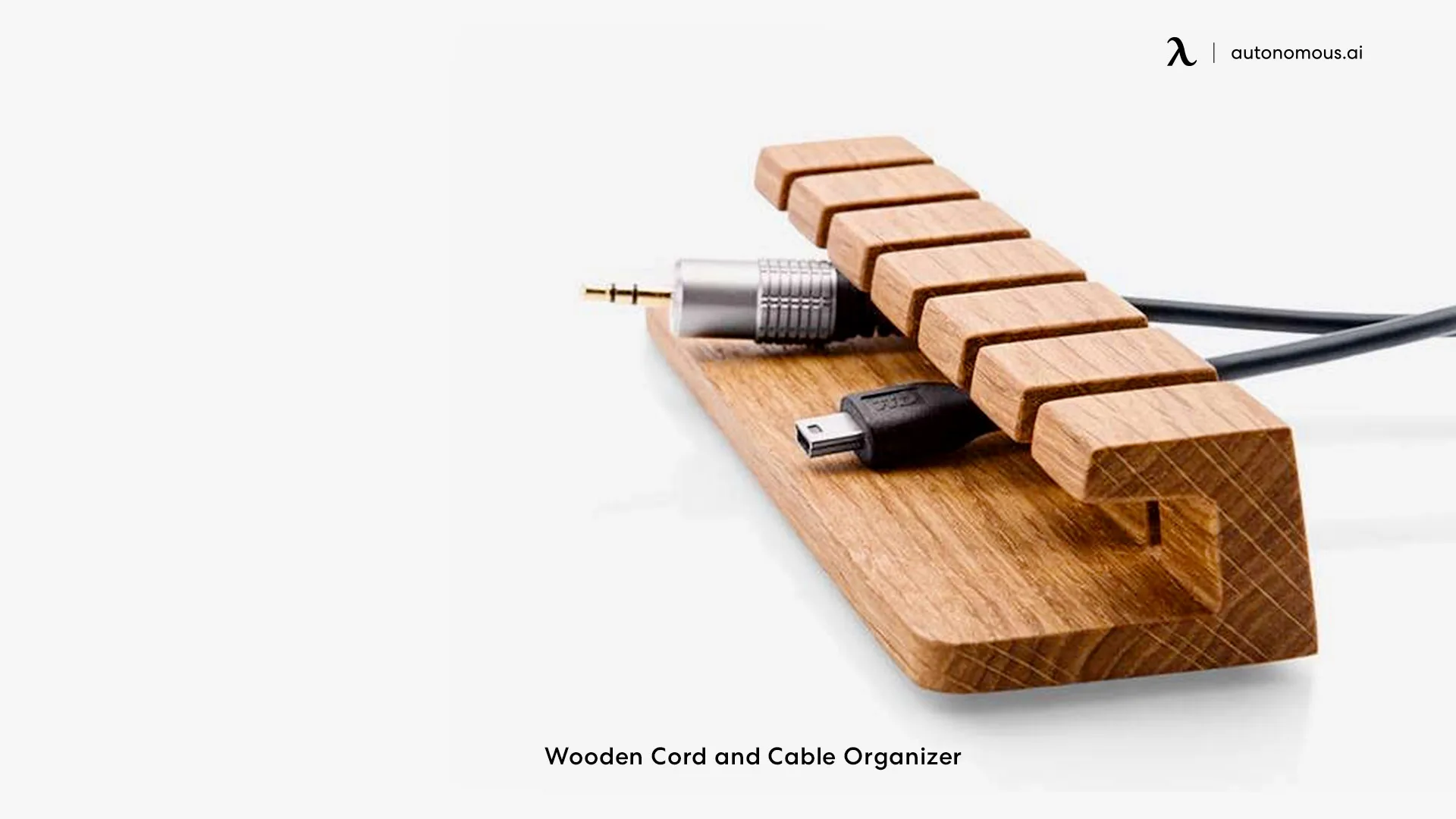 Lacing Bars
If you have a lot of horizontal cables that are sensitive, you might not want to keep them hanging vertically. These lacing bars are also known as strain relief bars because they prevent wear or tear on cables. The cables run alongside a horizontal bar with multiple sticker ties on it. You can fasten the cables at regular intervals and open them up when needed. This is an effective solution for sensitive cables.
Wire Mesh Cable Tray
A wire mesh cable tray is a perforated cable tray which is made with steel wires. The wires are welded together to create a basket which holds all your cables. These types of cable trays are common and primarily used for supporting cables that don't have very high electric transmission, such as the telephone wires, and internet fiber optic cables over short distances.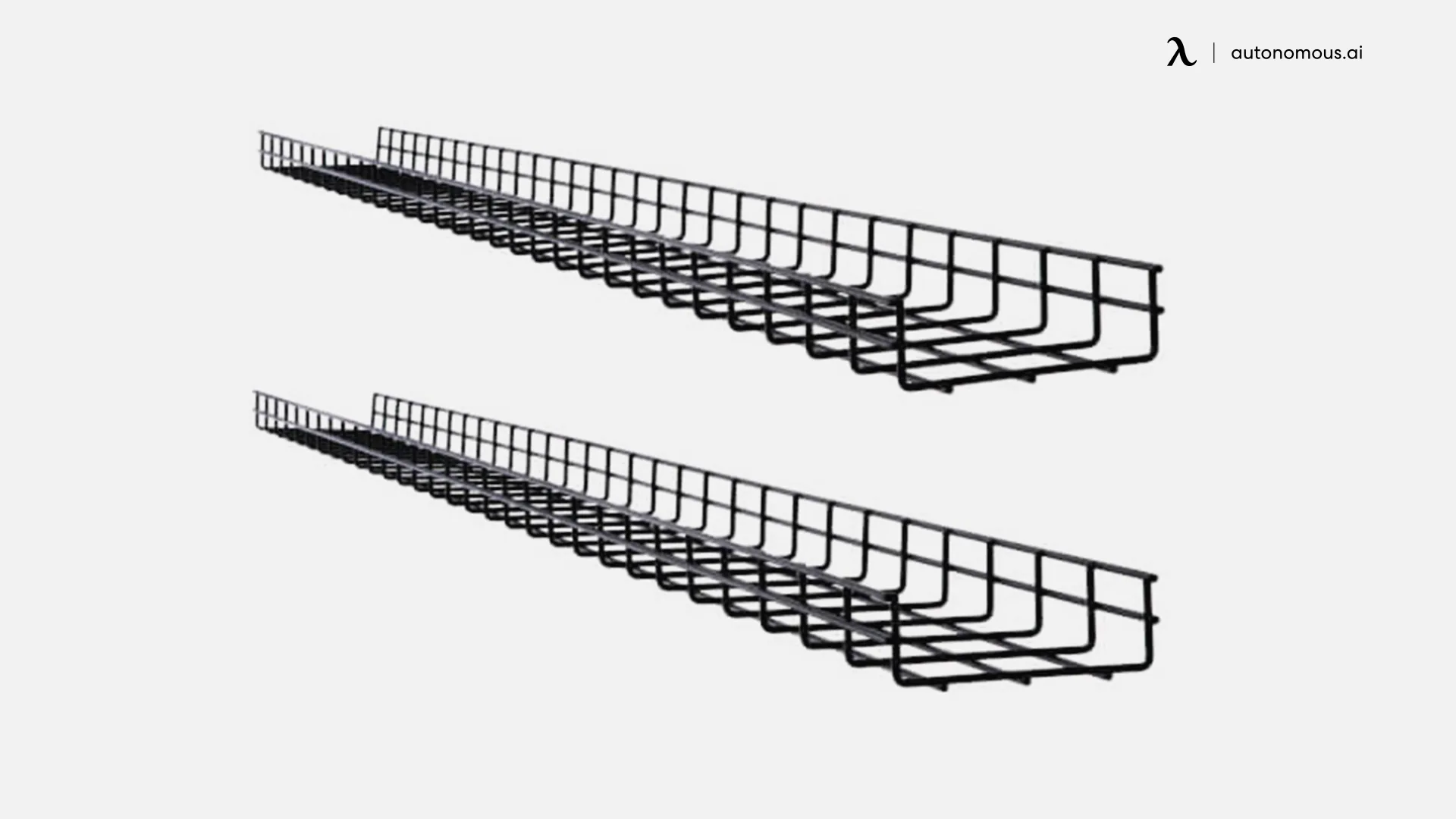 Vertical Cable Management
Vertical desk computer cable management or D-rings are highly useful for keeping the cables behind the desk while also keeping them at a safe distance from one another. A vertical cable management system is a rack with multiple hooks through which you can pass cables separately. The rack helps the cable hang parallel to each other without tangling, and you can easily organize cables with various thicknesses and varying heights with a single solution.
Wire Loom
A simple method that keeps your cable clutter at bay and protects your cables from giving you an electric shock. This type of cable management is highly recommended with children in the home, although unfastening or removing a cable might be a hassle. Wire Loom, also known as ribbed tubing, is ideal for organizing cables and managing wires into color-coded bundles that keep your electronic equipment organized and minimize equipment failure or fire hazards. They're found in various places, including home entertainment centers, video games, and home and workplace computers.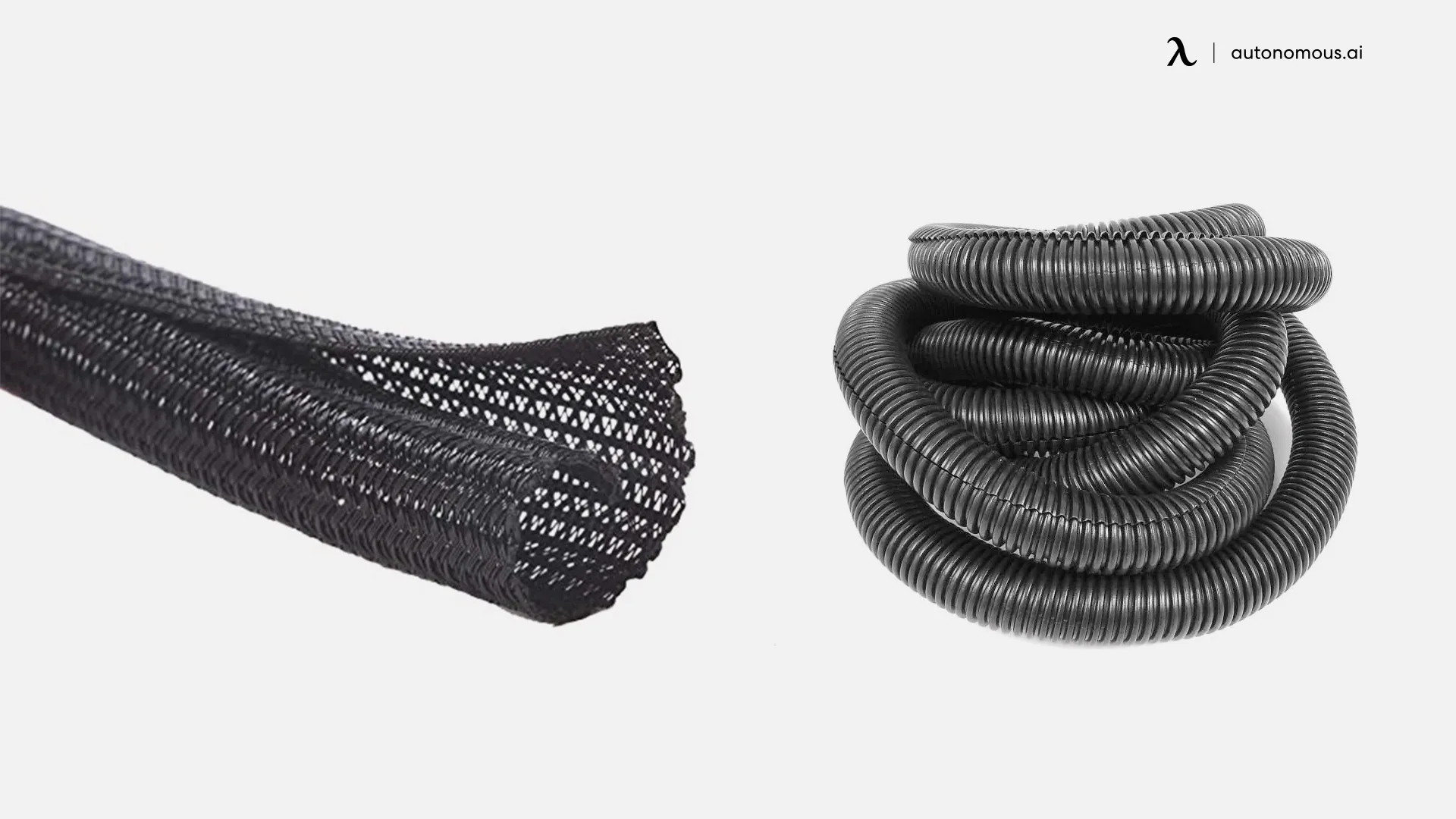 Solid Bottom Cable Tray
This is another computer cable management you can consider. Solid cable trays with a closed bottom, (which are not perforated) are commonly used for fiber-optic cable installations where drooping of cables could impact system performance. The main rationale for using solid-bottom trays is to prevent electromagnetic/ radio-frequency interference.
Best Cable Organizers for a Clean Workstation
No one likes a messy, cluttered workstation because that negatively impacts their productivity, damages their cords, and spoils the way their workstation looks. But how to manage cables and improve your office organization, making them look sleeker? The solution is simple; you will need cable holders for the desk. The good thing is that multiple cable holder options are available in the market. All you are required to do is pick one of them for your computer cable management, and you are good to go.
It becomes hard to choose the best cable management for the desk because your cables are sensitive. One wrong move can subject your expensive accessories to issues like a short circuit or become a health hazard for you. Here are our top picks for easy to use and best desk cable organizers for your office. You can purchase these cable management accessories through the Autonomous employee purchase program and get a discounted value. Below are some of the best desk cable organizer options that you may consider for apt cable management. 
1. Cable Tray
A straightforward way to manage your cables that doesn't cost a lot. This cable tray is insulated to prevent any current from traveling and spacious enough to keep your work desk from the untidy cable clutter. You can mount it under your desk, so the clutter remains away, and it has a load capacity of up to 35 pounds.
2. Docking Station
One of the numerous benefits of a docking station is efficient cable management. With this Moshi docking station, you can find over 11 different connections and a wonderful cable organization. Each port is made at a smart distance from the other while the device doesn't even take up a lot of space on your desk.
3. Power Dock
Buying a power dock such as this one is a two in one solution as it prevents cable clutter and provides you with a smooth transmission of power for your accessories. This power dock comes with 3 power sockets and 2 USB ports, and an easy to clamp holder with the desk. It reduces cord clutter and comes with a 1-year warranty.
4. Cable Adhesives
Cable adhesives are low-cost pinchers available in various sizes, with some having several grooves. They're small cable holders that come in handy when one needs to keep the cables separated over long distances. Since the adhesives are independent of each other you can choose the location of each cable easily. The glue used on the back is safe for most furniture with a little caution.
5. Cable Management Box By Yamazaki
People are often interested in getting cable management boxes instead of cable management clips. If you are one of them, you may think of going for Yamazaki's Cable Management Box. If you have multiple cords lingering on your desk and you are wondering where you can keep them safe, this cable management box will be of great help. Overall, the box provides you with easy access to your cords. 
6. SOULWIT's Cable Management Clips
SOULWIT's Cable Management Clips have a unique design. The clip features a hinged design with an arm that you may attach to your monitor wall mount and organize its cables to avoid clutter. People who are looking for a reliable cord holder for their CPU can fasten this clip on their CPU holder and keep their cords in place. 
7. Cable Clip Holders By Idealstanley
Cable Clip Holders by Idealstanley are yet another self-adhesive clip holder. These holders consist of four rubber rings that can hold your mouse and keyboard cords conveniently. You can even use them if you want to hold your charging cables or headphone wires in place. So, overall, they are a great pick. 
8. Magnetic Cable Organizer By Anker
If you are looking for versatile cable holders for your desk, go for this magnetic cable organizer by Anker. The main base of the cable organizer comes with the peel and stick feature. However, the individual cable clips are magnetic. Each cable organizer comes with five clips which you can swap the way you like.  
9. CableDrop by BlueLounge
If you have thinner cords, you will need a mini cable organizer. Typically, you may go for the CableDrop cord holder, which BlueLounge manufactures. These self-adhesive cord holders come in multiple colors, and you can conveniently attach them to your work desk. So, they can be a good pick. 
10. Velcro Band Cable Ties
If you are looking for a simple computer cable management solution for your computer setup, you may go for Velcro Band Cable Ties. These ties help you keep unruly cables in place and avoid desk clutter.
These ties are eight inches long and can hold cables of various sizes in place. People usually use them for managing cables like lighting cables, charging cables, and camera cables. Their versatility is such that you can even use them to bundle other small items such as pens and pencils. 
11. TOPHOME Desk Cable Organizer
TOPHOME's desk cable organizer is a leather clip holder which features an adhesive back. You can stick this holder onto your desk and hang your cables in the spaces provided. One thing to note here is that this cable holder is only ideal for thin cables because the space that it has for each cable can accommodate thin cables like your mobile charging cable. Since there are six holders, each TOPHOME cable organizer can hold six cables. 
12. IKEA Signum Cable Tray
Lastly, IKEA Signum Cable Tray can be a considerable choice as well. Managing cable clutter can become too complicated if you have a dual monitor setup, so you might need a wider space to hold your cables. The Signum Cable Tray provides you with this space and ensures you have a clean workspace that is free of any clutter.
You can screw this cable tray underneath your work desk and place your zip-tied cables there. The best thing is the wire design that the Signum Tray possesses. Its wire design allows airflow, and thus your cables never get overheated when you put them on this tray. Hence, you can have a clutter-free workspace where you can work in peace.
13. Self-Adhesive Cable Organizers By OHill
OHill's self-adhesive cable organizer is the simplest to use. All you are required to do is peel off their sticker and stick the cable clip to your desk or keyboard tray. The application is very simple; the clips are available in various sizes and do not have any sticky residue if you decide to remove them. 
14. SurfaceSnap By Twelve South
If you are looking for a cord holder that matches your aesthetics, you should go for SurfaceSnap. These cord holders are thin leather strips featuring a metal snap that holds the cords in place. They feature an adhesive backing, so you can easily stick them to any nearby walls in your workstation or on your desk. The good thing is the leather is flexible, so it contours with your desk's curves and edges. 
15. Cable Clips By Blue Key
Blue Key's Cable Clips are self-adhesive cable clips that the company manufactures using plastic. One thing to note here is that these cable clips are available only in one size, i.e., 1.14'' x 0.59''. However, since they come in a pack of six, you can use them to organize messy cables. 
16. Cable Management Sleeve By Joto
If you need a cable management sleeve that holds multiple cords at a time and helps you with computer cable management, consider going for Joto's Cable Management Sleeve. They are flexible wrapping sleeves that can hold up to 8 – 10 cables, subject to their size. Since the sleeves have a zip, the management is simple.
Top 20 DIY Cable Management Ideas
It takes a lot of effort and planning to create the perfect home office setup. Everything plays a vital role in the efficiency of your overall home office setup, starting with the right choice of comfortable office furniture to pick the best layout and choosing a quiet, focused work corner to invest in work-related accessories. But one of the most important things for remote employees or even office workers is to control the mess in a workplace.
As proven by studies, mess and clutter are huge killers of productivity. While messy cables look untidy and unappealing, they are also harmful to safety. Desk cable management hence is a significant practice to apply in your work setting. With easy to follow and affordable cable management ideas, you can control the clutter on your desk and prevent any accidents from happening. Below we will cover some ways to improve office aesthetics and achieve a clean office with the help of the right cord organizer for desk ideas.
1. DIY Rubber Bones
This is a fun and easy DIY computer cable management solution if you have long cables hanging around your standing desk and can't place them elsewhere. You can use rubber, cardboard, or honestly any material that's strong enough to hold everything into place. 
All you have to do is cut two bone-shaped pieces around 4-inches long and make holes at each end with a small slit in the middle. Now you can fit in the cords and wrap them tightly around the bone. Then, you can either let it sit on your desk or hide them strategically behind your PC.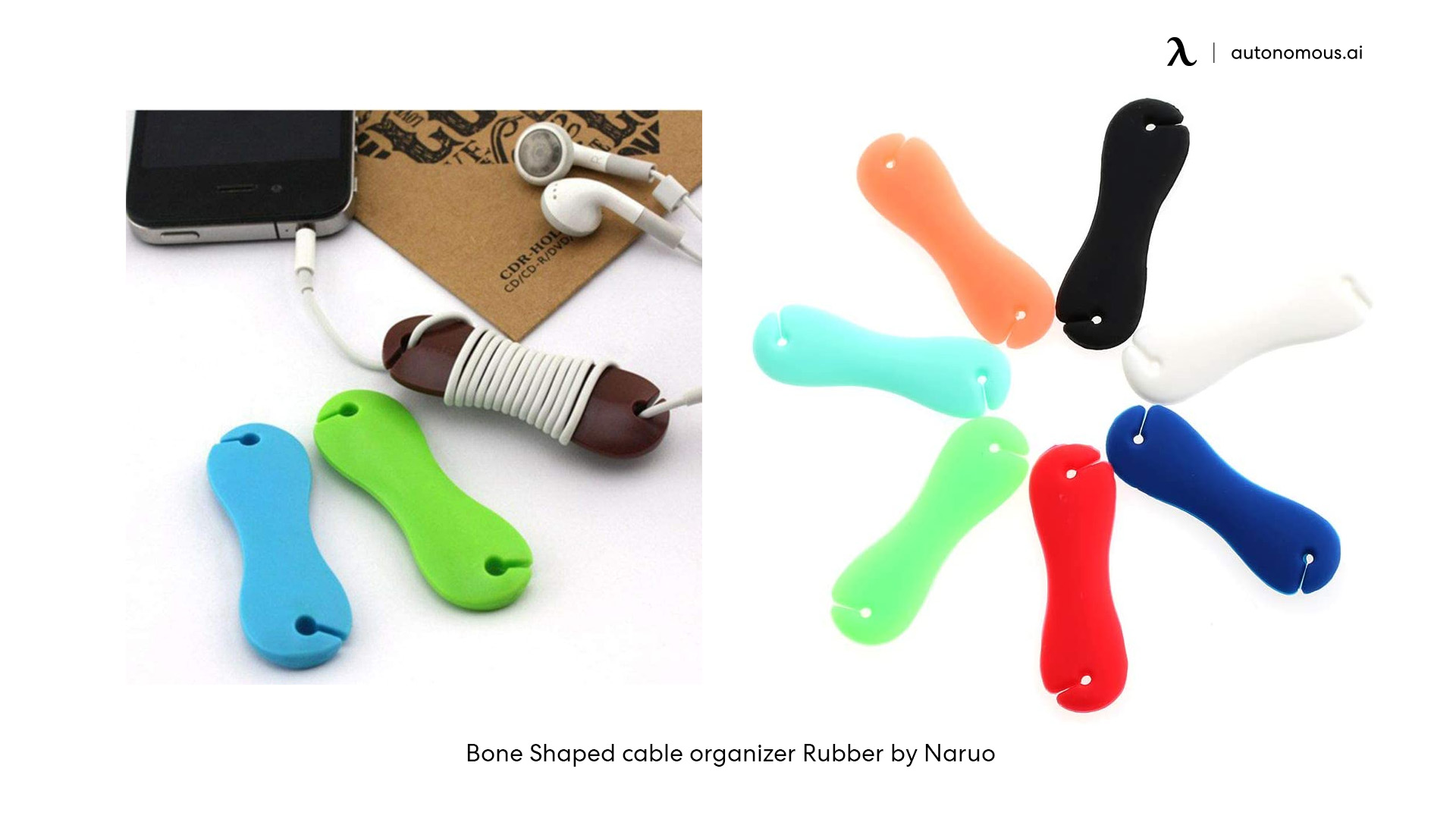 2. DIY Charging Station
You are going to need a shoebox and all your arts and crafts tools to make it look as wonderful as you want. First of all, cut a hole to one end of the box; that's where the power strip's chord is going to come out when you place it inside. Then cut as many holes as outlets are on the power strip. 
Afterward, you can begin personalizing your box however you want; it can even be a fun project to do with your kids. However, if you wish to maintain a minimalist aesthetic, you can always buy self-adhesive paper with your favorite pattern and stick it to the box. 
You can also protect the wires from chaffing by gluing some metal edges to the holes. This may also give it a much more professional look. 
3. Velcro
Here is another idea of DIY computer cable management. Organizing your cables can be as easy as finding some handy Velcro and using it to put everything together and stick your cords to your desk. You may also need some hard glue or screws if you want to stick them on your table. 
However, they are one of the most versatile options you have available and one of the most famous, too, because they are inexpensive and easy to move around whenever you need to. 
4. Toilet Paper Stand
You probably never thought about this DIY computer cable management idea before but stay with us; your toilet paper stand can be repurposed in unimaginable ways. Have you ever thought about using it as a hanger for your headset? Alternatively, you can hang some wires and chargers you're not currently using. 
They are a cheaper alternative to regular earphone hangers, and you can even spray-paint them to fit your room's aesthetic. 
5. Colorful Thread
If you thought that Velcro ties were great, this option may surprise you, as it has all the benefits you can get from Velcro but adding a splash of color to the mix. 
Just find your favorite colored threads and tightly wrap your cords together. You can even color-code each cable to make it easier to find and replace them later on.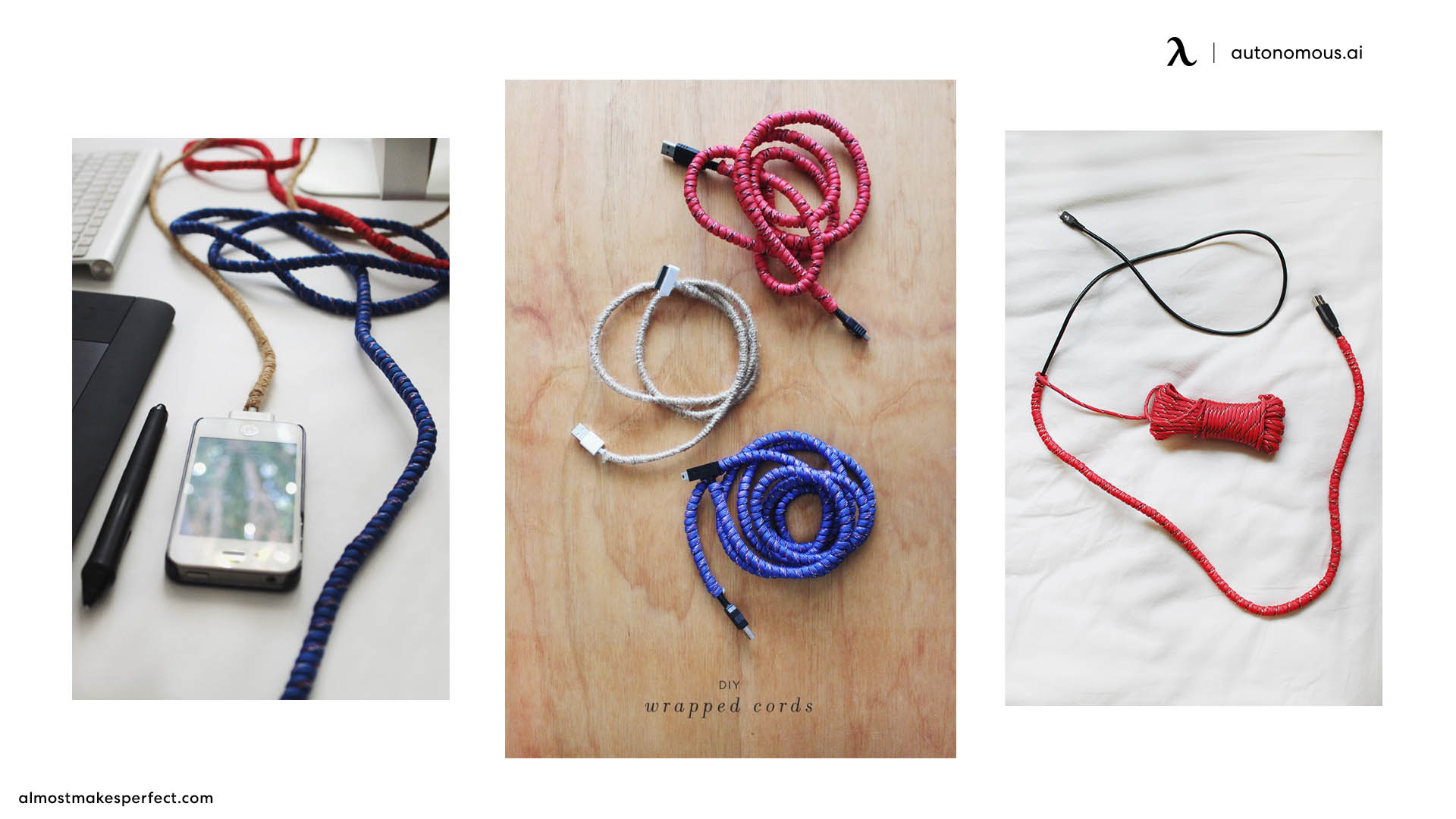 6. Binder Clips
You may love these DIY cable clips. Picture this: you're on a work meeting through your phone, and you notice it reaching one percent of battery, then you start to desperately look for your charger in the cluttered mess that is your desk, but anywhere you look, you still can't find it. Unavoidably, you end up getting disconnected and missing some crucial meeting points. 
Never let this happen to you by repurposing your binder DIY cable clips. You can hang them to the sides of your desk and rest your cables on their hanger area to never lose your phone again.
Additionally, you can also write the names of each cable and charger on the DIY cable clips for better organization of your space. 
7. Wire Trays
You have two options: buying a pre-made under desk cable tray or the fun DIY cord organizer for desk, which is making it yourself by pulling apart some cloth hangers and melting the ends to stick them together. 
Wire trays help you deal with bigger and heavier sets of cords and power bars, and you can easily hang them with screws to the bottom of your table. This way, you can keep all your wires safe in one place.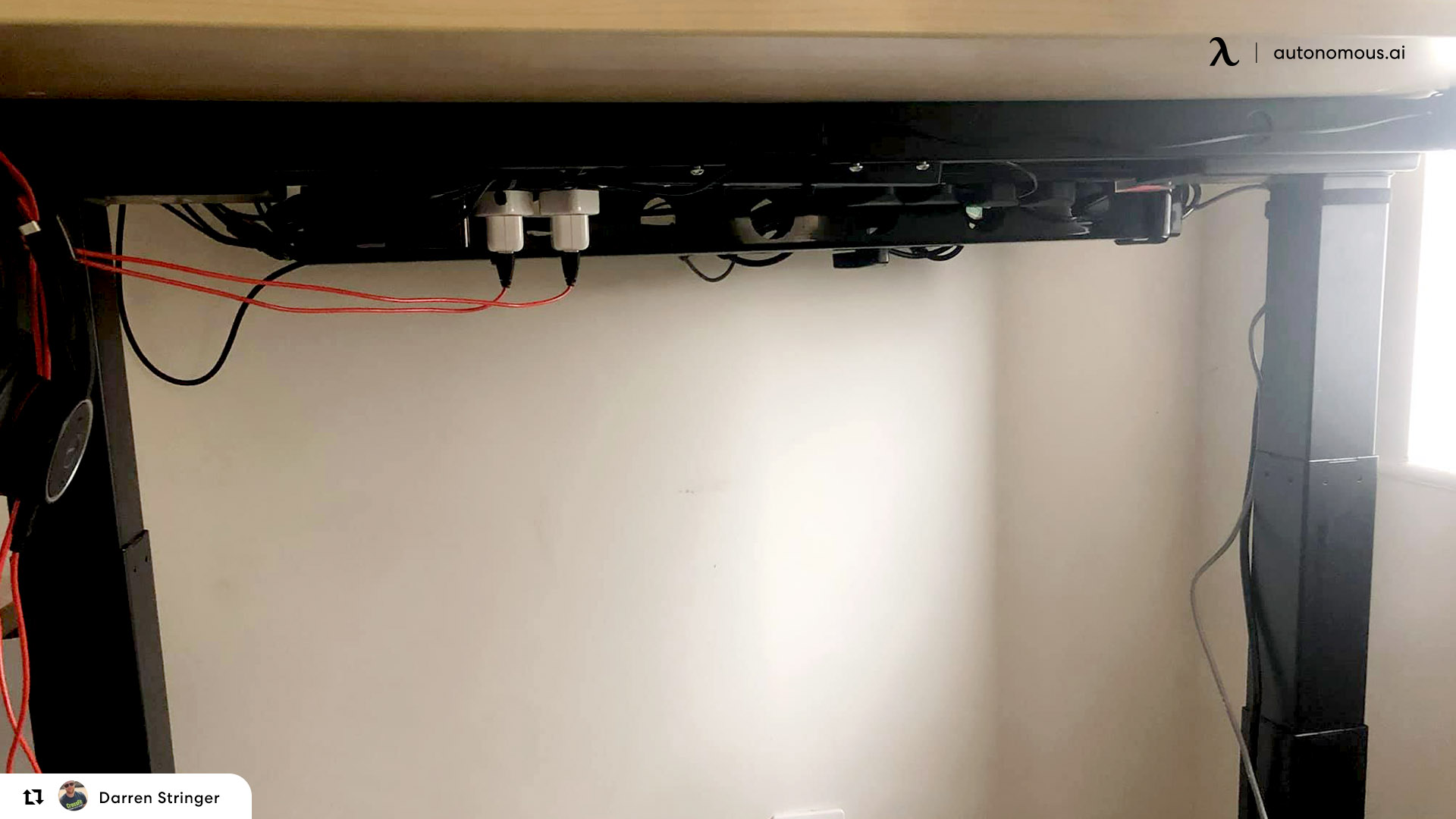 8. Power Bar
This is a simple and inexpensive DIY desk cable organizer option since you probably already have a power bar in your minimalist desk setup. Now, the big issue is deciding where to place it. Since it is a considerably big item, it can cause a huge mess if you leave it resting on your desk. 
Hence, a cool hack is to stick it to the bottom of your tabletop, this way, all of your cords can merge to a single spot, and you can finish up by taping everything down. Just like that, all of your wires are suddenly out of sight and out of mind. 
9. Toilet Paper Rolls
Don't waste any part of your toilet paper; you never know what it may come useful for, such as the DIY desk cable organizer. Some people use their toilet paper rolls to make homemade crafts with their kids, but did you know they can also help with your standing desk cable management? 
You can personalize and paint the cardboard rolls however you want and store your cables inside of them when they're not being used. It's an easy way to store them and keep them neat until the next time you need them.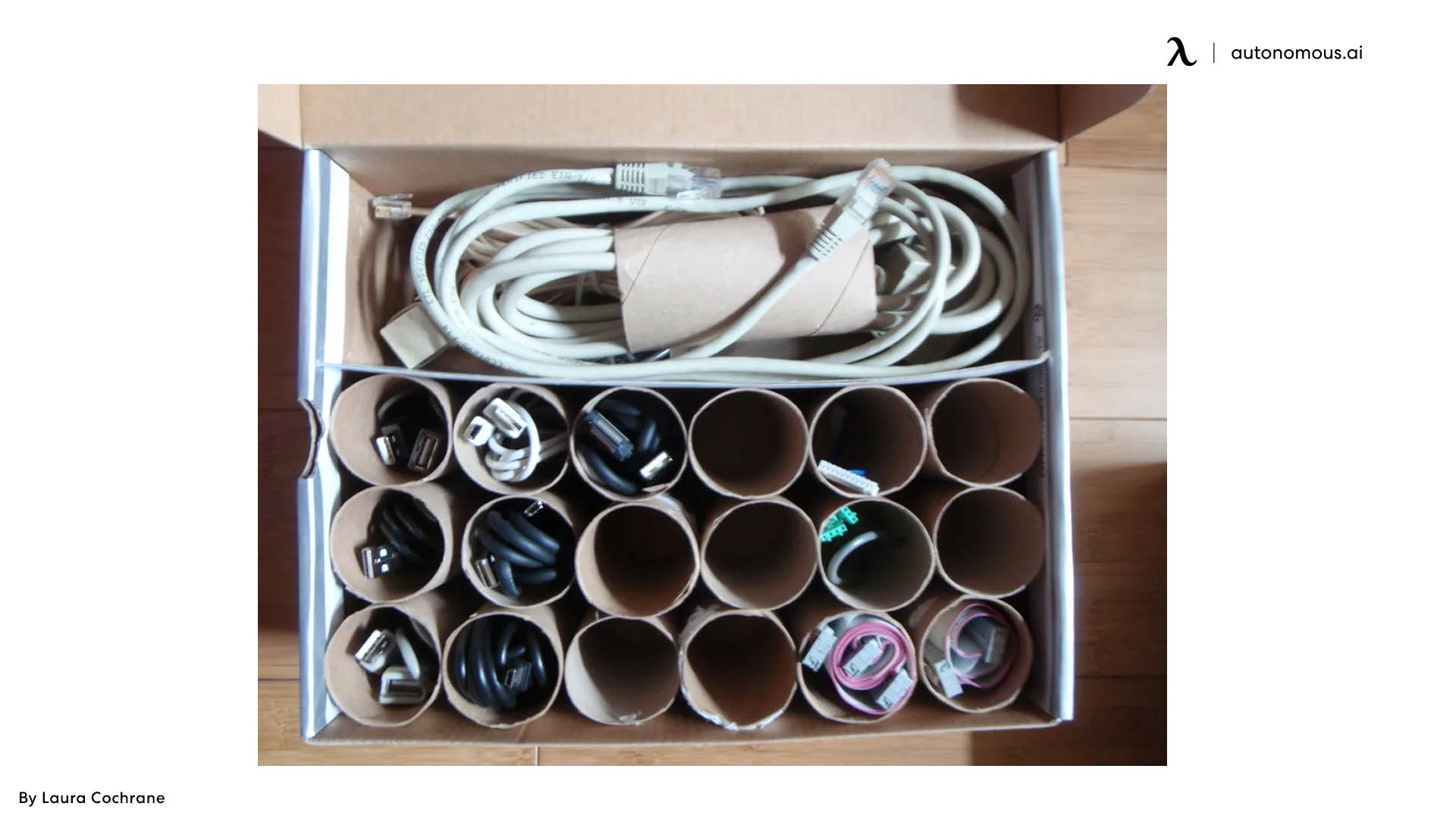 10. Hanging Rack
Find yourself an old hanging rack or DIY desk cable organizer with supplies from your around-the-block carpentry shop. This makes for a perfect place for setting up and hanging all the wires you're not using. Just wrap them around and hang them on the rack, then use them whenever you need to. 
You can even hang your earphones and headsets, as well as your chargers, so you stop missing them around your house. Even better, you can place many racks in different rooms for more comfort. 
11. Zip Ties & Cable Clips
You can create your DIY cord organizers for desk with these two inexpensive items, just put them together and wrap the zip around your cables, then you're ready to stick them to any wall or desired surface. 
Remember to use low-impact clips to not compromise the paint on your walls or place them on spots where you don't have to move them that often.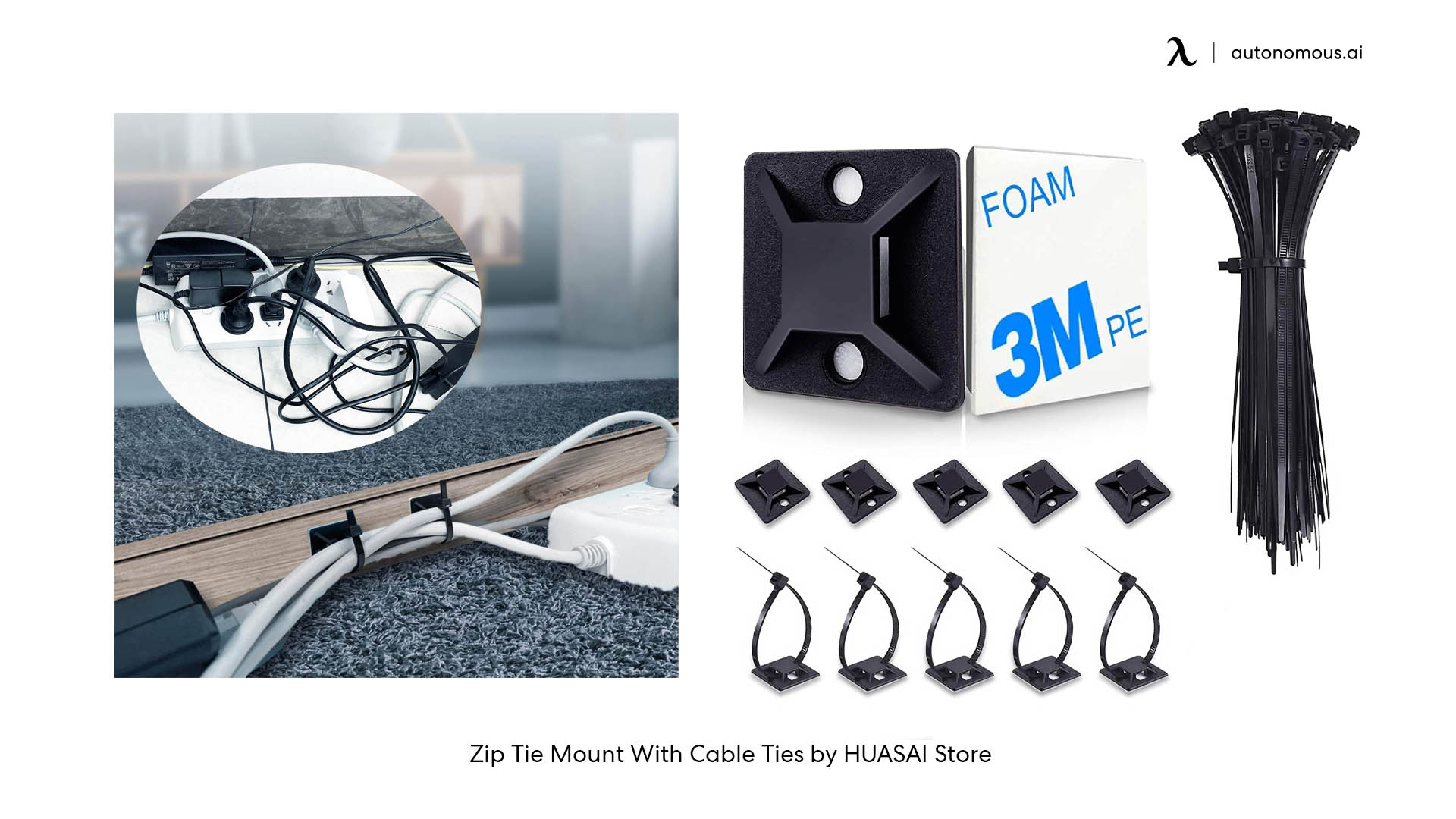 12. Duct Tape
There's not a problem that a bit of duct tape can't fix, and your cable management isn't the exception. You can use your handy duct tape to stick your cables together, make them stay in place, tape them down to the desk or wall, etc. 
Chances are, you're going to need duct tape to upgrade any of the other methods of cable management, so you better go and get an extra-large one from the store. 
13. Cable Cabinet
This is an option that a lot of people love because it's easy and you can almost forget about it. Although, you are going to need a desk with shelves, especially one that's big enough to be the centerpiece of your gaming desk cable management. 
Once you've decided on the shelves you're using, try to fit all your power bars and cables in there while making sure to follow a specific order. This way, you can prevent tangling and damaging your cords. Then drill some holes in the back to connect all the wires where they should be and close the door. 
Easy as that, you've got yourself an invisible cable cabinet or cable tray without any extra wires hanging around.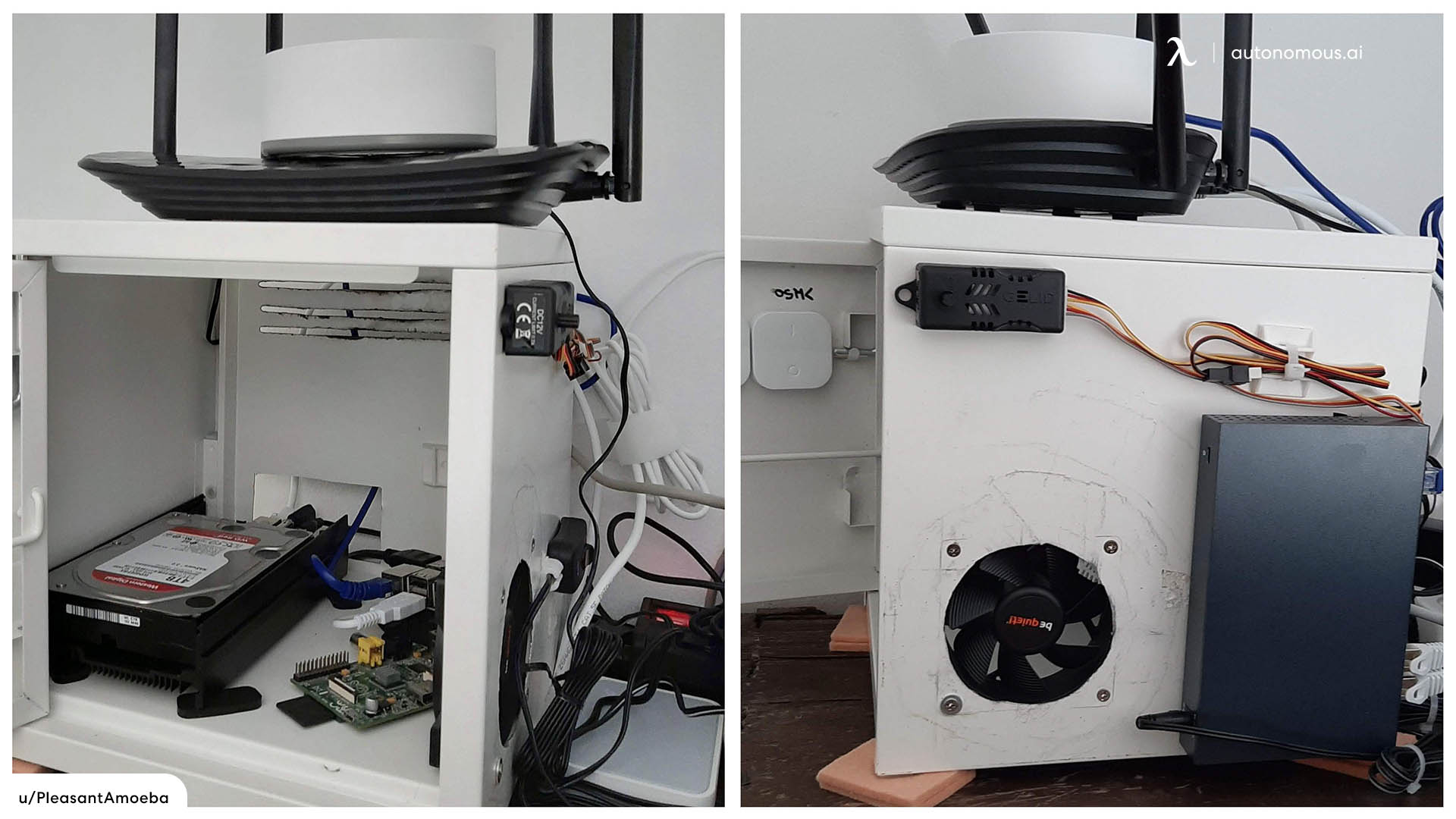 14. Wire-Mould Raceway
With this tactic, you can completely hide your wires in plain sight. These rectangular plastic pieces come in colors that blend in with your wall, and you can use them to cover up your wires whenever you have TVs or anything that involves a cord not being able to be hidden any other way. 
15. Moldable Silicone
You can use this DIY cable management item to your advantage and create your own personal cable holders with as many slots as you need. They are also going to be made with the exact dimension you want them to. 
All you have to do is take some moldable silicone and a toothpick, then begin molding your holder the way you want it to be, as big or as small as you desire. 
16. Colored Clips
This is an ideal DIY cable management option for keeping thin cables in place in case you don't have tape available at the moment. Just take a couple of your favorite clips and secure your cords together. 
Be aware that this is mostly a temporary fix, and you might have to find a better way of doing it, but it's a good quick solution for your messy desk.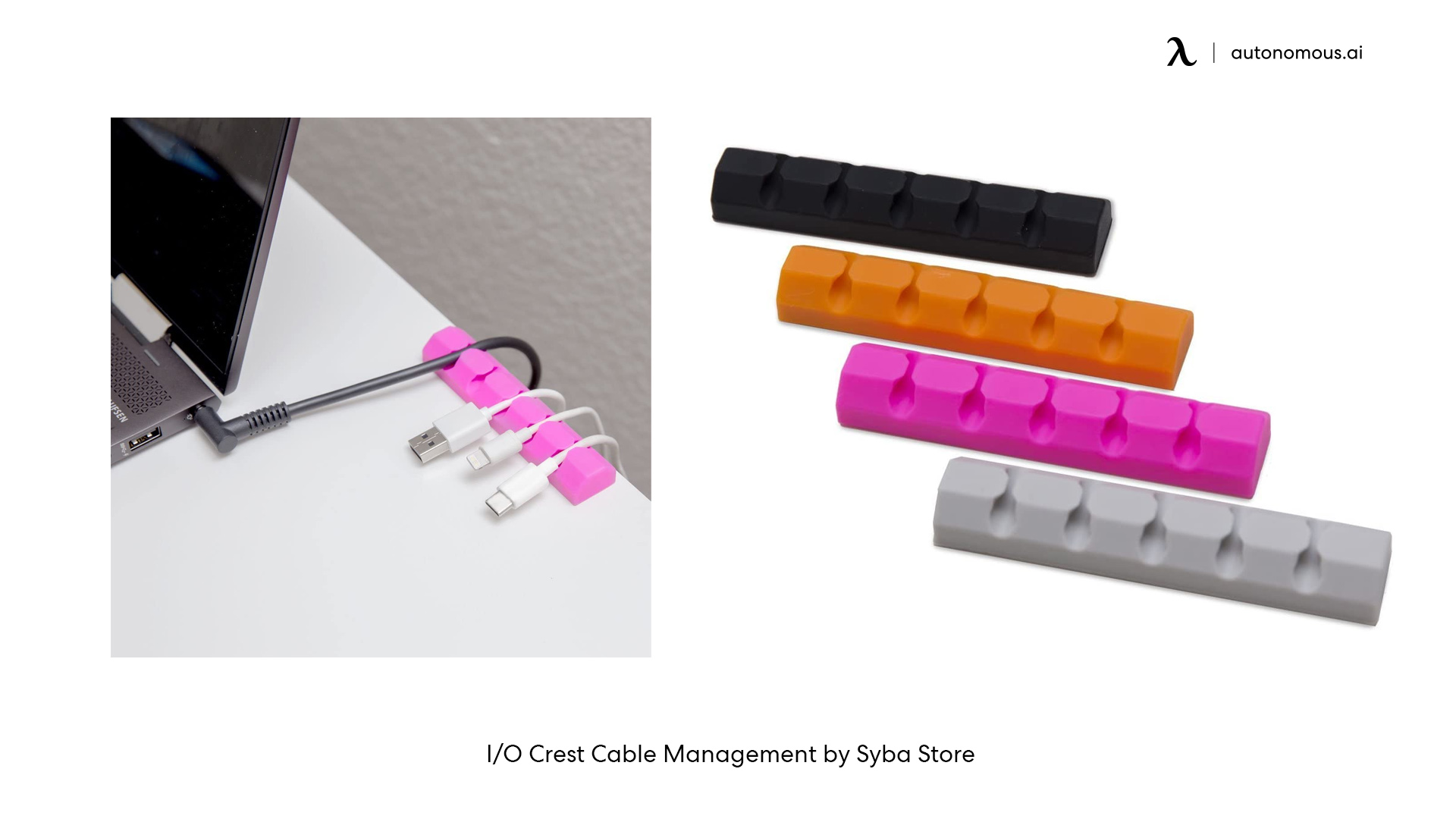 17. Wire sleeves
These are long cloth or leather strips with a zipper that goes through their middle section, and you're supposed to fit all your cables inside. They're great for cable management as they give off a minimalist look and help you keep your wires untangled and collected in a tiny place. Wire sleeves are very flexible and can be cut to your desired length. 
18. Earphone Organizers
You can make these little organizers with a bit of clay and paint them with your favorite colors. Our favorite shape is making them into little gingerbread men and using their arms to wrap the auriculares around them. 
With this cable management tool, you can throw your earphones in your bag and not worry about them getting all tangled up or damaging.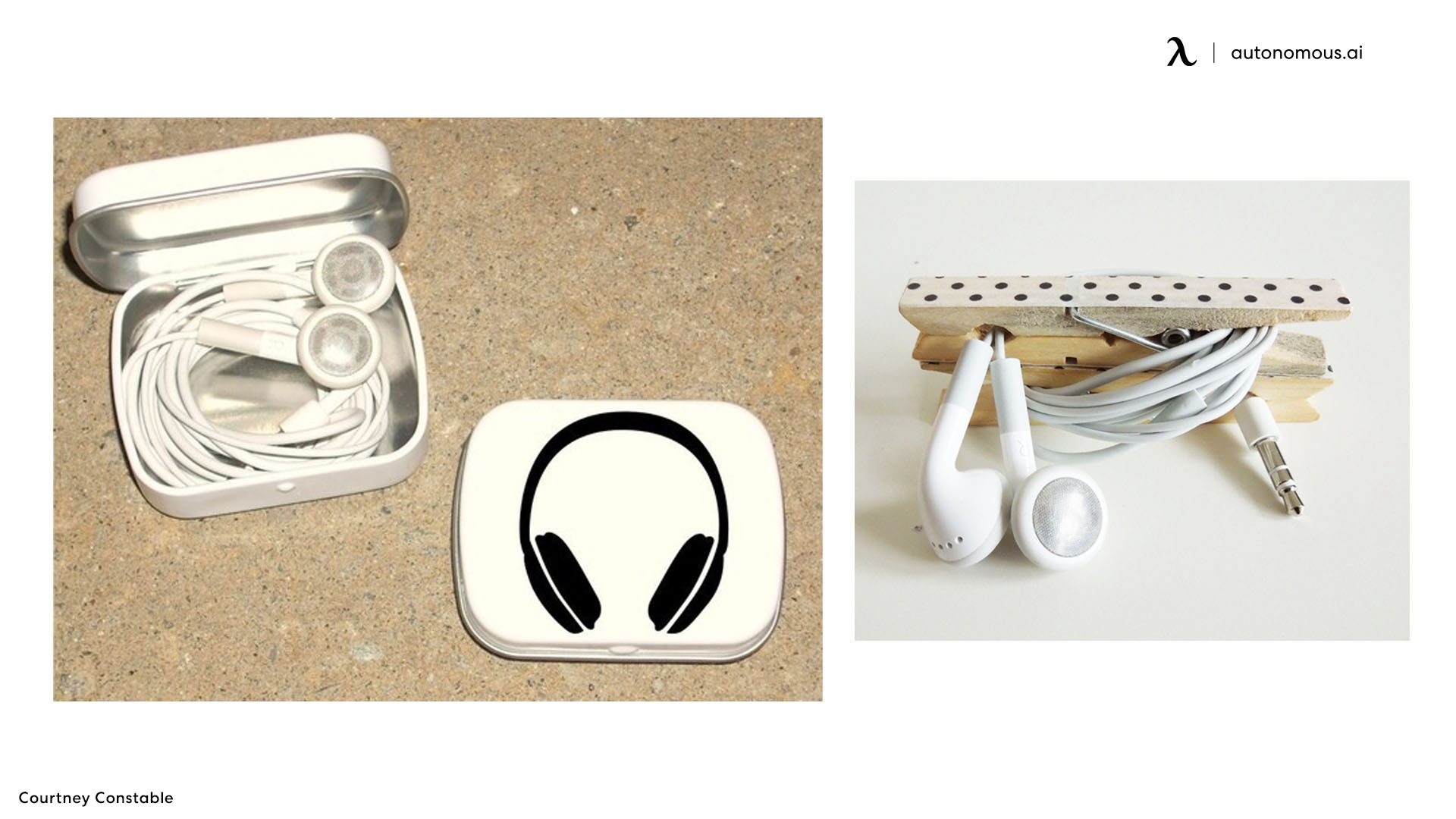 19. Use Your Legos
Perhaps you or your kid have some old Legos laying around, if that's the case, then you must be familiar with the fact that you can do almost anything with Legos, and that includes decluttering your home office. 
You can repurpose your Lego men and use their little hands to hold your chargers and earphones. You can even get more creative and create a structure for them to sit if you want. 
This way, you can end up with a clean space and a new and cool decoration for your setup. 
20. Foam Organizer
If you want to set up a quick and easy project, find yourself a strip of foam rubber and some Velcro to do this quick and handy organizer. Glue one side of the Velcro to the wall and the other to the strip of foam rubber, then cut some holes in the foam that allow you to insert your cables without them falling out. 
This project is perfect for keeping on sight all of your chargers and USB cords that would otherwise go missing.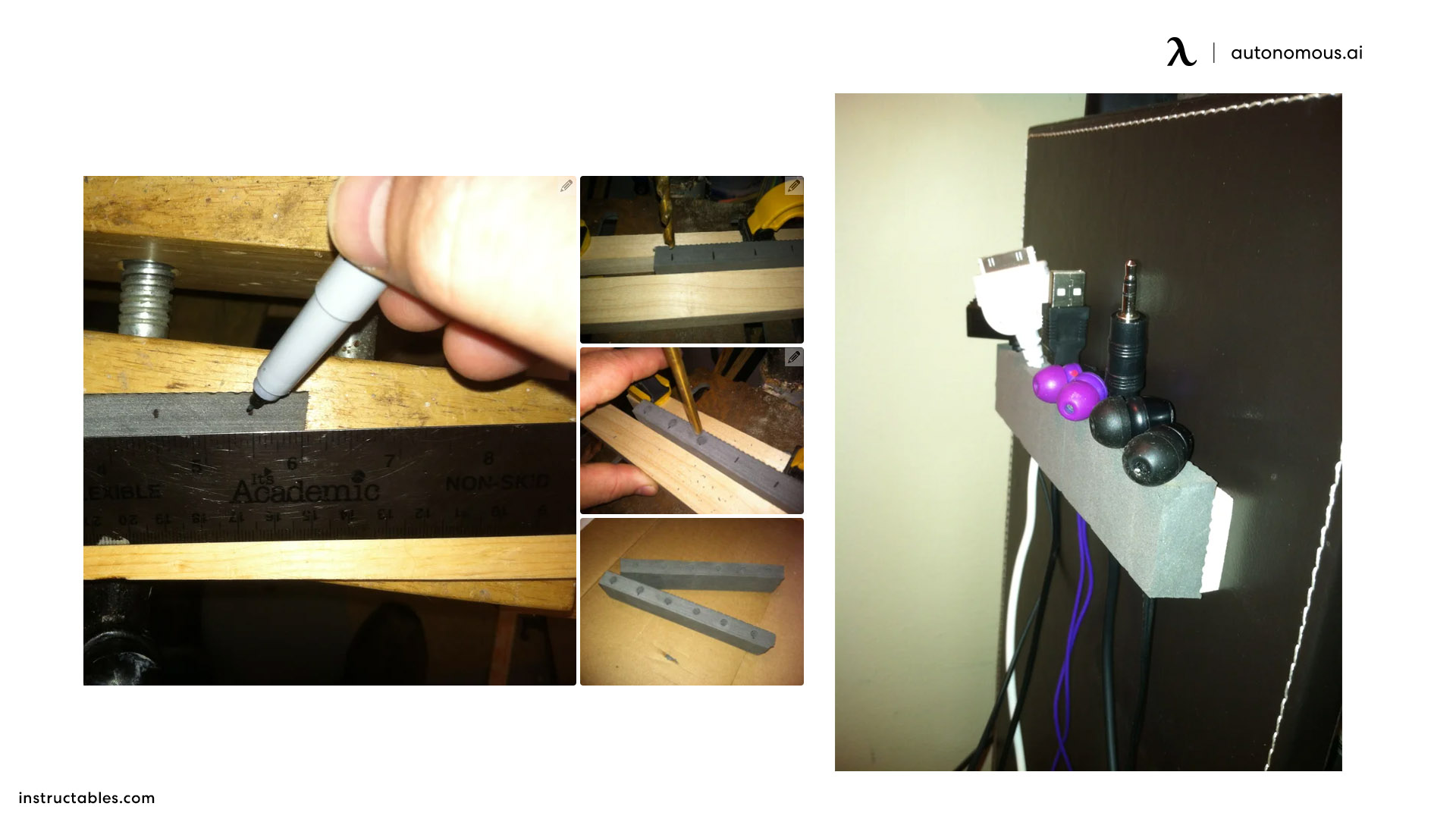 Bottom Line
Making your cable management tools may not be the easiest path, but it's the most fun. Now you are 100% ready to face the monster that is your setup and tame all those wild cords that may be laying around your desk. 
Remember, you can check out our catalog if you want to find more professional options for cable management in our smart office accessories section.
Keep up with Autonomous news
Stay informed, stay inspired with our new blogs.
WRITTEN BYAutonomous
We build office products to help you work smarter.