Workplace Inspiration
How to Organize Wires behind the Desk to Hide Cords & Clutters?
12,711 Views
Organization is a big challenge whether it comes to the workplace or home. Without proper organization and maintenance, cleanliness cannot be achieved. And if your workplace is not clear of the mess then what's the point of all kinds of expensive furniture and latest technology. When it comes to messing in the workplace, it doesn't have to be in the form of dirt or dust; anything that looks unappealing to the eyes or gives a poor management' impression to the passer-by can be considered a mess.
One of the toughest challenges in the workplace is to organize wires behind desks. Have you ever wondered how to organize wires behind desk? Since all kinds of cables and wires come from all ends to connect to your desktop, you cannot just ignore the mess or the noodle of wire created. And imagine having to disconnect a workplace gadget from your desktop and sorting out the relevant wire from the cluster. You have to let go of your precious half an hour to 60 minutes.
Cable clutter is one of the most annoying and common problems occurring in the workplace. The clutter not only looks unpleasant but is also hazardous in many ways. For example, you could spend a lot of time finding the right cable wire and plugging and de-plugging the devices in their right spot. This means the loss of time and the subsequent impact on productivity.
While one may not pay attention to organizing computer wires, the cable clutter can be a serious energy consumer when you have to search the cable that links to a particular device; good luck with that idea even!
Suppose you are also searching for the best home office organization tips or are tired of the mess created by organizing computer cords. In that case, this article has some cheap and helpful ways to help you with that constant trouble of how to organize wires behind a desk.
With so many hacks and tricks that make organization and management in a workplace easier, the internet is full of ways to achieve an organized office desk. If you are looking for ways and a little bit of motivation to organize computer wires under the desk, then this article is for you.
How to Organize Cables for Maximum Efficiency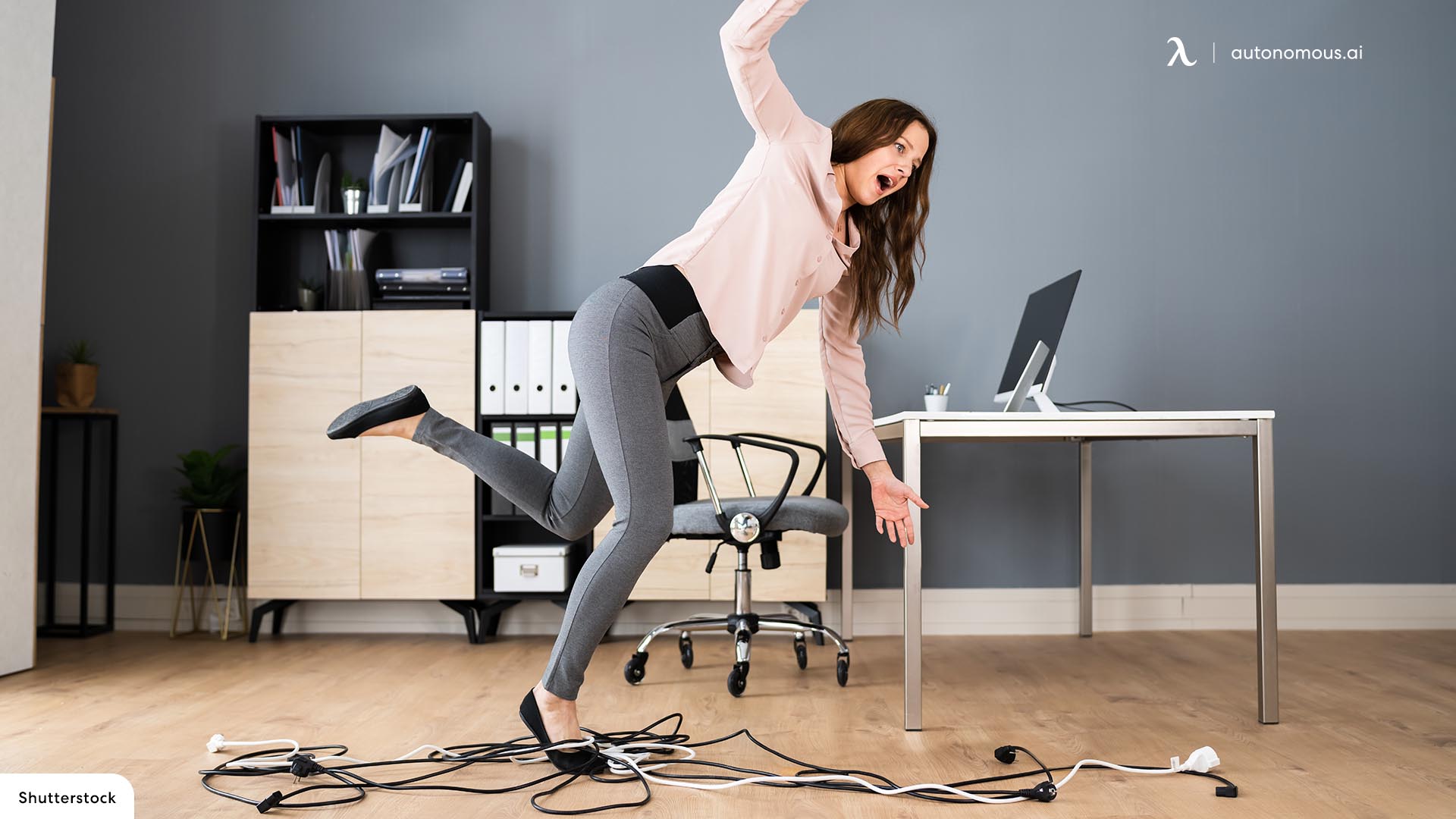 Organizing your desk for productivity might not have been an area of interest because not many people know that a clutter-free workstation is a key to productivity. But, yes, proven by many studies, the influence of surroundings on the human mind is huge, and when it comes to brainstorming tasks like work, organizing computer wires becomes even more important.
Sure, a proper organization needs desk accessories that cost some, especially when you are low on a budget. Still, with the right ideas, you can easily move forward with DIY cable cord organizer ideas that work well. So without further ado, let's get started with how to organize cords on a desk.
How to Organize Cables and Wires Behind a Desk?
How to organize wires behind a desk correctly, so it doesn't look like a big pile of mess is a common question. Many people try to come up with solutions that help them hide the clutter for the time being. But truth be told, without a permanent solution for your computer wires, you can never be at peace.
The best way to organize computer wires behind a desk offers permanent solutions rather than temporary ones. Whether you have a conventional desk or you are looking for standing desk cable management, either way, you will result in a clean and mess-free work desk that will motivate you to work better.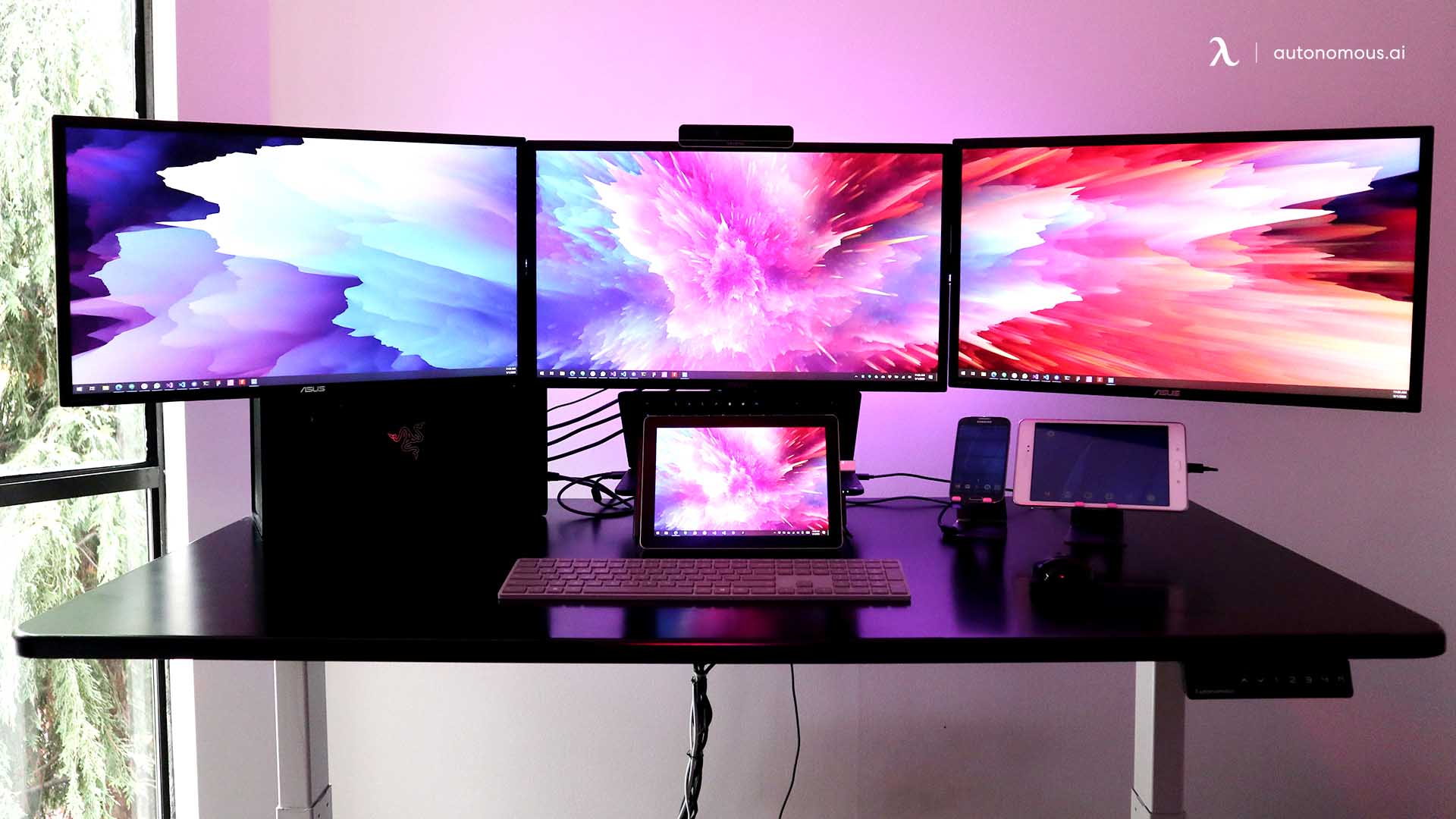 No matter how much we wish to return to normal, this for some people also includes going back to work to their offices; work from home is here to stay. Most offices have decided to make hybrid working a part of their usual routine. Despite the difficulties in the transition, employers motivate employees to get used to the remote working method.
Even though there are many tools to help organize computer cords, there are certain step-by-step guides if you are not looking to invest in some wire management tools. 
Step 1: Realize the Problem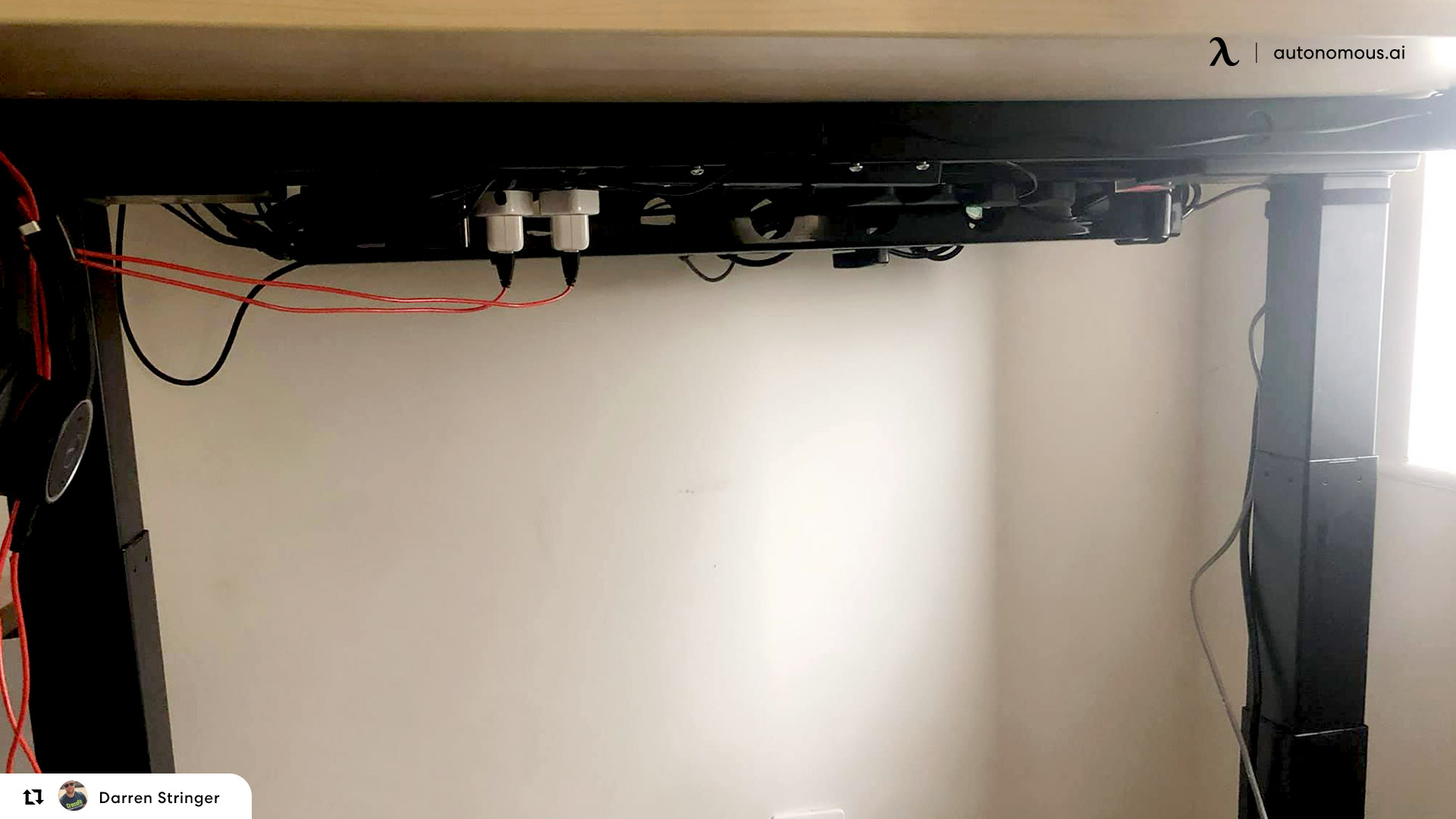 Before knowing how to organize cables or how to organize cords on desk, you have to answer this question. Your problem could be your table does not have a back frame, or even if it does, you cannot live with yourself thinking about the clutter of wires hidden behind it. Frankly, we all have a little Monica in us, and when it comes to separating a wire from the rest, we realize how big of a problem we have been avoiding.
Having a clutter of wire under your desk, whether the back is covered or not, is not a smart way to live. The wires could get seriously tangled and may tear under pressure. There could be a short circuit, or in worst cases, a fire may generate.
Step 2: Unplug To Start
You will have to take a fresh start for a clean flexible work arrangement. Unplugging everything will make one end loose so that you can sort the wires easily. It will also stop the current flow, thus making your play with the wires safe. While you unplug, don't forget to turn off the switch and make sure you don't begin unplugging during your working hours.
Step 3: Mount the Power Extension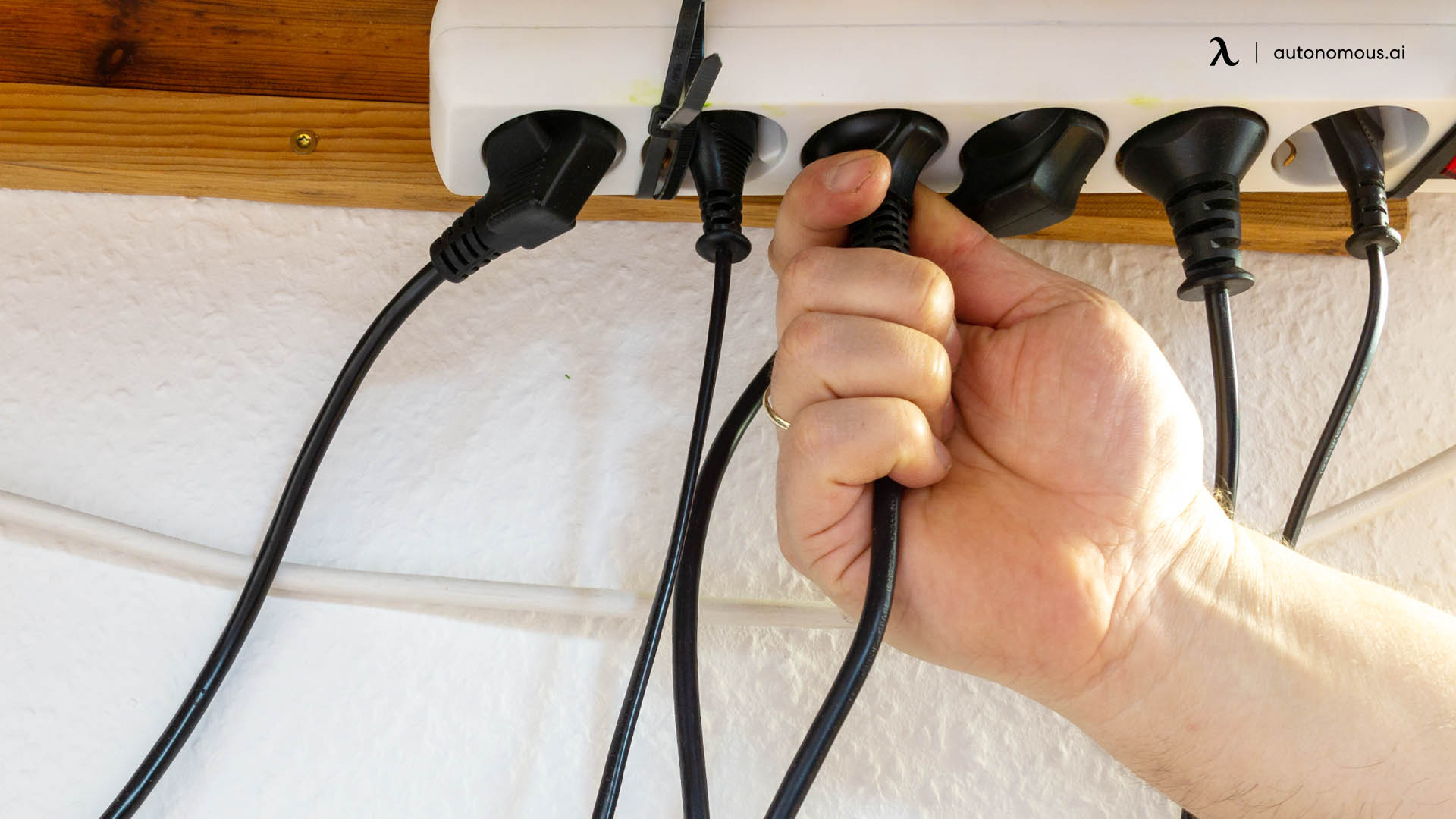 You don't want clutter on the floor. After all, that's the whole point of this effort. For mounting your plug extension, you can either go for the wall or the underside of the table. The underside of the table is recommended if you are using an adjustable standing desk. As the desk moves, your wires can move accordingly.
With a standing desk and power system mounted on the wall, you could experience a stretch in the cord and may unplug a few plugs in the process. To mount the power system under the table, you can use a few screws or even a strong tape. However, the tape is not a reliable option. Using screws gives a fast and secure hold.
If you have a conventional desk, though, you could attach it to the wall. The objective is to move the power strip away from the floor and into a more convenient spot so that all of your cords aren't dangling to the ground and forming a huge mess.
Step 4: Shorten the Cables
This is the most crucial step in your journey to organize computer wires behind a desk. Shortening the cables is important because it prevents cables from tangling in the future. You can also prevent them from dropping onto the floor with the help of cable straps. If you don't have the right tool to shorten the cable, you can use a string or a wire to secure the bunch of cables together.
Step 5: Labels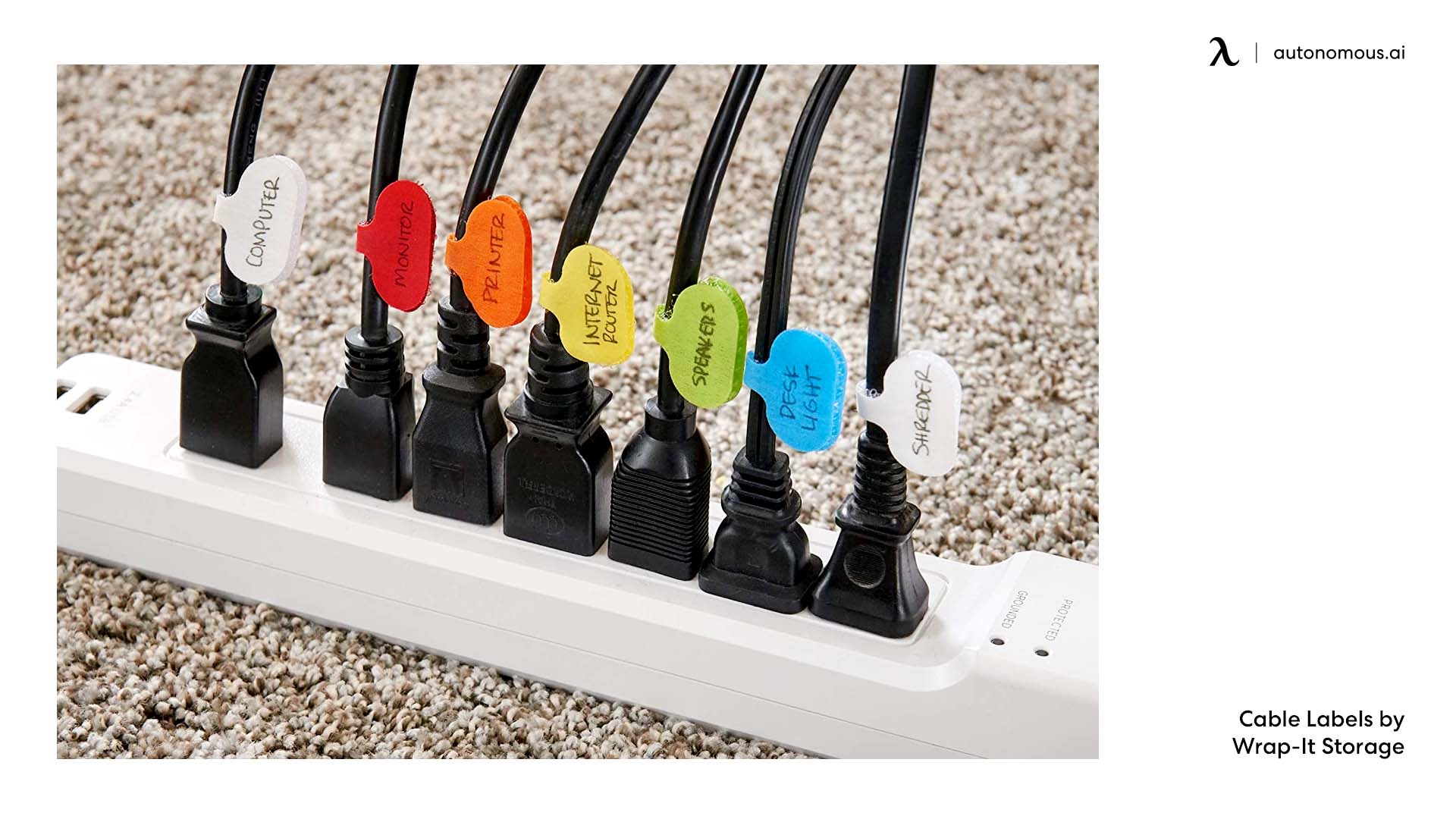 Labels are very helpful when it comes to organize computer wires behind a desk. Imagine you need to remove the charger cable connecting to your laptop; even though they are all organized now, it may take a while to locate the right cable. With small cable labels, you can identify the right cable in an instant and remove it. You could choose a different color for each cable or write on the tags for the relevant cable name. Either way, it depends on your personal preference.
Tools to Help Organize Office Desk Wires?
Just because you don't have a special work desk at home doesn't mean you have to compromise the quality of work. Affording a work desk with all the right desk accessories is not possible for everyone. Some might be limited because of their budget, or some may be short on space. Even if you choose to work on the dining table or sit on the kitchen counter to draft the files, you can use several accessories or separate tools to organize wires under the desk.
These tools don't cost a handful, and you won't have to spend a whole lot on office tables. They are easy to install and hide those ugly and extremely tangled wires in a matter of seconds.
Under Desk Cable Tray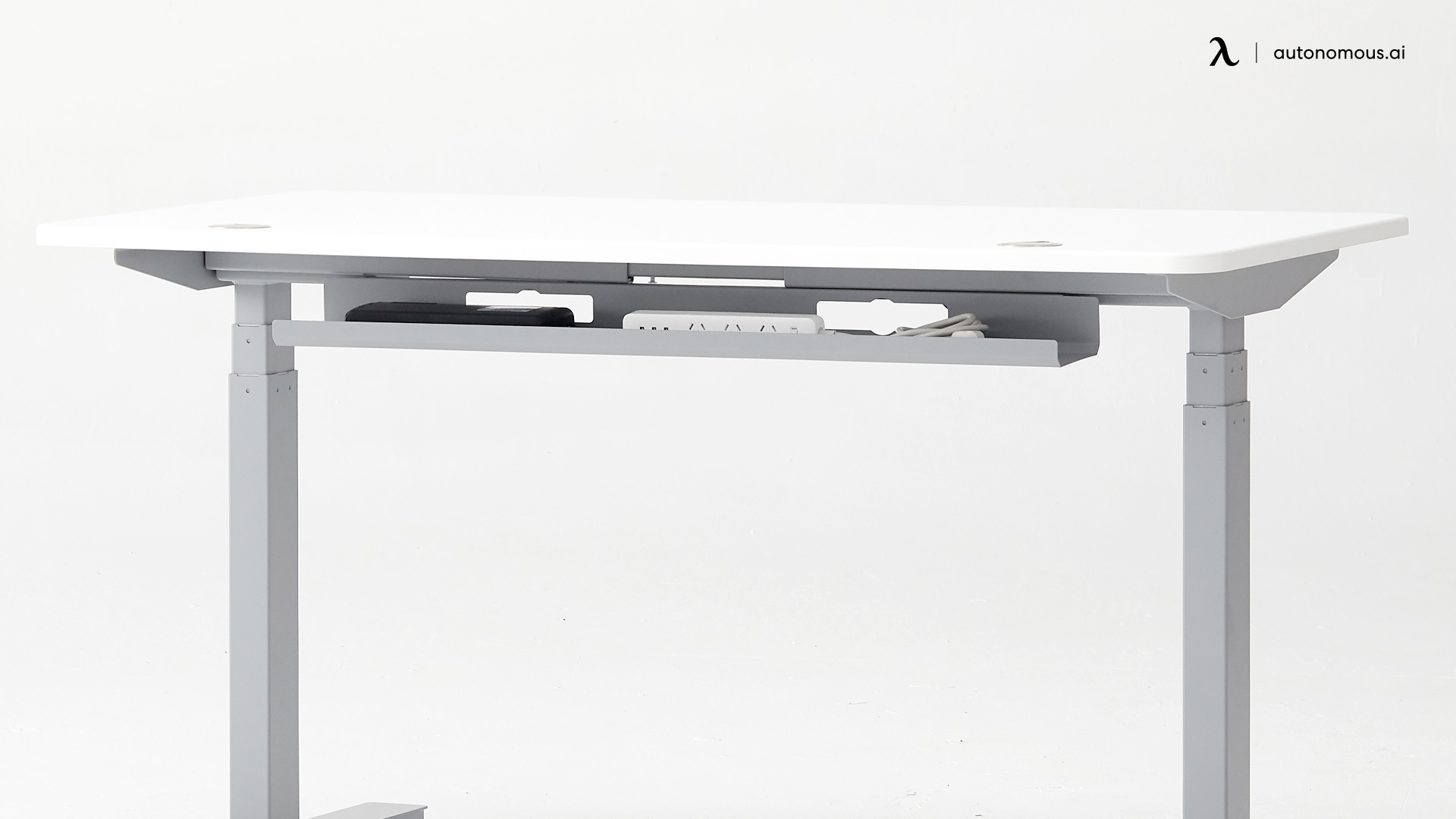 Under desk cable tray is a useful desk accessory that holds all your wires and even adapters. This under desk tray can be easily installed on the lower surface of your work desk. The tray is wide enough to hold all the wires, and it is usually made in a mesh structure to avoid overheating. The greatest advantage of an under desk cable tray is that it is ideal for both a normal desk and a standing desk. Also, the issue of wires lying on the floor completely vanishes with this one.
Cable Grommets
Cable grommets are not a separate accessory, but they are a fine addition to work tables. It is considered an additional feature to look for when you are buying a work table. Cable grommets are holes and openings on the disk's surface that allow the wires to pass through them. This keeps the wires straight and prevents them from tangling.
Cable grommets are an essential feature to look for on a table when purchasing a work desk and help to organize computer wires behind a desk efficiently.
Wooden Cord Cable Organizer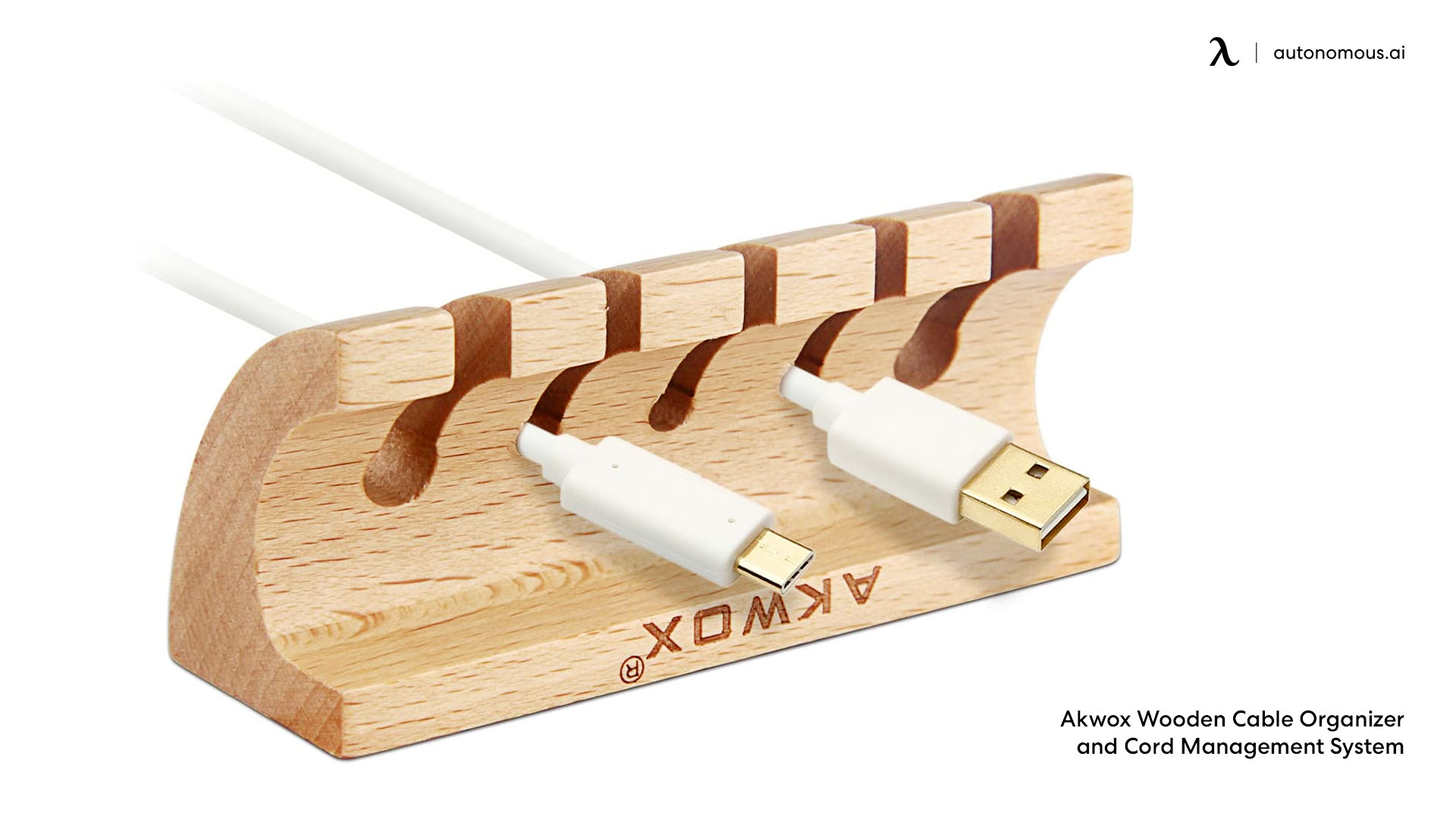 This is especially for people who take aesthetics very seriously. If you cannot manage a metallic under desk cable tray with your wooden desk or may not want to punch a hole under your desk either, then this productivity tool is right for you. The wooden cord organizer is a wooden block with various partitions in it. You can organize cables as you like by placing them in each partition. This arrangement helps organize wires behind the desk and keeps all the cables and wires accessible to you.
So no more bending down to pick up the right cable for you as all the wires are just at an arm's length now.
Wooden Box
Just like a tissue box, there are large wooden or even plastic boxes to organize office desk wires. These boxes are made with an opening in the front for your cables to come out and form the connection. Although plastic ones are less preferred since plastic does not respond well to heat, wooden boxes are ideal for keeping the adapters and cables cool. You can lay down the cables neatly, and they will remain in the same manner. It is one of the best ways to organize wires behind a desk. 
Cable Organizer Clips
These cable organizer clips don't keep your cables off the floor but are great at keeping all the cables away from each other. It is really beneficial for you to organize wires under the desk. From an aesthetic point of view, this option is a great pick. Moreover, they are not very expensive. The cable organizes clip also keeps your cable from falling off the desk because of the weight and their sticky nature. You can buy them in different colors and at a price lower than $10.
Cord Protector
If you are not looking for a detailed cable management process to organize computer cords, then a cord sleeve is ideal for you. Cord sleeve is like a sheet that comes in varying lengths. A cord sleeve is a pipe-type structure wrapped around all the cables and keeps them in one place. So instead of multiple cables, you get one thick cable with a protective covering over it.
Wall Cable Channel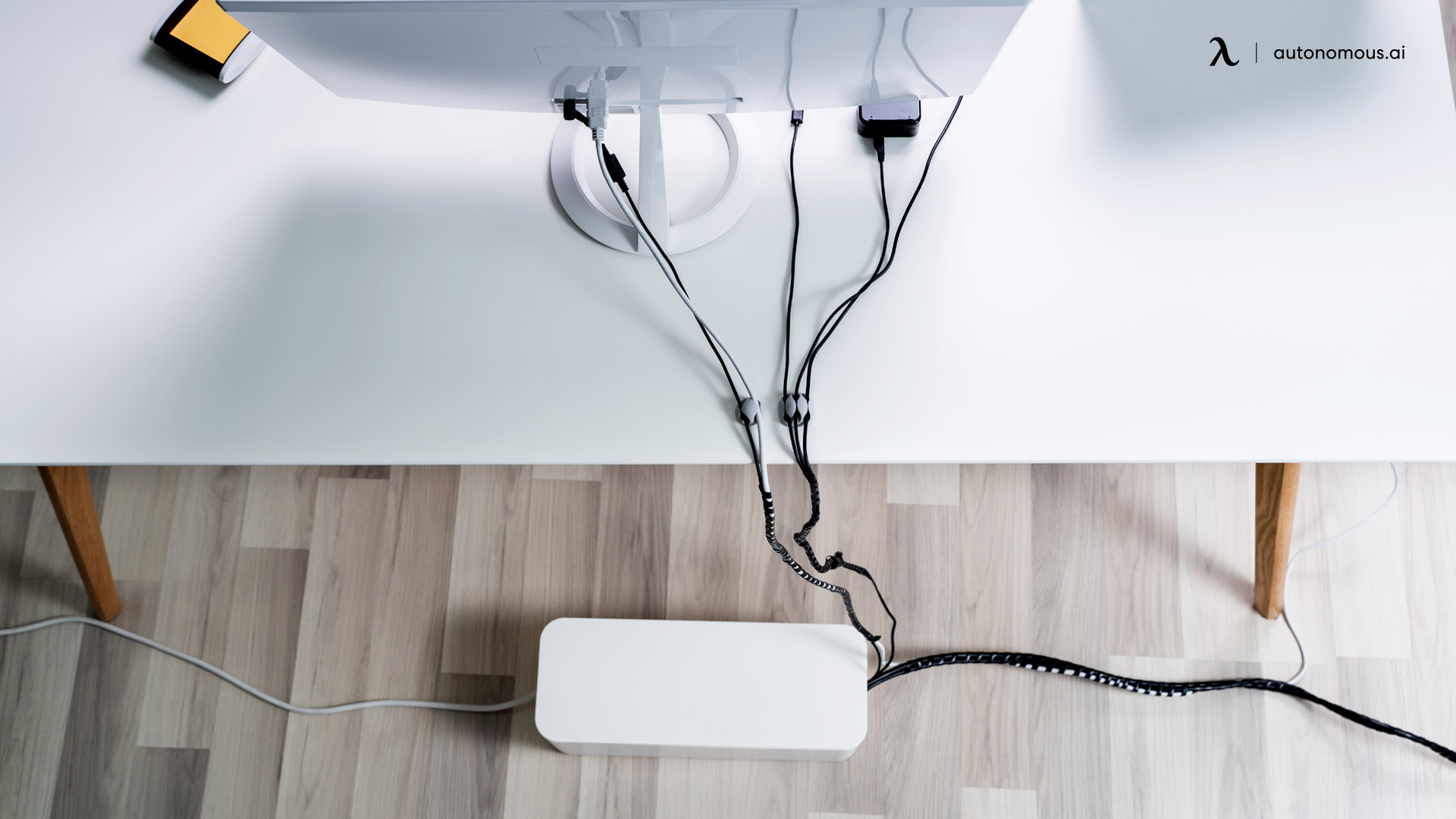 This is a commonly seen installation in workplaces and even homes when you want to organize wires behind a desk easily. A Wall cable channel is a plastic channel built around your cables to keep them in place. It is a neat and tidy option and also useful in the long run. But if you need to remove a single cable out of all, this option is a nightmare. As the wall cable channel is fixed and mounted with screws, you cannot hold the screwdriver and begin the operation every other day.
Cable Clips
Another pocket-friendly option to organize computer wires under the desk that lies below the range of $10. Cable clips are sticky clips that can be stuck to any surface. You can pass the cables through them and keep the cables straight. Cable clips come in many sizes. From a single cable to several, there is an option to organize multiple cables at once.
Managing Cables Using Standing Desk Tips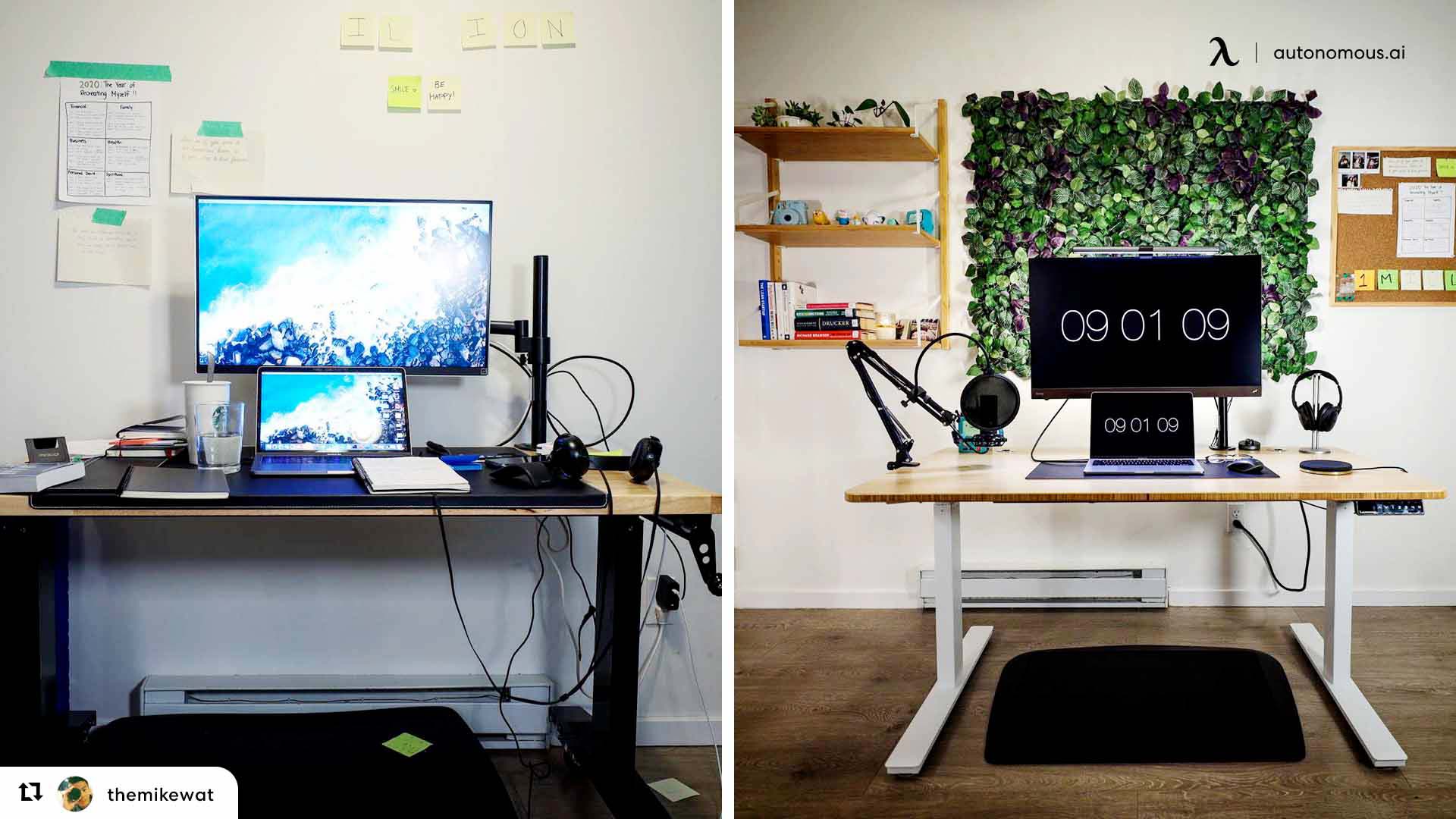 Managing cables for a standing desk is different from a conventional desk. Here is a standing desk tip for you. The standing desk has an adjustable height system, so you cannot rely on a simple cable management system as the cables should be arranged to move with the height, so there is no pull or stretches on the cables. For a standing desk, cable management systems like under desk trays and cable grommets are ideal.
DIY Cord And Cable Organizers Ideas for Uncluttered Office
We all know the feeling we experience when the cord we need is messed in a sea of cords. This is even more painful when you are in a rush to get that mouse or keyboard from the system to use it anywhere. Cable clutter is a common problem with people who use large setups; thus, gamers are also susceptible to this pain. But don't worry, cable clutter DIY ideas for your organizing computer wires process will be your savior.
Toilet Paper Rolls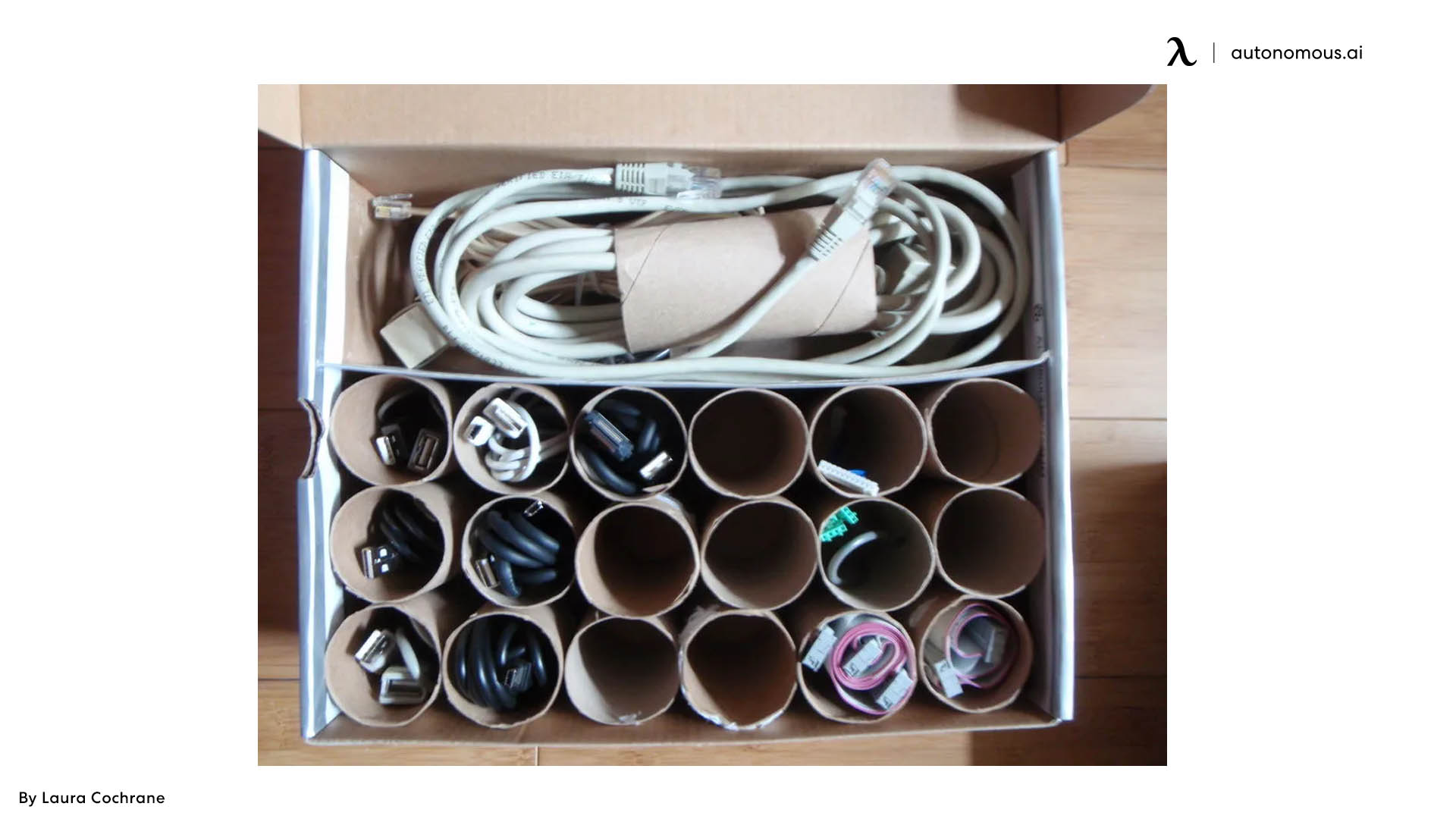 Keep your toilet paper rolls on hand! Put a cord through each one to keep it from mixing up with the others when you're storing them. Don't forget to mark them so you can quickly find the cord you're looking for—a fantastic answer for any cord management issue.
Label the Cords
Keep those bread ties or any rubber bands on hand for this fantastic Cord Organizer DIY project! It's that easy. So quickly. Using a variety of hues will help make things easier. You'll quickly know which color corresponds to which cord. Remember to identify the cords on both ends, so you know what you're freeing.
Label Maker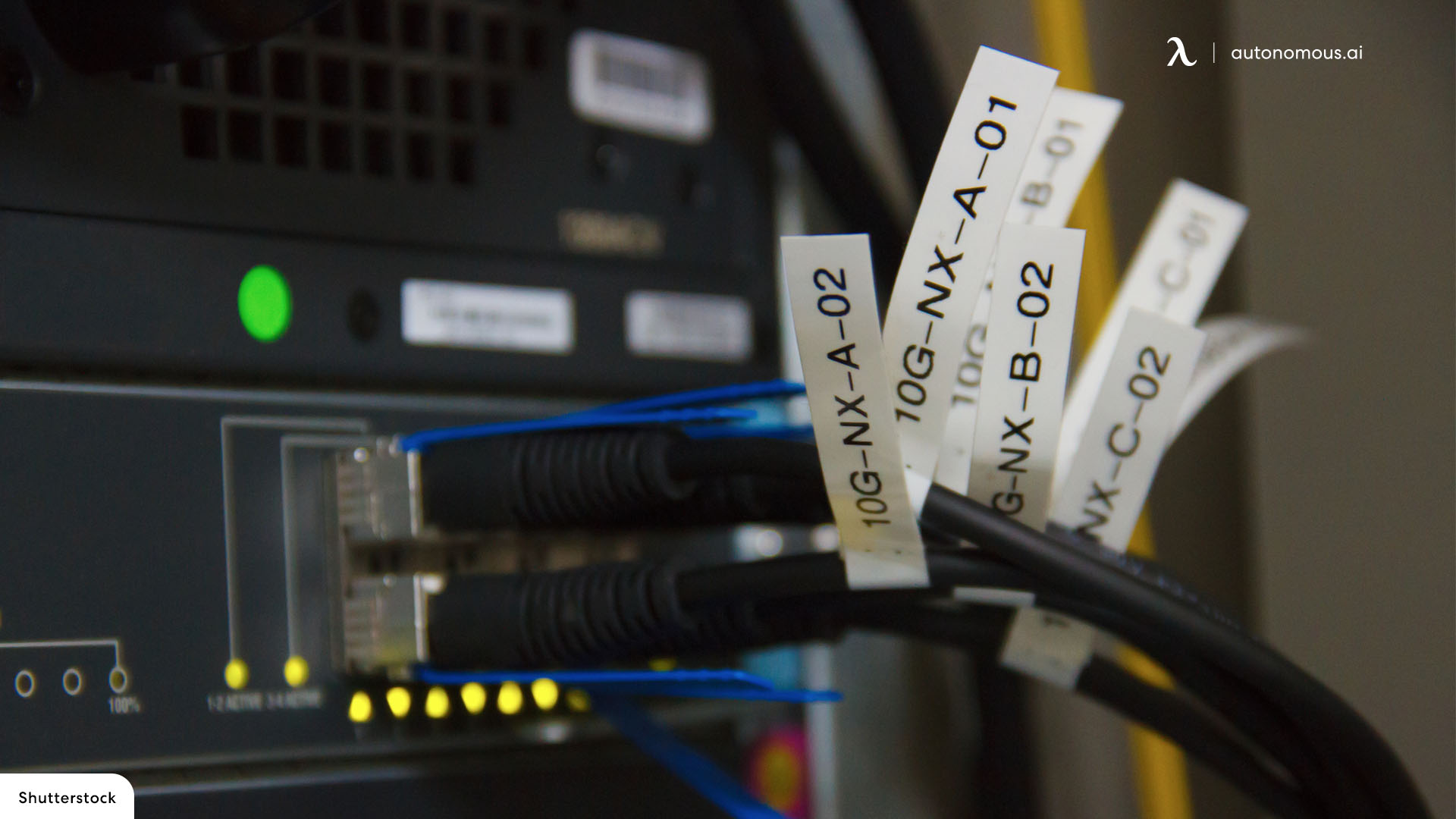 Something Monica would do. A label maker can be your greatest buddy when it comes to organization in the workplace. If you have access to a label maker, this is an excellent solution that results in a neat, professional appearance.
Having clear labels printed and attached to the relevant cord will make it so much easier when you dig beneath the desk to reset your computer! It's such a comfort to know you've found the one.
Glass Case
If your glasses are on your nose, then what is the case doing empty? Bring it here. Glass cases work like magic for exceptional cable management. You can also borrow some glass cases from a person who has been wearing glasses since birth. They are useful ones.
Washi Tape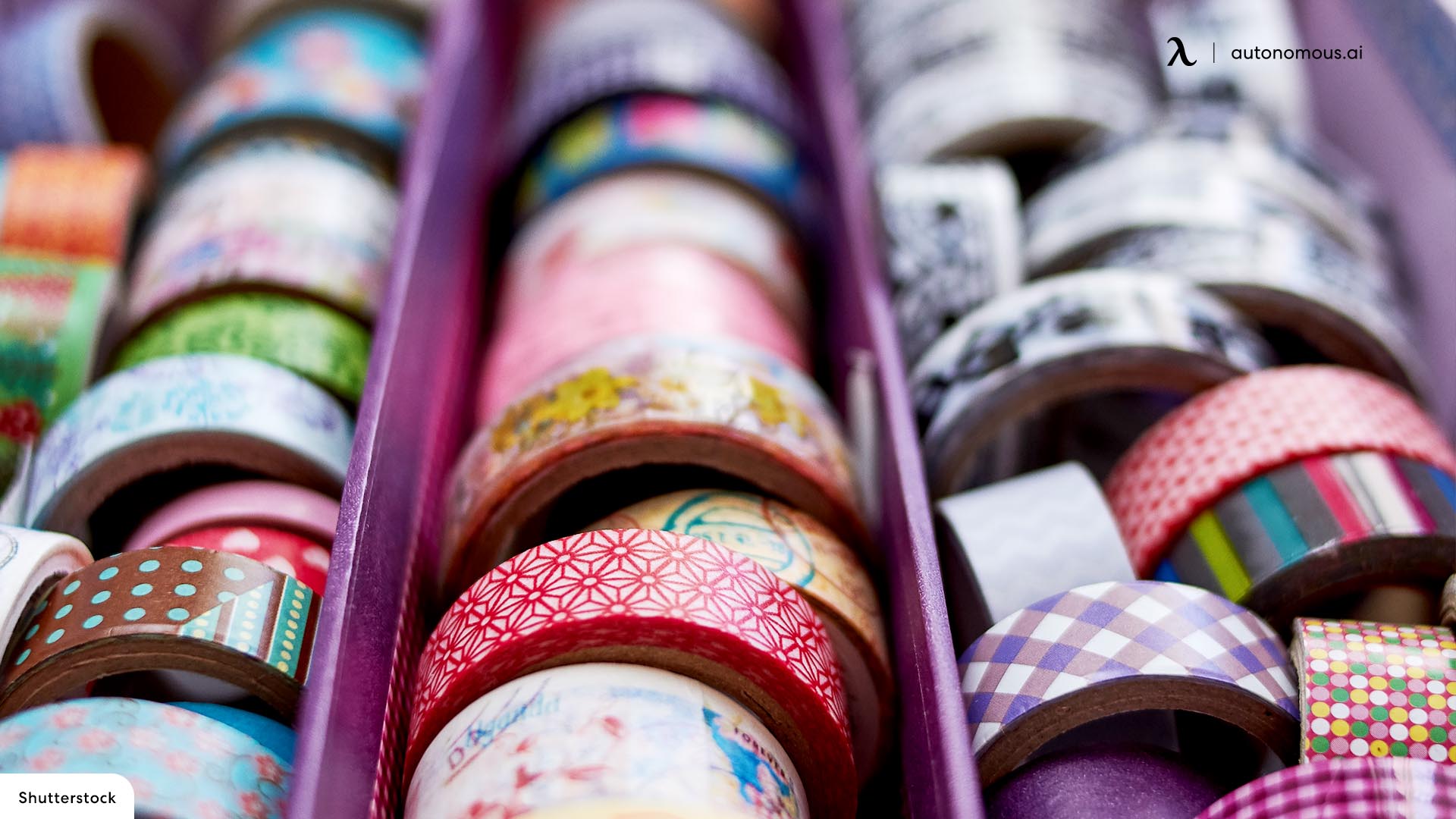 Peek into the crafts box of your younger sibling, or we know how simple it is to find a washi tape. Washi tape is an inexpensive solution that looks pretty too. An added advantage of washi tape is that you can easily write on top of it and stick the cables separately to the bottom of the desk or even on the wall. This is one of the neatest ways to clean the cable mess.
Use Binder Clips
Binder clips are ideal for cord organization since they keep cords taut and folded while also allowing you to mark the clip. Label the tops of the clips and the wires with a matching label. Just what you needed to keep your cords tangle-free and easily accessible in your laptop bag or devices drawer.
Ribbons
Ribbon twist ties are both practical and attractive. Using non-fraying grosgrain ribbon, thin wire, and a little adhesive to maintain the ribbon smooth and taut, cut a slit and twist it. After you've glued the tiny wire between two layers of grosgrain ribbon and allowed it to dry, you may coil it around your cables. It's that easy.
Shorten the Cable Length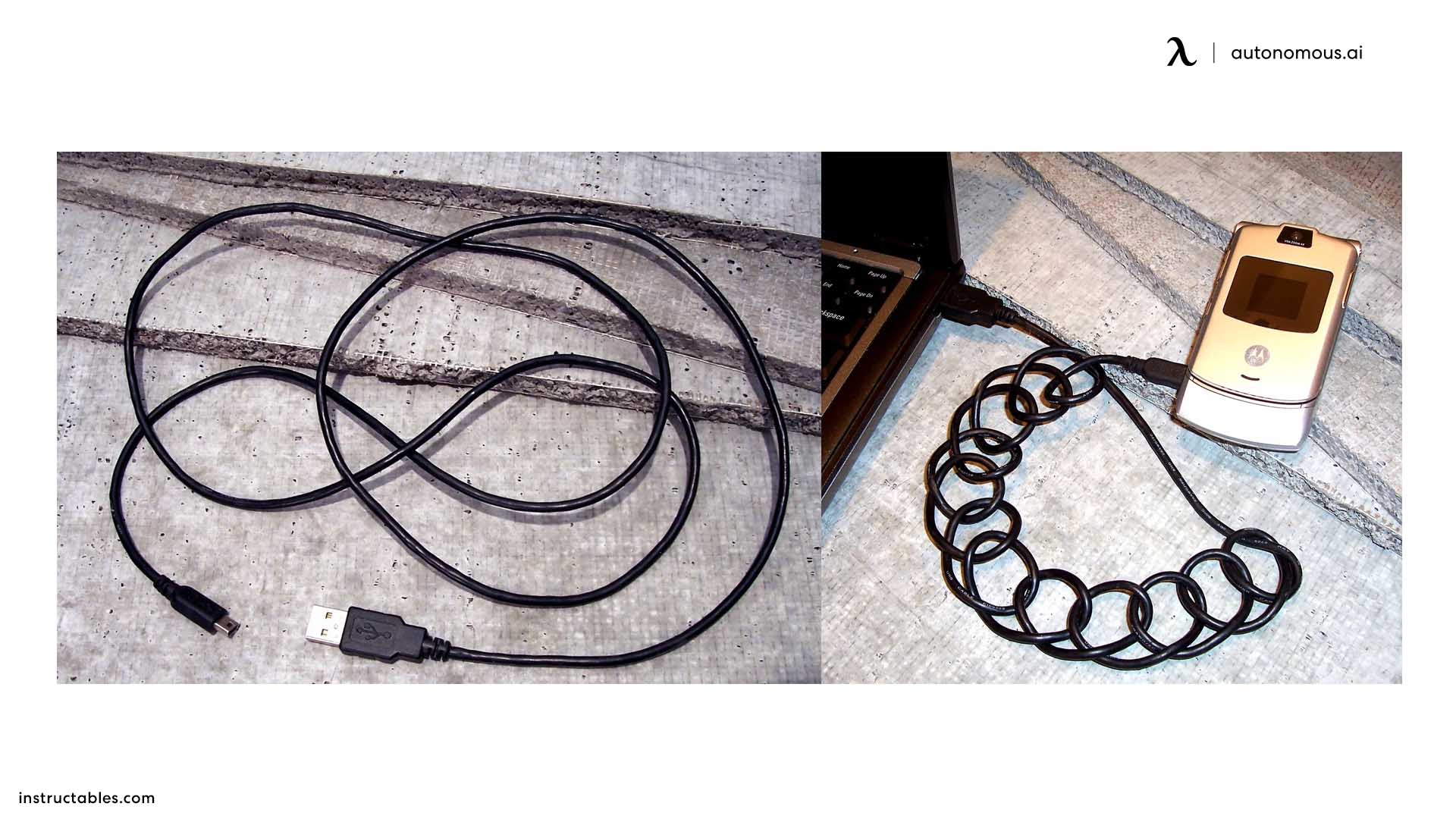 The longer the cable, the more clutter it is going to bring. But thankfully, you can do a DIY cable bone. A rubber mat, a marker pen, a cutter, glue, and a drill are required. On a rubber pad, draw small bone shapes, cut them out, and glue two together.
Drill a hole in the bone at both ends and trim it slightly to allow a cord to pass through. Then, wrap the cord around the bone from one end to the other to achieve the desired length.
Why Should You Organize Wires Behind a Desk?
Our surroundings have an impact on our moods and also influence the way we work. A messy place cannot give rise to neat ideas, and when it comes to cable management, there are several benefits of having an organized cable system.
Safety
For starters, safety is the biggest reason why you should opt to organize computer cords behind a desk. Unmanaged cables are harmful in many ways. A torn cable covering could result in an electric shock or especially for homes with kids; there is no reason you should ignore cable management.
Great Impression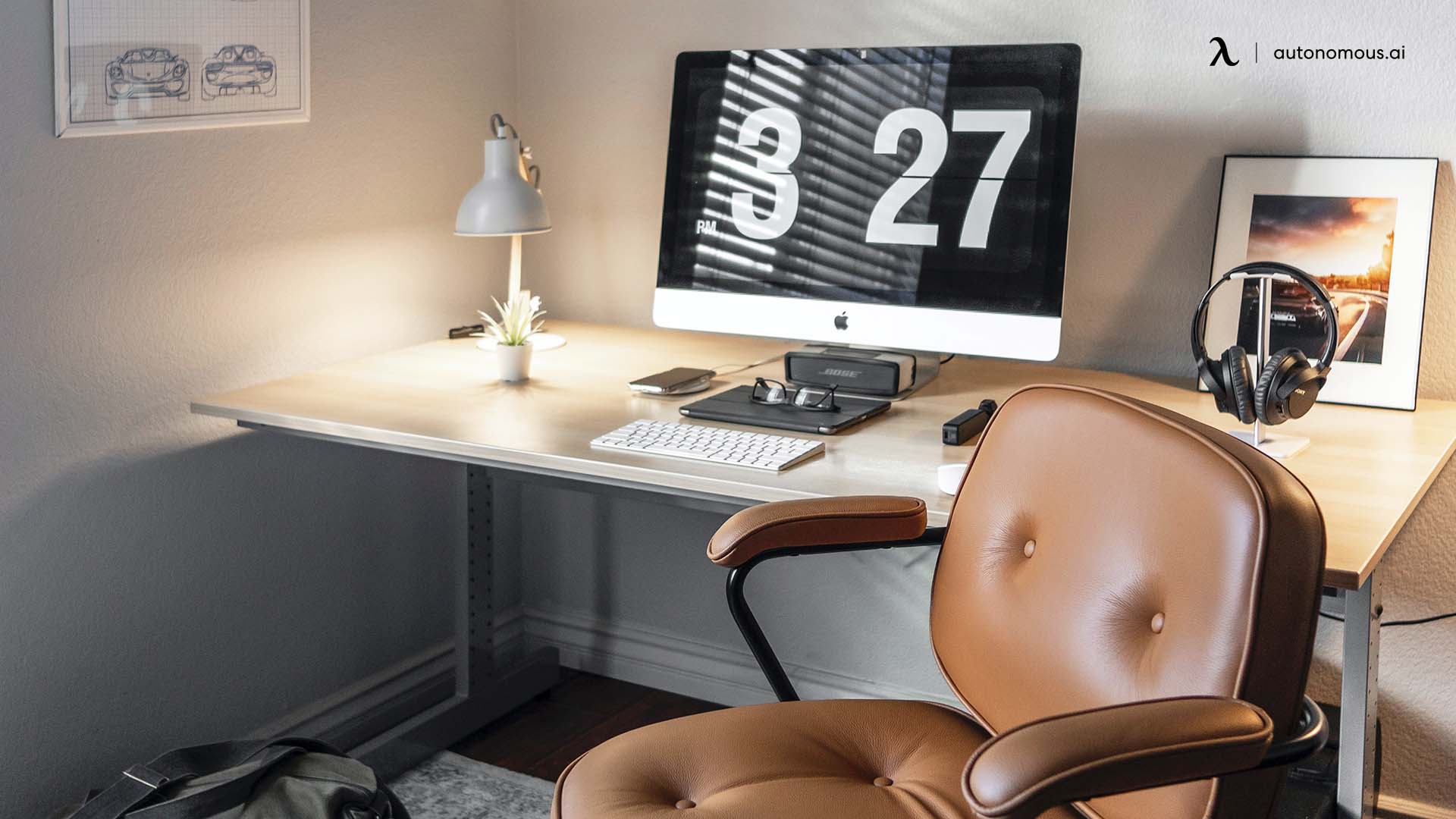 A clean workplace and an organized office desk wires give a great impression on the person passing by. Moreover, in a workplace, things like cable management, sanitized desk, and a comfortable ergonomic chair all give a sense of security and comfort to the employees. Employees love working in places where their safety and health are taken care of.
Durability
With the help of a cable management system that conceals most of the wires and keeps them organized, the durability of your appliances increases greatly. Since the wires are not subject to clutter, there is no wear and tear. The plastic covering doesn't come off easily, and your products are safe from various electrical disasters.
Saved Time
Cable management saves your time in the future. We've all wanted to rip our hair out in anger when attempting to untangle and distinguish between computer wires at some point. When it comes time to repair or maintain network equipment, the last thing you want to do is have to sift through a tangle of similar wires to locate the one you need!
Frequently Asked Questions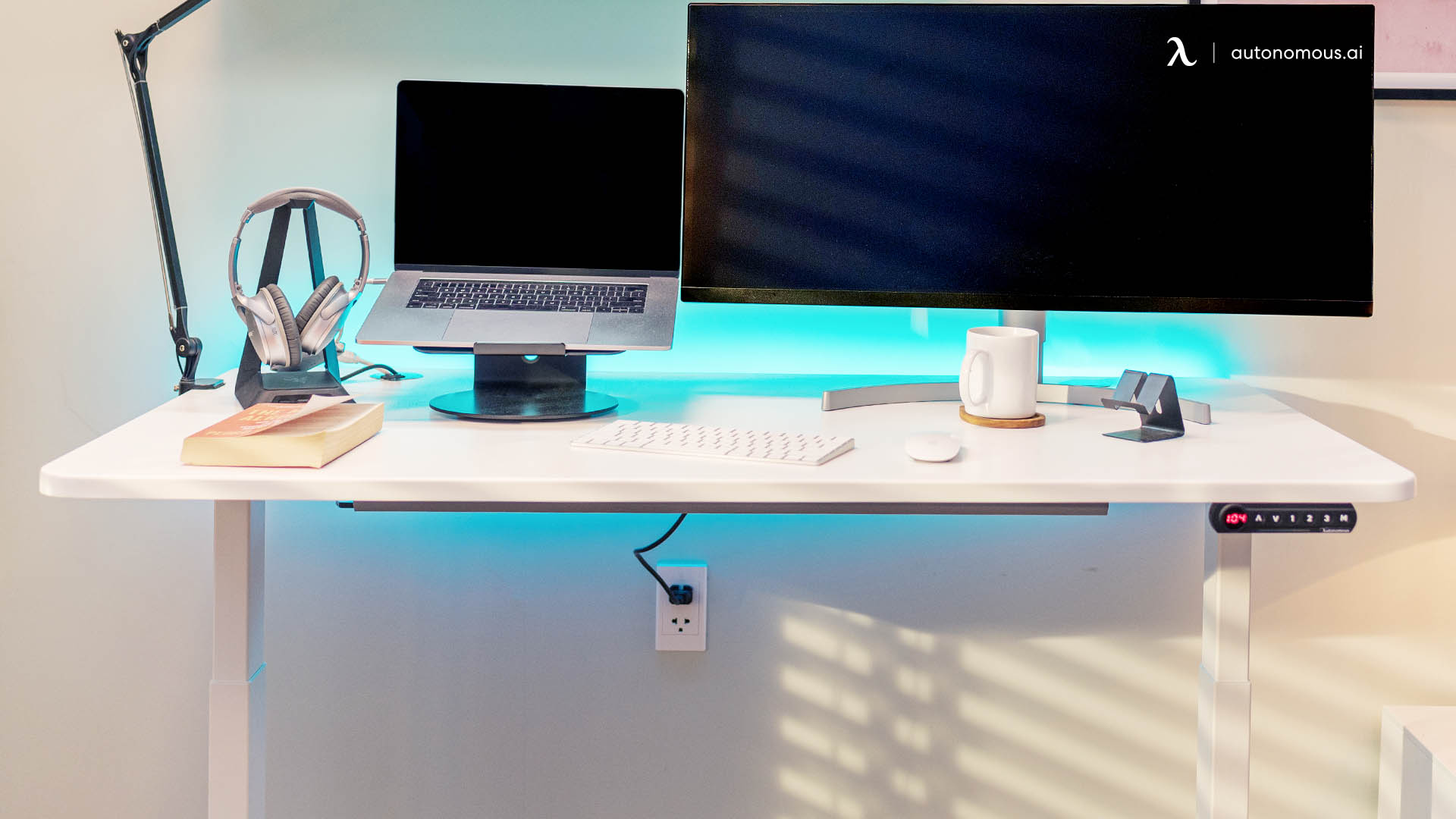 How do I manage external computer cables?
The external cable can be passed between a toilet roll to keep them organized and aligned. You can also use paper clips to clip external cables to the surface of the table.
How do you make wires look neat?
By keeping them separate and marking labels on them, you can avoid the clutter of wires.
How important is cable management with PCs?
Cable management is very important as intermingling cable can lead to accidents like a short circuit or even fire.
Do cables affect airflow?
A huge clutter of cable behind your monitor or CPU can be a hindrance to airflow. This, in turn, can cause the devices such as CPU and monitor to heat up.
How do I manage my gaming laptop setup cable?
To manage your gaming setup laptop cables, you can work with DIY Cable organizing ideas or even get a cable organizer that ensures all wires are set and aligned neatly.
How do you hide cables behind a monitor?
Doing a cardboard DIY box to keep all the cables inside or using tape to stick the cables to the desk keeps the cables organized behind the desk.
Subcribe newsletter and get $100 OFF.
Receive product updates, special offers, ergo tips, and inspiration form our team.
WRITTEN BYAutonomous
We build office products to help you work smarter.