Smart Products
5 Wireless Charging Desk Pads (2023 Listing)
3,501 Views
When working in your office, all you need is accessibility with your accessories. May it be a portable laptop charger power bank, or other accessories. Today, in this article, we will be specifically talking about wireless charging desk pads.
We know that as office workers, you like accessories that can help you multitask. So, what can be better than a keyboard pad with a wireless charger, that lets you work and you're your mobile and laptop charged simultaneously?
To help you sufficiently, we will be sharing the details regarding some of the best wireless charging pads for a desk in this article. So, stick with us till the end to learn everything about the desk mats with a wireless charger.
5 Wireless Charging Desk Pads for Your Consideration
1. TaskPad Wireless Charging Desk Pad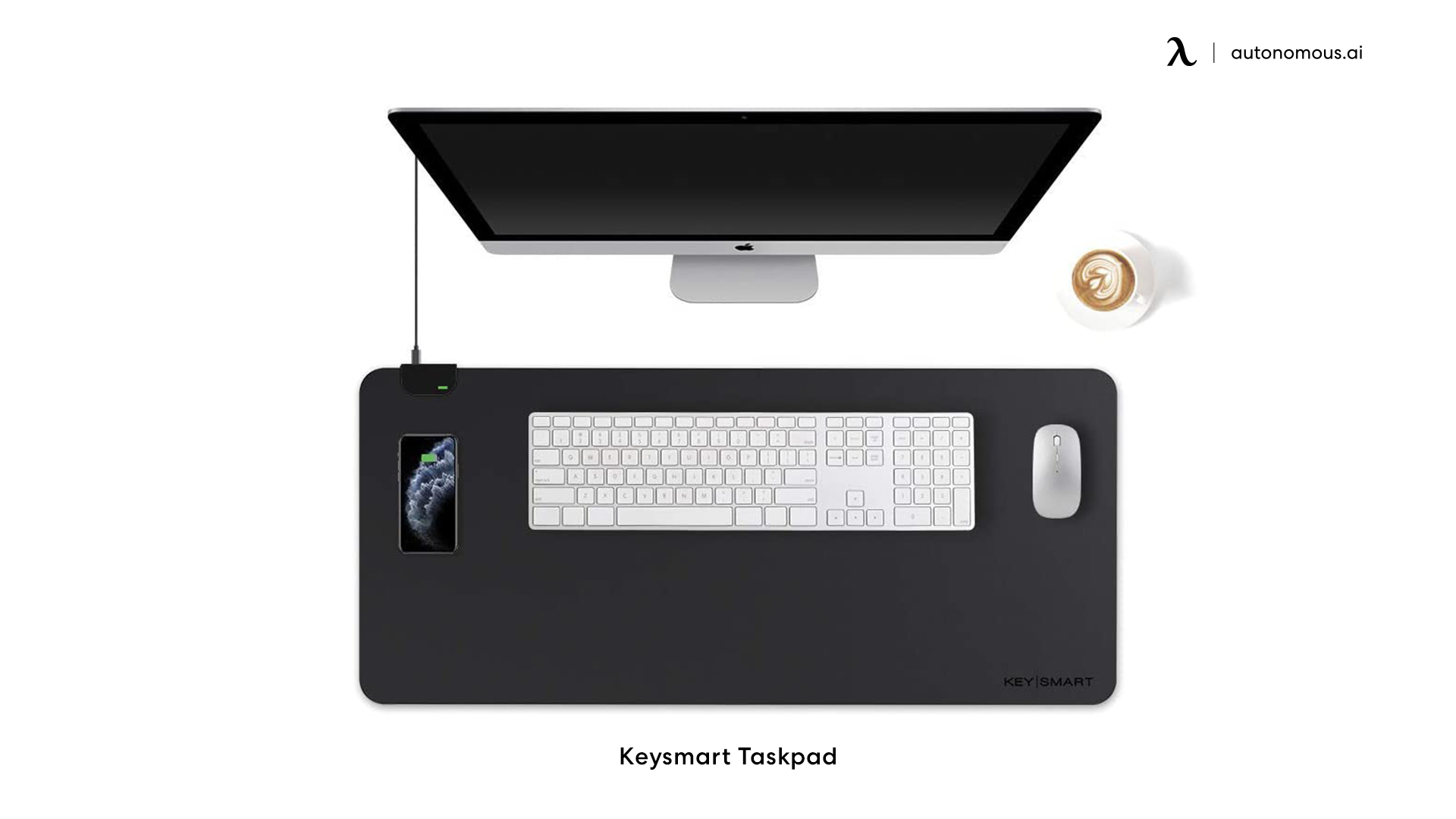 The Task Pad Wireless Charging Desk Pad is probably the best desk pad that is available in the market. KeySmart has released this wireless charging leather desk pad model to help you charge your mobile phone while you work. Featuring a 10W output power bank, this charging desk pad can be a great option for charging your mobile phone while avoiding cable clutter.
All you need to do is place your mobile phone on top of it while the desk pad's cable is connected to its power source. Since this wireless charging desk pad is quite wide, it can easily accommodate your keyboard and mouse to ensure you work swiftly.
The best part is that KeySmart has used water-resistant leather to design this task pad. That's why there is no need to worry if there is any sort of spillover on the pad. All of that, with a micro-textured mouse pad, makes it ideal for tracking mouse movement and maintaining stability.
Pros
Power bank for mobile phone

Water-resistant leather pad

Microtextured for stable traction

Ample space

Affordable
Cons
Not suitable for charging laptop
2. QI Standard Wireless Charging Desk Mat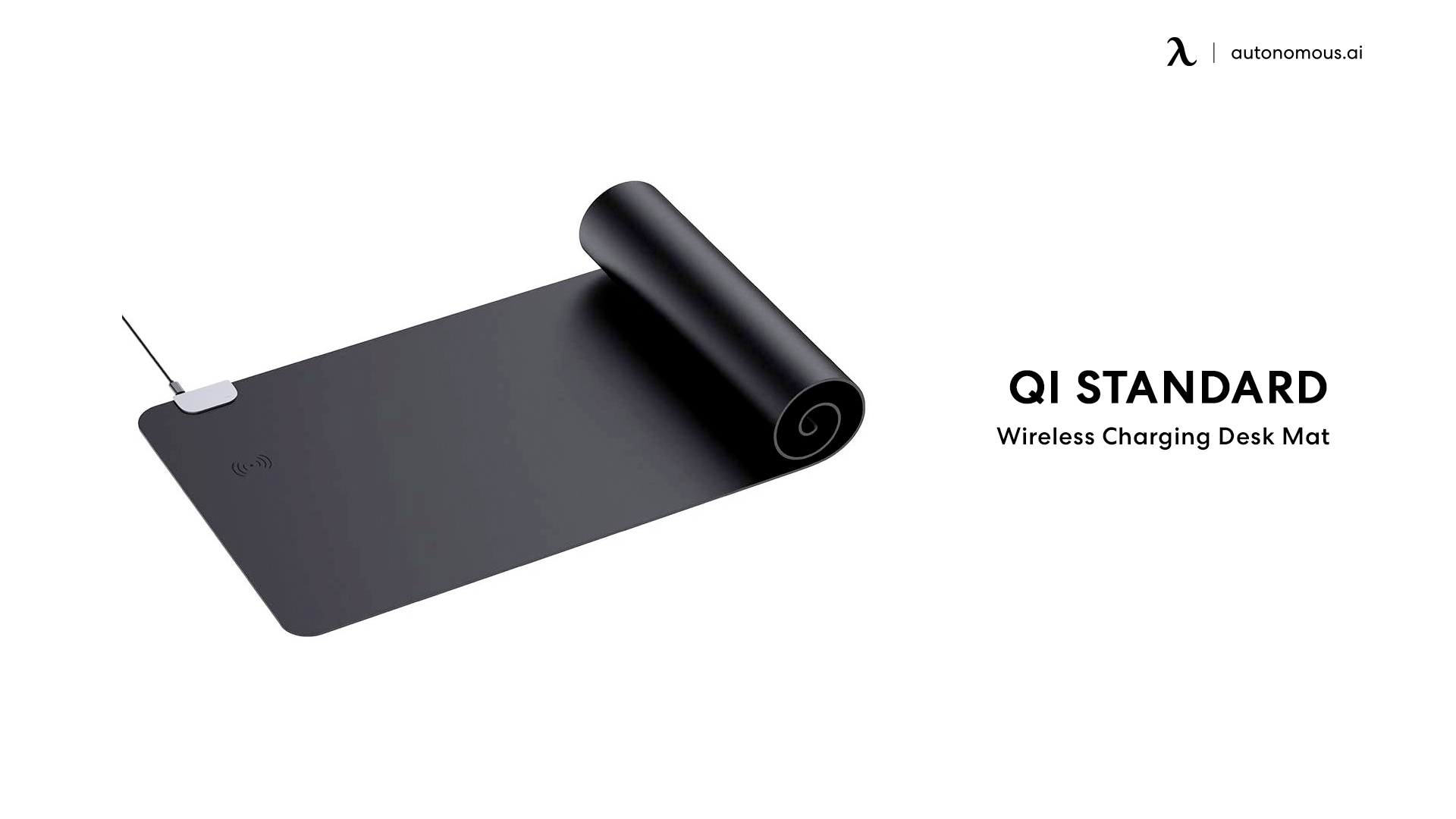 The Desk Mat Wireless Desk Mat is designed to meet QI standards and is suitable for charging your mobile phone or any other device as you work. You can also incorporate a QI wireless charging pad to charge multiple devices as you work.
Since this desk pad is also wide, it covers your entire desk. Therefore, you can easily place your mouse and keyboard and even your laptop on it. The design is also so sleek that it adds style to your workspace. So, if you want to have an outstanding office with fewer cords, this has to be your go-to option.
Pros
Designed using vegan leather

Up to 10W wireless power output for phone charging

Water-resistant

Can charge earbuds and AirPods too
Cons
Can only charge iPhone 8 onwards and Galaxy S6 onwards models
3. LeMat Wireless Charging Desk Pad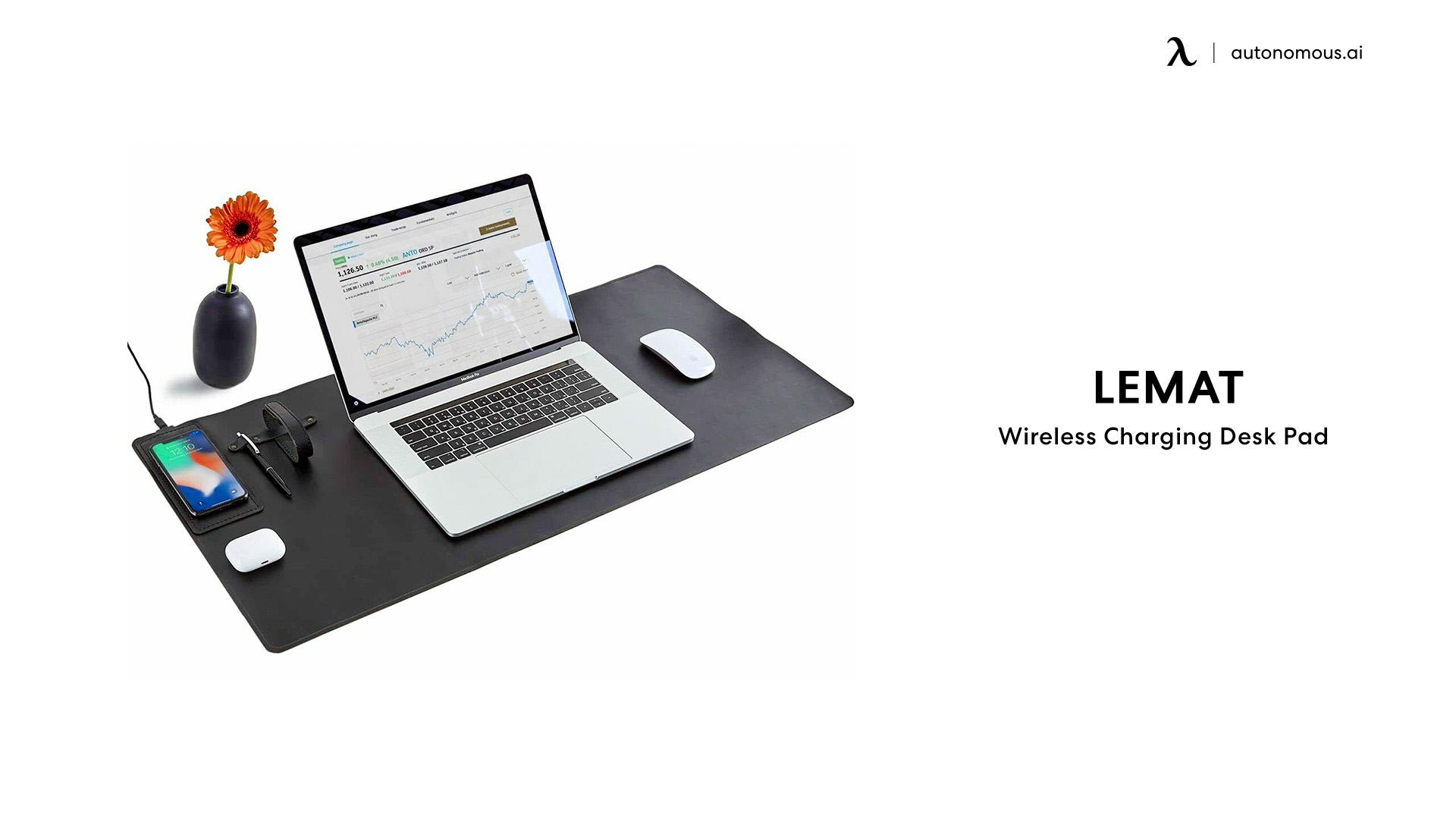 LeMat Wireless Charging Desk Pad is another compatible wireless charging pad for the desk that you can consider for your office use. Being a wide desk pad, this desk mat can help you place your office accessories more organized.
The good thing about this desk pad is that there are certain additions like a pen, USB cable and other small items' mount. Since it cannot charge laptops and multiple devices at a time, you can use a 4 port USB charger, too, as that small device will not take much space.
Pros
Durable

Compact

Features a stand for mug too
Cons
Pricier than other listings

The charging option is not valid for Apple Watch
4. GIM 10W Desk Mat with Wireless Charger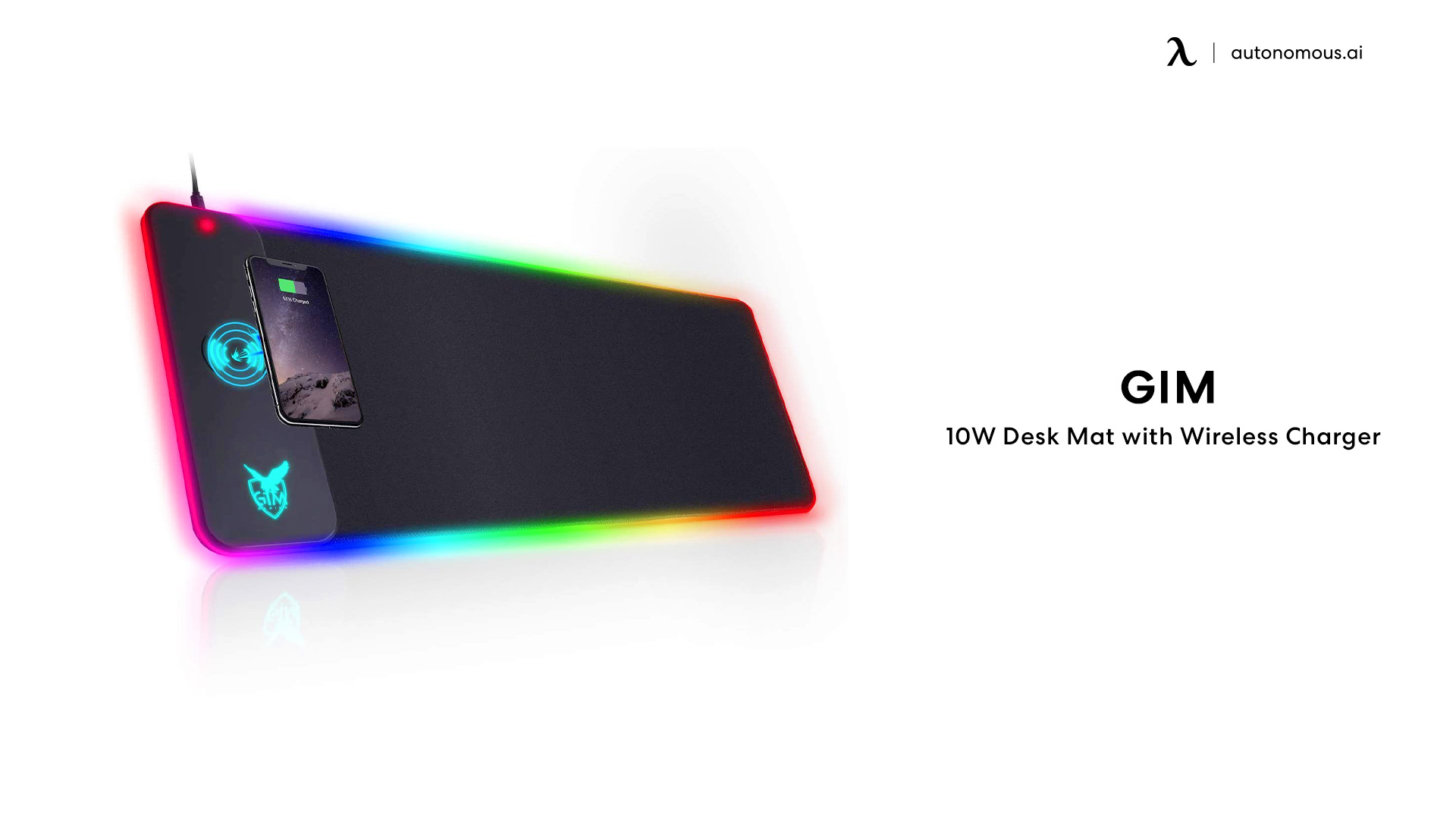 The GIM Desk Mat with Wireless Charger is an RGB desk mat that is installed with stylish RGB lights to give your workspace a unique look. There is also an LED charging indicator that helps you judge whether your device is charged or not. As far as the design and performance are concerned, this desk mat is suitable for those office workers who like having a stylish office.
Featuring a 10W power output bank, this desk mat can help you charge your mobile phone or any other smaller accessory like an AirPod while you work. Although this desk mat's features are such that you can consider it for office use, it will become better if you couple it with a wireless charger for multiple devices. Doing so would be helpful if you have multiple devices to charge.
Pros
Non-slip rubber base

LED strip lining for indicating charging status

Waterproof
Cons
The mat often does not lay flat on the desk, but it bumps up

RGB light is not too reliable and may die out
5. Aircharge Wireless Charging Desk Mat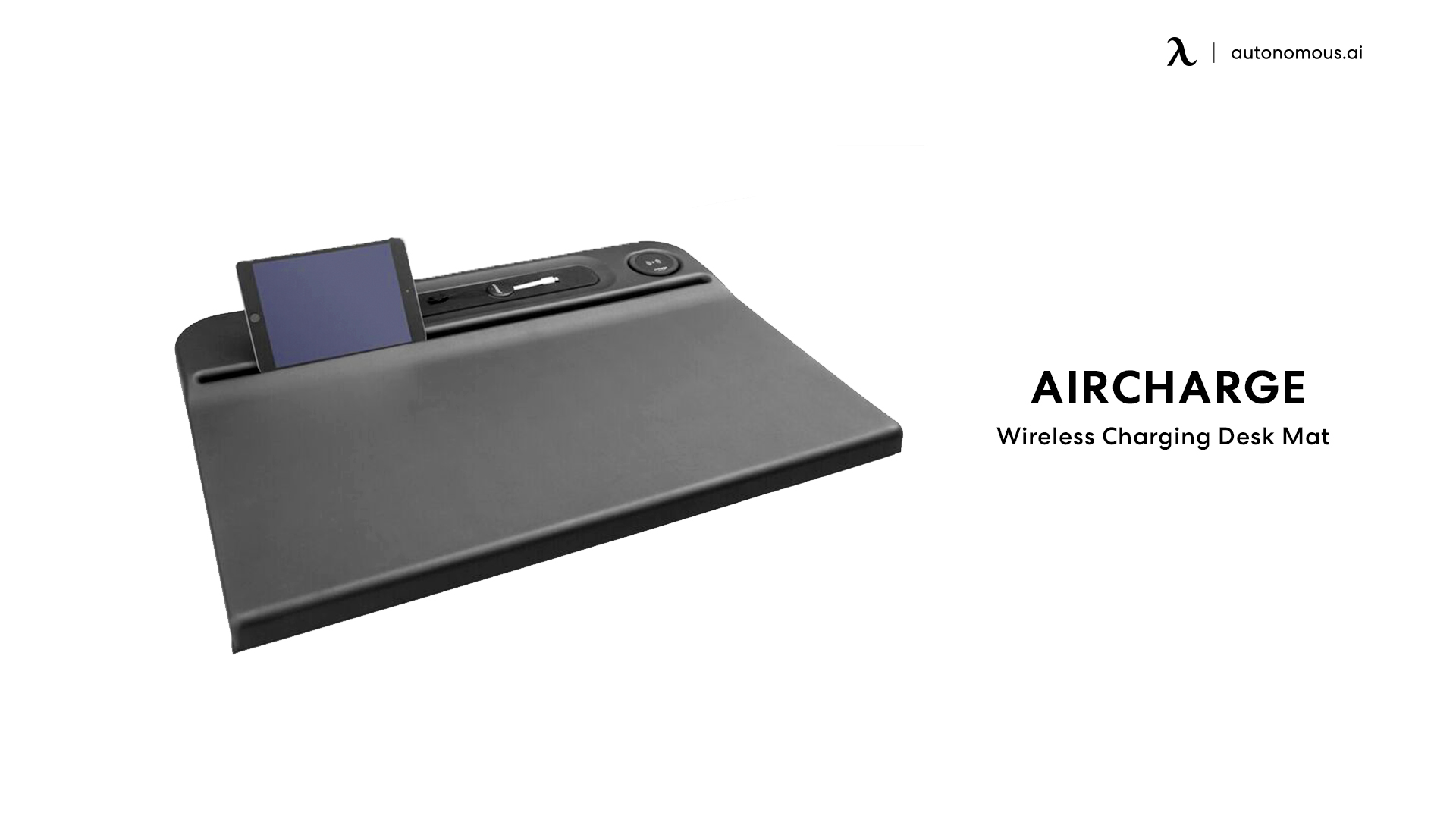 Aircharge Wireless Charging Desk Mat is among the stylish yet elegant desk pads. If you compare it with other listings here, the Aircharge desk mat's size is a bit smaller. However, the design and features of this mat are such that you can trust its quality and can accommodate your keyboard and mouse.
Featuring a wireless charger, this wireless charging desk pad can charge various QI and non-QI devices. There is also a narrow groove at the top side of the mat that you can use to place any device or important document. Overall, you can consider this desk mat for your office use.
Pros
Adds a stylish look

Dual charger

Can charge non-QI devices too
Cons
Comparatively expensive option

Not as wide as common desk pads
Conclusion
Wrapping it up, we shared some of the best keyboard pads with wireless chargers today. Since you are already aware of their benefits, we believe that you would love to buy one of these. If you ask for our opinion, we will say that you should definitely go for a wireless charging desk pad.
That's because everyone is looking for modern desk accessories that can help them have an ergonomic workspace, and these pads are among them. They play a vital role in avoiding cord clutter and maintaining a sleek workspace where you can work comfortably.
We hope that you will find this article helpful in picking up the best wireless charging pad for your desk. So, go ahead and get yourself your favorite desk mat today!
Hey, you have special pricing through your company.
Get exclusive rewards
for your first Autonomous blog subscription.
WRITTEN BYAutonomous
We build office products to help you work smarter.