Smart Products
15 Best Gaming Desk Mats to Improve Gaming Experience 2022
4,633 Views
When it comes to a gaming desk mat, people want to make sure that they have bought one that is perfect for their needs. You need to consider many different things before you purchase your mat. Also, the benefits of buying the right mat are tangible because gamers will be able to perform well under pressure.
This post will tell you the 15 best gaming desk pads that you should consider for your ultimate gaming setup.
What Is a Desk Mat for Gamers & Why Should You Buy One?

To put it simply, a gaming desk mat is a large mousepad. Many people use them for their computer setups, like gamers and office workers. They may use it for style purposes, gaming performance, or to help with their concentration. One of the biggest reasons gamers like having a desk mat is because it gives them a more usable area for their mouse. This is particularly handy for professional gamers.
What Needs to Be Considered
You need to consider a few things before purchasing your gaming desk mat. All of the following should be thought of before buying your gaming pad:
Size: Understandably, you need to know the size of your desk. When purchasing a desk mat, it cannot exceed the width and depth of the desk because no one wants their desk mat flopping over the edges. Also, think about what you want to place on your mat because this will influence how much surface area you need.
Surface Type: A desk mat for gamers comes in two types, soft and hard. A hard mat is rigid, while a soft mat is flexible. However, the best gaming desk pad is soft, an excellent way to go.
Material: On top of the surface, you should consider the precise materials used for the gaming desk mat. Some people will want to buy a leather desk pad if they look for a high-performance one. Alternatively, other people may want to use a desk mat made of leather alternatives because it is more affordable.
Extra Features: Some of the best gaming desk pads include wireless charging, design, and RGB.
15 Best Gaming Desk Mats for an Ultimate Gaming Experience
1. Autonomous Black Microfiber Vegan Leather Desk Pad
The black microfiber vegan leather desk pad by Autonomous is a popular gaming pad that many people like to use. Gamers can protect their desk from many different stains with the microfiber material used. These pads are made to be twenty times thinner than silk, so gamers can game without feeling like anything is constricting their movements.
Additionally, the vegan leather desk pad is soft to the touch while durable. This is an excellent option for those who want to help the environment but not lose any of the quality.
2. Minimalistic Desk Pad by DeltaHub
The DeltaHub desk pad is perfect for those who want a minimalistic feeling. It is made of soft and comfortable materials that any gamer's arms will appreciate when they need to rest their forearms. Also, the black color brings a sleek look to any desk, so gamers will appreciate the way it blends in with everything else in the gaming setup.
Also, it comes with an anti-slip base so that it won't be moving anywhere. That is one of the best perks of this desk pad because no one wants the pad moving while in the middle of a gaming session.
3. Topographic Desk Pad by Deskr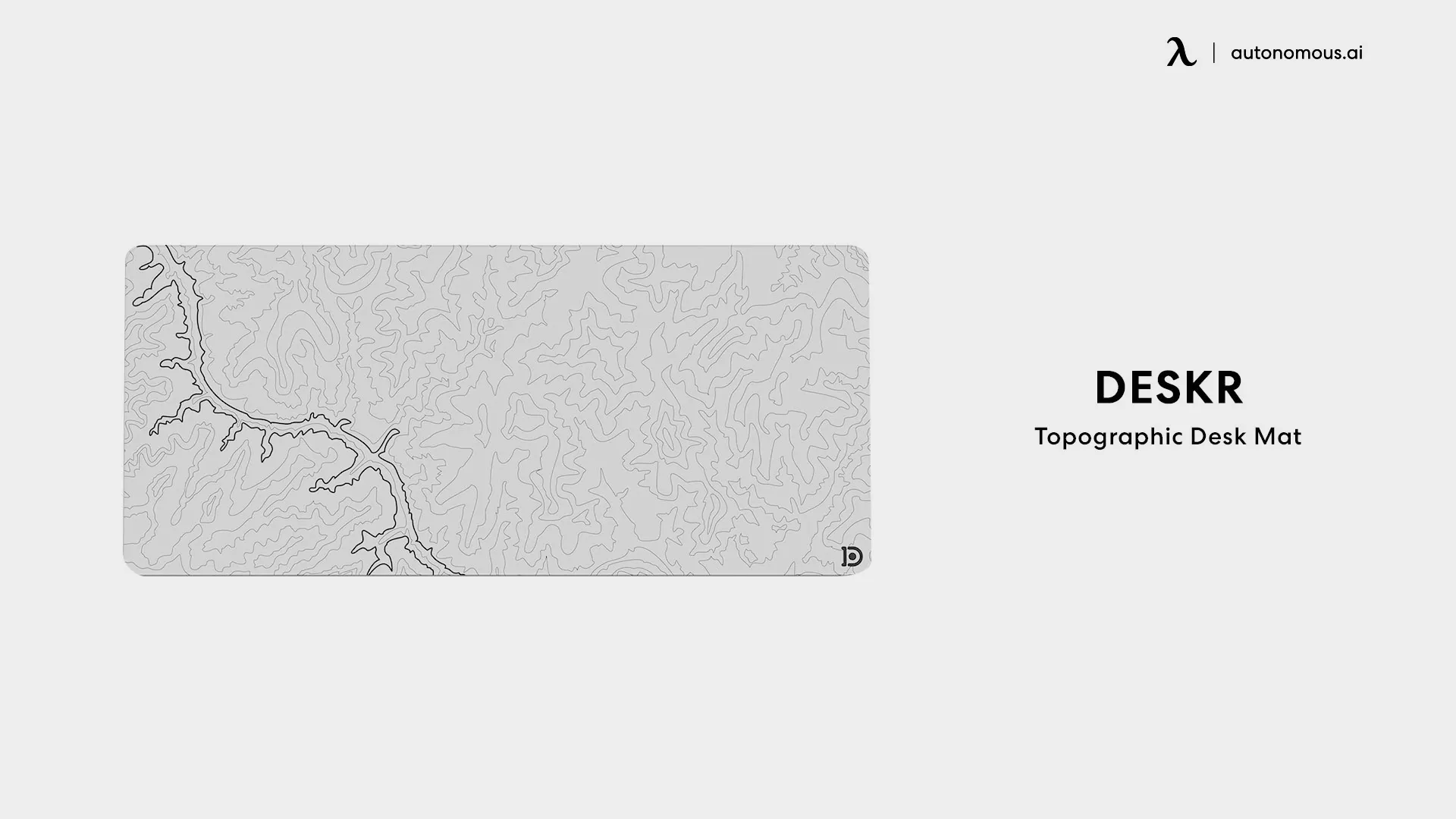 The Topographic desk pad by Deskr has beautiful designs all over the gaming desk mat, and they will take anyone's breath away. Overall, the organic lines match the Colorado River veins, and it will bring the Grand Canyon to the gaming desk. Also, it is made of smooth polyester, so any mouse will be able to glide across the pad.
Lastly, the company designed this mat to make it thicker than other desk mats for gamers. The company realized that people needed extra support during gaming and work sessions. With the added plush, this is one of the best gaming desk pads.
4. MM700 RGB Extended Mouse Pad
The MM700 is one of the gaming pads with a few extras. Gamers will love the premium materials used and the large size that the pad will cover. However, the real selling point is the RGB lights. Most gaming furniture and accessories come with RGB lights, so keeping that lighting consistent throughout the gaming setup is good.
Also, the company has placed two USB ports onto the mat, which makes it easier for people to plug in their electronics. However, there have been reports that the mat may not sit perfectly flat, but this can be easily fixed by flattening the mat for a short amount of time upon arrival.
5. Razer Goliathus Extended Chroma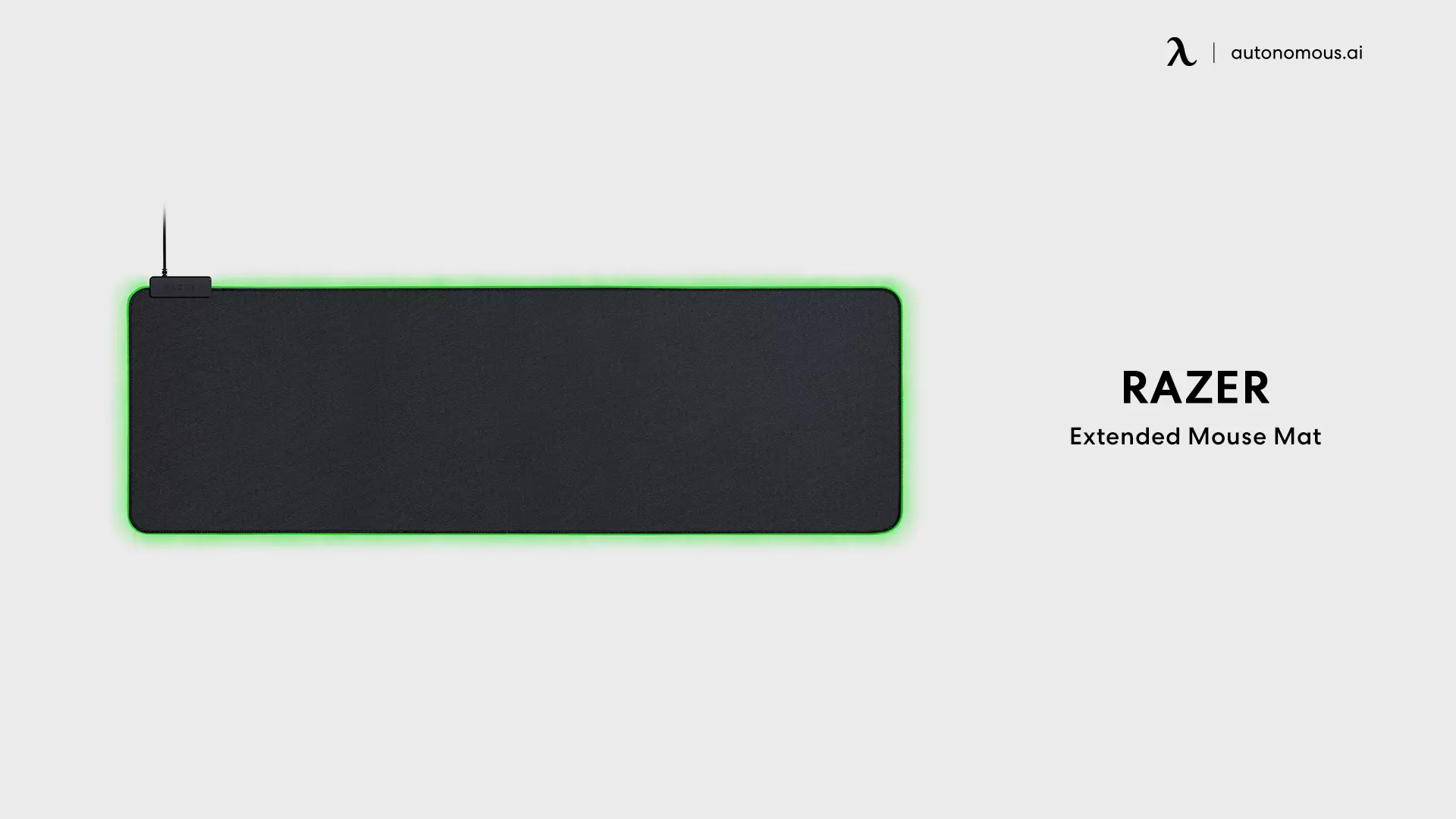 Razer is one of the largest video game equipment designers, and the gaming desk mat does not disappoint. Also, many people will like that it does come with the classic RGB lights that Razer is known for. However, it does not come with any USB ports, so it is not ideal for those with a little extra charging capability.
To battle that, Razer has added some neat cable routing, so all the cables will be tidied when you're using this gaming mat. Lastly, this mat is perfect for those who want to have enough speed with their mouse.
6. Nitro Concepts DM12 Desk Mat
This desk mat for gamers by Nitro comes in a gigantic size. It is 1200mm X 600mm in size, which means that most desks will be able to be completely covered by this desk mat. Also, the artistry can be seen at the edges of the mat because they have been stitched to stop it from fraying. There is also an anti-slip rubber on the other side of the mat, which will keep it in place.
However, gamers will need to double-check the size of their desk before purchasing this mat because of its size. Luckily, it does come at a reasonable price, so people will not be breaking the bank when they buy this massive desk mat.
7. SteelSeries Qck Gaming Surface XXL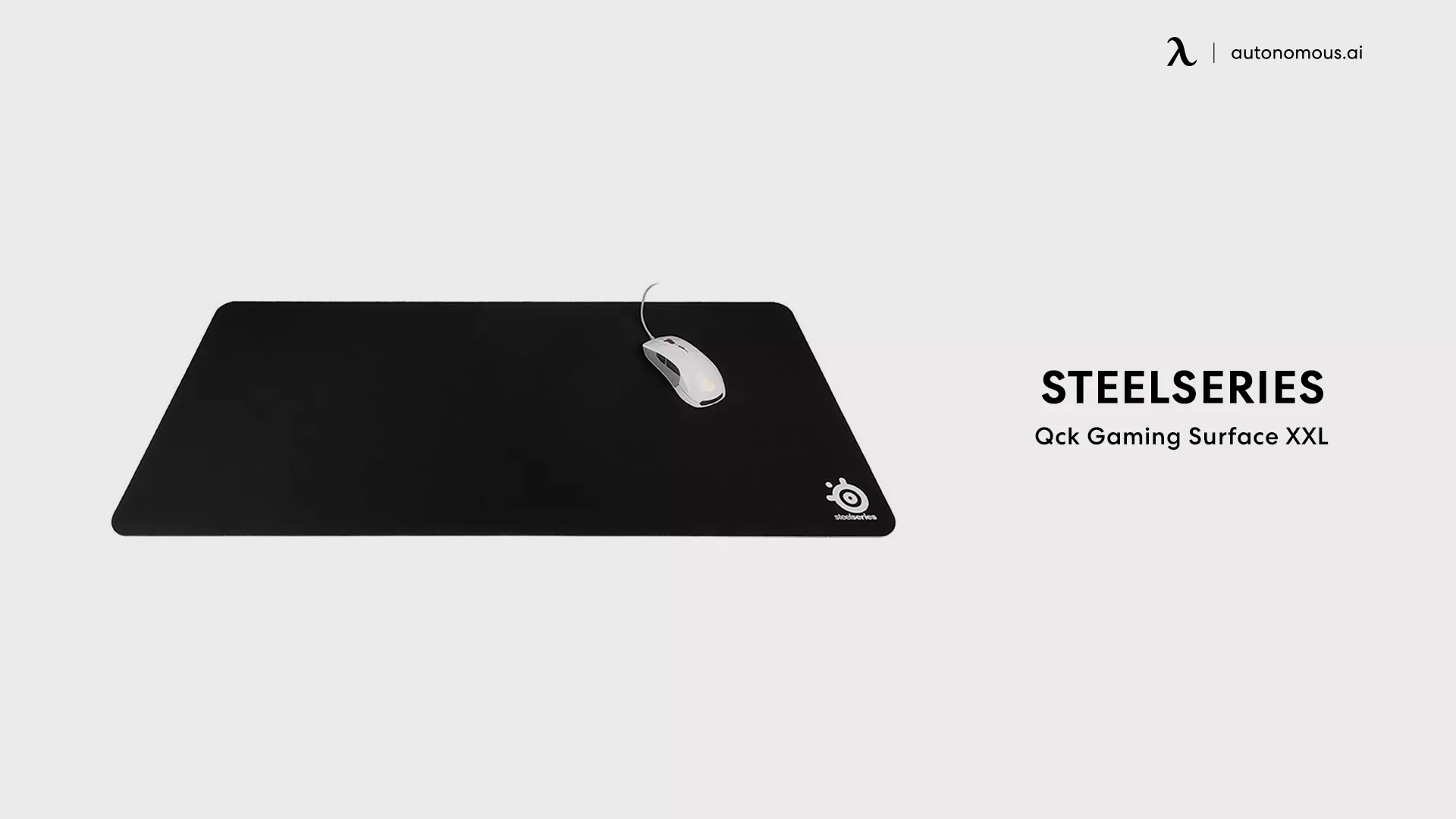 Some of the best gaming desk mats have been made by SteelSeries. The professional quality has made this company one of the most desirable ones to purchase mats from. Also, all desk mats come in multiple sizes while still being affordable. Additionally, it will give any gamer that minimalistic feel when they place it on their desk.
It comes with the same high-quality micro-woven cloth as the other mousepads, but this one will also cover your entire desk. However, some may argue that it is less durable than other desk pads, but beginner and experienced gamers still use it.
8. The RGB Extended Gaming Desk Pad by Rnairni
If you want an RGB gaming mat but don't want to pay the hefty price tag, this one by Rnairni is perfect. Gamers can add color to their desk mat by putting a geometric print or a map of the world. However, it does come in black if that suits the aesthetic better.
Except, gamers will need to be prepared to understand that this mat is slightly smaller compared to other mats. However, it will still do everything that you need it to do.
9. The Anti-Fray MM350 Extended X-Large Desk Pad by Corsair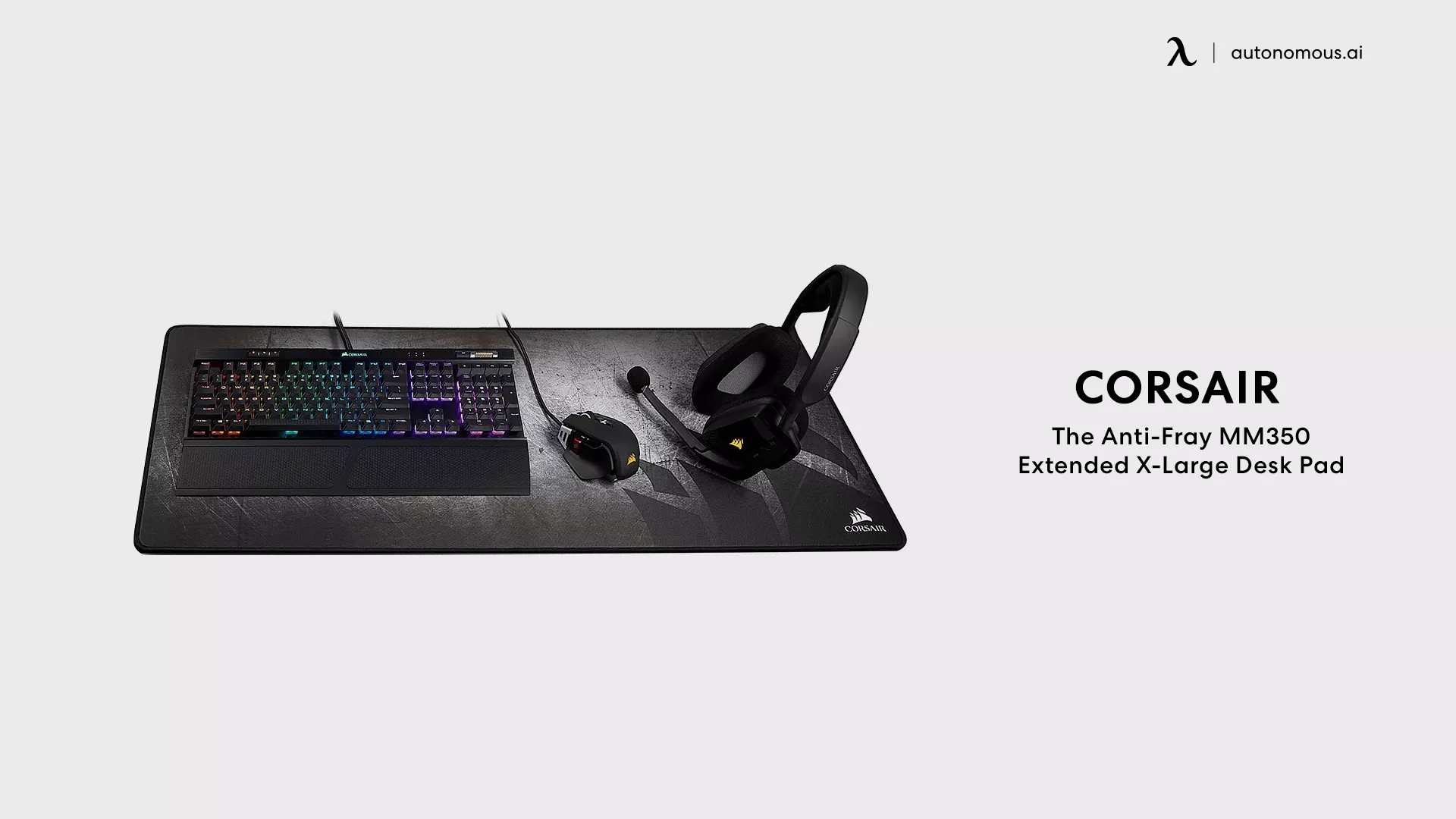 Gamers will enjoy one of the best gaming pads available by Corsair. It is not just a great gaming surface, but it also comes with stitching that is anti-fray. This will ensure that the edges of the mat do not fray away, and the pad will be able to last for a lifetime. Additionally, the larger option for this pad will cover a good portion of any desk.
Additionally, it comes with an exciting design that makes it look worn out without damaging the mat itself. It is a good option for those who want something similar to the Qck Surface.
10. The Spirits XL Predator Mousepad by Acer
Sometimes people want a gaming desk mat that does not look like the other ones on the market. People look at the Acer mat because it comes in a different shape that makes it look different from the other mats. The edges of the mat are tapered, but it does not hinder any gaming performance; still, it does add some visual appeal.
This mat is available in multiple colors and sizes, so people will be able to get one that suits them and their gaming needs. It is sure to add a bit of excitement to an ergonomic gaming desk with a different look.
11. The Large Gaming Mouse Pad by Ktrio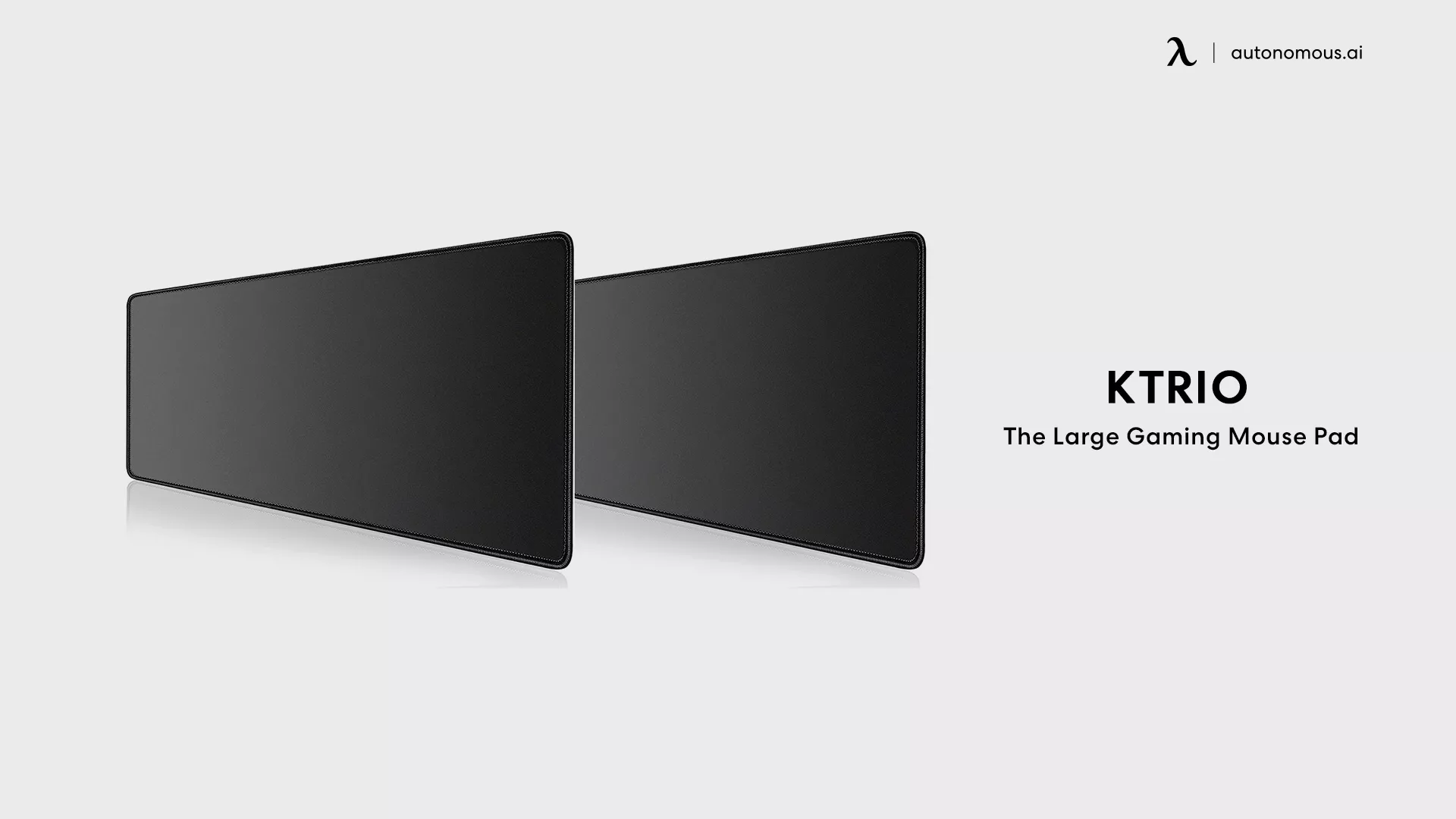 Another good option for a gaming pad is the Ktrio. This is the right choice for people who want a high-quality product without caring about the company behind it. It is very affordable compared to some of the other options on this list, and it does come in good sizes. Additionally, the edges are stitched like the Corsair while also being water-resistant.
All of this combined makes this mat perfect for those who want a mat that won't break the bank but one that is sturdy and right for any gaming experience.
12. Castle Courtyard Leather Desk Pad
This desk mat made by Castle comes in two options: no logo or logo. This is great for those who may want the leather desk mat without its logo. It will give any minimalist the perfect mat to fulfill their minimalist needs. Also, everything about the mat is black. The color, stitching, and logo are all black, making it the perfect piece to fit any aesthetic.
Lastly, it is easy to clean because of the material. Gamers will be supporting a small business in the USA that also has fun branding. However, it only comes in black, which means that if people want a different color, they will need to buy a different mat.
13. Cooler Master MP510 XL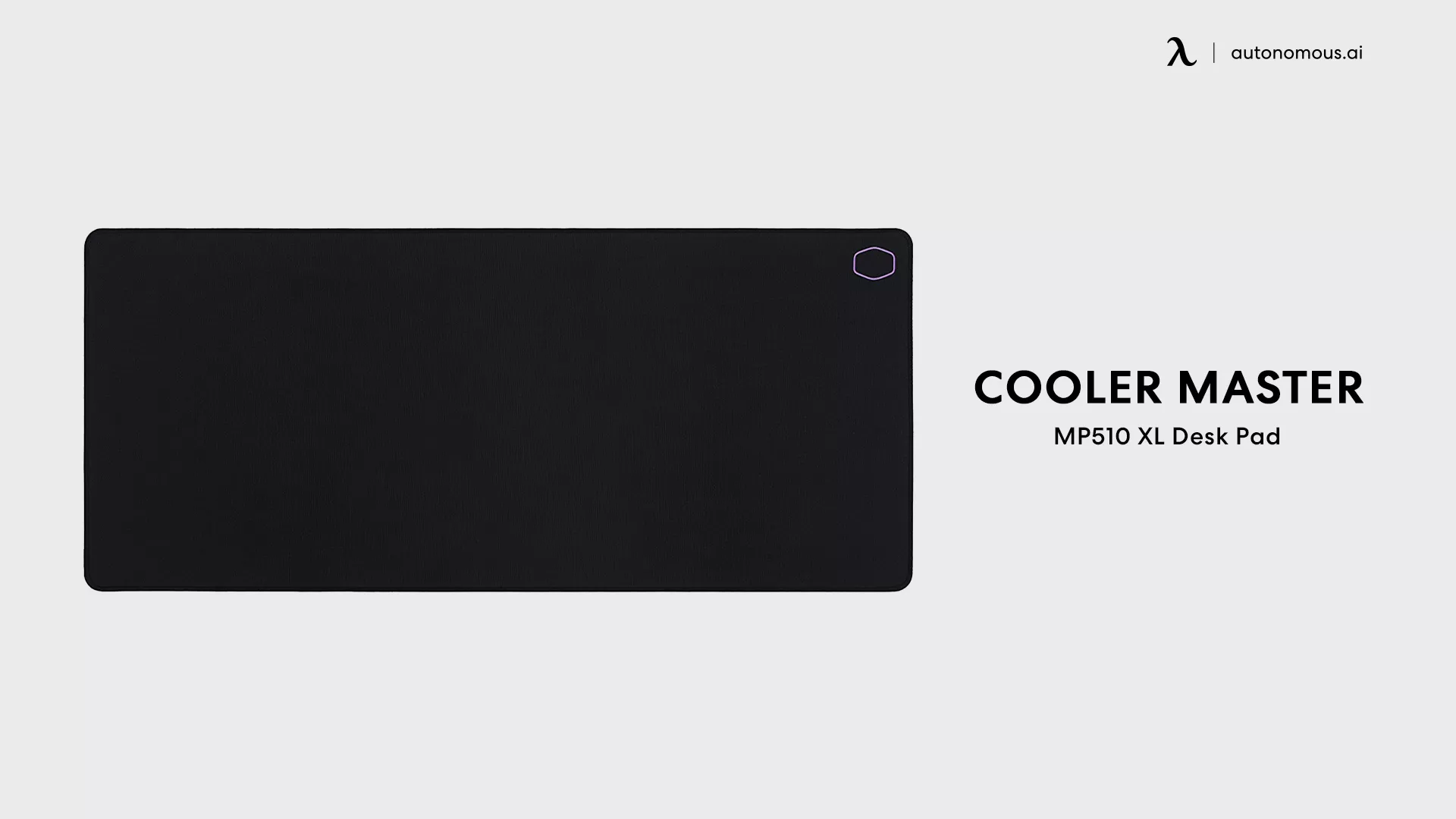 This mat by Cooler is the best gaming pad for those who want something different. Even though it has been made for gaming, it has a textured surface that replicates gaming-optimized microscopic mesh. This can't be found in big-name brands, which makes this mat very different from the others on the market.
Lastly, it is splash-resistant, so people do not need to worry about it soaking up any water. However, if the ribbed surface is not right for you, you might need to stay away from this option.
14. Eco Cork PU Leather Desk Pad
YSAGi has made the Eco Cork pad, so gamers can use an affordable pad without compromising the material. The backing is made of cork that is thin and durable. This may not be the thickest desk mat around, but it does come in many colors, which is different compared to the other mats on this list.
Also, it is available in three different sizes, so there is bound to be one that fits any gaming setup. It is scuff-resistant, so gamers will not need to worry about ruining the look of this mat while moving their gear.
15. Gallaway Leather Desk Pad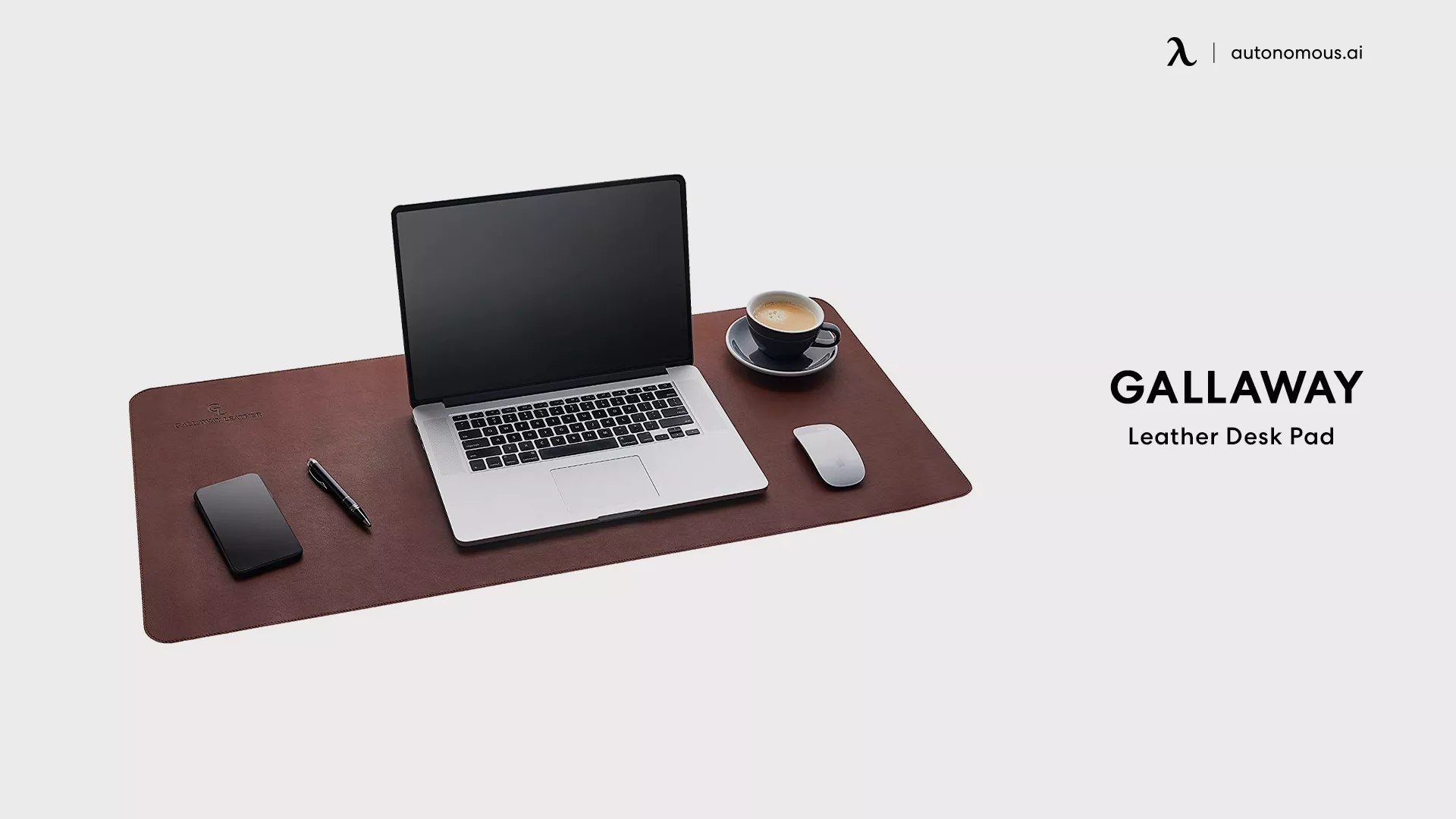 The last option on this list is another PU leather desk mat. Gallaway has made it, and it comes in four different colors, which means you can find the right one for your gaming space. The idea behind this mat was to make a desk mat that is comfortable enough to sit on, and this one is perfect for that task.
This combination makes it a comfortable experience to work with, so you never need to worry about your wrists or forearms again.
Conclusion
Every gamer must have the right gaming desk mat for their gaming experience. The best gaming mats have been picked for this list, and they are all made to last. Also, gamers who want to purchase anything from Autonomous can use the Gamer Purchase Program to complete their purchase. Whichever mat you choose, make sure that it is right for you and your gaming needs.
Hey, you have special pricing through your company.
Get exclusive rewards
for your first Autonomous blog subscription.
WRITTEN BYAutonomous
We build office products to help you work smarter.