Workplace Inspiration
28 Best Gaming Desk Mats to Improve Gaming Experience 2023
9,534 Views
When it comes to a gaming desk mat, people want to make sure that they have bought one that is perfect for their needs. You need to consider many different things before you purchase your mat. Also, the benefits of buying the right mat are tangible because gamers will be able to perform well under pressure. 
This post will tell you the 28 best gaming desk pads that you should consider for your ultimate gaming setup. 
What Is a Desk Mat for Gamers & Why Should You Buy One?
To put it simply, a gaming desk mat is a large mousepad. Many people use them for their computer setups, like gamers and office workers. They may use it for style purposes, gaming performance, or to help with their concentration. One of the biggest reasons gamers like having a desk mat is because it gives them a more usable area for their mouse. This is particularly handy for professional gamers. 
What Needs to Be Considered
You need to consider a few things before purchasing your computer desk pad. All of the following should be thought of before buying your gaming pad: 
Size: Understandably, you need to know the size of your desk. When purchasing a desk mat, it cannot exceed the width and depth of the desk because no one wants their desk mat flopping over the edges. Also, think about what you want to place on your mat because this will influence how much surface area you need.
Surface Type: A desk mat for gamers comes in two types, soft and hard. A hard mat is rigid, while a soft mat is flexible. However, the best gaming desk pad is soft, an excellent way to go.
Material: On top of the surface, you should consider the precise materials used for the gcomputer desk pad. Some people will want to buy a leather desk pad if they look for a high-performance one. Alternatively, other people may want to use a desk mat made of leather alternatives because it is more affordable.
Extra Features: Some of the best gaming desk pads include wireless charging, design, and RGB. 
28 Best Gaming Desk Mats for an Ultimate Gaming Experience
1. Autonomous Black Microfiber Vegan Leather Desk Pad
The black microfiber vegan leather desk pad by Autonomous is a popular gaming pad that many people like to use. Gamers can protect their desk from many different stains with the microfiber material used. These pads are made to be twenty times thinner than silk, so gamers can game without feeling like anything is constricting their movements.
You can now protect your desk and enjoy better performance using a single smooth leather desk pad. The despot is made out of vegan weather and ultra-fine nylon yarns that are 20 times thinner than silk and fused into the desk cloud shape using a fibrous collagen structure that is very similar to real leather. 
Additionally, the vegan leather desk pad is soft to the touch while durable. This is an excellent option for those who want to help the environment but not lose any of the quality. It is great using a nonwoven technology that produces a resilient, stretchable fabrication that is liquid repellent and very soft with a touch and surprisingly strong as well. As a result, this desk pad is super durable and very easy to clean.
| | |
| --- | --- |
| Dimensions | 31.5"L x 15.7"W x 0.08"H |
| Materials | Microfiber vegan leather |
| Colors | Black, Brown |
| Warranty | 1 year |
2. Minimalistic Desk Pad by DeltaHub
The DeltaHub desk pad is perfect for those who want a minimalistic feeling. It is made of soft and comfortable materials that any gamer's arms will appreciate when they need to rest their forearms. Also, the black color brings a sleek look to any desk, so gamers will appreciate the way it blends in with everything else in the gaming setup.
That is one of the best perks of this desk pad because no one wants the pad moving while in the middle of a gaming session.
Dimensions
Large: 31.5" L x 17.7" W
Medium: 35.4" L x 11.8" W
Small: 24.8" L x 11" W
Materials
Anti-slip, anti-fray edges
Colors
Black
3. Topographic Desk Pad by Deskr
The Topographic desk pad by Deskr has beautiful designs all over the computer desk pad, and they will take anyone's breath away. This desk pad is made out of polyester, and eco-friendly rubber with a design of the Grand Canyon printed on it.
This designer aesthetic looks cool and makes your work or gaming experience much more comfortable. It comprises organic design lines that uplift the best gaming setup while the smooth polyester provides the traction for your mouse to glide. Overall, the organic lines match the Colorado River veins, and it will bring the Grand Canyon to the gaming desk. Also, it is made of smooth polyester, so any mouse will be able to glide across the pad. 
Lastly, the company designed this mat to make it thicker than other desk mats for gamers. The company realized that people needed extra support during gaming and work sessions. With the added plush, this is one of the best gaming desk pads. The eco-friendly anti-slip rubber base prevents the pad from sliding around and is also machine washable. The gaming pad is 0.15 inches thicker than most computer desk pads and offers additional plush comfort for extended working sessions. Also, it comes with an anti-slip base so that it won't be moving anywhere.
Dimensions
35.43'' L x 15.75'' W x 0.15'' H
Colors
Black, White
Materials
Polyester top
Eco-friendly rubber bottom
Warranty
No
4. Autonomous Sustainable Cork Desk Pad
Don't like the look or feel of the vegan leather? That's alright! Try the large desk pad made with sustainable cork instead. We have used sustainably sourced cork to make this particular desk pad that does not harm the environment at all. Natural cork fabrication is a collection of wood shavings recycled from oak trees. The Cork shavings are there pressed into a flat thin layer, dried, and then fused to a polyester fabric to form a flexible but robust sheet.
| | |
| --- | --- |
| Dimensions | 31.5"L x 15.7"W x 0.1"H |
| Materials | Natural cork - 100% recycled materials |
| Warranty | 6 months |
5. Burotic Leather Desk Pad
This leather office desk pad was designed to cater to the needs of PC users who wanted something similar to the mouse pad but a lot bigger for more gaming accessories. This was when the burotic large desk mat was born! The best part is that it is handmade with high-quality leather for exceptional durability and comfort when using just about any type of PC accessory on it: trackpad, mouse, keyboard, phone, and so on. The Desk pad is large enough to cover most of your desk surface area while adding a touch of comfort and elegance. It is made with premium full-grain leather that gives it a natural, unique, and smooth look and helps it last longer. 
| | |
| --- | --- |
| Dimensions | 35.4"L x 11.8"W |
| Materials | Authentic leather |
| Colors | Black |
| Warranty | 1 year |
6. Rain Design mRest Wrist Rest & Mouse Pad
This wrist rest is filled with a lycra material, a gel-like substance that offers superior comfort and is big enough to use as a desk pad. It has a Skid-resistant elastomer base that firmly holds the desk pad. The mouse pad doubles as a soft cushion that provides extra comfort for your palm and is the best Ergonomic support for reducing stress on your wrists. With an optical precision mouse pad surface, you can easily control fine cursor movements.
| | |
| --- | --- |
| Dimensions | 18.5"L x 2.5"W x 0.75"H |
| Materials | Gel-filled wrist rest with lycra, Soft cushion mouse pad |
| Colors | White, Silver |
| Warranty | 1 years |
7. SteelSeries Qck Gaming Surface XXL
Some of the best computer desk pads have been made by SteelSeries. The professional quality has made this company one of the most desirable ones to purchase mats from. Also, all desk mats come in multiple sizes while still being affordable. Additionally, it will give any gamer that minimalistic feel when they place it on their desk. 
It comes with the same high-quality micro-woven cloth as the other mousepads, but this one will also cover your entire desk. However, some may argue that it is less durable than other desk pads, but beginner and experienced gamers still use it.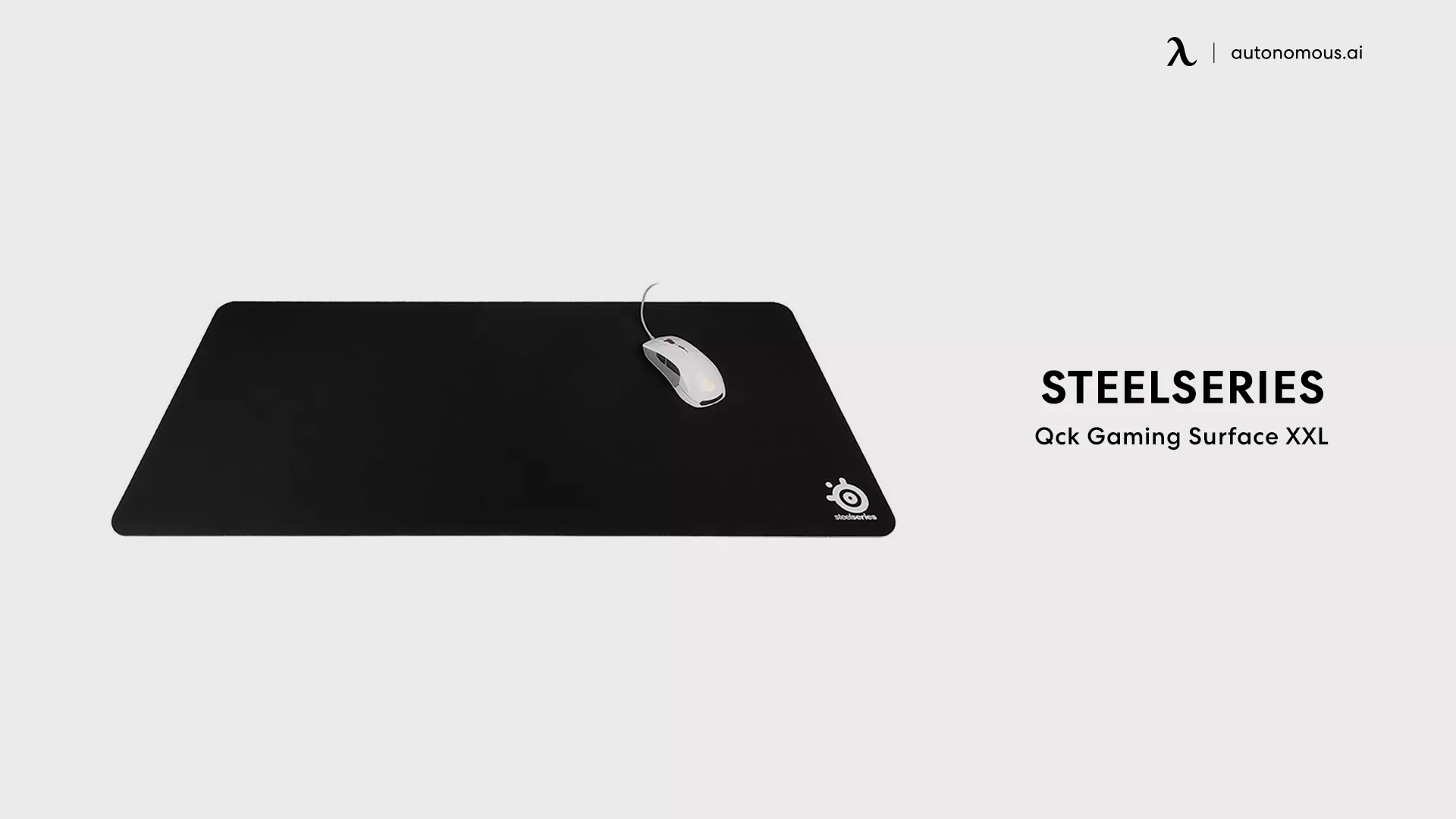 8. The RGB Extended Gaming Desk Pad by Rnairni
If you want an RGB gaming mat but don't want to pay the hefty price tag, this one by Rnairni is perfect. Gamers can add color to their desk mat by putting a geometric print or a map of the world. However, it does come in black if that suits the aesthetic better. 
Except, gamers will need to be prepared to understand that this mat is slightly smaller compared to other mats. However, it will still do everything that you need it to do. 
9. The Anti-Fray MM350 Extended X-Large Desk Pad by Corsair
Gamers will enjoy one of the best gaming pads available by Corsair. It is not just a great gaming surface, but it also comes with stitching that is anti-fray. This will ensure that the edges of the mat do not fray away, and the pad will be able to last for a lifetime. Additionally, the larger option for this pad will cover a good portion of any desk. 
Additionally, it comes with an exciting design that makes it look worn out without damaging the mat itself. It is a good option for those who want something similar to the Qck Surface.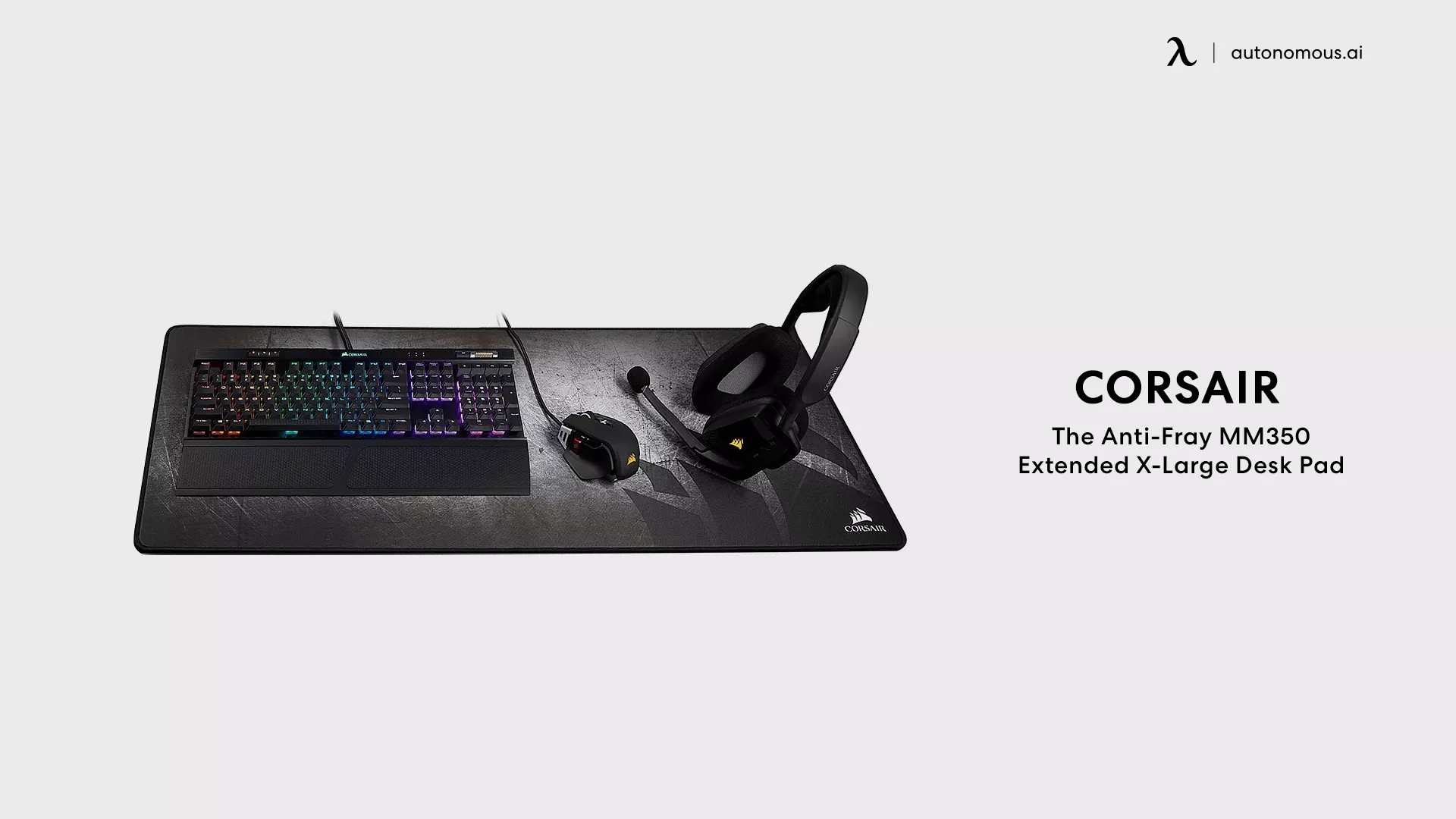 10. The Spirits XL Predator Mousepad by Acer
Sometimes people want a gaming desk mat that does not look like the other ones on the market. People look at the Acer mat because it comes in a different shape that makes it look different from the other mats. The edges of the mat are tapered, but it does not hinder any gaming performance; still, it does add some visual appeal. 
This mat is available in multiple colors and sizes, so people will be able to get one that suits them and their gaming needs. It is sure to add a bit of excitement to an ergonomic gaming desk with a different look. 
11. The Large Gaming Mouse Pad by Ktrio
Another good option for a gaming pad is the Ktrio. This is the right choice for people who want a high-quality product without caring about the company behind it. It is very affordable compared to some of the other options on this list, and it does come in good sizes. Additionally, the edges are stitched like the Corsair while also being water-resistant. 
All of this combined makes this large desk pad perfect for those who want a mat that won't break the bank but one that is sturdy and right for any gaming experience.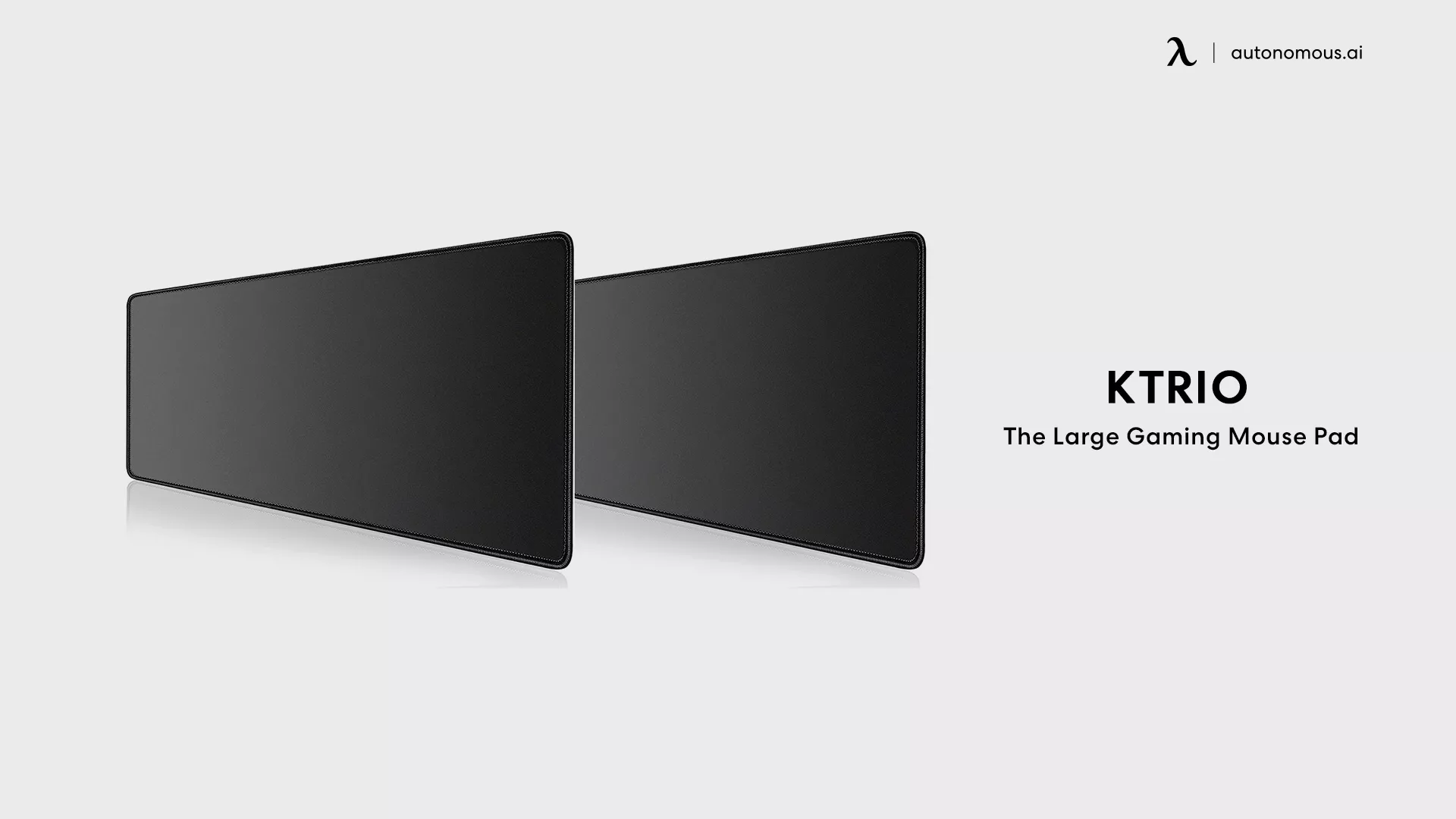 12. Castle Courtyard Leather Desk Pad
This desk mat made by Castle comes in two options: no logo or logo. This is great for those who may want the leather desk mat without its logo. It will give any minimalist the perfect mat to fulfill their minimalist needs. Also, everything about the mat is black. The color, stitching, and logo are all black, making it the perfect piece to fit any aesthetic. 
Lastly, it is easy to clean because of the material. Gamers will be supporting a small business in the USA that also has fun branding. However, it only comes in black, which means that if people want a different color, they will need to buy a different mat. 
13. Cooler Master MP510 XL
This mat by Cooler is the best large desk mat for those who want something different. Even though it has been made for gaming, it has a textured surface that replicates gaming-optimized microscopic mesh. This can't be found in big-name brands, which makes this mat very different from the others on the market. 
Lastly, it is splash-resistant, so people do not need to worry about it soaking up any water. However, if the ribbed surface is not right for you, you might need to stay away from this option.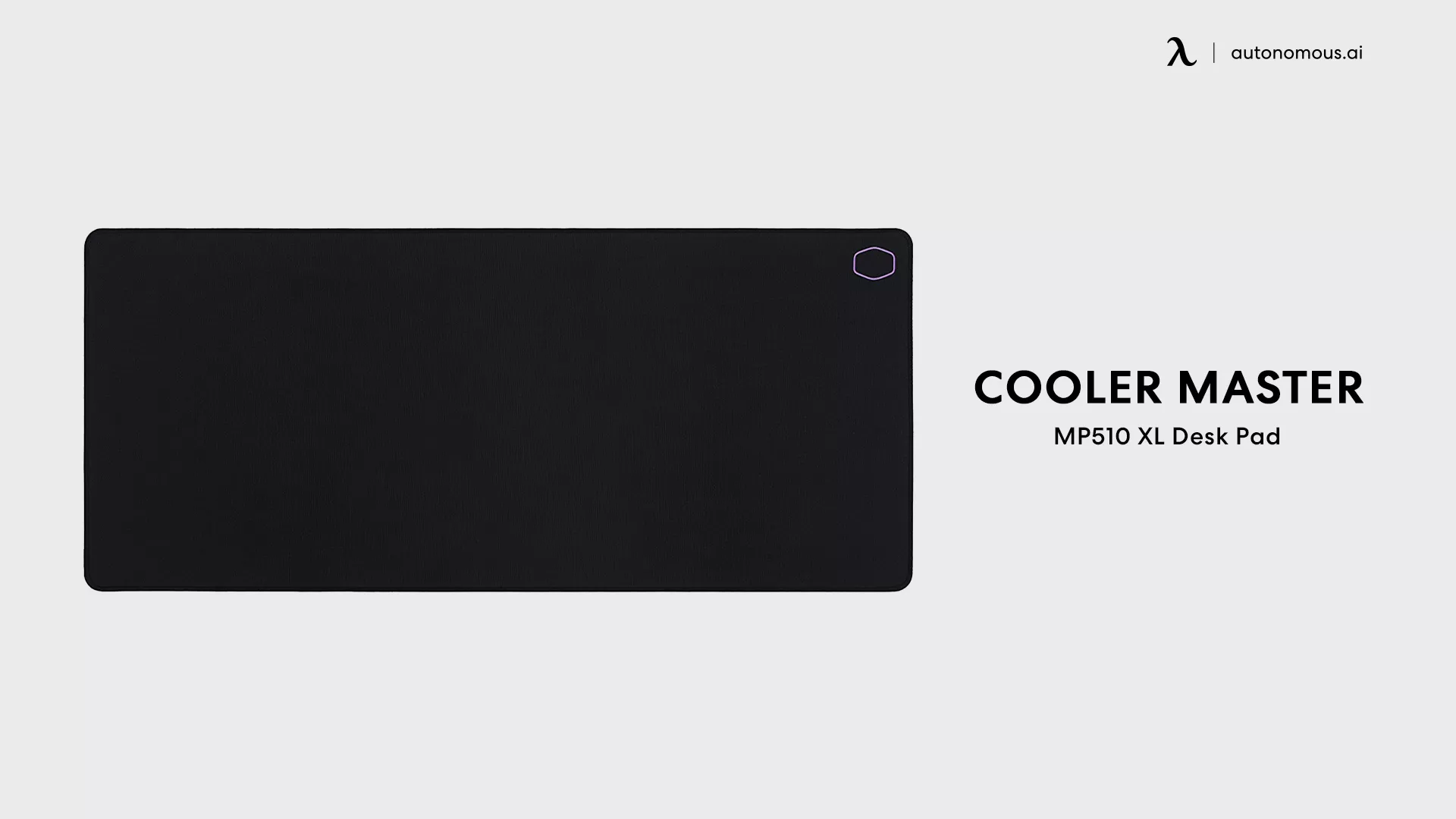 14. Eco Cork PU Leather Desk Pad
YSAGi has made the Eco Cork pad, so gamers can use an affordable pad without compromising the material. The backing is made of cork that is thin and durable. This may not be the thickest desk mat around, but it does come in many colors, which is different compared to the other mats on this list. 
Also, it is available in three different sizes, so there is bound to be one that fits any gaming setup. It is scuff-resistant, so gamers will not need to worry about ruining the look of this mat while moving their gear. 
15. Gallaway Leather Desk Pad
This is another PU leather desk mat. Gallaway has made it, and it comes in four different colors, which means you can find the right one for your gaming space. The idea behind this mat was to make a desk mat that is comfortable enough to sit on, and this one is perfect for that task. 
This combination makes it a comfortable experience to work with, so you never need to worry about your wrists or forearms again.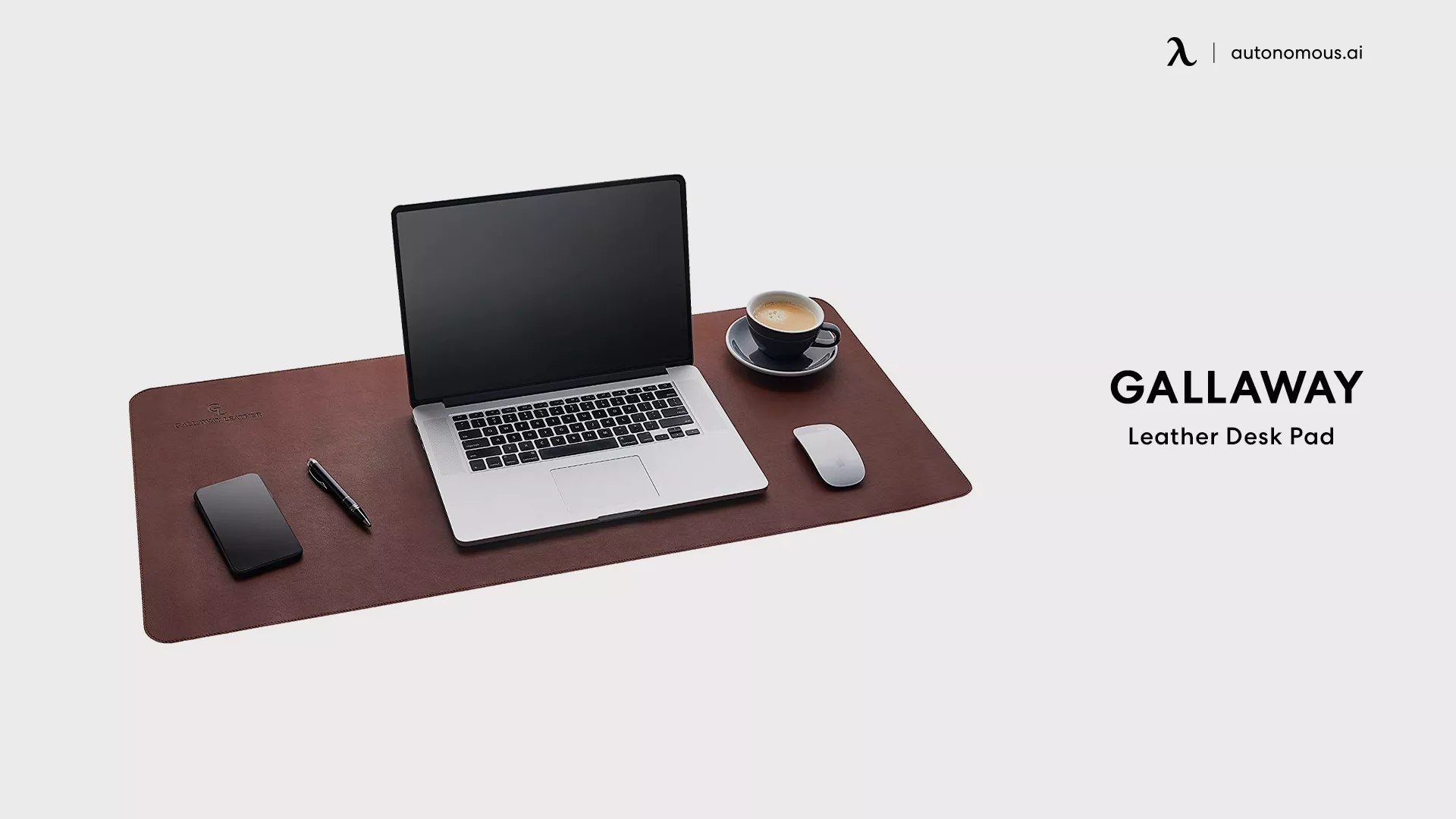 16. MM700 RGB Extended Mouse Pad
The MM700 is one of the gaming pads with a few extras. Gamers will love the premium materials used and the large size that the pad will cover. However, the real selling point is the RGB lights. Most gaming furniture and accessories come with RGB lights, so keeping that lighting consistent throughout the gaming setup is good. 
Also, the company has placed two USB ports onto the mat, which makes it easier for people to plug in their electronics. However, there have been reports that the mat may not sit perfectly flat, but this can be easily fixed by flattening the mat for a short amount of time upon arrival. 
17. Razer Goliathus Extended Chroma
Razer is one of the largest video game equipment designers, and the computer desk pad does not disappoint. Also, many people will like that it does come with the classic RGB lights that Razer is known for. However, it does not come with any USB ports, so it is not ideal for those with a little extra charging capability. 
To battle that, Razer has added some neat cable routing, so all the cables will be tidied when you're using this gaming mat. Lastly, this mat is perfect for those who want to have enough speed with their mouse.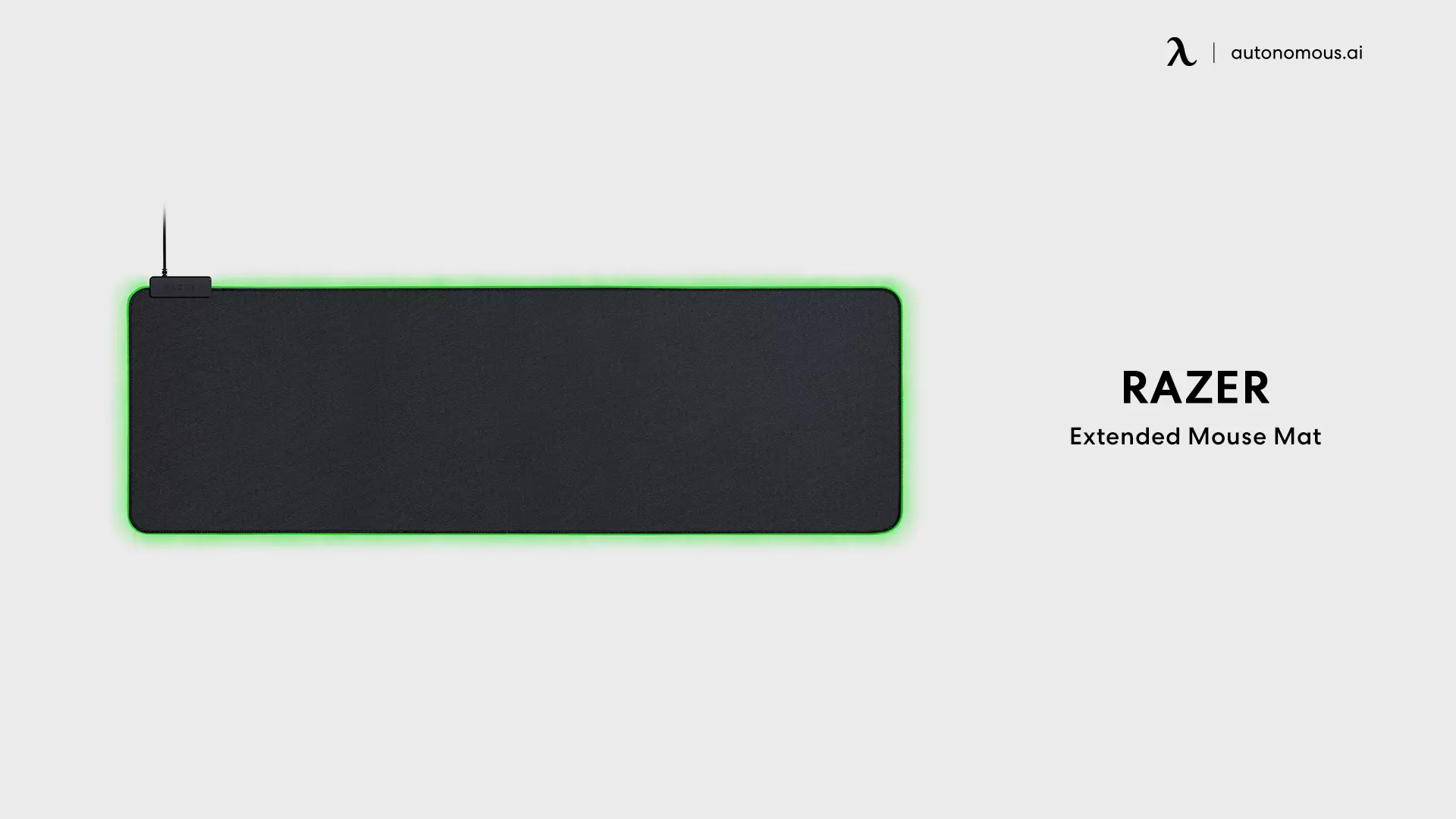 18. Nitro Concepts DM12 Desk Mat
This desk mat for gamers by Nitro comes in a gigantic size. It is 1200mm X 600mm in size, which means that most desks will be able to be completely covered by this desk mat. Also, the artistry can be seen at the edges of the mat because they have been stitched to stop it from fraying. There is also an anti-slip rubber on the other side of the mat, which will keep it in place. 
However, gamers will need to double-check the size of their desk before purchasing this mat because of its size. Luckily, it does come at a reasonable price, so people will not be breaking the bank when they buy this massive desk mat.
19. YSAGi Large Water-Proof Desk Pad
You won't have to worry about unpleasant odors, water-proofing, oil-proofing, or scratches on your glass or wooden desktop. You can use the surface as a large mouse pad when you're writing, typing, or using a mouse. Sophisticated Production Techniques and High-Quality PU leather: Our desk pads are made from durable PU leather, which is soft and thick enough to protect your desktop. 
The production process is mature, and we send you high-quality table mats based on our 6 years of professional desk mouse pad production experience. You can clean it with a cloth, removing water, dust, grease, and dirt. A wet cloth would be better if there is too much dirt on it. Note that large areas stained with ink are difficult to wipe clean. Each mouse mat is attached with an elastic band, so you can take it wherever you go.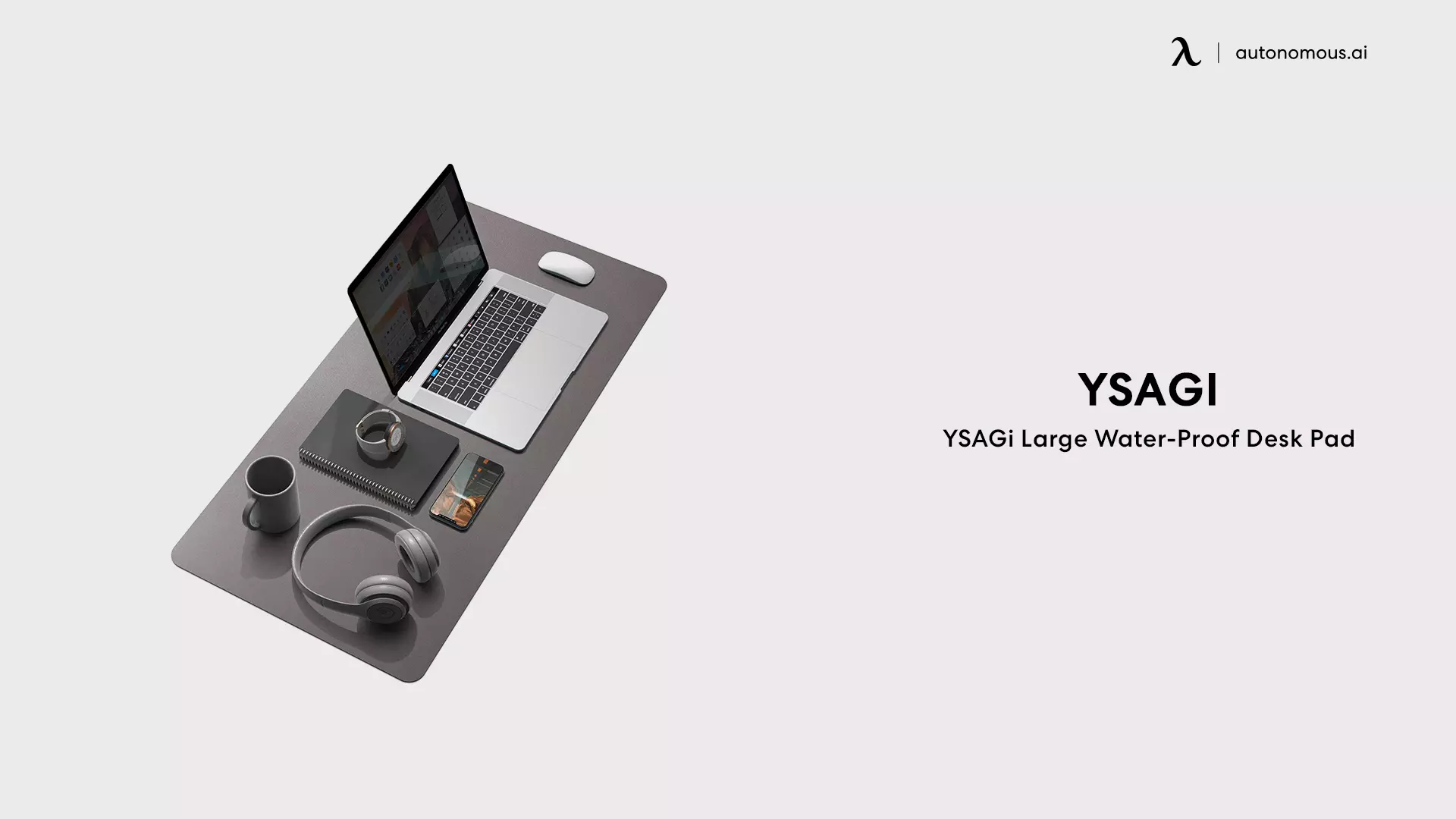 20. Large Full Desk XXL Extended Gaming Mouse Pad From Auhoahsil
The XXL mouse pad has a fine Lycra cloth, ensuring smoother mouse movement. The desk pad design has been optimized for fast movement by maintaining exceptional speed and control during your game. There are separate versions available for wireless, mechanical, and optical mice.  
The desk pad measures 35.4 x 15.7 inches, with a 3mm thickness for bigger desktops with additional accessories or devices, leaving enough space to move your mouse around. It is designed with an anti-fade illustration that adds a lot of personality to your desktop or that can match your room style. 
The non-skid rubber base is soft and dense for additional firmness that prevents your mouse and gaming keyboard from sliding around as you use them. It works well on all types of desks made of different materials. You can even roll up the desk pad for easier transport.  
21. Crenovo Dual Side PU Leather Desk Pad
The desk pad is softer and thinner, with a small strap attached to it. You can use this strap to roll the pad up and tighten it or put it in storage. The desk pad is made of PU leather, ensuring smoother mouse movement while maintaining excellent control and accuracy. It can also withstand high temperatures of up to 135 degrees. Giving your premium glass wooden desktop more protection from scratches, stains, spills, dents, and scuffs, it provides a layer of protection between them.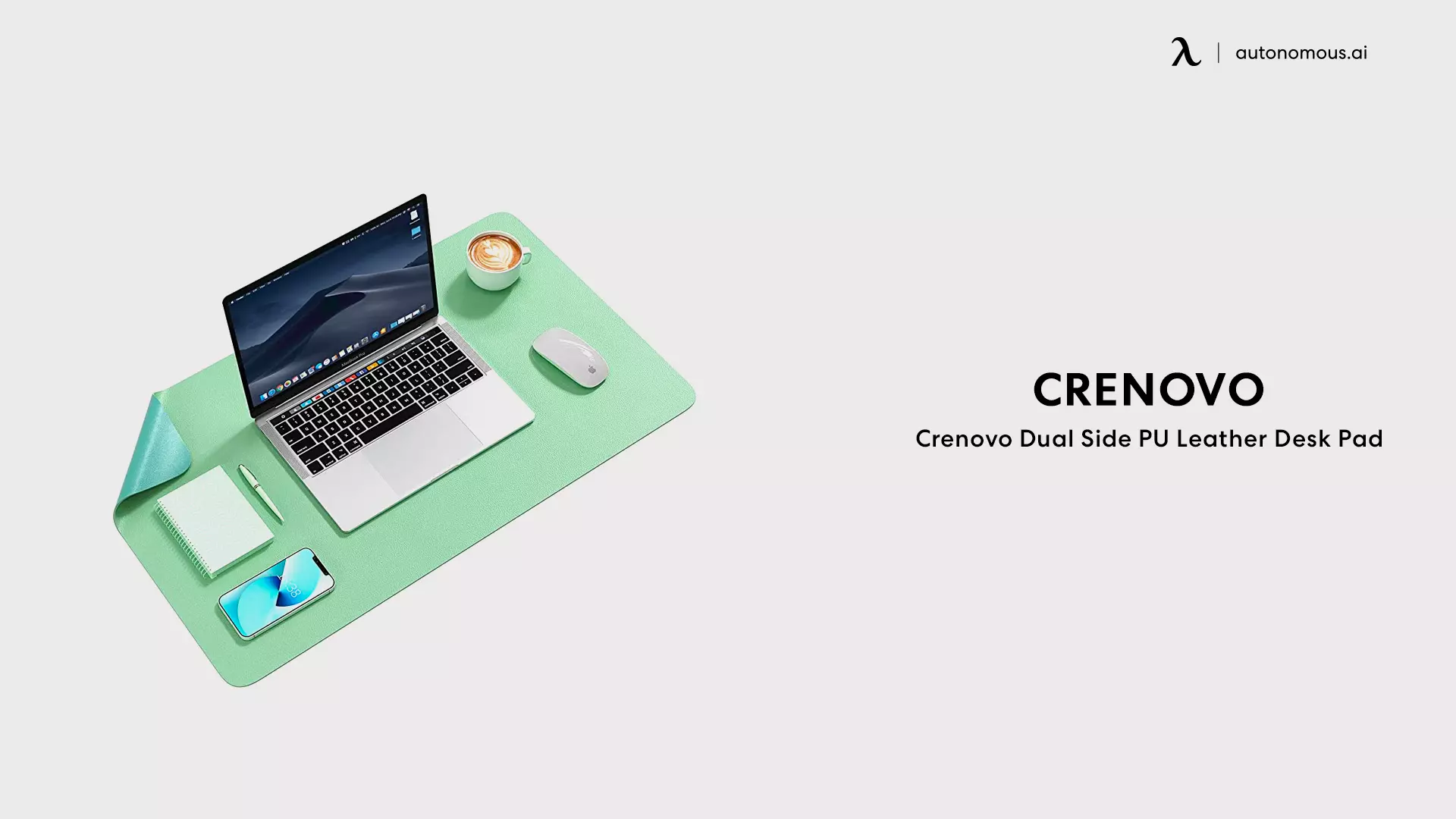 22. RENMTURE Dual-Sided Natural Cork & PU Desk Pad
This water-proof scratch surface protects your desk from scratches and dampness. It also protects your desk accessories from scratches when they come in contact with your desk. It is made out of natural cork and vegan PU leather that is comfortable, odor-free, and offers greater relief from your wrist, forearm, and elbow. The larger size can accommodate your multiple devices while leaving you enough space to move around.
23. Londo Top Grain Leather Extended Mouse Pad
The Londo mouse pad is made using top-quality, genuine leather fabric completed with fine stitching all around it for better durability. This combines comfort and convenience without sacrificing a stylish look or pleasant feel. The Londo mouse pad has a non-slip backing to ensure stability. Also, you can use a cloth to clean the Londo Mouse pad. You can use your mouse efficiently and uninterrupted with the Londo Mouse pad's silky smooth surface.
24. QIYI Large Mouse Pad With Psychedelic Print
The desk decor is available in a wide range of awesome patterns and vibrant colors to suit your gaming setup ideas. It is the perfect gift for friends, family, colleagues, or girlfriends. A large mouse mat made of dense PU leather keeps the mouse and keyboard stable on the desktop. A rose gold mouse pad made of durable PU leather prevents scratches, stains, spills, heat, and other damage to your desk. 
Cleaning is easy; wipe with a damp cloth or tissue. It can easily accommodate your mouse, keyboard, laptop, and desktop items. The extended arm movement provides ample space for writing, drawing, or gaming at home or the office. Organize and clean your desktop with desk organizers and accessories!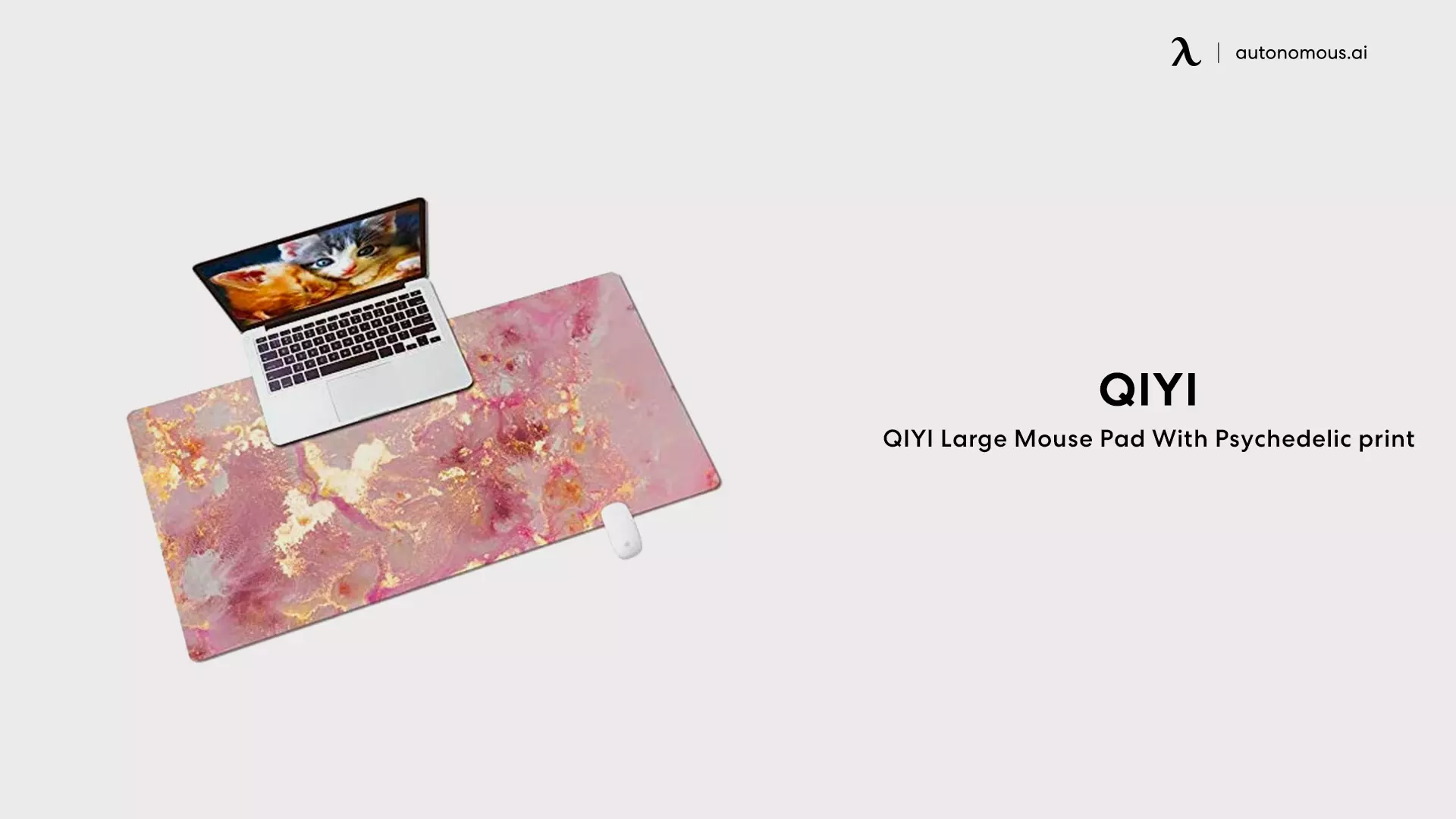 25. Giant Desk Mat Extended In XL Or XXL From Glowworm
This computer desk pad has an exquisite PU leather Printed Surface with fine edge stitching that gives the matte more firmness and durability. This 63-inch desk pad will perfectly protect most desktops from stains and scratches. It is also large enough to hold your laptop, gaming mouse, notepad, make, mechanical keyboard, and PC monitor. 
The PU surface has been tested 250,000 times to ensure 100% durability against friction tests making this desktop solution ideal for gamers, students, and white-collar workers. The soft, elastic natural robot bottom can be quickly tiled on the tabletop so that it is fixed while in use. 
26. CHERRY MP 2000 Premium Mousepad
The Cherry Premium XXL desk pad is just the accessory you need for your desk and accessories. It has a waterproof surface that you can easily clean up with a cloth. It is better suited for most mouse sensors and reduces the jumping of mouse pointers that result in incorrect entries. The mouse pad even ensures precise, silent handling of input devices and is even compatible with mice with a low sampling rate. The edges have threads sewn around them to reduce fraying, while specialized rubber undersides prevent the desk pad from moving around.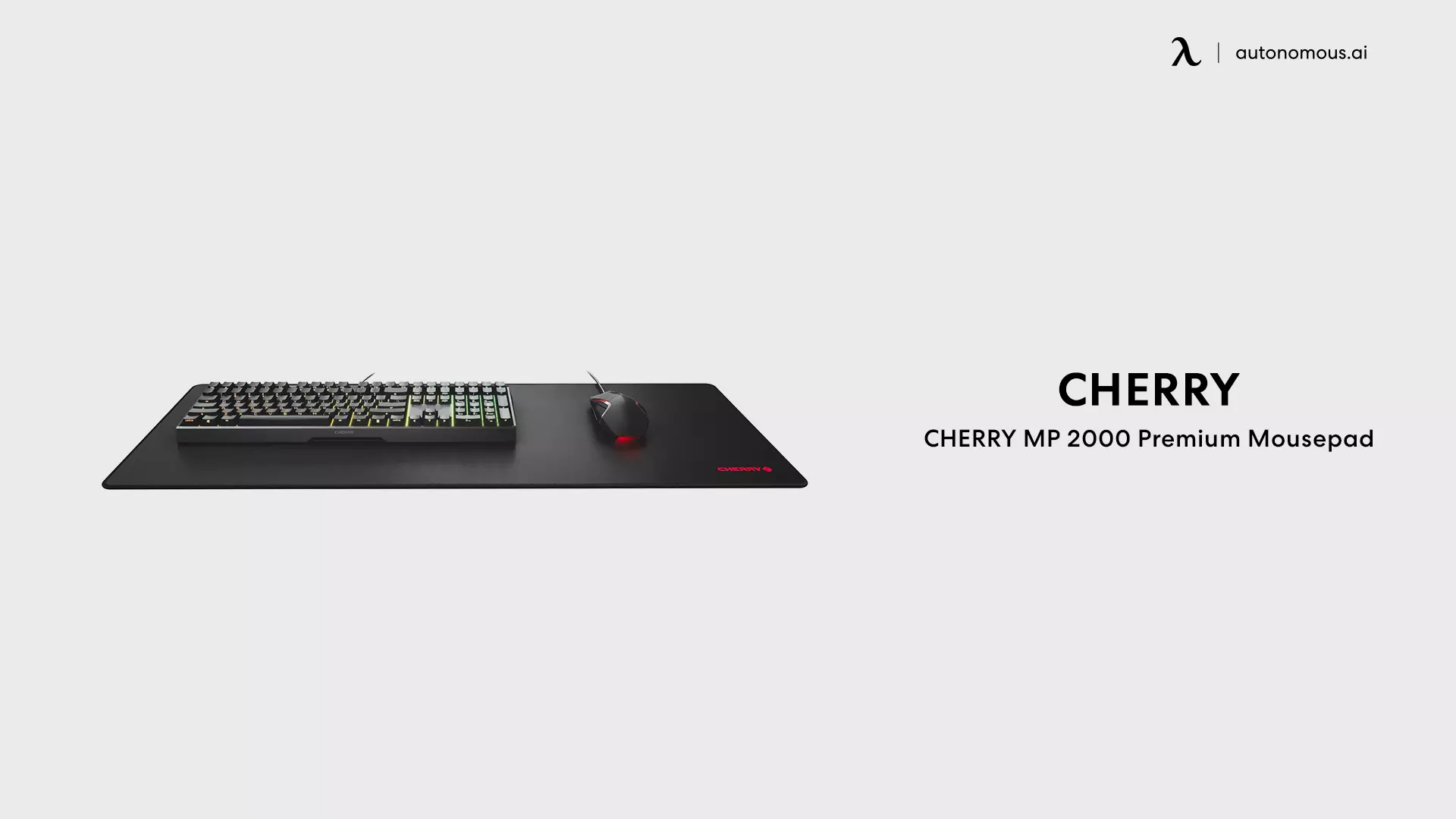 27. Large Natural Cork & Leather Desk Pad From Homiezicozi
The PU leather and plant-based cork materials give you an excellent duality. The computer desk pad is soft and elastic and works as a question pressure on your wrist for optimal comfort. You can get this despite in 11 colors, with the muted color used on the surface to prevent irritation by light reflection. Since it is made out of PU leather on top, it is very easy to clean.
28. Aothia Leather Desk Pad Protector
The desk pad is made out of a PU leather material that protects your desktop from scratches, spills, stains, scuffs, and heat marks. It also gives it a very modern and professional atmosphere as well. It has a smooth surface where you can easily enjoy browsing, writing, or typing, perfect for the office or your home. 
A special suite design on the underside increases friction resistance and makes the desk mat more firm when placed down on the table. The 23.6" x 13.7" Inch Size is Big enough for most desktops and can accommodate multiple devices: mouse, laptops, and keyboards. You can even use it as a writing pad, mouse pad, desk pad, desk blotter, and more.
Conclusion
Every gamer must have the right gaming desk mat for their gaming experience. The best gaming mats have been picked for this list, and they are all made to last. Also, gamers who want to purchase anything from Autonomous can use the Gamer Purchase Program to complete their purchase. Whichever mat you choose, make sure that it is right for you and your gaming needs.
Keep up with Autonomous news
Stay informed, stay inspired with our new blogs.
WRITTEN BYAutonomous
We build office products to help you work smarter.