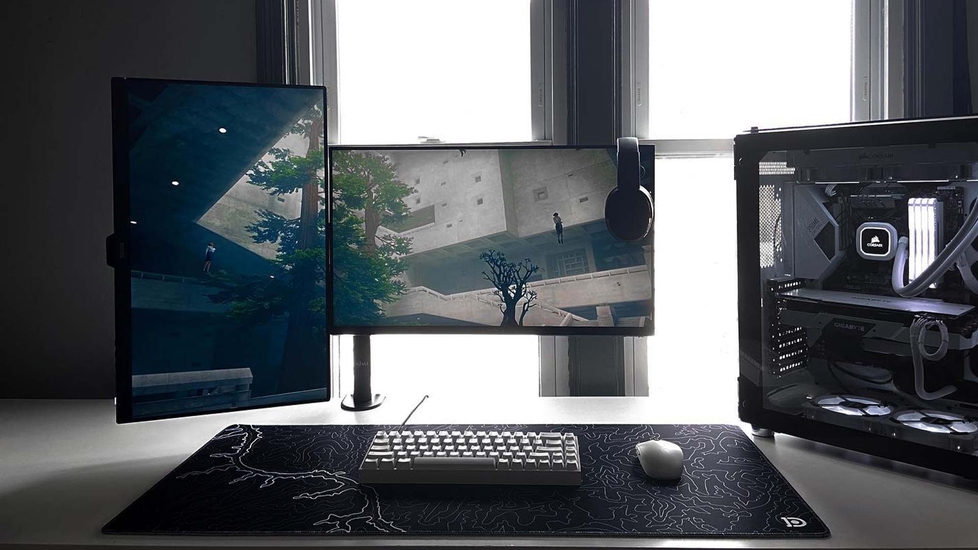 Deskr Topographic Deskpad
7 reviews
Visit our store
Topographic Deskpad by Deskr:

Not available

Not available
Buy now
Add to cart
FREE shipping Dec 13 - Dec 15. FREE 30-day returns.
Sold and shipped by Deskr
Deskr Topographic Deskpad at a glance.
Made from polyester and eco-friendly rubber, this Grand Canyon inspired desk pad provides a more comfortable work and gaming experience with an aesthetic designer touch.
• Thicker than 0.1"
• Monochromatic topographic design
• Protects your desk surface
• Improved mouse performance
• Anti-slip rubber base
Deep dive into specs
Features
FAQs
Specs
reviews
4.7
Over time, desks suffer a lot of wear and tear over their lifespan. Whether this is from pen imprints, stains from drinks, dents, or the surface just losing its luster. Since desks can be an often expensive investment, naturally, you would want yours to be in mint condition. Deskr Topograph Deskpad can help avoid all of this, because they are made to protect desk surfaces.
Why You Need A Desk Pad
Deskr Topograph Deskpad is a good idea for many reasons. First off you get an amazing surface for writing which also protects your office desk from being damaged by any kind of pen imprint. If your office work requires a lot of, let's say, paperwork for example, then this is something you probably need. You can find desk pads made of many materials such as vegan leather desk pads or regular leather, paper, cardboard and more, which is all up to your own personal preference. Another way that topographic desk mats help with writing is that they reduce paper slippage. They provide a surface that prevents your paper from slipping off the desk and helps you maintain the flow of writing. If you have spent long hours filling out paperwork then you very well know the inconveniences that writing can bring. A desk pad helps you avoid these and brings other benefits as well. A topographic desk pad also helps a lot when it comes to organization because it acts as an anchor point. What this means is that your desk pad can be used for a lot more than just writing. You can organize your notes, writing tools, binders, and other important items on your desk pad and this will help you avoid cluttering and a desk space that is far too unorganized for you to work properly. Cluttering is one reason why productivity in a workspace goes down. A messy, unorganized workspace will not allow your employees to work to their best ability – and topographic desk mat can really help avoid a cluttered workstation. The last and most crucial benefit of desk pads is that they prevent your desk from wear and tear. Over time the surface of your desk does get damaged by constant work. Pen imprints, drink stains, general damage that a desk sustains over its usage; desks are prone to these issues. However using a gaming desk mat prevents this and keeps your desk looking as furnished and beautiful as the day you got it.
Deskr Topograph Deskpad
A good desk pad is an essential accessory for your set-up. It makes things a lot easier and organized, whether you are using your set-up for professional work, or gaming. In case you were confused about which one to get, we have the perfect option for you – Deskr Topograph Deskpad, and here we'll explain to you why it's so good. First off, when it comes to design this is a hard desk pad to beat. The design features a beautiful depiction of the Grand Canyon which does justice to the beautiful landmark itself. You can also find this design in various colours so whatever your preferences are you have a wide variety to pick from. Some of the colours available are pink, purple mint blue grey black white and red. The material of Deskr Topograph Deskpad is made out of polyester, which is a remarkably good surface for the desk pad. This is because polyester is a very resilient and durable material and it can withstand a lot of wear and tear. This makes it an ideal material for something like a desk pad which will already go through a lot of punishment during its usage. Polyester is also a relatively cheap material, so these desk pads will not break your wallet should you consider purchasing one. When it comes to maintenance this is relatively easier on consumers than others. You can wash it in a machine and it's easily washable with dish soap or just water and a sponge as well. Again, you have the polyester material to thank. Polyester is highly resistant to stains, which makes it very easy to clean and maintain. It also has a rubber bottom which is economically friendly – and gives the Deskr Topograph Deskpad great stability overall.
About Deskr
Deskr is a business that primarily sells premium desk and office accessories. They have a wide variety of desk pads including the Deskr Topograph Deskpad that we've gone over so far. They also have things like keycaps and other accessories that you can get to really bring out the best in your setup. If you have been looking to spice up your desk setup, whether that means a keyboard, topographic mouse pad, gaming desk pad or any other kind of desk accessory then this brand is the one for you. Their vast selection of uniquely designed products is sure to satisfy any kind of customer.