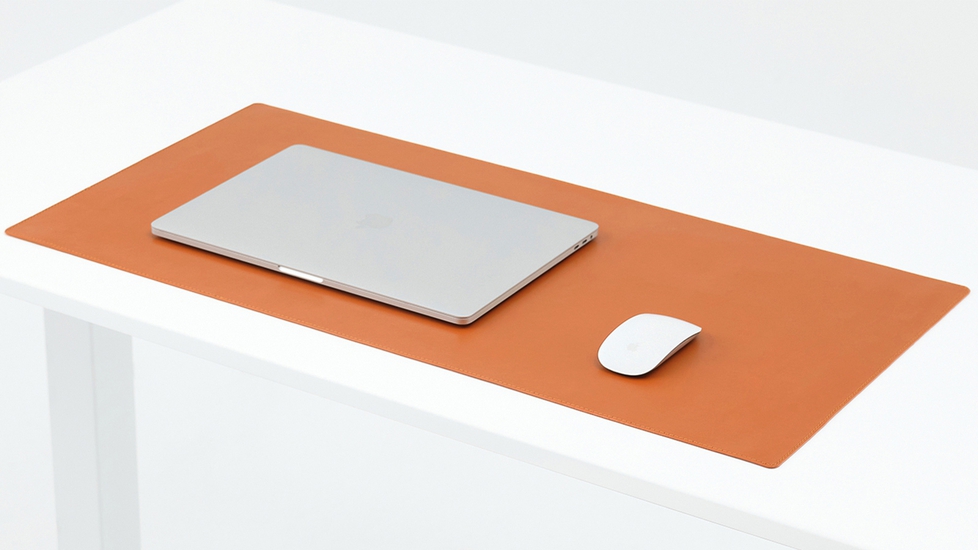 Autonomous Microfiber Vegan Leather Desk Pad
Bought by 60 Twitter employees
FREE shipping Mar 30 - Apr 03. FREE 30-day returns.
Sold and shipped by Autonomous.
Autonomous Microfiber Vegan Leather Desk Pad at a glance.
Protect your desk and enjoy better mouse performance with a super smooth and soft vegan leather desk pad.
• Made from vegan leather
• Super soft and smooth feel
• Protects desk surface
• Improves mouse performance
• 1-year warranty
Deep dive into specs
Autonomous Vegan Leather Desk Mat Complements Your Workflow
We're all searching for fantastic and easy ways to make our workstations more comfortable, attractive, and functional these days. People may utilize a variety of cutting-edge new technology to make their spaces more useful and ergonomic. Even still, the most basic and time-tested instruments are frequently among the most impactful and helpful objects that we take for granted on a daily basis. Whether it's a simple wrist rest to prevent carpal tunnel syndrome, especially in more typing-intensive occupations. Perhaps you use a wireless mouse, a common piece of equipment that makes our job more accurate and manageable without the added clutter of unnecessary connections. You could even take your desk lamp for granted, because we believe a well-lit room to be a must for a productive work environment.
Many of these tools have grown and altered throughout time. Mouse grips have grown more ergonomic and available in a variety of forms to suit various demands. While most keyboards are membrane-based, the mechanical keyboard category has undergone a comeback in popularity, especially among typists and gamers. For many, wireless touchpads have become an indispensable tool, frequently replacing the classic point-and-click mouse as the preferred way of input. A quality and full-coverage vegan leather desk mat is one item that few people consider, but which may have a significant influence on your workflow and whose design has lasted the test of time. Though a mouse pad is more often used, a leather desk pad may be useful for a variety of reasons and give more comprehensive covering for your whole workplace, providing you more flexibility and expanding your options. But why is a vegan leather desk pad more beneficial than a basic mouse pad, and why would either be necessary at all, you might wonder? Continue reading to learn more.
What is a Vegan Leather Desk Mat Used for?
A leather office desk pad, at the risk of seeming obvious, is an environmentally friendly leather desk pad protector that may be used to cover the most frequently-used surface area of your preferred desk for working or gaming. This means it usually covers the region under your keyboard and mouse, while allowing you to use the space more freely surrounding both. The advantages appear in a variety of forms. For starters, it allows your mouse to glide easily and pleasantly across the surface without bumps or tracking issues, which can stifle productivity, particularly if your desk has a rough or uneven surface. A vegan leather desk pad is especially beneficial for glass workstations since not all mice utilize tracking lasers that are compatible with a glass surface.
A vegan leather desk mat also serves as a "grounding" surface for your keyboard. Its anti-slip surface keeps your keyboard from slipping. Most keyboards have some type of grip to avoid this, but they can wear out with time, and a leather desk pad protector is a wonderful method to prevent this from happening in the first place. In addition to assisting the usage of your peripherals, a vegan leather desk mat also protects the surface of your desk from scratches and typical instances of wear and tear that may come about through continuous use, dragging a mouse over the surface, and writing items with the sharp point of a pen. A vegan leather desk pad, on the other hand, is a fantastic, comfortable backdrop for anyone who writes or signs documents on a regular basis.
How is a Vegan Leather Desk Mat Made?
Polyurethane, a polymer that can be manufactured to order for any designer's whim, is commonly used to make a vegan leather desk mat. It can also be made from innovative and sustainable materials like pineapple leaves, cork, apple peels, other fruit waste, and recycled plastic to create products that rival those made from animal skins. Through a cutting-edge manufacturing process, this synthetic material is then miraculously shaped into the precise dimensions necessary to cover a surface area that happens to match the most commonly-used areas on a workspace desk. This technological marvel and spark of innovative genius is what makes it possible for us to take advantage of this common yet radically transformative vegan leather desk mat.
Top Benefits of a Microfiber Vegan Leather Desk Pad
Animal-friendly
Animals great and small, all around the world, truly have a reason to celebrate as the vegan leather desk mat quite literally saves their hides. From fashionable jackets and, for the daring, leather chaps, vegan leather proves to be an excellent and animal-friendly substitute for just about any application in which decidedly animal-unfriendly leather was once the norm. For anyone who treasures their pets and believes protecting animals is essential to the future of our planet, a vegan leather desk pad truly validates your worldview. Not only can you work ergonomically and comfortably with a vegan leather desk pad; you can also proclaim your love of animals while enjoying all the benefits of a smooth, premium leather feel.
Durable and Long-Lasting with Premium Feel
A vegan leather desk mat is durable and withstands heavy use over extended periods of time. Much like real leather, it's known for its tough ability to overcome wear and tear, just as nature intended. It's soft to the touch, which means not only will it last a long time, but it'll feel like a treat for your palms and wrists as well. It's also a great backing surface for writing or signing lots of documents, and it won't wear down quickly for people with writing-intensive jobs. That means you can depend on this vegan leather desk mat to aid you in your productive work for years to come, no problem.
Aesthetics
Although it's made with synthetic materials, the vegan leather desk pad has the same sophisticated warmth and class of a real leather desk pad protector. It's like an accessory from the "Mad Men" era, when luxury and premium finish were a mark of status and importance. Now, thanks to technological advances, this same aesthetic is available for all. Don't compromise the elegance of your workplace with a standard synthetic desk pad that cheapens the look. Go for the vegan leather desk pad that says you take your work seriously, and you're here to stay. The vegan leather desk pad is a go-to for any working professional that wants to be taken seriously.
Autonomous Microfiber Vegan Leather Desk Pad for Your Office
Autonomous offers a premium vegan leather desk pad for your workspace that is sure to take your aesthetic and your working comfort to the next level. It's crafted with the latest technology to ensure a durable and attractive fit and finish, and it complements any minimalist workspace aesthetic. Check out how it would look in your space and invest in a vegan leather desk pad that will significantly improve your daily working experience.
FAQs
Don't see the answer to your question?
Does the desk pad ship flat or rolled?
The desk pad is rolled and packaged in paper tubing for shipping purposes. To prepare your desk pad for use, simply roll the pad in the opposite direction and lay flat on your desk face down to relax back into its flat form.
The Autonomous logo should face up. However, the desk pad is dual sided, so you can use whichever side you prefer. Easily switch between the two sides to suit what you're doing at any given time.
Is the surface of the desk pad suitable for use with a mouse?
Yes! The surface of the desk pad is very smooth. The 2-in-1 product can be used as a mouse pad and effectively supports optimal mouse performance.
If I place a beverage directly onto my desk pad without a coaster, will it stain?
Yes, always use a coaster. Avoid letting any liquids come into contact with your desk pad as there is a chance it will stain.
Is the surface suitable for writing?
Yes, the Leather Desk Pad makes for a suitable backing surface to write on. However, if you're a particularly strong writer who applies a fair amount of pressure when you write, you may leave indentation marks on your desk pad.
Is the Leather Desk Pad easy to clean?
Yes. Simply wipe your desk pad clean with a damp cloth. An alcohol-based cleansing liquid is recommended. DO NOT use oil-based cleaning products as they may stain and cause surface cracks or peeling. To prevent damage, keep your desk pad away from bare flames.
How long does shipping take?
Once your order has been processed (this usually takes less than 1 business day), shipping of your Product will take an additional 3 - 5 business days for deliveries within the Continental U.S. and 12 - 15 days for international orders.
Yes we do! We ship to over 60 countries and our global reach continues to grow. When shopping with Autonomous please select your country for localized checkout with appropriate prices, duties, and taxes applied.
Do you offer express or next-day shipping?
At this present time, we do not offer express or upgraded shipping.
Can you give me more information about your 30-Day Trial policy?
If you don't like the desk pad, we'll take it back. It's that simple and easy. You have 30 days after the date of delivery to trial your desk pad. If you change your mind, you may request to return the desk pad for a full refund, no questions asked. We'll even cover shipping! This policy applies only to desk pads delivered within the continental U.S. and returned in their complete and original packaging. Please be reminded that the returned Product needs to be in its complete original packaging. If not, we reserve the right to refuse your request. International orders do not qualify for the 30-Day Trial policy.
What is the warranty on the Microfiber Vegan Leather Desk Pad?
All of our Microfiber Vegan Leather Desk Pads are made with care and covered for one year against manufacturing defects. This warranty does not apply to damages caused by accidents, misuse, or modification of the Product.
• Normal wear and tear from regular Product use is not covered.
• Due to the natural characteristics inherent to leather, you may expect slight variations between Products such as organic blemishes, grain and color.
• Products that have been altered or modified are not covered, including those changes made due to improper or unauthorized repair.
Do you offer local pickup?
Local pickup is available only in Southern California (our warehouse is located in Riverside, CA). Please contact us in advance via email at
[email protected]
to schedule a local pickup.