We think that the perfect home office could be set up in any part of the house. You could even place the office in a shed, garage, or garden room. This way, you could have an office free of distractions. To build the right workspace, you need to focus on certain aspects that make up the desk setup aesthetic. In our opinion, the perfect place for a home office should have these key elements:
Ventilation

Lighting

Privacy and

Space for a

desk setup, chair, and storage
How to decorate your workspace?
Today, the biggest trend in desk setup aesthetics is to have a minimal workspace. The minimalist interior décor outlook is easy to recreate as it is clean and doesn't cost much. Other reasons why it is big include that you have less décor with a minimal interface. Eventually, you add just a few things you know you need and keep your mind calm. Let's focus on certain desk décor tips.
First, identify the kind of aesthetic desk décor or theme you want.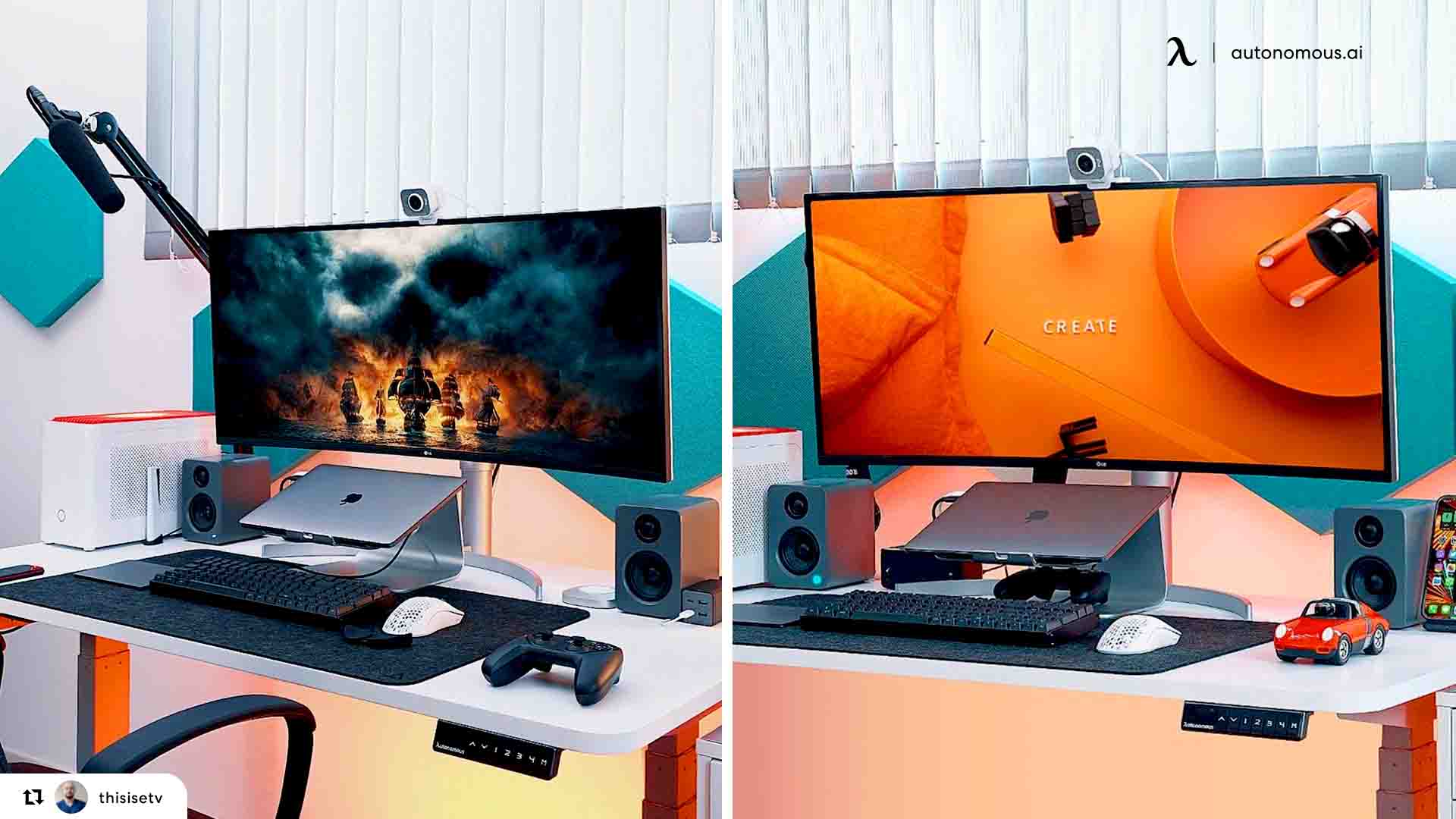 Then make a list of all the best desk accessories and other things that you need to make it happen.
Now, move to the color pallets in that theme and see if they work for you.

If not, try to narrow down the best color pallet that fits your mood and your room.

Consider all the finishes that will look natural, soft, and pretty

Consider all of the other décor elements on and around the desk: fixtures, brass trimmings,

aesthetic table, etc.

Consider all the desk styles that fit the minimalist theme of your choice: wall-desk, l-shaped, hairpin, modular, traditional, etc.

No minimalist theme is complete without some plant in it: consider smaller, neater plants that are easy to take care of.

Make use of daylight. Now that you have the perfect desk, where do you plan on putting it?

If there are no windows, consider some focused desk light options or floor lamps.

Walls are generally kept as empty as possible in a minimalist theme. Try adding some art pieces, family photos, motivating quotes, or anything else that inspires you.

If possible, try redoing the floor with a cleaner material like full hardwood or marble. If you have a budget to stick to, then try adding a floor rug.
Taking a closer look at your environment
Home offices need to be effectively designed so that you can maximize available space. Your aesthetic desk decor plan should include seamless storage, use angled or adjacent walls and low ceilings. In some cases, you may require custom cabinets, standing desks to make use of that space.
So, does your current home office layout with desk setup aesthetic have the best space usage configuration? Or, can it easily double as a guest room when required? There is a solution: to empty as much as you can and introduce a minimalist look. In the minimalist design, you arrange only a few highly functional pieces.
This kind of office layout works for smaller spaces and takes no time to set up while providing you with all the functionality you need. Here are some things to think about when redesigning your new minimalist workspace:
The kind of work you do, or plan on doing while at home

Space, budget, and resources that you have ready
Once you have these thoughts ready, you can determine the setup you need for your WFH work. First, you have your basics which are your laptop, PC, internet connections, and workstation. Next comes the room where you can put these items and work in a focused way with minimal distractions
Aesthetic desk setup ideas
We understand that the minimalist theme is big as it's affordable, faster productivity, and it's the best way to eliminate clutter. Yet, if you looked online at some of the desk setup aesthetic layouts, you would notice that many of them have expensive items, fancy desks, designer chairs, costly paintings, etc. – and it is all just to create the same look.
We thought about how one could build an appealing minimalist workspace and came up with these ideas. Our ideas are easy to incorporate in any home; you can use any modern office furniture or even the pieces you have around the house.
Add a

comfortable office chair that is ergonomic with a compact build. There is no point in building a beautiful space if it's only going to make you uncomfortable. The right chair shouldn't be the conventional ones, but a design that offers full-body support and flexibility.

Wall and interior color palette can transform your office space. However, getting the walls repainted could set you back. Instead, you could try using wallpaper to reinvent your office room. Otherwise, you could skip it out altogether and add some wall art that motivates you.

Lighting your space adequately could also energize the room and boost your productivity. Start by moving your

home electric desk to a room with a window so you can use the natural light. Also, add overhead lights and a focused desk light too.

Your room can be refreshed with natural light. We've explained how to do this in the previous point, but you can add plants too. It's the choice of plants that matter: succulents, cactus, smaller herbs, and anything easy to maintain.

You can add character to the room and your

desk setup aesthetic by adding a statement furniture piece, a room divider, sculpture, or even an aquarium or terrarium.

The furniture layout is the main element here, and it shouldn't be too congested. Arrange them so that there is space and flow around them. This flow lets you work on your tasks with ease and velocity.
Ensure that you add an office standing desk, as these are thin, aesthetic table, light, and fit into the minimalist theme. They also have the advantage of offering you more flexibility in terms of height adjustment.
Get exclusive rewards
for your first Autonomous blog subscription.

WRITTEN BYAutonomous
We build office products to help you work smarter.
Coming at You Live from Autonomous' Social Media!
Please fill the information below.
Thank you!