Often overlooked, gaming desks form the backbone of any great gaming setup. When choosing a PC gaming desk, there are many things to keep in mind: from having enough space for your gaming PC and monitor to being sturdy.
Sitting Gaming Desk vs. Electric Gaming Desk
You were using a standing PC gaming desk while gaming is a good idea. Despite this, you will be able to play comfortably for hours if you have the option of sitting as well as standing.
You'll have better posture, fewer back pain issues, and fewer health concerns by using a good PC gaming desk. Don't spend most of your time standing while playing games since that's just as dangerous as sitting for a long period.
The fact that you won't become a better gamer doesn't mean you won't become a better gamer if you use an ergonomic PC gaming desk. Your setup will be more efficient if you use an ergonomic desk. These PC computer gaming desk choices are different from more commonplace models in a few other ways too.  
Adjustable height
For long gaming sessions, desks and gaming furniture offer height adjustment features to make them more comfortable. Gaming stations are where most gamers will spend a lot of their time. You will greatly enhance your comfort if your table is height-adjustable.
Thanks to the adjustable desk height, your monitors and gaming accessories will be at the most convenient height for you. Sitting in a position out of proportion to your height will prevent neck strain and shoulder pain.
Convenience
Usually, gaming desks have a smooth microfiber desk mat that can also function as a mouse pad. The curved front edge can help you reach everything comfortably, and there is no limitation whatsoever when it comes to moving the mouse around on the full-size pad.
Space
Further, a DIY gaming desk will still provide enough room to spread your arms out comfortably while accommodating your entire gaming setup. Organizing your gaming space on a large surface area will also ensure that it is both comfortable and spacious.
A gamer needs less under desk storage than an office worker does for his/her desk surface, and both demand a lot of workspaces for setting up their equipment and other items. Generally, a gaming desk features a large surface area to place multiple screens, keyboards, mice, and gaming accessories.
List of PC Gaming Desks for Ergonomics
1. Autonomous X Artesian Desk
Through an exciting partnership with leading custom gaming systems provider Artesian Builds, Autonomous has developed a futuristic artwork gaming standing desk design that will turn heads. It can be adjusted from 29.4" up to 48" to fit the needs of any gamer. Lifts 265 lbs despite whisper-quiet sound at only 50 dB and remains rock-solid during every second of gameplay.
Easily switch between sitting and standing with up to four custom height presets. With just a click, you can turn your Gamestation on. A solid steel frame provides a solid foundation powered by a dual-motor system that's energy-efficient: Awarded UL, BIFMA, and EMC certifications for strength and safety worldwide.
2. Secretlab Magnus
With excellent cable management options, huge desk space, and the ability to accommodate heavy PC builds, this rack stands out from the crowd. This desk may be expensive, but it's easy to tell how premium it looks, feels, and functions.
With its metal construction, the Magnus white desk for gaming feels sturdy. In addition, its cable management system makes it extremely practical for gaming. A full-length cover is also included with the Secretlab Magnus- a luxurious oversized mouse pad covering the entire desk.
3. Eureka Ergonomic Z1-S Gaming Desk
With its sturdy steel frame and F1 balancing lever near the top of each leg, the Eureka Z1-S is the standout option. The desk also includes four adjustable feet for additional leveling assistance. Eureka's Z1-S gaming desk is ideal for use with a single monitor (though two smaller monitors would fit just fine) and is perfect for smaller rooms.
Additionally, this desk offers several bonus features, including RGB lighting on the sides. By simply plugging in a USB cable, you can power your gaming PC or laptop. Eight different lighting modes and six colors are available on the Eureka Z1-S. It also features a cup holder, grommets for gaming cable management, and a hook for headphones.
4. Arozzi Arena Gaming Desk
Those looking to load their PC gaming desk with multiple monitors or an ultrawide display will find the Arozzi Arena gaming desk a great option. There is a lot of desk space to accommodate your display, mouse, keyboard, and other gaming desk accessories, as well as a surface that is 63 inches long (over 5 feet). A plain black version, as well as blue and green color options, are included. There is no need to worry about the mouse pad sliding around since it weighs 7 pounds.
5. Vitesse Gaming Desk
It's not just the price that's good, and it's everything you get with the Vitesse gaming desk. Despite taking up less space than the Arozzi Arena, its 55-inch surface is large enough to accommodate a gaming monitor and a PC or console on one side.
A mouse pad that covers the whole surface is included as well. A cup holder, headset hook, and controller rack will return, with the latter of these featuring four USB ports so you can keep charging your devices.
Despite its compact size, the Vitesse PC gaming desk's T-shaped frame is sturdy enough to support up to 260 pounds. The desk is split into two boards, with a line running through the middle. The mouse pad comes with a full surface so that it is easily covered.
6. Walker Edison Gamer Command Center
For people with a need for a corner L-shaped desk gaming setup, Walker Edison sells the best desk for PC gaming option. Despite its small size (51 inches wide), it's an excellent desk if you've got a smaller space that you would like a gaming desk in, and you'd like to be able to write on one side and interact with your monitor on the other.
A glass version of this L-shaped gaming desk is also available if you prefer. The desk itself is available in a variety of colors, such as black and silver. In addition, it has a universal desk stand and a keyboard tray, which should make handling your accessories easier and playing games. It is also quite affordable.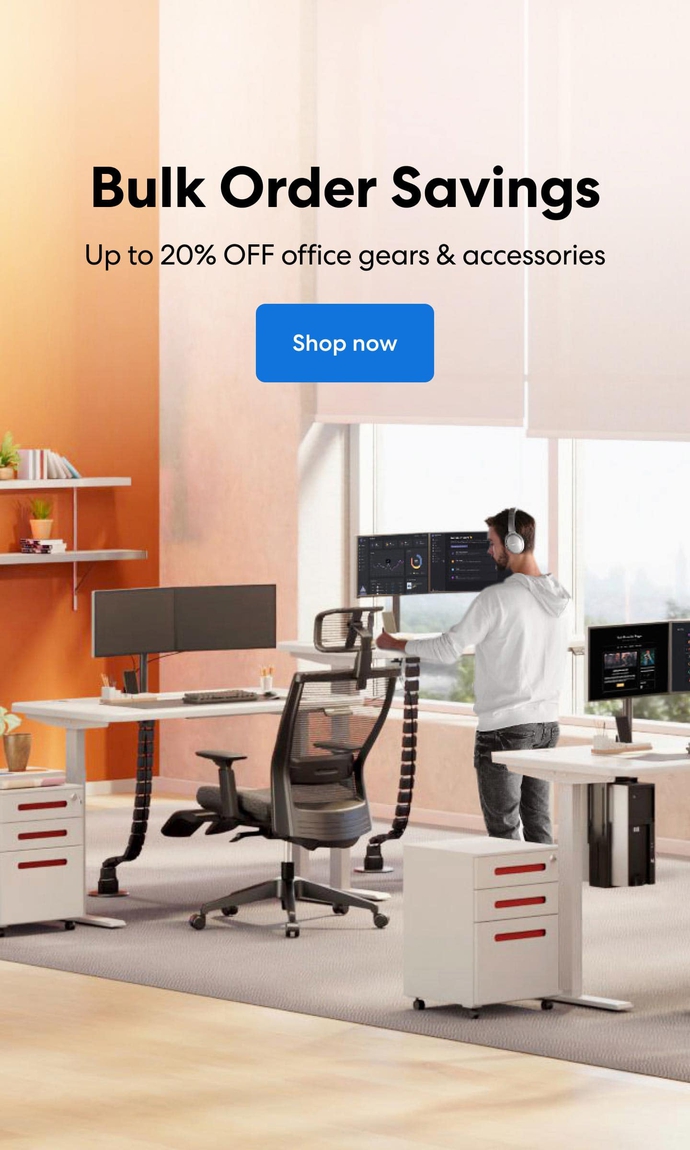 Subcribe newsletter and get $100 OFF.
Receive product updates, special offers, ergo tips, and inspiration form our team.