Office charging stations can become very useful and practical in any office setting. After all, there are many benefits of wireless charging. It would help if you chose a charging station that can accommodate at least 3 gadgets. Several charging stations could even charge up to ten gadgets at once. Other versions have Qi-enabled inductive charging that charges devices quicker than the wired equivalents.
However, some wired charging stations include Quick Charging 3.0 tech, which allows you to charge your phone to 50% and even 80% capacity for as little as thirty minutes. Many home office charging stations that are small enough to fit in a computer bag, backpack, or carry-on suitcase are ideal. Here is a list of all the greatest charging stations for every need to assist you in finding the correct one.
List of The Best Office Charging Stations for 2022
You'll need the best battery charging station if you need to power over one gadget and would like to ensure your rechargeable battery is always completely charged. You must invest in a reliable charger that can recharge all of your gadgets and serve as a charging dock or a center. We examined a few of the best affordable chargers which could charge every one of your devices. Our top ten charging stations are listed below.
1. RapidX Modula5: Customizable Wireless Charging System
Customizable Wireless Charging System: This best charging station organizer can recharge every Qi-enabled gadget and string up to 5 capsules simultaneously! You can use the Modula5 wireless charging system to charge your smartphone and other devices. Every pod fits easily and uses only one connection to charge all of your gadgets. On the run and need a portable charger? No issue; each pod has its specialized input, so you can detach one, grab a wire, and you're ready to go!
2. RapidX Boosta Magnetic Wireless Charger for iPhone 12 & 13
This 5000 mAh Magnetized Power Bank provides your gadget a jolt when it's needed. It magnetically attaches to the rear of your new iPhone 12 or 13 series to route 7.5Watts of power. Using the Qi-enabled gadgets, the power bank can also be used as an induction charger, or it can be connected to a type-C cable to recharge most phones and peripherals. It is ideal for on-the-go energy boosts because it is lightweight yet thin. It is available in a range of vivid colors and compatible with MagSafe cases.
3. Otto Q Wireless Charging Pad
This is a wireless office phone charging station inspired by Scandinavian home furnishings and functions as a support for your smartphone while it charges. The Taskpad wireless charging desk pad powers up to 15 Watts and even through casings of different thicknesses due to its exclusive Q-coil technology. Unknown object classification, a non-slip gripping, an indicator, and many more features are also included in this charging station. This one can charge suitable smartphones and other comparable gadgets in as little as 10 minutes. It also supports iOS and Android's fast-charging standards. The Q-coil component is unique in that it has better passive cooling for maximum current performance and can charge through casings as deep as 5 mm.
4. Spruce Charger by Fledging
This power source can recharge up to five devices with a multi-port GaN power adapter and a dual coil Wi-Fi pad. This wireless charger for multiple devices is quick, cool, and environmentally friendly. Except for the only gadget that substitutes 5 chargers and a power panel, you can already polish up your workplace and your backpack. It comes in three colors: black, white, or space gray. It has also been approved for the greatest safety requirements. This office charging station uses Gallium Nitride, four times more efficient than silicone, to compress a great deal of power into a small package.
5. Universal Charging Dock by LumiCharge
Nice things, people say, arrive in little packets. The QI Accredited 10W wireless fast charger delivers a punch and ensures that all mobile devices are charged securely, industry-standard. This smart office device's sleek, space-saving layout with 10W of cordless rapid charging is remarkable. It provides the appropriate wattage for your smartphone or Qi-enabled devices automatically. Only the top value thermoplastic polyurethane ABS material laced with pure silver was used to ensure optimum longevity. The connector is extremely light and provides excellent performance.
6. Charging Station- 7 Device Wall Charger
The RapidX MyCharging Station is a one-stop shop for recharging and organizing all of your gadgets in a small area. You can charge numerous cell phones, tablets, notebooks, and other devices with two electrical outlets, four USB ports, and a 45 Watts USB-C PD connector. Each gadget has its charging hole with a concealed cable management solution that allows you to store or manage your connections without getting tangled. For even greater charging ease, it includes a 10Watt inductive charging pad and a removable Apple Watch holder. This office charging station keeps your gadgets charged and organized.
7. Port 10,000 mAh Power Bank - 10W Wireless Charger and Phone Stand
This is the perfect quadruple device, integrating a smartphone stand, rechargeable battery, and cordless charger into one convenient device. Set your smartphone on the platform to charge it quickly at work or home. The stand allows for hands-free monitoring and fast charging of your smartphones. The portable energy bank continues to charge even when the phone is in standby mode. Are you ready to go outside already and want to use this as an on-the-go power bank? – Disconnect the mains adapter from the stand.
8. Moshi SnapTo™ Magnetic Wireless Charger With Built-in Wall Mount Kit
9. Moshi Lounge Q Wireless Charging Stand
10. Moshi Porto Q 5K Portable Battery with Built-in Wireless Charger
11. Moshi Symbus Q Compact USB-C Dock with Wireless Charging
12. Moshi Sette Q dual wireless charging pad 15W EPP
13. Kew Labs UTS-1 Invisible Wireless Charger: Easy Installation
14. VogDUO 65W Leather GaN Charger
15. VogDUO 3-in-1 Magnetic Wireless Charger: Genuine leather design
16. VogDUO 100W 4-Port Leather GaN Charger
17. Rapidx Prismo - RGB Wireless Charger
18. TaIYanG RGB Wireless Charger
This wireless charger is also a versatile accent light that works well in gameplay, home, or workplace. The sleek, rubbery surface provides adequate grip to retain your smartphone while charging, even safeguarding it from scratches and damage. The device's diffused ring of illumination features nine modes, enabling you to change the hue and design based on your moods. Color rotation, pulsing or shifting functions on this station allow users to view one solid color simultaneously or cycle between the various colors for a more dynamic appearance.
19. UTS-1 Invisible Wireless Charger for 0.39" -0.66" Thick Surfaces
The UTS-1 device's fast charging capabilities and distinctive safety systems are powered by Kew Lab's proprietary communication mechanism between smartphones and the charger. With undetectable inductive charging, you can finally take your minimalist desktop performance to the next level. By using a daisy network adaptor and a connection wire kit, you can connect two chargers easily. 
20. Ultimate Charger Portable Multi-Device Power Bank; 65W PD; Black
This charger can keep all of your gadgets charged. There are three outputs, one of which is a 65Watts USB-C laptop recharging connector. It has enough energy to recharge a notebook while simultaneously charging two additional gadgets fully. You could charge your cellphone seven times or even your laptop completely. It's also quite transportable since it fits neatly into a suitcase, laptop bag, or backpack.
Summary
You can purchase any of the above-listed charging stations on the Autonomous website and get discounts via their Employee Purchase Program.
Video ads for product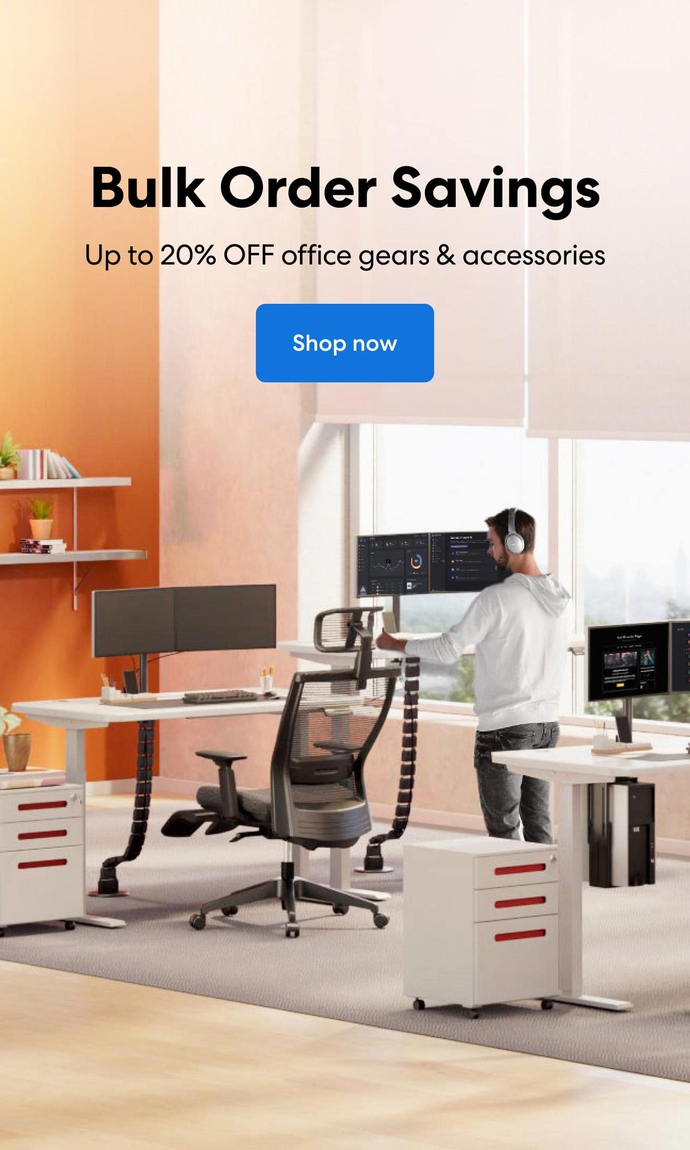 Subcribe newsletter and get $100 OFF.
Receive product updates, special offers, ergo tips, and inspiration form our team.