Workplace Inspiration
14 Modern Office Design Concepts for 2023 That Are Currently Trending
14,358 Views
During the last couple of years, companies have increased their focus on outfitting their workplaces with a good office design, as it's shown to directly affect their business' performance. It's fundamental to have a surrounding that fits and supports the employees, considering the average worker already spends half of their day in the office. This article showcases seven trending modern office design concepts to consider when you want to renovate your office.
In the workplace design movement known as modern office design, today's needs and wants are considered. Spaces with a modern office design that feel more human and homier are preferred instead. Instead of a 9-5 prison environment, they want to work in an environment that feels more inviting. Gone are the days when modern office space was packed tightly under flickering fluorescent lights and eggshell-colored walls.
Instead, the modern office layout is filled with open, bright spaces and splashes of color that encourage creativity and boost morale. We have some modern office ideas to spice up your desk, whether you're curious about the benefits of a modern office look or just want to spice up your mundane workspace. To inspire you next time you want to upgrade your office decor, let's look at the elements in a modern office interior design.
What Is the Benefit of Having a Good Interior Office Design?
Good modern office space concepts nowadays enhance your company, making it an essential element to your business' success. It's challenging to renovate and redesign your office, as it requires you to give it plenty of thought to get the most of it. Having a stimulating workplace that raises your creativity and productivity can better your employee's morale and wellbeing. It indirectly lets you attract better workers even in a contested job marketplace and reduces your company turnover rate.
A thought-out office interior design concept can increase your company's bottom line, giving it a boost in its performance. It also can improve your company's brand and values, as the design your office has tends to reflect the nature of your business. It's not just your employees that visit your company; occasionally, clients, partners, or associates come around the workplace. For that reason, it's essential to have a design that strengthens your company's image and uniqueness, leaving a mark on every person who steps into your workplace.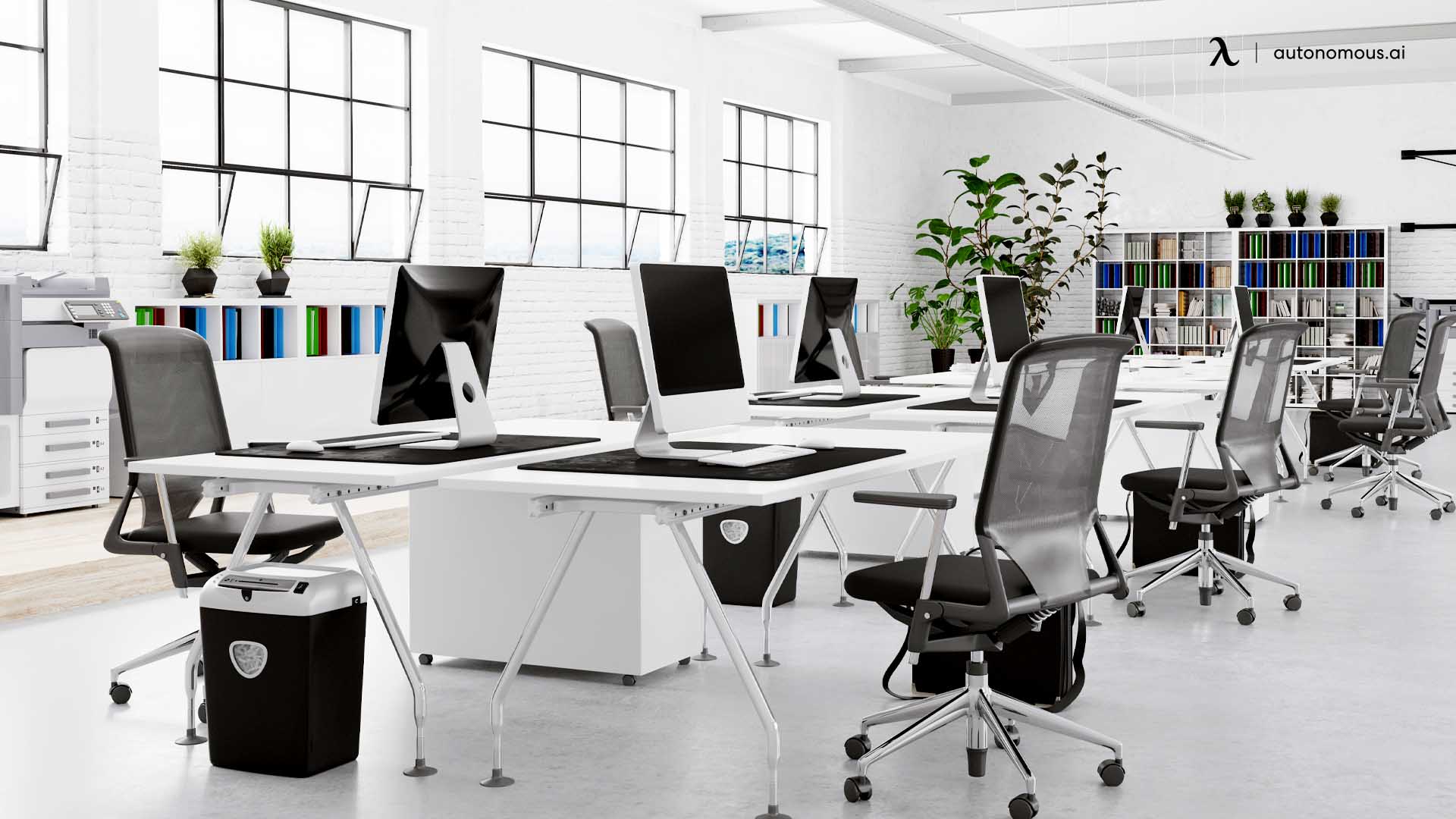 Which Modern Office Design Concept Is Right for You?
As a result of the changes in the workplace in the last 18 months, expectations, predictions, and aspirations have never been so divergent. What was once known as the 9-5 office now has a completely different character, although it's not necessarily bad. What has changed since last time? The last 18 months have seen one of the biggest gulfs between the modern office's expectations, predictions, and aspirations. In the meantime, the office has shifted from a place where people worked 9-5 to something else entirely.
It can be difficult to choose what design to incorporate into your next office renovation, especially when the design can affect the workplace's image and functions. It would be best to contemplate an arrangement that encourages collaboration within the office and considers your employee's health. Providing ergonomic chairs and desks for your workers can do wonders for their productivity and wellbeing.
If you have trouble deciding on the best office design for your workplace, you can look at the following list of trending office design concepts to guide you to your ideal office. Should you still have trouble deciding, you can employ an modern office layout designer to devise a workplace design that best suits your company's image and goals.
1. Ergonomic Workplace
This design keeps your worker's health and limitations in mind, looking to reduce their fatigue and frustration during their workday. Using cheap office chairs, in the long run, reduces the productivity of your workplace and leads to the employee's eventual backaches, neck pain, and headaches due to repetitive stress.
An ergonomic office interior design concept looks to adopt a design that focuses on providing the employees with ergonomic chairs, standing desks, and monitors, improving their productivity by lessening the overall stress and correcting their posture.  Nowadays, many technologies and solutions are being incorporated into the workstations to address these issues.
Ergonomic chairs are now easier to find in offices due to the benefits that they provide. These ergonomic office chairs have several features that look to correct your posture and give you proper support. The most important part is the lumbar support for your lower back, but at minimum, they must have adjustable seat height and armrests.
It would be beneficial to get a height-adjustable desk along with the ergonomic chairs. These desks allow your employees to have more leeway when setting up their workspaces. Getting a standing desk riser can let your employees work while sitting or standing, stimulating their productivity and thinking by keeping them active. These desks go hand in hand with a standing stool, allowing them to lean comfortably on the chair in either position and enhance their focus.
Many ergonomic chairs can go for exorbitant prices, but you can scour the web to find the best affordable ergonomic chairs available. The place where you buy an ergonomic office chair can also greatly influence the price, so you should go to a trusted location or website.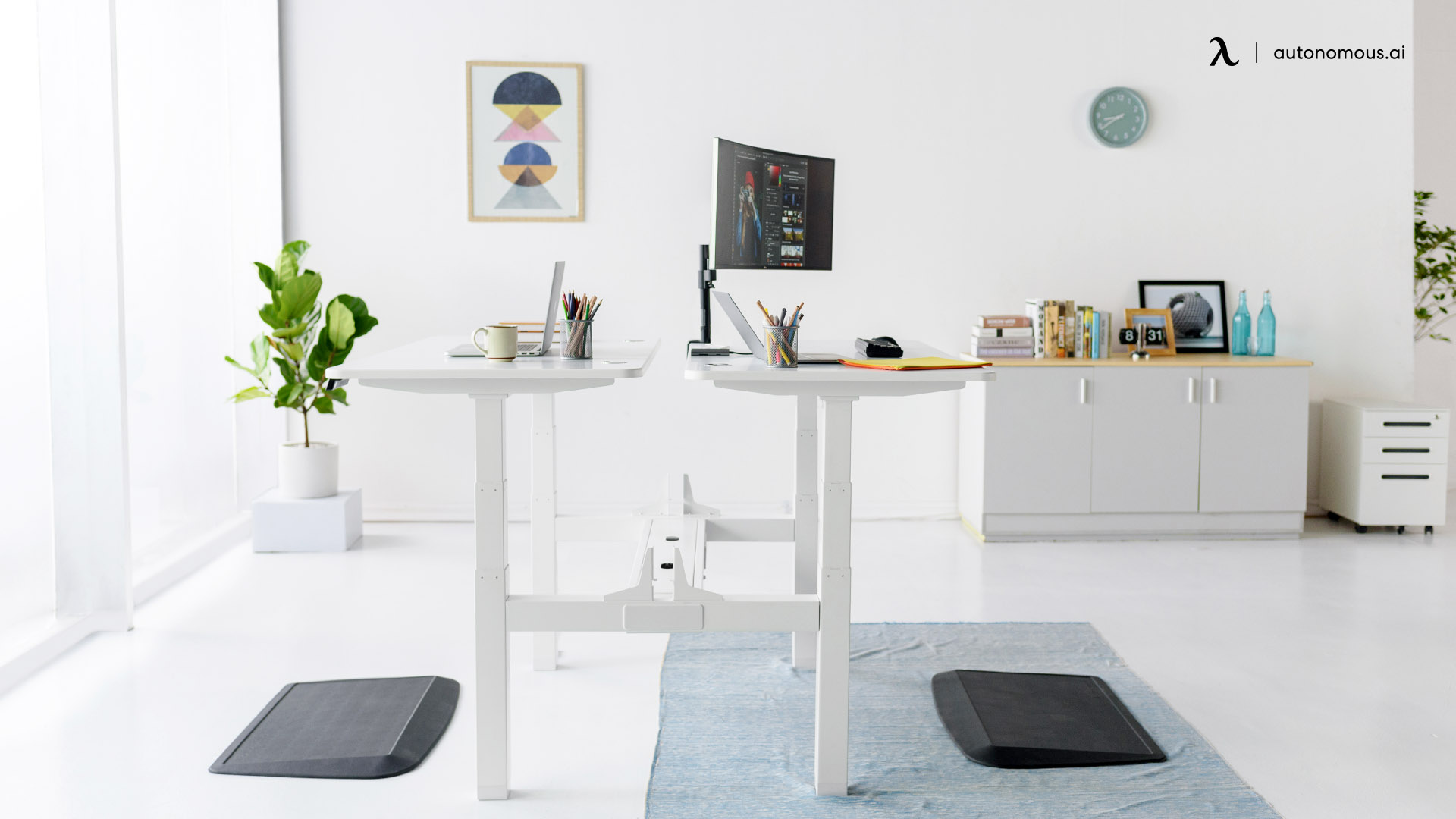 2. Nature-based Office
Also called biophilic design, which stems from the love of nature, this modern office design concept focuses on increasing the link between the natural environment and the workplace's occupants through direct or indirect nature and other conditions. Incorporating nature elements in the office has many benefits, both to the employee's health and the immediate environment.
The nature-based office interior design concept positively affects the worker's mental health, wellbeing, and performance by incorporating the following nature elements:
Light: Having natural light in the workplace is fundamental to the workers because it enables day, night, and season orientation while in the office.
Plants: Vegetation, particularly flower heads, is the most direct way to bring a direct experience of nature to your workplace. It is known that plants reduce stress, improve comfort, and enhance performance and productivity.
Water: The most alluring part of the water is that it's a multi-sensory experience. You can see, hear, and touch it, but most of its benefits come from the sound of flowing water. It promotes satisfaction and improves your health and performance.
Air: Having natural ventilation can increase people's comfort and productivity. The easy way to incorporate an airflow is through windows or other more complex strategies.
Other natural elements can be incorporated, such as fire, in the form of fireplaces and hearths, natural landscapes, and animals. The latter isn't easy to implement, but having an office pet can increase your interest, pleasure, and mental stimulation.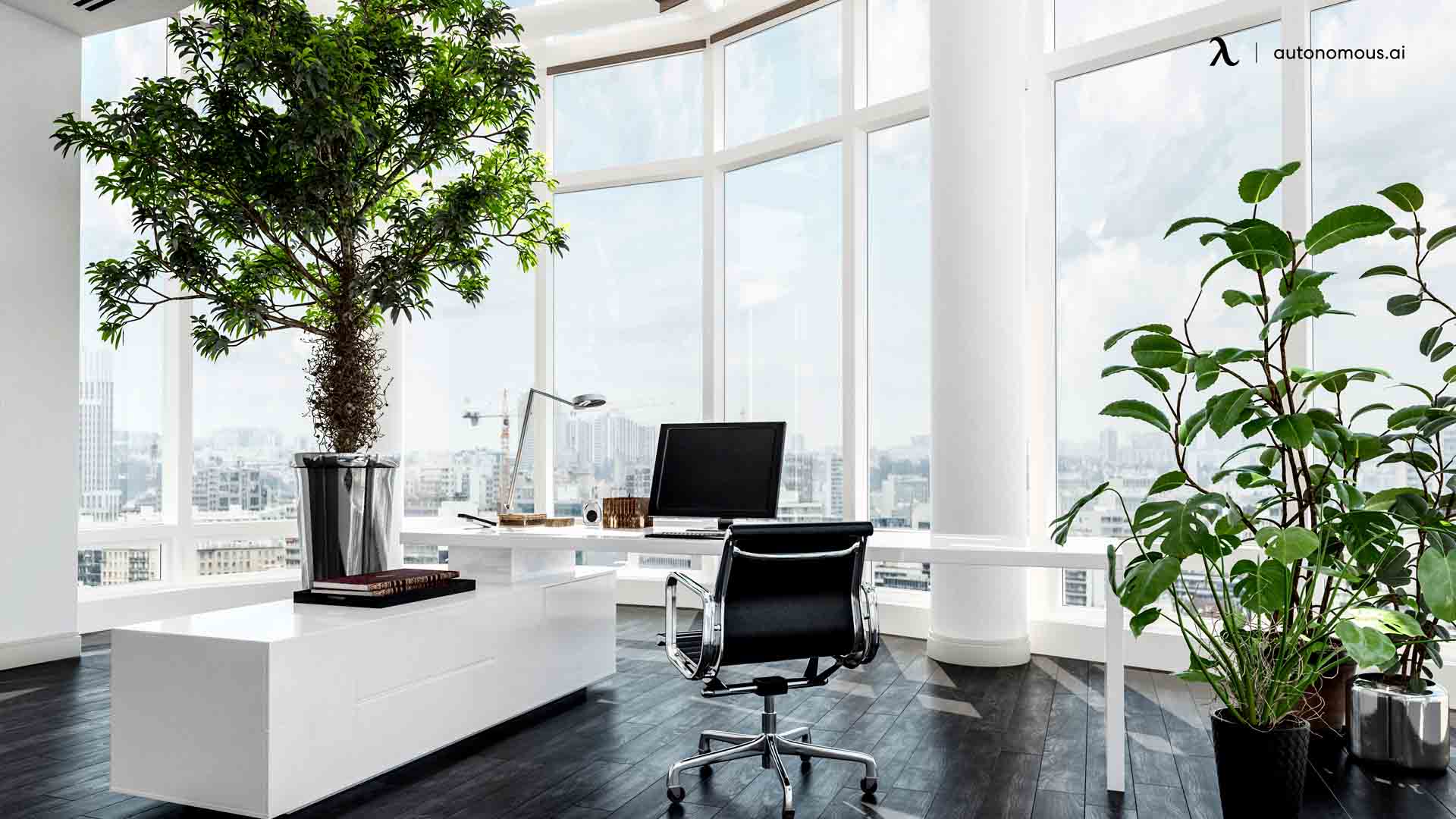 3. Activity-based Working
This modern office design concept looks to increase the worker's productivity through interaction and communication. It also looks to retain the employee's satisfaction and reduce the overall accommodation costs. The activity-based working concept is meant to improve the workplace's overall efficiency and satisfaction by allowing employees who perform multiple tasks to move to any place in the office that best suits their job at hand.
Workplaces that implement this modern office setup idea can expect to have a considerably more flexible workspace that allows workers to get the best results even while having diverse work styles. The freedom given to the employees makes it easier for them to perform their jobs adequately.  There are a couple of spatial areas that are common in this kind of design, to mention some:
Small booths: They are usually enclosed and isolated areas that allow for privacy. It's ideal for people who need a quiet place to concentrate on their work or call a client.
Café atmospheres: These casual areas allow people to enjoy their lunch or snacks while providing them with many seating options such as long tables, couches, coffee tables, and semicircle booths. You can discuss work-related matters with your coworkers or have a brief chat with them.
Conference rooms: It has a formal enclosed setting where multiple people can meet to brainstorm ideas or discuss strategies. There's also the option of using a more informal room when the job is more casual.
Other activity-based working environments include lounge areas, outdoor terraces, open office areas, among others.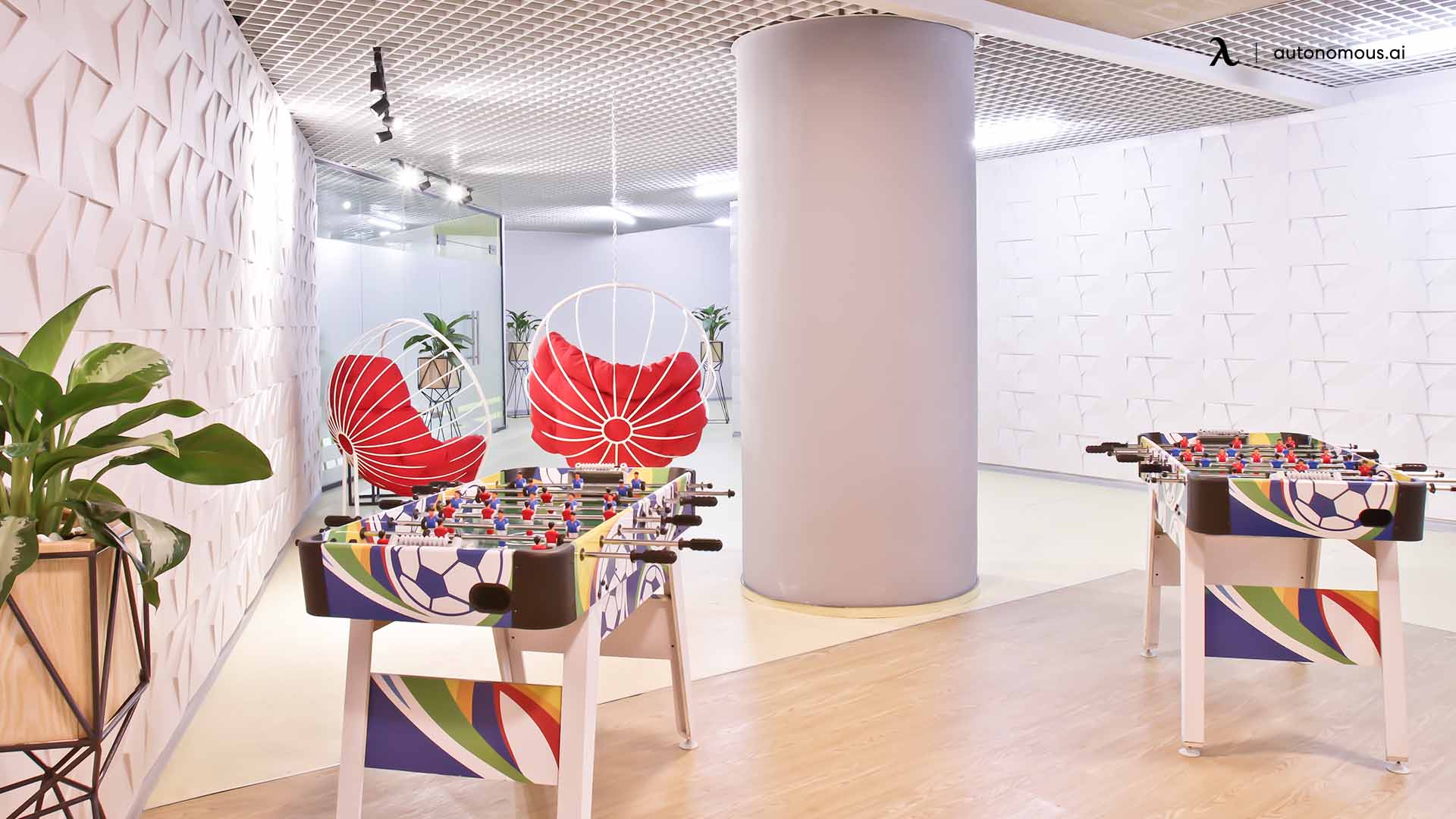 4. Glass Doors and Walls
This concept isn't an exclusive design, as glass walls and doors are present in multiple office interior design concepts. It has been trending for a long time now, making it an essential part of many other modern office designs. Using glass walls and doors is more space-efficient while also giving the office an open feeling.
The glass office walls allow the company to establish clear order and structure while promoting transparency. As people become aware of others' actions through the office's openness, they stay on their best behavior while reducing their isolation. For this reason, many designs incorporate this design, believing it promotes the worker's honesty and integrity.
Having glass doors and walls also allow plenty of daylight into the workplace. It grants employees a better sense of orientation throughout the day while also being more beneficial than artificial light.
You can also order custom-made glass office walls from a manufacturer, where you can give it your own company's flair by incorporating your logo or other designs. They also allow quick office reconfiguration as the interior glass walls can be easily movable, giving you a flexible modern office design concept.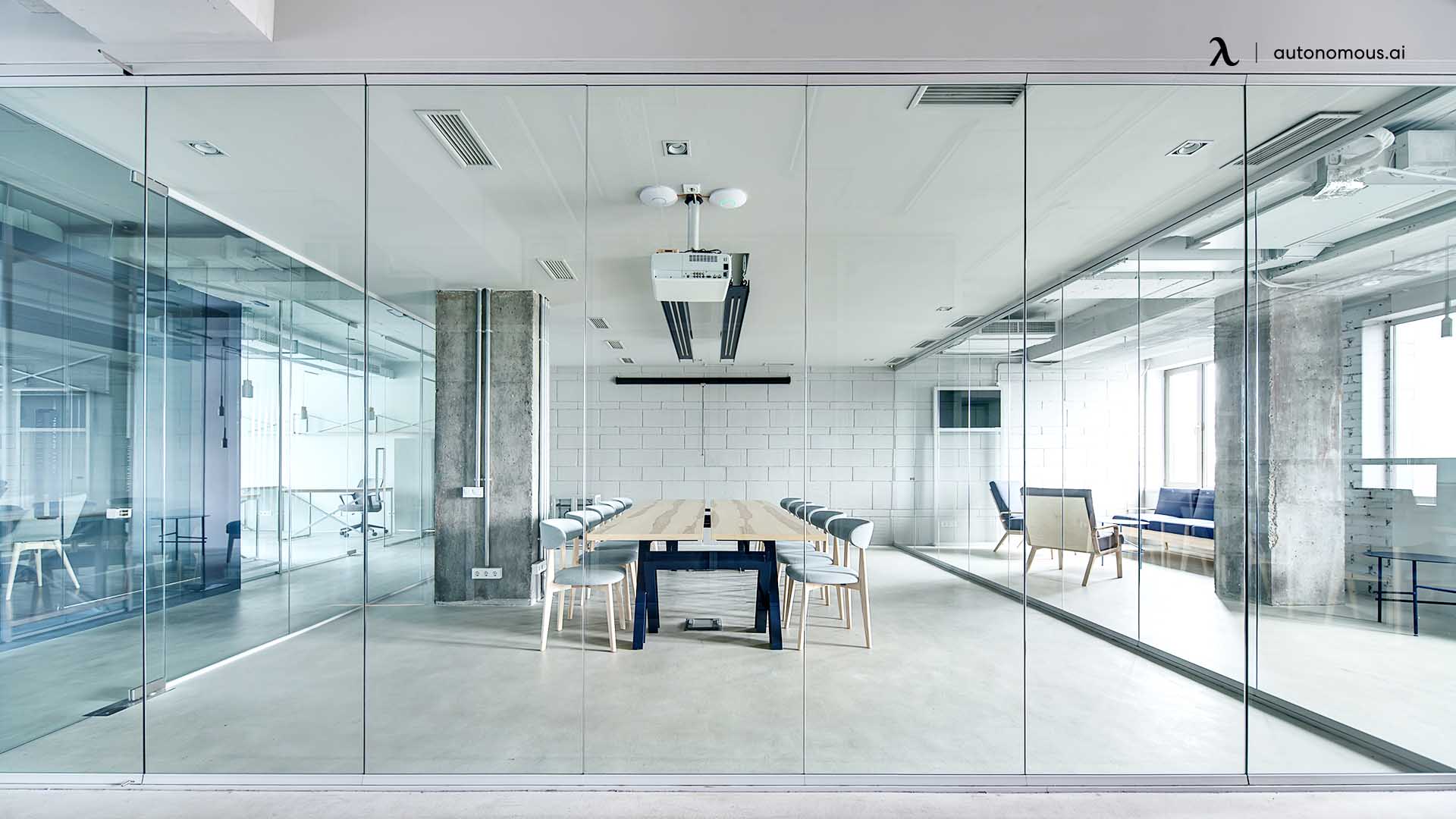 5. Home-like Atmosphere
Currently, almost every office job can be done just with a computer or a laptop. As working from a distance becomes more common and practical, employees stop needing to go to their office to work, even when it's mostly true that people's productivity increases at their workplace. Although this is the case, many companies still require physical attendance. Because of this, most companies are making the shift to the trend of giving your workplace design a homey atmosphere, allowing workers to feel at home while on the clock.
The idea behind the home-like office interior design concept is to make the workplace experience a relaxing and stress-free one. Just having couches and lounges in some places in the office allows people to take breaks comfortably. It lets them whittle away their fatigue and focus once more on their day.
These pieces of furniture can also have a productive use. Employees can work on their laptops while sitting on a comfortable couch or a long table. Some group meetings take an informal tone as they're held in places that resemble living rooms. The home-like design favors open-floor layouts with encouraging and enjoyable surroundings. Many offices with this design incorporate modern aesthetics and entertaining aspects such as swings, slides, and even ping-pong tables.
Many home-like office interior design concepts include lounge areas, cafés, break rooms with recreational activities, cozy types of furniture, terraces, and many other things.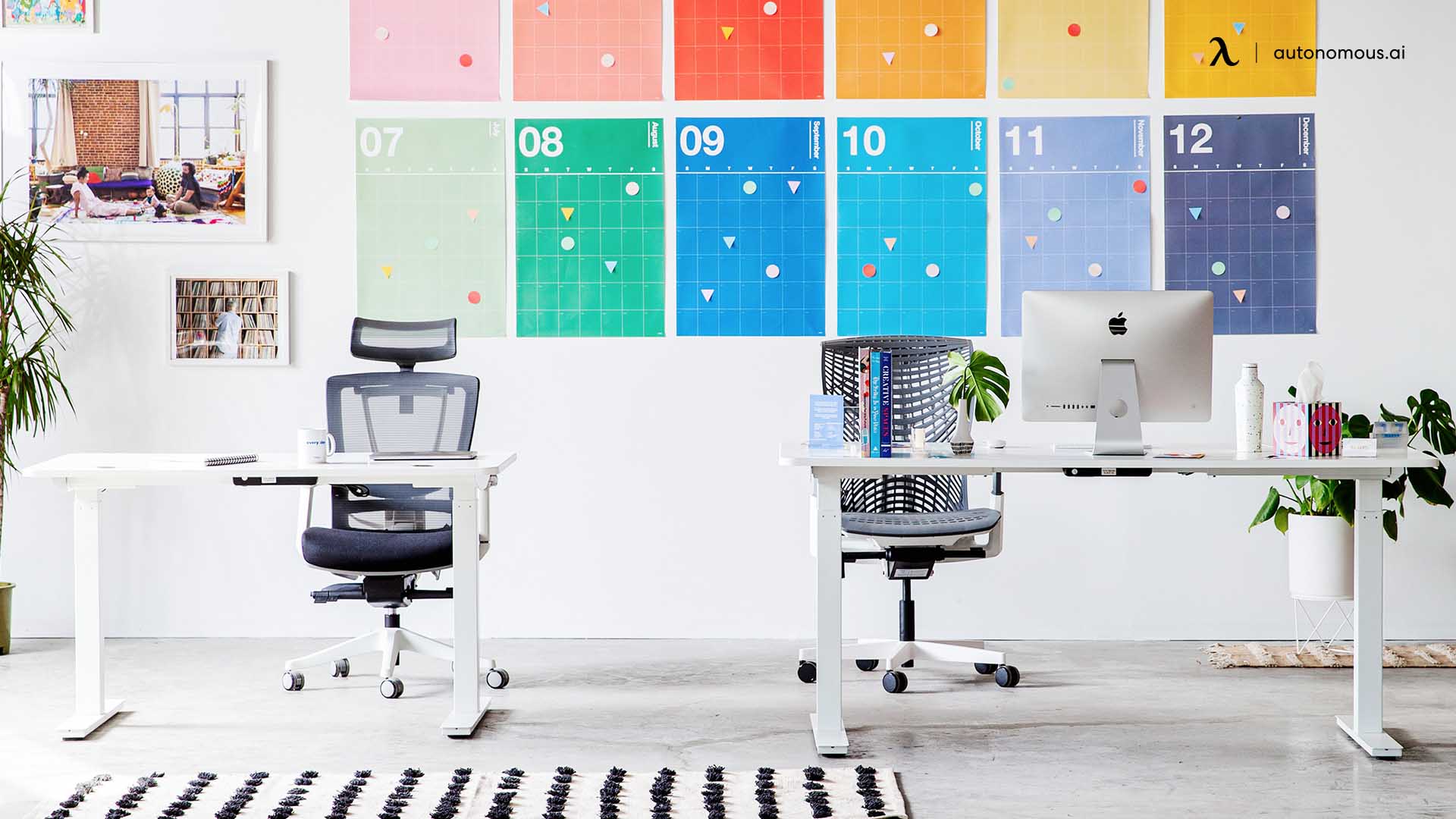 6. Flexible Workspace
Flexible workspace designs feature an easily customizable office layout that can adapt quickly to the office's needs by making use of desks, chairs, and tables that can be moved and rearranged. This design directly contrasts with the traditional office layout, where the furniture setting and other things tend to be completely rigid and fixed in place.
When you need to have a meeting with multiple people, you can easily rearrange a couple of tables and chairs to fit any number of participants. Usually, the furniture used in these workplaces must have caster wheels to provide easy movement around the office. It allows for the quick formation and collaboration of multiple teams for any task, whether its duration is short or long.
In a way, flexible workspaces highly resemble the activity-based modern office design concept, except the office doesn't have the various facilities that adapt to every people's work style and peculiarities. A similarity is that both can have unassigned seating arrangements, meaning that there isn't an assigned workspace for any employee. Workers sit and work where they need to or where they feel they can be more productive.
Not having a specific desk or workstation can enhance the employee's interrelations as they encourage collaboration during projects. It also results in higher satisfaction for the workers.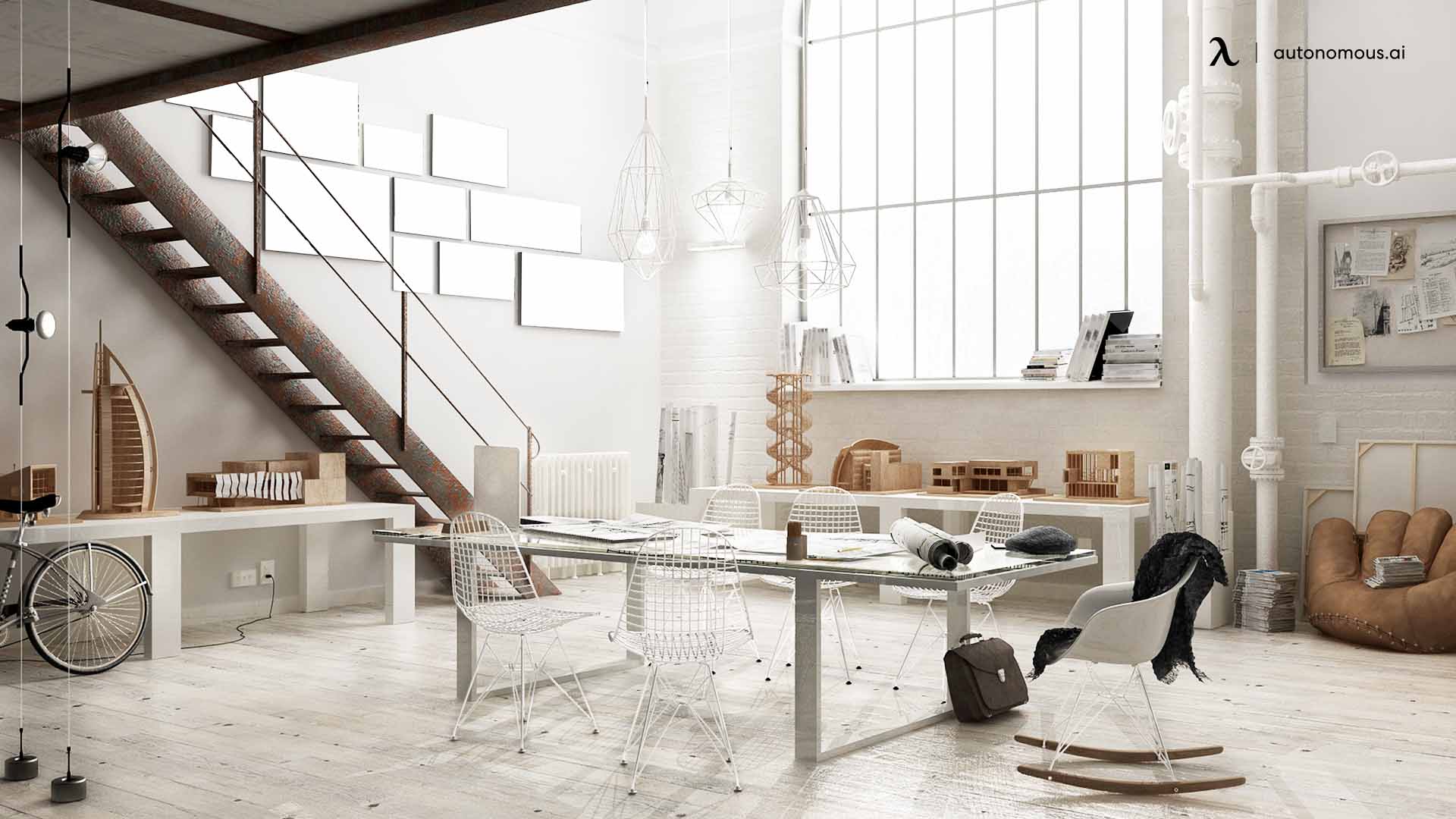 7. Industrial Office
This office interior design concept refers to a style that takes its inspiration from old factories, barns, warehouses, and other industrial spaces that recently have become lofts, offices, and living spaces. It emphasizes the use of components such as weathered wood, exposed brick, concrete floors, and industrial lighting fixtures. Generally speaking, this design tends to have an unfinished, unconventional, and raw look.
The easy way to acquire an industrial office would be to renovate an old factory, warehouse, or any other industrial building. They would already have many of the common elements seen in the industrial office interior design concept. Some of these elements are high ceilings, open floor plans, large windows, concrete floors, exposed brick walls on the office's outer wall, and other things. Another common thing would be the sight of exposed pipes, beams, and ducts.
These industrial designs tend to have a natural color palette, such as a mix of grays, rustic,  and warm colors. When walls have these colors, they give the place a feeling of having more space available. They also tend to have plenty of natural light due to their large windows, but floor lamps or metallic light fixtures also blend right into this style if it's a closed space.
8. Dynamic Layouts
Re-inventing the stale cubicle office has proven to be one of the best outcomes of a modern office design space. Flexible workspaces and "pod" style set-ups became increasingly popular as many businesses adopted open-concept office designs. During social distancing, this modern office design proved particularly useful. Still, even now, in post-pandemic office settings, they are useful for adding a sense of privacy to open spaces. 
It is common for employees to find a safe and confidential workplace when they are at the office. Remote workers returning to the office and the number of employees in the workforce fluctuating, employees may feel disenfranchised at their workplace. Pods offer a modern office setup solution to this problem.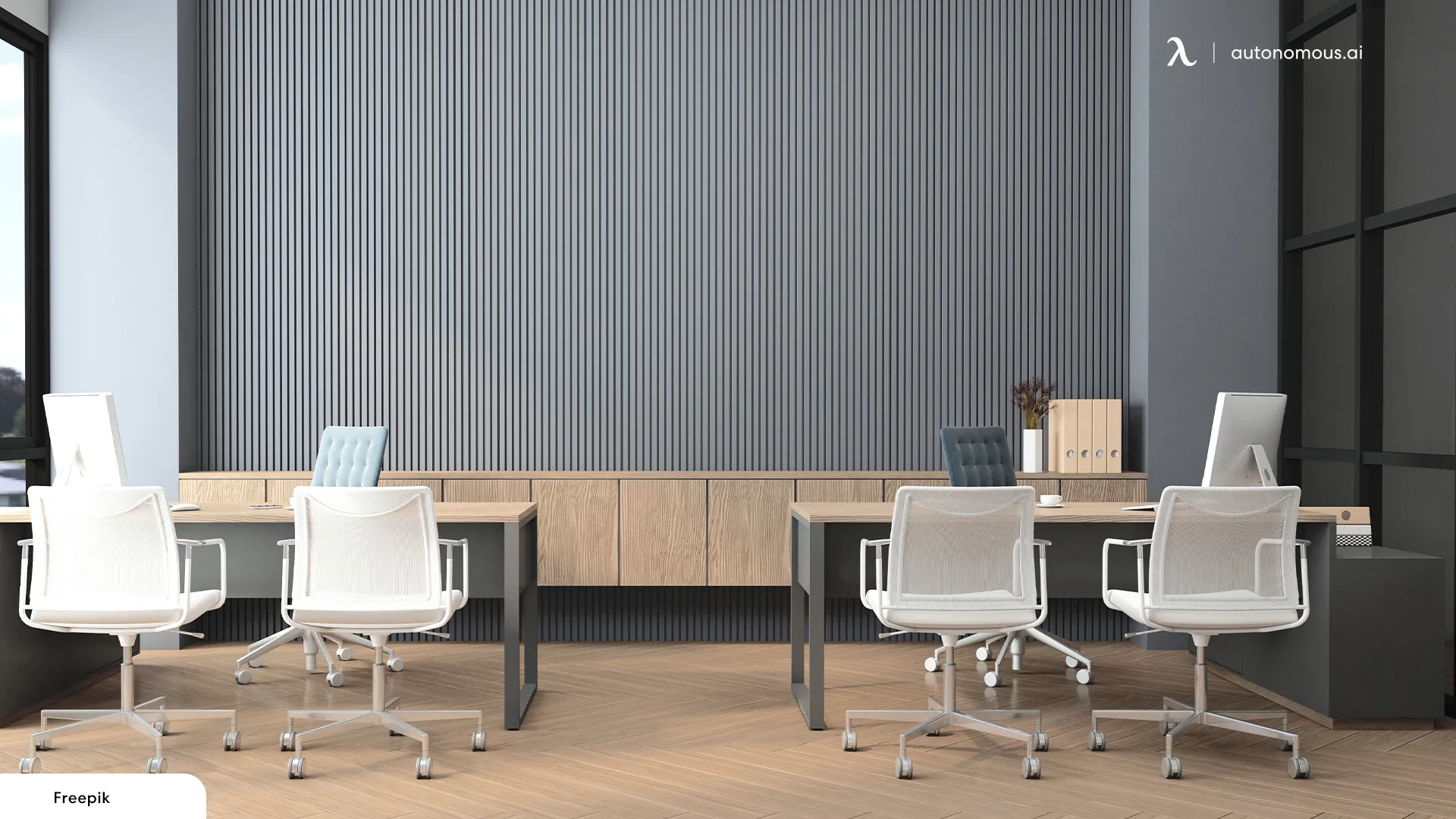 9. Neurodiverse Space
Some considerations are being introduced into offices with greater intention as companies move towards more inclusive workplaces. Our brains' neurodiversity refers to how they function and how we interpret information differently.
10. More Outdoor Spaces
Many companies and modern office spaces are lucky enough to have a private terrace, courtyard, or rooftop garden in their modern office ideas. In some cases, there will be a shift to outdoor spaces becoming a "must-have" in some cases. Prospective employees will find that an attractive outdoor area will differentiate your organization from the competition. Biophilia, a concept known for its benefits for health and well-being, will be at the center of many modern home office ideas.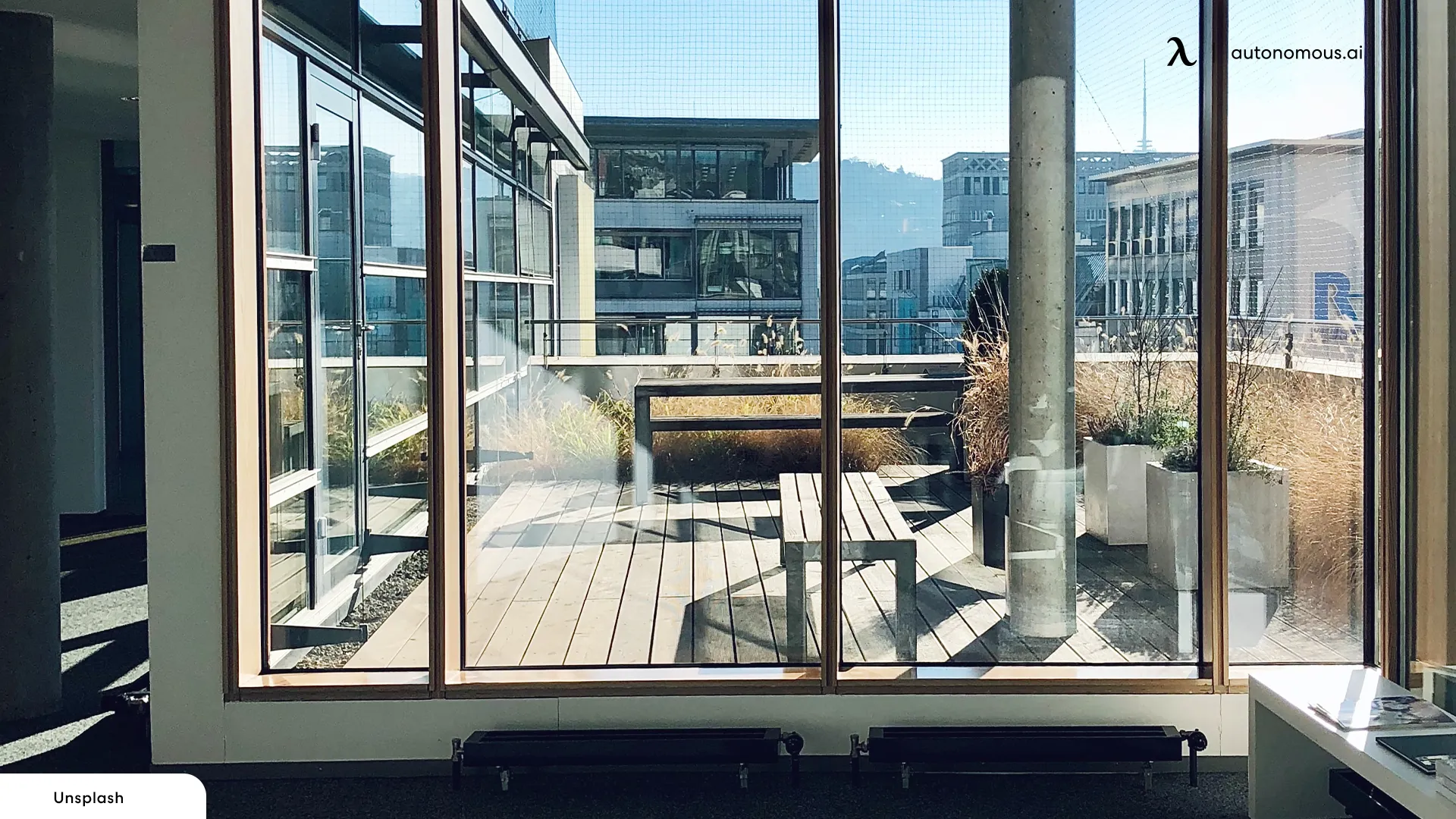 11. Relying More on Natural Light
The natural light in a workspace can make employees more relaxed and positive and give visitors the impression your workspace is larger than it is. A recent survey shows that 47% of employees feel tired or gloomy due to a lack of natural light and windows in the workplace.
Partitions or architectural accents are used instead of interior walls – or smart glass panels that adjust from transparent to opaque using an app or button. Mirrored surfaces maximize the impact of natural light. Pale colors, glossy finishes, and mirrors all let natural light through. Maintain a clean and minimalist look with your furniture and storage options to allow the light to reach every corner of your living space.
12. Ergonomic and Active Furniture
Making your furniture more ergonomic is one of the best and most affordable ways to improve its design. A rickety, uncomfortable modern office chair is a distraction to anyone who has ever sat in it. The pain in your back and hips makes it difficult to be productive.
Moreover, ergonomics reduces time lost due to injuries such as carpal tunnel syndrome, sore backs, and repetitive strain injuries. The engagement and productivity of your employees will improve when they are physically fit.
An example of modern office design in action is providing employees with various ergonomic sitting and work surfaces. The design proves that modern design isn't just about aesthetics but also a scientifically-based approach to improving employee wellness.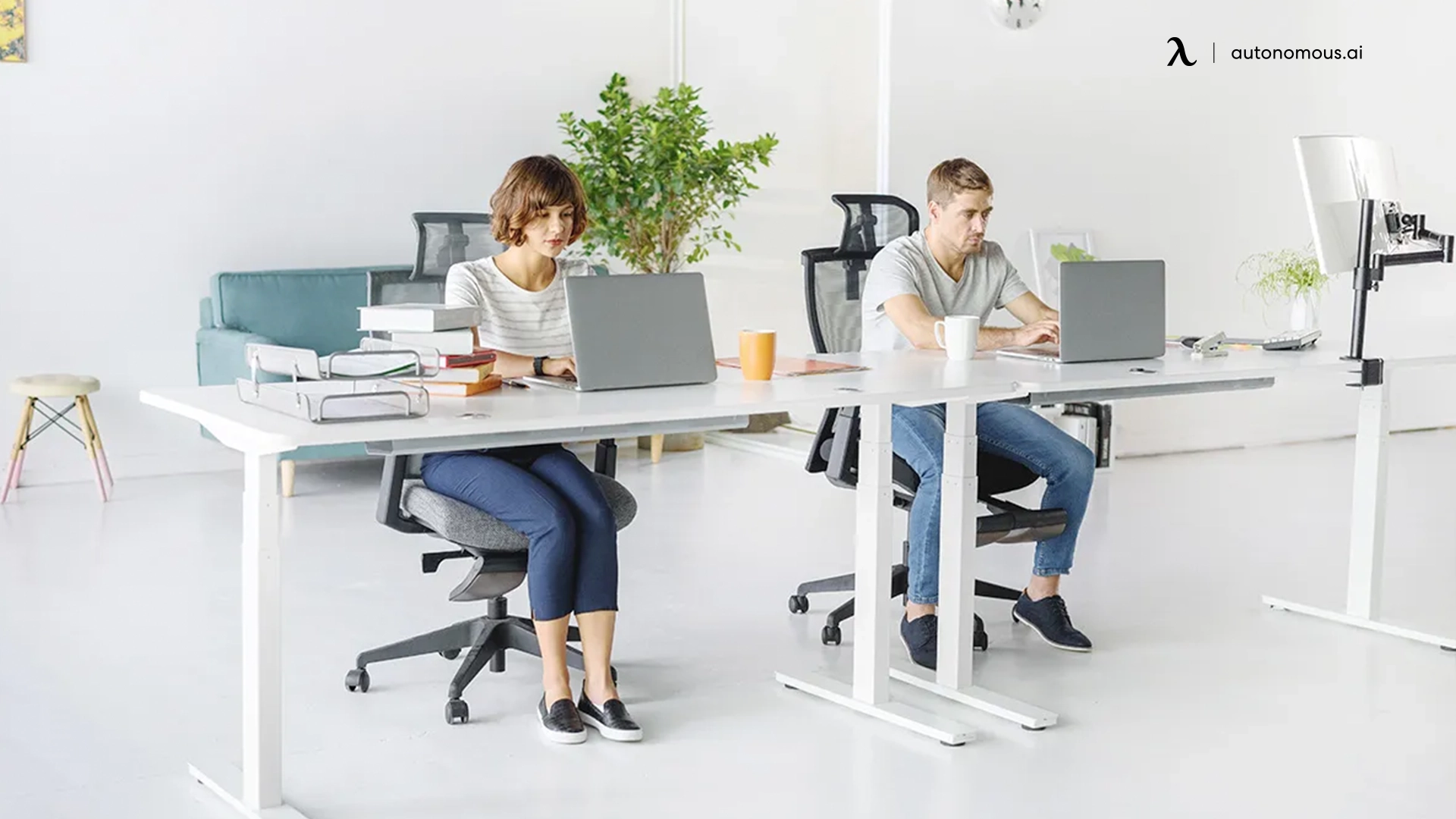 13. Rooms for Relaxation or Recreation
Rather than sitting in a drab break room or eating lunch in your car, say hello to foosball or relax on a comfortable couch with co-workers. It might seem counterproductive to have lounge spaces and recreation rooms since work is for working, right?
Creating a homey atmosphere is a staple of contemporary office design. Workers like it. If you're in the mood for an air hockey game, it's the perfect way to build morale and release tension. In addition, such spaces will impress clients and attract potential recruits.
Your NFTs can shine now, so give them the frame they deserve. The new Autonomous OG Flex and OG Spectrum frames are the perfect way to show off your amazing NFT collection. Each frame is unique and special just like the NFTs it shows since we built each one from the ground up to work safely with your NFT wallet. You might be able to get a wide-angle frame from OG Spectrum, which is excellent for landscape and abstract photography.
The square shape of the OG Flex makes it perfect for avatar NFTs and artwork that is oriented in portrait. Each display has a frame finished in walnut, oak, black, or white and is a vivid, 4K display with stunning clarity. Design an NFT gallery with the dimensions and style that best complement your surroundings.
14. Mixing Residential and Commercial Design Concepts
Incorporate soft seating areas with pillows and throws; add living-room decorations such as rugs, plants, coffee tables, and photo frames; and make the floors and walls warm and welcoming with warm wood finishes.
This again relates to creating a positive employee "experience" at work. Companies are making their workspaces as attractive as possible to attract and retain staff in a world where people work from home for so long. Make the design too appealing, and the employees won't want to leave!
Which Modern Office Design Concept Is Right for You?
As of right now, COVID-19 will undoubtedly transform office space for years to come, perhaps forever. Even though many people still work from home, many others have returned to the office, even if it is only for a few days a week, and many offices have become completely different. Several trends in office design are currently focused on safety, comfort, and sustainability.
These trends will continue into 2022 and beyond. The goal of designers and companies is to enhance productivity by maintaining a healthy and happy working environment, including aesthetics such as acoustics and greenery.  
Feng Shui Elements in Modern Office Layout
Parts of your home are symbolic of different areas of your life, according to feng shui. A desk and office are associated with your career, for example. If you want your work life to improve, you should look at how your home is handling this issue and make some changes to make it more supportive.
You can optimize your home office with these feng shui tips, whether you're setting up a new space or refreshing your existing one. Try adding a desk dedicated to your career, which signifies stability. We think it would be ideal if you could set up your desk in a room that's exclusively for work. Unfortunately, that's not always an option.
If you need to put it in a multifunctional space, the best place for your feng shui desk is not the bedroom. It is not only a distraction in the bedroom when you are trying to work; it is also harder to wind down after a long day. When a desk in the bedroom is the only option, use a room divider, bookcase, or curtain to separate the two areas and store all work supplies at the end of the day.
Make sure your desk is placed in a commanding or leading position as well. While sitting at your desk in your modern office design, you can see the door to the room, even if you aren't directly in front of it. By seeing what is approaching, you can feel more in control of your life and career. Even if no one is expected at your home office, the feng shui office layout command works on a subconscious level.
Ensure your home office has a good flow. Does your desk have sufficient space? Do you have any obstacles to getting easily to your chair? It may indicate blocks or that you make things unnecessarily challenging for yourself. You may be able to remove or rearrange any blocks and obstacles you notice. If you want to have room to grow, you want to approach your desk and your career with ease.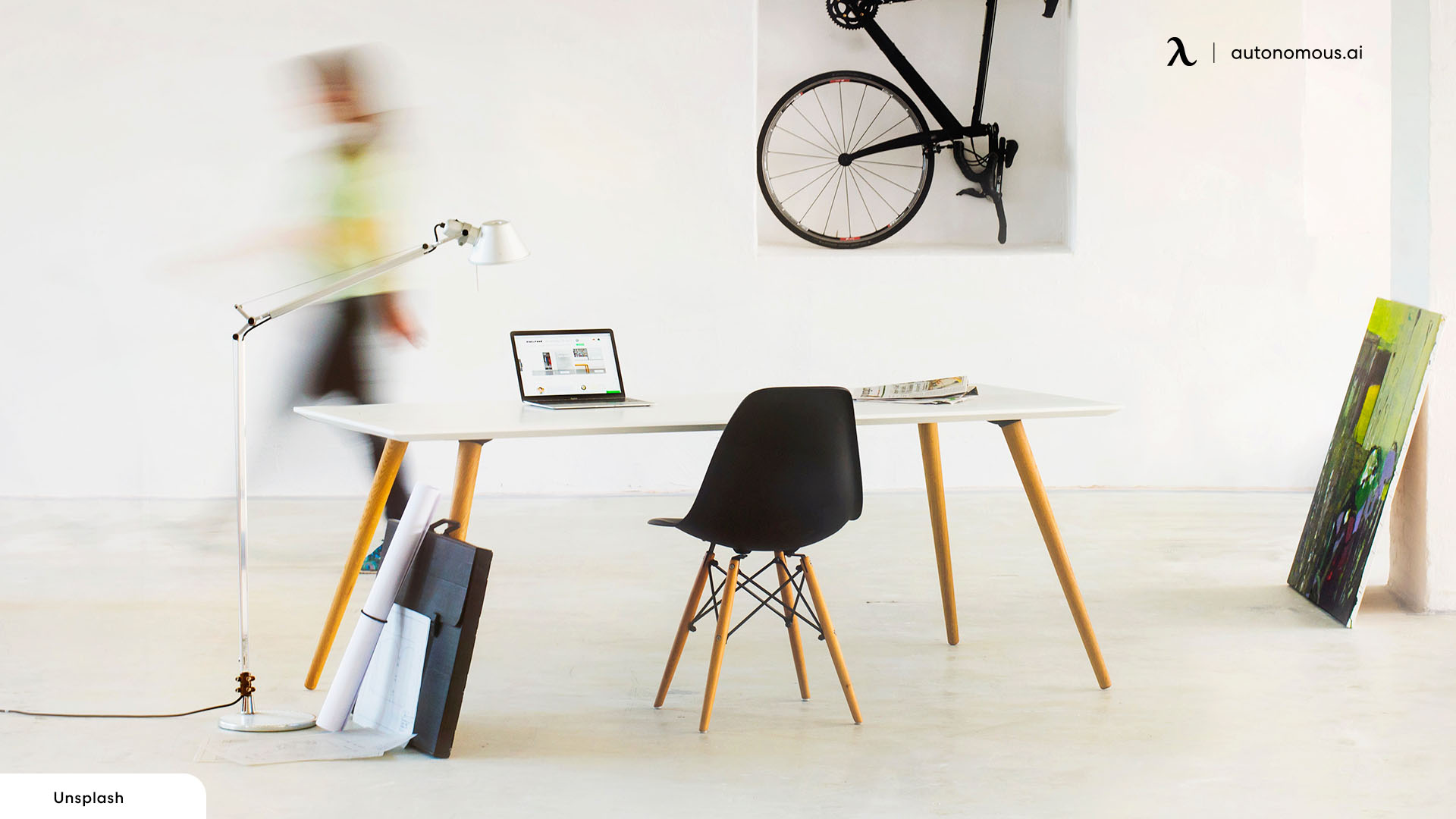 Office Equipment for Modern Office Interior Design
One more office interior decorating style involves adding exercise equipment to your regular work layout. This gives you a chance to be able to balance out staying healthy and being productive. When you are at your modern L-shaped desk, you need to see two emails and other work tasks. And, when you need a break, all you do is simply get onto any of these exercising equipment to keep fit.
1. Lighting
Our office lighting options are endless, and we have plenty of options at home too for your modern office design. Lumicharge LED Lamp with Wireless Charger, for instance, combines wireless charging, a docked cradle, and a built-in USB port in one ultra-portable wireless charger suitable for any three smartphones.
This ultra-wide led desk lamp is a great choice for any home or office because of its three adjustable hues and 10-level brightness. With an LED Desk Lamp that clips on the side of the desk, you can create a well-lit workspace that will make you more productive. With less eye strain, you can concentrate better on your work. Otherwise, brighten the room with the Swoop floor lamp or the Logan floor lamp.
Using the Ocushield Oculamp, you can adjust the amount of blue light it emits based on the time of day, permitting you to keep your body clock on time. Your nightstand, desk, and bedside can make all houses. It's small, portable, and easy to use. With Brightech Solar Hanging Lights, you can brighten an otherwise dull room and complement the Brightech Luna floor lamp too. These solar-powered light strings have a vintage design that resembles exposed filament bulbs. You can now take the Arnsberg Lighting quality and design with you when you go camping with the new portable lamps from Arnsberg Lighting.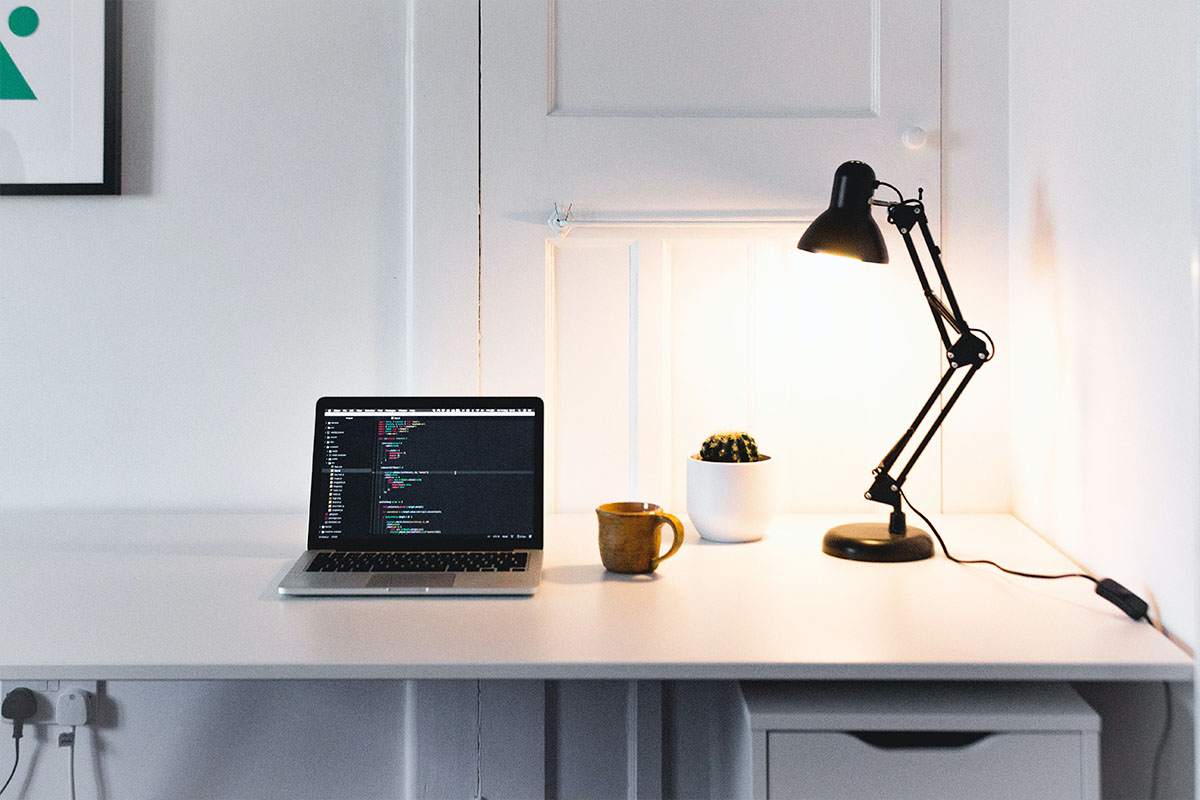 2. Air purifiers
It's a nightlight, sound machine, diffuser, and air purifier all in one device from CleanLight. 99.99% of allergens, smoke, dust and other harmful particles are captured by an H13 HEPA filter and UV light. The HEPA filter is easily accessible and should be replaced every 3 months for best results.
It monitors the air quality over a 550 square foot area and is the bigger version of the CleanLight Air XL. Harmful particles can move through the air and inhale, causing multiple ailments and illnesses. CleanLight Air XL removes 99.995% of harmful particles from the air using a combination of UV light and a certified Hepa filter.
By changing the color on the screen, the PM 2.5 sensor displays the air quality. CleanLight comes with a 20,000-hour ion generator, more than 20x longer than conventional filters. A cup holder is included with the CleanLight Air Pro, which cleans 161 square feet. Whether you're in your car or on the plane, CleanLight Air Pro lets you clean the air around you in an easy, effective manner.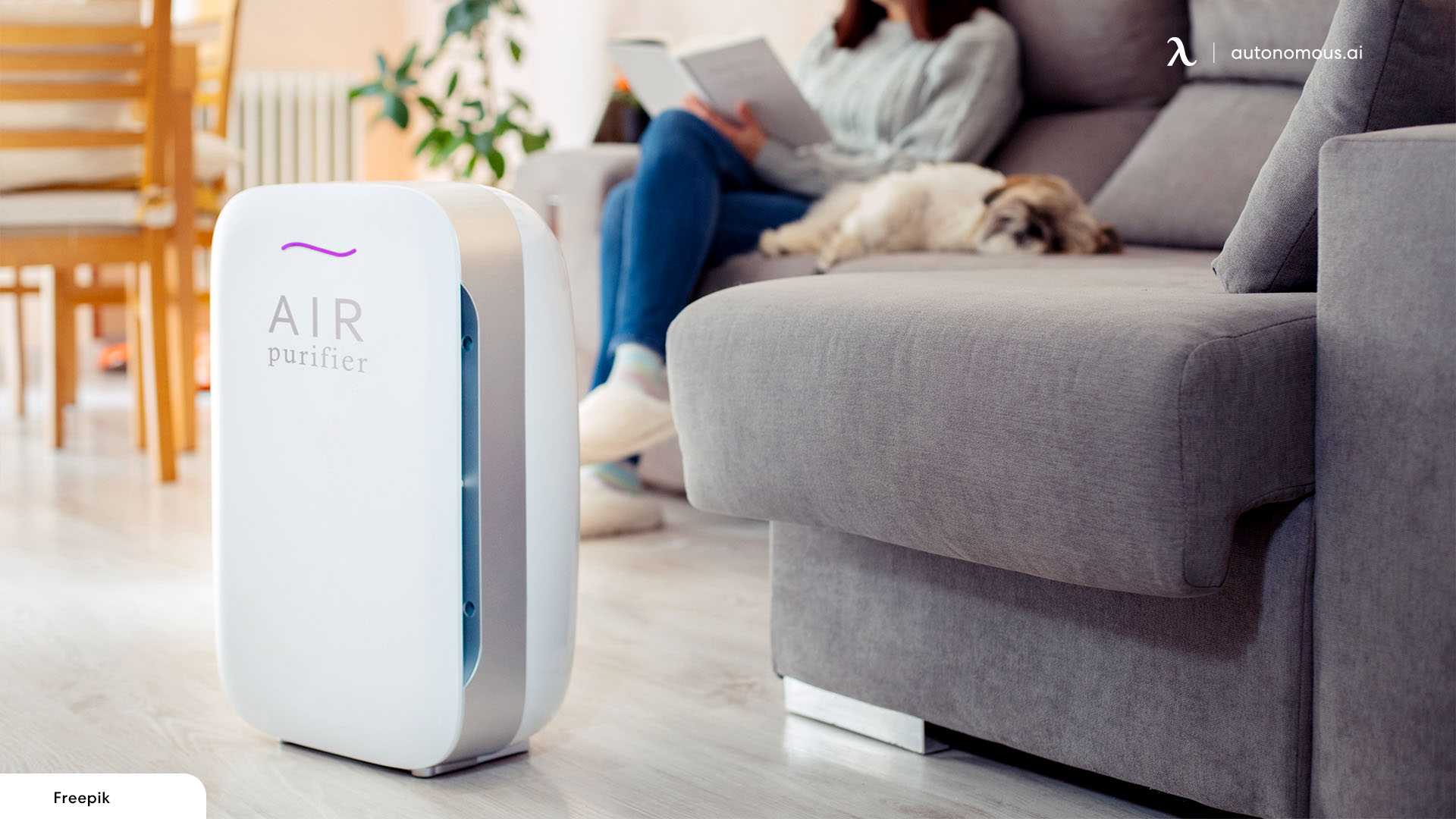 3. Treadmill
The Indoor treadmill, like the WalkingPad C2 Foldable Walking Treadmill, is smaller and more compact. This is just so that it can fit into most houses easily. The treadmills are a great way to catch up on running, walking, or jogging and keep your heart rate. When you are done with the treadmill, you can fold it away and keep it aside.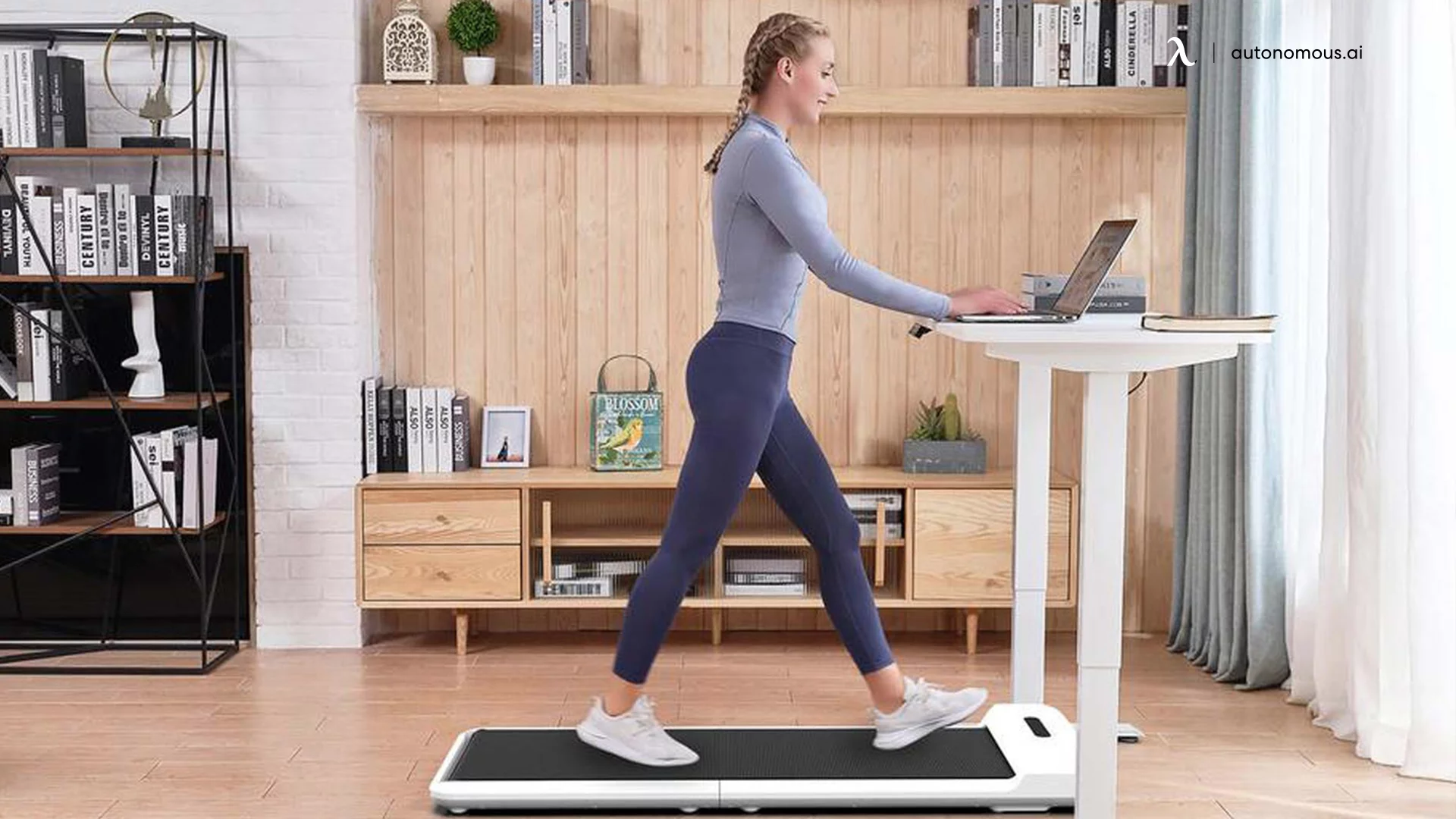 4. Indoor cycling
The indoor cycling bike isn't new. What is new is the way that it is incorporated into office layouts. If you don't have the space for a treadmill in a modern office, you can always opt for the indoor cycle.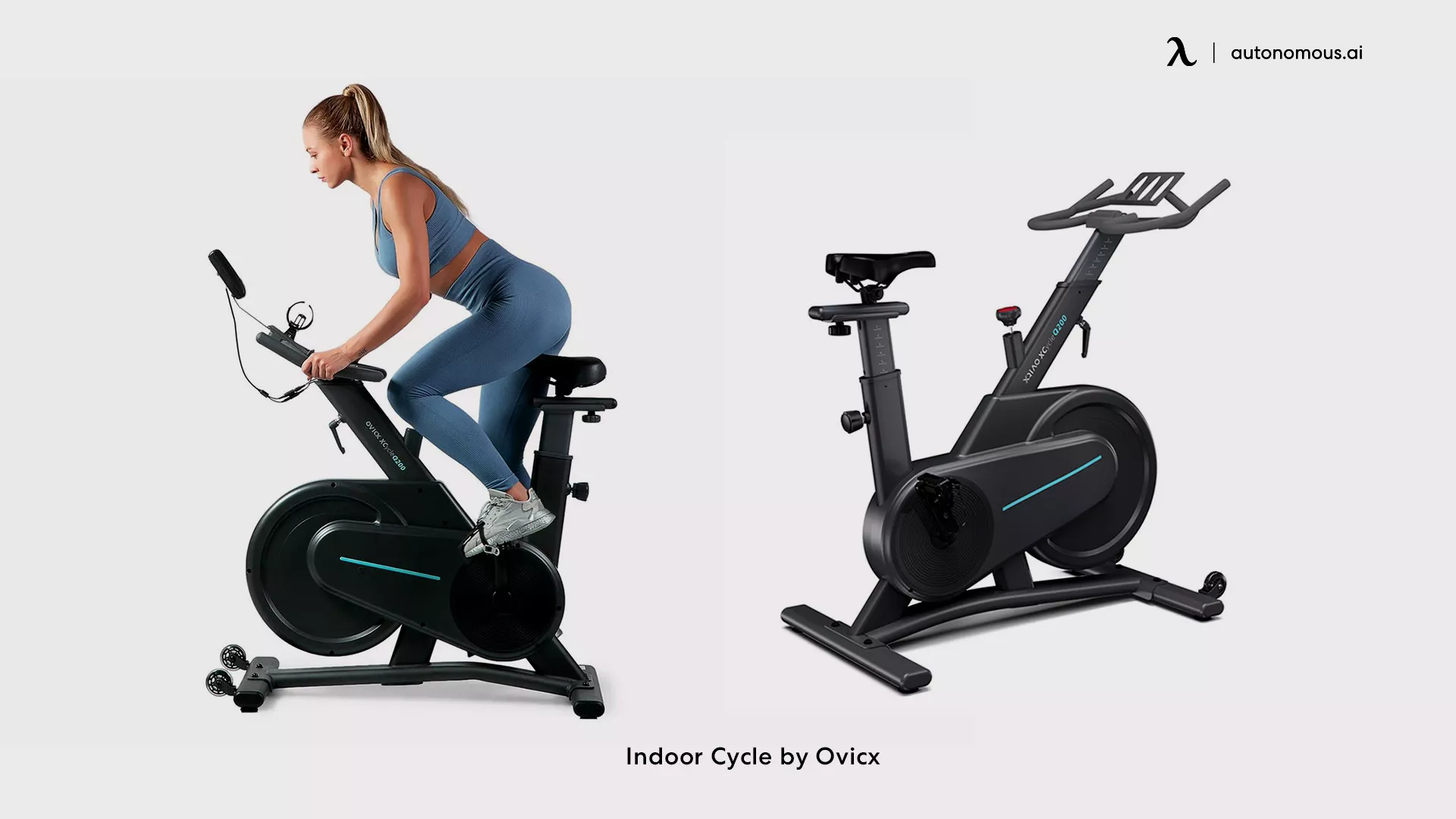 Now you have the perfect opportunity to revamp your office the way you like without it setting you back too much; we offer our great prices, cool promotions, and easier financing in this year's Autonomous employee purchase program. You can log in using your corporate ID and reveal exclusive offers on all our items just for you. And, you can even charge it to your company or invite your employees to buy whatever they like.
Keep up with Autonomous news
Stay informed, stay inspired with our new blogs.
WRITTEN BYAutonomous
We build office products to help you work smarter.