Remote Working
What Is a Flexible Workspace and How It Helps Your Business

Autonomous
|
Apr 2, 2021
6,939 Views
During the last decade, flexible workspaces have gone from being a convenient solution for freelancers and startups to a strategic business decision for many companies and even landlords. It's also growing in popularity as more people begin to work remotely.
A flexible workspace can offer employees comfortable and appealing meeting rooms, workspaces, and other collaborative spaces. It can motivate them and improve their productivity, and all it requires is for the company to create a vibrant workspace where your employees have some freedom, letting them remain focused and well vested in their tasks.
This strategy can make it easier for a company to accommodate a hybrid work from home arrangement where workers divide their time between their home and office. It can reduce office density and maintain a degree of physical distance when they return to the workplace.
Regardless, a flexible working space is often confused with other similar work arrangements. Some people say that coworking spaces and activity-based working are different from workplace flexibility, while others may claim they're the same, but they're all based on the same idea.
There are further doubts that many people have concerning this, so we're looking to clear them up. Here you can find what a flexible workspace is and how exactly it can benefit your business.
What Is a Flexible Workspace?
A flexible workspace, also known as flex spaces, is a work arrangement that features a dynamic environment. In them, you can find everything you can typically see in a traditional office workplace: desks, chairs, phones, computers, and more. However, the difference is that you can arrange them in a significantly versatile manner.
A flexible workspace design can adjust to the various necessities your workers may have. They could be collaborating with a group in a conference room one day while occupying a hot desk and working individually in the next.
It doesn't limit itself to that. You may change the office layout to adapt to whatever is necessary at the moment if it's required. Flexible working spaces are also scalable, meaning that the office may have several flex spaces or that the entire workplace may be filled with them to take advantage of their benefits.
How Does a Flexible Workspace Benefit Your Company?
There are many benefits to a flexible workspace design, such as company savings, improved employee satisfaction, improved employee engagement and increased employee retention. Implementing this arrangement is even more advantageous if your company is currently growing or has many part-time or remote workers employed.
Savings
A flexible workspace can significantly reduce your company's overhead costs. Not every worker you employ needs to stay stuck to their desk while working. Many employees that work on-site are highly mobile and don't tend to stay in one place for a long time.
Also, with many employees now choosing hybrid and remote work arrangements, there isn't a need to have an assigned desk for every worker. This means that a considerable part of your office space may currently be underused.
If you figure out how many of your employees commute to the office each day, you can get the most out of the space you own or lease with a flexible workspace design such as open floor plans or unassigned seating. You may even comfortably house a larger workforce than your workplace can accommodate, keeping overhead costs down.
Improves Employee Satisfaction
Employee satisfaction plays a significant impact on many aspects of your staff's work life, encouraging employee innovation, from making them happier to improving their health and well-being. People enjoy having influence over where they work and the methods they use to complete their tasks.
Creating a flexible working space that allows your employees to be mobile or switch up their surroundings can positively affect their motivation, productivity, and more. When they're content, the odds of employees suffering from stress as they work decrease, which is one of the leading causes of employee absenteeism.
Your employees also interact more with each other while they move around. If you have a supportive organizational culture, this increased interaction between coworkers may positively affect their job satisfaction.
Moreover, this work arrangement also has several health benefits for workers, especially in specific flexible workspace solutions, such as activity-based working. This arrangement lets employees work efficiently without being tied to any particular workstation or cubicle.
As people constantly move from place to place in the workplace, they are less likely to endure musculoskeletal injuries. They may also improve their posture and have reduced risks of suffering from cardiovascular diseases and diabetes and prevent other ergonomic injuries, which stem from a sedentary working lifestyle. Overall, as your workers have better health and also take fewer sick days. Their productivity increases due to their satisfaction, significantly increasing your company's output.
Helps Attract and Retain Talented Employees
The expectation of workers has changed in recent years as technology has made it easier to work from home. Nowadays, many professionals work remotely, and this trend is only growing further. Persuading talented workers to come and work in an office environment is becoming harder, so it's necessary to entice them to show up. Their interest in working for your business may depend on how much flexibility you can offer them.
Current technologies can provide employees with a vast amount of flexibility to work remotely, especially with the available collaboration and productivity tools. While they may make some aspects of their virtual work-life easier, some might begin to feel lonely and disconnected from the other employees if they frequently from a distance.
Creating a well-designed, flexible working space can encourage your employees to come in and interact with each other more. A multi-purpose agile workplace can create a social area in the office that promotes interaction. It helps them develop bonds with each other, strengthen their healthy work relationships, and make them more engaged with work.
You can also implement virtual team bonding activities to solve loneliness and engagement while allowing them to keep working remotely. It's also essential to help or encourage them to set up an adequate physical and digital workspace, regardless of their work arrangement.
All of these benefits are inherently linked. Content employees take less time off from work and are more productive, increasing company revenue. You might dissuade employees looking for a job anywhere else if you implement a flexible workspace solution in your company, letting you retain your talented workforce and attract the best prospects.
Creating a Flexible Workspace
If you want to get rid of the cubicles in your workplace and implement a modern, flexible design, there are many ways you can go about it. A standard feature that a typical flexible working space has is collaborative, multi-use areas with flexible and modern office furniture.
Changing your office layout to a flexible one might not be possible without an extensive renovation. However, if you're looking to acquire or lease a new office, you can look for one that fits a flexible open floor plan. Look for offices with wide-open spaces and avoid offices with many permanent fixtures, appliances, and room separations.
You can easily break down open floor layouts into smaller working areas with moving divider walls, flexible partitions, or furniture. This lets you effortlessly accommodate your staff as it grows in size and adapt the flex space to any changing organizational need as time passes.
Regarding furniture, you should prioritize those with a smart, mobile design that lets you move them around the workplace quickly and easily. Most office equipment you can get for an ergonomic workplace fits these criteria, except for electric standing desks.
However, these desks are still good to use in corner spots or if you're following another flexible working design trend, like hot desks. Ergonomic office chairs, portable storage options, divider walls, and foldable tables that easily fit together for conference meetings are furniture that lets you make the most of a flexible workspace.
You can also put television and monitors on extendable brackets that you can pull from the wall or desk, letting you move them in different angles and directions. Using this flexible furniture and office layout can save you money in the long run. You can repurpose most of the equipment as your company grows and the culture and office dynamics change.
Flexible Workspace Trends
What's been previously mentioned consists of an open, flexible office design that can quickly adjust to daily work needs. It encourages collaboration in whatever form it takes and promotes familiarity between the employees. However, there are other trends you can follow when you're setting up a flexible working space.
These don't have many differences between each other as they're based on the concept of flexible working. Most of them have shared some critical elements such as breakout spaces, quiet zones, and shared resources while mainly implementing open-plan layouts. Here are some popular strategies you can follow and implement in your company.
Hot Desks
Hot desking allows your employees to pick any available office seats when they get to the workplace. It became known as a means to increase collaboration and engagement between employees. However, while it uses the small office space efficiently, some workers don't like this idea unless you implement practical restrictions.
If your company has many departments, your employees may end up sitting next to people they don't interact with. While the best-case scenario may result in a new work relationship, there's some potential for conflict if their jobs are fundamentally different.
The best way to implement hot desking is to section the workplace into specific departments to avoid mismatching employees. You can also create a quiet zone for people who need to focus on their tasks. Try to understand your employees' quirks and figure out which safe office space is best suited to them if you want to implement this flexible workspace design correctly.
Activity-based Working
An activity-based working environment provides multiple spaces with different layouts and office equipment to support any work your employees are currently doing. It lets them choose the place they want to work on and how they do it. The areas range from small and dedicated enclosed spaces to large and open team sharing rooms.
These flexible working spaces prioritize productivity and comfort, as the employees can choose to do their job in the way they prefer. Some common examples of activity-based workspaces are individual workspaces and focus rooms. This workspace is similar to a typical office. It can offer various personal work environments, such as individual carrels, focus rooms, or a simple traditional office desk and chair in a closed room.
Open lounges and collaborative spaces are other hallmarks of this flexible workspace design. These spaces give the employees a place to work together comfortably. Collaborative spaces can significantly vary in design, from small rooms with movable furniture to open spaces with specific seating arrangements and portable whiteboards.
An open lounge should have comfortable seating options, helpful office accessories such as laptop tables, and accessible power outlets. These two spaces are excellent for employees that want to catch up, need to do a joint project, take a small effective breaktime, or do a task in an open area.
Multiple meeting rooms that provide a variety of needs are also a focus of activity-based working environments. Pitch rooms with center podiums and seminar-style seating, private lounges, training rooms, and conference rooms that can house many or few people are examples of the different needs you may cover.
You can also implement some quiet nooks and phone booths to offer your employees an area where they can work alone or make calls without disturbing anyone else.
Coworking Spaces
Coworking spaces, in simple terms, offer a collaborative workplace where people from different companies go and do their jobs. These provide essential office equipment, such as wi-fi, printers, desks, meeting rooms, and other perks such as social areas.
If you find the idea of renovating your office and implementing a flexible workspace solution a little too daunting, you can opt to rent a coworking space. Although it initially was a service meant for remote workers and freelancers, some small business enterprises and companies are now employing coworking companies to handle their workspace necessities.
Ultimately, a flexible workspace solution provides many benefits to your employees. It improves their health and well-being, job satisfaction, and improves employee productivity, which all lead to your company performing considerably better. Figure out which design best fits your employees and take the proper steps to implement it.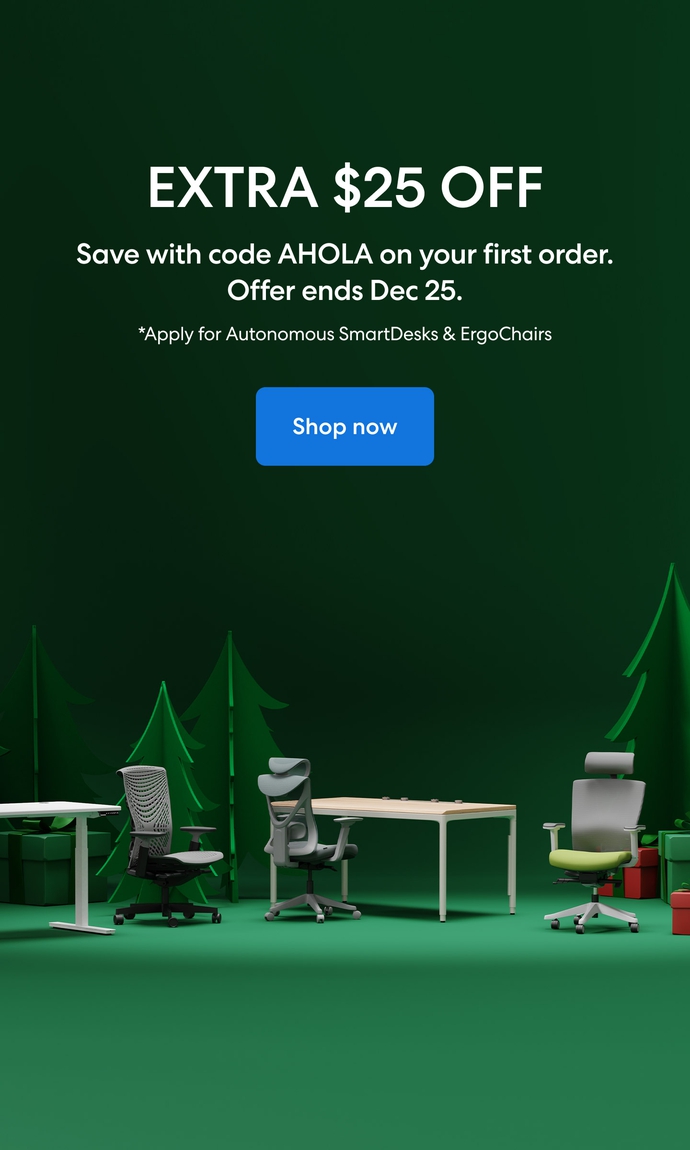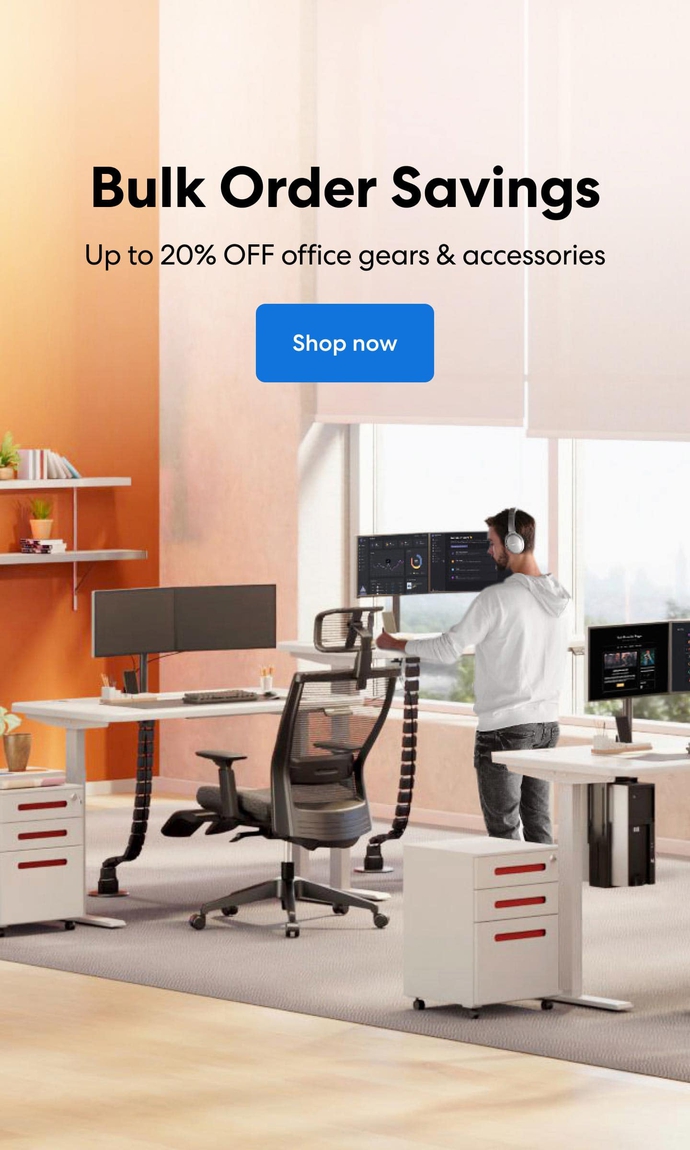 Subcribe newsletter and get $100 OFF.
Receive product updates, special offers, ergo tips, and inspiration form our team.