Everyone wants to save the planet's resources, but they need quality furniture to stay productive while they're working remotely. We're going to talk about the best reclaimed wood standing desk and provide you with 17 options. That way, you can read about them and find the one that meets your needs. Of course, the first step is to learn what a wood sit-stand desk is.
What Is a Reclaimed Wood Desktop for a Standing Desk?
A reclaimed wood standing desktop is something that has been recycled. They are more economical and eco-friendly, but they're still made of real wood. Sometimes, the wood comes from unused structures throughout the world that you may repurpose yourself. However, most of the time, it comes in the form of particleboard or MDF.
Before we discuss the best standing desk solid wood top, it's important to focus on the primary types of recycled wood you may find here.
Particleboard
Particleboard is made from all the waste or byproducts generated at sawmills and factories. Wood shavings and sawdust get collected and treated to form wood paneling. These are mainly used for office interior design purposes. You shouldn't use this option for a wood sit-stand desk because it isn't sturdy enough.
Fiberboard
Fiberboard, often called MDF, is manufactured from fully recycled wood products and scraps from the processing plants. Wood chips and dust can get glued together and then pressed to form thick sheets. They're stronger and more durable than traditional particle board. MDF is primarily bound with resin to make it one of the best reclaimed stand up desk materials available on the market.
Soft Board 
Softboard is also manufactured from waste wood and recycled items. It doesn't use resin to bind the particles together. Often, it uses flax to strengthen the sheets of soft board. It's highly insulating and strong, but it's difficult to use as the best reclaimed wood standing desk top material.
Why are Reclaimed Wood Desktops Popular?
The wood standing desktops are not all the same. A reclaimed wood desktop is different from a virgin hardwood one. We are now seeing reclaimed wood-standing desks, particularly in the post-pandemic era, taking over the market share where they originated.
Any standing desk manufacturer has yet to introduce an actual "single slab" desktop, made from woodcut from the center of a bigger tree. It is extremely costly and hard to locate such slabs of wood.
So, what should you expect when purchasing a wood desktop online? These tops are shaped by gluing together real wood planks to create a solid slab that is typically 0.75 inches in thickness or 1.75 inches in thickness, and 4 inches or 6 inches in width.
You will typically see between fifteen and half a dozen grain separation lines in the middle of a solid wood desktop. Real wood is the only type that will have these lines. It is also more affordable than solid surfaces.
Best Reclaimed Wood Standing Desk in 2021
1. SmartDesk Core from Autonomous
If you are searching for the best reclaimed stand-up desk, the SmartDesk Core from Autonomous might be ideal. It comes in a variety of colors, such as black, white, and white oak. You can also choose a black or white steel frame to go with it.
We like that this desk features programmable and is adjustable height settings. If you're looking for a reclaimed wood desktop for your standing desk, this could be the right choice. Made of MDF, it's durable and strong enough to hold 300 pounds of weight (including the tabletop). You can also choose the XL version, which is longer and wider to accommodate all of the things you might use each day.
Black, white, and white oak are the most popular colors of our reclaimed stand-up desks. This could make the perfect desktop for your standing desk if you desire a reclaimed wood surface.
There is also a natural bamboo version, which is made entirely of bamboo wood. It's also sustainable because this material grows quickly and isn't in short supply.
This standing desk can go from 28 to 47 inches tall with a lifting capacity of 300 pounds. It also raises itself up at 2.3 inches per second with a noise level of just 45 decibels.
2. SmartDesk Pro from Autonomous
The best standing desk solid wood top could be the SmartDesk Pro, also from Autonomous. It's quite similar to the other model we talked about, but there are a few differences. Its powerful motor allows it to raise up at 2.3 seconds per minute, and its noise level is just 45 decibels. Most people hear that when they go to a noisy restaurant, so it's not overly loud.
This standing desk comes in white oak, black, or white. You can get the classic or XL tabletop in white or black, but the white oak and bamboo only come in classic. Of course, you can feel good about purchasing the bamboo top because it's sustainable and eco-friendly, too. This product is a great option for people who prefer reclaimed wood since it is constructed from MDF material. Bamboo is eco-friendly and sustainable, so you can feel confident about buying one.
Those who prefer reclaimed wood are going to like this option because of its MDF material. It also rises from 25.4 inches to 51 inches tall, making it a bit better for tall and short people.
3. SmartDesk Corner from Autonomous
Could the SmartDesk Corner from Autonomous be the best adjustable wooden desk out there? We think it could! Whether you choose walnut, white, or black, you get sturdy MDF quality that is going to last a long time.
The best part about this standing desk is that it holds up to 330 pounds of weight and lifts it quickly and quietly with the press of a single button. It also has a triple motor system, which is smooth and doesn't produce jerking motions.
There is a short and long side to this table to create the "L" shape. You can position it the way you want so that it fits in your space. We like that it can do that because it allows for customization. It rises from 28.5 inches to 47.5 inches tall, making it suitable for people of various heights.
Furthermore, the system uses triple motors, which provide smooth, jerk-free motion. This corner computer desktop is short and long sides are what give it its "L" shape. Your bedroom or living room can be positioned according to your needs. You have the option of customizing it, so it's versatile.
4. SHW Electric Reclaimed wood Adjustable Desk
SHW is a popular brand and offers an engineered wood adjustable computer desk in cherry. The handset is digital and includes four memory presets to change the height easily. It's fully motorized, as well, and can lift the desk from 28 inches to 45 inches tall.
This desk offers strong legs with a telescopic adjustment transitioning system. It's more durable and is going to raise and lower your desk with precision and without jerking motions.
We like that the legs and feet are made of industrial steel, so they're durable and sturdy. This desk isn't going to tip over while you're using it. Though not a necessity, it does include grommets at the top to organize the cords.
5. ALFA Furnishing Reclaimed Wood Standing Desk Top
If you want a reclaimed wood desktop for your standing desk, ALFA might be what you require. It comes in three different colors, and they're all made of engineered wood. Moreover, we like that it holds 260 pounds on the tabletop, which means you can have all of your office equipment on the desk without fear.
The double motors allow it to adjust the height smoothly, and it rises from 28 to 45.5 inches. However, we feel that the speed isn't very quick at only 1.4 inches per second, as some of the other models go 2.3 inches a second. Still, it's faster than with a single motor.
You can spread out and have room for everything because the surface measures 48 inches long by 30 inches wide. There's sufficient space for your laptop, second monitor, and keyboard, among other things.
6.  Tangkula Reclaimed Wood Desktop for Standing Desk (with Frame)
The Tangkula brand is not as well-known, but we like the innovation in the design. This standing desk features wheels, so it's easily movable. We aren't sure if you can lock the feet in place, but it can turn into a side table or coffee table, as well.
It does use MDF, making it an option for adjustable wooden desk. However, it only holds 66 pounds of weight. The slim-line style looks great with any office desk décor, and the white color makes it pop. However, we aren't sure that this is wide enough for most people's needs. If you want a minimalistic desk, then this could be the right choice. The one thing we aren't pleased with is that it is a manual-crank desk, so you have to use your arm's strength to raise and lower it.
7. UNICOO Reclaimed Wood Adjustable Desk
Could the UNICOO Adjustable Desk be the best reclaimed wood standing desk? We think it could if you prefer various colors and like MDF for its solid construction and durability. It comes with a steel frame to support about 225 pounds of weight. This ensures that you can set it up to be your ideal workspace.
The desk comes with seven buttons, four of which are preset. You can adjust the height and program it to make it easier to stand and sit throughout your day.
We like that it comes with advanced functions. You can protect yourself from accidents and injuries with the collision avoidance system. It's also designed to shut off if the motor runs for a full two minutes to prevent overheating. Lastly, if the desk tilts a little while raising or lowering, the auto-balance function kicks in and shuts it off so that your computer doesn't fall.
8. ApexDesk Elite Reclaimed Wood Standing Desk Top
Different desk shapes can make for a better working environment. The ApexDesk Elite Series comes in various colors, and they're all made of engineered wood. There's a concave space in the middle, which helps you sit closer to the desk and be more comfortable and ergonomically correct.
The desk features grommets at both ends to help you hide and organize the cords. Plus, it is 60 inches long and moves 1.5 inches per second. You can adjust the height from 29 to 48 inches, including the top. If that weren't enough, it supports 225 pounds of weight to accommodate even the busiest of workspaces.
9. Tangkula Standing Desk with Crank
The Tangkula brand made the list again with a second wood sit-stand desk. However, we must say that it uses a hand crank, so it's not as easy to adjust as the electric versions. It's important to have various options, which is why we included it.
Luckily, the hand crank folds in, so you're not going to hurt yourself or damage the desk. We also like that it has two steel bars between the legs for more stability. The simple design makes it lack that extra oomph, but we do like that it raises from 29.5 inches to 44.5 inches tall.
10. Seville AIRLIFT Pro Reclaimed Wood Desktop for Standing Desk
The benefits of adjustable wooden desk are endless, and you're sure to like the Seville AIRLIFT Pro. We like that it comes in many colors, and the surface is 54 inches long by 28 inches wide. You've got plenty of room for your mouse, keyboard, monitors, and computer, as well as a few odds and ends.
It rises up to 51 inches tall and gets as low as 25.6 inches. However, it only lifts about 1.5 inches per second, so it isn't the fastest on the market. Still, we like the heavy-duty steel frame that can hold 264 pounds easily.
11. Rico's height adjustable desk
The reclaimed look on this wood stand-up desk comes from pine wood veneers. With its sawhorse-style legs and iron supports, this desk lets you raise its height up to 37.5 inches, though it isn't completely a standing desk.
12. Fully Jarvis adjustable reclaimed wood desk
The reclaimed wood pieces that make up the desktop are of top quality and pieced together using innovative technology. The pieces are made with quality materials and are made of innovative design that is aimed to last. Fully has added an OLED touch toggle console to control intuitive adjustment, making it easier on your arms when adjusting the desk. The console is programmable and adjusts quickly and quietly between a 50.75 inch too low enough for you to sit on the floor.  [AE1] 
13. StandDesk.co's adjustable reclaimed wood desk
These wood desktops come in three sizes: 70*30, 60*30, and 45*24. This brand sources its wooden desktops in China. 100% recycled Elmwood is used for the desktops, which is smooth and high-quality. Its surface is still intact with oxidized nail holes and sawmill marks, providing a rustic feel.
14. iMovR reclaimed wood desktop
iMovR has 22 different colors and textures for its 3D laminate DIY standing desk collection, with EIR reclaimed wood as one of the textures. The laminate floorboards are made to replicate old painted floorboards with wear marks while retaining the strength and durability of reclaimed wood. EIR (embellishment in register) added a lifelike feel to the laminate, echoing the grain simultaneously. 
15. Stand Up Desk Reclaimed wood electric desk
With a single push of a button, you can recall your favorite height settings on this reclaimed wood standing desk. An impressive 3-stage telescopic leg extends the height adjustment range to accommodate users of varying heights; two electric motors support additional weight loads. Furniture feet are included; locking 2" casters are optional; EZ assembly frame design allows quick assembly.
16. Uplift V2 reclaimed wood desk
These UPLIFT V2 Reclaimed wood standing desk models are unique because they are all made from responsibly sourced wood. The company uses reclaimed fur that is patched with resin to create a smooth surface with natural divots and grooves.
17. Vari reclaimed adjustable wood desk
The reclaimed wooden stand-up desks have a unique design and are stain-resistant and easy to clean with double-chamfered edges and a laminate finish. The Jarvis Bamboo standing desk solid wood was on our shortlist despite its amazing warranty and capacity to support greater weights because it edged out this option.
Inspirational Home Office Setups Ideas with Wood Standing Desks
Rustic office setup
This is one of the interesting home office setups ideas. Create an informal desk using a deep shelf attached to a basic track shelving system. DIY desks function as both work surfaces and serving platforms, so you'll have an all-purpose piece. Its versatility is one of its strongest features-you can easily adjust the height of the shelf up or down as needed.
Minimalist office setup
Simple, no-nonsense, and productive is the hallmark of a minimalist home office. Minimalists even have office plants on their desks. There is no need to spend money on buying white items all the time. Choose a black background with wood accents, a coat rack and industrial-style corner shelves, and wooden swivel chairs to complete the look.  
Midcentury Loft office setup
An attractive way of arranging a workstation is to use mid-century modern furniture. To make the chair feel homier, add a plethora of indoor plants and brightly colored cushions. It doesn't matter what trend you follow; indoor plants can make a stylish addition to any workstation.
Neutral office setup
If you want to reduce stress at your home office desk, you should work with earthy grey, green, and blue shades. A sound-canceling headphone is essential for dealing with dual home offices that comprise your desk decor. Your co-worker can have a Zoom meeting nearby, and you can tune out any noise.
FAQs
Is MDF the Best Reclaimed Wood for a Standing Desk?
We believe that MDF is an excellent option for a standing desk solid wood. Compared to particleboard and plywood, it's stronger and dense because of its manufacturing processes. Often, it can withstand tough work environments and offers a no-sag surface for shelving and desks.
Is It Safe to Use a Reclaimed Wood Adjustable Desk?
Many people worry that even the best adjustable wooden desk is dangerous to their health. While the chemicals used to treat and glue the MDF panels can be strong and hazardous, very little is used. Therefore, there are no health risks associated with using MDF based on the amounts needed to produce the items.
What Are the Best Reclaimed Wood Standing Desk Designs?
If you're like most people, you want something that's interesting and unique. The best reclaimed wood standing desk top might actually be something that's useful and practical. However, we like these standing desk designs for their innovative styles and features.
Conclusion
Everyone wants to use sustainable products, and you can do that with the best reclaimed stand-up desk. They're made from engineered wood, which often means MDF. This is durable and strong enough to hold everything on the desk without it falling or sagging.
While the frame should always be made of steel, the best reclaimed wood standing desk top looks natural but is more eco-friendly. The Autonomous products we reviewed here are all made of MDF, except for the bamboo ones. However, bamboo is also eco-friendly because it grows quickly and is naturally sustainable.
Therefore, you can't go wrong with any of the Autonomous SmartDesks we reviewed today. You can also find other options available, such as double desk.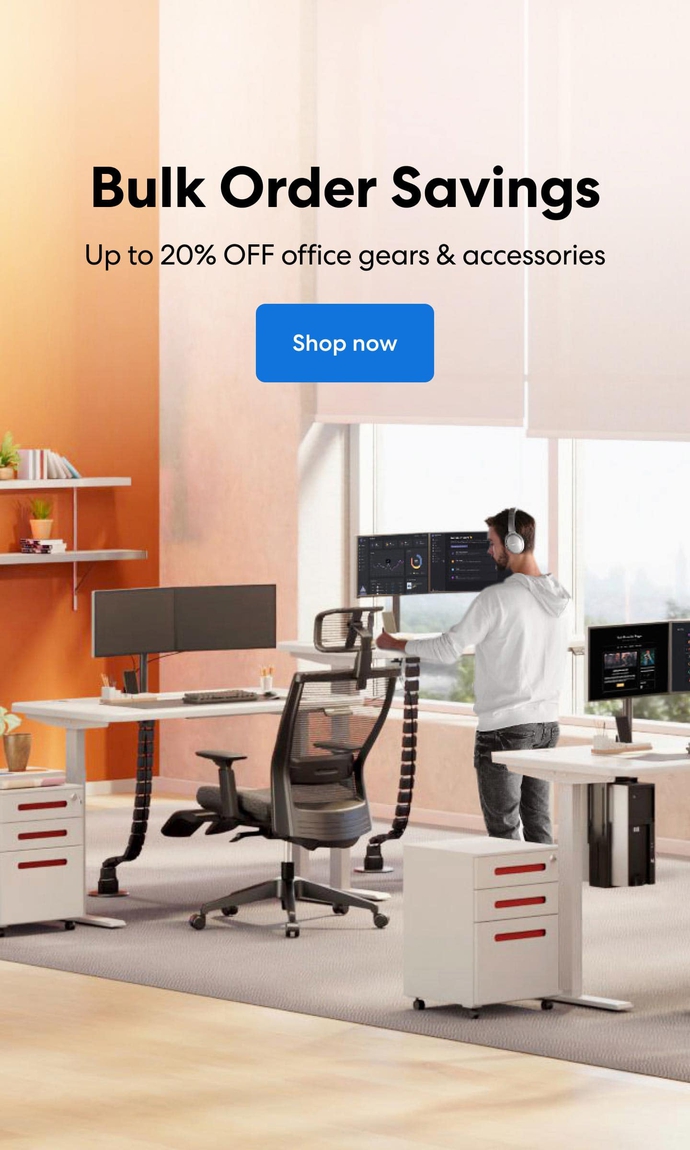 Subcribe newsletter and get $100 OFF.
Receive product updates, special offers, ergo tips, and inspiration form our team.