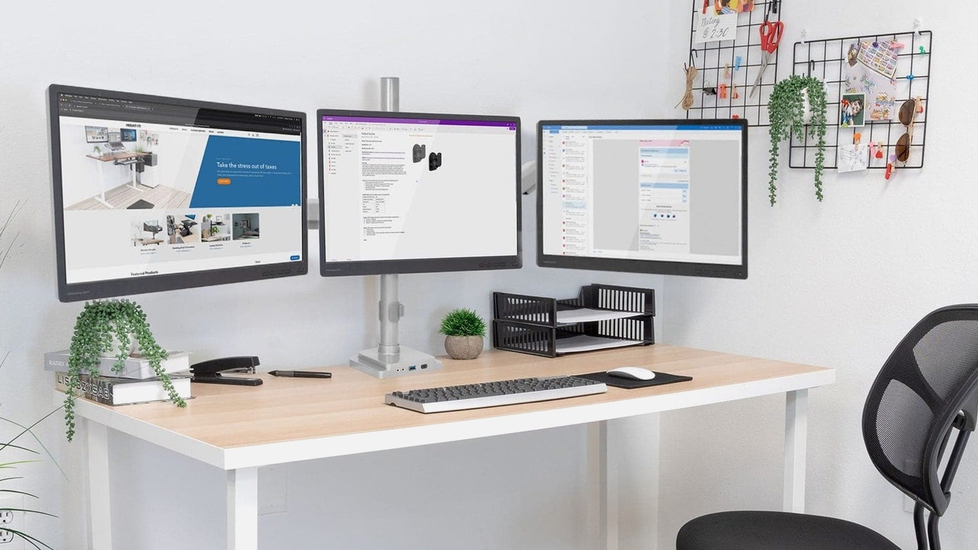 Mount-It! Triple Monitor Arm
29 reviews
Visit our store
Buy now
Add to cart
FREE shipping Dec 05 - Dec 07. FREE 30-day returns.
Bought by 4+ Zoom employees.
Sold and shipped by Mount-It!
MI-2753 is compatible with 75mm x 75mm and 100mm x 100mm VESA patterns and can hold a total of 46.2 lbs. (15.4 lbs. per monitor) Full motion arms, each with easy-lift gas springs and positioning in portrait or landscape mode for optimum office or gaming use Integrated USB 3.0 port and audio port are easily accessible on the front, and matching cables for each are hidden from view
• 10-year warranty
This triple monitor desk mount is a great addition to an ergonomic workspace, and provides the luxury of more desk room for other office essentials.
Deep dive into specs
Features
FAQs
Specs
reviews
4.9
Mount-It Triple Monitor Mount - Expand your horizons
The Mount-It! Triple Monitor Mount is what you need to expand your display and make it more appropriate for your work and gaming sessions. This way, you'll be able to build your dream gaming setup while also maintaining your desk as ergonomic as possible. 3-monitor mounts are desk accessories available in multiple styles and materials for people with multiple-monitor stands. This piece of gaming furniture is built on gas spring arms, ensuring smooth and fluid movements while you adjust each monitor to your preferred settings. Besides the basic options, you should know that this is the Mount-It triple monitor mount with USB port and audio inputs. Thus, it is one of the most complete gaming desk accessories you can add to your workstation. Before buying a triple monitor desk mount, it is important to take into account certain factors to make sure that the item is the right fit for your case.
What to look for when you're buying a triple monitor desk mount
Articulation & Support: While not all monitor mounts have it, triple monitor mounts should allow you to adjust the position of each of your displays easily based on your preferences. The "articulation" refers to the joints integrated into the mount, which define its flexibility. Therefore, more joints mean more flexibility. Besides joints for more flexibility, your monitor stand should also allow you to modify your monitors' tilt, height, and rotation. All 3-monitor mounts have a defined weight capacity. As long as you use monitors within the defined weight capacity, you can be sure that they will be fully supported. Make sure to double-check the height of your monitors before purchasing a triple monitor desk mount.
Mounting type & Cable management: There are different mount types. VESA mounts are the most common ones in the market, so it is important to make sure that your monitor is compatible with them. Take a look at the back of your displays and check if they have four screw holes available that form a square shape. If so, it is compatible with Mount-It Triple Monitor Stand. Using three monitors means that there will be a lot of cables around. Cable management allows you to hide all the cables within your workstation, allowing you to keep your desk surface organized and clean.
Clamp vs. Freestanding: You'll commonly find clamp and freestanding monitor mounts. Clamp-on mounts are pretty self-explanatory. They clamp on the site of your desk and are supported by it. This option usually takes less space, but you'll require a sturdier desk. On the other hand, freestanding mounts have their own support. While you don't need a sturdy desk to use them, they take a lot of surface space.
Benefits & Advantages of using the Mount-It Triple Monitor Mount
There are different benefits of using the Mount-It Triple monitor mount with USB port. Here we mention some of its most remarkable advantages for you to build your aesthetic gaming setup. Professionally arrange your screens. You'll be able to get the desk setup you've always wanted, thanks to the triple monitor mount's flexibility. More desk space is available. As a C-clamp stand, you'll be able to keep your desk organized and free of clutter. The cable management will make things even better. Enhanced ergonomics. Set up your desk to be appropriate ergonomic. You can now forget about eye fatigue and neck pain, as you'll be more comfortable than ever.
About Mount-It!
Mount-It Triple Monitor Stand is a triple-monitor support with gas spring arms, granting you more flexibility. Each arm has a weight capacity of 14.4 lbs. Depending on your preferred display option, you can use portrait or landscape mode. It has USB and audio ports integrated. It'll be easier for you to organize your desk. It's extremely easy to install. You can enjoy a clutter-free workstation within a few minutes. Mount-It! is a family business based in San Diego, California. It was founded in 2006, and its mission is to provide high-quality products at accessible prices. Their catalog includes several options for monitor desk mounts, wall brackets, and similar items whose main purpose is to make your life more comfortable. If you want to make your workstation more ergonomic, Mount-It! probably has all the items you need for that purpose.