Workplace Inspiration
Completing An Ultimate Desk Setup for Two Computers
7,898 Views
The setup of your home office must be private, comfortable, and convenient. It should even make you more comfortable but in an economical way. Working from home has its benefits: better workflow, no commuting, and better work-life balance. Since you'll be using your workspace for a long period of time, you need to ensure that you have the right selection. It's double the effort for a two-computer desk setup. If you need to begin working remotely or just want to improve your home office, we're here to help.
The average home setup includes standard items like a chair and desk that are ergonomic. A two-computer desk setup will also include productivity-enhancing features like a wireless printer, docked laptop and be distraction-free. Here are some recommendations for workspace options.
Clutter management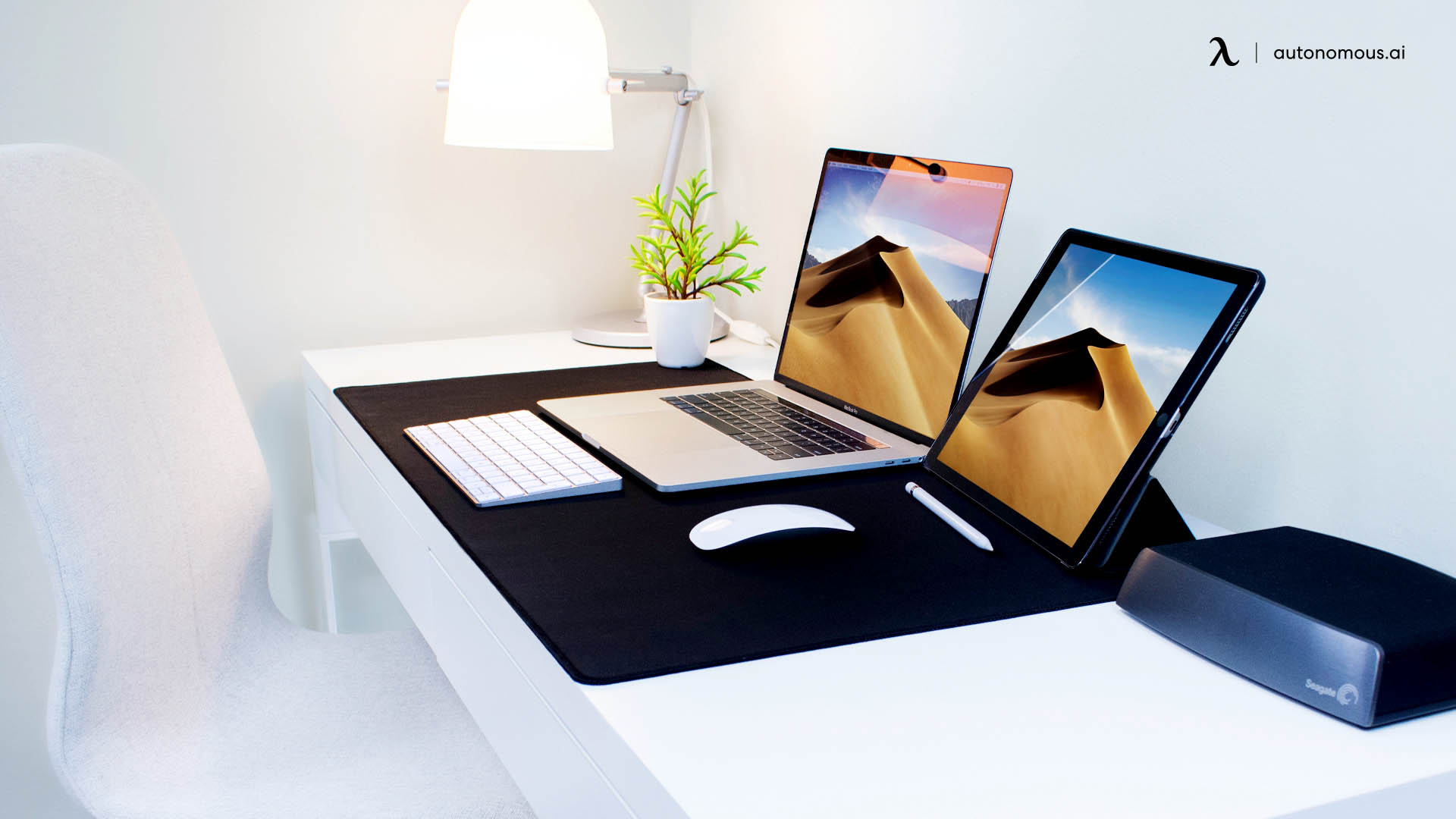 When you have a desk setup for two computers, you want to keep the rest of the area free. Clear off all the unnecessary clutter from your desk and the surrounding areas. The items that you use every day can be left closer to the dual computer desk setup. Less frequently used items can be placed in the drawers, under the desk, or at the side of the desk.
If you have space on the room or the walls, you could install some shelving or cabinets. These could aid you in keeping your 2 person desk setup sorted out. To get that sought-after minimal look, some individuals keep only certain items – phone, laptop, PC screen, tablet – on their table. Other times, they might utilize a PC screen mount and place all these peripherals under it.
Lighting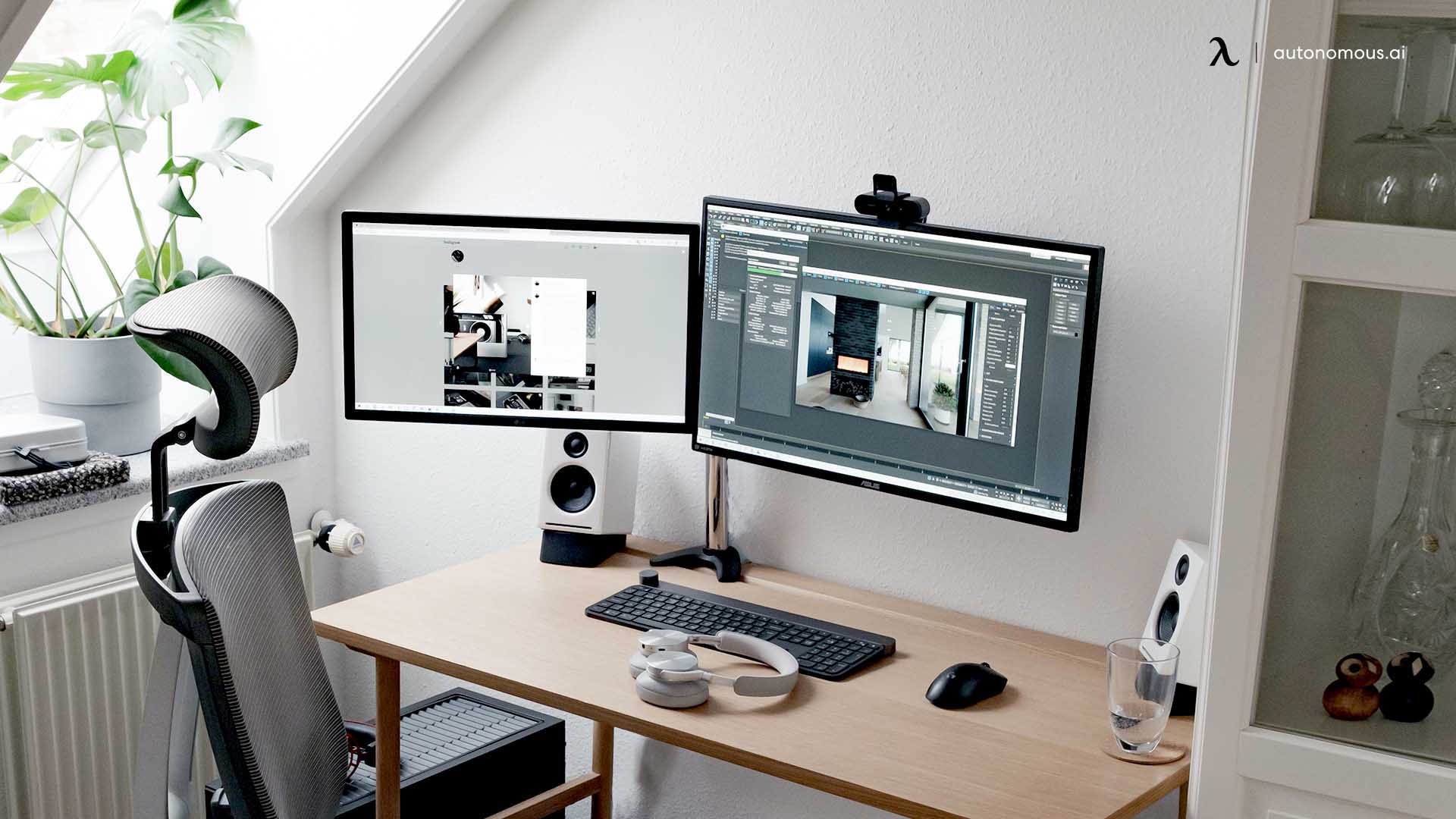 You need to have the best lighting around a double or triple monitor setup. The quality of lighting could reduce the brightness of these bigger screens, enhance adjustable standing desk setup. Bad lighting increases the strain on your eyes and lowers your energy levels or leads to headaches. It's particularly useful for an L-shaped standing desk installed in corners that often don't have enough light.
Permitting some degree of natural light through windows or an overhead skylight are two options. Natural lights will produce a brighter glare during the day, but you can control this using curtains or blinds. In the case of a tricky L-shaped desk setup, you may need a well-defined desk lamp, light source. A screen bar lamp could reduce the glare coming from the screen.
If you have a gaming two-computer desk setup, then add on some accent or ambient lighting like an RGB controlled system or nice, warm ambient lighting. You can even choose to forego this lighting as well.
Desk
Select the appropriate desk for your dual monitors so that you enjoy the right ergonomics, aesthetics, and less clutter. To select an appropriate desk like an adjustable standing desk, think about how you intend on using it. Next, consider the storage options that you'd like to have, like drawers: the number of drawers and where they are located. As for the dimensions and structure of the desk, think about steel legs, trestle, a 2 ft depth for holding desk accessories and monitors. Ensure that the desk has enough space for chair movements.
Most desks today are made with hardwood, solid timber for more longevity and durability. Wood offers a unique look each time as grain patterns ensure that no two desks are alike. Other finishes include a glossy white, brown, or black color that offers a clean, minimal, and sophisticated look. If you're on a budget, there are desks that offer component upgrading and décor customization so you can choose your price point.  
Ergonomics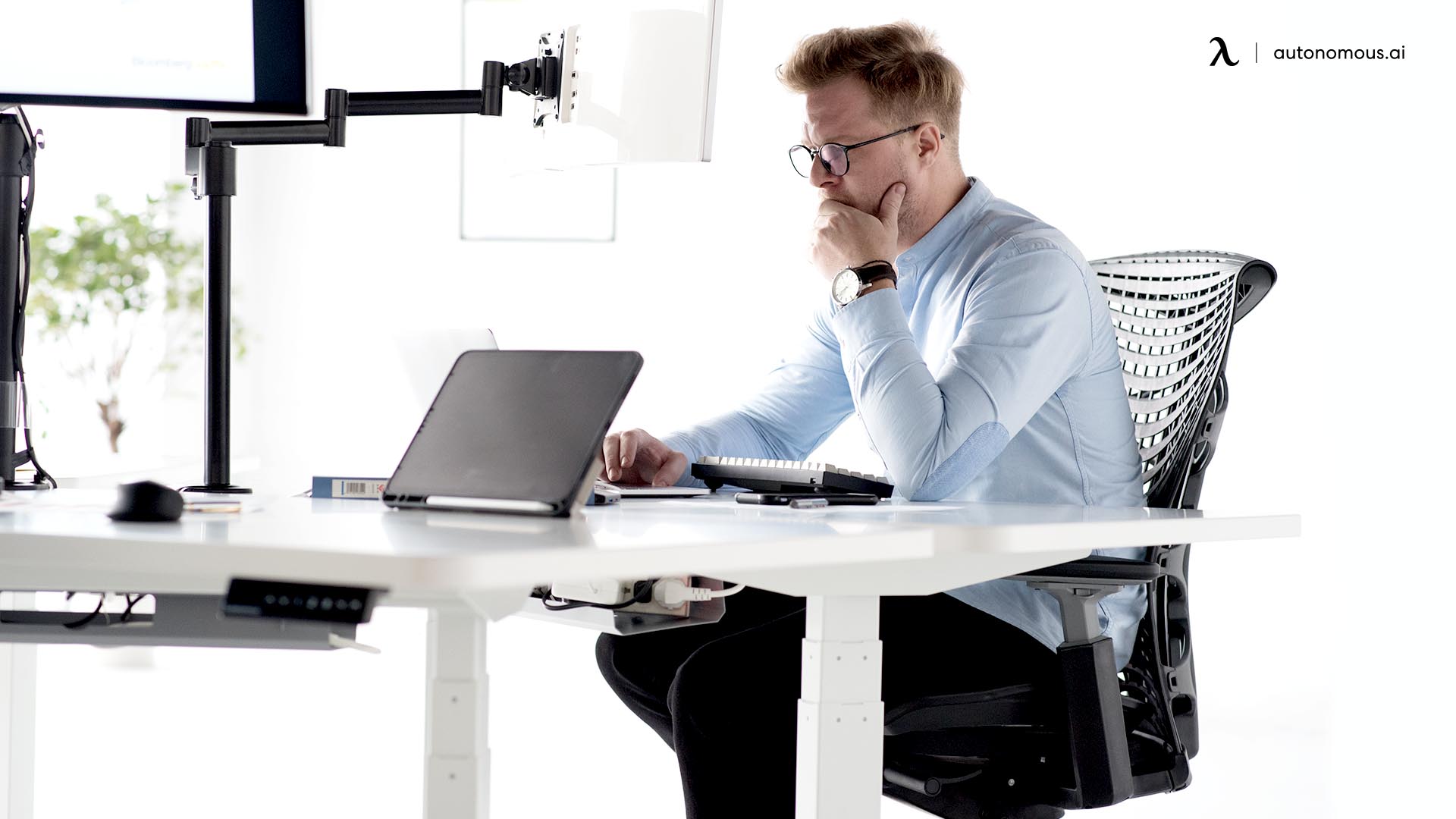 Desk ergonomics is what makes your home office bearable with a proper two-computer desk setup. Consider using an adjustable monitor arm to reduce the strain on your neck and shoulders. Monitor arms feature tilt, height, and swivel adjustments for a custom fit. When choosing your office chairs, keep in mind things like support, adjustability, and comfort. Select the appropriate ergonomic mouse and keyboard for working or for gaming. This can help you to avoid discomfort in your shoulders, wrists, and arms.          
Peripherals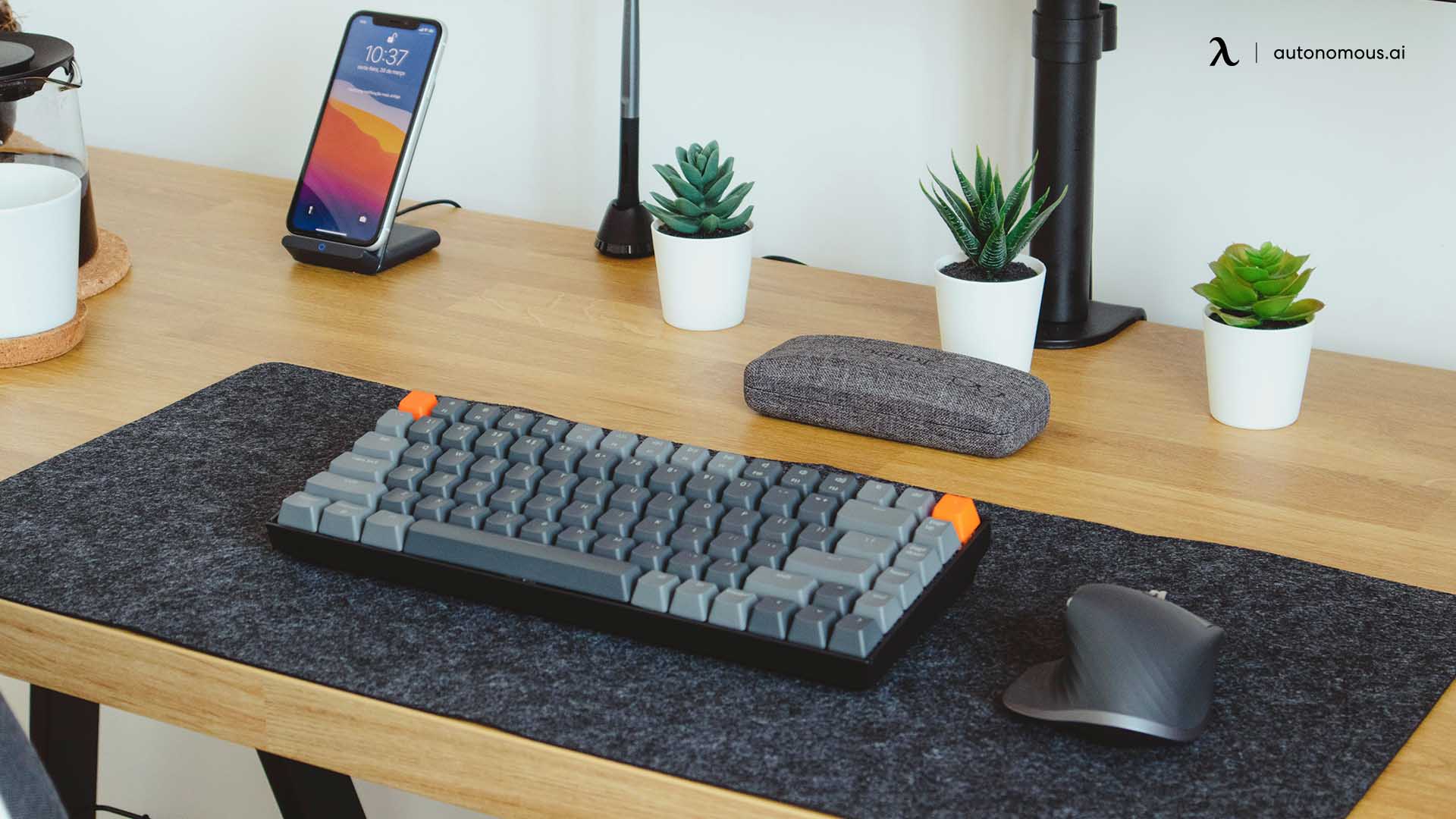 Next comes the selection of your equipment, as the correct pieces go a long way in improving productivity and the feel of your setup. Wireless peripherals are popular now as they don't have messy, cumbersome wires, and they offer a minimal look. Monitors render great gaming, viewing, and working experience.
First, determine the main purpose of the monitor in your two-computer desk setup, whether professional, gaming, or home use, and then pick a dual-screen. Faster refresh rates, low response times, and color accuracy are specific needs for certain careers and hobbies. Mechanical keyboards work well for gaming needs. However, you could decide to go with a wireless mechanical keyboard for your daily tasks, minimal looks, and adequate functionality.    
Cables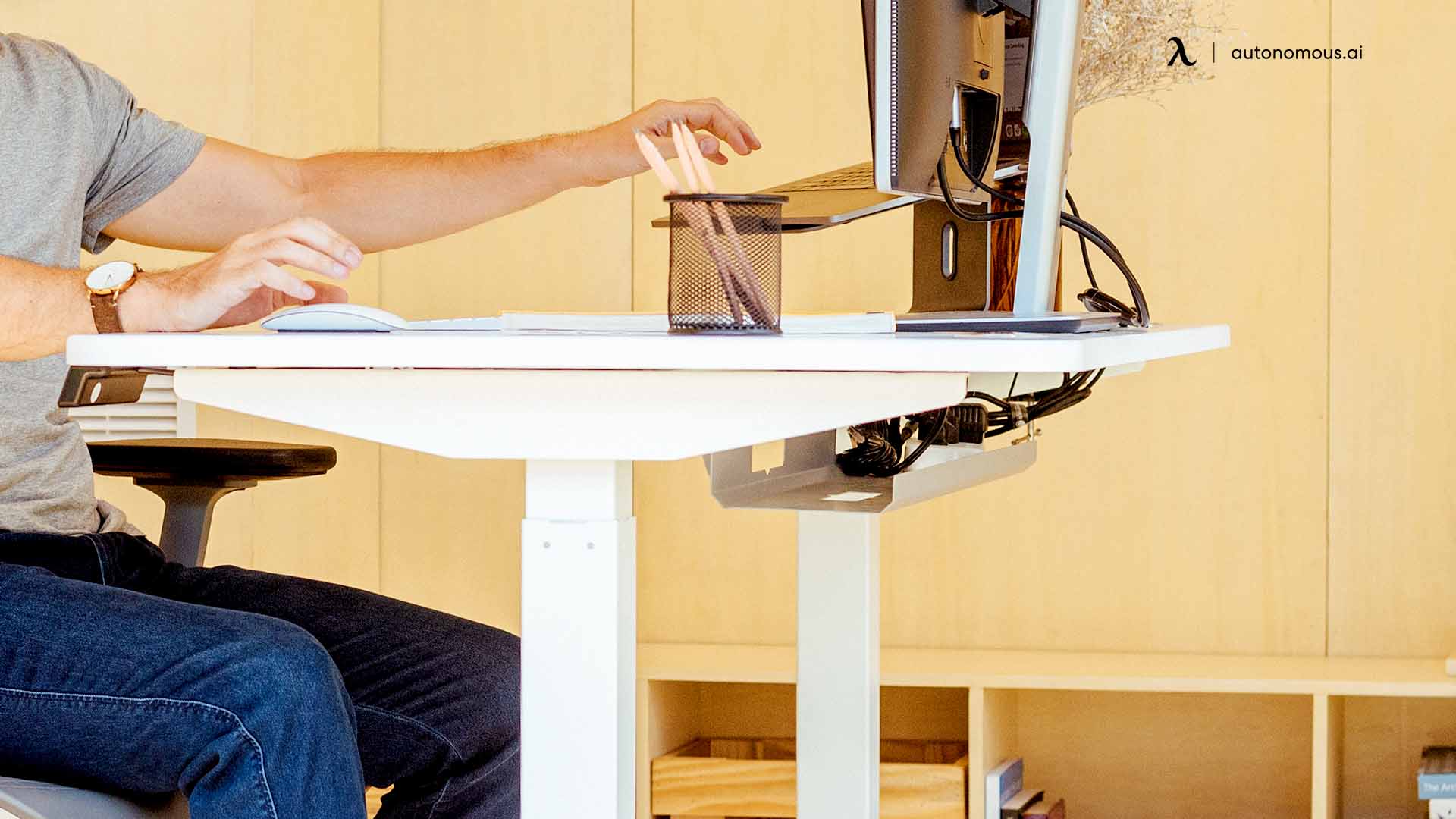 Cables can begin piling up as you add more devices in your desk setup for two computers and result in a messy look, even if you do decide on wireless devices. You can find cable management tools like cable trays, Velcro strips, cable ties to bundle or route the ties together. Cable management boxes are a better option for lots of cables as you can hide power strips under the desk or any other place out of sight.    
Maintenance
To keep your desk clean, assess the desk once you're done using it. Put away all of the less frequently used items to clear up the large areas of the desktop. Then wipe down the desk using a damp cloth to remove dust. Also, focus on cleaning up the items that you touch the most, like mice, styles, keyboard, etc. You can use a wet wipe to clean up all of the flat, empty spaces. For tricky areas like between keyboard keys, you could try using a brush.
Subcribe newsletter and get $100 OFF.
Receive product updates, special offers, ergo tips, and inspiration form our team.
WRITTEN BYAutonomous
We build office products to help you work smarter.