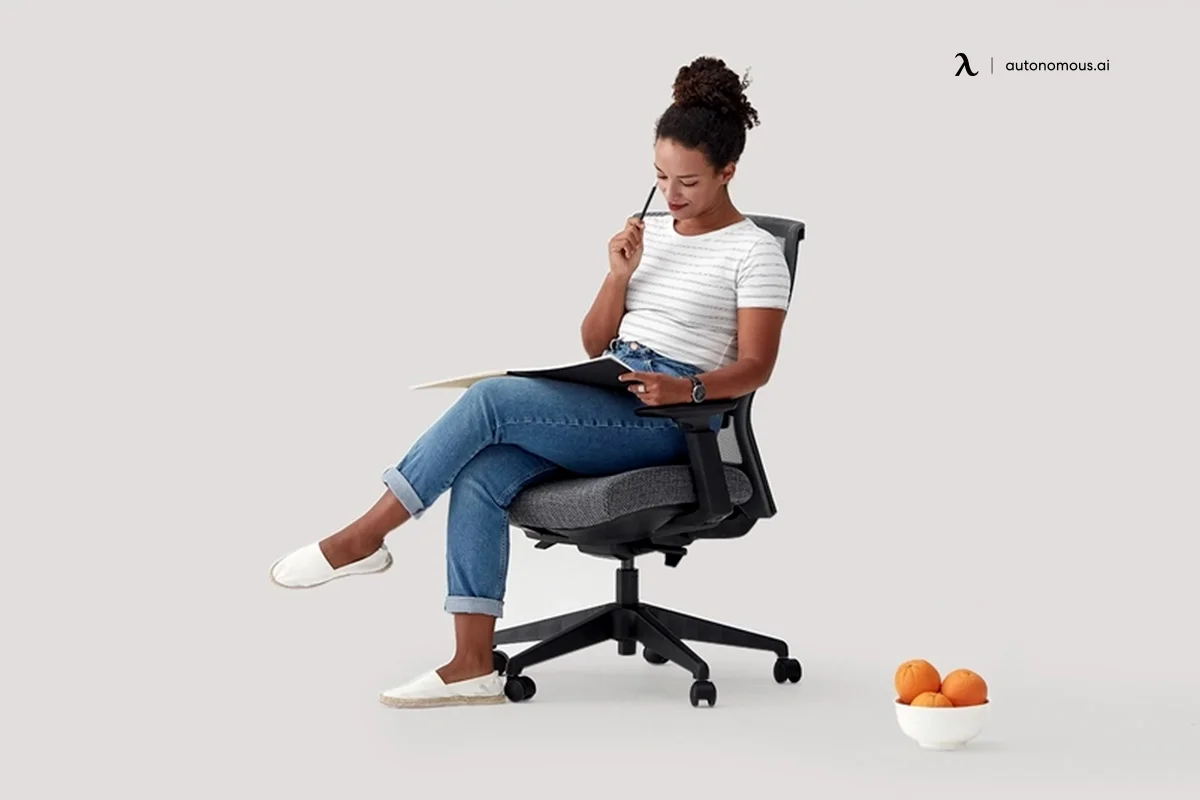 Smart Products
Tips for Finding the Ideal Height for Your Office Chair

Karen Kimonye
|
Feb 20, 2023
34,057 Views
You'll most likely be sitting in an office chair with a desk and computer in front of you right now. When we're in the zone at work, we tend to slump into unhealthy positions. Most of us have unusual habits of sitting or standing that cause unnecessary strain on our bodies.
Therefore, it's crucial to set the ideal standard chair height and position of your office chair that'll allow you to complete hours of work without any fatigue. Let's read on to find out more on such chairs!
What Is the Standard Chair Height?
It's not possible to generalize about chair height preferences because everyone is different, though the standard seat height of a chair seat can be described in several ways.
In North America, the standard desk height is 29", however, there's no standard chair height. Different office chairs have different average chair height ranges, but if you measure from the seat to the floor, the typical computer chair height range is 16" to 21".
Note the above office chairs are standard ergonomic office chairs. Some ergonomic office chairs for tall people can be adjusted beyond 21". Other types of office chairs, including drafting chairs, have a higher range of desk chair heights.
Typically, a traditional office chair will be set at a height that encourages a slack back and knees at a correct angle while seated (90 degrees). Chairs at workplaces are at least 15" from the ground, however, the fixed average chair height is 17" high. Also, there are office chairs for short people that can go as low as 14.5".
While adjustable ergonomic office chairs typically range from 17" to 21" in height. These values are optimal for computer or desk seats; however, there are recliners and massage office chairs that go even higher. Tall office chairs can strain the area just below the knee, while the smaller ones that are too low can cause problems for the pelvis and hips.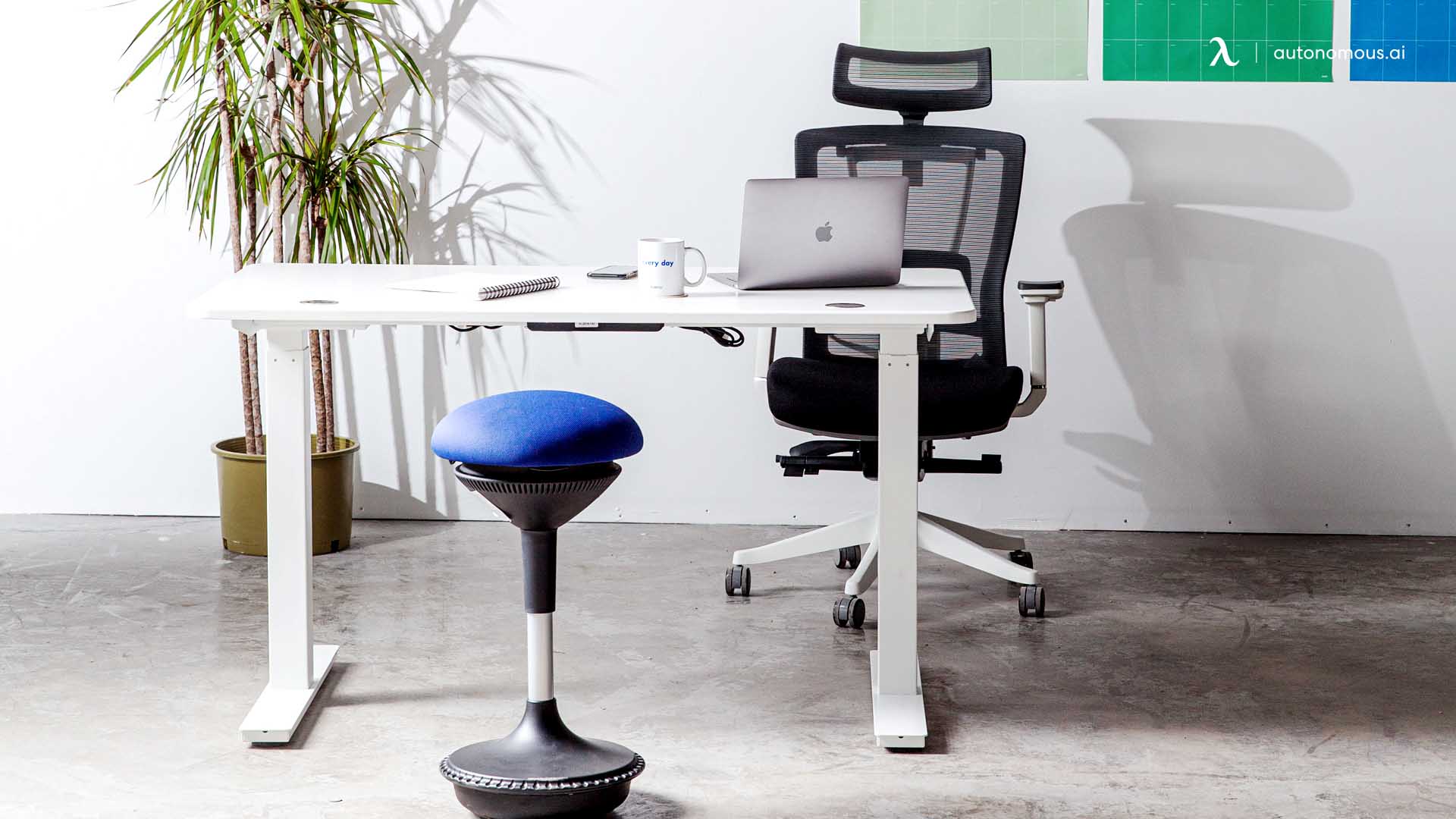 Does the Ideal Office Chair Height Exist?
From an ergonomic standpoint, office chair manufacturers have built office chairs with optimized height to ease negative health effects on your thighs, shoulders, lower back, neck, and even arms. This allows you to work comfortably, ultimately boosting your productivity.
Here's how the ideal office chair seat height should look like when you're seated:
Your feet should firmly touch the floor and your knees should be bent at 90 degrees.
If you're working on the computer, your forearms should be at the same height and parallel to your desk, and your elbows should assume a 90 – 110 degrees open-angle.
The two parts above don't always coexist harmoniously, which makes creating an ergonomic workstation trickly but not impossible.
Factors to Consider When Calculating the Ideal Chair Height
When you're using an office chair instead of a floor chair or desk chair with no wheels, there are certain suggestions that you should keep in mind while performing typical office tasks such as writing or using a computer. At this point, you know there are two outcomes that you should look for to achieve the ideal desk chair seat height. Let's focus now on how to achieve each outcome.
Two Feet Firmly Touching the Ground
While sitting on your target office chair, adjust the height lever until your feet touch the floor completely. And keep your knees are at a 90-degree angle. Don't over lower your chair because this will exert pressure on your sit bones.
Raise or lower the seat's height adjuster until your feet are flat on the floor and your knees are at a 90-degree angle. It's important to avoid putting too much weight on your gluteal bones by lowering your chair too far.
Another way to find the best desk chair height where your feet are touching the floor is by standing up. This allows you to assess a chair quickly when you're shopping in a store.
To find the perfect office chair seat height, stand in front of the chair.  Adjust its height so that the top of the seat or cushion is just below your kneecap.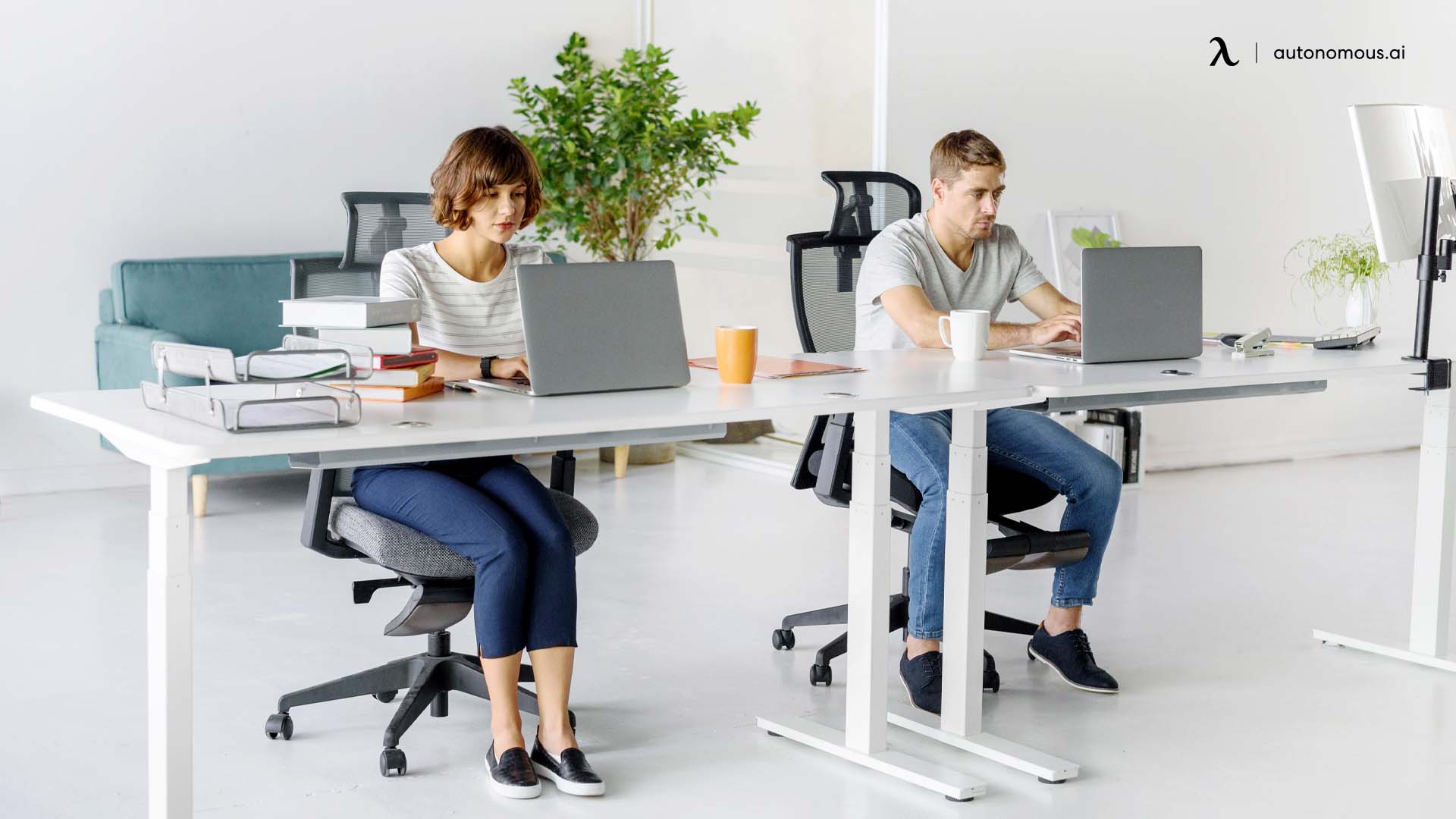 Forearms Parallel to Your Desk
The second part of finding the ideal computer chair height, especially if you work a lot on your computer, is to make sure your forearms are at the right height and parallel to your desk.
Check that your arms are at a comfortable level. You can modify your chair's height such that your elbows make a right angle of 90 to 110 degrees. Additionally, make a few more tweaks to the height until your forearms are either parallel to or slant slightly toward your desk. Continue adjusting your chair's height so your forearms rise above your desk and are parallel with or slopping slightly towards your desk.
You'll be able to unhunch your shoulders and settle into a more natural position after you find the ideal seat height, and your wrists will be in a more natural, comfortable resting place. Arm tiredness and RSIs like carpal tunnel can be avoided with these simple posture adjustments. This prevents repetitive syndrome injuries, such as carpal tunnel over time, and reduces arm and wrists fatigue.
But raising your chair to accommodate your arms may cause your feet to dangle off the floor. The solution? Using a footrest can prop them up. It's easier to accommodate your feet position than your arm's; however, without a keyboard tray or a height-adjustable desk; this is hard to do.
Seat Inclination
Ideally, standard seat height will allow you to lean forward, and this feature is standard on any chair in the ergonomic office chair market. Use a seat wedge if your chair doesn't have this feature.
When your knees are at a 90-degree angle or more, your torso slumps backward, increasing pressure on your thoracic and spinal discs and making it harder for you to breathe. Therefore, by moving your pelvis forward, you can restore the natural curves in your spine and alleviate back discomfort by sitting with your hips higher than your knees. Keep in mind that slouching can cause the reversal of your normal spinal curves.
Help for the Low Back
To prevent yourself from slumping forward or slouching down in your chair as fatigue sets in, it's important that your bottom is forced against the backrest of your chair and that your lower back arch slightly due to a cushion.
The back support of your leather office chair is crucial for reducing stress on your lower back during the day. One should never slouch forward in their chair at work, as this creates unnecessary pressure on the vertebrae and discs in the lower back.
So, set the chair seat height to match the above posture.
The Perfect Eye-resting Gaze
Relax and close your eyes while facing forward in your chair. Start by opening your eyes a little at a time. The sweet spot for your eyes to land is exactly on the center of the screen. You should raise or lower your computer screen if your gaze is drawn to the top or bottom of the display.
Office Accessories that Help You Achieve the Ideal Chair Height
Height Adjustable Desks
Height adjustable desks are becoming a popular trend in many American workplaces. They limit the time you spend sitting, which starves off a variety of potential health risks.
In most modern offices, you can find a desk that can be adjusted to various heights. A height-adjustable desk allows users to set the optimal working height for their keyboard, monitor, and mouse. Adjusting the desk's height to meet your needs is simple and easy, always go with the setting that makes you feel most at ease.
Also, it helps you to maintain the right desk chair height because you can raise or lower it to accommodate your height requirements. Adjustable desks allow you to find a good working posture. Many health problems, such as back pain, can be avoided by simply finding a comfortable sitting position for lengthy periods of time at work.
Therefore, your ergonomic workstation must include an ergonomic adjustable desk such as the Autonomous SmartDesk Core that can be electronically adjusted.
Ergonomic Chair
For those who spend at least eight hours a day sitting at a desk, an ergonomic chair can be the most comfortable office chair and will make all the difference in the world. Flexibility and productivity can be maintained using ergonomic features like adjustable lumbar support and seat depth.
The Autonomous ErgoChair Pro is ergonomically made to support your back, alleviate pain, and set the average chair height according to your body. These adjustable features can help employees to move around the chair so everyone can use it.
It can be paired with other office accessories like casters or chair mats for carpet to protect your floors while moving your ergonomic chair.
Keyboard Tray
To save you the trouble of reaching for your keyboard, an office item known as a keyboard tray may bring it right to you. A keyboard tray helps to bring your keyboard to you so you don't have to adjust your chair or desk. It's an essential ergonomic accessory that adds pressure on a few muscles and tendons. 
There is usually no need to modify your workstation's chair or desk to use a keyboard tray, and there is no such thing as an ergonomic workplace without a keyboard tray. Therefore, the Mount-It! Keyboard Tray can be the perfect match for your workplace setup.
Monitor Arm
A monitor arm is a highly adjustable accessory that attaches to your office desk with a bolt-through or clamp mount. A monitor arm is a flexible arm that holds your screen and attaches to your desk, typically by a bolt-through or clamp installation. Your monitor's position can be altered during the day after you've set up your monitor arm, which is great for your eyes and neck.
Thus, with a monitor arm, you can maintain your chair at the right desk chair height because you can easily adjust your monitor as needed throughout the day. This allows you to work at the correct height range. Also, you can adjust the monitor arm to your preferred position to ease eye and neck pain while maintaining a healthy posture. The Autonomous Monitor Arm can be swiveled to any desired working position on the 360-degree monitor arm.
Footrest
A footrest prevents your feet from dangling and it elevates your feet at a height comfortable for your body. With a footrest, you can eliminate the desk chair height problem.
Why Do Average Chair Size and Height Matter?
When compared to standing, sitting places more strain on your spine. When you sit in an office chair that is too high or too low for you, you unconsciously adjust the position of your arms, legs, back, and even your wrists in uncomfortable ways.
As a result, your chair's height substantially affects your posture, health, and efficiency. You may prevent several problems by finding the standard seat height for your office chair.
It seats you so that your body weight is shared between the floor and the chair's seat pan, armrests, and backrests.

You'll have better access to the computer's screen.

Supports the spine's natural swayback position.

It helps maintain a stable and leveled footing on the ground.

Ease the strain on the kneecaps.

Reduces hip pain and pressure on the pelvis.

Enhances flexibility in the upper body.

Lessens the effects of fatigue due to poor posture.
Final Thoughts
The office chair seat height is crucial in creating an ergonomic workspace. Knowing the standard chair height that works best can do wonders for your comfort and efficiency. If you adjust your chair's height properly, it's much easier to align the desk and monitor, keyboard, and mouse correctly.
Sitting for extended periods often results in excessive and one-sided lower-back strain, irritating pain, and poor concentration. However, adjusting your desk chair height correctly is crucial in achieving a healthy sitting posture. Having the right seat height not only helps you achieve a comfortable, ergonomic sitting posture, but it also helps you get in and out of your chair easily. No ideal height can work for everyone, so we've laid down some suggestions above to help you discover it!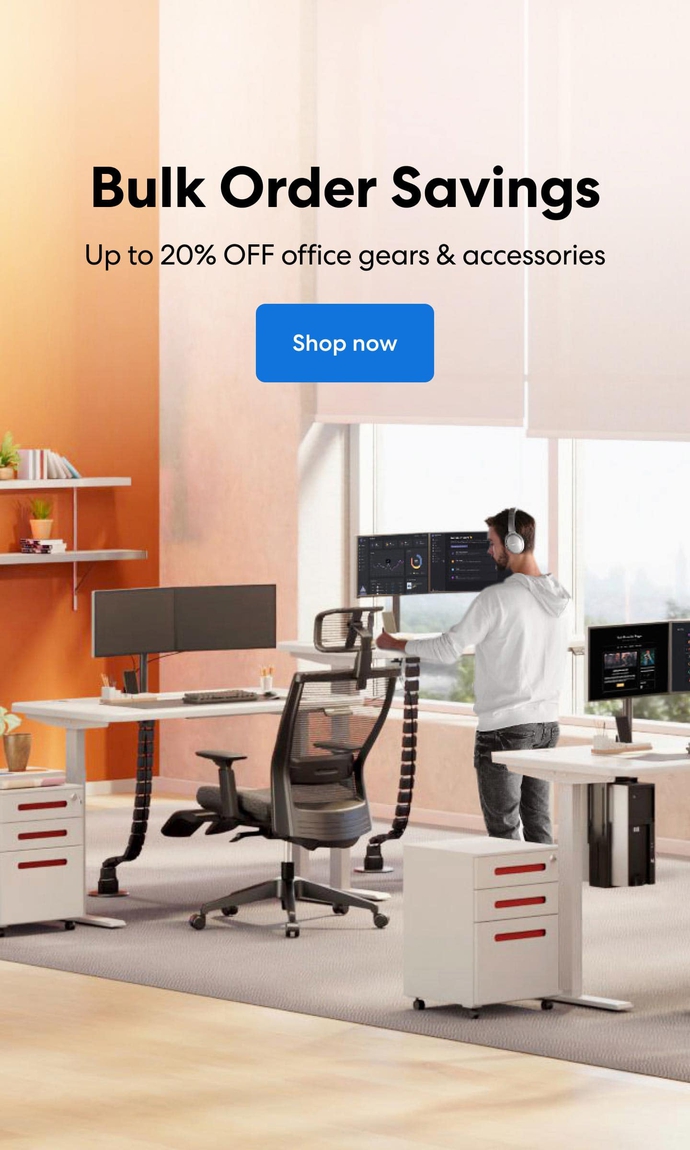 Subcribe newsletter and get $100 OFF.
Receive product updates, special offers, ergo tips, and inspiration form our team.