Smart Products
Things to Consider When Buying a Computer Chair without Wheels
4,936 Views
Do you also hate the feeling when you slightly scooch over to grab a file and your chair moves to the North Pole? Well, even though good ergonomic chairs come with locked wheel castors, some office chairs do not give you the freedom of choice not to move. This is where a computer chair without wheels comes in demand.
Ann ergonomic chair with no wheel has all the reasons to be your favorite product in your home office, but how to find the best budget computer chair that meets all your demands as well? This article will list some of the top reasons to purchase and not to purchase a computer chair without wheels. Moreover, we will also help you choose the best office chair with nono wheels.
Pros and Cons of Computer Chair without Wheels
If you buy a comfortable swivel desk chair with no wheels, you might often think you can always invest in a chair caster to get the job done, but can you do otherwise? A chair with wheels cannot work without wheels, and hence you are limited with the option. The decision of buying a chair with or without wheels is just like thinking about whether to buy a computer chair with an armrest – you need to get in the details.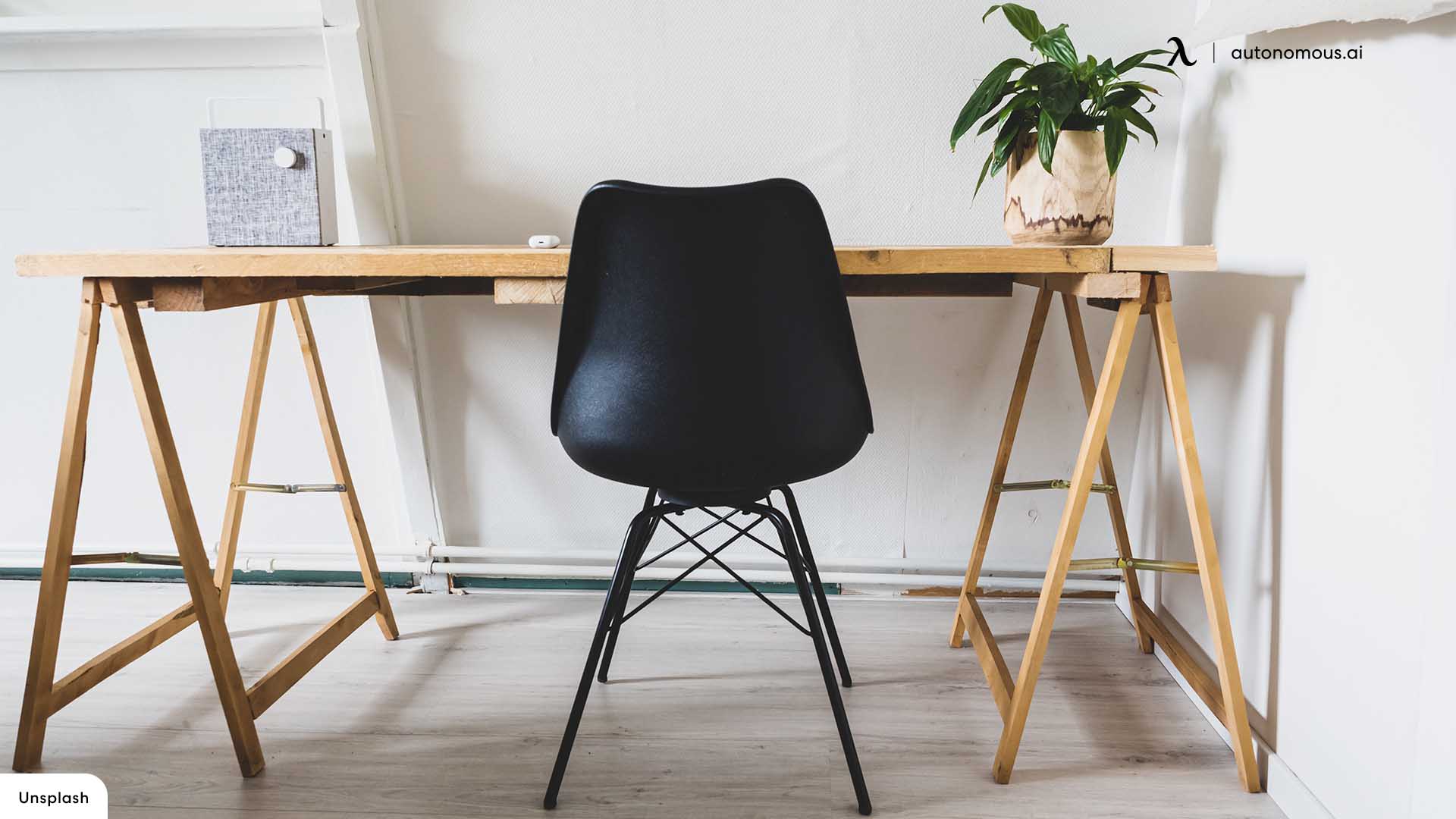 Here are some pros and cons of a computer chair with wheels that you might want to consider before making a choice.
Pros of Office Chair with Wheels
Better Mobility
Some people love to stay stuck in the same position while working, whereas some enjoy a little movement once in a while. Wheeled chairs give you the benefit of moving around the desk, especially if you have a corner desk where the work surface is much greater. With a desk chair with wheels, you can also be more active as you don't need to get up each time you need a file from the farther end.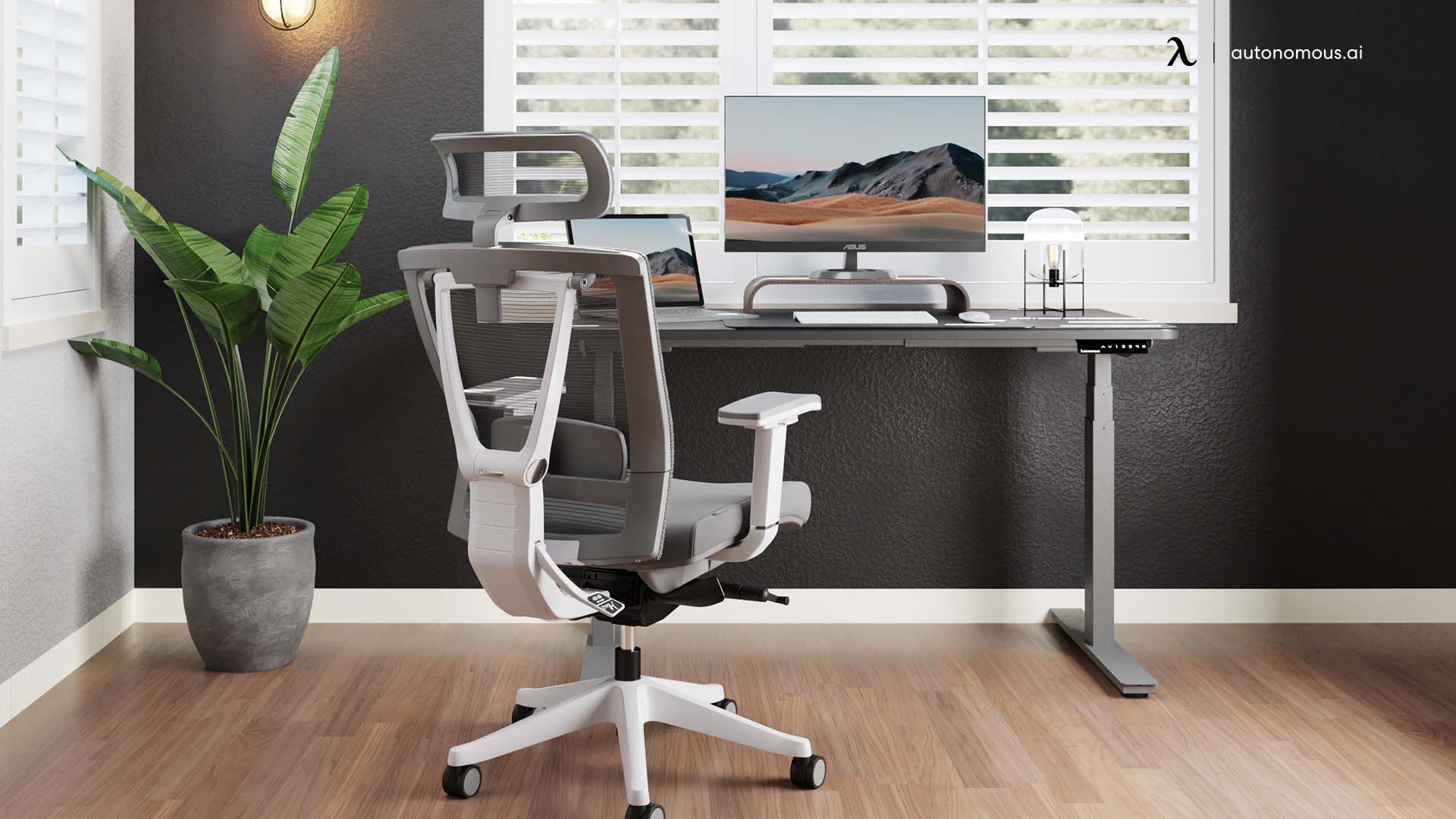 More Options
As we all have seen the majority of office chairs with wheels, it is likely that we can get more options with a wheeled office chair. You can get everything from the most comfortable computer chair to an ergonomic chair available in various colors.
More Features
Having wheels is more than a common office chair, but that's not the only thing you get. With a wheeled office chair, you get a perk of better adjustability. Most office chairs that come with wheels allow you to adjust seat height, seat tilt, armrests and headrests. Also, having wheels in a chair is a part of ergonomics, and many ergonomic chairs offer complete adjustability.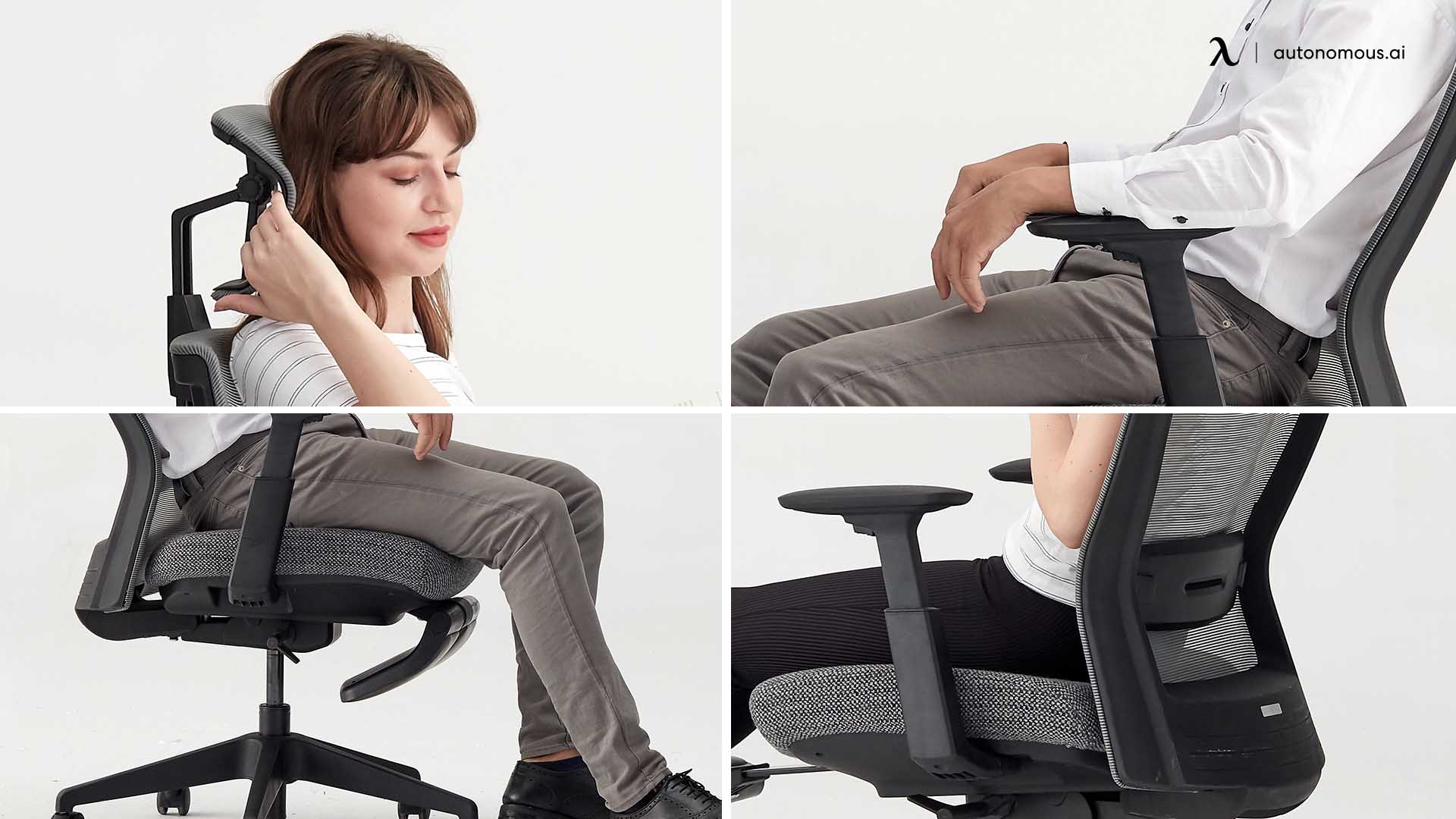 Cons of Office Chair with Wheels
Expensive
Office chairs that have wheels as an added accessory are usually more expensive than a chair without wheels. This is because they offer more features and hence the price is increased.
Assembly
These chairs usually come in different parts where you will need to spend some time assembling them. Although most chairs come with easy assembly, some people might not be up for its idea.
Flooring
Another major drawback of office chairs with wheels is that they give flooring options. You cannot use them on wooden or hardwood floors, so you might need to get carpet for your home office, which is an added expenditure.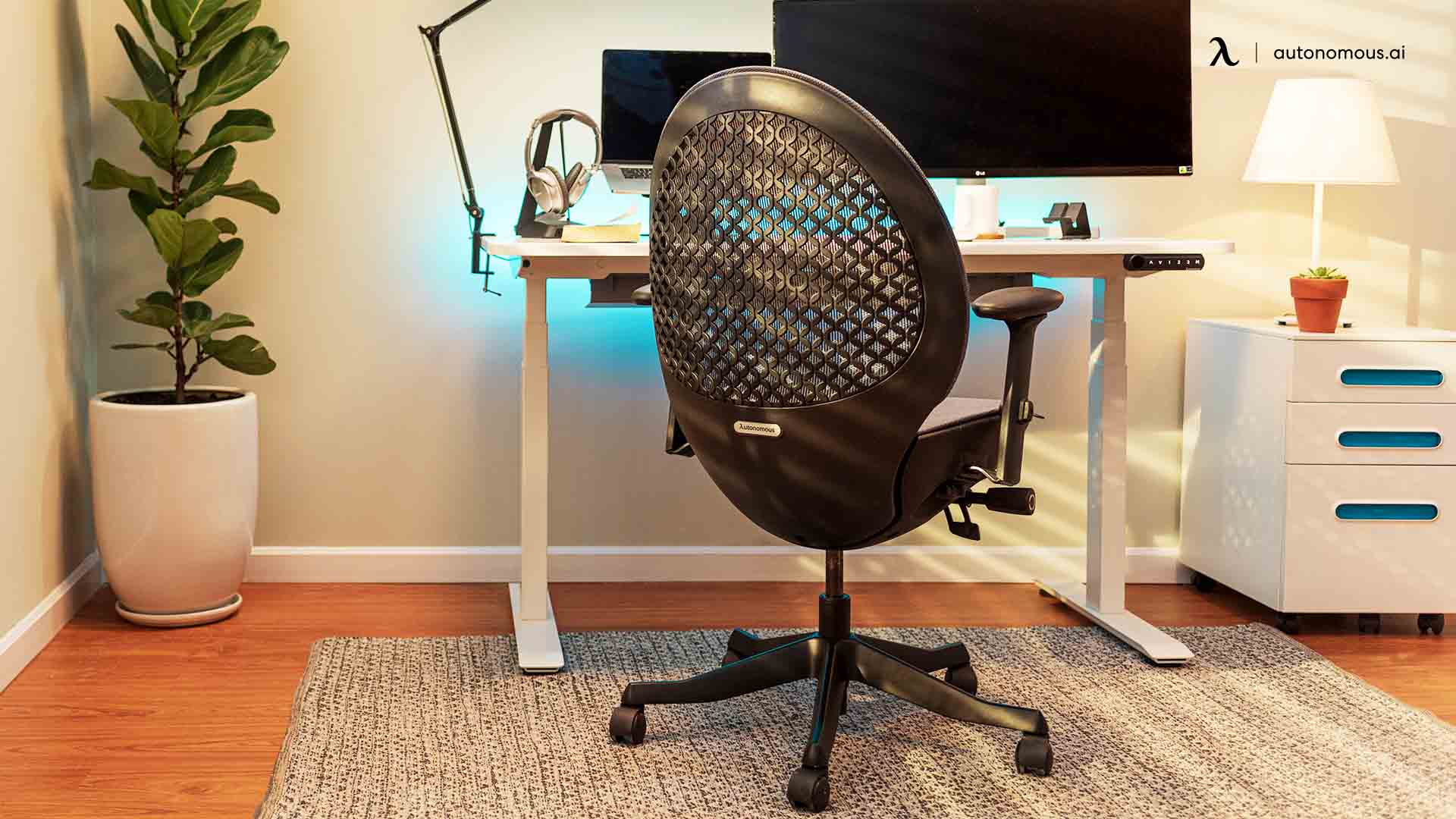 Pros of Office Chair Without wheels
Less Expensive
Since their construction is easier and doesn't require a lot of chair accessories and features, these chairs are less expensive than other options. Hence if you are not planning to spend a handful amount on an office chair, then a chair without wheels is the right choice.
Easy Assembly
With no assembly required, these chairs don't demand extra time.
Aesthetics
Office chairs without wheels look more sophisticated and classy for a modern office than a chair with wheels.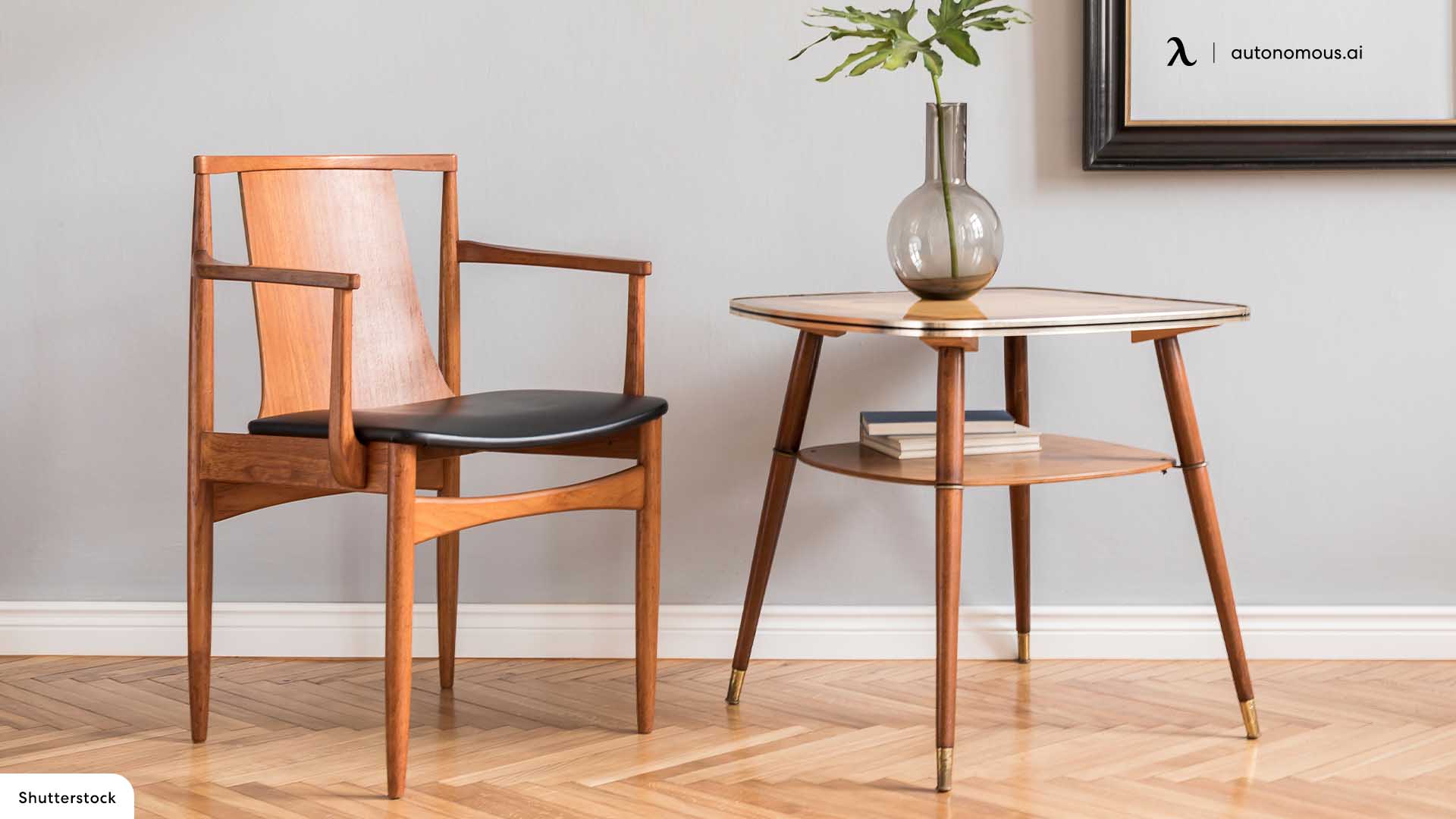 Cons of Office Chair without Wheels
Mobility
As understood, these computer chairs without wheels come without wheels, so you don't get the chance to enjoy mobility. This might be a problem as you cannot stretch to reach a document and get up every time you need something.
Fewer Adjustability
With a simple design and a basic construction mode, these chairs have fewer adjustable features. Such as you won't get many chairs without wheels that have adjustable arms or even an adjustable seat tilt.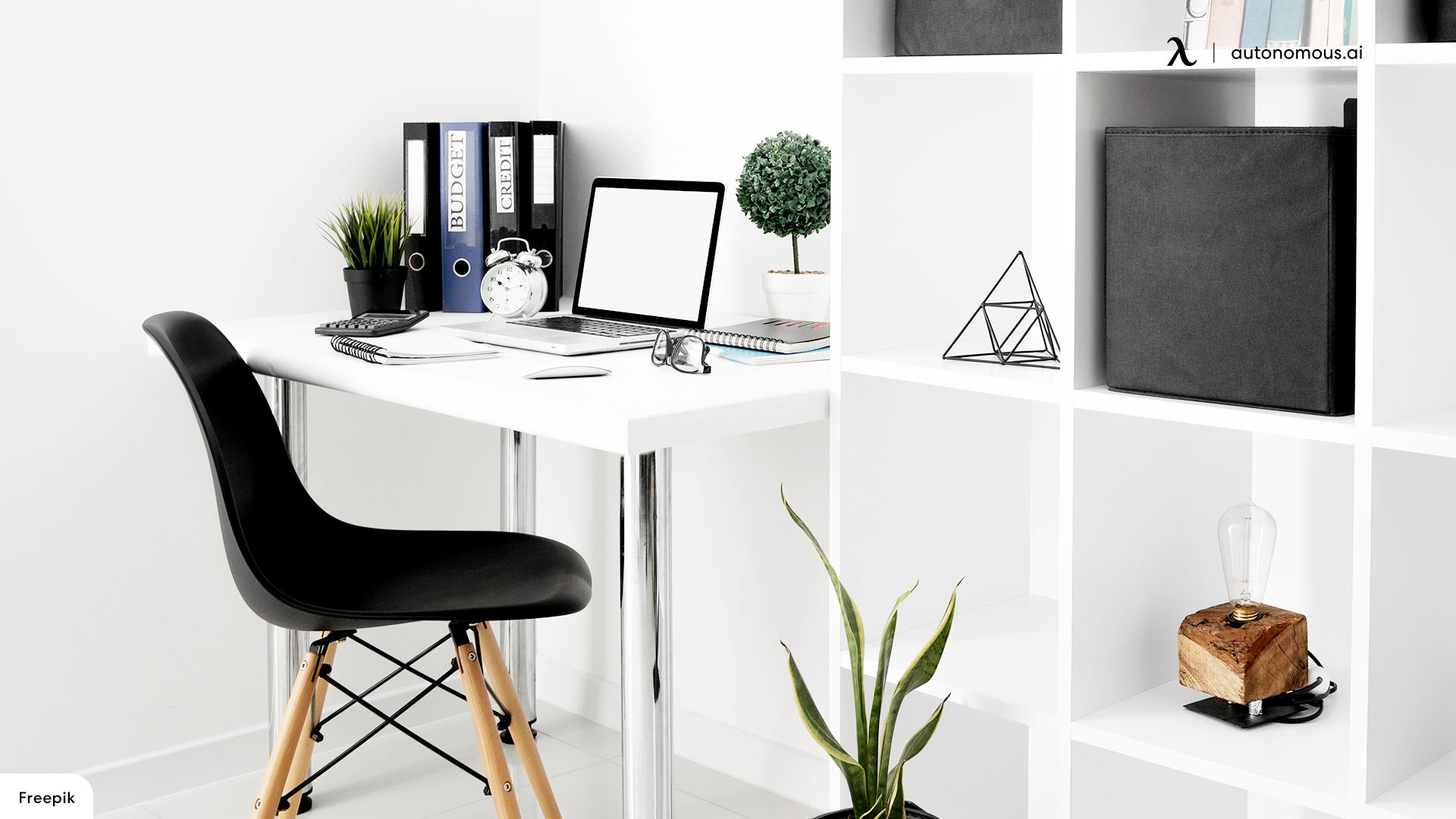 How to Choose the Best Computer Chair without Wheels?
When it comes to picking a wheel-less desk chair, most people focus solely on appearances. However, a chair is much more than its appearance. You'll need to consider other characteristics of the chair if you want optimal comfort and support throughout lengthy working hours.
Material
The material and fabric of desk chairs vary widely, but not all of them provide the proper level of comfort and breathability for a productive work environment, unlike a mesh ergonomic office chair. The goal is to choose a material that will last a long time and won't irritate or make you sweat.
Ergonomics
Although you might have gotten the idea that desk chairs without wheels are hardly ergonomic, there are now many versatile options to choose from. Here are some things you can check to know whether or not a chair is ergonomic. The chair should have an adjustable seat height and lumbar support. If the chair has armrests, they should be adjustable to provide the required ergonomics.
Type of Flooring
Although the type of flooring in your office may be the last thing on your mind when selecting a desk chair, it is an essential aspect to consider. Why? Because not all desk chairs are compatible with all types of flooring.
Even though desk chairs without wheels cause less floor damage than rolling casters, they get scratches and scuffs. After all, you'll be shifting back and forth in your desk chair all day.
Avoid chairs with metal legs if your floor isn't scratch-resistant or easy to clean, as they can rust and develop stains and scrapes over time.
Weight Capacity
Weight capacity is an important factor for every office chair, no matter the purpose or type. Hence it would help if you were careful about selecting the right chair for your needs. It is also to be noted that the chair you choose should have a weight allowance a few pounds above your weight limit.
Top Ergonomic Chairs with No Wheel
You may slouch if you cannot slide the armrests under the table if your ergonomic chairs with no wheels are not fitted properly to your desk. Choosing the right chair for your office setup and needs is important. A chair that can be adjusted throughout the day will make adjusting your posture easier. More on-the-fly office chairs with no wheel customization options are better in general. 
You can choose from various other options in addition to executive reclining office chairs with ergonomic features. Additionally, kneeling chairs, swivel desk chairs with no wheels, and balance ball chairs can be used throughout the day as substitutes for standing or seated chairs. The lack of back support on most swivel chairs with no wheels allows them to promote more movement and improve posture because they don't provide back support. The backless chairs are tiring after a couple of hours if you don't want to sit on computer chairs without wheels.
1. Trio Supply House Visitor Chair With Sled Base
You can use this minimalist modern home office chair no wheels to upgrade your office space. It provides ample cushioning for guests and creates a luxurious look wherever it is placed. You can use this conference room chair in reception areas, waiting rooms, or lobbies, as the timeless or black design fits most layouts. It has a sturdy sled base and a good height range That is fixed and supported with a modern armless design. It provides a clean aesthetic to smaller places, and you can choose between different types of upholstery colors in either fabric or faux leather.
| | |
| --- | --- |
| Product dimension | 20.25"W x 22.5"D x 34.75"H |
| Materials | Fabric, Metal |
| Colors | Blue |
| Weight capacity | 250 lbs |
| Warranty | 1 month |
2. Trio Supply House Stack Chairs With Arms Office Chair
This office check comes with a padded seat and backrest in a stackable design. It has a very durable black frame with dual carpet casters and is comfortable, thanks to the molded foam. Or you can place it on an office chair mat for carpet. It is even GreenGuard Indoor Air-Quality certified.
| | |
| --- | --- |
| Product dimension | 24.5"W x 24.25"D x 33"H |
| Materials | Fabric, Metal |
| Colors | Black |
| Weight capacity | 250 lbs |
| Warranty | 1 month |
3. Trio Supply House Deluxe Sled Base Arm Chair
This best budget office chair has an armless chair design with A plastic shell over it. It has a thick padded foam seat and backrest that is fitted onto our black finished frame with a sled base.
| | |
| --- | --- |
| Product dimension | 24.5"W x 24.25"D x 33"H |
| Materials | Fabric, Metal |
| Colors | Black & Blue |
| Weight capacity | 250 lbs |
| Warranty | 1 month |
4. Trio Supply House Office Visiting Chair With Metal Frame, Black
This task chair no wheels is made for home offices, with its steel frame that adds a simple but classic design that blends with any kind of study or office room. This chair is just one model out of the Trio Supply Allure and Cassa Collection that you can purchase individually or as part of this set. It has an upholstered fabric in a gray color that offers comfort and blends in with any type of decor layout. It is made out of a story powder-coating steel frame with armrests that are finished in black.
| | |
| --- | --- |
| Product dimension | 20"W x 17"D x 35"H |
| Materials | Steel, Tube, Fabric, Foam |
| Colors | Gray |
| Weight capacity | 220 lbs |
| Warranty | 1 month |
5. Trio Supply House Office Chair: Black Leather-look / Stand-Up Desk
This home office chair no wheels has a modern style with a supportive curved backrest, and upholstered fabric covering that looks like leather. It has a slim black metal frame with a curved backrest and seat. That is perfect for any type of standing desk. It can also double as a bar-height barstool at your home bar or kitchen island. The upholstered fabric offers just enough cushioning for an extended workday or for enjoying a relaxing drink at the end of the day. IT even features a bottom support bar for your feet. 
| | |
| --- | --- |
| Dimensions | 18"L x 12"W x 39.75"H |
| Materials | Metal, Foam, Polypropylene, Polyurethane |
| Colors | Black, White, Dark Gray, Brown, Taupe |
| Warranty | 1 month |
6. EMIAH Armless Office Desk Chair
This task chair no wheels might not have casters and armrests, but it still is the perfect choice for most modern offices and fits most decor layouts. A lot of other additions, like headrests and back panels, are removed to help minimize the overall weight of the chair while ensuring sturdiness. The chair can be used in any area: dining, living, PC chair, gaming, or dining chair. It is also compatible with desktops of different heights and is also convenient for storage. This armless desk check can help you save a lot of space in your office.
7. Flash Furniture Black Mesh Sled Base Chair
This chair is more suitable as a stylish guest chair and suits all body types. It has a cantilever base that provides a gentle rocking motion that we think can help soothe nerves before big meetings and presentations! This type of base even has anti-tip glides for safety and floor protection. And you can use the chair in the summer as it has a ventilated mesh back with a sled base. It has some white stitching embellishments on the seat and armrests for a more decorative look. 
8. Monarch Specialties Mid Back Mesh Chair
This home office chair no wheels was upholstered using a commercial black mesh made of highly breathable polyester material. The chair has a simple but elegant look with a slightly curved mid back and padded seat cushion supporting your posture. It even has sleek armrests that provide comfort without making the chair look too bulky. The black metal frame has a u-shaped base for better stability and balance as you glide the chair to and from the table. This chair is BIFMA certified for commercial use.  
9. Office Chair-AoYanQi Hotel Chair
This chair's durable and rugged parts make the seat a much safer choice. It has also undergone several stress tests to ensure the safety of every user and comes with a maximum load capacity of 160 kg. The backrest has a very ergonomic design that supports the sitting posture and the lumbar curve. This helps relieve long-term sitting pressure. The chair has good elasticity, is breathable, and doesn't feel stuffy even when you're seated in it for a longer time. The external fabric is highly resistant to dirt and wear and is very easy to keep clean; you can simply wipe the exterior with a cloth.
10. MMAXZ Ergonomic Office Chair
This office chair no wheels comes with a breathable mesh back and padded seat for a very comfortable seating experience, while the integrated armrests offer added support. The chair is covered in a flexible mesh fabric that keeps you cool during the summer by promoting good airflow and eliminating the buildup of sweat for moisture. It offers a unique ergonomic design for unparalleled comfort that helps keep you focused and relaxed for a longer time. You can adjust the backrest and seat pan for maximum support.
11. Boss Office Products Mesh Back Guest Chair
This chair adds a splash of color to your office, reception area, or home and is available as a task chair or as a guest chair variation. Irrespective of where you use the chair, it is sure to be the perfect tradition for adding comfort and style to that particular space. It is upholstered with a piece of Breathable mesh fabric for additional comfort and comes in multiple color choices, and a Metal Pewter finished cantilever base. It has seat height adjustment, pneumatic gas lifts, and tilt tension control.
12. SPACE Seating Professional AirGrid Chair
This 57 Series Chair comes in a modern design with a built-in lumbar support and leather seat covered in a light, mesh Air Grid Back fabric. It has fixed angled t-armrests fitted onto the heavy-duty black finish frame with a sled base. The chair is GREENGUARD Certified, meaning that it has been manufactured using green materials that are free from chemical emissions.  
13. WISOICE Set Of 2 Chairs Waiting Room Chairs
This office chair no wheels is made with a high-strength chrome metal frame that is strong enough to support 250 lbs and lasts longer. It is ideally suited for the lobby and waiting areas and has non-skidding pads on the base. It has a cushion made out of soft foam fabric and is elegantly upholstered with high-quality faux leather that can be cleaned off with a soft cloth.
14. MoNiBloom Office Guest PU Leather Chair
This home office chair no wheels has a two-piece s-shaped frame made from electroplated metal. It is bad with the same kind of wheelbase and armrest that give it a very high-end look. While the frame does look very sleek and slender, it is strong enough to support a 230 LBS. Both the backrest and the seat are covered in PU leather. The guest chair has a mesh covering for better circulation.
15. Leather Office Chair Brown Leather Desk Chair From Arts Wish Store
This brown leather mid-century modern office chair is made using high-quality faux leather that is easier to clean off and friendly to your skin. And the strong Classic Black Frame provides enough support throughout the entire day. The backrest offers a slight go that supports the lumbar area of the back along with a unique rhombus element. The chair has an elegant, vintage Brown leather look combined with classic black chair legs and office chairs parts that better fit a modern or mid-century style.  
Keep up with Autonomous news
Stay informed, stay inspired with our new blogs.
WRITTEN BYAutonomous
We build office products to help you work smarter.