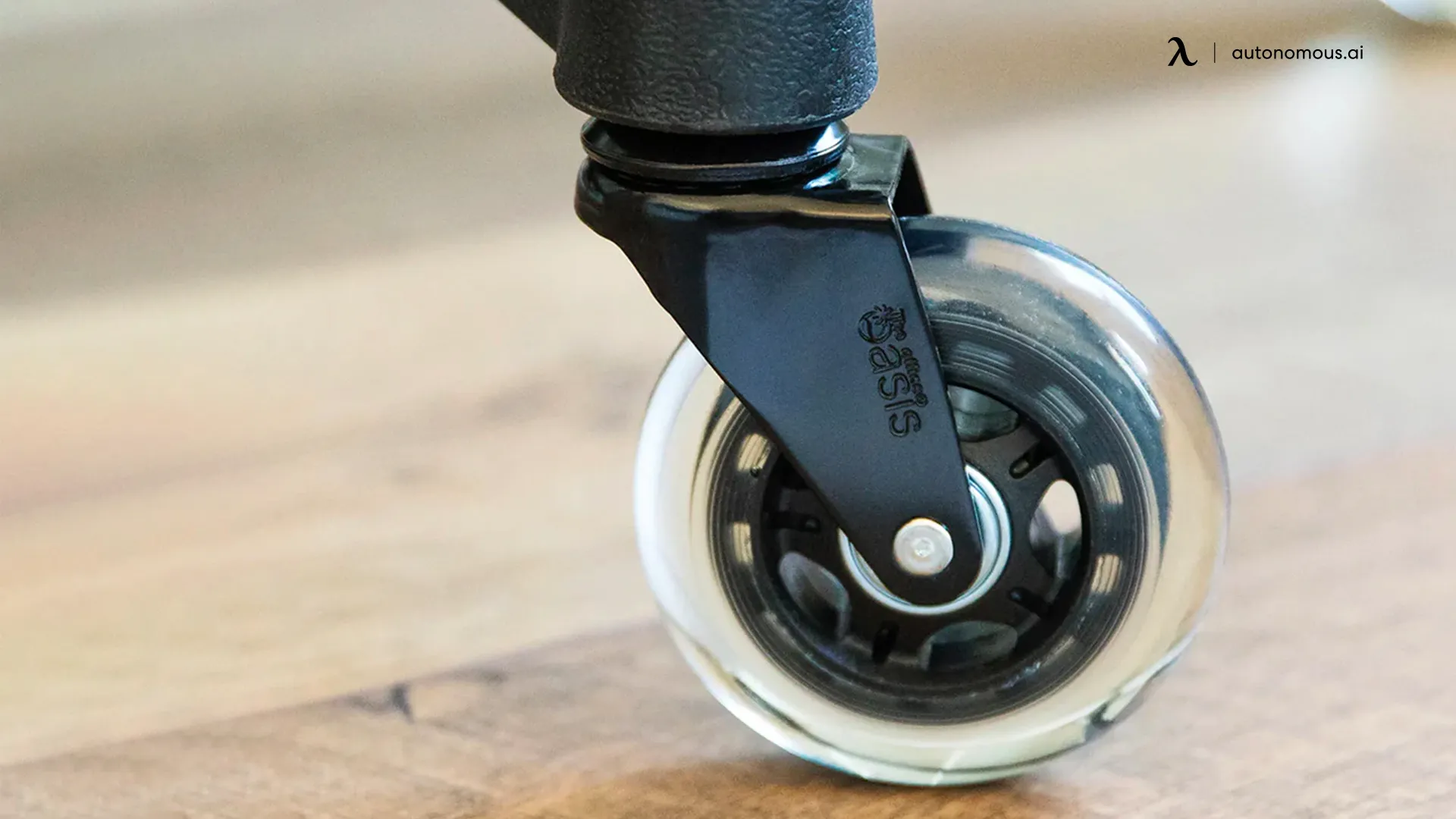 Smart Products
The Best Caster Wheels for Office Chairs to Buy in 2023

Karen Kimonye
|
Jan 31, 2023
15,790 Views
Caster wheels for office chairs are one of the best accessories for office workers. The average worker spends nearly half of their lifetime at work. This is a huge chunk of time, and it can adversely affect the quality of your life. Thus, investing in a good office chair can make your office environment comfortable and functional.
Also, installing caster wheels in your office chair can make your sitting hours more comfortable, and also it makes it easier to navigate. You know how uncomfortable and loud normal chairs are. They screech and damage the flooring every time you get up from your office desk. Your flooring will be safer with caster wheels, and getting up and down or moving around the office will be much easier.
There are many choices for office chair caster wheels available in the market, which can make it hard to choose the right one. To make your buying decision easier, here's a list of the best office chair caster wheels to buy.
Top Rubber Wheels for Office Chairs
1.  Office Chair Wheels Replacement Rubber Chair Casters 
These office chair caster wheels from Lifelong come in a set of 5. The heavy-duty chair wheels are made with industrial-grade material. These office chair wheels feature precision ball bearings and durable polyurethane casters. They can hold a maximum weight of up to 650 pounds.
With these office chairs caster wheels, you will enjoy a carefree, safe glide across your floors because they don't scratch, smudge or damage the floors. These office chair casters are available in black and white, so they suit multiple office decors. Also, they have a universal fit that suits almost all office chairs.
2. Office Chairs Caster Wheels by The Office Oasis
These office chair wheels are encased with soft, polyurethane material and they don't scratch or leave marks on floors. They feature a rollerblade style. Their entire support bracket and internal parts are made of high-grade steel to offer durability for many years.
Their heavy-duty design can withstand up to 650 pounds and they're come in a set of 5. The precision ball bearing in the caster swivel and axle allows the casters to move smoothly with no squeaky sounds or noise of any kind. These caster wheels feature a universal standard size stem. This allows you to convert any task chairs or stools that roll into modern furniture.
3. Lifelong Black Office Chair Wheels
The Lifelong office chair wheels perfectly define comfortable movement combined with years of durability. These wheels are from a third-party replacement option and go well with many ergonomic chairs. They come in a set of five-wheel casters suitable for fully supportive chairs. These caster wheels feature a rubber-construction that guarantees quiet navigation in the office. Also, they feature a universal fit, making them suitable for most office chairs. They are also long-lasting and efficient.
The 3-inch width of these wheels makes them stable under load, making a chair perfect for bulky users. The wheels have a large radius and a slender shape, preventing them from getting stuck in carpets, threads, and other objects that often drop on the floor. These rubber wheels for office chairs offer a quick 15-minute assembly which can easily be carried out without an instruction manual.
Comfort is the best way to boost your productivity in the office. These office chair caster wheels are the best to install in your office chair to guarantee your comfort and excellent work.
4. Office Chair Caster Wheels by Office Owl
Office Owl wheel casters are known for noise-free movement on hardwood and ceramic floors. These rubber caster wheels for office chairs ensure smooth movement on even thickly carpeted floors. The wheels have premium quality steel core and a thick protective rubber covering to ensure smooth movement. Besides being functional and versatile, the wheels are aesthetic and stylish. The office owl wheels are known to offer protection from hardwood floors.
These caster wheels are compatible with all standard office and computer chairs. They glide safely on your expensive hardwood floors, tile, vinyl, and carpet, making no scratches. Upgrade your office or home chairs and transform your décor by adding a touch of luxury in your office with these caster wheels. These casters are made of superior grade steel and they can support up to 650 pounds. These polyurethanes, rollerblade style swivel caster wheels are super gentle with your expensive flooring.
5. Professional Office Chair Caster Wheels by Seddox
These high-quality soft polyurethane chair casters cause no damage to any types of flooring, including wood and hardwood, tile and short-hair carpet, and vinyl. They feature two precision ball bearings and a wheel-shell made from soft polyurethane, which guarantees fast and quiet wheel-navigation on any surface; with no noise. With these caster wheels, you can change your chair's direction of movement effortlessly thanks to the third precision ball bearing in the caster wheel's turning mechanism.
These casters are produced using Roller Skates technology. Their heavy-duty steel stem and frame, and strong plastic rim supports up to 650 pounds for all 5 metal chair casters. They fit all dining and office chairs and furniture with a stem size of 7/16 inches.
6.  Slipstick CB680 2 Inch Office Chair Caster Wheels
These 2-inch floor-protecting rubber office chair casters are available in a set of 5. Every caster wheel has a 7/16-inch diameter x 7/8-inch length steam. Also, each wheel has an easy-rolling 2-inch twin caster rubber wheels. With these casters, you'll eliminate the need to place big plastic mats over your beautiful floors.
These rubber casters protect hardwood, tile, slate, laminate, and all other types of hard floor surfaces. They're perfect for office chairs with hard, noisy, rough plastic wheels. They come in black and gray colors to blend with any décor. Additionally, these casters support a maximum of 330 pounds and they carry a 5-year free replacement warranty.
7. Office Chair Caster Wheels by Bright Field
These caster wheels feature a set of 5 heavy-duty wheels. They are safe for all floors, including hardwood, and support up to 650 pounds as a set of 5. The caster wheels are encased with soft, polyurethane material. With these casters, you won't scratch or leave marks on your expensive floors anymore. Additionally, these casters feature precision ball bearings which are combined with reducing polyurethane tires; to give you a smooth and silent roll.
Precision ball bearings and polyurethane tires are featured on the bright field office chair caster wheels to provide a silent and smooth roll. These heavy-duty casters are deserving of praise for their durable and dependable design. The wheels are constructed of high-grade steel interior, which provides years of trouble-free rolling and the resilience to support weights of up to 650 pounds. The polyurethane coating on these caster wheels also ensures they won't scratch or leave a trace on wooden flooring.
8. Stealtho Office Chair Caster Wheels
Stealtho is a leading office supply store committed to delivering top-quality products for offices on a budget. They offer replacement options to fully functional solutions to make a workplace more ergonomic and comfortable. In a similar way, the stealth wheel casters keep up with the brand's quality and sports many amazing features which a chair needs.
Firstly, these wheels are the best pick for compatibility and safety for all types of floors. They are an ideal replacement for old-school traditional chair wheels, and as far as build quality is concerned, you can always go right with these wheels.
Second, from a strength standpoint, the wheel body is constructed from premium tool steel, which can support 660 pounds. You can relocate the office chair easily and without damage to your floor thanks to the industrial-grade elastic urethane used in these caster wheels.
These premium office chair caster wheels are safe for any kind of hardwood floor, laminate, linoleum, parquet, carpet, and tiles. They feature high-tech elastic urethane, which makes movement easy and noiseless. These casters will glide smoothly and won't scratch your hardwood floors. Additionally, these casters feature a new stem design and heavy-duty casters, preventing axial run-out bearing of your chair rubber roller wheels.
9. Atomdoc Office Chair Caster Wheels
Why settle for basic old-style office chair wheels while upgrading your office to a modern place? These Atomdoc rubber wheels for chairs provide the highest level of stability to the chair and the user. The Atomdoc office chair wheels are made of high-quality coating and core, making a chair long-lasting for years.
The Atomdoc wheels are especially known to prevent noise and getting stuck in foreign objects. Thanks to the super thick rubber casters helping with noise-free movement. In addition to this, another advantage of these wheels is full control over the movement.
10. Clever Productions Office Chair Wheels
Office chairs with rubber wheels perform exceptionally smoothly on ceramic or hardwood floors. The clever production office chair wheels help you achieve these smooth movements. These wheels are the perfect definition of once in a lifetime purchase. Wheels made of rubber and steel combination may withstand extensive usage and abuse without considerable wear. They can support up to 500 pounds at a time and roll easily.
The bearings in this device are its most outstanding feature because they function without any issues practically anywhere. They are also quite accurate and need help moving across short distances.
11. Omy Office Chair Wheels
Another amazing yet durable product in the market for busy offices is the only office chair wheels. These wheels are perfect for busy workplaces and a quiet calm home office setup. The affordable price is the plus point of these wheels, but there are other advantages you will enjoy. The only office wheels are smooth yet precise and can be fully controlled for quick movement under the load. The wheels are made up of high-quality polyurethane and ensure that different types of flooring are compatible with them.
They keep your expensive flooring safe from scuffs and scratches, and whether we talk about a thick carpeted floor or a hardwood covering, the wheels are friendly for all. We are astounded by the chair's 1,000-pound weight-bearing capabilities, which implies a heavy person may sit on it safely. In addition, these chair wheels are simple and quick to install; simply remove the old ones and insert the new ones into the groove until they are securely fastened.
Why Should You Use Office Chairs with Rubber Wheels?
Modern office chairs come with wheels made up of rubber or its variant. This is simply because rubbers are the ideal pick for office chair wheels. Rubber wheels are known to improve efficiency and comfort in the workplace while offering the guarantee to protect your floor from all types of permanent damage.
The top-quality office chair with rubber wheels ensures smooth and whisper-quiet mobility. This enables you to continue working without becoming distracted or irritated by inferior metal or plastic office chair wheels that stick or squeak.
Also, rubber wheels offer unmatched durability and long-lasting quality, which is a wonderful purchase for your money.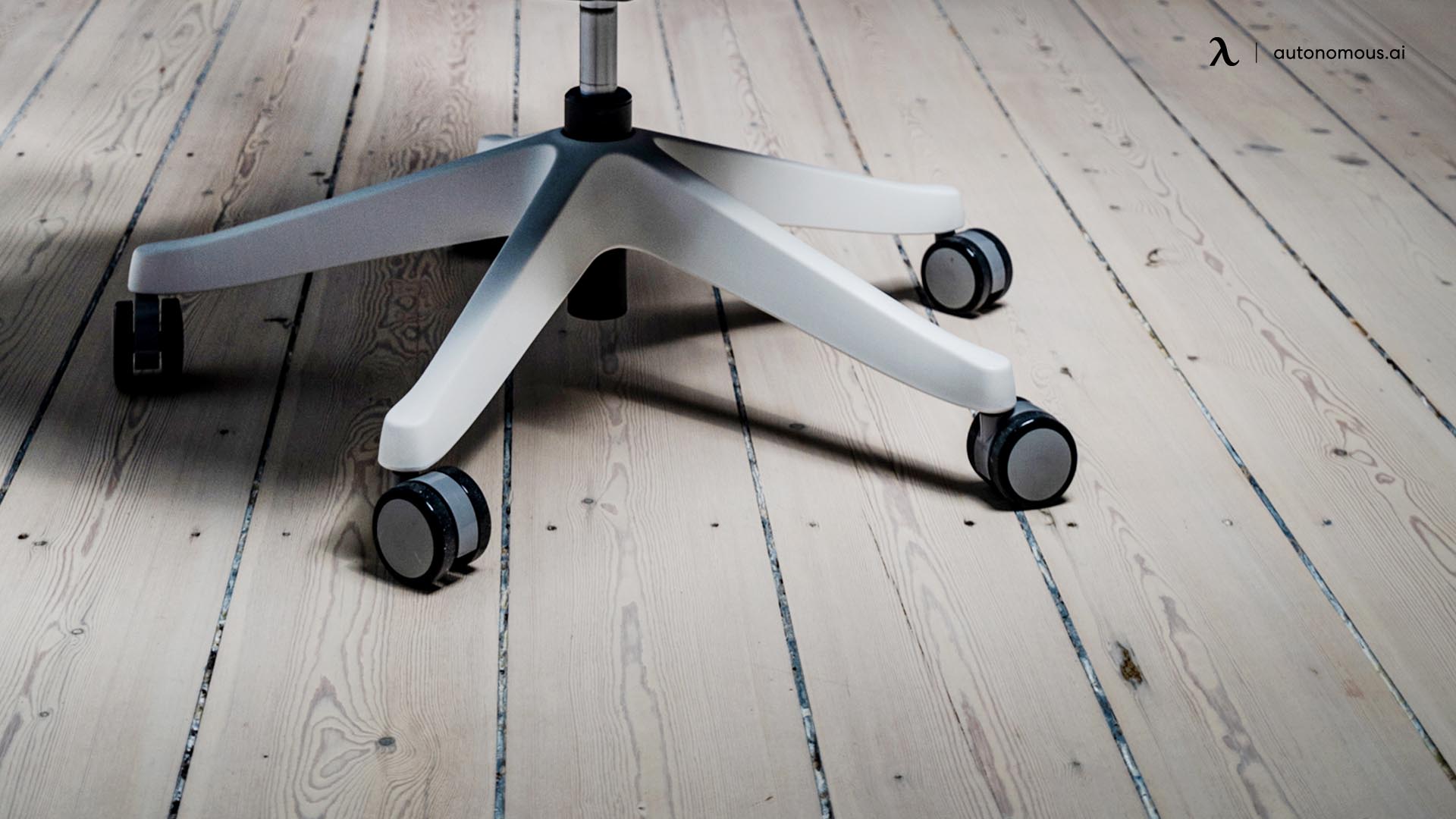 Final Thoughts
All the above office chair caster wheels are user friendly, and they're all easy to install. You won't any tools to install them. Just pull out your old office chair caster wheels and push the new ones until the stem is firmly seated and secure. Since there are many types of office chair caster wheels in the market, you will find the perfect caster set that works well with your office chair. Happy shopping!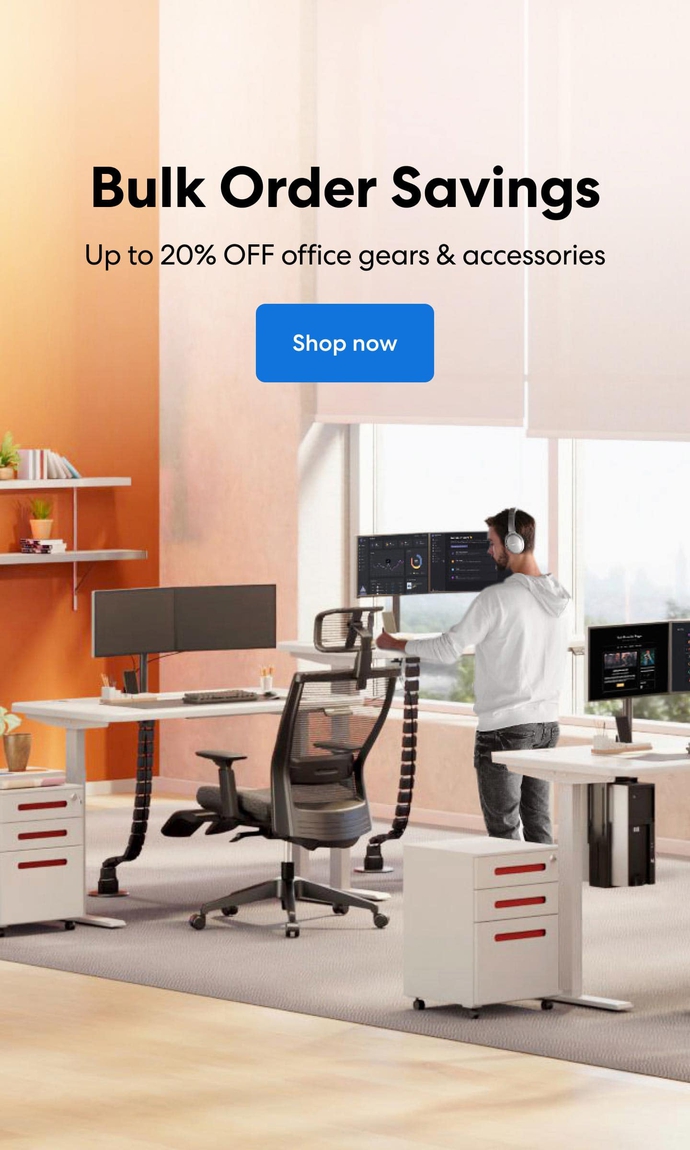 Subcribe newsletter and get $100 OFF.
Receive product updates, special offers, ergo tips, and inspiration form our team.