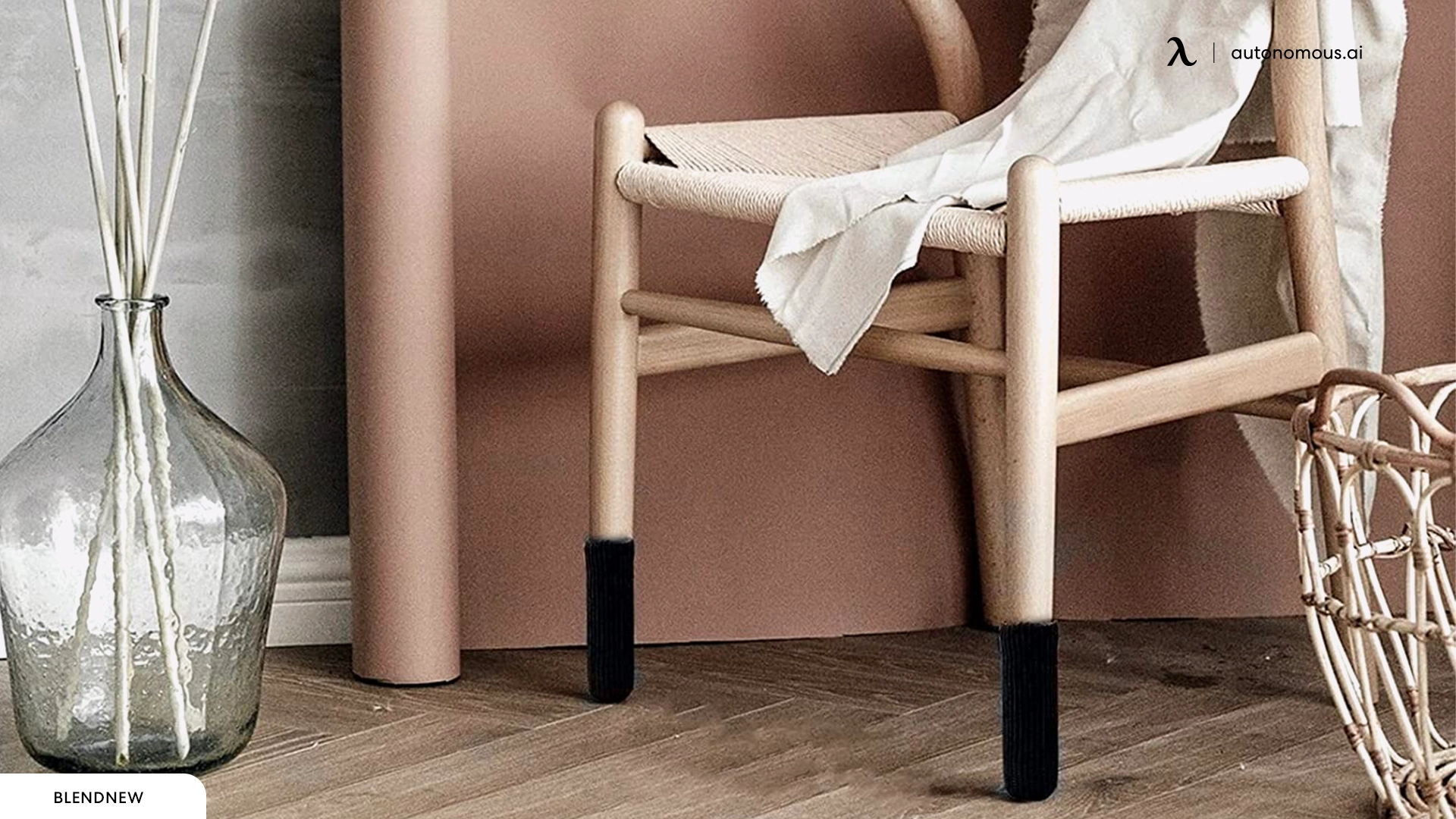 Smart Products
Chair Leg Extenders | A Great Solution for Your Chair Height

Autonomous
|
May 29, 2023
1,147 Views
Maintaining a correct sitting posture is essential for your health. If you're not upright on your chair or can't put your feet flat on the floor, you'll experience all sorts of issues, such as pain and tension. However, items like chair leg extenders allow you to be more comfortable and ensure you're taking care of your health. 
Most modern task chairs allow you to adjust them in different ways. Height customization is one of the most common features you'll find. 
Nonetheless, tall people may still struggle to be comfortable while they're sitting since most of these furniture pieces are designed for people of average height. 
Chair height extenders are fantastic items and can help you overcome these issues because you can add them to an ergonomic office chair to make it taller. 
What Is a Chair Leg Extender and Its Benefits?
Also known as chair leg risers, they're handy tools that allow you to comfortably sit down for hours no matter how tall you are.
You can install these devices on pneumatic office chairs. They'll allow you to change your furniture piece's height if the factory features don't offer enough range. 
If you feel like you have to bend your neck to look at your screen or hunch to type on your keyboard, you're probably too tall for your chair and need to make some adjustments.
Fortunately, replacing your chair is not necessary. You can use chair leg risers to align the furniture piece with your keyboard and screen. 
Another benefit of leg extenders is that you won't have to fully replace your chair. You'll be able to save some money and still get the comfort you're looking for. 
Lastly, chair leg extenders are beneficial because you can install them quickly. Usually, in a few minutes, you'll be done. Therefore, you can go back to your regular work activities while feeling much more comfortable!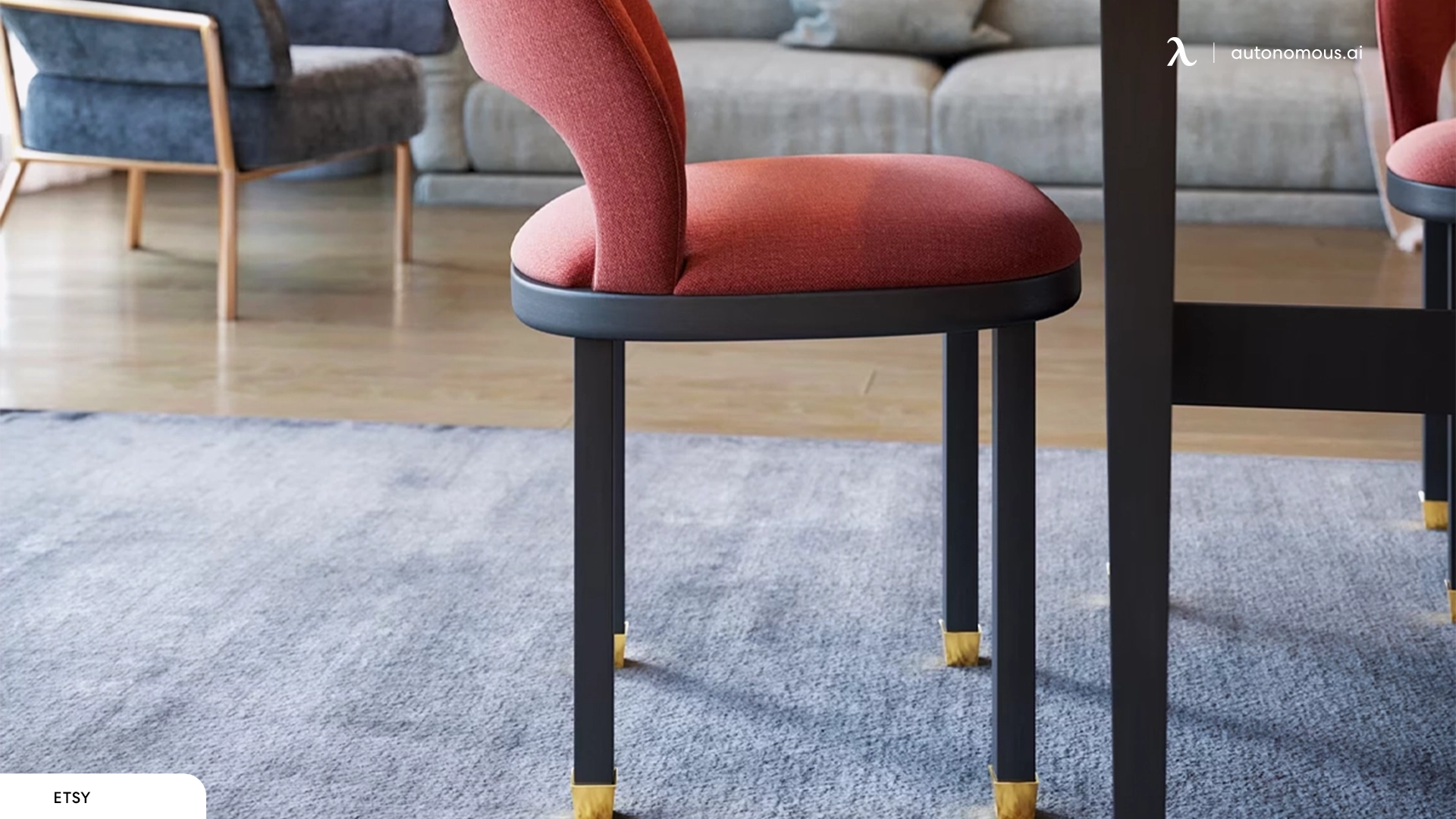 What Is the Ideal Chair Height?
The average desk height is 29 inches tall, which is ideal if you're around 6"4. However, taller-than-average people might have trouble feeling comfortable. 
Seat height allows you to even the playfield. However, to determine the ideal one for you, you'll need to try different things with your chair. 
Raise your chair up and down until it reaches the perfect height. Your eyes must be leveled with the top third part of your monitor, which is where you'll be focusing most of the day. 
If you sit down and bend your arms, they should be at a 90-degree angle, and you must be able to graze the top of your desk. Therefore, it should be almost at the same height as your bent elbow. 
Once you know the height your chair should have for you to feel comfortable, you'll be able to work and be productive with far fewer chances of suffering back or neck pain. However, if your furniture piece can't go high enough to reach the position you want, you might need an extender. 
Types of Chair Leg Extenders - What Options Do You Have?
Many people use height extender kits when they're making sure their computer chair is high enough. However, there are numerous options to choose from, and some of them are very affordable. Take a look! 
Option 1: Chair Extender Kits
You can get classic chair leg extenders, which are usually available starting at $20. They come with different handy tools and easy-to-follow instructions for you to change the height of your chair.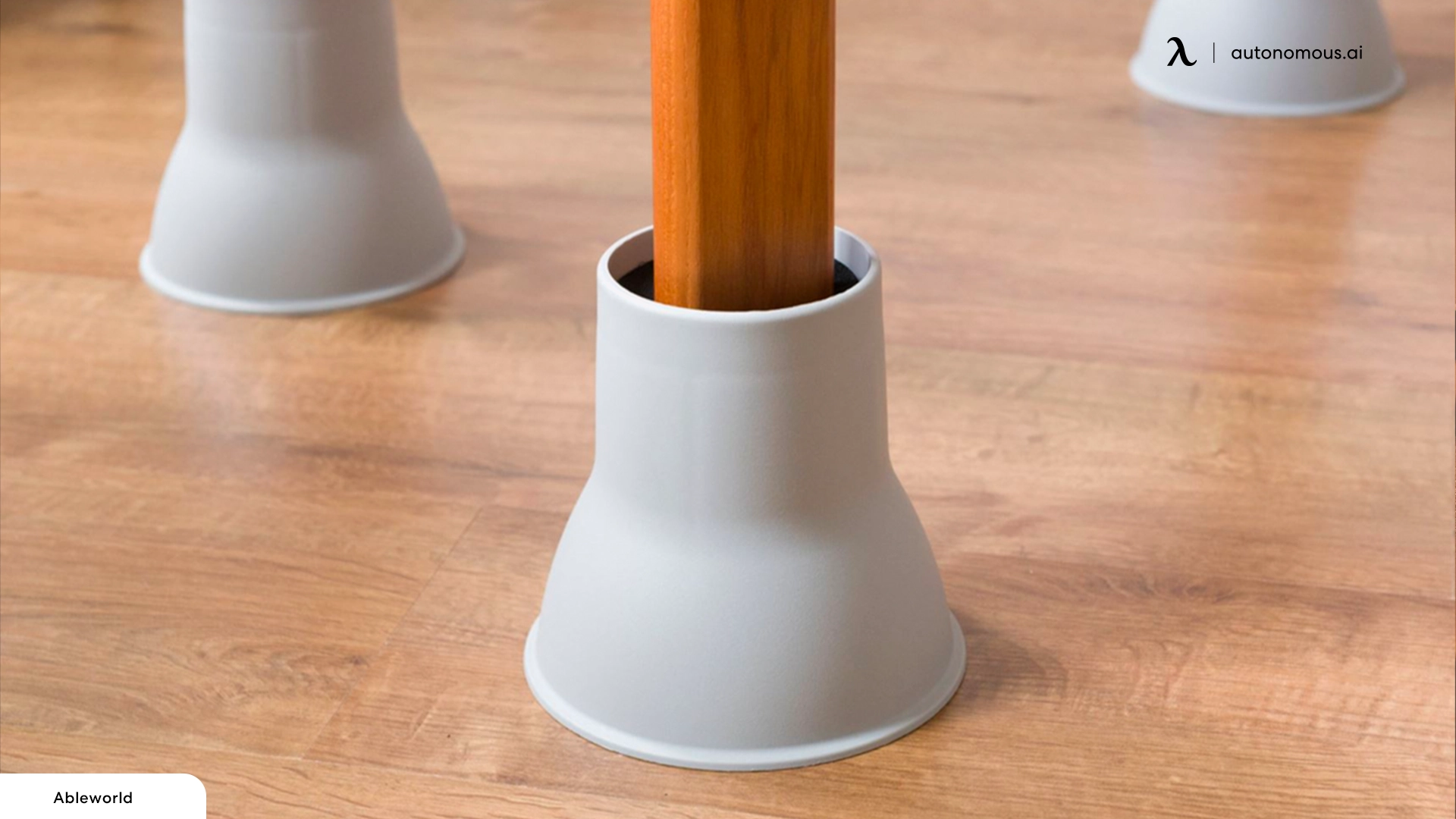 Option 2: Replace Your Casters
Some people don't go the traditional route when they're extending the height of their executive office chair. Instead, they replace their casters to get the same result. 
Traditional casters are 2" to 2.5" in diameter. You can get bigger ones if you want! It'll allow you to feel more comfortable because you'll be able to sit correctly. 
At the same time, bigger casters usually move more freely because they distribute the weight you place in them with more ease.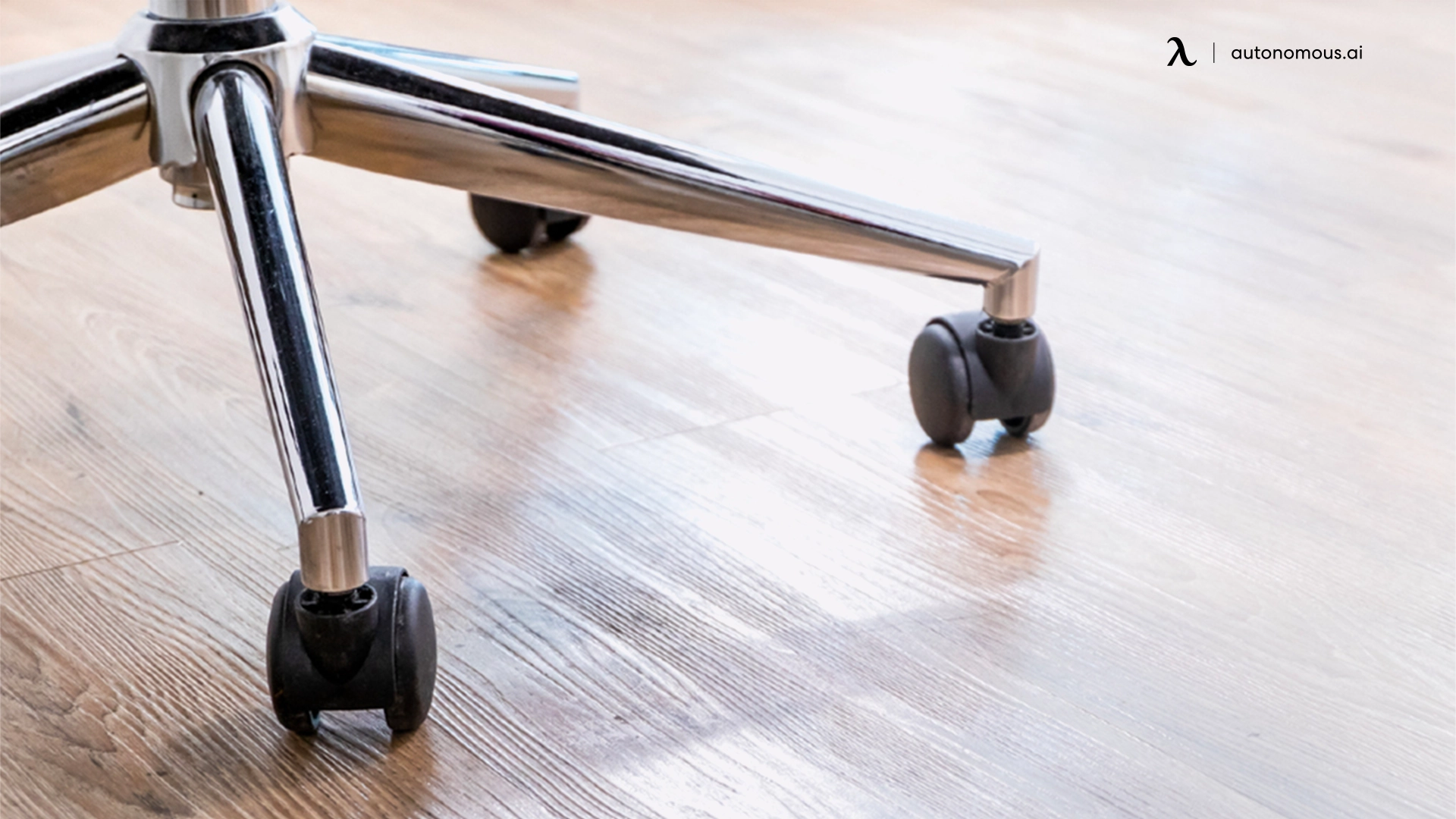 Option 3: Get a Cushion
Another tool many office workers use as a chair leg extension is a cushion. It'll allow you to turn your uncomfortable piece of furniture into something much more bearable. 
The cushion's thickness and density will determine the height of your office chair. Depending on the one you get, you'll be able to add one to two inches. 
If you need higher chair height extensions, you should look at denser cushions. Getting one made of high-density foam, for example, might give you a three-inches lift.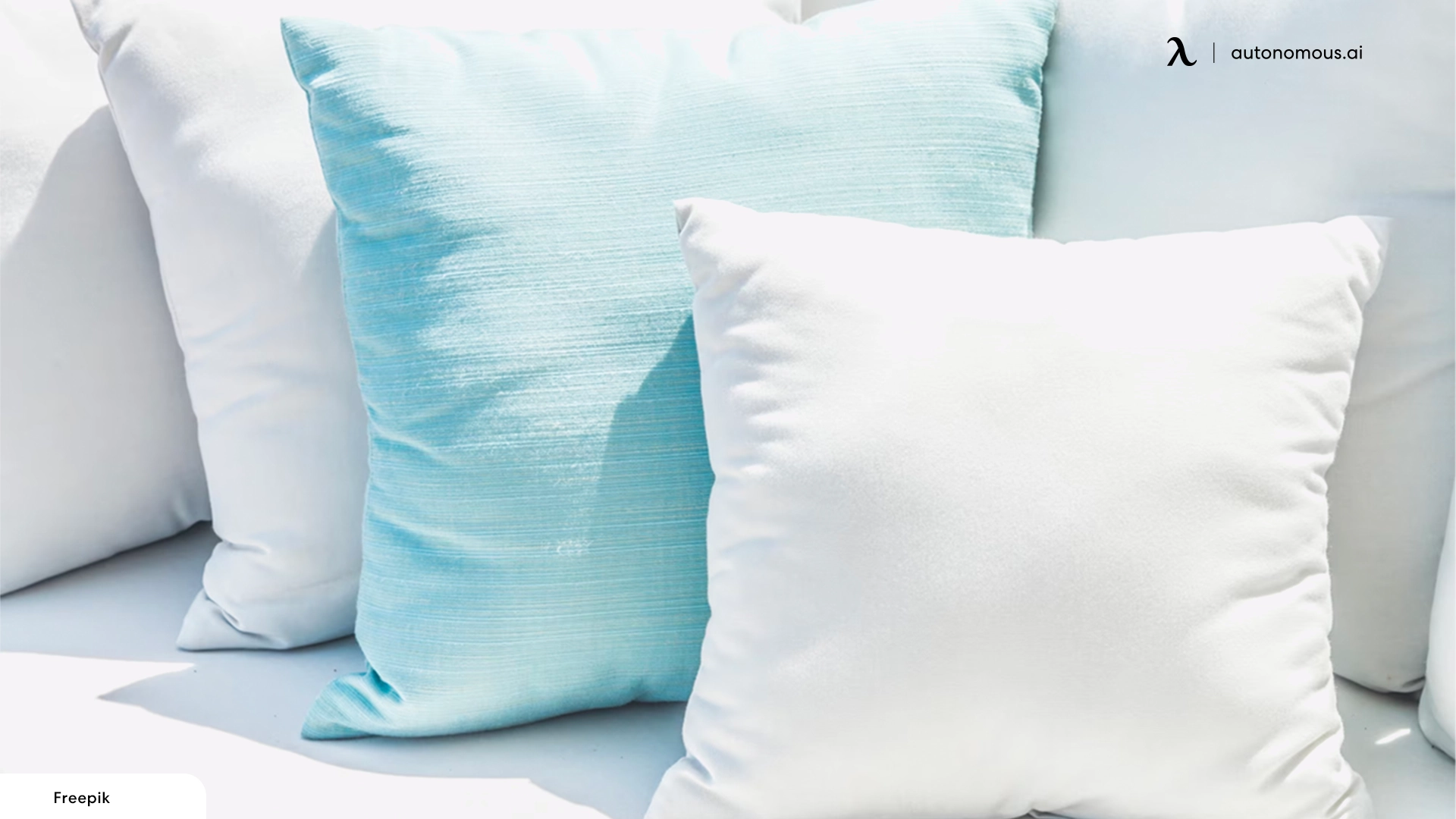 Option 4: Get a Drafting Stool Kit
You might have found the best ergonomic chair to fit your office needs. Nonetheless, if you're taller than average, you may still experience some issues, including a lack of comfort. 
Luckily, you don't have to live with it. Asides from extender kits and cushions, you could also get a drafting stool toolset. 
Most heavy-duty office chairs range from 17 to 20 inches. However, drafting furniture pieces can go all the way up to 30. 
Therefore, a drafting stool kit allows you to lift up your chair up to 9 or more inches. Due to the substantial height you can get with these, they're often very convenient. 
However, keep in mind that most of these kits only work with specific furniture pieces from some brands. Therefore, they might not be the best alternative for custom gaming chairs and other customizable options. 
Option 5: You Can Go DIY
Some people use things they have at home when they can't afford to buy chair height extensions or fancy cushions. It could be a way for you to fix the problem with little to no budget. 
However, if you're looking for long-term solutions, chair height extenders and similar kits are the best alternatives. 
Even so, since many workers can't afford some solutions, the following options are the ones people often use when they need to fix the height problem at home. 
The wooden block fix: It's the ideal method if your casters aren't working and you can't or don't want to spend money fixing an old chair. Flip the furniture piece over and remove the casters, creating a low but stable base. Then, find five wood elevation blocks and secure them through the base using a bolt or a nail.
The paper towel fix: Unfortunately, it's only a solution if the gas cylinder on your chair is broken. If it's not, it might damage it, so you shouldn't try it. Turn over your piece of furniture and detach the cylinder's spring, then fill the space with paper towels so that the structure has a firm base to rely upon.
The aluminum foil fix: In some cases, seats are low because the gas cylinder is too much into the base. To fix it, you can detach it, look for an aluminum sheet, then tape it into the hole where the column is, and reinsert the gas cylinder - it should no longer sink. 
Keep in mind that each of the previously mentioned DIY solutions has several drawbacks since you're not using specialized tools to fix the height problem. Therefore, you could suffer some consequences, such as involuntarily damaging your chair.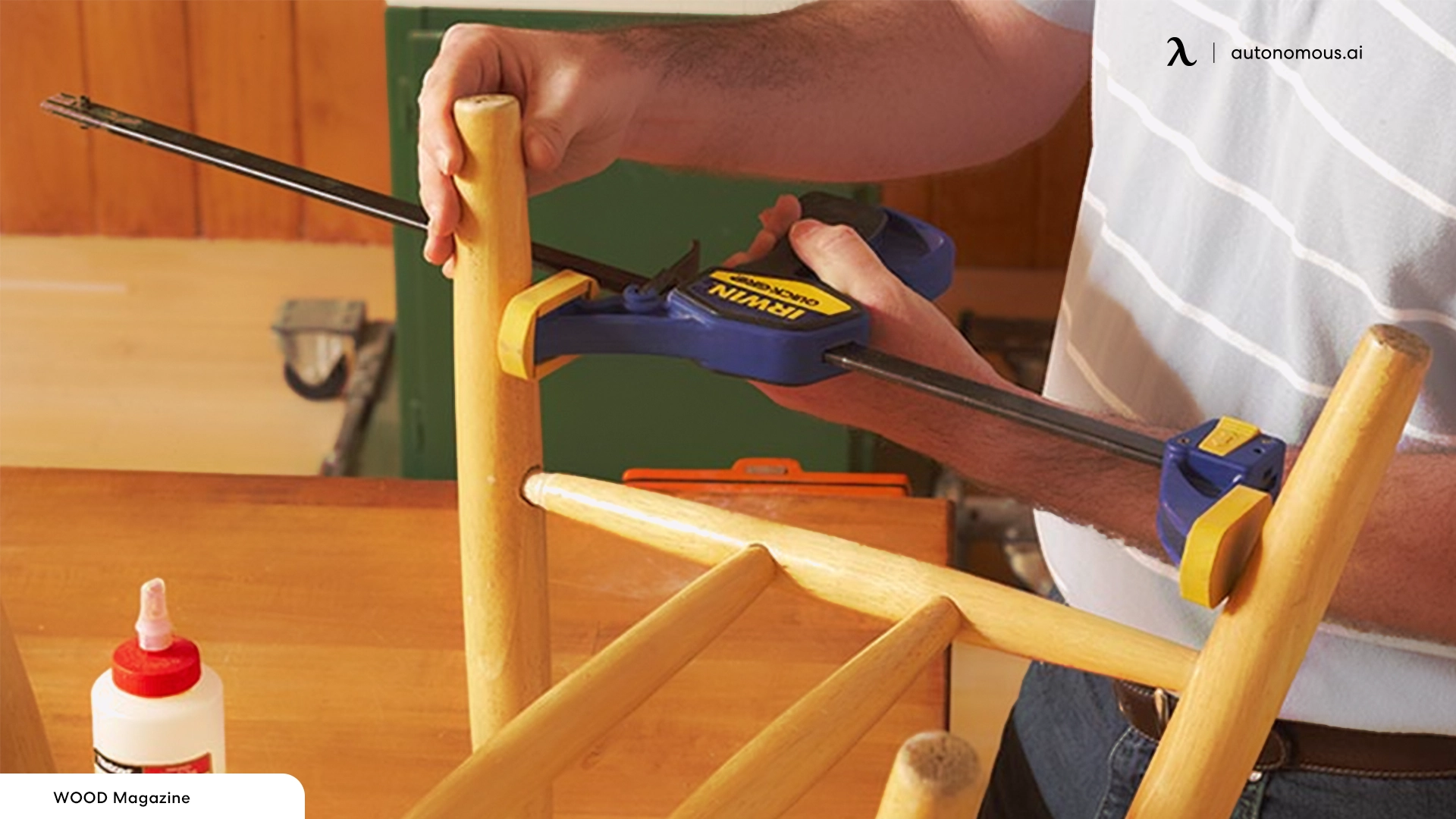 Popular Materials of a Chair Leg Extender
People rely on many different materials when it comes to chair leg extenders. Choosing one over the other will depend on factors such as your budget, type of sitting spot, and available time. 
Some people go for plastic chair height extenders, for example. They may have enough time to sort out the kit's tools and adjust their furniture piece until they have the results they want. 
Nonetheless, others might just be able to use the wood blocks at home to extend the height of their chair, either because they don't have enough time to fix the problem or can't afford other options.
Considerations for You to Choose the Best Chair Leg Extender
Some people are lucky enough to not need to change their seat height too much, regardless of the chair they buy. 
However, for others, things are not that straightforward. On the contrary, you may go through a lot trying to find a chair that's perfect for you, especially if you're taller and heavier than average. 
Whether you get an ergonomic stool or the best office chair for long hours, you should make sure you're comfortable at all times. Therefore, here are some tips to consider when picking the best leg extender for your furniture. 
You May Need to Try Different Options
On some occasions, you'll have to try different chair leg extenders until you find the one that adapts to your needs. 
You could, for example, start with a couple of the DIY options if you need to fix your chair right away. While doing that, start going through other alternatives in online stores and pick your favorite. 
Try a few of the options until you can get through a few work days feeling very comfortable while going through your to-dos - you'll know you've found the best alternative!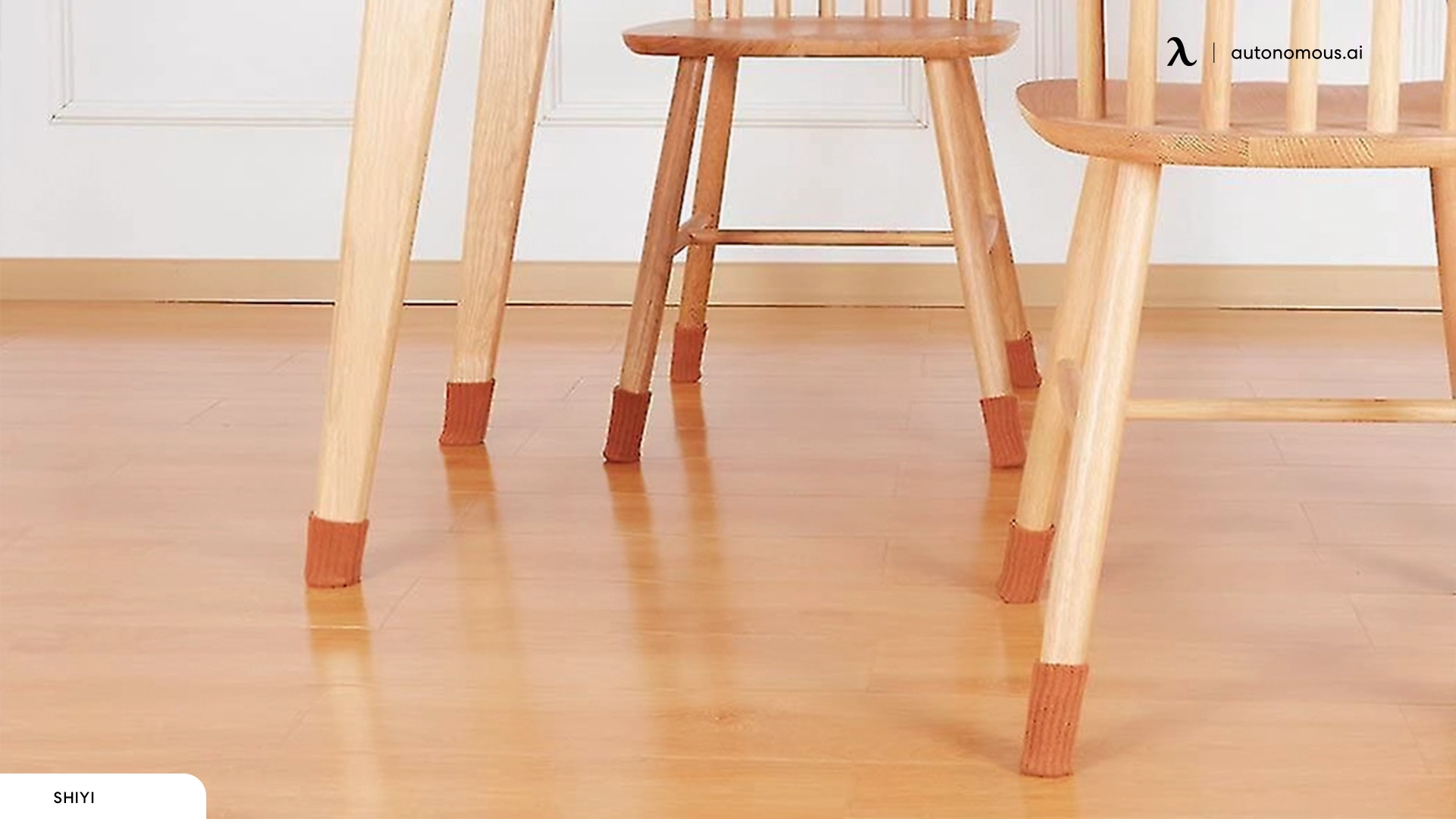 Some People Have to Spend Money
Even though some workers can fix their height issues by just switching their casters for wooden blocks, others have additional problems or simply don't find anything that works for them unless they pay for extender kits. 
Unfortunately, being taller than average means you'll most likely have to make some adjustments to your environment for it to fit your needs. Therefore, you might have to spend money if you want to be comfortable and avoid pain and injuries.
You'll Still Have to Make Adjustments
Even if you buy chair leg extenders, you'll have to adjust them until you get the ideal height. Therefore, keep in mind that you'll need to set some time aside for it.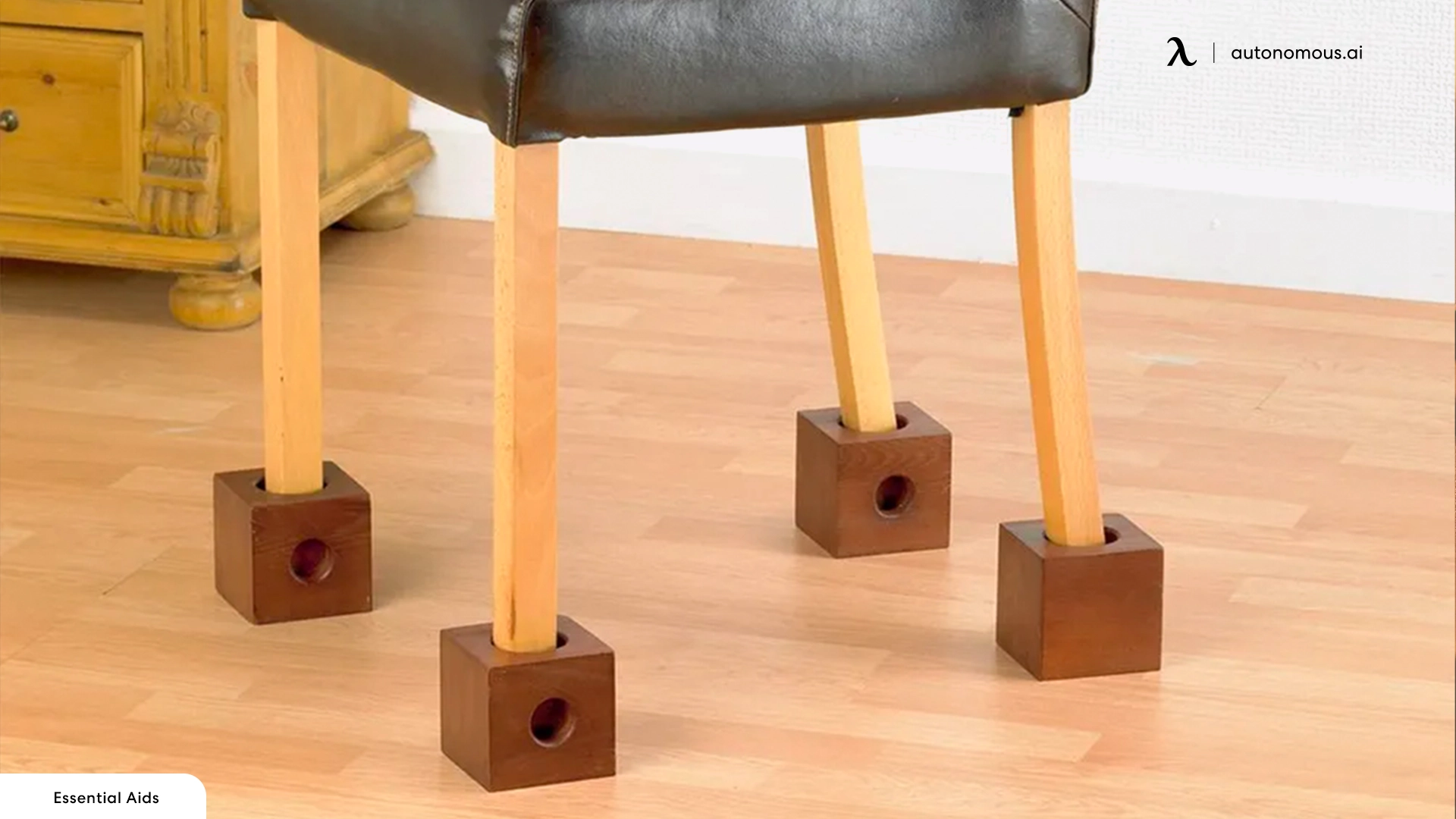 Frequently Asked Questions
Are chair height extenders necessary?
They might be necessary if you're taller than average because you'll need to adjust your chair to fit your needs, avoid pain, and prevent injuries. 
Many people don't need chair height extenders, so you may not see them around your office space. Nonetheless, they might make you feel much more comfortable while you're working, so don't hesitate to give them a try if you think they could help. 
What are chair leg extenders made of?
The primary materials of chair leg extenders can range from plastic to wood. It depends on what you're using to extend the height of the sitting spot in the first place. 
Some people use what they have at home to change the height of their chairs. Even though it's not the most convenient alternative, technically, you could do that. Therefore, you might use wooden blocks, aluminum foil, or even paper towels. 
In other cases, people get actual chair extender kits, which usually include plastic and metal tools to do the job. 
How much do chair height extenders cost?
Usually, the cost of chair leg extender kits starts at $20. However, it can go much higher than that, and some people spend more than $100. 
Are chair leg extenders convenient?
They can be very convenient, especially if you're taller than average. These tools allow you to feel comfortable in your chair even if it's not as tall as it should be, so they might be what helps you prevent pain and injuries. 
Why is the height of the chair important?
Because it allows you to prevent neck and back strain, which, in turn, will help you be more productive while you're in the office. 
Final Thoughts
Many people (especially the big and tall) feel uncomfortable when they're sitting in front of average-height desks. Fortunately, you don't need to spend hours in pain or experiencing tension.
Instead, you can use chair leg extenders, which are handy devices for you to adjust the height of your chair until it's perfect. Now that you know about their importance and some options to incorporate them into your workspace, it's time for you to take advantage of their benefits!
Video ads for product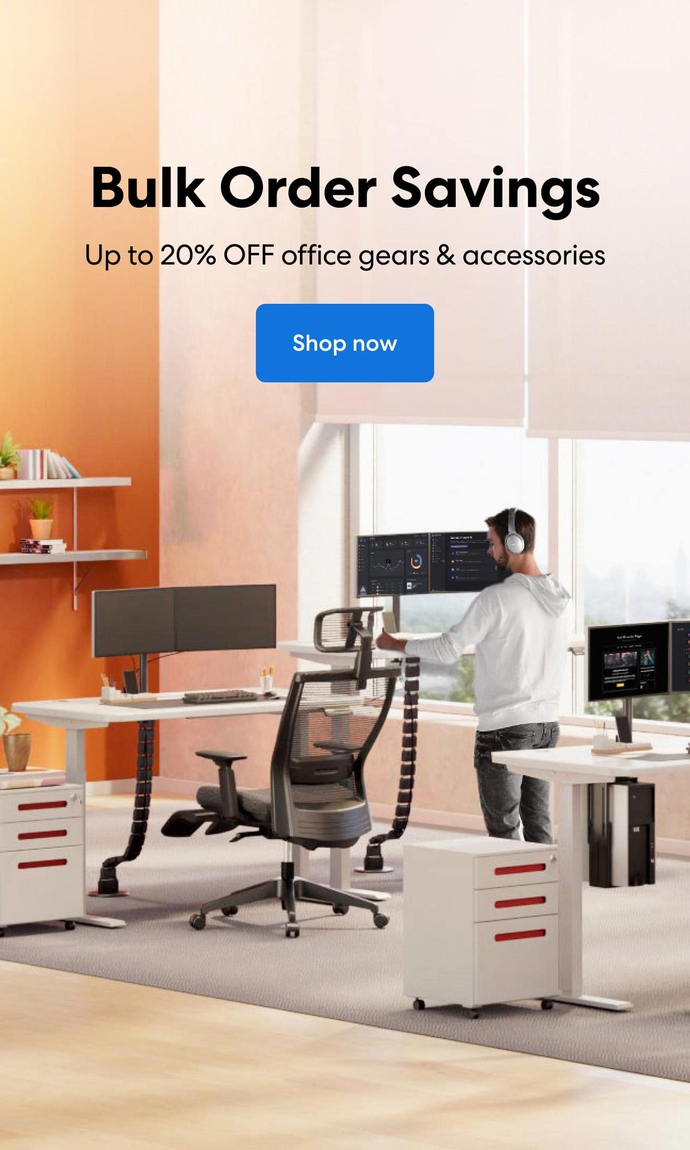 Subcribe newsletter and get $100 OFF.
Receive product updates, special offers, ergo tips, and inspiration form our team.