Smart Products
15 Best Executive Leather Office Chairs For Your Workspace
141 Views
Is your desk area ready for you to do all that amazing work you have going on? Hit the printer, computer, worksheets, portfolios, and all that incredible work you have going on. These ergonomic chairs have five dual-wheeled casters, a 360-degree swivel, and excellent mobility and multitasking capabilities.
1. Duramont Reclining Leather Office Chair: Ergonomic Adjustable Seat
The Duramont Executive Chair is big, comfortable, and stylish, an executive chair with a high back and waterfall seat edge. This office chair is comfortable from head to toe, with soft padding and even a retractable footrest. A locking system on the executive leather office chair allows you to secure the right angle every time (90 to 155 degrees).
Under all that soft padding, there's a metal base and nylon casters that make moving it around a breeze and ensure your stability when working. A 250-pound maximum weight limit is recommended, and the best executive leather office chair is very simple to set up and assemble.
2. Techni Mobili Home & Office Chair
3. Techni Mobili Medium Back Executive Office Chair
4. Techni Mobili Modern Medium Back Office Chair
5. Techni Mobili High Back Executive Office Chair
6. Vertagear Gaming Chair SL4000
7. Vertagear Gaming Chair SL5000
8. Salinas Mid Back Tufted Office Chair from Bush Furniture
It is an excellent line of affordable, sturdy, and attractive office furniture from Bush Furniture. Bush Salinas Mid Back Tufted Office Chair will enhance your office decor by featuring a black or gray bonded leather upholstery and a vintage finish. There is a button-tufted pattern on the backseat for added style. There is an easy height adjustment and tilt-lock feature on the computer ergonomic chair, as well as a simple recline mechanism. This chair has a nice, firm seat cushioned with foam padding.
9. HON Ignition 2.0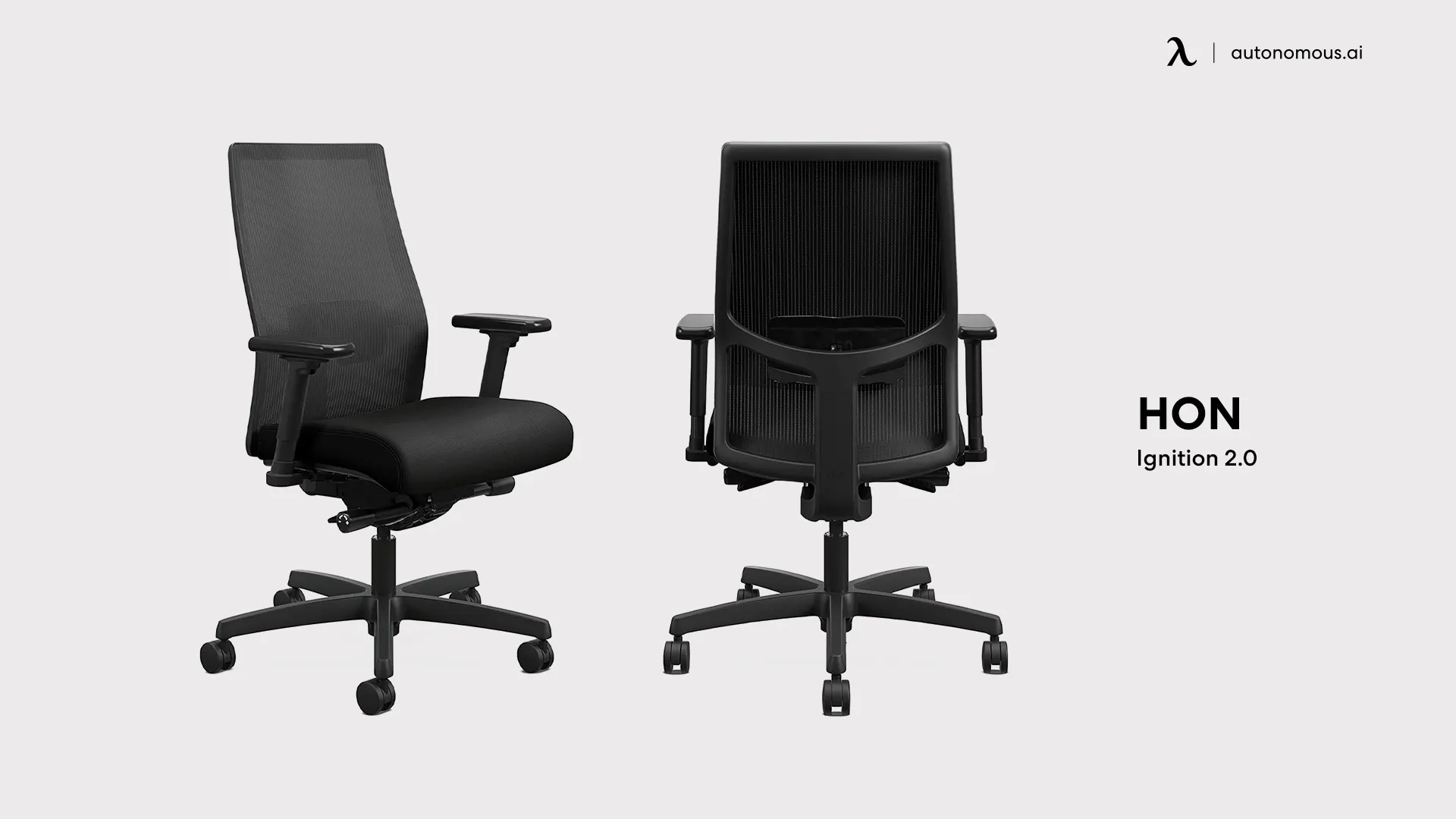 We like the Ignition 2.0 because it offers all the standard adjustments we need, such as seat depth adjustment, tilt tension adjustment, tilt lock adjustment, seat height adjustment, and height-adjustable arms. The tested model offered supportive, adjustable lumbar support and was comfortable for all-day use. Check the "adjustable lumbar" product description to ensure you get that option. It is possible that people of below-average height may have difficulty sitting correctly with their feet flat on the ground, as the seat begins at 17 inches high.
10. Serta Leather Office Chair
We reviewed the Serta big and tall executive reclining office chair in our product review, and it's one of the most expensive leather bonded leather vs faux leather chairs we've ever seen. The price is justified by some features and details, however. As the first point of interest, this quality bonded leather high back leather executive office chair features authentic wood accents, specifically on the armrests and five-point base, which contribute to its elegant appearance.
As well as its appealing looks, the Serta chair offers a high standard of comfort and support because it features an adjustable lumbar panel, effectively reducing or eliminating back pain at the end of every day. As well as being layered with thick and pillowy cushions, this brown leather executive office chair can also be adjusted for height and tilt for the perfect sitting position.
11. Glitzhome PU Leather Office Chair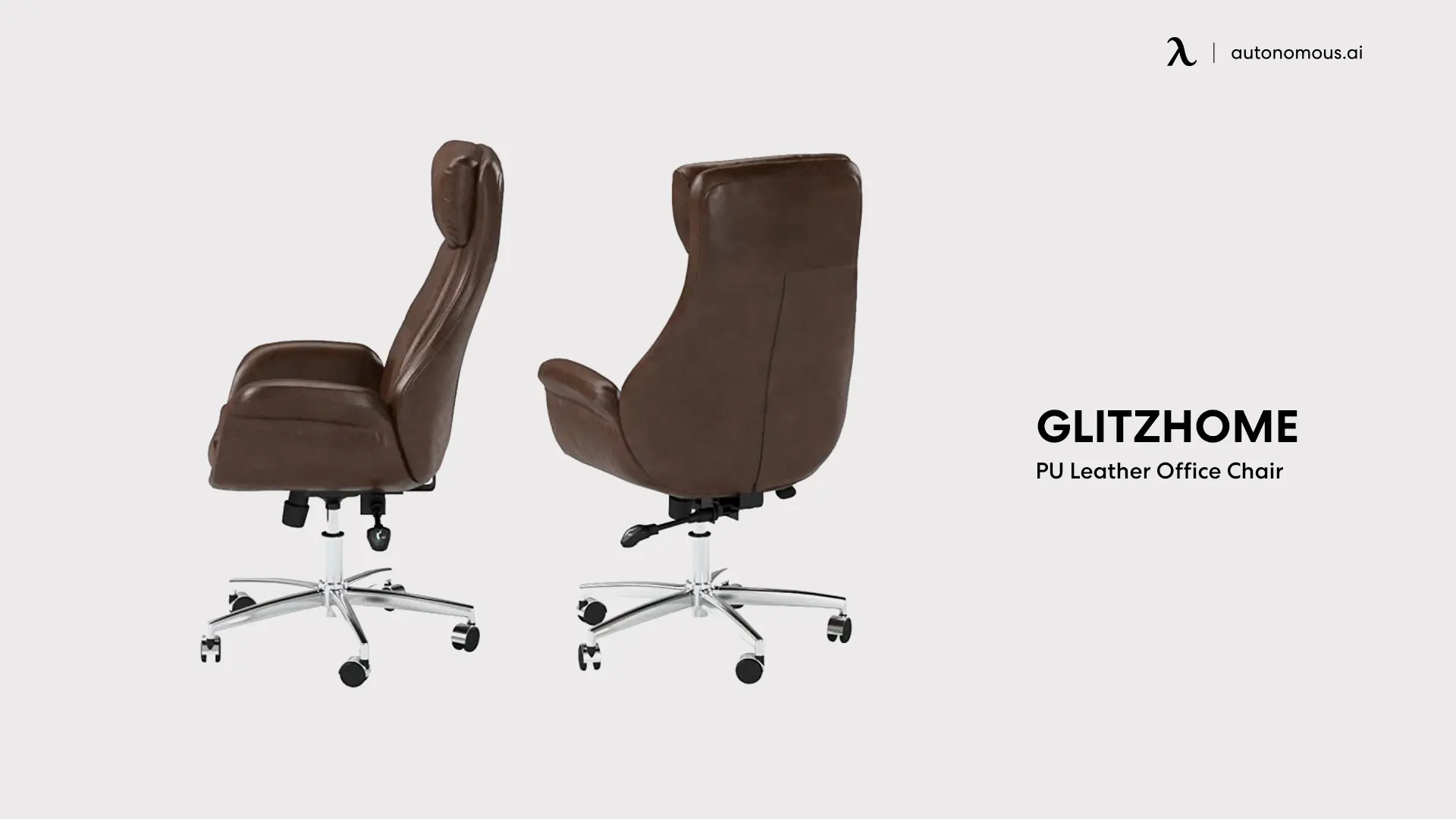 It's impossible for you to feel discomfort or pain while you're working. Whether you use it in the living room or the office, the 87°-106° adjustable angle backrest, combined with the 3°-10° adjustable angle seat cushion, lets you reach a great level of comfort that is tailored to your needs.
As we've mentioned above, flexible adjustments can make a difference at the end of your shift, and the sponge cushion provides all-day comfort. Glitzhome chair's 360-degree swivel allows you to comfortably read emails, type on your keyboard, answer calls, and brainstorm with your colleagues while providing support for various activities.
12. Serta Soft & Comfortable Executive Office Chair
Your lower back will benefit from all-day lumbar support with this black leather office chair (also available in three other colors). In addition to tilting your body, Back in Motion Active Seat Technology makes it comfortable. Furthermore, the waterfall edge on the seat will reduce leg pressure and boost blood circulation to keep the legs feeling fresh. With its deep-layered body pillows, you'll look forward to slipping into it every morning. The armrests and seat height of the big and tall executive leather office chair can be adjusted according to your body structure so you can sit comfortably.
13. Respawn Leather Office Chair
With its segmented padding, adjustable headrest, and lumbar support pillow, this bonded leather chair provides long-term ergonomic comfort while sitting at your desk or playing games after work. If you spend long working hours at a computer desk, this chair will assist your body in standing tall, prevent slouching, and ensure the best-seated position for your back.
As well as being reasonably priced, this conference room chair has an extendable footrest, which improves your position even more than the models we've already discussed. With infinite locking positions and padded armrests that pivot while the chair reclines and moves, this product from Respawn boasts innumerable comfort features.
14. OFM ESS Collection Office Chair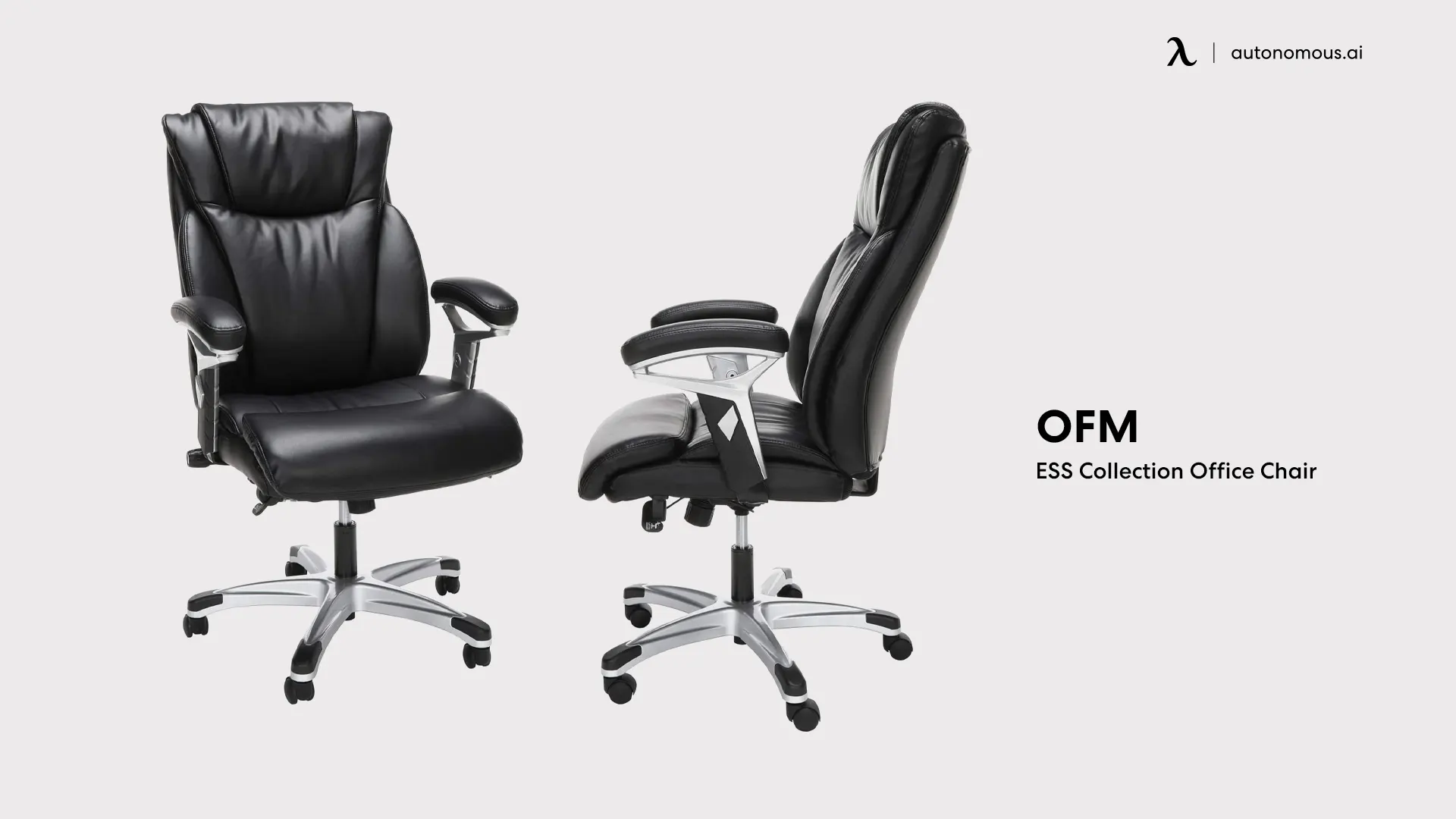 With the OFM ESS Collection office chair, you can make your office a more pleasant place to be. You can recline comfortably on the OFM chair thanks to the chair's center-tilt mechanism, while the tilt tension controls how far you would recline and how fast you would recline. Furthermore, the chair features contoured and ultra-plush padding covered in bonded leather that provides back support throughout the work shift in conjunction with the integrated lumbar cushion.
15. Furmax Mid Back Task Chair
Furmax Mid Back Task chairs come in black, white, brown, and gray, are height adjustable, and have 360-degree swivels, so they are suitable for office workers who are constantly turning their chairs. The right side lever under the ergonomic chair allows the chair's height to be adjusted; in addition to offering long-lasting support and comfort, the chair's foam-molded seat and back ensure long-term durability. The leather and ribbed design and the mid-back ensure that they will bring a simple and elegant style to any office.
Hey, you have special pricing through your company.
Get exclusive rewards
for your first Autonomous blog subscription.
WRITTEN BYAutonomous
We build office products to help you work smarter.