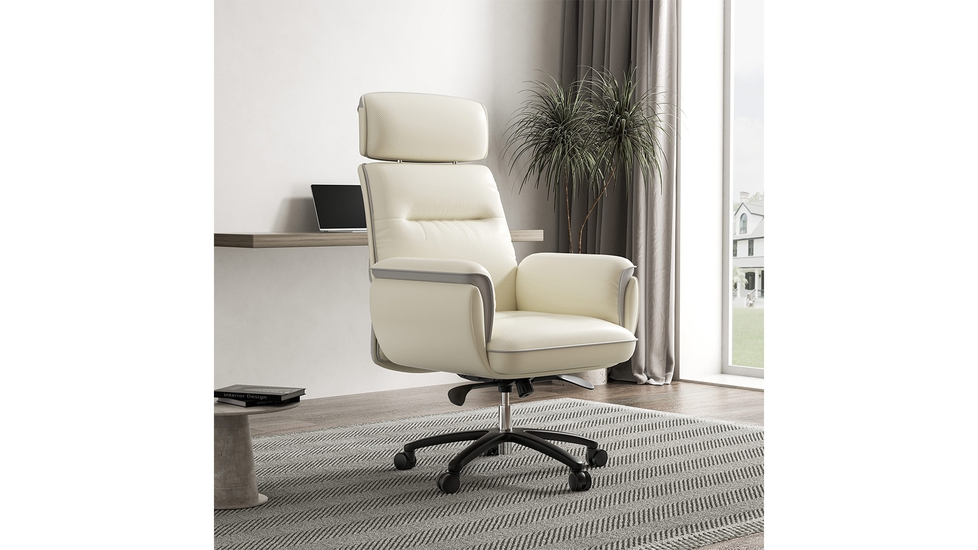 EUREKA ERGONOMIC Executive Leather Sofa Chair
4 reviews
Visit our store
Buy now
Add to cart
FREE shipping Dec 07 - Dec 11. FREE 30-day returns.
Sold and shipped by EUREKA ERGONOMIC

Price Match Guarantee
• Luxury Executive Office Chair • Soft & Smooth PU Leather That Truly Breathes • Premium Foam Filling, High Density & Elasticity • Height Adjustable Headrest • Padded Arm Rest • 4 Angle for cosy Recline (98-130°)
• 5-year warranty
This executive office chair with an elegant design offers you ultimate comfort just like reclining on a sofa. This chair is designed with ergonomic back curve lumbar support, wide padded armrests, a removable & adjustable headrest, and a 7-inch thick waterfall seat cushion, all filled with soft, high-density foam to provide the ideal support for working from home. This high-back rolling work chair is tilt adjustable in 5 lockable positions by a synchronized tilt lock mechanism. The swivel computer chair is built with high-strength curved wood as an internal frame and equipped with a Class-4 explosion proof gas lift and a strong steel wheelbase. This leather executive chair is perfect for adults as a home office chair, and also as a gaming chair for teenagers, a study desk chair for students and a swivel recliner in the bedroom or living room.
Deep dive into specs
Features
FAQs
Specs
reviews
4.5
EUREKA ERGONOMIC White Leather Office Chair
Working a nine-to-five job can be insanely exhausting and frustrating. The same old squeaky furniture, the same old tasteless office set-up, stuff is bound to be uninteresting. So what can you do to make things a little better? What is the first and most important thing you can do to change your mood, health, and productivity? The answer is, buying a new sofa computer chair.
How Sofa Chair for Office Helps You Relax Better
You know when you've been continuously working in the same position for a long time, and when you realize how tired you are, you go for the infamous stretch? You move your shoulders and neck until you accidentally pull a muscle or realize that your lower back hurts and has probably gotten stiff. But you won't be having these problems anymore because a new and improved white leather office chair is everything you need to improve your posture and prevent your muscles and back from stiffening. Not only can you adjust their reclining according to your preference, but their elegant leather is also a rather stylish addition to your everyday office setting.
How Ergonomic Sofa Increases Comfort
Being in front of the screen for a long time damages your posture and can easily get uncomfortable. But that's not the case with these white leather office chairs. The breathable leather ensures that your tense muscles relax and pressure is slowly released. And what about the stiff neck that remains in an awkward position for hours before moving? A nice and removable headrest is all you need to solve that problem. Some of the best computer chairs for long hours in the market have everything one might need to survive professional life. Whenever you're working or don't need it, you can take it off. But when it's time for a break, recline your comfy little leather office chair and adjust the headrest how you prefer it, and there you go!
A Timeless Investment in Sofa Computer Chair
One of the best things about investing in good furniture is that it sticks with you for a very long time. From doing your homework to working on assignments to doing office work for hours and hours, investing in an office sofa chair is probably a once-in-a-lifetime purchase if your choice is right. Make sure that the white leather office chair is of a nice and elegant color that not only brings life to the dull office setting but also reflects your good taste.
Health Benefits
When it comes to working continuously for hours, only a good posture can't save you from stiff muscles and a painful neck. And how can we forget about the rashes and skin allergies because of the sweat-ridden leather office chairs? The answer to all these problems is an executive office sofa with the right amount of padding along with a specially designed lumber support that not only prevents your back from being awkwardly stiff but also helps in reducing the pressure on your shoulder muscles, both of which are extremely common and expected during long work hours. On top of that, these white leather office chairs also allow you to recline to a shocking extent. So once you're done with work and feel like taking a tiny nap, for the first time in forever, you won't have to worry about waking up with a cramped neck. We almost forgot the high-density foam used in ergonomic sofas, which is specifically designed to comfort your leg muscles because no one's a stranger to cramped legs after sitting for hours.
How Necessary is Executive Office Sofa?
It's an inevitable fact of life that you'll have to put in hours of work if you want to experience the luxuries, facilities, and joys of life. Buying a sofa chair for office will come in handy, no matter what phase of life you're in. And not to mention, if getting a good leather office chair improves your productivity and muscle health, it sounds like a pretty good deal, honestly.