Leatherette vs. leather. How much do you know about the two? Depending on your experiences up until now, leatherette may not be much more to you than a variation of leather. This would mean that both are used for similar applications and have many of the same properties.
However, that is not completely true. While there are some similarities in appearance and applications, the two materials are not the same.
Today is the day you get to understand where the differences lie as you're taken through the properties of each, their advantages and disadvantages, and a few ergonomic office chair options that fall under each category.
At the end, you will be the one letting everyone know where leather and leatherette differ.
What Is Leather?
It's typically a good idea to start from an area of familiarity. Leather comes from animal hides, and will go through a few stages in the manufacturing process before it's ready to be used for any clothes, furniture, and the like.
Things start at the preparatory stage, with hides being treated in a series of ways such as fleshing, bleaching, and degreasing. From there, a tanning process is used to make the hide usable. One of the main objectives here is to prevent it from starting to putrefy if it gets wet.
A dry rawhide, on the other hand, is quite stiff, and will most certainly start to putrefy when wetted. Following this, tanning liquor is used in a rotating float to saturate the hide, which is followed by the crusting stage that makes the leather ready for use. Some of the processes here include buffing, lubrication, and coloring.
What Is Leatherette?
Now, it's time to shift the focus to leatherette material. Unlike its genuine counterpart that was just covered, this is synthetic. That is the core difference between leather and leatherette. The name is one of the biggest indications of the way leatherette is designed, as it is intended to mimic the aesthetic of genuine leather.
This is also a good time to clear up any confusion between the terms "leatherette" vs "faux leather." What's the difference here? There really is none. Terms such as faux leather, fake leather, synthetic leather, and pleather are all synonyms of leatherette.
Either synthetic or natural cloth fibers will be coated in polyurethane PVC to make the compound. This means that there are no animal byproducts used.
What Are the Differences Between Leather and Leatherette?
So, we've covered the main difference between leatherette seats vs. leather chairs, but that doesn't mean there aren't more to bear in mind. The short overview of the manufacturing process has quite a few implications on your experience with a real leather office chair, for example, when compared to an ergonomic computer chair made from leatherette.
Manufacturing Process
There is no need to go into too much detail here again. Genuine leather comes from animal hides that will go through a few different processes to prepare them for usability in different industries.
On the flip side, genuine or synthetic fibers will be used and coated in PVC or polyurethane, which is how you end up with leatherette.
Cost
If you're looking to get yourself leather products, prepare to pay a reasonably hefty sum, as it is seen as a premium material. Given the same product in the same context, the genuine leather variation will always come at a higher price than the fake one.
To put it into perspective, you can often find situations where the cost of a leatherette item is multiplied by anywhere between three and 10 times just to get the cost of the real alternative.
Durability
While leather does require some level of maintenance, it's known to hold up remarkably well. You can get 10 to 15 years out of your genuine purchases. This doesn't mean that you need to keep away from any rugged or harsh conditions. The structure of the leather will remain intact, but there will be degradation and fading from sunlight.
Leatherette, on the other hand, will typically give you durability of up to six years. Note, however, that the waterproof potential here tends to be greater, and the visual of the items tends to be more faithful to the original state as aging takes place.
Environmental Health
As far as ethical and environmental concerns go, genuine leather is a process supported by factory farming. Additionally, getting animal hides to a state where they can be used in different products means that chemical procedures are mandatory. However, leather is a biodegradable material, though it will take about half a century.
Leatherette does not make use of any renewable materials. Additionally, its structure is not biodegradable.
Breathability
Leather is a porous material, so while you may not think this to be the case at first glance, it is pretty breathable. In fact, when the weather starts to heat up, you'd be surprised at the kind of comfortable experience you can have. On the other hand, leatherette is not a very breathable material, and will likely see you sweating when the weather begins to get hot.
Color Variety
Given the way leather items are made, there isn't too much color variety to speak of. Under normal circumstances, you're going to be getting leather items in black and brown, with white being a less common option. The structure and manufacturing process of leatherette means that dying it is barely an inconvenience. Therefore, the color variety is off the charts.
Maintenance Requirements
Leather isn't a washable material and cleaning it can be a pretty difficult task. While being porous is great for breathability, it also means that your leather items are going to be more conducive to absorbing odors and spills.
Like leather, leatherette is also not among the ranks of washable materials. However, it has a less porous structure, meaning that cleaning it is a lot easier, and it also happens to be waterproof. In a lot of cases, a damp cloth is all you will need to clean up a leatherette spill.
Typical Usage
Typical uses of leather are furniture, gloves and work boots, shoes, handbags, jackets, and automotive interiors. Leatherette will typically be used in automotive upholstery, and cheaper versions of genuine leather products such as furniture, shoes, and handbags.
Advantages and Disadvantages of Leather and Leatherette for Office Chairs
If you are looking to buy an ergonomic chair, you may choose to get one that is genuine leather or one that's leatherette. Either decision will come with its ups and downs, and this is the part where you get an idea of what these advantages and disadvantages look like. On that note, starting with genuine leather is a good idea.
Advantages
If you resell your chair quickly enough, then you'll be able to benefit from a much higher resale value than you would be able to get with leatherette. Be that as it may, there are technically very few circumstances in which you'd be looking to sell your chair instead of getting as much value as you can out of its useful life.
Of course, there is also the premium perception that people place on leather. If your office chair is made of the material, then there's a certain prestige that it carries, which people will immediately be able to identify as soon as they walk into your office space.
Mesh vs. leather chair
Compare a mesh vs. leather chair, for example. The mesh chair could look more elegant, have better features, and be the best office chair for long hours, but because of the intrinsic value people put on leather, the latter would stand out more.
Leather will also breathe a lot better than its not-so-authentic counterpart. Therefore, it is always going to be more comfortable in products that will make any form of direct contact with your skin, such as office chairs. Though leather can fade with age, it also becomes softer, which makes it consistently more comfortable to the touch.
Finally, it's super resistant to any form of tears or punchers, making it highly suited to difficult work environments.
Bonded leather vs. faux leather
When you compare bonded leather vs. faux leather, the biggest advantage the latter has is the lower price you will pay. To this end, while you may not be getting the best leather office chair, you can get one that looks great and doesn't cost an arm and a leg.
Additionally, if you're a person who is interested in style and being able to synchronize different colors together in your office, then leatherette may be the perfect material. Remember that it's easy to dye nature means that the color palette that can be used to design it is limitless.
You also won't have a difficult time cleaning and maintaining your office chair, beyond wiping it with a damp cloth occasionally. It also helps that fading in UV light is much less of a worry, and no animals need to be put to death for you to have your office chair.
Disadvantages
On the not-so-advantageous side of the spectrum, there's the more expensive nature that you have to deal with if you want genuine leather. Expect to pay double or more than you would for the synthetic counterpart. Of course, there is also the fading element that was covered before, and the fact that vegans or those who are not too keen on the use of animal products will need to find an alternative.
As far as leatherette goes, you can't really shake the perception of its being a cheap leather knockoff. Therefore, don't expect it to have the same kind of prestige. If the environment is hot, then faux leather can become uncomfortable, considering it doesn't breathe very well.
While fading isn't as much of a problem for leatherette as it is for real leather, the top layer will often split and crack along its stress points, meaning the cloth underneath will start to be revealed. You've probably seen this in old car seats.
The Best Leather Office Chairs
What is the best leather office chair? Here are a few solid options.
Eureka Ergonomic Sofa Chair
If you're looking for something comfortable and accommodating to small and large people alike, then this leather office chair with wheels is a pretty stylish option that you may consider. Take advantage of the adjustable headrest and tilt that has five different lockable positions. It's a white leather chair too, meaning it will have an aura of pristine about it.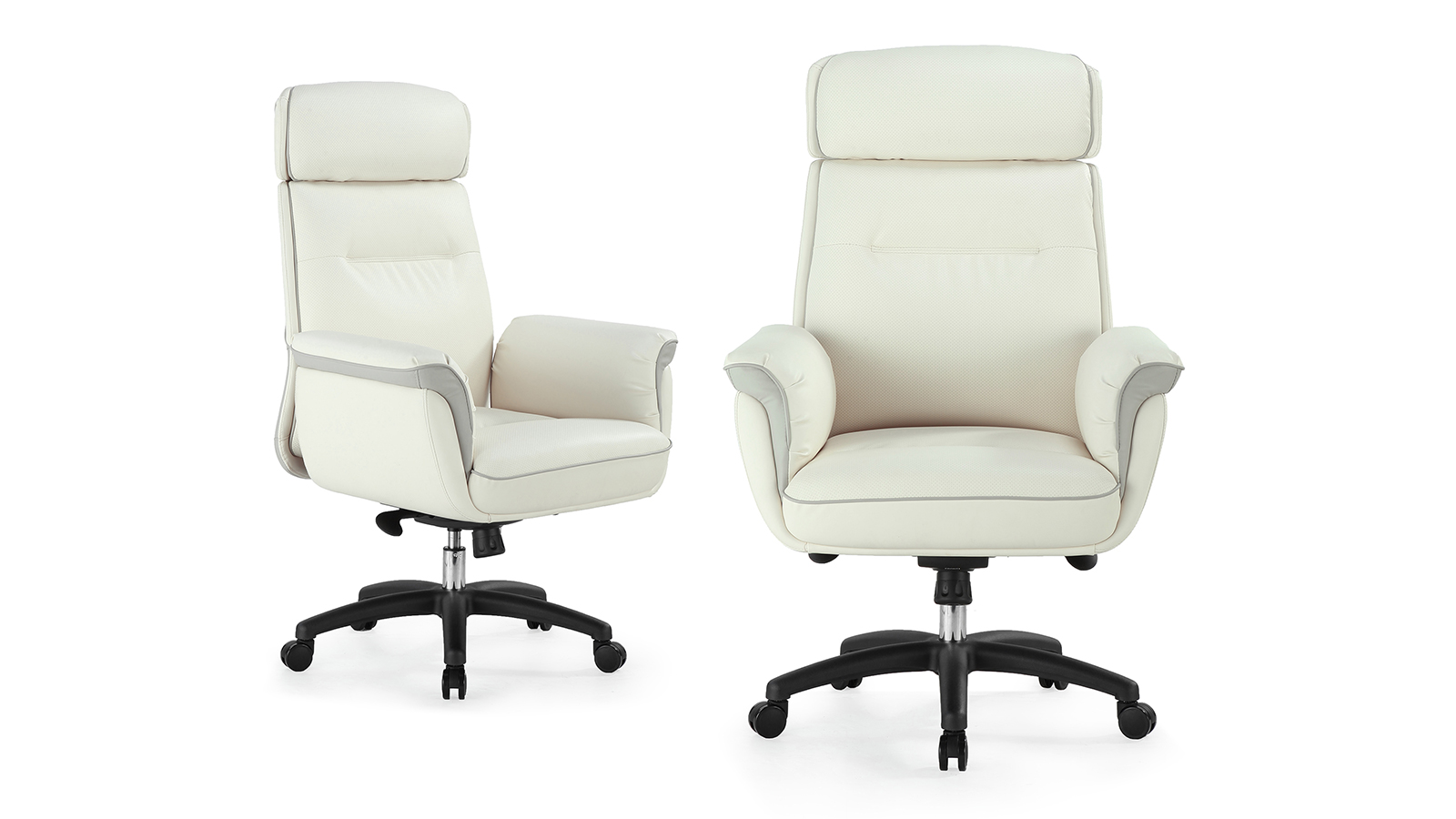 EUREKA ERGONOMIC Executive Office Leather Sofa Chair
| | |
| --- | --- |
| Height range | 50.4"-47.6" |
| Seat width - depth | 17.5"-20" |
| Weight capacity | 300 lbs |
| Recline | 98-130° |
| Seat Cushion | 7" Thick |
Skyline Décor High Back Office Chair
Not only is this leather chair going to have you feeling comfortable as you work, but its footrest and ability to recline means that you can use it to relax when the workday is over too. It also has a high back design with a headrest and is one of the softest and most durable options you can get your hands on.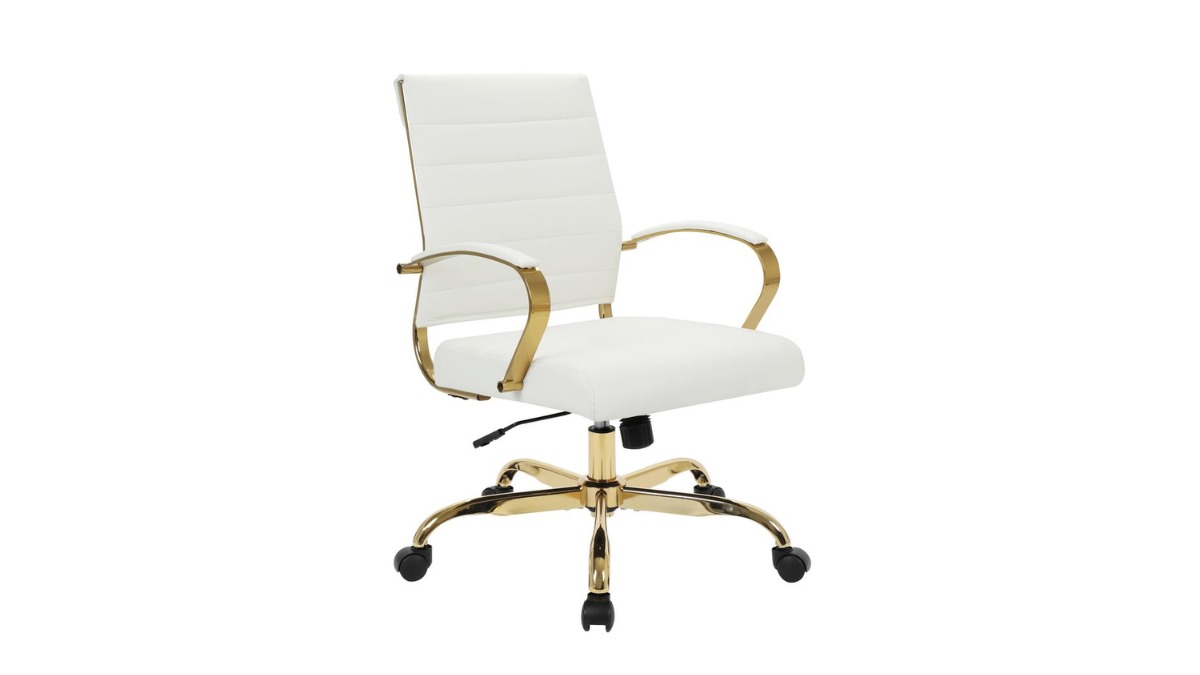 Skyline Decor High-Back Leather Chair
Dimensions
42"-46" x 22.5" W x 24.5" D
Materials
Back and seat: Leather
Frame: Steel
Colors
Black, Brown, Gray, Navy Blue, Red, Tan, White
Warranty
1 month
Duramont Reclining Office Chair
Here is yet another high-back design, with a ton of lumbar support and comfort to go along with the package. It also reclines and has a footrest as a welcome addition. If you want, you can even remove the footrest to create more space for your head as you use the lying position.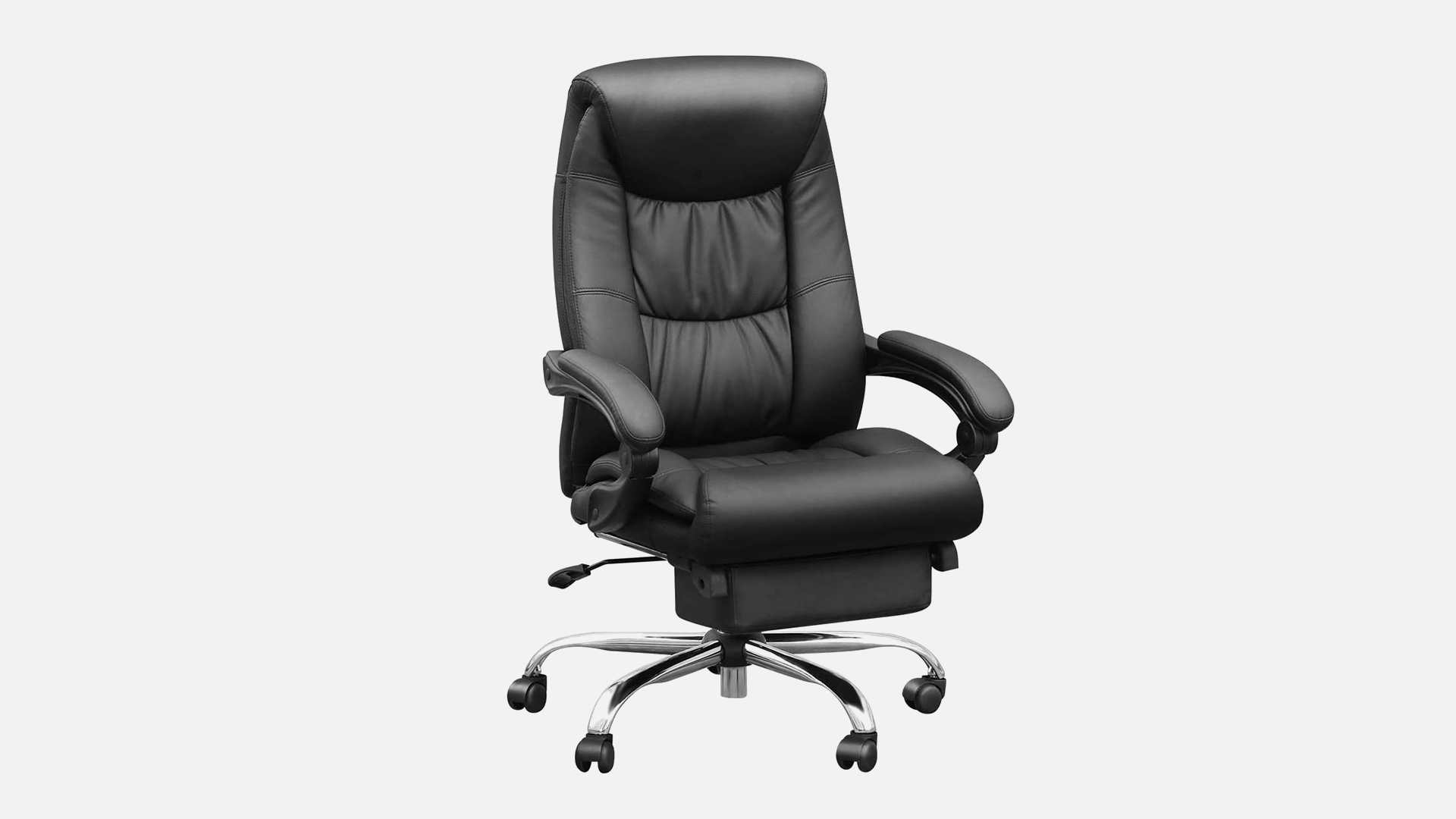 Duramont Reclining Leather Office Chair
| | |
| --- | --- |
| Dimensions | 25.1"D x 19.7"W x 43.3"H |
| Seat height | 19.5" - 22.5" |
| Materials | Faux Leather, Nylon |
| Colors | Black |
| Weight capacity | 250 lbs |
| Warranty | 1 year |
The Best Leatherette Office Chairs
Now it's time to head over to the leatherette side.
Glitzhome Leatherette High Back Office Chair
This adjustable swivel design gives a mid-century aesthetic for a stylish visual and enhanced productivity. The height adjuster makes it suitable for different people, and the tilt gives you the option of sitting or lying comfortably.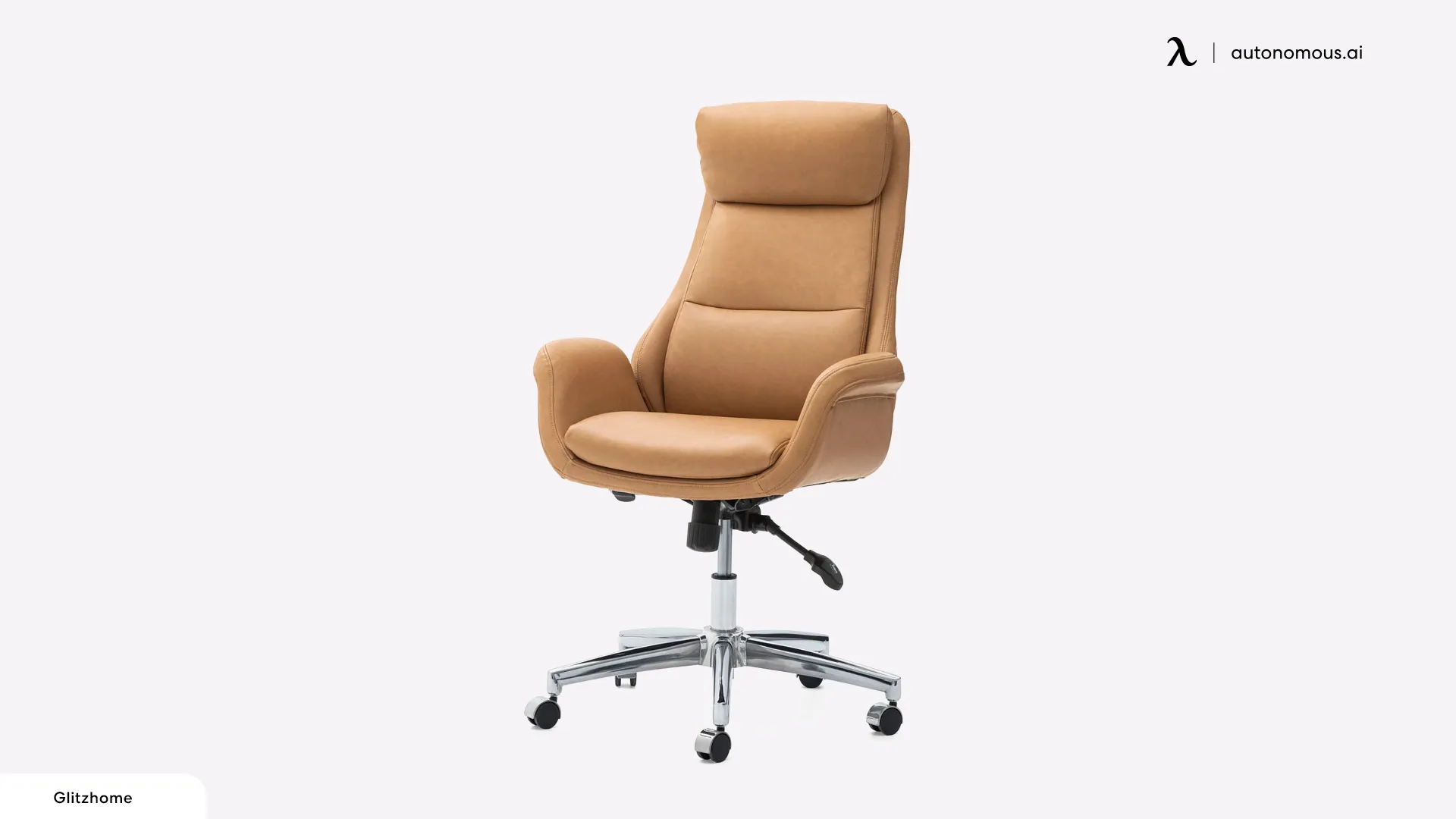 Glitzhome Adjustable High-Back Office Chair
| | |
| --- | --- |
| Dimensions | 28.15"L x 27.36"W x 43.7" to 47.64"H |
| Seat Area | 17.52"L x 17.32"W |
| Base Dimater | 28.9" |
| Materials | PU, Polyurethane Foam, Plywood |
| Colors | Camel |
| Weight capacity | 275 lbs |
Neo Chair High Back Adjustable Chair
You will have to look at this one twice to realize you're not looking at a genuine leather creation. It has a high back design with great lumbar support and flip-up armrests if you want a little more space as you use it.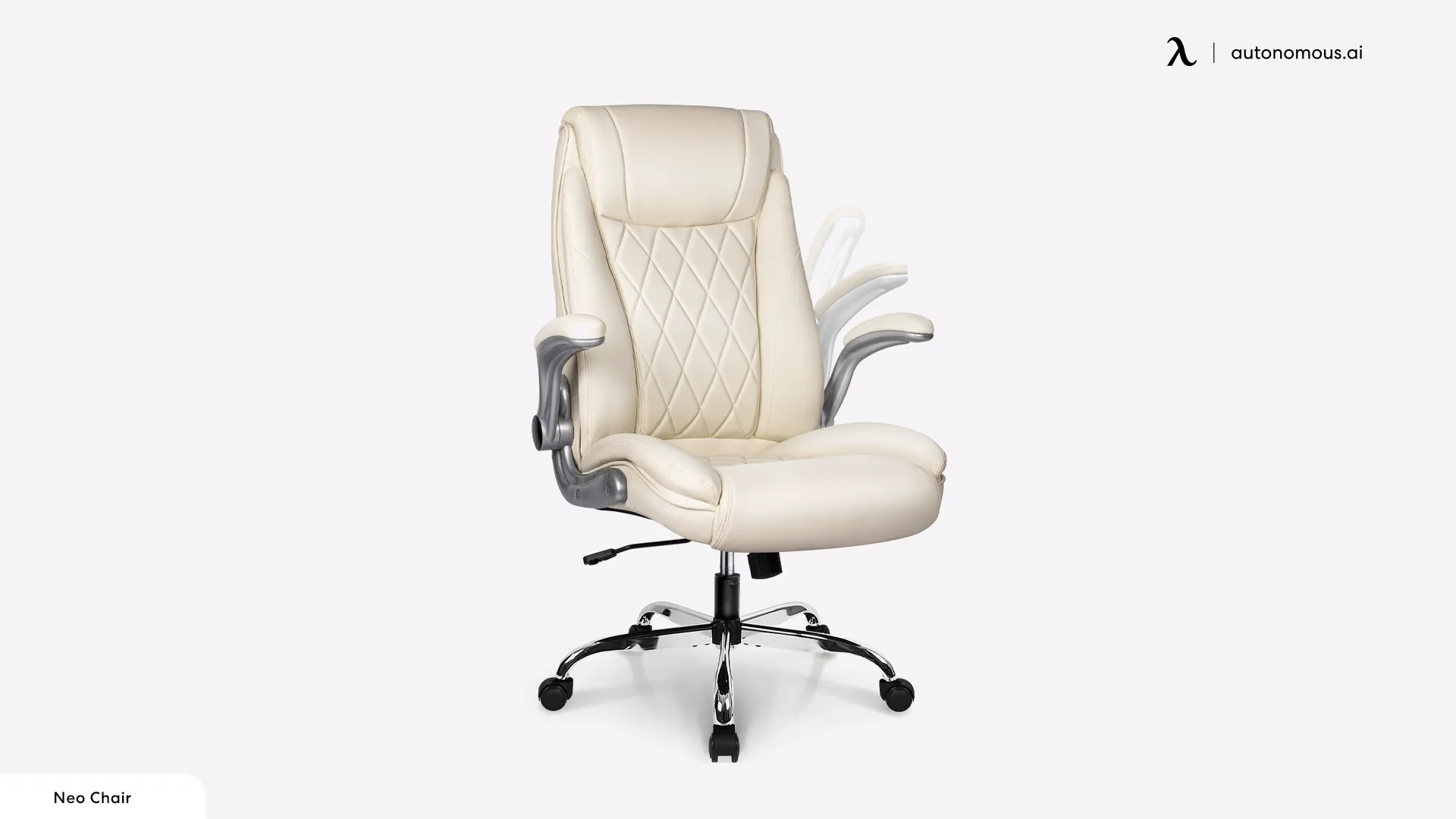 Neo Chair Chairman Ergonomic High Back Chair
| | |
| --- | --- |
| Dimensions | 26.80" x 27.50" x 44.90" |
| Colors | Off-White |
| Weight capacity | 300 lbs |
Comermax Modern Executive Office Chair
Finally, there's the Comermax executive chair, which also has a pretty good lumbar support design. Recline anywhere between 90 and 120 degrees, and enjoy the sturdy structure and flip-up armrests present here.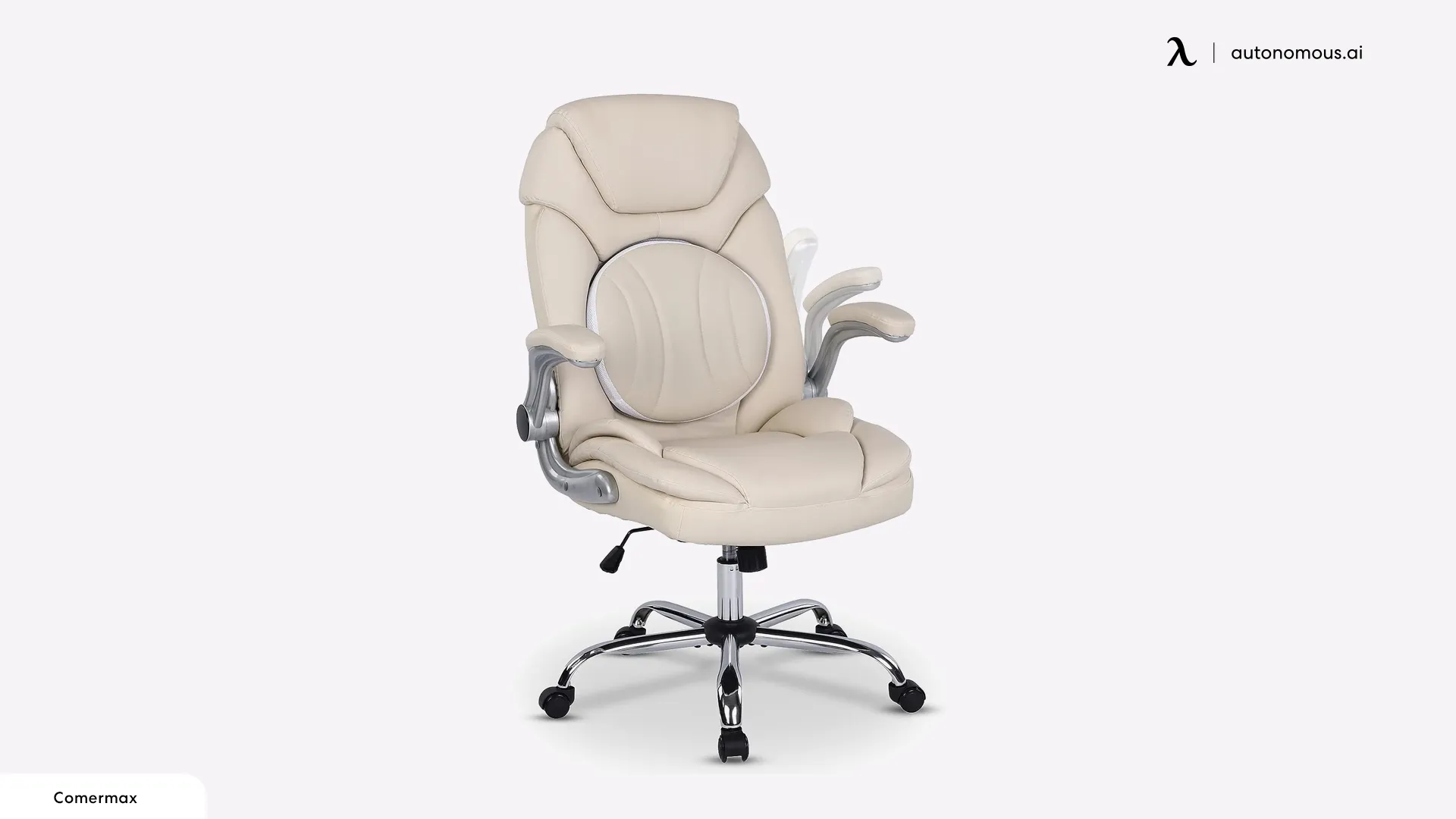 Comermax Modern Executive Office Chair
| | |
| --- | --- |
| Dimensions | 29.13"D x 29.13"W x 47.64"H |
| Colors | Beige |
| Weight capacity | 300 lbs |
The Bottom Line
While real leather may have a more premium feel and be more breathable, faux leather is going to cost you less and doesn't involve the use of animal products. Of course, there are other defining features as well as advantages and disadvantages of both. Using these, it should be easy for you to select which one appeals to you.
Video ads for product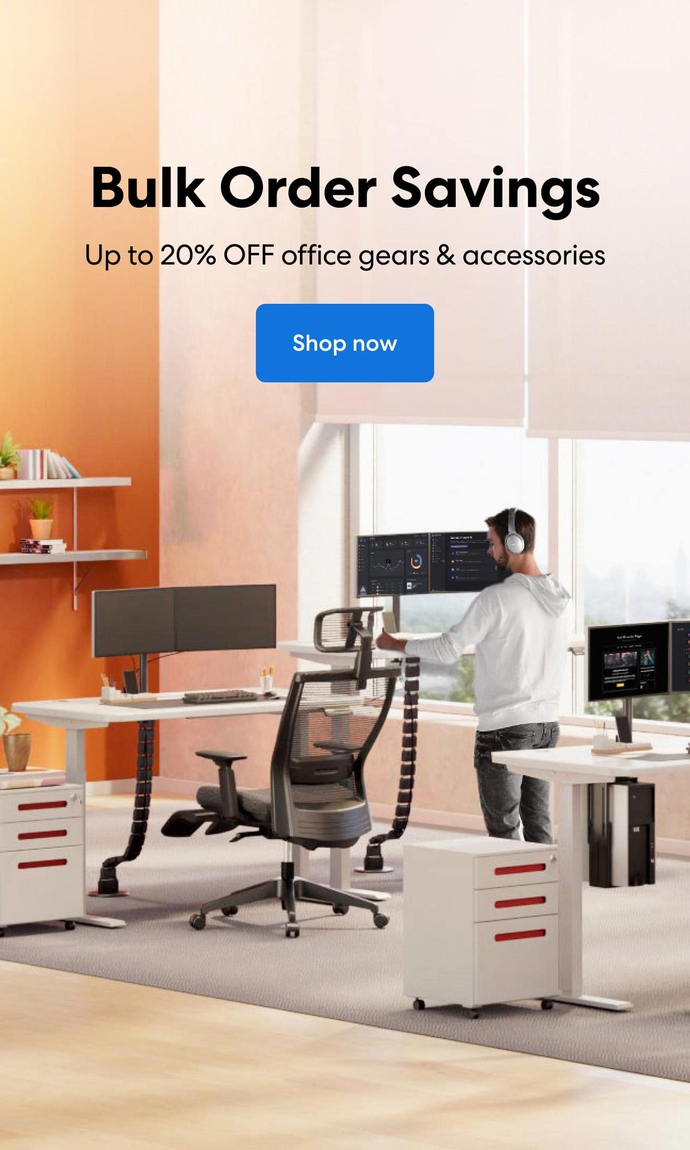 Subcribe newsletter and get $100 OFF.
Receive product updates, special offers, ergo tips, and inspiration form our team.