Smart Products
Top 8 Leather Office Chairs for Executive Office Design

Laura Turner
|
Nov 16, 2023
3,645 Views
Investing in an ergonomic chair is important because it supports the body's natural posture, increases productivity, can be adjusted to fit individual needs, and saves money by reducing the risk of workplace injuries. According to a solid study on BMC Musculoskelet Disord, an ergonomic office chair improves employees' posture, keeping them energized and productive at work. When creating a luxurious and functional executive office, the right chair can make all the difference. Leather office chairs are famous for their sophisticated design, comfort, and durability.
In this article, we've curated a list of the best leather office chairs on the market, considering factors such as ergonomic features, adjustability, and overall style.
Whether you're looking to make a bold statement or simply want to invest in a high-quality office chair that will stand the test of time, we've got you covered. So sit back, relax, and explore the best leather office chairs for executive office design.
Best Leather Office Chairs for 2023
1. Furmax Leather Office Chair
Material: Faux Leather
Product Care Instructions: Wipe Clean
Seat Material Type: Leather
Finish Type: Leather
Furniture Finish: Leather
We have had the opportunity to experience the Furmax Leather Office Chair. This leather home office chair prioritizes comfort and practicality without compromising on style. From the moment you settle into its generously cushioned seat, you'll be enveloped in a layer of plush support, thanks to the 3-inch thick padding. The chair's adaptability is further enhanced by its pneumatic lift, allowing you to adjust the seat height to your perfect ergonomic position.
Durability is at the heart of Furmax's design, with its high-quality leather upholstery and breathable mesh back ensuring long-lasting comfort and airflow. And when the workday winds down, the gentle rocking motion provides a soothing way to unwind.
Tailored for those who value affordability without sacrificing style, the Furmax Leather Office Chair is a versatile option with a sleek design that complements any office décor. While excelling in basic comfort, it's essential to note that the limited recline functionality may not meet the specific needs of users seeking advanced features. Despite this, the Furmax chair strikes an admirable balance between comfort, practicality, and affordability, making it an ideal choice (and the best leather office chair) for pragmatic users who prioritize functionality and style without breaking the bank.
2. Nouhaus Leather Office Chair
FABRIC: Open Cell Foam, PU Leather Fabric and Soft PU Coated Armrests
WHEELS: 50R Nylon Casters
BASE: 5-Point HD Nylon Wheelbase / Reinforced Ribs and Gussets
Customizable features, including Click5 Lumbar Support, Adjustable Armrests, PU Leather Fabric, ReclineRock, and Timeless Colors, mark the Nouhaus Leather Office Chair as a powerhouse for those seeking both aesthetics and functionality.
Nouhaus impresses with the unique office chair with lumbar support, providing optimal back support at five degrees. Crafted with open-cell foam and sleek PU leather upholstery, the leather desk chair ensures both comfort and sophistication. The ergonomic design, paired with a strong Hydraulic Gas Lift, underscores its commitment to functionality.
Highlight features include the ability to create a moderate rocking motion with ReclineRock and FlipAdjust Armrests catering to individual preferences. The chair's design, featuring soft PU-coated armrests and a reinforced 5-Point HD Nylon Wheelbase, emphasizes both comfort and durability.
Marrying style and substance, Nouhaus incorporates a design that caters to modern tastes. The upholstery, a blend of soft PU-coated armrests and open-cell foam, exemplifies the fusion of luxury and support. The sturdy base, reinforced with ribs and gussets, ensures longevity.
Nouhaus is for those who demand an aesthetic statement and a customizable, ergonomic companion for their work journey. In essence, Nouhaus strikes a balance between form and function, offering a posture chair that complements your workspace while adapting to your unique preferences and needs.
3. Humanscale Freedom Leather Chair - Best Leather Office Chair
We started our review of the Nouhaus Leather Office Chair with an eye-opening list of characteristics. The leather computer chair demonstrated a dedication to customization with its spinning backrest with lumbar support, an automated reclining mechanism that responds to weight, adjustable seat back height, and adjustable headrest. Nouhaus desk chair with headrest emphasizes adaptability and user comfort with matching armrests and a significant weight restriction of 300 lbs.
When it came to building office chair for back pain, Nouhaus demonstrated excellent workmanship. Ergonomically sophisticated to a new level were the revolving lower back support and the weight-adapted reclining mechanism. Easily adjustable rests and the ability to work while lying down were two noteworthy advantages that improved the chair's usefulness.
But not everyone will like the chair's completely flat, head-up reclining position, and its high price and non-American origin might put many off. Furthermore, the armrest's long reach may be uncomfortable for tiny people. Nouhaus caters to people who value an opulent ergonomic experience despite these shortcomings. For people looking for a high-end product with fine design features and who value the combination of elegance and utility in their workplace area, these leather desk chairs are perfect.
4. Serta Air Office Chair
Material: Wood, Leather
Frame Material: Wood
Product Care Instructions: Spot Clean
Seat Material Type: Leather
Furniture Finish: Faux Leather
Fill Material: Foam
When we dug into the Serta Air Office Chair, we discovered an elegant and professional-grade ergonomic marvel. The improved lumbar support with AIR Lumbar Technology adapts dynamically to movement to support the back continuously and help with posture correction. It adds style to any office space with its bonded leather, contrast stitching, and 100% wood frame, which give it an executive vibe.
With its layered body pillows and cushioned armrests, the Serta Executive Office Chair puts comfort first, making for a peaceful sitting experience. The leather office chair's clever design adjusts to every movement, and its ground-breaking AIR Lumbar Technology promotes proper posture at desk. Ergonomic seat-side levers make it simple to adjust height and tilt, allowing for individualized comfort.
One notable feature of multi-surface, dual-wheel designer casters is their ability to move freely on any surface. With a backrest height of 23.25 inches and a seat depth of 19.5 inches, the chair's dimensions accommodate a variety of body types. At 40.80 pounds, it is a sturdy yet portable workmate.
Despite the Serta Air Office Chair's superior comfort and design, its higher price point may put off consumers on a tighter budget. But for professionals looking to add a little luxury to their workspace, this leather home office chair is a great buy for those looking for the ideal fusion of style, ergonomic innovation, and executive comfort.
5. Geiger Clamshell Task Chair
This leather computer chair's sleek structural shell, achieved through cutting-edge veneer technology, provides luxurious relaxation without compromising on strength. Its frameless design, inspired by forces of nature, ensures a lightweight and versatile addition to any workspace.
The Clamshell leather desk chair, with its height-adjustable, five-star swivel base and wheels, seamlessly transitions between desk and conference settings. This adaptability, coupled with a walnut frame and black leather upholstery, adds an element of sophistication to any room.
BassamFellows' ingenuity in realizing the clamshell form in wood showcases substantial advancement in veneer molding technologies. This ensures both the aesthetic allure and functional durability of the leather office chair, making it a standout choice for those who appreciate the marriage of design and technology.
The Clamshell Task Chair allows customization with options like a high or low back, arms or no arms, and a 360-degree swivel. Its design philosophy, inspired by Eero Saarinen's timeless principles, makes it an excellent choice for those who value structural simplicity and enduring elegance in their office furniture. While it may lack certain adjustable features found in ergonomic chairs, the Clamshell Task Chair is a statement piece for individuals seeking an artistic, nature-inspired addition to their workspace.
6. EUREKA ERGONOMIC Executive Office Leather Sofa Chair
The next leather office chair on our list is the signature chair of EUREKA ERGONOMIC. The company has been selling premium quality furniture items over the years. This premium quality, the fully adjustable office chair is the one-stop solution for your needs.
This ergonomic office chair provides ultimate comfort, thanks to its breathable material and comfortable headrest. The chair features adjustable height and seat tilt options for you to sit according to your own comfort. The chair provides you with flexible lumbar support in any position you like.
The EUREKA ERGONOMIC chair is made of 100% environmentally friendly materials, making it a viable option. Its futuristic design and modern look make it the center of attraction, attracting the eyeballs of every passerby. The chair also has a woven mesh back that keeps you cool even in the harsh summers, ensuring proper airflow.
7. Duramont Reclining Leather Office Chair with Wheels
If you are looking for a chair that provides ideal comfort without compromising style, the Duramont Reclining Leather Desk Chair is all you need.
This Duramont Reclining leather desk chair has a high-back design that is curated to give you excellent back support. This ensures that your back remains in the appropriate position, saving you from backaches. Moreover, the chair has a tilt locking mechanism that allows you to rock the chair and set it according to your preference.
This beastly leader desk chair can withstand a weight of 250 pounds, making it suitable for almost everyone. The chair has soft padding on the seat and the back, allowing you to work non-stop hours without getting a hint of tiredness.
The microfiber leather gives the chair a modern and sophisticated look and feel. This leather office chair with headrest stands firm on the durable metal base, fixed with 5 nylon casters. Overall the chair is an excellent option for executives, and it is easy to assemble.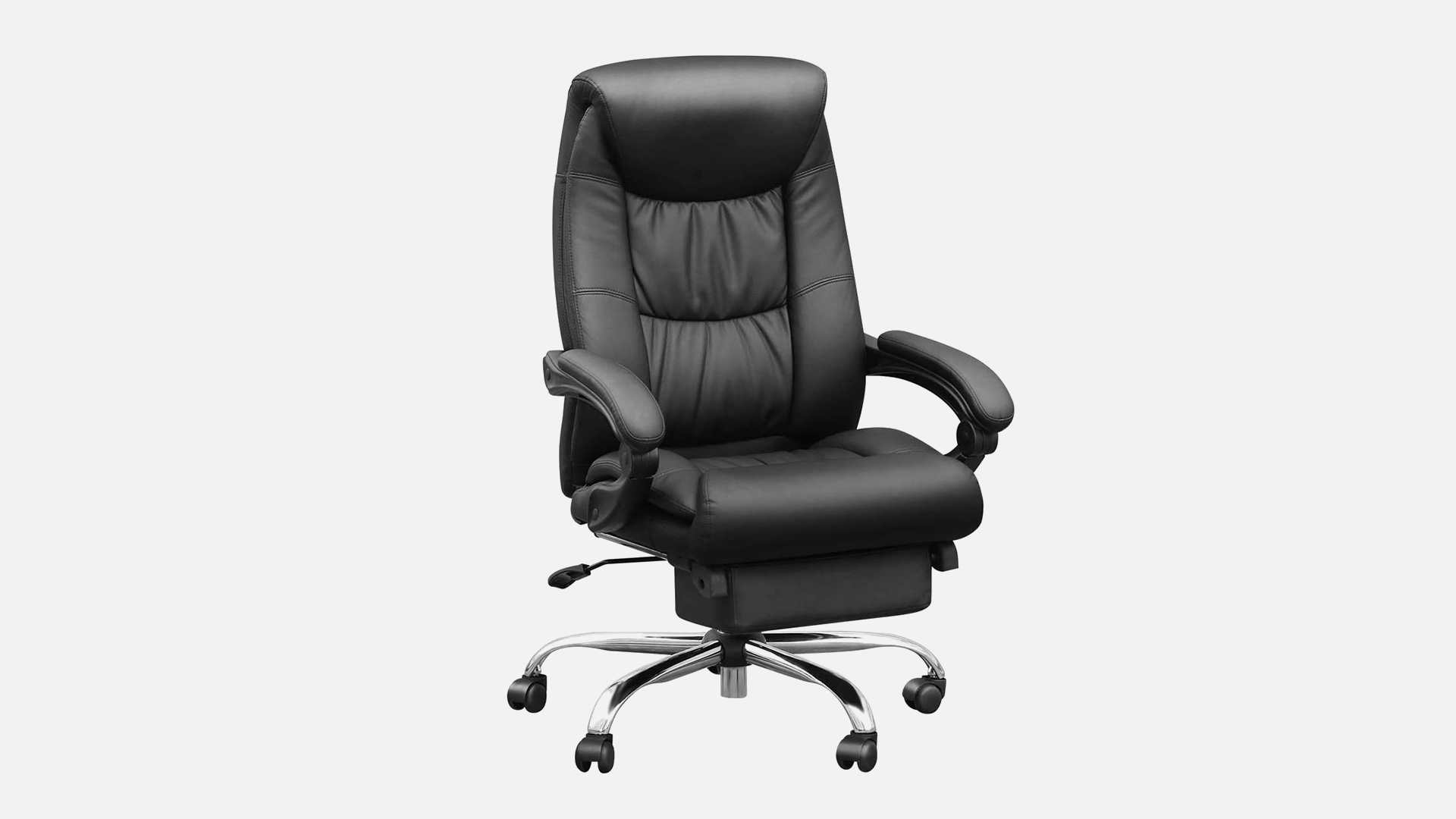 Duramont Reclining Leather Office Chair
| | |
| --- | --- |
| Dimensions | 25.1"D x 19.7"W x 43.3"H |
| Seat height | 19.5" - 22.5" |
| Materials | Faux Leather, Nylon |
| Colors | Black |
| Weight capacity | 250 lbs |
| Warranty | 1 year |
8. Modway Viscount Leather Office Chair without Wheels
The Modway vegan leather chair is the perfect addition to your office reception. These leather office chairs without wheels will elevate the look of your office and create a great impression on visitors and guests. The chair is made from 100% pure vegan leather, making it an environmentally friendly option.
Furthermore, it has ultra-soft padding on the seat with a curved backrest design that offers god-level comfort. The padding provides immense comfort, making the chair perfect for sitting for a long time. The chair has a solid metal base with sturdy legs, making it a premium-quality option.
Overall, this leather executive office chair is a cost-effective and popular option for seating guests. Also, it looks great with a touch of simplicity, making it usable for almost every occasion or setting.
Modway Viscount Mid-Century Chair
| | |
| --- | --- |
| Height range | 23"L x 19"W x 33.5"H |
| Seat Dimensions | 17.5"L x 16.5"W x 19"H |
| Weight capacity | 300 lbs |
| Backrest Dimensions | 16"W X 14.5"H |
| Color | Black White |
Why Do You Need a Leather Office Chair?
A leather office chair is not only a stylish addition to your workspace, but it also provides numerous benefits. Unlike synthetic materials, genuine leather is highly durable and can withstand the wear and tear of everyday use.
Additionally, leather is a breathable material that promotes air circulation, which helps keep you comfortable during extended periods of sitting. Lastly, a leather office chair adds an element of sophistication to any workspace, making it an ideal choice for executive offices or professional settings.
The Case Against Real Leather Office Chairs: A Sustainable Shift in Seating
In the fast-paced world of office furniture, comfort and style often take precedence over environmental considerations. One item that has long been a symbol of sophistication and professionalism is the classic leather office chair. However, as sustainability becomes an increasingly important concern in our daily lives, it's time to reconsider the use of real leather in our office furniture, especially in the case of office chairs.
Environmental Impact
The production of real leather involves a significant environmental toll. It requires large amounts of water, energy, and chemicals in the tanning process. The leather industry is notorious for contributing to deforestation, water pollution, and greenhouse gas emissions. Opting for synthetic or alternative materials can significantly reduce the ecological footprint associated with office chair production.
Animal Welfare
Real leather comes from animal hides, often sourced from cattle farms. The ethical treatment of animals is a growing concern for many individuals, and choosing synthetic alternatives eliminates the need for animal products. Vegan leather or other cruelty-free materials offer a compassionate choice without compromising on style or functionality.
Durability and Maintenance
While real leather is often associated with durability, modern synthetic materials can provide comparable longevity. Additionally, synthetic materials are generally easier to clean and maintain, making them a more practical choice for busy office environments. They are resistant to stains and spills, ensuring that your office chairs retain their aesthetic appeal over time.
Cost Considerations
Real leather is typically more expensive than synthetic alternatives. Choosing non-leather options can not only reduce the initial cost of office furniture but also contribute to overall cost savings in the long run due to lower maintenance requirements.
Aesthetic Variety
Non-leather materials offer a wide range of design possibilities. Whether you prefer a sleek, modern look or a more traditional appearance, there are plenty of synthetic options available to suit your taste. This variety allows for greater flexibility in office design without sacrificing personal style.
Corporate Social Responsibility
As businesses strive to enhance their corporate social responsibility (CSR) profiles, opting for sustainable and cruelty-free office furniture is a tangible way to demonstrate commitment to ethical practices. Employees and clients alike are increasingly valuing companies that prioritize social and environmental responsibility.
The shift away from real leather office chairs is not just a trend but a conscious choice towards a more sustainable and ethical workplace. As we continue to reassess our impact on the planet and the lives of other beings, choosing synthetic materials for office furniture is a small yet significant step towards a more responsible and compassionate future.
The Difference between Bonded Leather and Microfiber Leather
Bonded and microfiber leather are two popular synthetic materials often used as alternatives to genuine leather. Bonded leather is made by bonding small pieces of leather scraps together using a polyurethane or latex adhesive. In contrast, microfiber leather is made of microfiber material designed to mimic the look and feel of genuine leather.
One of the main differences between bonded and microfiber leather is its durability. Bonded leather can be prone to cracking or peeling over time, whereas microfiber leather is known for its strength and durability. Additionally, microfiber leather is more eco-friendly as it is made from synthetic materials, whereas bonded leather is made from scraps of genuine leather.
Another difference is in their care and maintenance. Bonded leather requires regular conditioning to prevent it from drying out and cracking, while microfiber leather can be easily cleaned with a damp cloth or sponge.
When it comes to cost, bonded leather is generally less expensive than microfiber leather, but it may not last as long. Ultimately, the choice between bonded leather and microfiber leather comes down to personal preference, as each material has unique characteristics and benefits.
In the case of leather office chairs, microfiber leather has the edge over bonded leather. This is mainly because microfiber leather offers more comfort and breathability than bonded leather.
Conclusion
Investing in a comfortable chair is a must if you spend most of your time working while sitting at your desk. We hope that the 3 options discussed in this post will emerge as your solution to backaches and lack of productivity in the workplace.
Make sure you buy a chair according to the climate in your locality. Leather chairs tend to get hotter than other types of chairs. Therefore, going with the right option is crucial for comfort. Share this article with your loved ones who're searching for a comfortable chair.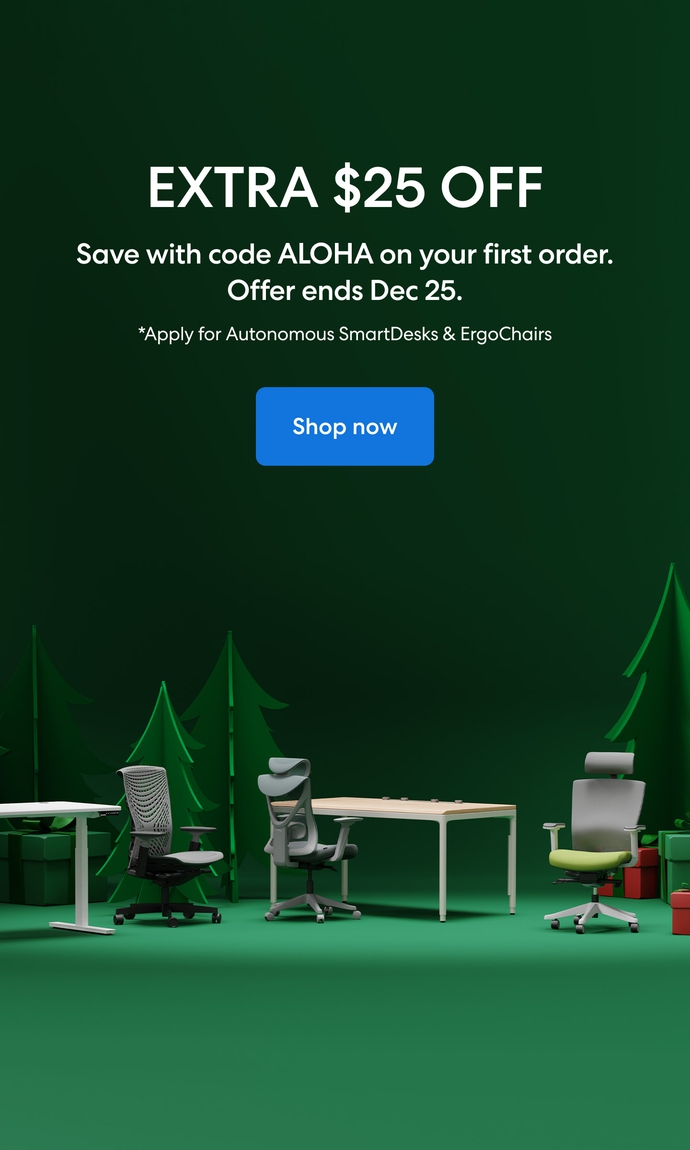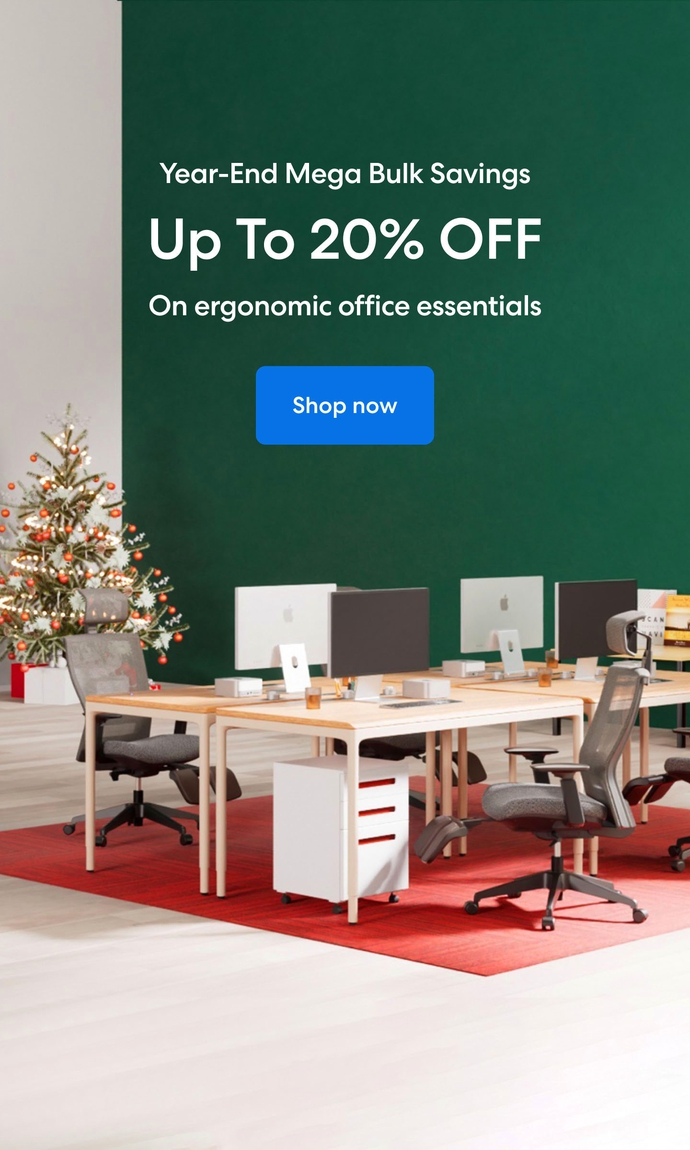 Subcribe newsletter and get $100 OFF.
Receive product updates, special offers, ergo tips, and inspiration form our team.