Ergonomics is not the only thing that you have to worry about when choosing a good, ergonomic office chair. There is more to getting the right one. There is the price, for example. But the most important of them all is that you always buy an office item with the future in mind. That is why considering the office chair materials is very important when you are buying a chair that you intend to use for a long time.
Reasons why you should be keen on office chair materials
When we go to choose an office chair, we mostly consider how ergonomic the chair is. Indeed, since the 1970s, ergonomic office chairs have been all the rage in the market. However, as soon as you buy your first chair, you learn that ergonomics is not all that there is to a good chair.
How It Feel On Your Skin
When you work in the office, you know that your body and clothes will be in contact with the chair for a long time. Many people have reported itchy skin, just from sitting on their office chair. Thus, you have to buy a chair that has been made with material that will be friendly on your skin.
Is It Easy to Clean?
Offices can be dusty places. In addition, people love to touch office chairs fabric all the time. You touch the chair any time you are sitting down, leaning back or exiting from the chair. This makes the office chair fabric quite susceptible to dirt and stains. This is another reason why you need to choose a chair with a material that is resistant to stains, or one that is easy to clean.
How Long the Material can Last
Office chair materials will determine how long a chair can last. It can also determine how comfortable you will be on the chair. For example, an office chair whose seat is made of closed leather would not be very breathable office chair material and may cause sweat to accumulate on your back after sitting down for too long. You do not want to head to the stores every year to buy a new chair. Thus, stronger, resilient and easy to repair material for your office chair is much better.
Office Environment
A chair with a backrest that is not breathable can be a nightmare to use in the warm seasons. With the sweltering heat of summer, you can develop a blistering sweat on your back. That could be hurtful in the long run as it can cause blisters on your skin. Even if it does not, the time you spend on that chair will be quite uncomfortable.
Budget
Before you buy an ergonomic office chair, look at the materials used to make the chair. Actually, the material also determines the cost of the chair. It is better to own long lasting office chair fabric rather than unsustainable materials. This does not mean that a very affordable office chair has been made with bad material. It means that it is much better to check than buy blindly.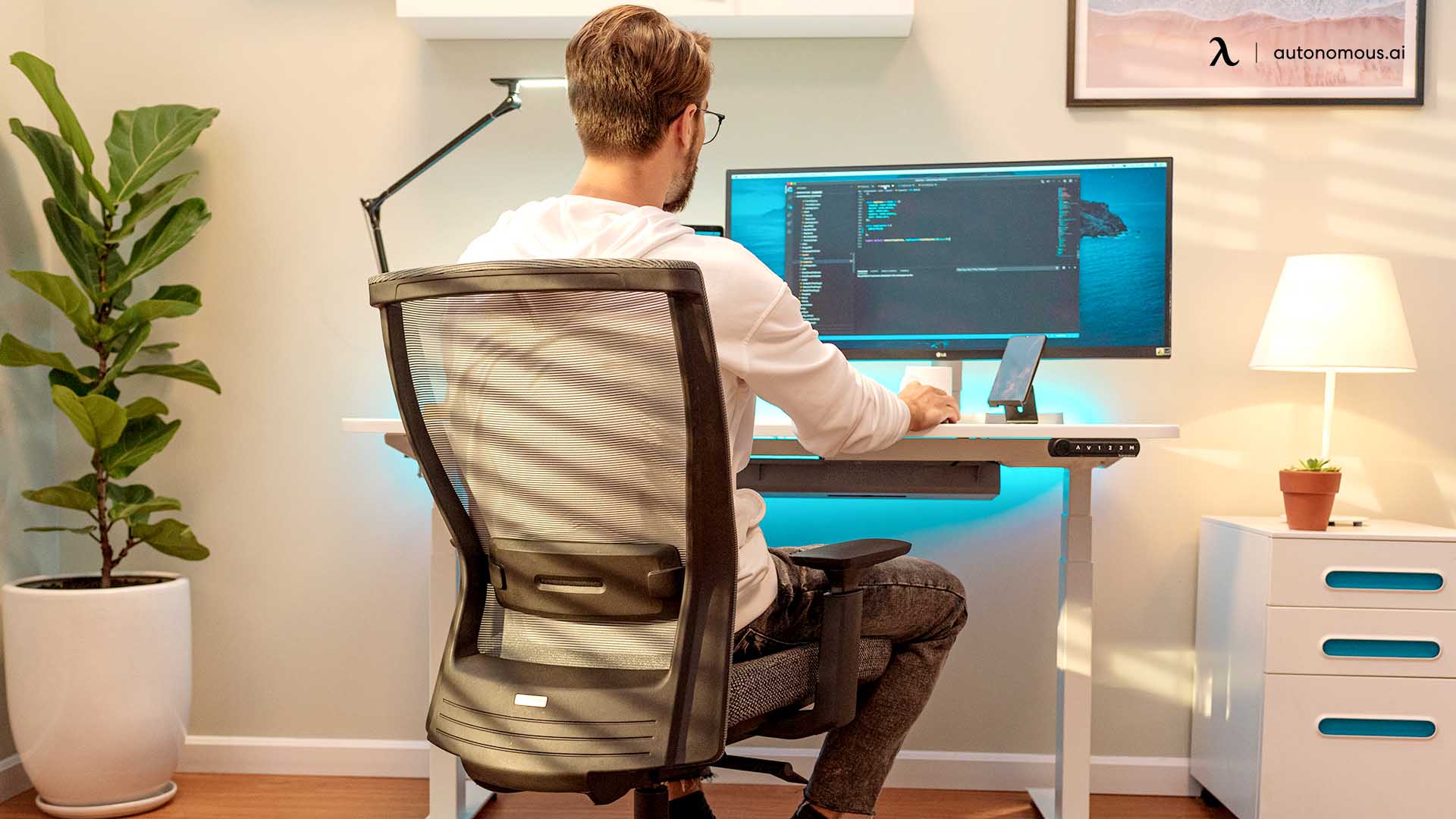 Choose a chair for your needs
When you go to buy an office chair, do not look for the best chair. On the contrary, look for a chair that can meet your needs in the best way possible. What may be the best chair for another person may not be best for you.
Thus, when looking for a chair, besides looking for a durable office chair material, consider what you need most. Maybe another person needed a leg rest, while you are looking for a reclining chair. Your needs supersede even the budget that you may set aside for your office chair.
Selecting the best office chair materials: 8 Best Options
The most important materials for your office chair that you should consider is the upholstery fabric. The reason is that you will mostly be in direct contact with this material. There are many choices for you, and here, you will see several. Keep reading:
1. Vinyl
This is another of the common materials that are used on the best office chairs. It comes in many grades and styles. It is so easy to clean and in some instances, it is a long lasting office chair fabric. If you work in a health care facility and you would love a good chair, buy this one. Chairs used on the factory floor would attract a lot of dirt and stains. Thus, it would be much better if they are made of vinyl.
The main disadvantage with this one is that it gets quite hot in summer. If you are looking for breathability, then vinyl is not what you want. While some vendors may try to pass their vinyl office chairs off as breathable, the truth is that they are not. Thus, if you work in a hot and humid environment, this is not the right material for you.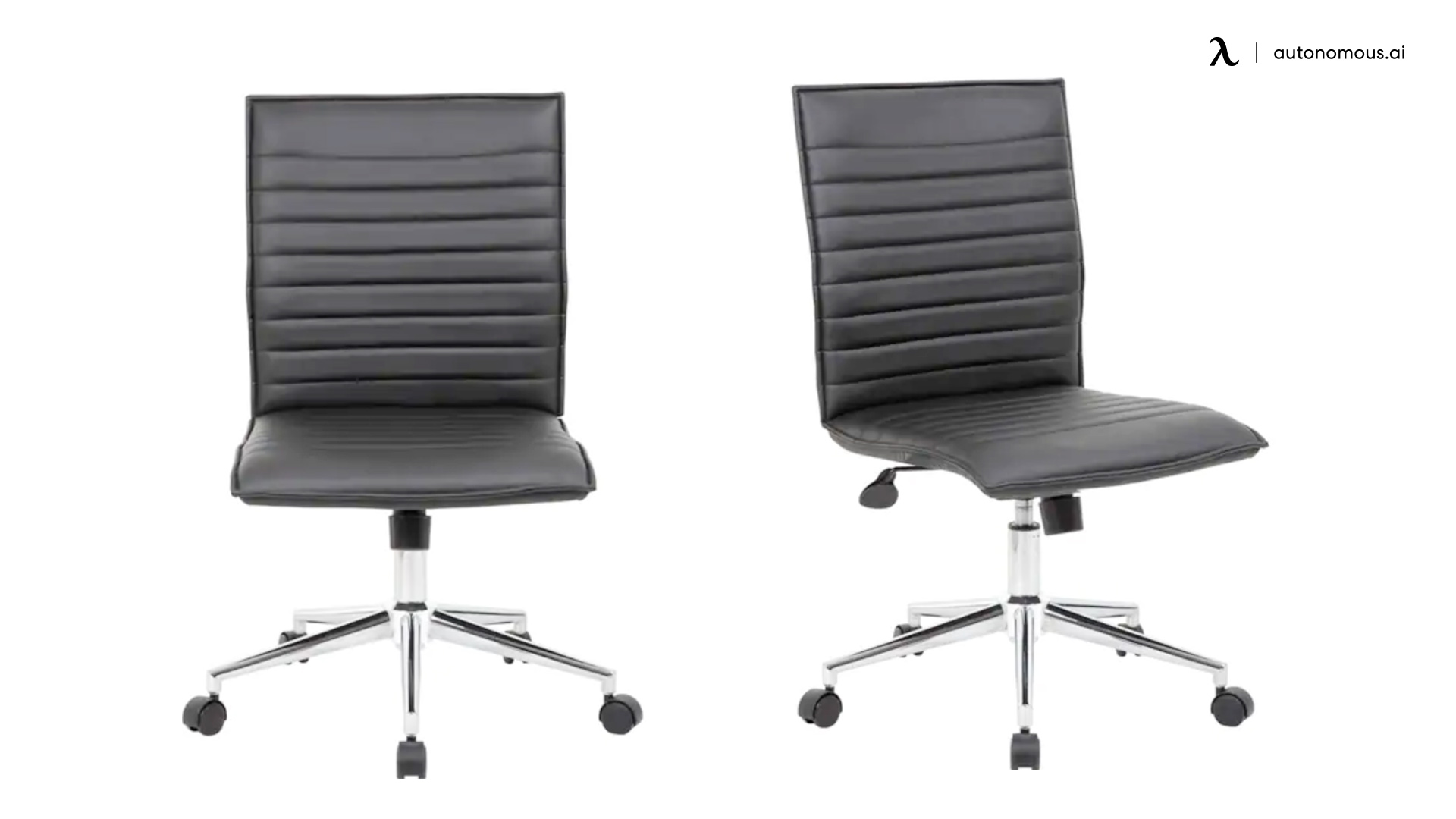 2. Leather
There is no replacement for leather. It oozes luxury from every pore. It looks incredibly good, it is easy to maintain and keep clean all the time. There is no doubt that among all the upholstery fabrics for office chairs that we have in the market today, leather is the most classic of them all, with a high degree of sophistication and indeed, it can cause the price of the chair to go higher.
Leather is so easy to maintain and it is considered to be one of durable office chair materials. If you want to keep it sparkling clean, a simple wiping for the stains should do the job. Whether it gets food, coffee or other stains, it should be easy to get all of these off.
However, as good and luxurious as leather is, it might not be the best to have on your office chair especially if you sit for long hours on end. It is not as breathable office chair material as the best mesh office chair. Thus, if you sit down for many hours, get the meshed chair. That will offer you more breathability and aeration, and it will enhance your comfort at work.
If you would like office chairs that impress your clients and give a very professional look to your office, go for leather chairs. They have this silent sophistication that only leather can give. Do also note that leather can start showing cracks if you do not take good care of it. Thus, as you buy this chair, make sure you read the user manual careful to see what you should do to maintain that awesome leather.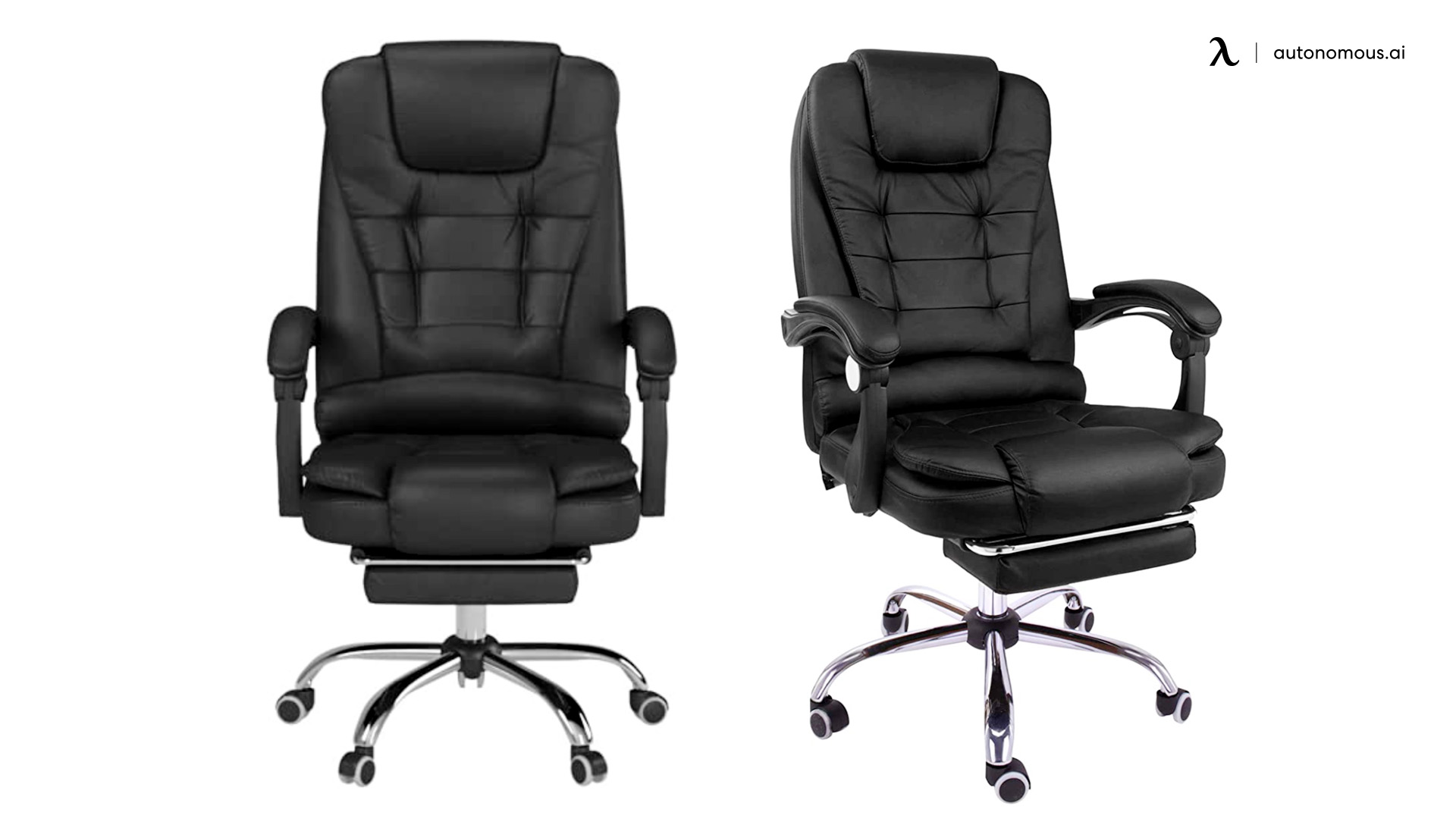 3. Ultra-leather
Also called synthetic leather, this one looks like leather, but it artificial. Many resources say that ultraleather fabrics last longer than the natural leather. One thing you can be sure of is that ultraleather is so easy to clean. It is designed with antimicrobial abilities, which make hypoallergenic. You can be sure that even if you have sensitive skin, when you sit on this chair, your skin will not be affected.
Ultraleather fabric for office chair is also made with breathability in mind. You can use this chair for a long time. The good aeration, durability and other factors make such kind of a chair nice to use.
In some instances, you may find that ultraleather is also referred to as faux leather. This looks like leather, but it might not last as long as natural leather. However, it is easier to maintain. It is also a good choice for animal enthusiasts as it is not made using animal skin.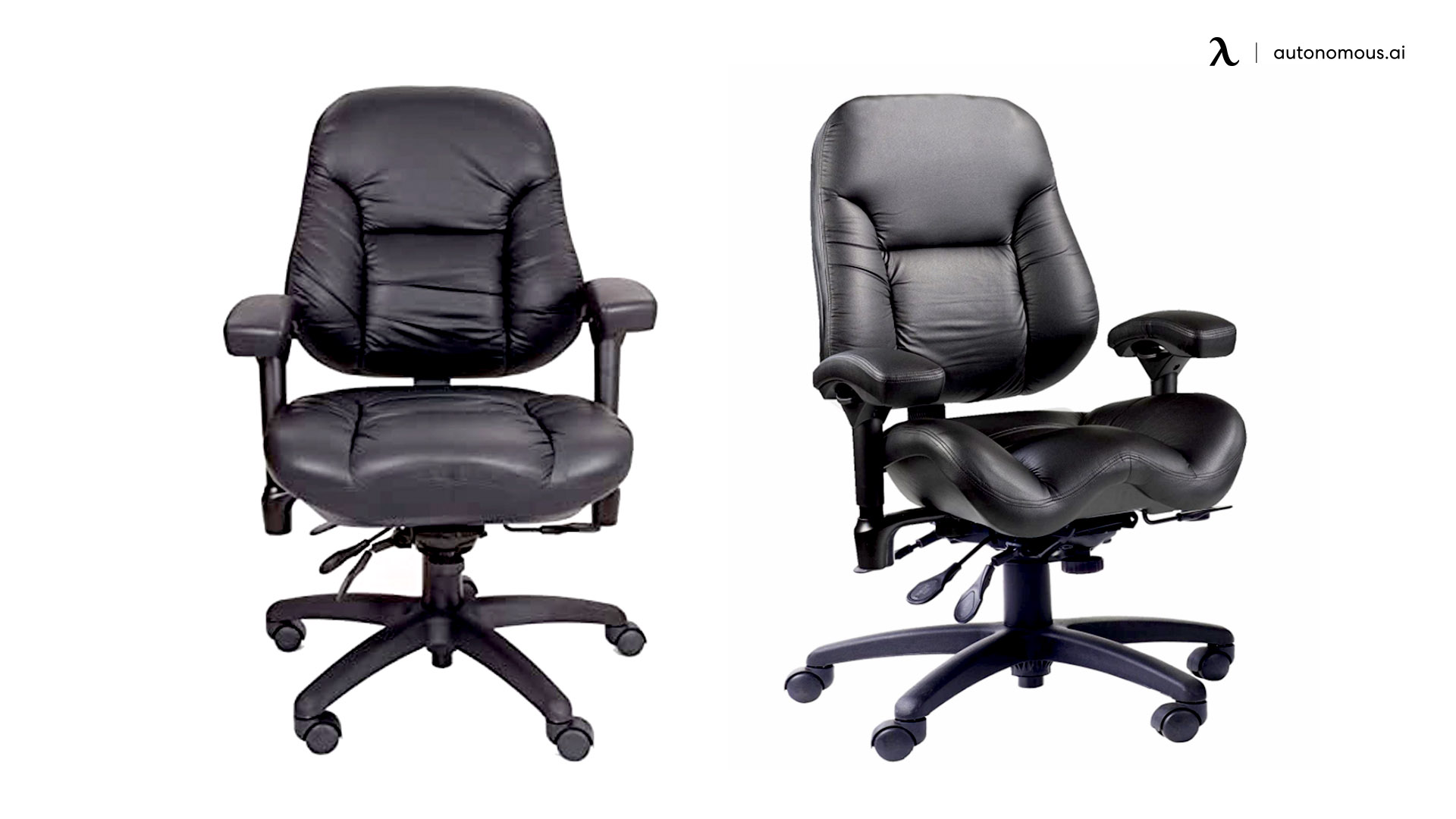 4. Woven material
The good thing with this kind of material is that it can be combined with a meshed back to form a perfect chair. It is the most common office chair fabric that is used for chair seats and backrests.
It comes in many designs, colors, shapes and textures. The most important thing about this chair is that it makes it easy to choose the most favorite. However, go for material that can resist abrasions so that it can come out unscathed out of any abuse meted on the chair.
You may also do Mother Nature one good turn by getting a chair that is made with recycled fibers. However, even one made with natural or manmade fibers would still be good.
Woven fiber is very breathable and comfortable. However, it can be a bit hard to get rid of stains since it soaks everything up. You might want to consider that fact when looking for an office chair.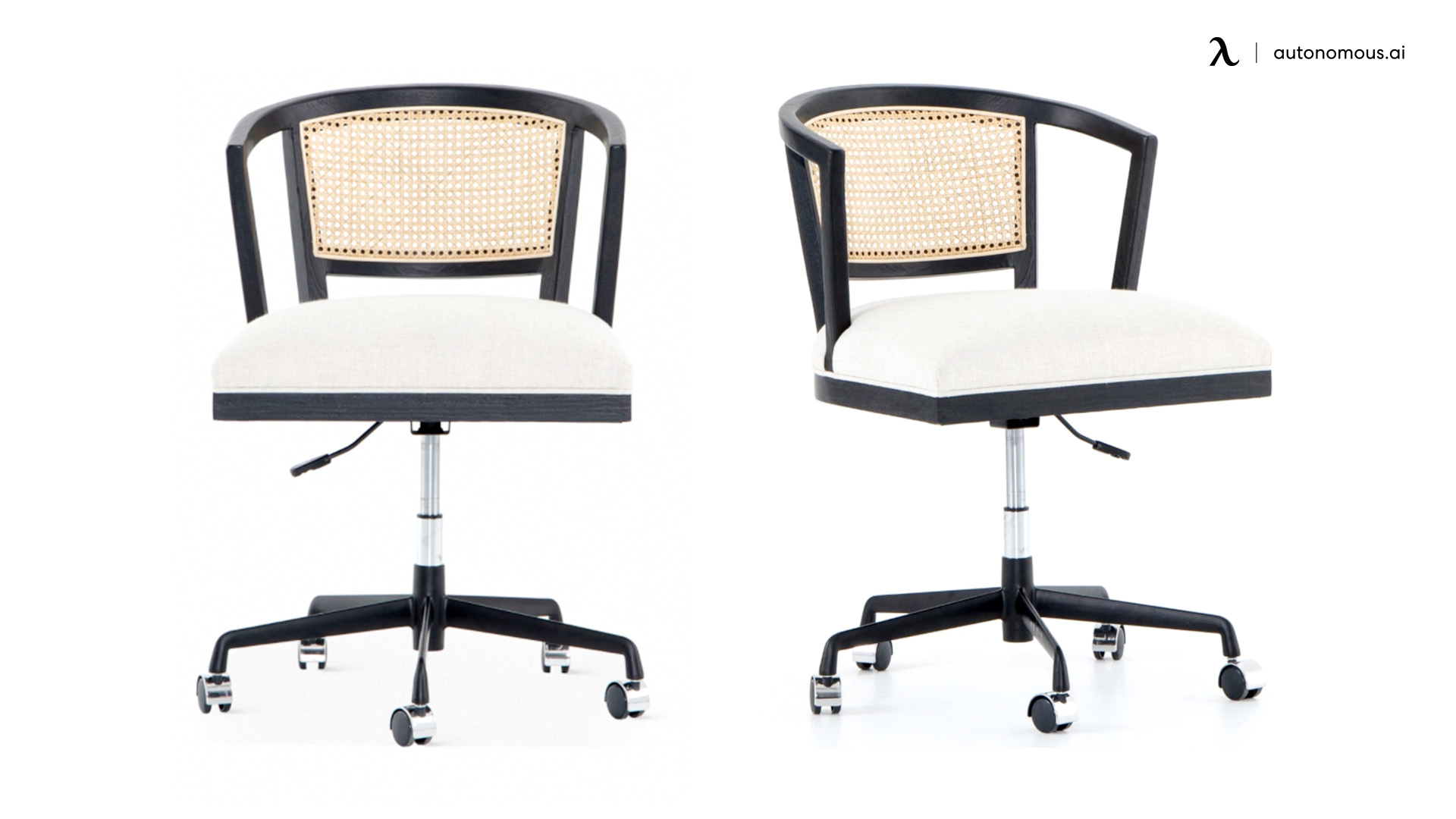 5. Knitted material
This one comes hot on the heels of the woven material as they almost have the same characteristics. It is one of the best office chairs fabric that use foam cushions. It is incredibly good and it lasts a long time. However, when buying such a chair, ensure it is made with thick knitted material as such can last a long time.
Knitted materials breath much better. Thus, whether it is used on the backrest or on the seat of the chair, you are going to love the flow of air, which will keep you cool and comfortable as you go through your daily grind in the office.
Knitted fiber is easy to clean. In fact, it is easier to clean than the woven fabric. While it cannot be as easy to maintain as vinyl, it is still good. If you choose a high quality chair with this kind of upholstery, you can be sure it is going to last quite a long time.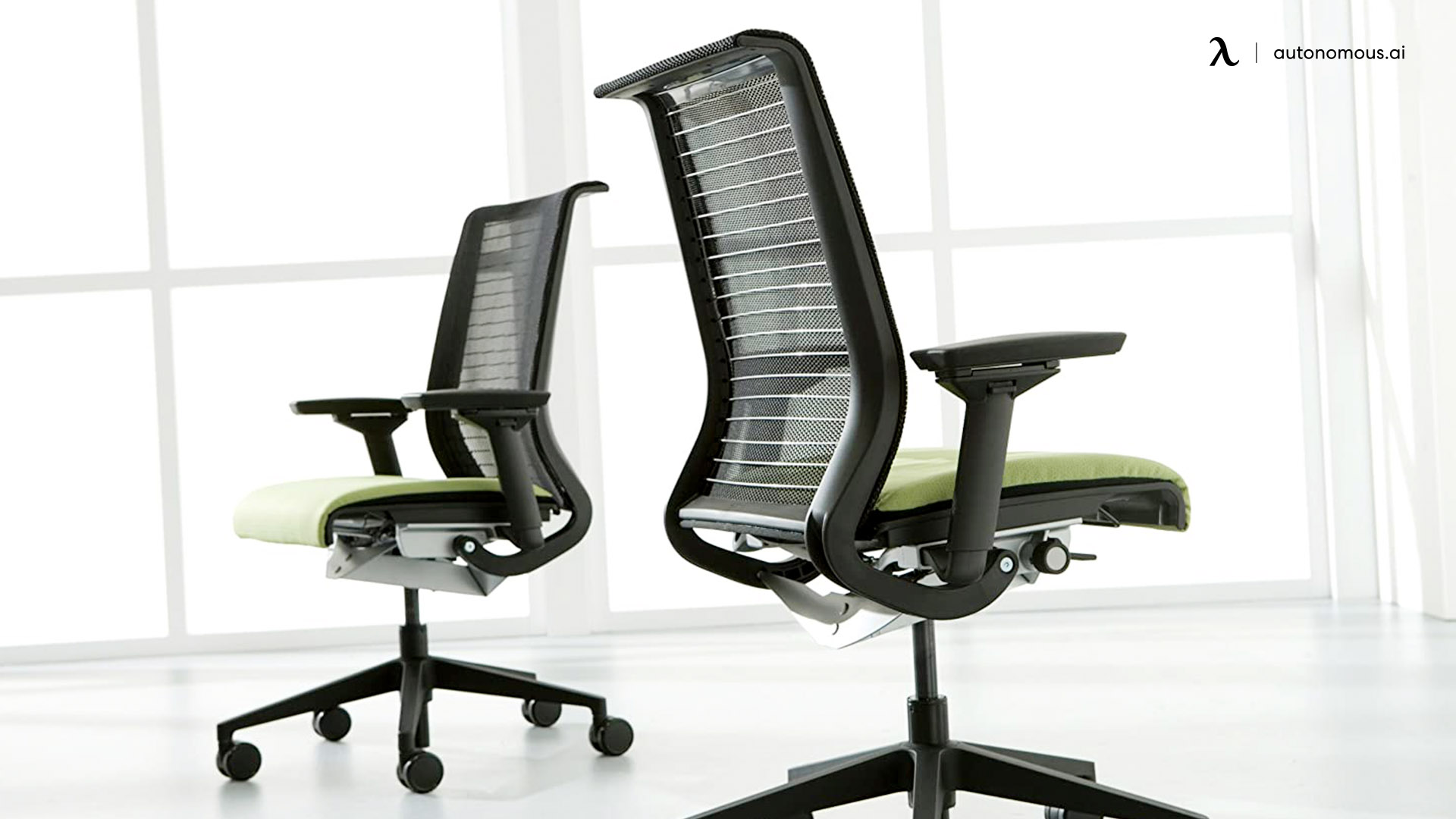 6. Mesh fabric
The most important thing about mesh chairs for the office is that they give you enough airflow when you are working. This is a very important comfort factor.
But aeration is not the only important thing about using a meshed chair. It also looks good. So, you can count it as a triple win because you will get a chair that is ergonomic in design, has great breathability and at the same time, it enhances your interior décor.
When you sit down on such a chair, you will see that it conforms to the shape of your body easily because mesh is flexible. This is what a good chair is supposed to do. It is supposed to conform to the shape of your body, encouraging the spine to maintain its natural curve.
There are different types of meshes for the office chair. One of them is the nylon mesh. It may have a negative effect in that it can cause abrasions on your clothes because as you sit down, your clothes rub against the mesh.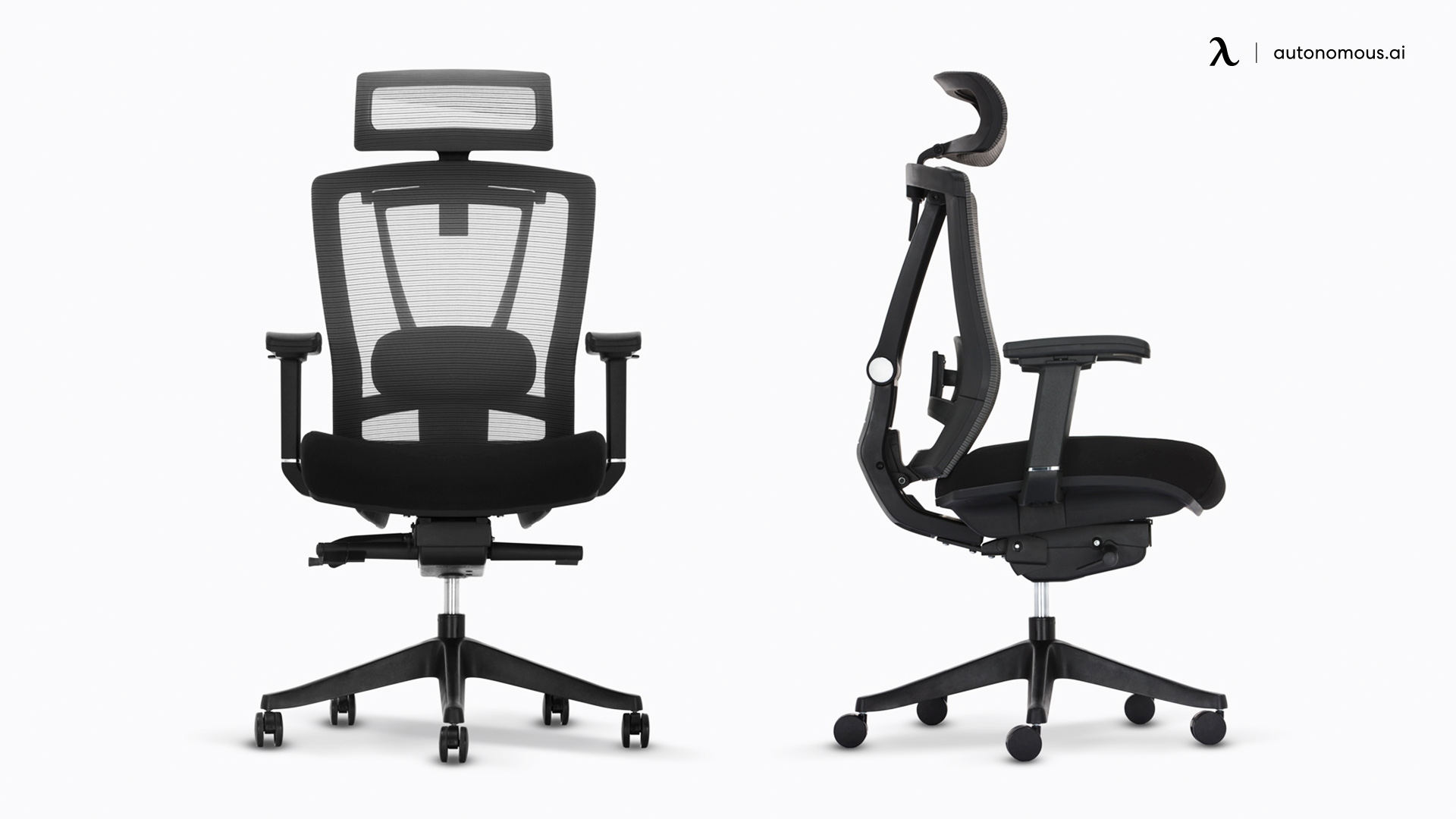 If you know mesh well, then you know that it does not necessarily have to look like a net. You can have a solid fabric covering the chair, yet it is mesh, very breathable and comfortable to sit on. If you were to remove that upholstery, you would see that it has these tiny holes that allow air in and out, making it a very comfortable office chair fabric for all time.
If you are keen though, you can buy a chair that has been made with a softer mesh. Knitted mesh seems to be more popular office chair material and is found on many chairs. When you sit down for long hours on the chair, the soft knitted mesh is best for you as it will not harm your clothes.
7. Plastic
The most visible plastic parts of the chair are seen in the armrests and on the base of the chair. Thankfully, this is high quality plastic which will rattle with time, but it will last quite a long time, most often outlasting the upholstery by far. You may also find that the casters of the chair will be made of high quality durable plastic.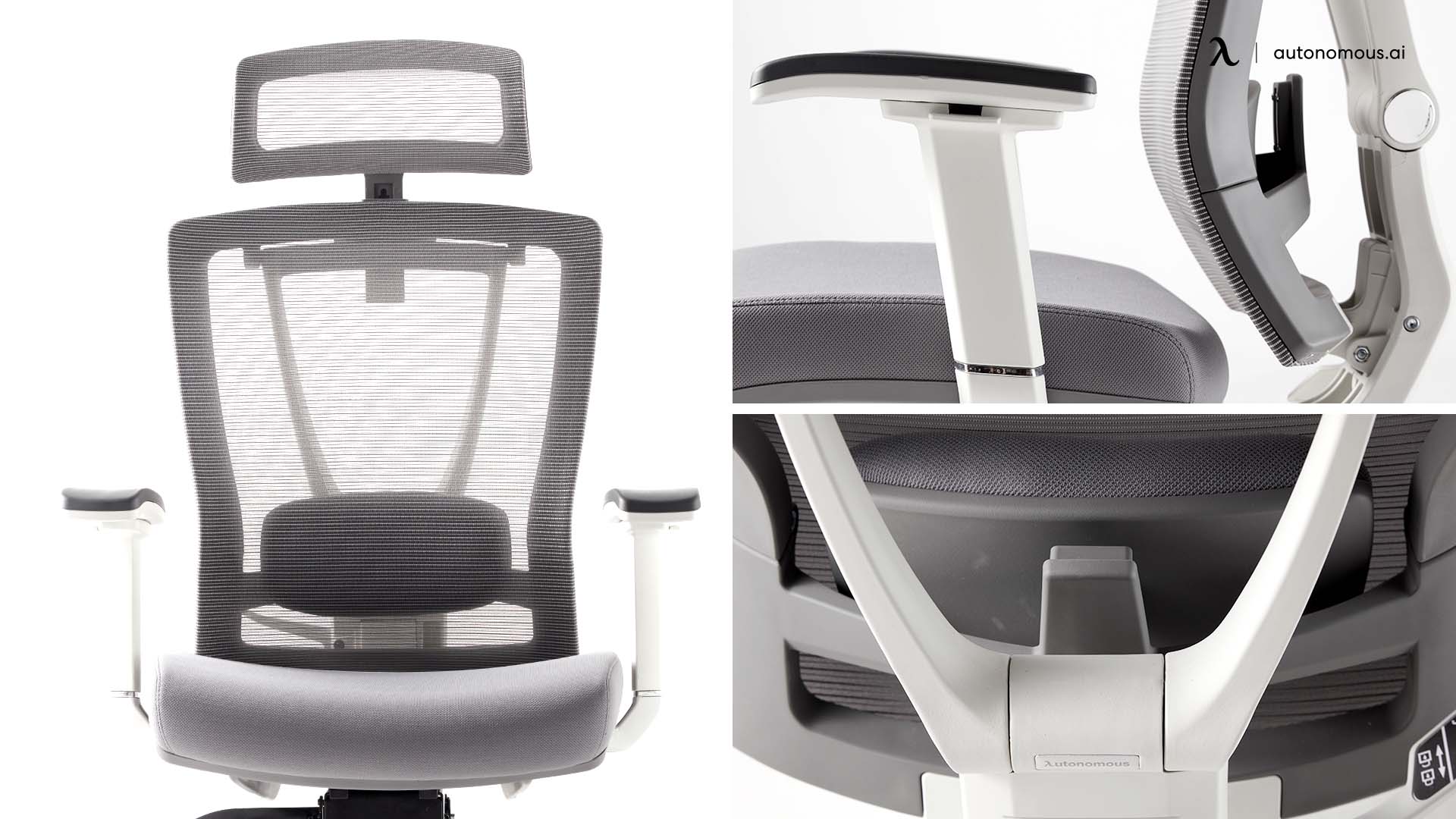 8. The chair base
The chair base is a very important component of the chair, which is often overlooked as people notice the upholstery more. However, it is paramount that you ensure this base is solid and sound, and that it will last a long time.
Different bases are made with different types of materials. Some are made of plastic, which is weak and not good at all. Some are made of steel, which is strong and durable office chair material. The best bases are made of aluminum and there are also bases that are made of wood.
You may also find ergonomic office chairs with bases made of painted chrome. Heavy duty nylon bases are also incredibly good and they last a long time. If you love style and class, go for steel bases overlaid with wood castings as such look very classy.
Conclusion
These are the most common office chair materials but there are more. With this information, you can now be able to choose a chair that will last a long time and give you good quality for your money.
For discounts on chairs and other office furniture, subscribe here and be among the first to get alerts.
Get exclusive rewards
for your first Autonomous blog subscription.

WRITTEN BYAutonomous
We build office products to help you work smarter.
Coming at You Live from Autonomous' Social Media!
Please fill the information below.
Thank you!