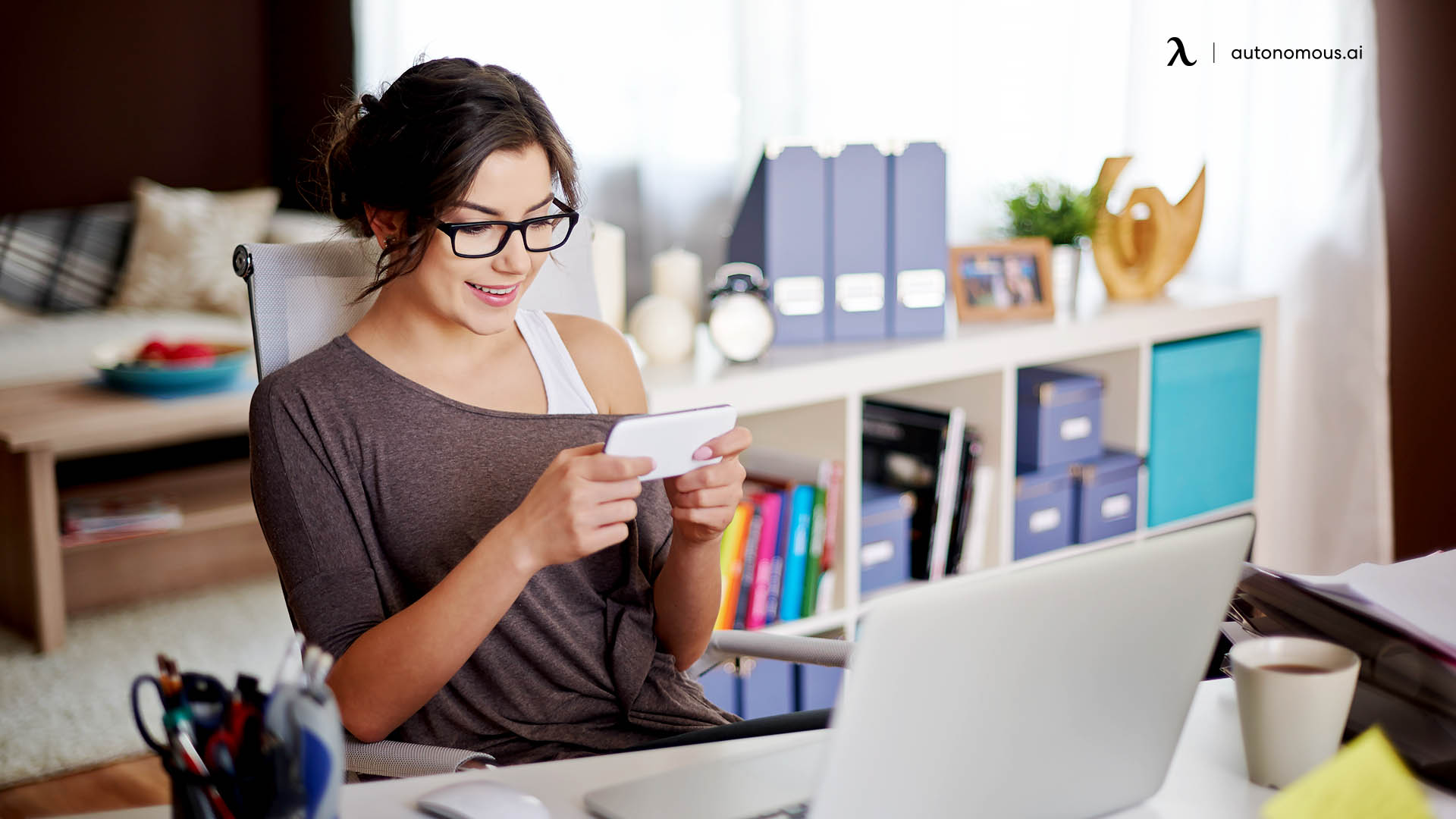 Smart Products
18 Most Comfortable Office Chairs for Long Hour Sitting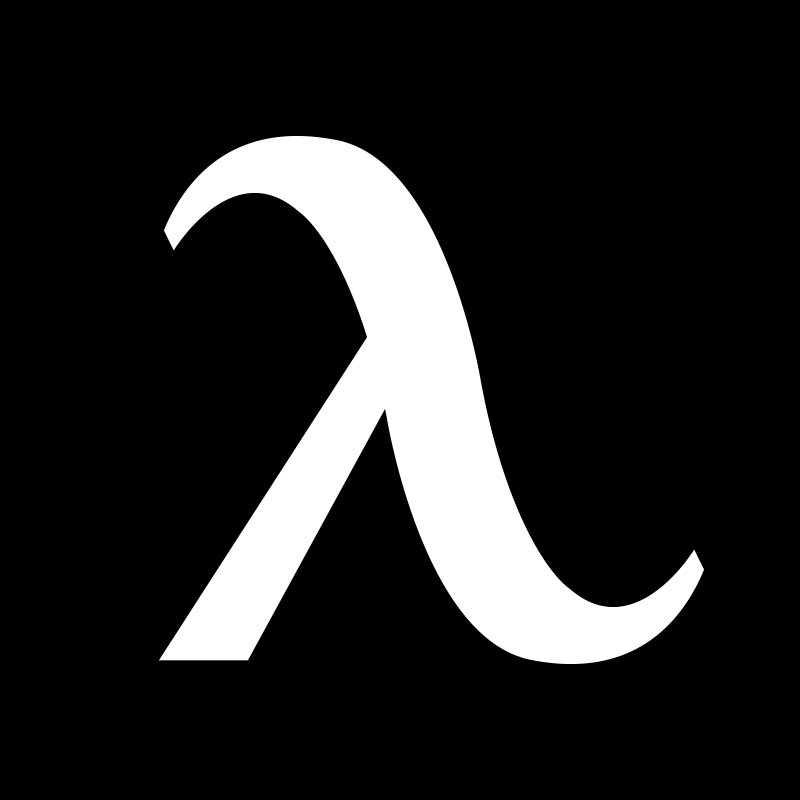 Autonomous
 | 
May 17, 2022
With the pandemic setting in, most folks have been confined to their home offices. As and when allowed, some of you have been going to an office to provide emergency services.
Why sit in an uptight chair feeling cramped and torturous as you work long hours at the office or the home office? It feels just like sitting in an economy seat of a long-haul flight, cramped and tired! Some folks believe sitting cross legged on a chair is a good idea. But is it?
What characteristics distinguish the most comfortable office chairs for lengthy periods? As you may think, the most important characteristics to look for are convenience and ergonomics. If you're sitting on your workplace chair for long periods, ensure it can properly accommodate your body.
A good comparison comes into play when it comes to the materials used in desk chairs. Spending long hours sitting in an office chair may grow uncomfortable, so permeable material such as mesh fabric is essential. You would also like to be certain that your chair is made of robust materials which won't wear out within a few uses.
As you explore the best chair for sitting all day, read our views on the twenty best comfortable office chairs for long hours that offer individualized features for each user.
What is comfort? What is the best best chair to sit for long hours?
Ergonomics - The Need for Comfort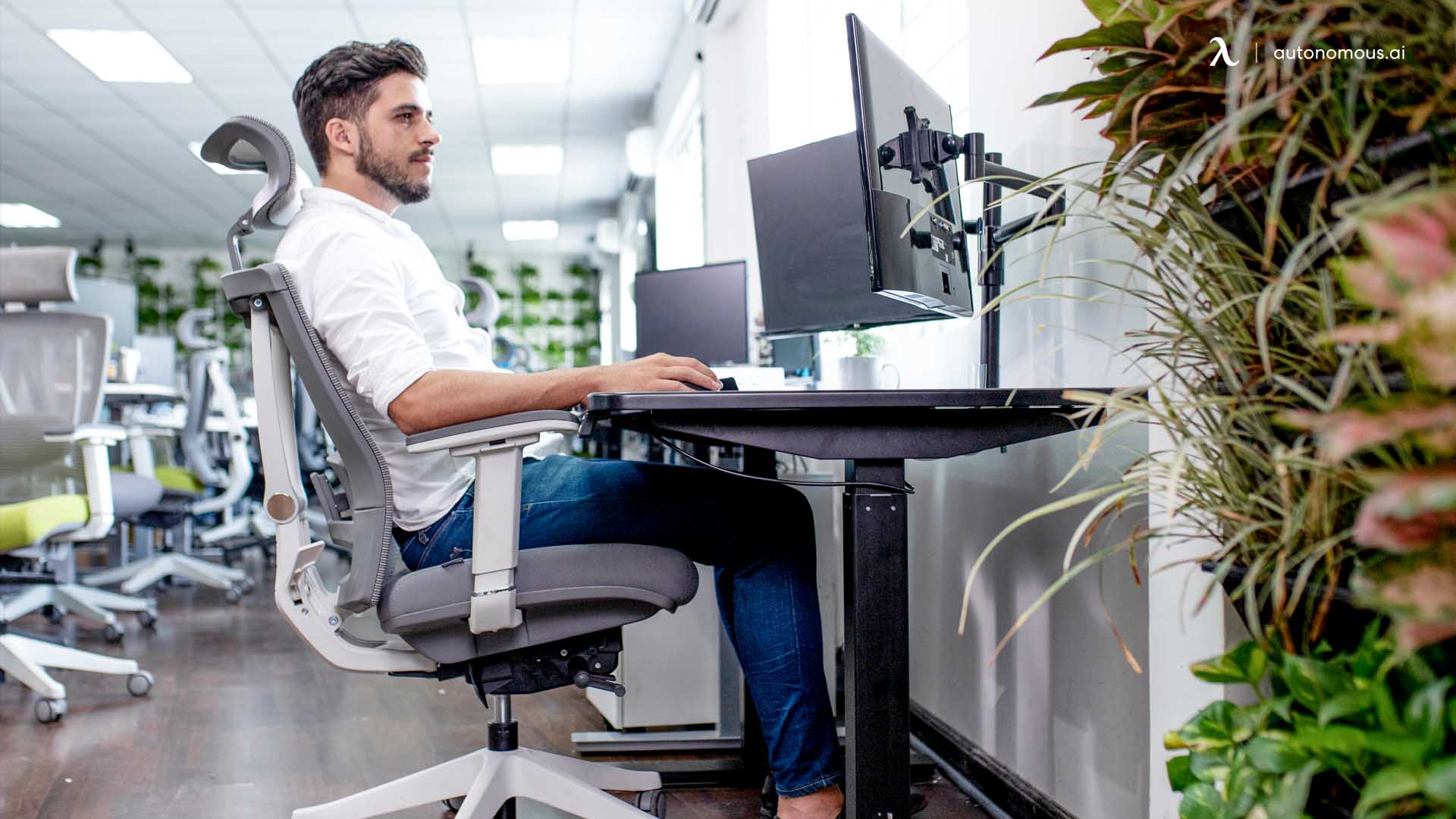 An office ergonomic chair ensures that you have a comfortable posture while working. On offer are higher comfort levels through adjustable backrests, armrests, backrests, neck rests, and seat height. This is based on the fact that each user has a different body posture and height. An ergonomic office chair must provide each user high adjustability to suit their needs. Guidelines prescribe how you should sit, where your arms should be while you work at a computer and how you should place the wrists for maximum comfort. If you are looking for a 24 hour office chair, do read our selection.
18 Most Comfortable Office Chairs for Long Hour Sitting
The best chairs for sitting all day? The best chairs for long hours should be simple to use and personalize. When it comes to office chairs, there seem to be generally many settings to choose from. While personalization is essential, it may sometimes be unnecessarily complex.
Continue reading to discover more about the finest computer seats for lengthy periods so you can choose one that meets your needs. Here is our selection offering you the highest comfort and recline in order of preference.
1. ErgoChair Pro+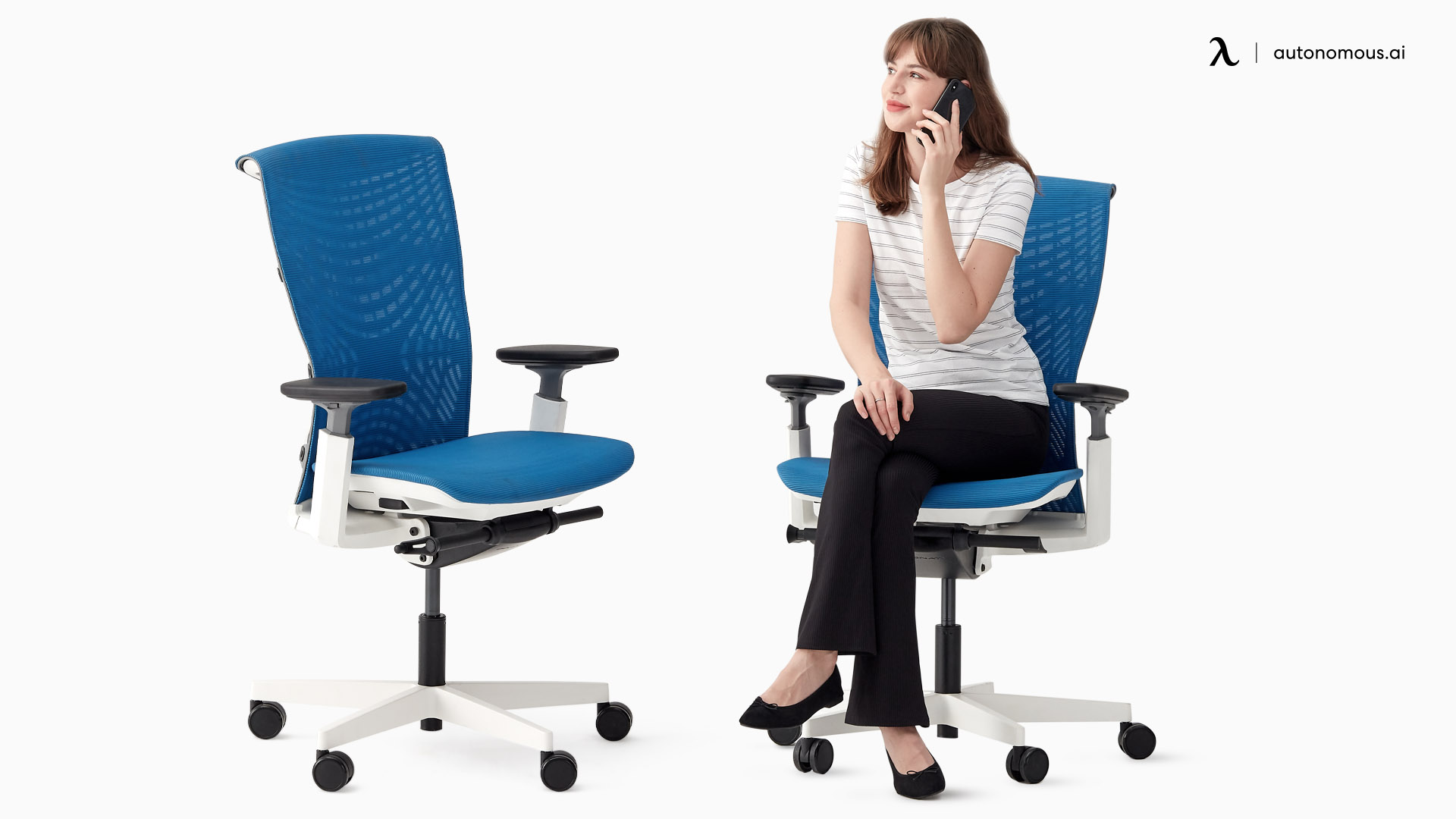 If you have to look for the most most comfortable executive office chair in its class, you cannot ignore the ErgoChair Pro+. You will not feel how the day goes by as you sit for long hours, reclining at times to comfort your back or when you are deep in thought. The backrest reclines to twenty-five degrees beyond its upright position. You can easily lock it into any one of the eleven positions giving support to your lower back. The armrests, height, and seat tilt (forward/backward) are adjustable to your requirements as the day goes by. This chair has fine mesh for your skin to breathe as you work long hours. The six different subtle executive colors match most office decors.
2. ErgoChair Pro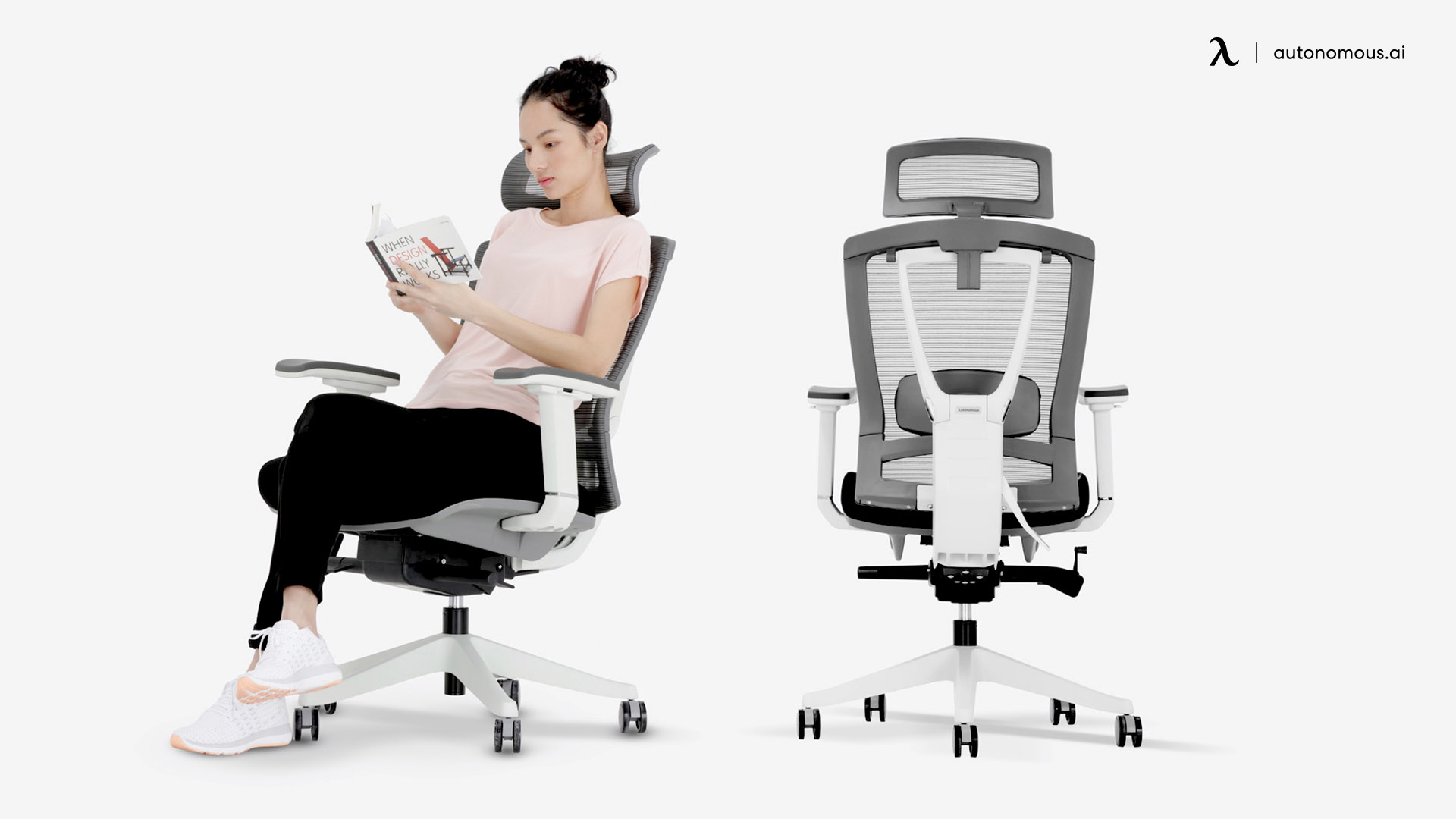 Your hunt to buy an ergonomic chair ends here. Supported with a fine mesh, the seatback can easily be reclined up to twenty-two degrees for your comfort. You can lock the seat recline to any one of the five positions you like and change it frequently at the flick of a lever. Your back has one of the best supports as you adjust the armrest, seat pan tilt, height, and backrest. Do take time to discover your chair and make it work for you by adjusting the features. Available readily in six different trendy colors, it can lift to three hundred pounds of weight.
Autonomous office chairs have a lot of amazing customer feedback and photographs on their website, which is fantastic. Similarly, the ErgoChair Pro is one of the best office chairs for buttock pain since it includes a backrest padding that you can adjust to make it comfortable for an individual's tailbones. While we sat on this armchair, we had no issue getting into the proper position.
3. ErgoChair Recline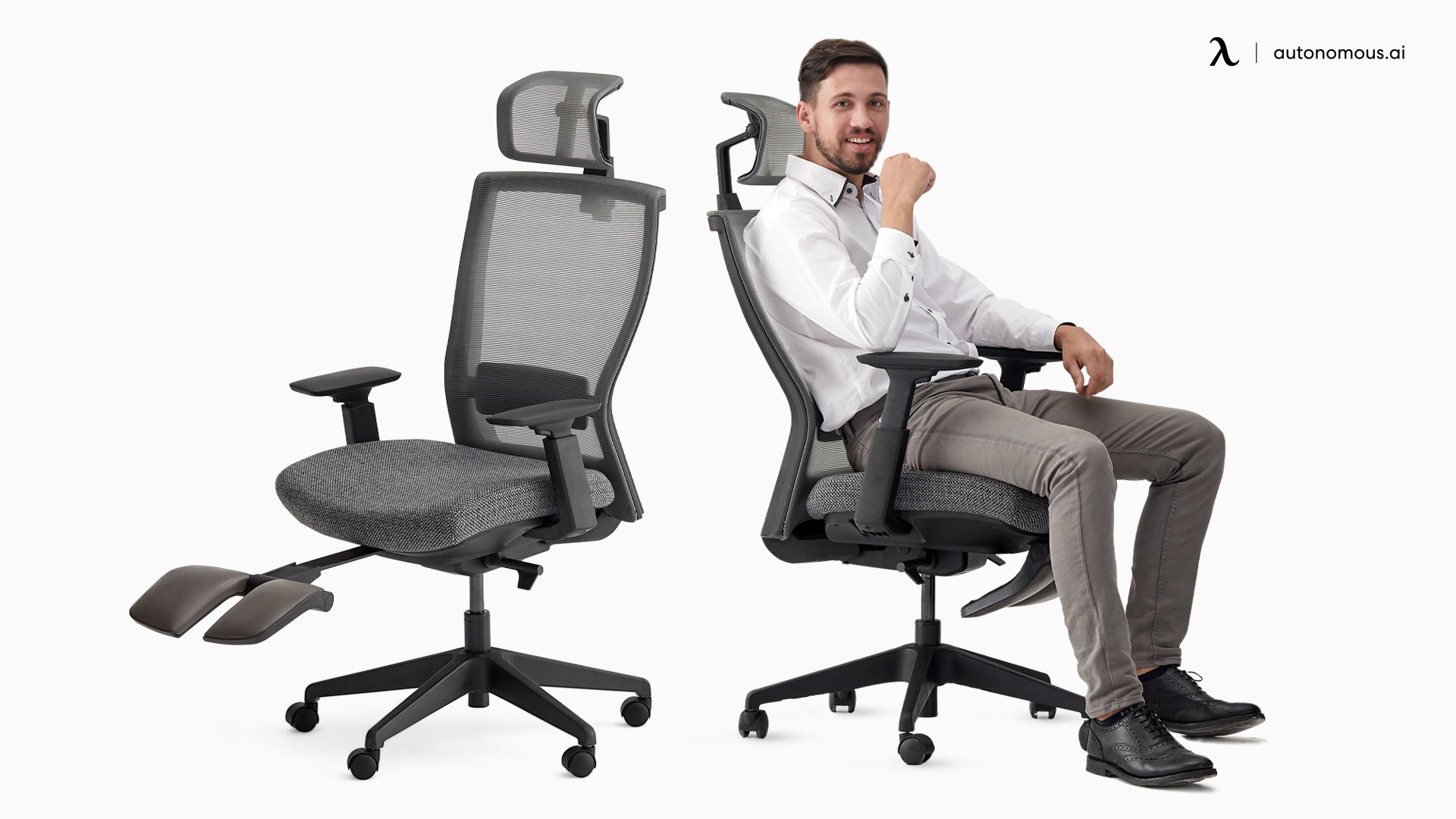 The finest of the reclining computer chair, it has an adjustable height, armrest, headrest and leg rest, and seat tilt. The seat is made from high-quality foam that supports the body weight as it evenly distributes it. The reclining lumbar support is one of the finest as you can adjust it for your comfort to fit your lower back. The fine black mesh material gives your skin ample air to breathe as you work long hours. It can take 250 lbs of weight.
This is a truly stunning office chair because you can recline, rest, and straighten up your legs by lifting in this lowering desk chair as often as you like. The armchair has many adjustment options to let you relax and work effectively. The chair's slim back keeps it from being overly heavy while still giving excellent support. The mesh material is breathable, and the raised padding in the pillion chair ensures a long-lasting, comfortable experience.
4. ErgoChair Core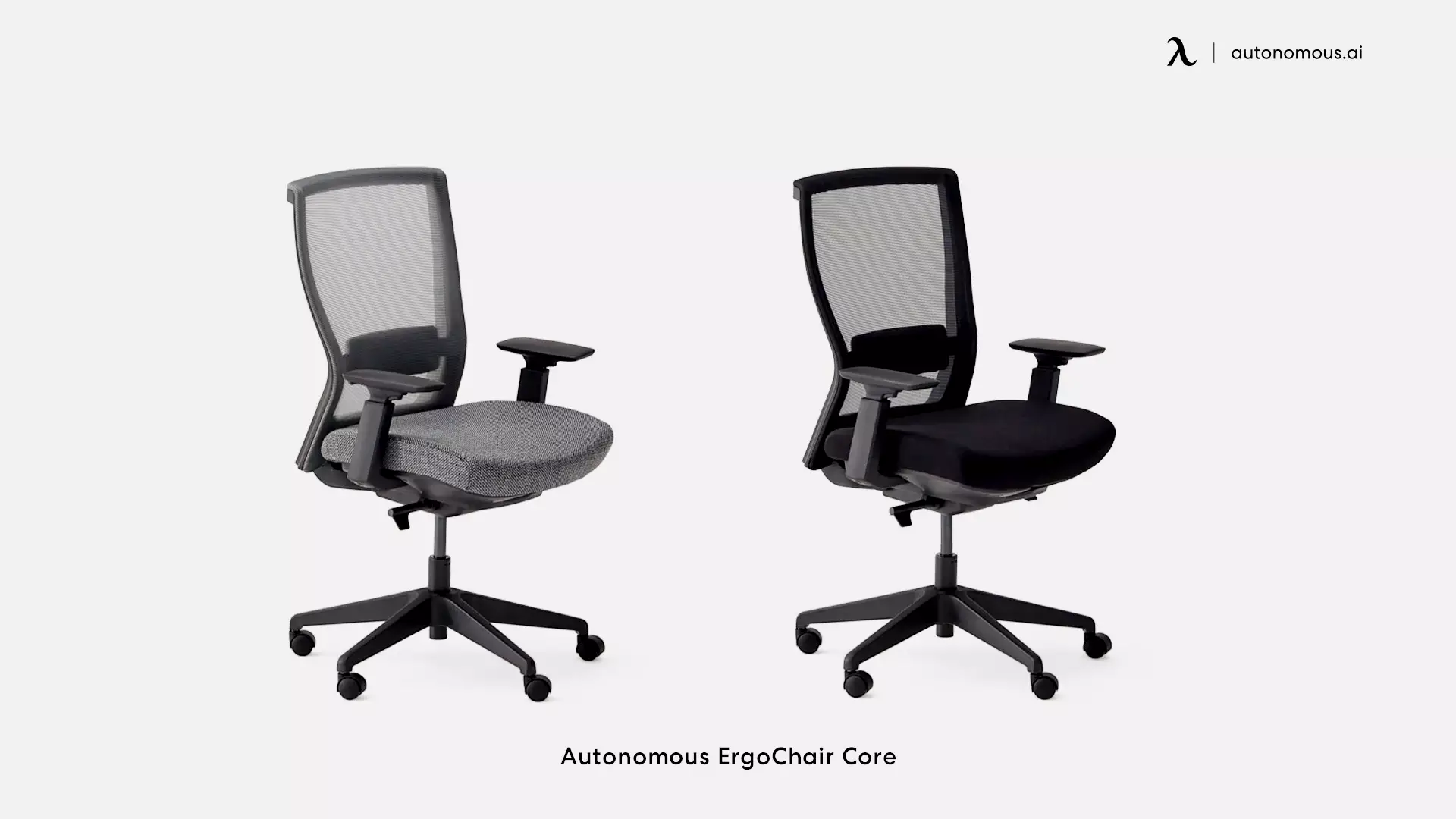 The ErgoChair Core is the best chair for sitting all day. It seems much more sumptuous than a sofa and more comfortable than a desk chair. For starters, this ergonomically designed computer ergonomic chair is recognized for providing consumers with comfortable, customized back support.
5. AvoChair
This is an eco-friendly office chair that is an ergonomic alternative. This chair uses a kinematics technology that adjusts to how you sit and encourages fast movement. The chair's base is fiber-reinforced polymer, which encourages good posture.
6. SIHOO Ergonomic Office Chair
Visually appealing, this ergonomically designed chair has high versatility from an adjustable backrest, backrest, headrest, footrest, and seat height. Though it provides you high comfort with mesh woven fabrics, check for your comfort levels before buying. It can weigh 150 kilos.
7. Steelcase Leap Chair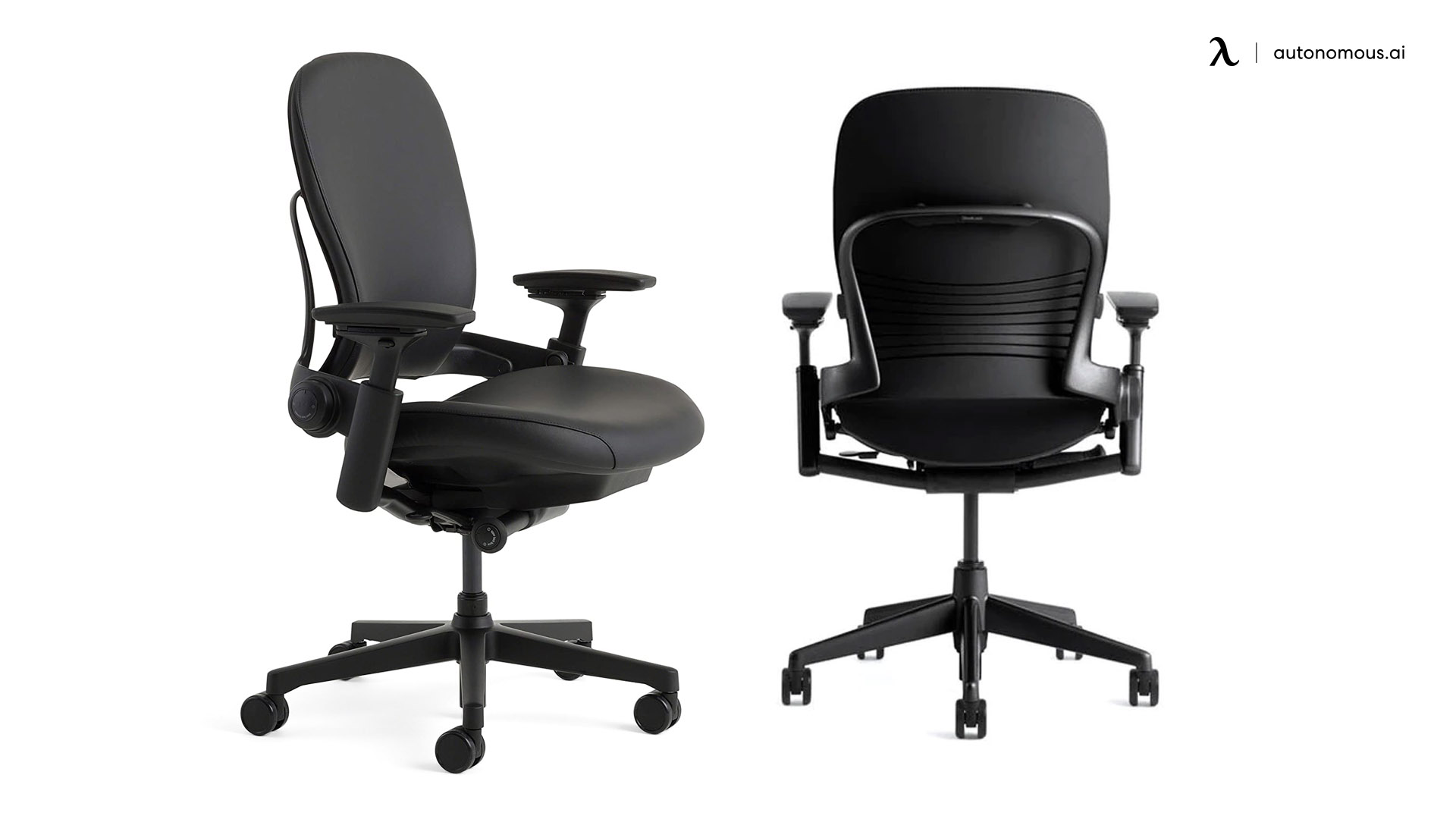 The seat of this most comfortable office chair for long sitting offers you good padding, and many users find it soft. The seat is plain and has no edges to it that restrict your movement. The backrest provides excellent support to your back. The Leap's great lumbar support has a natural S curve for your back with a dual adjustment lumbar support system. The only thing between you and this chair is the restrictive high price.
8. Serta Big and Tall Executive Office Chair
With a weight of fifty-eight pounds, this lightweight chair tales a laden weight of 350 pounds. Padded with leather-like material, it has high accents of wooden finishes. Designed for a large framed chair, it has an adjustable lumbar panel for your comfort. You can adjust the height and tilt of this most comfortable office chair for long sitting for your ease. Do consider its bulky frame before you decide to buy.
9. Homall Gaming Chair PU Leather Desk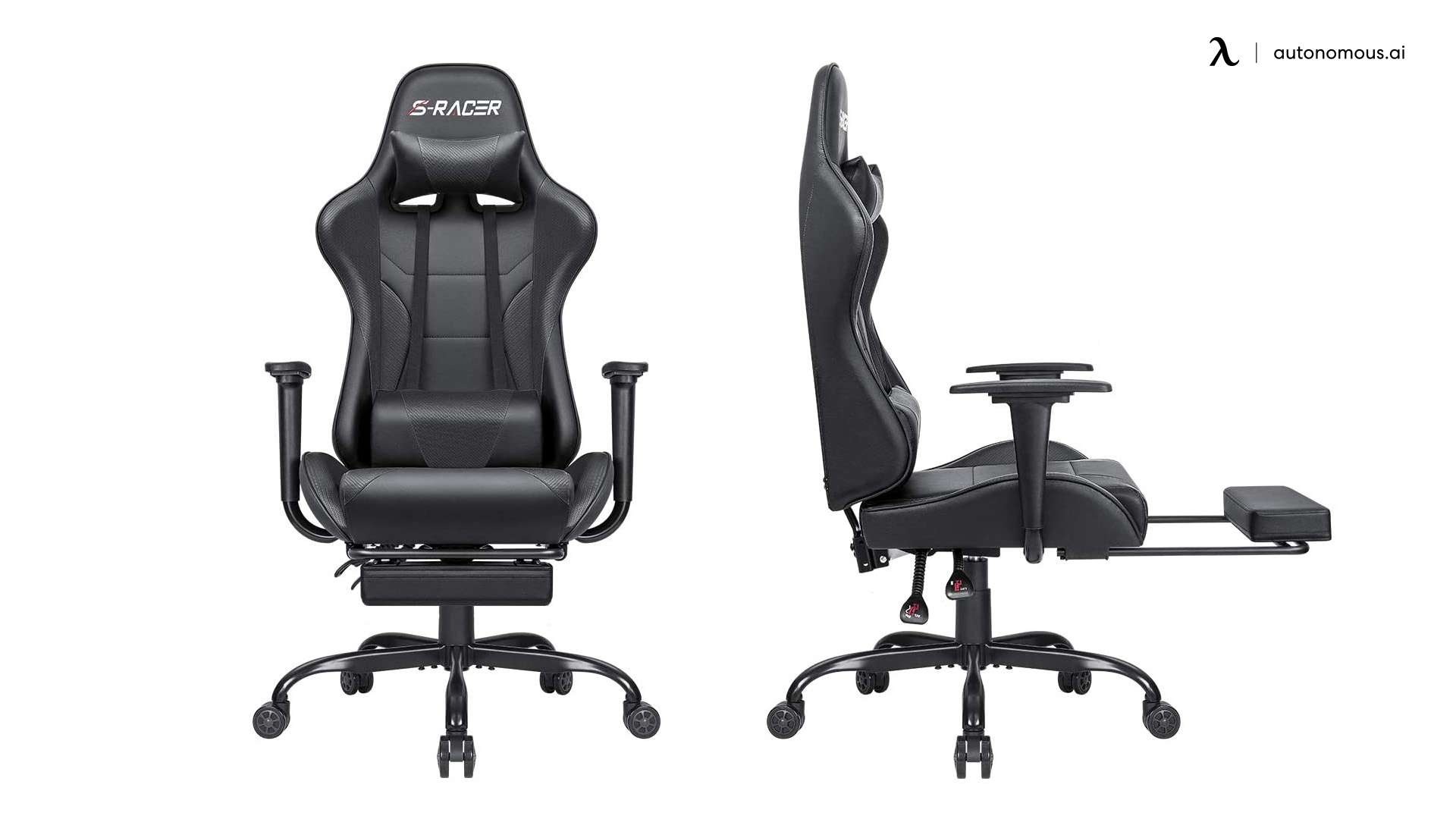 Made from high-density foam that provides high comfort and elasticity, this ergonomic chair is covered in PU leather. It offers you the best tilt and can take a weight of 300 pounds. With a 360 degree swivel made from rubber casters, you have one of the best gaming comfortable chair for long sittings.
10. Steelcase Gesture Chair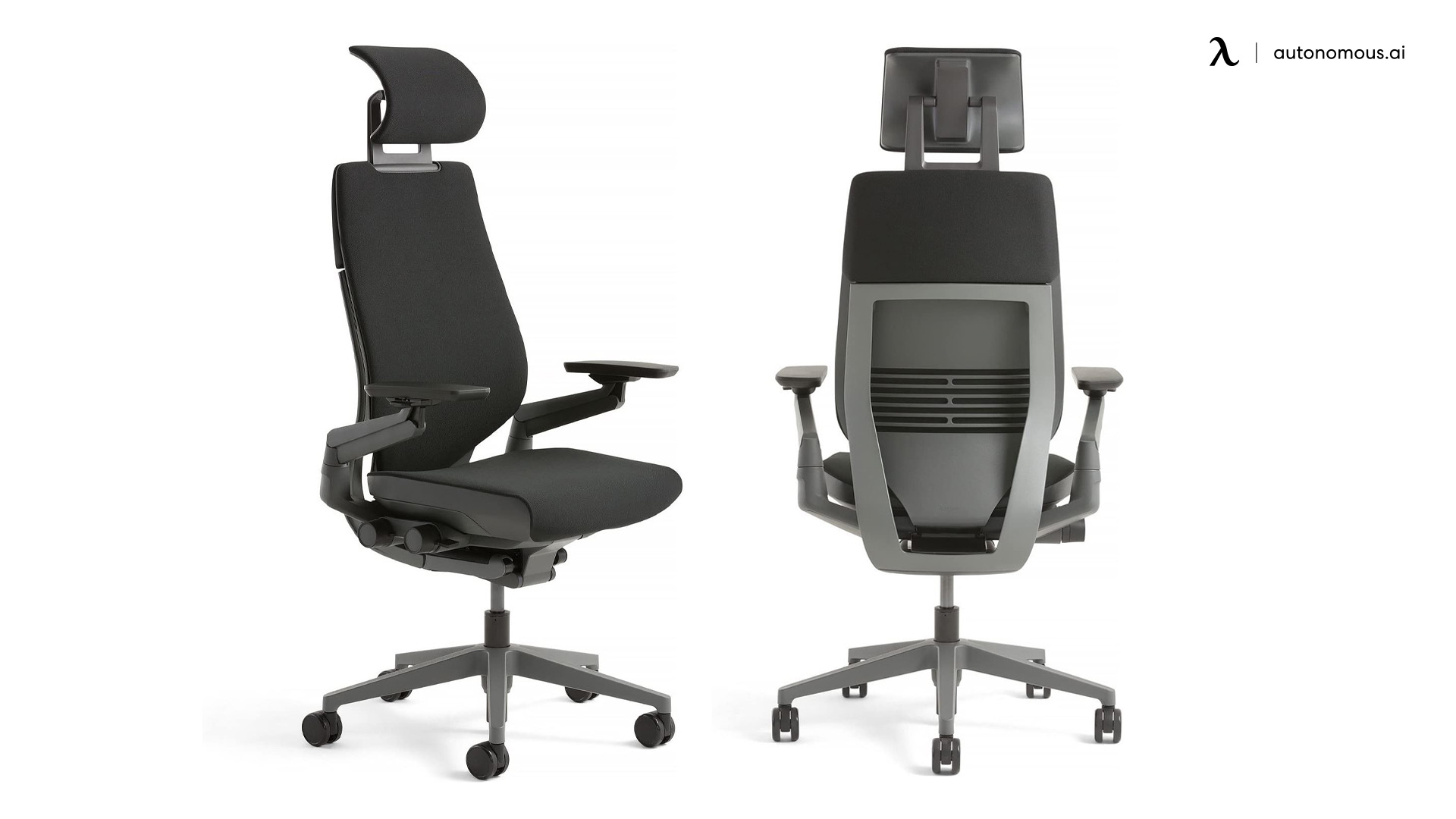 The back support of this most comfortable office chair for long sitting has a lumbar curve that is natural to provide you comfort. Its mid to higher-back comfort is one of the best in its class. The lumbar adjustment gives you the flexibility to fix it for your lower back, and you can even lock this position. With this swivel seat, you can turn to any angle at your workstation. The only limitation we saw was its prohibitive price tag that holds us back.
11. NEO Office Chair
This most comfortable office chair for long sitting offers you a seat upholstered with a nice matt finish that can take some rough use. This office chair is lightweight though it can take a weight of up to three hundred pounds. Provided with casters that are two inches thick, the chair is good for use on any surface. Though ergonomic, the lumbar support may be limited, in our opinion. The backrest has a breathable mesh fabric to give you comfort while working.
12. Herman Miller Aeron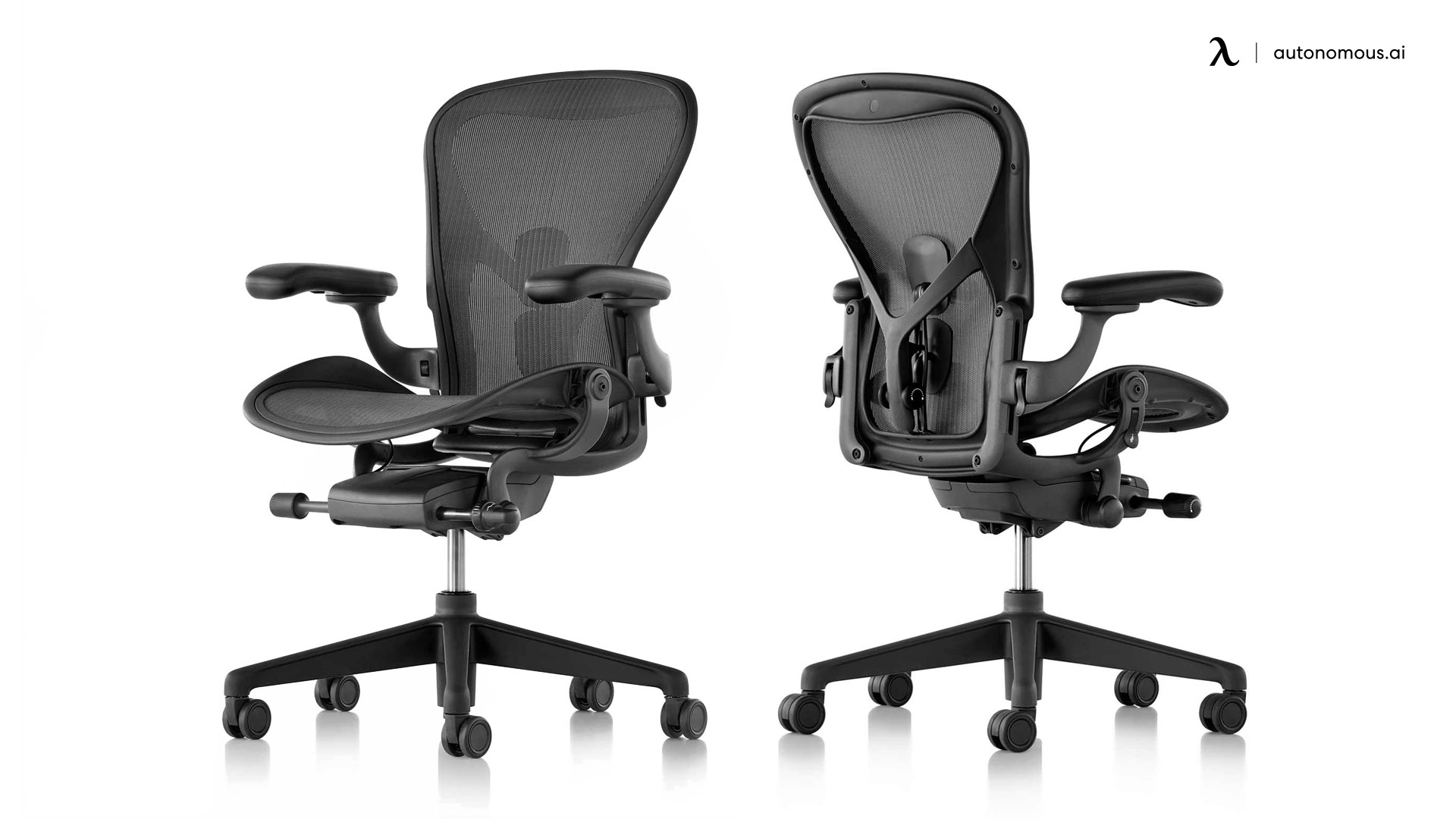 This chair offers you a good recline with strong back support. A durable chair, it has a mesh back should you be working in warm weather conditions. Giving you good comfort for long working hours with this chair has limited versatility to manage the armrests and other features for each user and is available in three different sizes.
13. GTRACING 099-Black Office Chair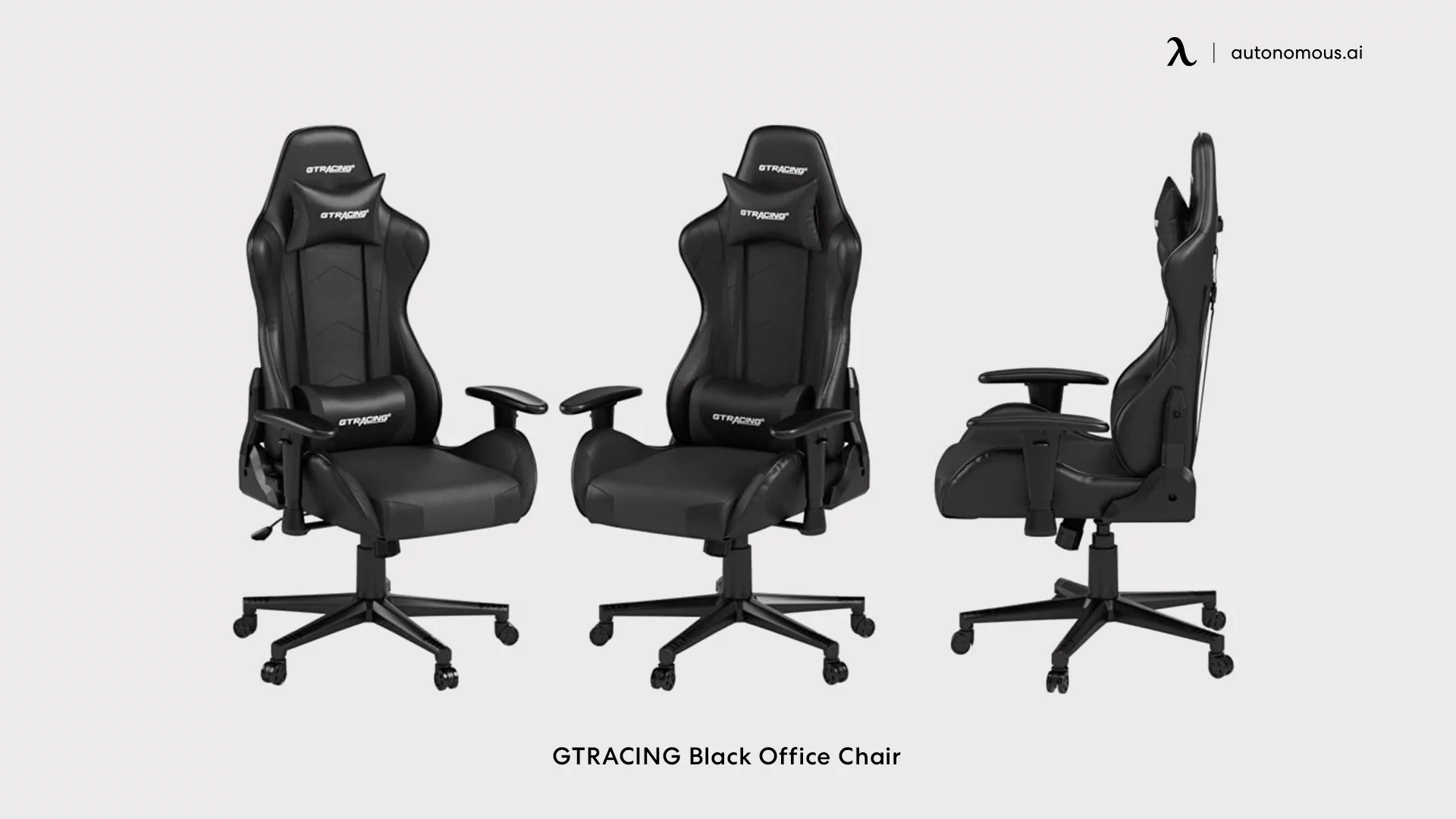 The reclining office chair with a footrest can meet your needs if you need a seat for gaming, administrative work, or schoolwork. It boasts a sturdy metal frame and excellent black faux leather to give style and resistance to impacts. The headrest pillow guarantees a comfortable experience, and it can be removed if necessary. This most comfortable office chair includes a five-star base and moveable caster wheels for easy movement throughout your workspace. The substance, therefore, is not appropriate for long-term usage.
14. Polar Aurora Gaming Office Chair
Gamers will like this office chair with leg rest for a multitude of reasons, including its ergonomically designed structure, which has a headrest, lumbar support as well as armrests. The five-star foundation effortlessly accommodates your weight, and also the five castor wheels allow for ease of operation in the workplace while still providing mobility. You may use it on various floor surfaces, including tile, carpet, and wood. You may also benefit from the swiveling feature for more mobility. This most comfortable office chair's soft leather fabric is skin-friendly and excellent for long-term usage with minimum upkeep. You may adjust it in height using a handy lifting rod.
15. Homall S-Racer Work Chair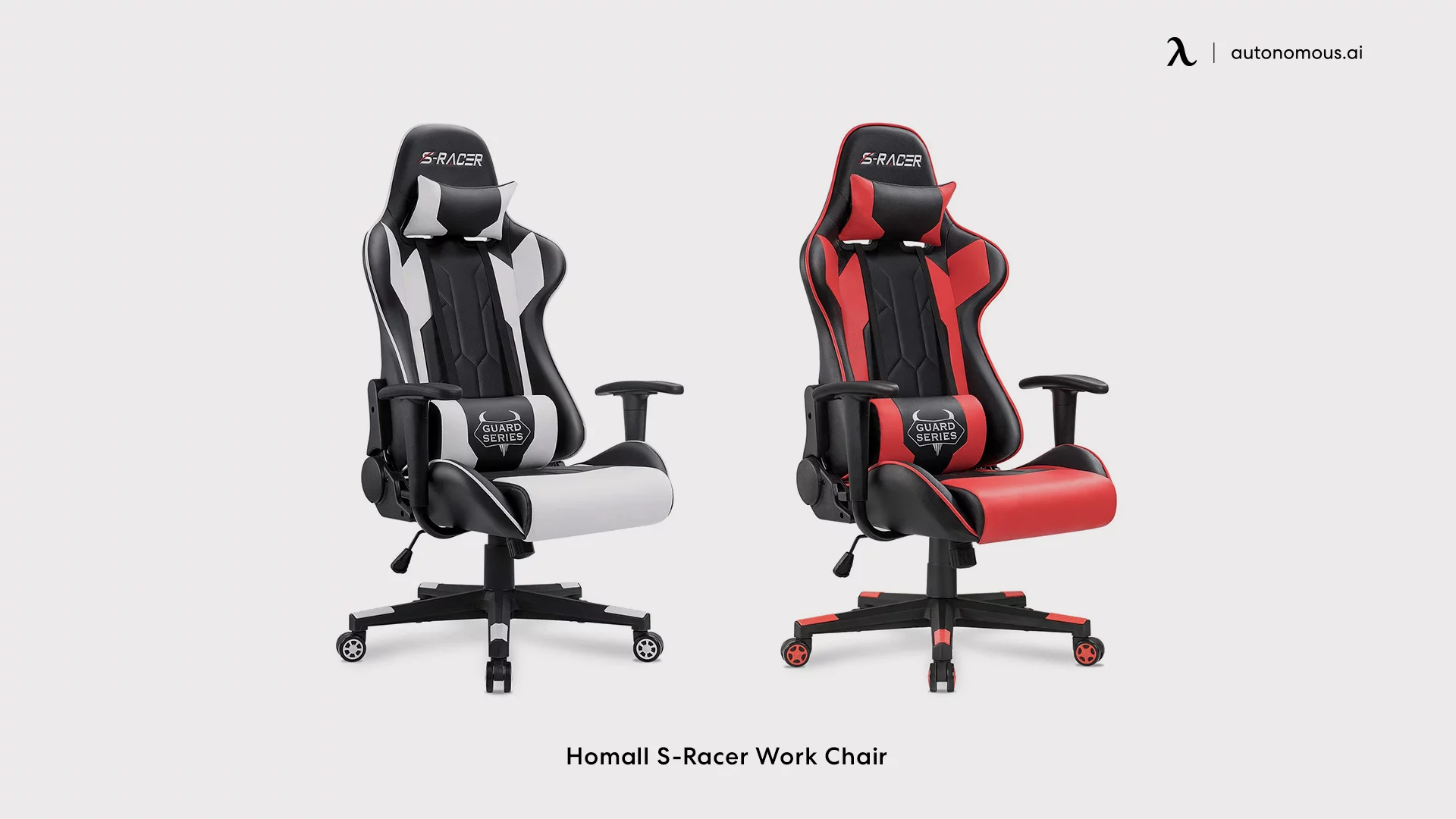 With suitable arms, headrest, and backrest characteristics, this seat accommodates your body for long periods beside a computer. The five-star steel base provides stability, and the rollers allow you to move around without getting up early; however, if you don't like wheels, you could still have the most luxurious office chair without them. The high-density cushion adds to the comfort of your seat, but it also features a reclining capability in addition to the regular standing posture. It also is wrapped in a wear-resistant leatherette fabric that doesn't bother most skin types as an added plus.
16. FDW Home Office Chair
It has sleek armrests as well as a cushioned seat to help you sit comfortably for long periods. It has a ventilated backrest and an aerodynamic form, making it suitable for use in the home office. This office chair adjusts in height and has a foam pad that conforms to your body shape to keep you comfy. It also has spinal support to assist you in sustaining a strong and healthy body posture. The fabric also promotes adequate ventilation, which helps to prevent perspiration.
17. BestOffice Ergonomic Office Chair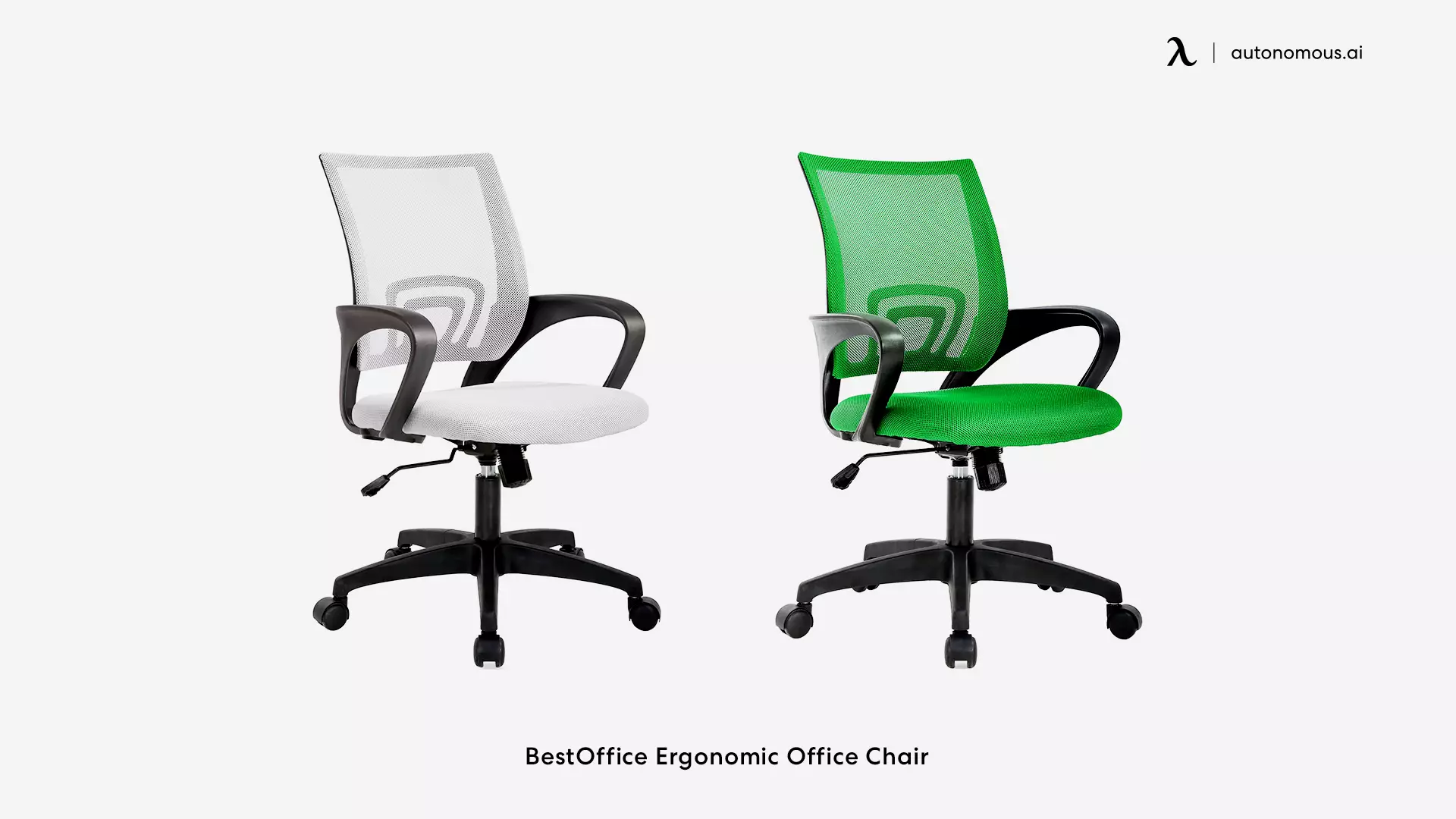 This most comfortable office chair combines design and endurance with high-quality leatherette fabric and a durable five-star steel base. Its foundation is equipped with caster wheels, allowing you to move about easily while working. The chair swivels 360 degrees, making it great for productivity in the office. The headrests and a backrest pillow support your back and neck, alleviating strain. This chair's design includes comfortable seating, which promotes good postural stability.
18. Parasoft 51207 Office Chair from AmazonBasics
This is the best budget office chair with hydraulic controls, which allow you to adjust the chair's height as needed. The orientation tilting mechanism allows you additional flexibility when hunting for the ideal posture. Thanks to the five-point base and wheels, you could move effortlessly while working. This most comfortable office chair is transformed visually by the bonded fake leather sheath, adding a contemporary touch. It's a sound investment or virtual office, but it's not a long-term solution.
What Features Should a Good Ergonomic & Comfortable Chair for Prolonged Sitting?
Seat height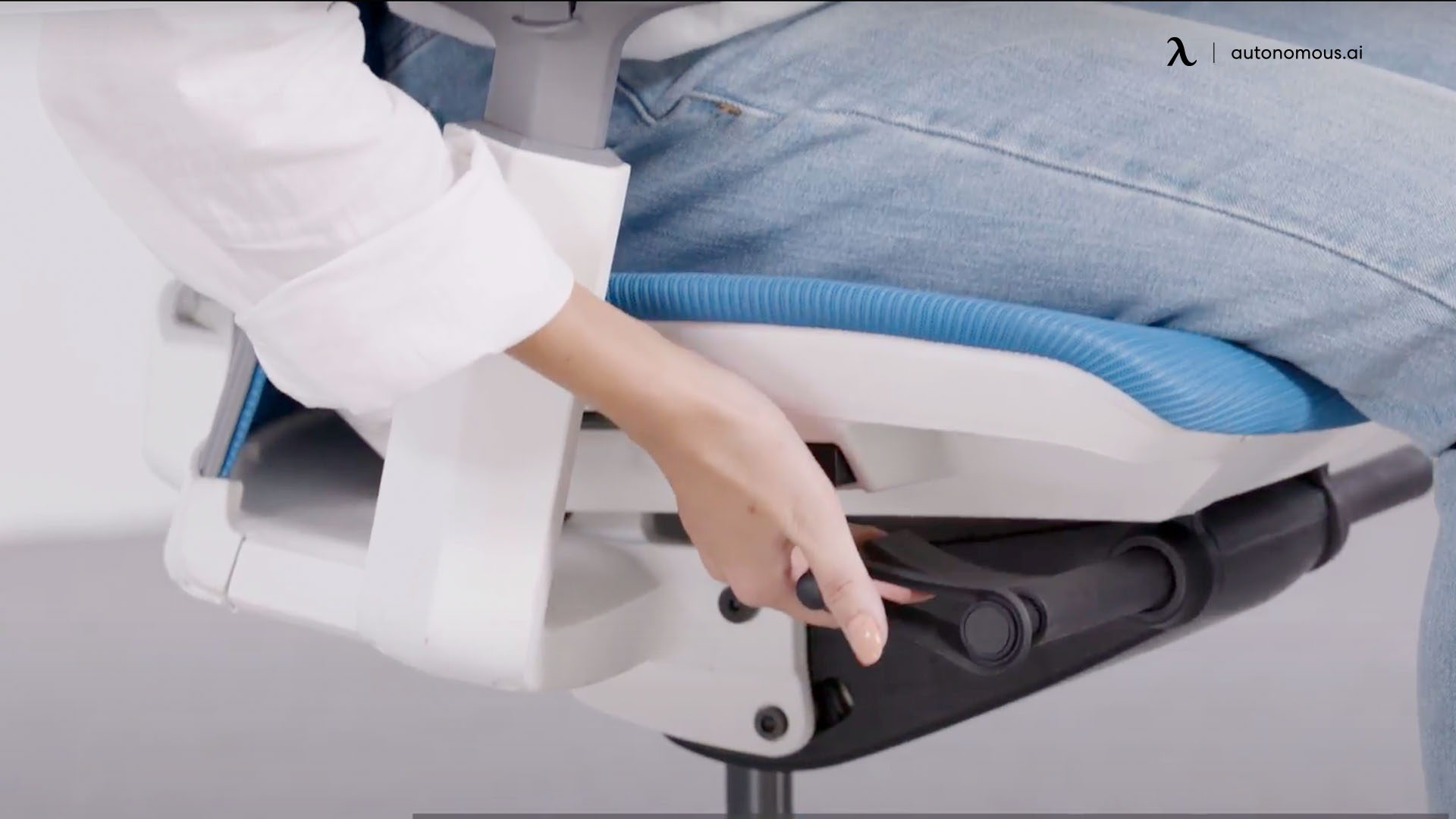 Chairs should be able to be adjusted in height easily. It is best to use a comfortable chair for long sitting with a pneumatic height adjustment lever. Most people will sit comfortably at a height between 16 and 21 inches off the floor. Having one's feet on the floor, thighs horizontal, and arms at the same height as the desk, the user can have their feet on the ground and their thighs horizontal.
Seat width and depth
The most comfortable office chair for long sitting should have enough depth and width for any user to sit comfortably. The standard seat width is between 18-20 inches. The depth of the ergonomic office chair for long hours of sitting should be sufficient for the user to sit with their backs flush against the backrest. You must separate the knees from the chair seat by 2 to 4 inches. The best chairs for sitting all day can tilt forward or backward.
Lumbar support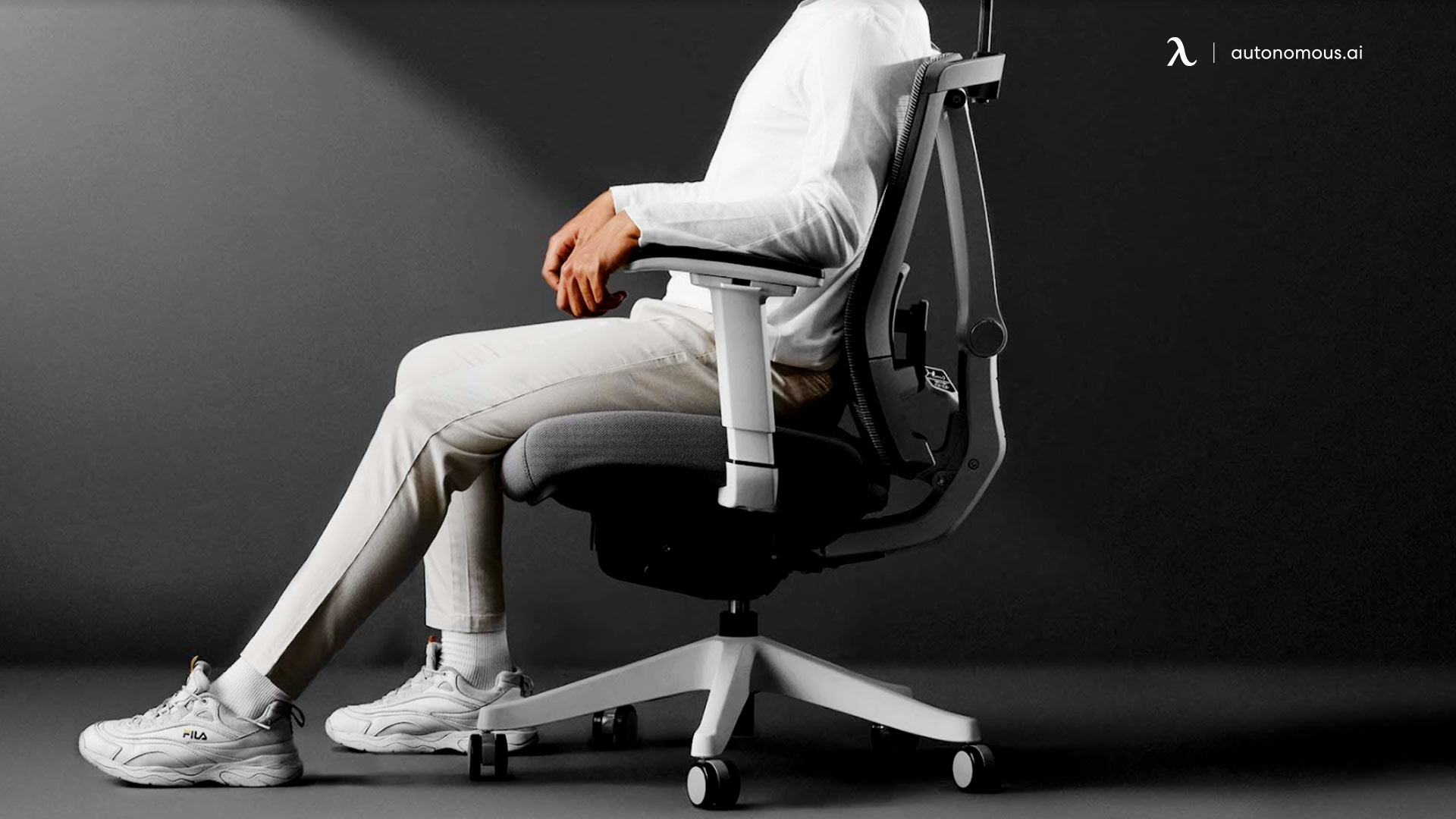 The most comfortable long hours sitting office chair is one that provides excellent lower back support. A lumbar curve leads to slouching and strains the structures in the lower spine when you sit for extended periods without support. Ergonomic chairs should have lumbar adjustments so the lower back can be adequately supported in its inward curve by the seat.
Backrest
It is recommended that the backrest of an ergonomic comfortable chair for long sitting be 12 to 19 inches wide. Backrests should be adjustable in height and angle if they are separate from the seat. Again, the spine should be supported naturally, especially in the lumbar area. The backrest of a reclining office chair should be adjusted both forward and backward if it has the seat and backrest as one piece.
Seat material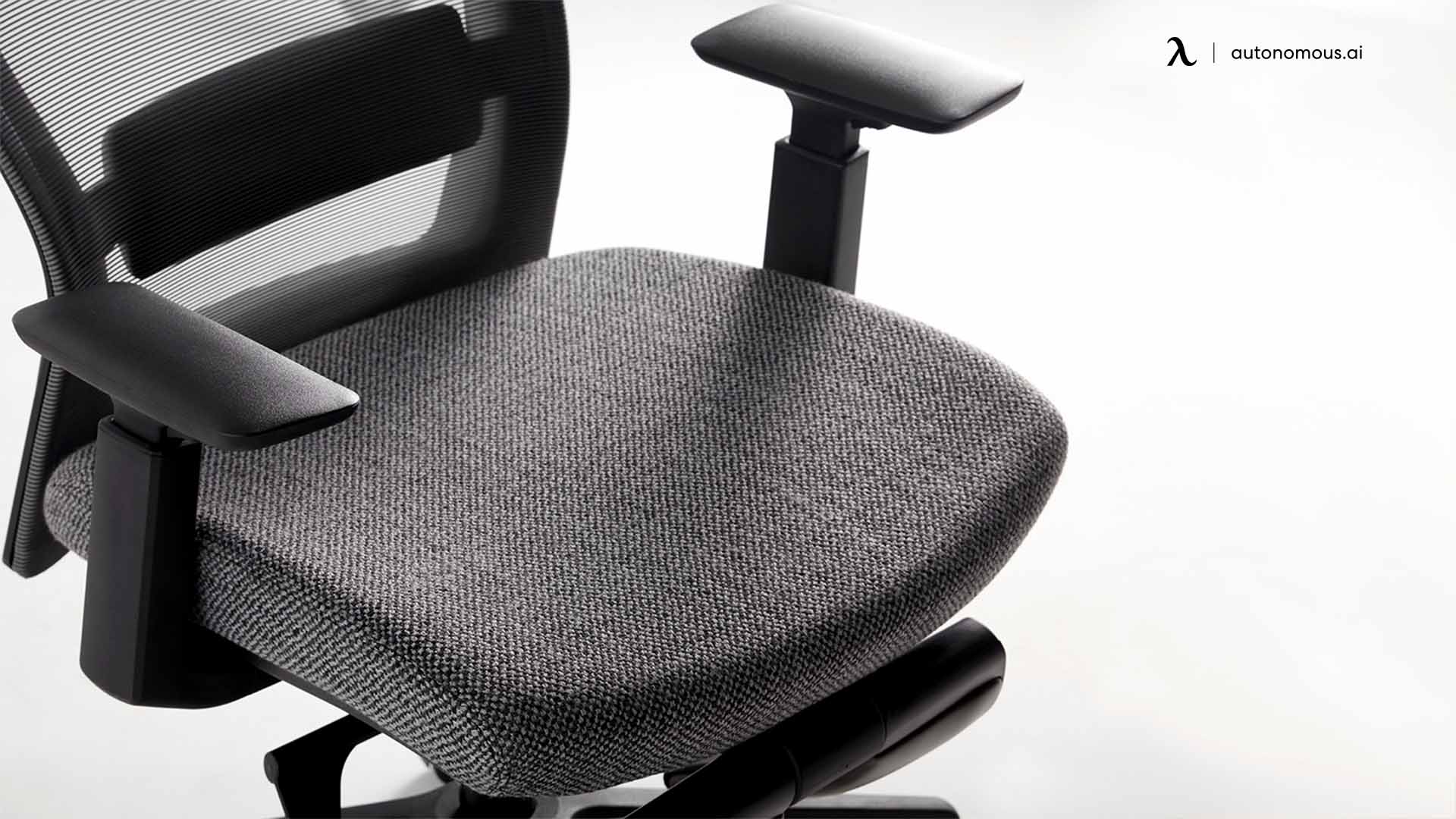 For a tall office chair to be comfortable for extended periods, it needs enough padding on the seat and back. In comparison to a harder surface, a cloth fabric that breathes is preferred.
Armrests
Chair armrests should be adjustable in office chairs. Users should be able to rest their arms comfortably and relax their shoulders. While typing, forearms should not rest on the armrest, and elbows should rest lightly on the lower arms in the best chair for lower back and hip pain.
Swivel
The user should be able to efficiently adjust the position of a conventional style or ergonomic chair so that you can reach different desk areas without strain.
Recline function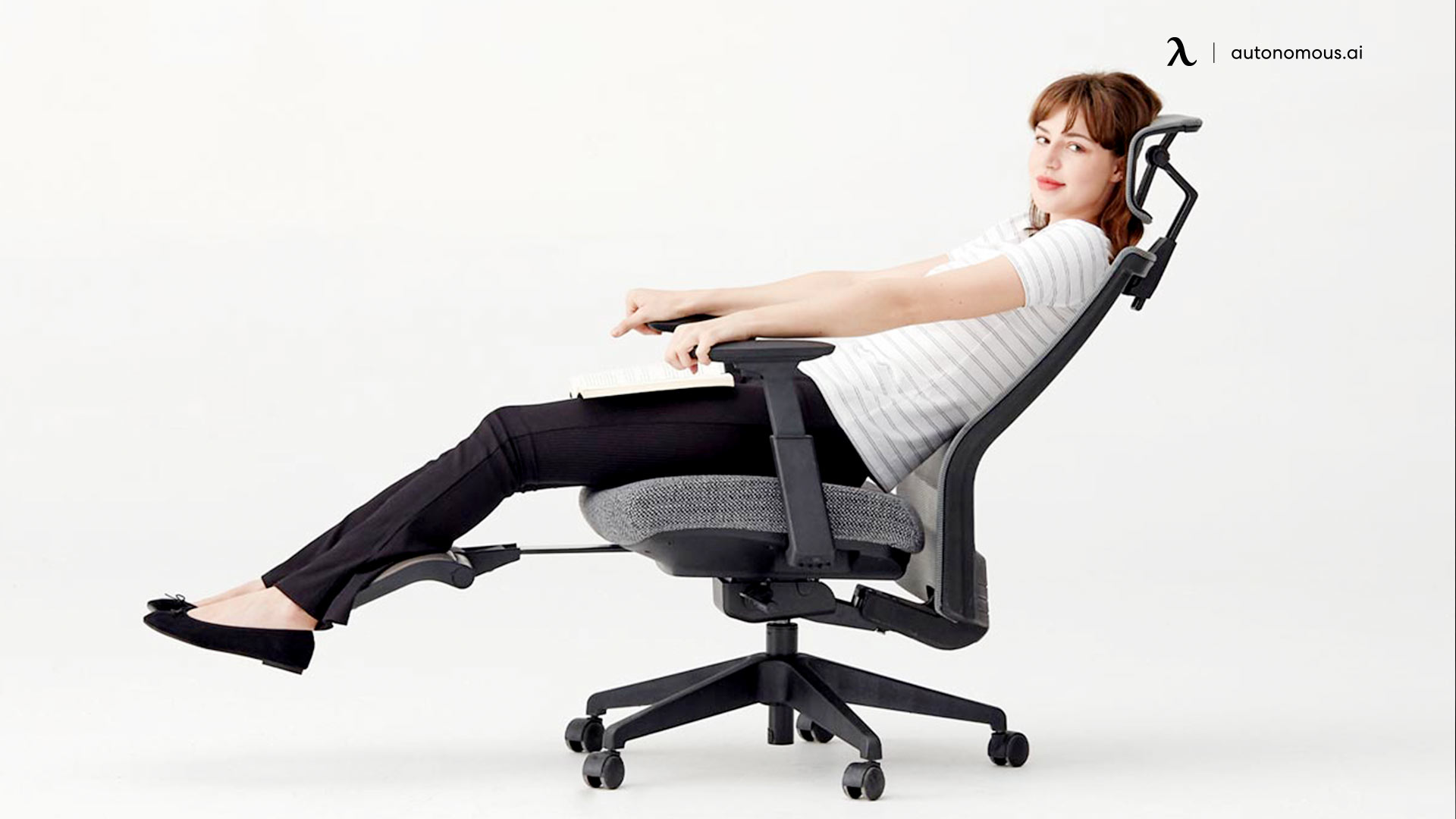 The best chair to sit for long hours cannot miss this feature. With an adjustable backrest, you can position it in a way that will specifically support the user's natural spine position. You can take advantage of this feature throughout the day to allow your backrest to take some of the weight from your upper body, thereby lessening the pressure on your discs and muscles.
FAQs
What is an eight-hour chair?
Office chairs differ significantly from task chairs in terms of ergonomics. For ergonomics and comfort, task chairs are often designed with back pain sufferers in mind. A basic ergonomic comfortable chair for long sitting typically comes with height adjustments, back tilts, and swivel bases, but they are usually fixed in design besides those features. A task chair will have swivel and tilt features as well as height and depth adjustment. The armrests and lumbar support will also be adjustable.
There are generally high backrests on office chairs, but they don't always provide lumbar support. Depending on their size, task chairs can have either a mid-height back or a full-height back, and sometimes they are designed with a separate headrest and neck rest. You should pick the one that best suits your personal preferences, but a task chair with a full-height back will offer the most comprehensive support.
How does a 24-hour chair work?
A 24-hour chair is ideal for call centers and control rooms as you can use it round the clock. Our comfortable desk chairs for long hours are designed to endure constant use in demanding offices so that they can handle the workload. Your workers will concentrate on their tasks with chairs made from quality materials with comfort in mind.
Can you sit in a mesh chair for a long time?
When you sit for long, the chair should be fully adjustable, have back support, and recline. You can find these features in a reclining chair. If you want to find a leather-wrapped ottoman with these features, look here. A recliner chair relieves stress by enabling you to recline your back. In light of this, mesh chairs are not as comfortable as other chairs, though they may help you sit for long. Seat pans that are filled with foam and have waterfall designs encourage different sitting postures.

Can gaming chairs be used for extended periods of time?
Depending on your back health, some gaming chairs are awful, and some are great. The components underneath your seat will determine how bad your chair is for your back. Should you avoid gaming chairs? In fact, yes, you should if the chair quality meets your needs.
Likewise, if the quality of the seats is acceptable, a no would be the appropriate response. You will feel the most comfortable support when you sit in a decent seat. You will also achieve the correct body pose simultaneously. A decent chair allows you to keep your back straight and your hand ergonomically in place.
Furthermore, it allows you to maintain a straight head. The purpose of a gaming chair is to keep gamers active by keeping their lives inactive. For the most part, such chairs are ergonomic and comfortable.
Best gaming chairs are used by many sectors of society today. Despite the benefits gaming chairs provide, students, professionals, and general computer users prefer them.
Do I need to sit on cushions?
Using a cushion, you distribute body weight effectively, improve your posture, and ensure your chair feels more comfortable. People often suffer from joint pain, back pain, as well as muscle aches when sitting in a chair without supportive cushioning.
The chair you use should be comfortable. The cushion on a lousy chair won't make it good. Every hour, be sure to take a rest break and exercise. When you have lunch, go for a walk. Your workstation and your chair should both be appropriately configured. Then you can consider an ergonomic cushion once you have taken care of all the basics. To find the right cushion for you, you will need to try several different ones. A correctly set up workstation might not require a cushion.
Summary
To wrap up, as you work long hours, do remember to take frequent breaks to manage your health and back. The most comfortable office chair for long hours is still a conventional office seat, such as those found in office equipment shops or at your business premises. It includes everything you could expect from an office chair, a seat, backrest, and base.
There are a variety of options for additional features like armrests, rear seats, and customizable back support. The many features or functionality you receive from the most comfortable desk chair for long hours will eventually be determined by the precise model you choose. Pick the best office chair for long hours of sitting that you feel will meet your needs
Hey, you have special pricing through your company.
Get exclusive rewards
for your first Autonomous blog subscription.
WRITTEN BYAutonomous
We build office products to help you work smarter.
Coming at You Live from Autonomous' Social Media!