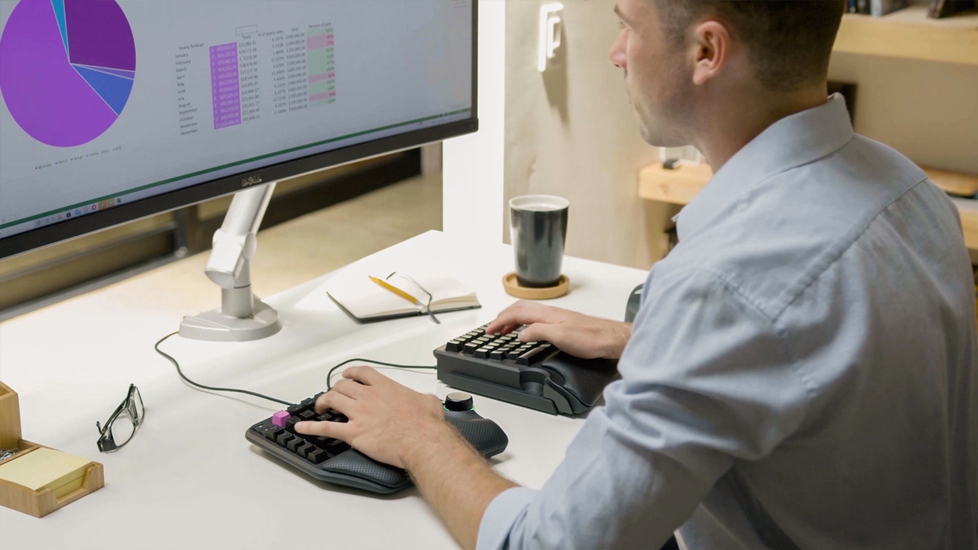 Cloud Nine ErgoTKL Split Mechanical Keyboard
FREE shipping Jun 16 - Jun 19. FREE 30-day returns.
Sold and shipped by Cloud Nine. Visit our store
Cloud Nine ErgoTKL Split Mechanical Keyboard at a glance.
This compact tenkeyless ergonomic split keyboard is designed to help you adjust the split, angle, and tilt in an infinite number of ways to perfectly fit your ideal typing posture.
• Separates up to 6.5 inches
• Natural 7° tenting palm rests
• Backlit CHERRY® MX (Brown) mechanical switches
• 0° / 4° / 7° of forward tilt
• Multi-function Smart Wheel
• Programmable hotkeys
• USB port
• Premium vegan leather palm rests
• 2-year warranty
Deep dive into specs
ErgoTKL Split Mechanical Keyboard by Cloud Nine
The Cloud Nine Ergonomic Split Mechanical Keyboard has arrived to make your workspace more comfortable. It is one of the must-have office accessories that will contribute to your productivity and efficiency while also helping you be as relaxed as possible while you're working. The split design has been enhanced compared to other keyboards in the market. In addition, you will be able to modify various features, including the split, angle, and even tilt, so that you can find the ideal typing posture based on your preferences and needs.
What is a mechanical keyboard?
Mechanical keyboards are high-quality peripherals that include spring-activated key switches instead of membrane keys. Depending on the switches utilized, a mechanical keyboard will produce a different sound, which is typically very audible and noisy. These keyboards are typically heavy, but they're more durable than traditional desks and are actually softer for your fingers, despite having a "harder" structure. The Cloud Nine ergonomic keyboard offers you a different way to type. Instead of pressing the key all the way down, you can stop pushing it once you hear the click. You'll improve your WPM rate and will also be more productive.
Why should you use Cloud Nine Ergonomic Split Mechanical Keyboard?
There are even more reasons to use them than what we've mentioned previously when it comes to split mechanical keyboards like the Cloud Nine Keyboard. The main and most noticeable difference between a traditional mechanical desk and a split alternative is the fact that they're separated into two sides. You can straighten your wrist, arms, and should in a natural manner, allowing you to work in a more comfortable position. Thanks to the split design, these keyboards can help you prevent problems like carpal tunnel syndrome or cubital tunnel syndrome. Still, this ergonomic split keyboard has even more benefits for you and your workspace.
More space available on your desk: Keyboards are quite big and can take up a lot of space in your workstation. However, a split keyboard will help you reduce space usage, allowing you to keep your desk as uncluttered as possible most of the time. Easily adjustable: The Cloud Nine Ergonomic Split Mechanical Keyboard will also allow you to adjust it as much as possible until you find the optimal settings based on your needs and preferences: There are three settings available for the forward tilt, 0º, 4º, and 7º. You can separate both sides up to 6.5 inches. Adjust the angle to whatever you feel like at the moment. It's uncomplicated for you to find the optimal settings for your keyboard. Thanks to these settings, you will be able to position your wrists naturally and reduce the adverse effects of repetitive motion.
Palm rests: The palm rests on each side includes will keep your wrists as comfortable and supported as possible throughout the day. Programmable hotkeys: The Cloud Nine Keyboard includes four hotkeys that you can program to whatever you like: copy, paste, cut, or even "select all." As a result, you'll have different ways at your disposal to become more productive and efficient. Customizable RGB: In addition to being an ergonomic keyboard, the Cloud Nine split keyboard ergo also includes customizable RGB lights. Hence, you can personalize your keyboard as much as possible to make sure it becomes one of the cool office supplies in your workspace. The CHERRY MX (Brown) RGB mechanical switches will also produce little noise and can be customized with 19 different patterns and colors.
Type quicker and personalize your keyboard
Typing quickly is something that most people look forward to. However, it can be a bit complicated if you use membrane keyboards, as they need you to press the key all the way down. Plus, the repetitive motion is more demanding and can cause you to become more exhausted too quickly. However, this Cloud Nine Ergonomic Split Mechanical Keyboard has been designed to be as ergonomic as possible. It will allow you to place your wrists in a natural position, allowing you to become more efficient and productive at your job. This way, you'll complete your daily tasks in less time while also keeping your wrists as healthy as possible despite repetitive motion. It is one of the many home office accessories you should never overlook!
FAQs
Don't see the answer to your question?
Will this keyboard work with Mac?
While the ErgoTKL was designed for a Windows PC, it will function as a normal keyboard with Mac.
However, the side hotkeys (Select All, Cut, Copy, Paste) and Windows-specific functions will NOT work on Mac.