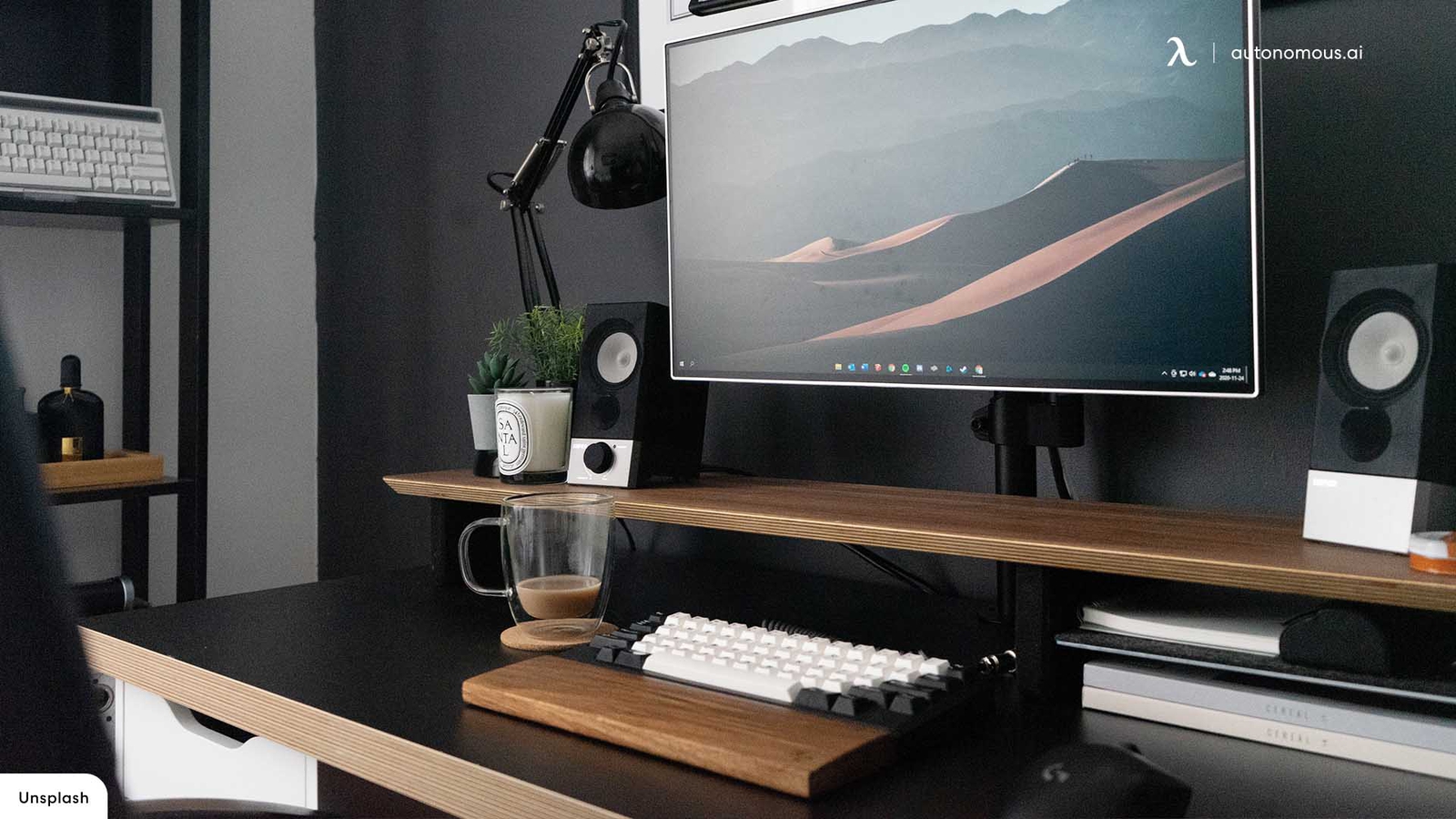 Smart Products
15 Unique and Useful Cool Desk Accessories You Don't Want to Live Without

Autonomous
|
Nov 6, 2021
8,054 Views
Cool office supplies and accessories are more than just gimmicks and toys; they can genuinely add value to a person's working life when integrated well. When it comes to working at a desk, there are plenty of things you can add to spice things up a little, all in the name of productivity. 
At Autonomous, we are big believers in embracing modern working trends, including unique desk accessories. The difference certain items can make to daily working life for both in-house staff and remote workers is undeniable, so we have highlighted some of the best. 
In this brief guide, we discuss the benefits of some of the fun and unique smart desk accessories on offer right now, as well as how to use them effectively and how to get the best deal. 
Preparing the Base
Before you can think about unique desk accessories, you need a cool desk! Some accessories work with any desk setup, but others are far more useful when paired with an equally interesting desk. 
An adjustable standing desk is easily the hottest office item of the year, with modern offices everywhere making the change. Out with the old and in with the new: a motto that all businesses should embrace in this ever-evolving world. 
In that spirit, why not consider switching to an electronic sit/stand desk in your workplace or home office. They are not only beneficial for your health and productivity, but they also lend themselves perfectly to a range of fun desk accessories. 
Our favorite is the SmartDesk Core. Affordable and practical, it has all the functions you could want in a desk. It is also customizable with various artworks for the desktop, which is a unique accessory already! 
Accessorizing a Desk: What to Do and What Not to Do
Once you have your desk ready to go, the next step is to plan out how exactly you plan to accessorize. Sometimes, too many cool office supplies crammed into one space becomes counterproductive and detracts from the whole purpose you added them in the first place.
To avoid this happening to you, follow our simple list of Do's and Don'ts when shopping for fun, unique desk accessories. 
The Do List
Measure your surface space and compare the sizes before ordering products online- pictures can be deceiving and you don't want to buy something that doesn't fit on the desk!

Think about the style of your workspace and look for products that work cohesively. If you work remotely, decide what aesthetic you are going for before you start buying. Those who work in a

shared office should try to be mindful of the area around them and any policies their workplace may have.

Focus on the items that are going to add value to your space and be genuinely useful from day to day.

Consider the proposed layout in your mind and map it out on your desk. Testing the theory before you spend money is always a good idea.

Bring some of your personality into it and look for things that can bring you joy during the workday. That could be as simple as some fun new stationery, a fancy organization tool, or a unique desk cover to brighten up the space- whatever works for you!

 
The Don't List
Avoid over-buying too many things that cannot all fit. This can lead to over-cluttered desk space, limited maneuverability, and unnecessary waste.

Refrain from going overboard if you work in a shared area as it can interfere with other people's work. You can still add

unique desk accessories that are non-invasive and practical, which don't disturb anyone else.

Don't forget that cool

office supplies are supposed to be useful too! Why waste space and money on something you really do not use or benefit from?

Buying miss-matched items can work when done carefully, but it can easily cross into the realm of messy. Even if you work remotely and answer to no one, a distracting workplace does not usually work out well for anybody. Keep it simple, streamlined, and function focused. 
In a nutshell: plan ahead, know your space, don't get carried away, and keep it professional. Office stuff is a lot cooler when it actually makes your life easier! 
Innovative Gear: Yaber PICO T1 Smart Projector - Where Innovation Meets Portability
Combining innovation and portability, the Yaber PICO T1 Smart Projector is designed to enhance your lifestyle. Engineered with meticulous attention to detail, this slim and lightweight projector is a game-changer in the world of portable projection.
Its sleek form factor and compact dimensions make it a breeze to carry, enabling you to enjoy your favorite movies, shows, and presentations anytime, anywhere. With the included delicate and small handbag, this projector becomes an indispensable companion, putting limitless entertainment possibilities in your hands.
15 Cool Desk Accessories that You Need to Try
1. Magnetic Desk Organizer
Many people struggle to keep their stationery neat and tidy throughout the day. You would not be the first nor the last person to waste half an hour hunting for that pen you swear was in your hand a minute ago!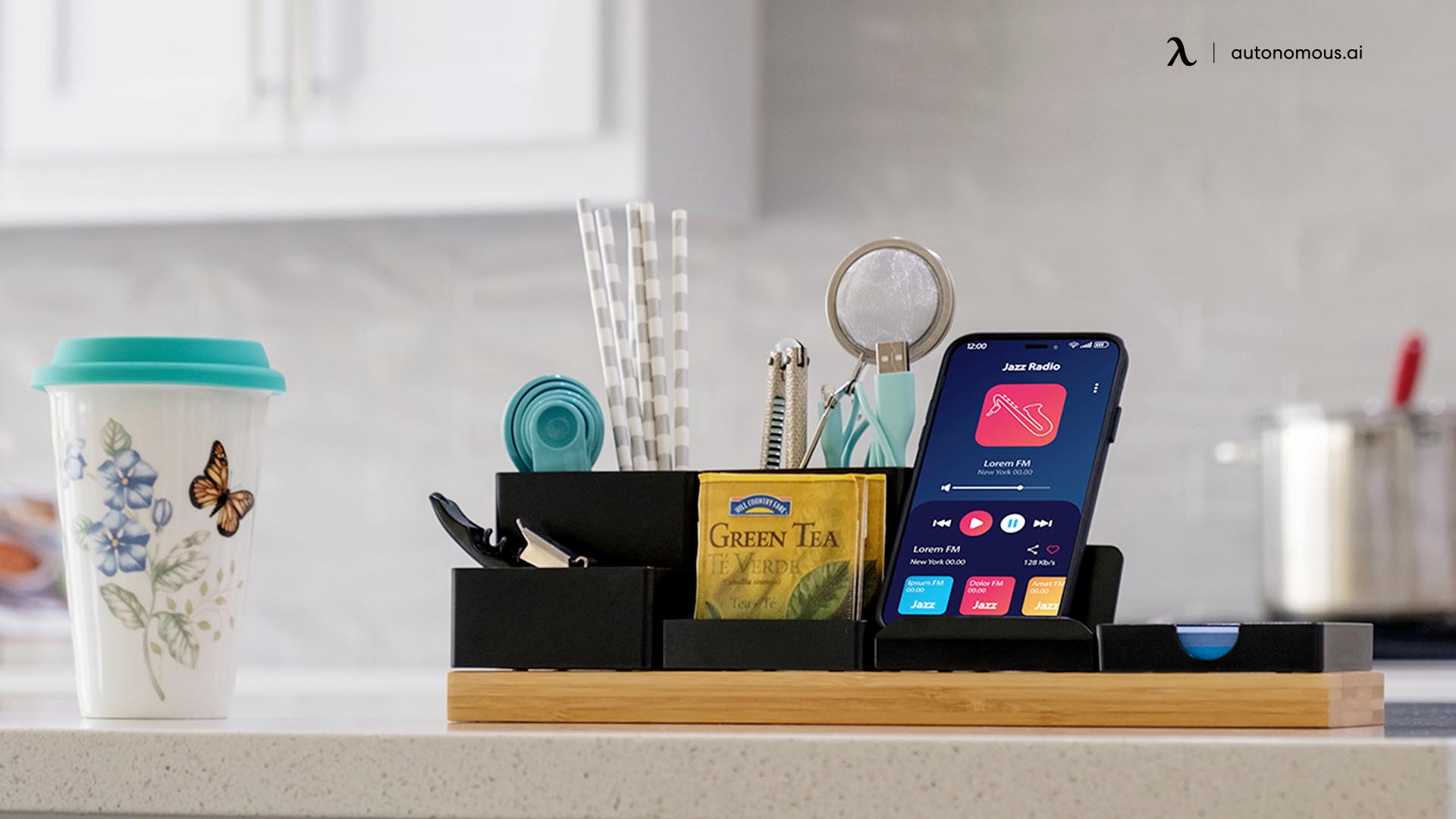 The Autonomous Magnetic Desk Organizer puts an end to that by providing chic and stylish desk planning that you love to use. It comes with several compartments in a variety of sizes that can be moved around to match your preferences, all on a magnetic base to keep things put. 
Choose from three color options to match your surroundings and never suffer from a messy desk again! 
2. Flow Board
This is one of the best desk accessories combined with standing desks. As the standing desk becomes more popular and the undeniable health benefits of standing up grow ever more difficult to ignore, cool office supplies and accessories such as the Flow Board are showing up in offices across the country. 
Take standing to a new level by using this core-engaging balance board and workout while you work! Busy multi-taskers who don't always have time to hit the gym and enjoy the flow that a standing desk allows are bound to love this unique and exciting tool. 
Use it in coordination with a standing desk, even when you sit! Placing it beneath your feel even when sitting down helps to engage your muscles and promote good posture. 
3. Privacy Panel
Privacy is often in short supply in the office, especially in the bullpen or hybrid collaborative workspace. A portable privacy panel may not necessarily sound cool, but it is definitely useful. 
If you often work at a new desk every day and require a bit of separation from your surroundings, the sound-absorbing panel is a hero. Easy to clamp onto any desk, the two-part design is ultra-flexible. 
Even if you don't move desks every day, a little extra privacy never goes away. You can also use it as a pinboard for memos, notes, or personal décor. What's more, the Autonomous Privacy Panel is made from 100% recycled material and is completely flame retardant.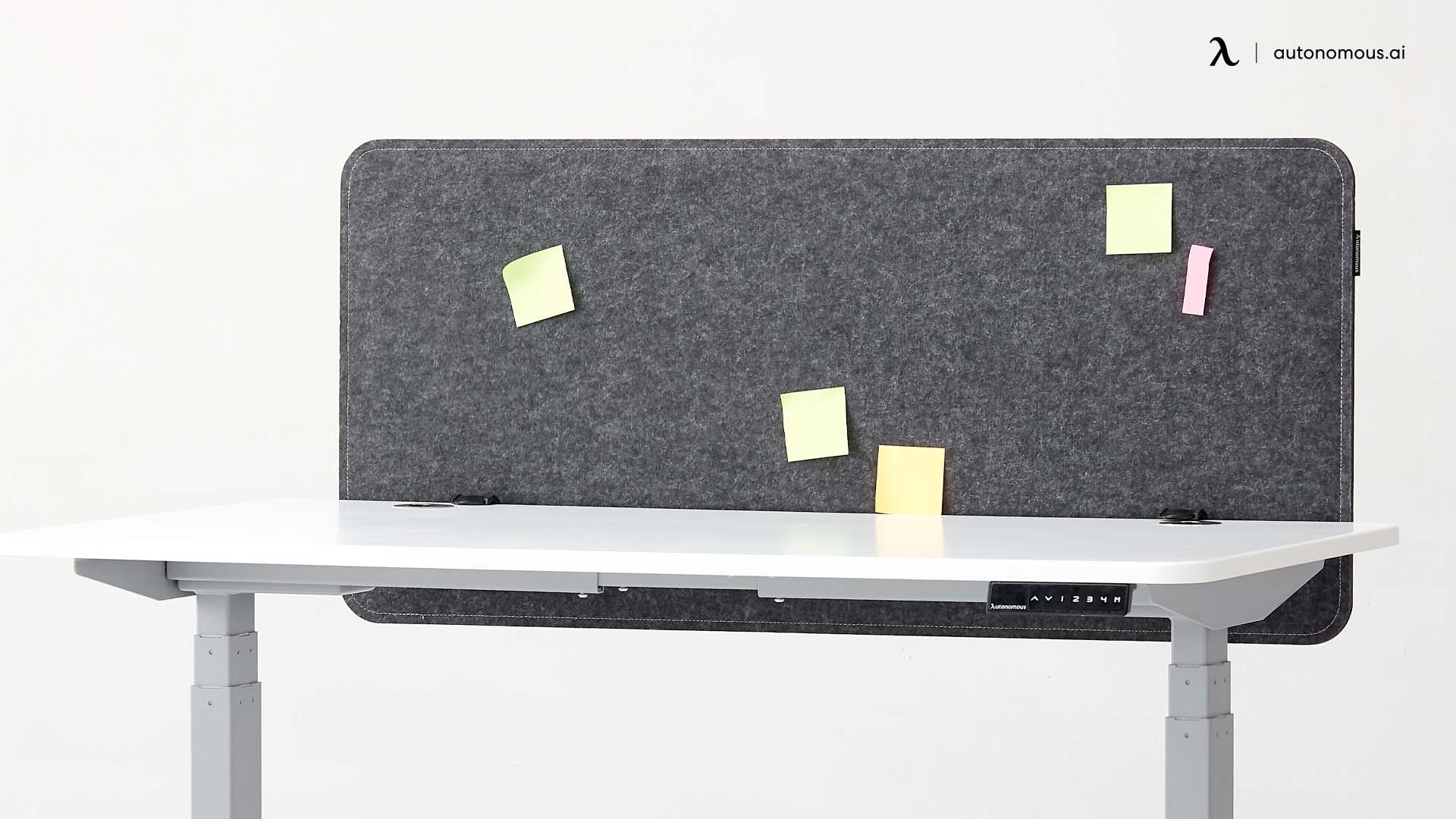 4. Under-Desk Cable Tray
An under desk cable tray is a discreet and effective way to keep your desk free of wires. Cables spread across or under a desk with nothing to contain them is an accident waiting to happen, so don't take the risk. 
By attaching a cable tray below the lip of your desk, you instantly improve the safety of your working area and give yourself more space to work. Rather than fighting with wires, you can tuck them all neatly below the desk where they cannot bother you.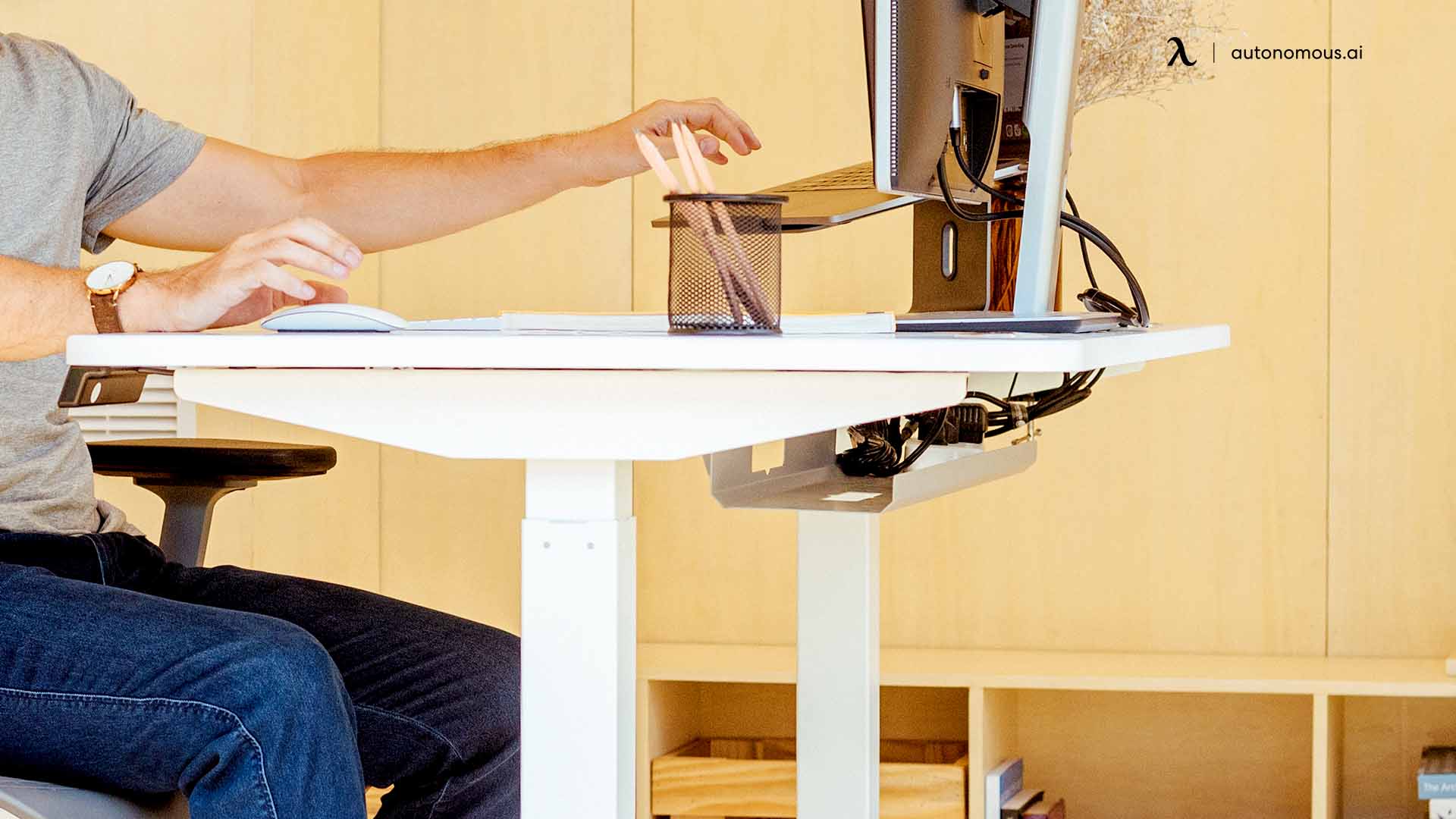 Additionally, the Autonomous model is sturdy enough to hold your mobile phone or other small stationery items and fun desk accessories. 
5. LED Desk Lamp
This is one of the best desk accessories for you. LED lighting is excellent for desk work, especially for those who struggle with dim conditions. At Autonomous, you can find a range of unique and effective LED lamps, both for the desktop and with floating attachments. 
Our favorite and top pick for those looking for unique desk accessories that make a difference is the Autonomous Light Bar. The ultra wide LED desk lamp clamps to the back of the desk and rises high enough to provide high-quality lighting across the whole surface. 
It is fully adjustable with five brightness settings, four temperature settings, an adjustable height stem, and an easy to work desk clamp. The head is flexible and can turn to any angle you desire, giving you the best possible glare-free illumination for your desk.
6. Floating Monitor Arm
A computer monitor takes up a fair deal of desk space that some people may not have to spare. By using a floating monitor arm, you open up the back section of your desk to new potential. 
The Autonomous Monitor arm comes in either a single or double screen setup, both with a desk clamp and 360-degree flexibility. If you use a sit/stand desk, this is the best solution for perfecting the tilt of the screen to suit your height setting.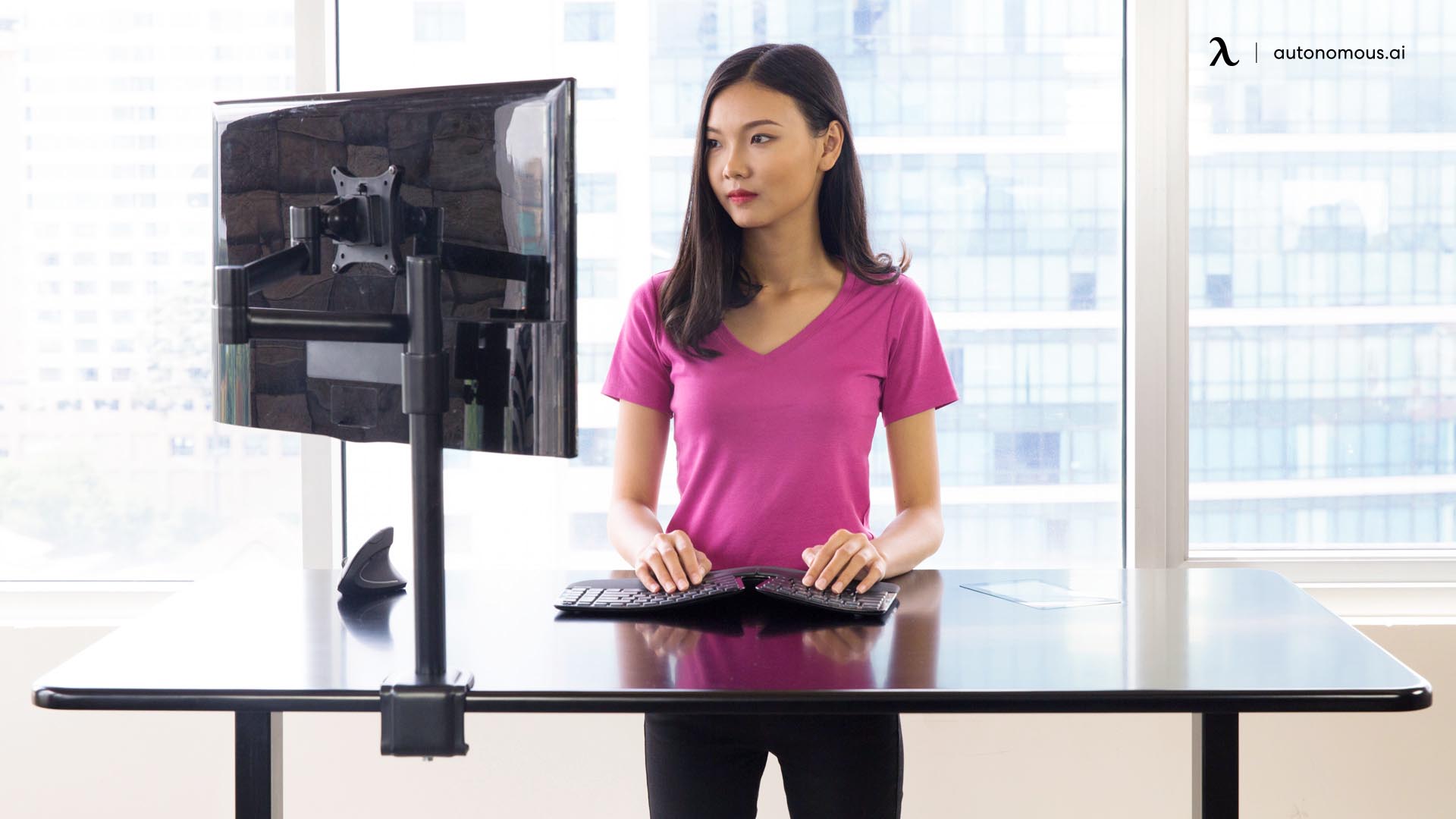 Constructed using top-grade aluminum alloy, this cool desk accessory has no trouble supporting your monitor and should last for years. 
7. Power Dock
Extension cables are certainly nothing new or exciting, but this handy upgrade is a must for someone who relies on a lot of devices. Having easy access to power points for your laptop, tablet, phone, monitor, and whatever other fun gadgets and office accessories you may use daily is a necessity, not a luxury. 
Crawling beneath the desk in desperate search of a plug socket, only to find it is already packed full is a thing of the past with a desktop power dock. Clamp it to the edge of your desk to keep wires to a minimum and convenience at an all-time high.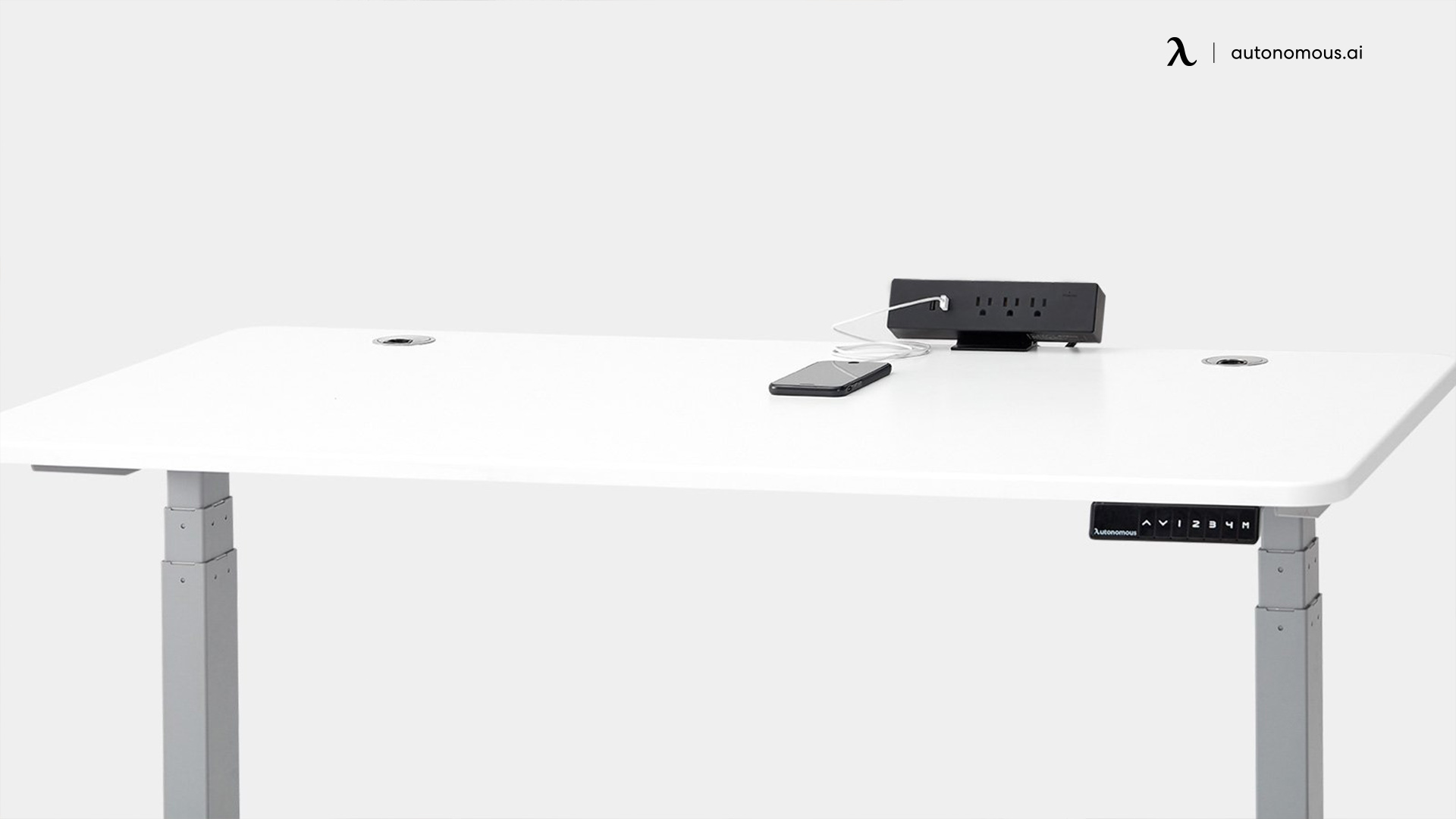 It is powerful enough to support three sockets and two USB ports but takes up just eight inches of desk space. Of all the unique desk accessories on this list, this is a strong contender for the most useful! 
8. Desk Pad
Desk pads are a sophisticated but modern way to accessorize and organize your workspace. They protect the surface of your desk, keeping it looking better for longer, at the same time as improving your mouse grip and adding a chic look to your area.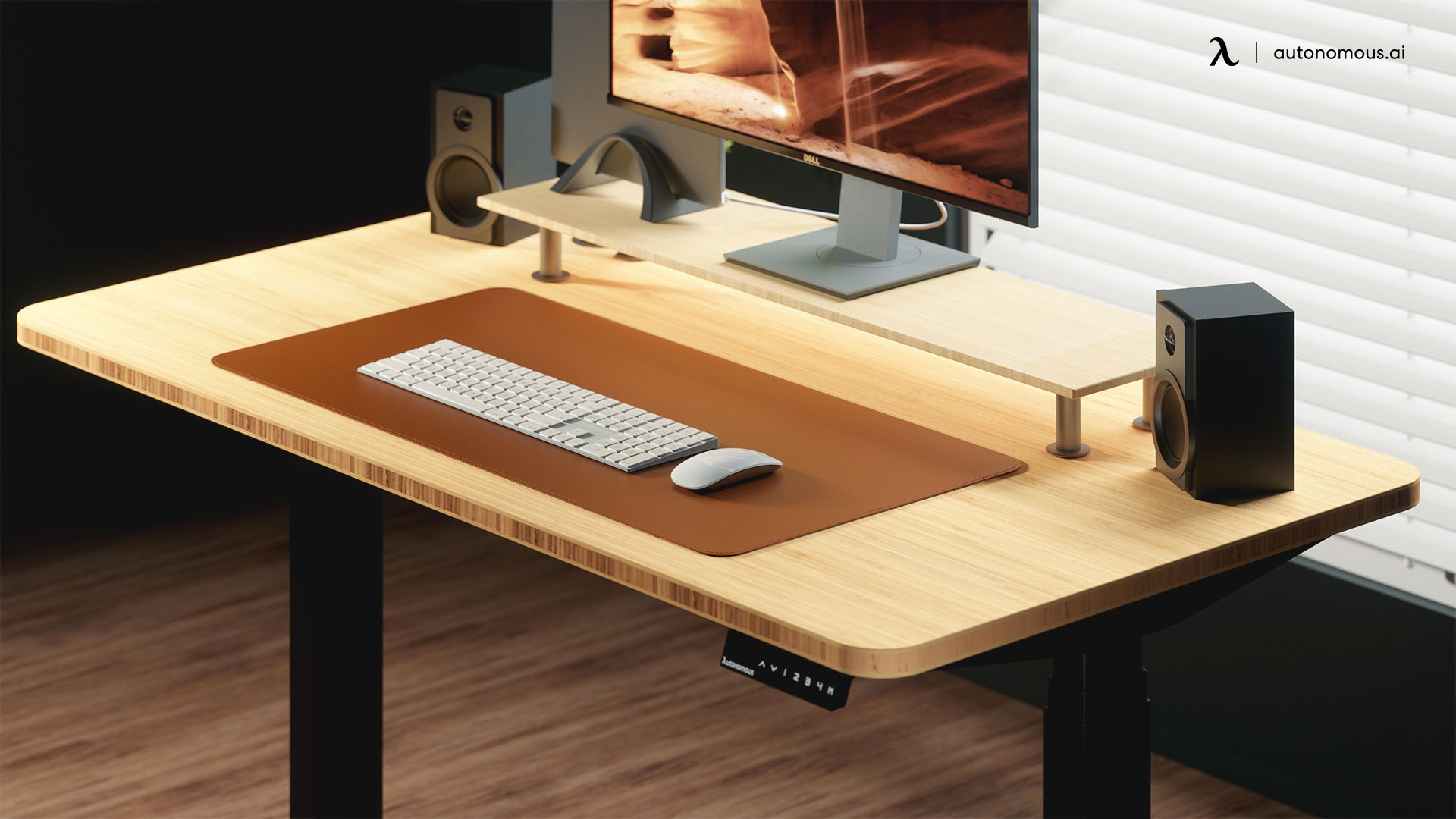 The Autonomous smart accessories and office stuff range has two excellent desk pads, one in vegan leather and the other made from sustainable cork. Whatever your style may be, this is a classic example of how simple items can have a huge impact. 
9. Anti-Fatigue Mat
Another must-have accessory for anyone using a standing desk is an anti-fatigue mat. These unique desk accessories are expertly designed to relieve muscle strain and improve posture while you stand. 
We already know how beneficial standing is over sitting for office workers, but it can still cause strain after a while. The science behind the anti-fatigue design is based on micro movements that affect stiffness in the entire body and reduce the effects of tired and strained muscles. 
Built to support up to 330 lbs., relieving foot, leg, and back pain throughout the day, the Autonomous Anti-Fatigue mat is incomparably useful to someone who is trying to make the change to standing at work. 
10. Swivel Desk Drawer
Here is one of the cool desk accessories you should have in your workstation. Want to increase your organization without taking up valuable desk space? The Swivel Desk Drawer by Autonomous is the ideal solution. Compact, sturdy, and convenient, this desk addition is a smart way to keep things neat, tidy, and out of sight. 
It connects quickly and easily to the base of the desk and can swivel 360 degrees for ultimate accessibility and flexible use. You also have the option to use it as a mouse pad for even more spatial optimization. 
The drawer can hold multiple small items weighing less than 6.6 lbs. Separated compartments make it easy to keep things organized and tidy. 
11. Carpio Ergonomic Wrist Rest by DeltaHub
Getting an ergonomic wrist rest is vital when it comes to working longer hours at the office. So, you should think of investing in this accessory when working in your office. The benefit of getting this ergonomic wrist rest is that it will provide you with a contoured wrist pad so that you can have a comfortable work experience without feeling fatigued.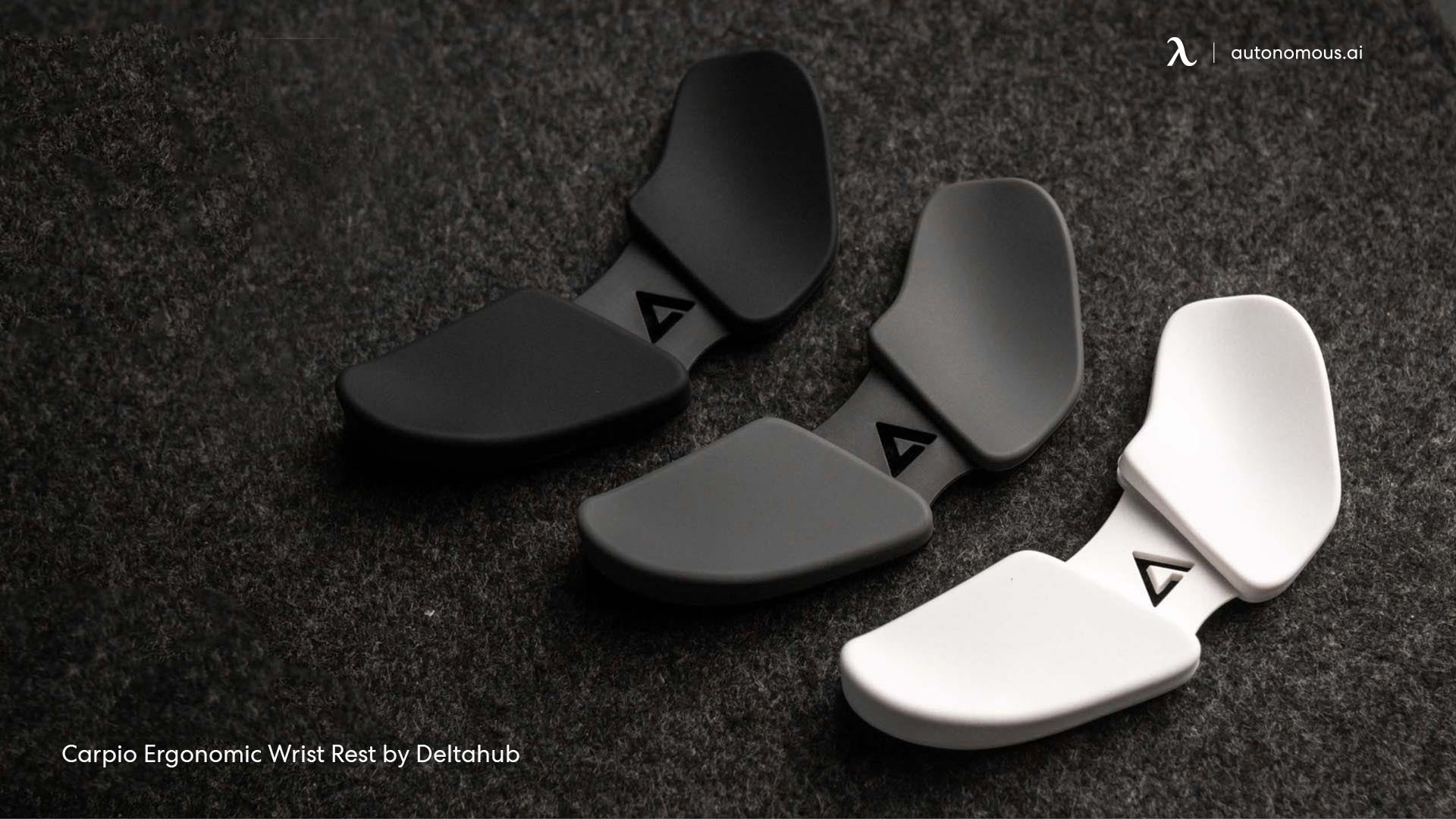 12. Keyboard and Mouse Platform by Mount-It!
Getting a keyboard and mouse platform is as important as getting these office accessories themself. Although this may seem like an additional accessory to you, it will help you have your keyboard and mouse at an alleviation you like.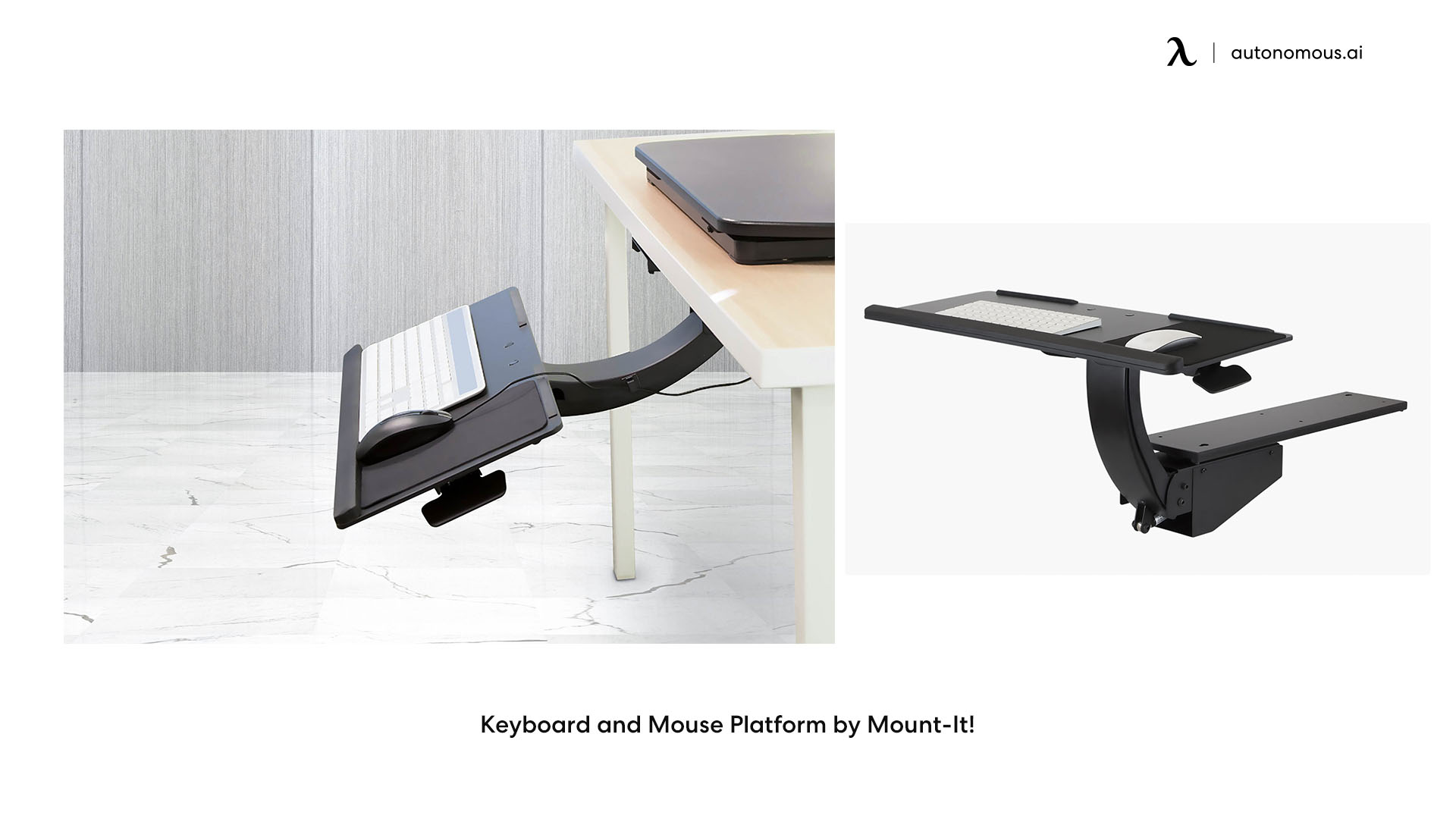 Let's suppose you have a simple keyboard that does not come with an ergonomic wrist pad on its own; you may invest in this keyboard and mouse platform because it comes with a line of an ergonomic wrist pad in its keyboard tray. The platform's height can be easily adjusted, so you can manage it as per your requirement. 
13. Ergonomic Keyboard
Getting an ergonomic keyboard is integral when you have to have a comfortable work experience. Although you would have the aforementioned cool desk accessories, you should invest in either a high-end mechanical or a membrane keyboard like the ones that we mentioned below. 
This is one of fun desk accessories you should have. The Matias Programmable Ergo Pro Keyboard for PC is one of the best options you can think of for office use. The special feature of this mechanical keyboard is that it is split into two. This split design allows you to place the two halves at an ergonomic angle to avoid any strain on your wrist as you type.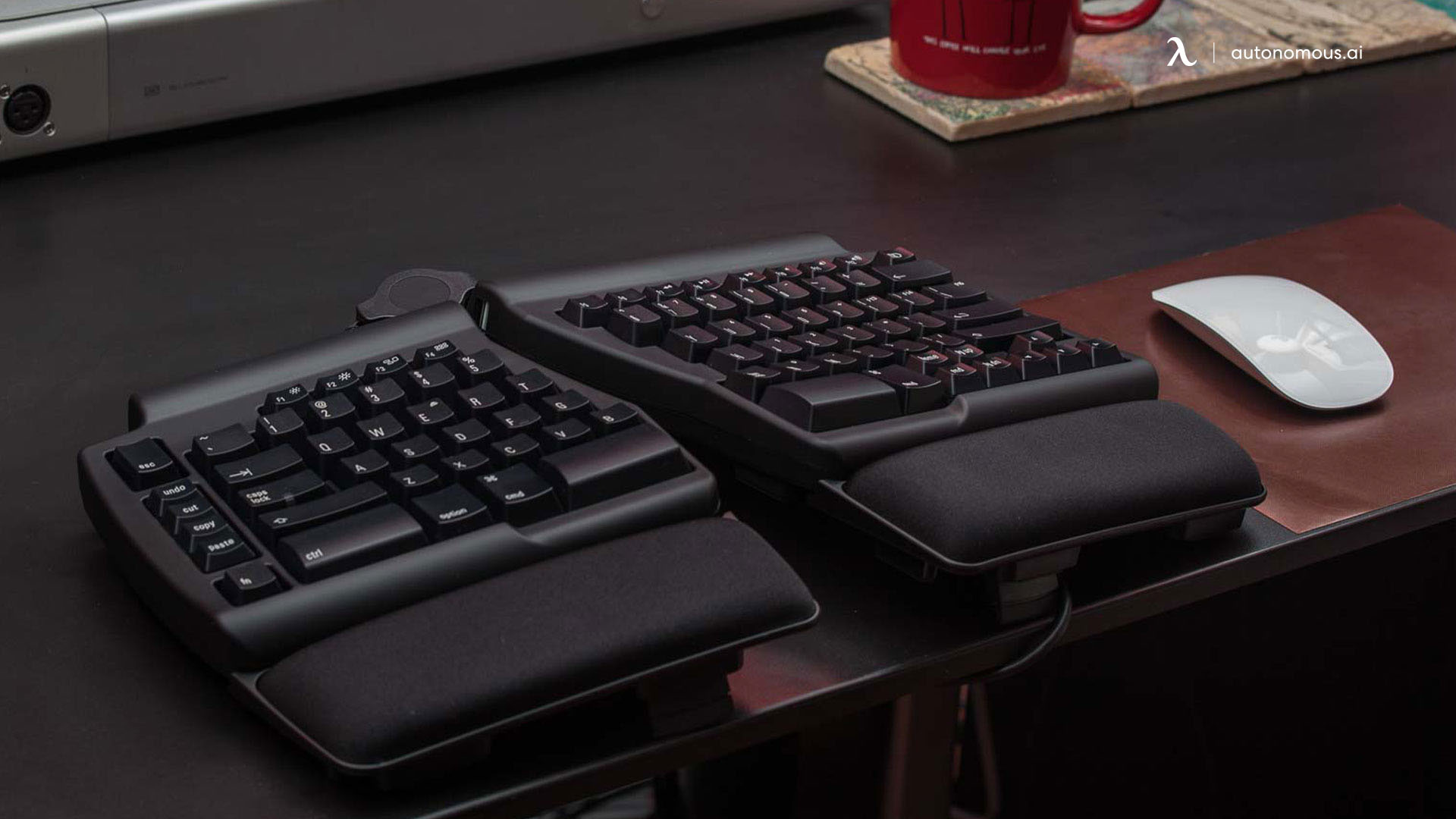 There is also a gel palm support pad that will ensure you rest your hands comfortably while gaming. Since it has Matias' quiet click mechanical switches, you will have a wonderful time gaming without any distractions overall. 
The Cloud Nine Ergonomic Split Mechanical Keyboard is another ergonomic office keyboard that will be suitable for office workers who love staying minimalistic. If you talk about its keys' placement, it has a very compact yet ergonomic design.
So, it will not take up much space on your desk, and you will have a great work experience. Like Matias, Cloud Nine's ErgoTKL is also a split keyboard, one of the cool office supplies in any workspace. Therefore, you can tilt it to have your desired keyboard position. 
14. Bluetooth Speaker
This unique desk accessory is suitable for gamers and streamers mainly. However, office workers can have it too. We have shared some options that you might like considering below to guide you well. 
The Mars Pro Bluetooth speaker is the ideal choice for gamers and streamers. Since this speaker operates via Bluetooth, there is no need to worry about the cord clutter. As the Mars Pro has quite deceiving looks, you would be surprised by the sound quality this little beast is capable of giving you.
Overall, the design and aesthetics of this speaker are well-defined, having an LED volume knob and a sturdy metallic build. 
This is one of the best desk accessories. Available in a bright color option, the War Zone Bluetooth Speaker is another variant that this company has to offer. The design of this speaker is also pretty similar. Overall, thinking of getting this unique desk accessory would be a good decision. 
15. Charger
Now that you have all the relevant office accessories, it's time that you ensure that you charge all your chargeable equipment well. For this purpose, you will need a compact yet powerful charger. Here, we have shared some of the best charging options that you can consider for charging your laptop, mobile phones, smartwatches, etc. 
The VogDuo 4 Port USB C charger is a suitable option for charging iPads and MacBooks. Since the Italian hand stitching makes this charger look cool, you can confidently place it on your desk. Since this charger has 4 ports, you can charge four devices at one time. This will not only let you save time but will make you productive too.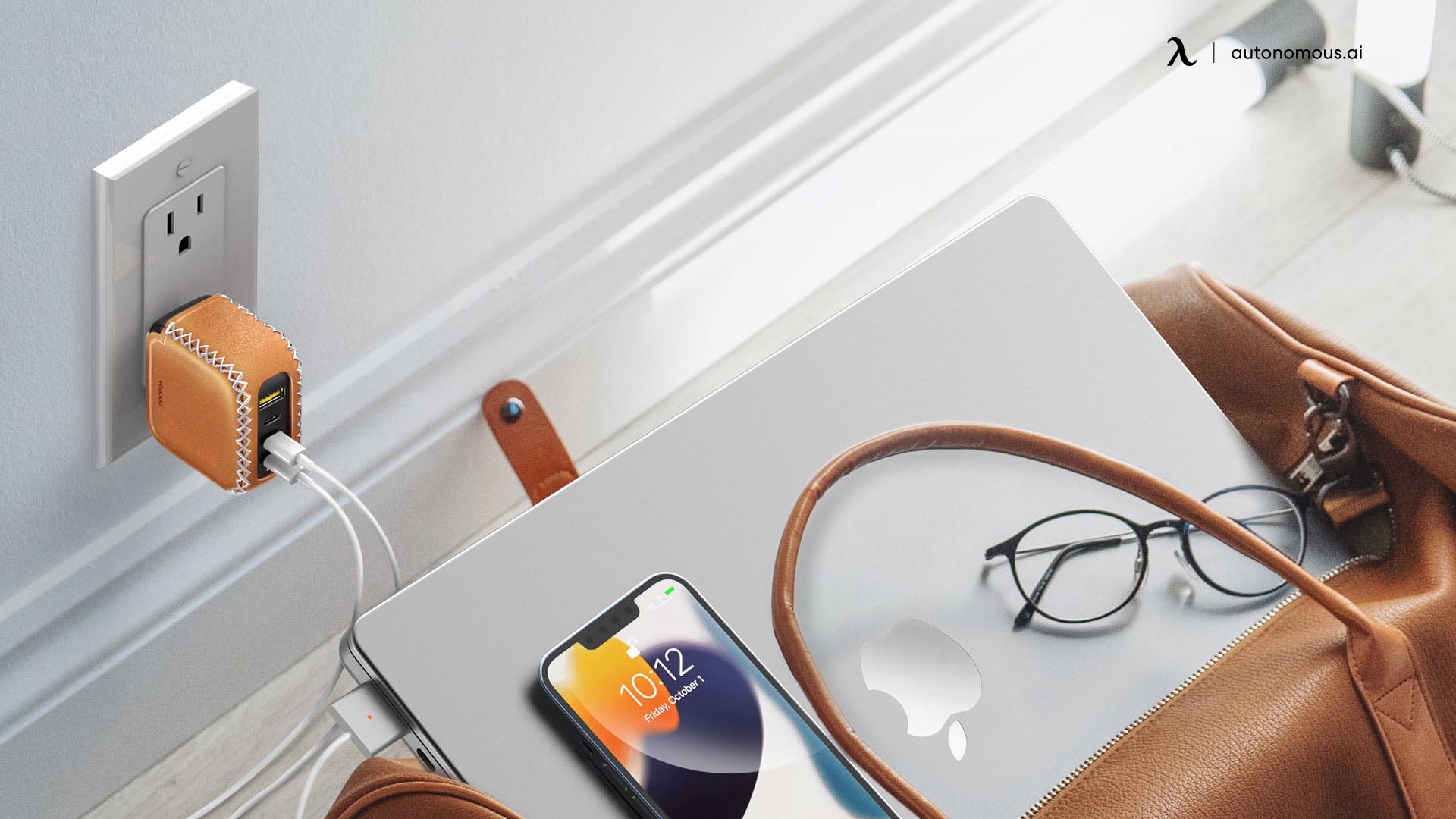 The Oblio Charger by Lexon is another unique desk accessories option that you can think of going for as a charging option for your common devices. The standout feature of this wireless charger is that it has a unique design. The charger looks like a cup inside, which you can place your mobile in, and have it charged while you work.
This tulip-shaped rubber charger with an ABS plastic finish is one of the most reliable options. Since it also has an antibacterial UV light inside, it will kill any harmful bacteria on your phone and ensure you work in a clean environment. 
The Universal Charging dock is another option that you may think of going for. The unique thing about this accessory is that it can charge your laptops, iPhones, and various other accessories at a single time. Being a wireless charger itself, this charger will help you avoid cord clutter. 
The Fledging Spruce Charger is one of the unique desk accessories. The coolest factor about this desk accessory is that it can charge five devices at a time. Featuring a multiport GaN charger and a dual coil wireless pad, this charger will help you and your colleagues have a wholesome work experience.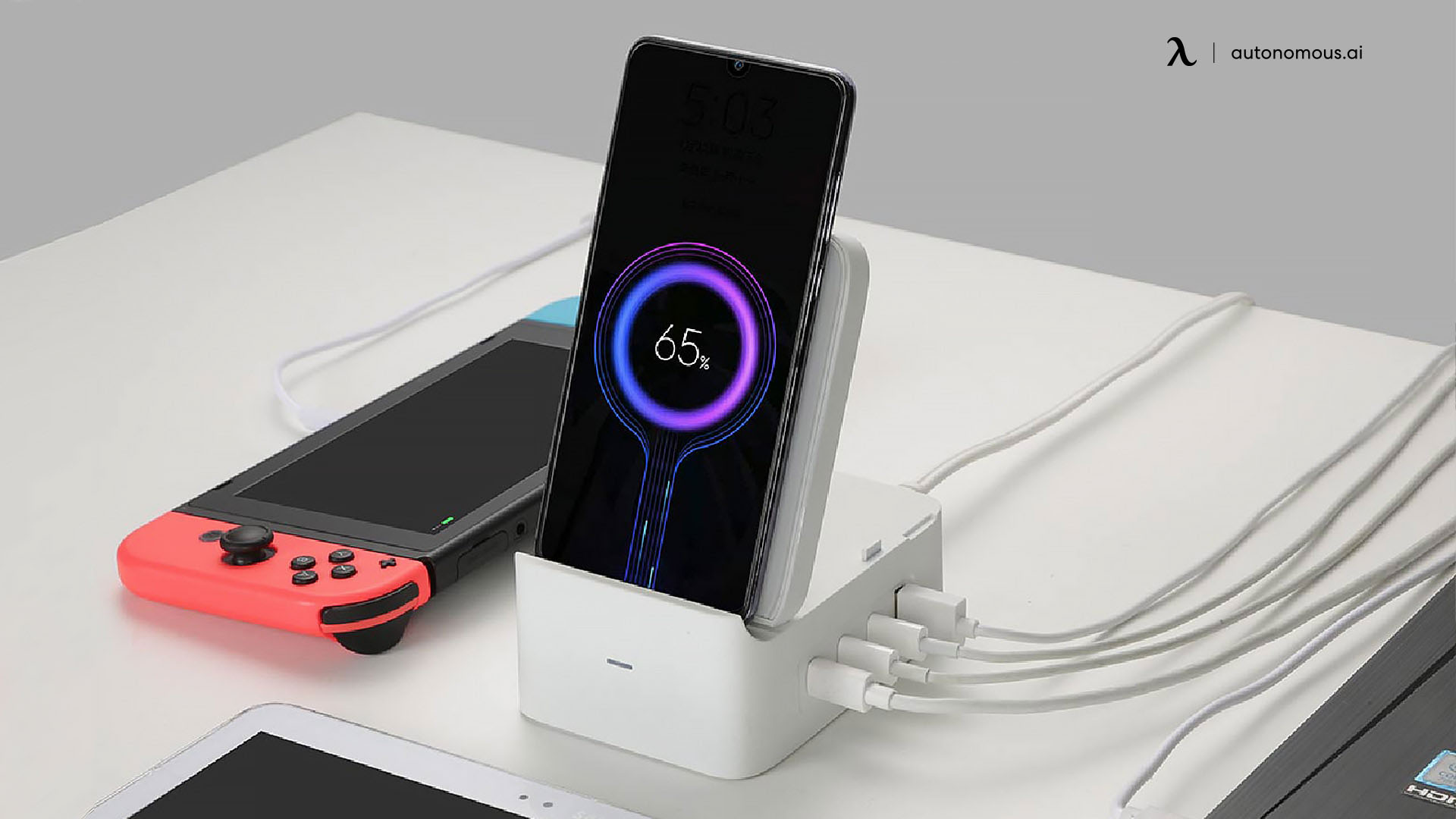 Overall, you can expect this charger to take lesser space yet give you greater returns. So, investing in such a cool office desk accessory would be a great idea. We hope that you will add these accessories to your cart and plan your office in a way that is fully equipped with these advanced unique desk accessories.
Where to Get the Best Deals on Awesome Office Stuff
Buying wholesale office furniture and supplies is the best way for employers to save money but still provide their staff with the best of the best. 
Additionally, the Autonomous employee purchase program offers individuals great discounts on modern office furniture and unique desk accessories. If you work remotely and want to find a deal on home office furniture, or you are looking to enhance your space with a few new desk accessories, head to the Autonomous shopping page for inspiration!
The Bottom Line
Unique and cool desk accessories are meant to improve working life and add a little style into the equation. The modern workplace favors individuality and innovation, leaving room for more fun gadgets to hit the market, and soon, your desks! 
As long as you follow the golden rules detailed above and stick to reliable, high-quality makes such as Autonomous, you can't go far wrong.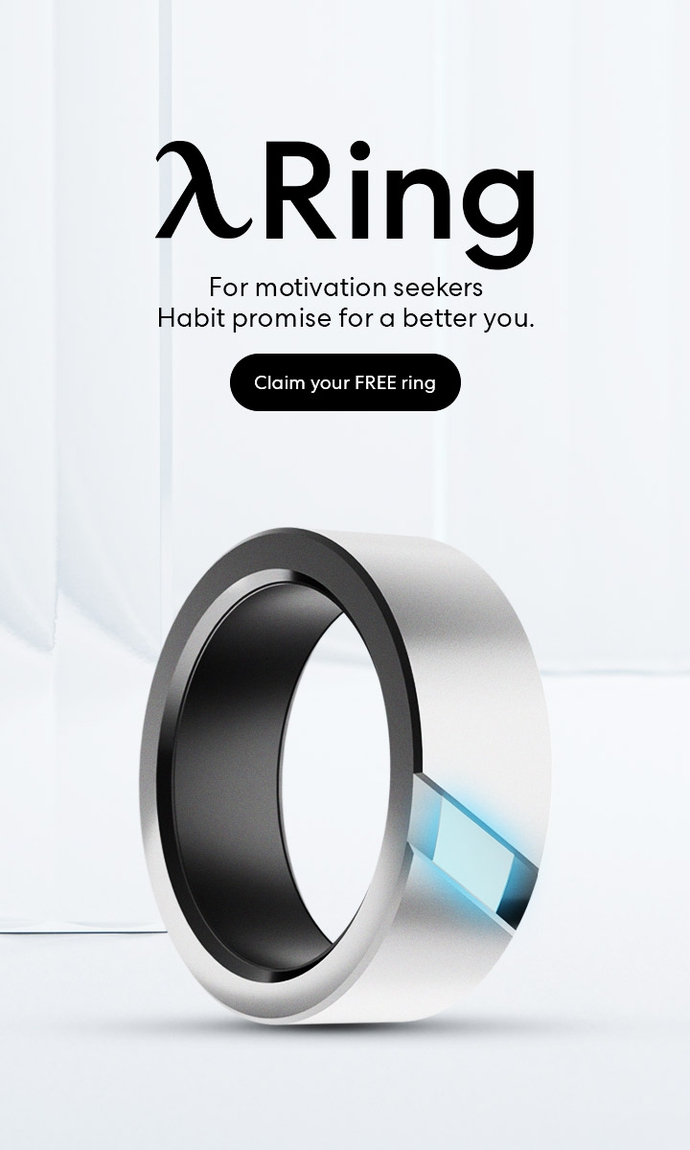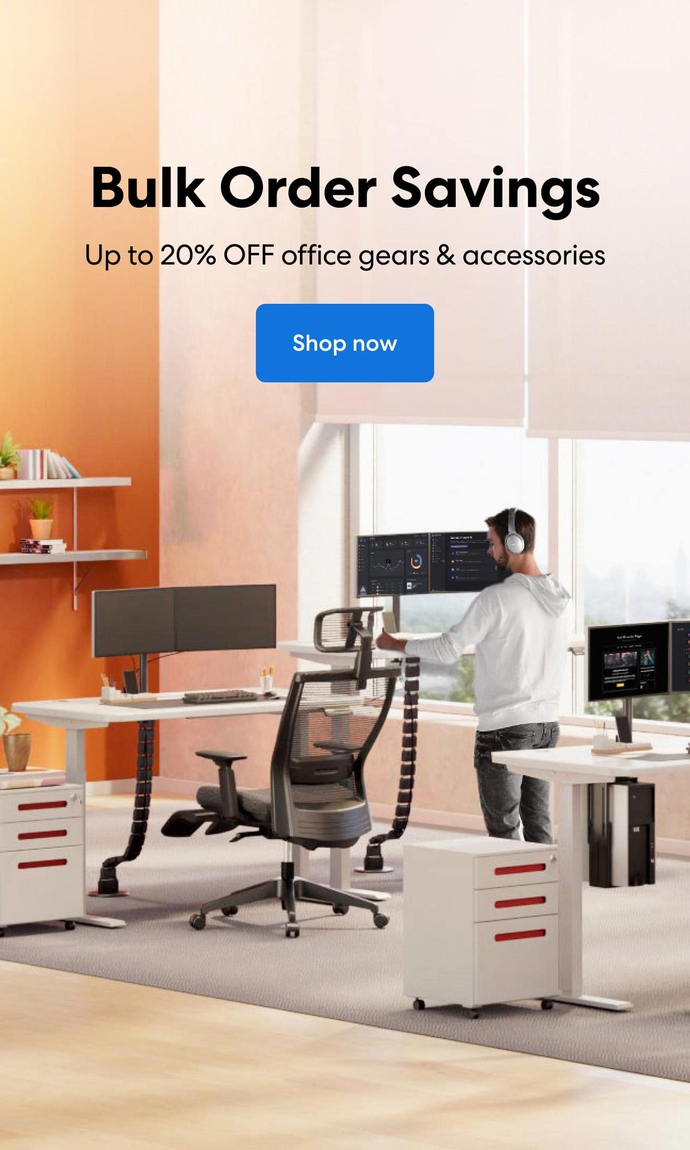 Subcribe newsletter and get $100 OFF.
Receive product updates, special offers, ergo tips, and inspiration form our team.