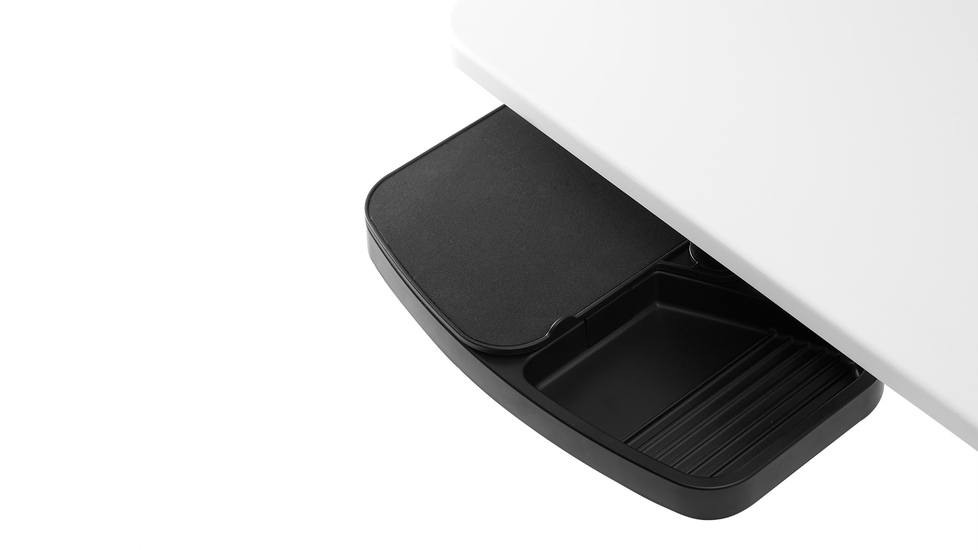 Autonomous Swivel Desk Drawer
Bought by 200+ Google employees
FREE shipping Apr 02 - Apr 04. FREE 30-day returns.
Sold and shipped by Autonomous.
Autonomous Swivel Desk Drawer at a glance.
Make more space for your desktop and keep small items organized with Desk Drawer. This 360-degree swivel drawer is made for easy access and installation.
• Swivels 360-degrees
• Stores small items up to 6.6 lbs
• Optional functionality as a mouse pad
• Quick assembly
• 1-year warranty
Deep dive into specs
An organized workspace is for better output and quality work
The minimalist desk setup has become the latest fad for office workers these days. Clutter is the first and foremost thing that you wish to avoid while setting up your workstation, as crowding up is never good for your productivity. At this moment, when all you wish to do is organize your workspace well enough to keep you focused and productive, a desk drawer comes in handy. Everyone loves having their things arranged in an organized form so that they don't have to waste time sorting out their accessories. You know that the modern standing desks lack a desk drawer, so adding a desk drawer storage becomes mandatory if you wish to avoid clutter. A desk drawer organizer helps you keep your things accessible and in place. In addition to this, a desk drawer organizer tray will help you keep your tabletop clean and tidy. So, overall, considering the desk setup ideas that have a desk drawer storage is always a great choice.
Autonomous Swivel Desk Drawer
Autonomous has always worked to make your office life better. Therefore, here we have your best desk organizer, the Swivel Desk Drawer. A swivel desk drawer helps you make more space for your monitor and other important accessories on your table by providing you a spacious tray underneath your desk. What makes it unique is that this drawer has a 360-degree swivel which makes it easier for you to fetch your accessories from every angle, unlike any traditional drawer.
Stylish Design
This effortless drawer can be slid any way, and you will have whatever you desire. There is a separate compartment for stationaries. This compartment is spacious enough to keep all sorts of stationery. Overall, there are three compartments; one for stationaries like pens and pencils, the other one for slightly larger accessories like staplers or punching machines, and the third one for keeping your mouse. The package also comes with an additional mouse pad so that you can double up your swivel desk drawer and use it as a mouse pad as well.
Simple Assembly
The swivel desk drawer can be assembled pretty simply and would hardly take you five minutes to complete the procedure. All you need to do is drill three holes near the edge of the tabletop's backside and fasten the accessories that are there in the package. To make everything easier for you, the package has every piece of equipment that is vital to fix your desk drawer organizer tray. Once you have the swivel drawer fixed, you are all set to organize your accessories and adopt the minimalist desk set up to boost your productivity.
FAQs
Don't see the answer to your question?