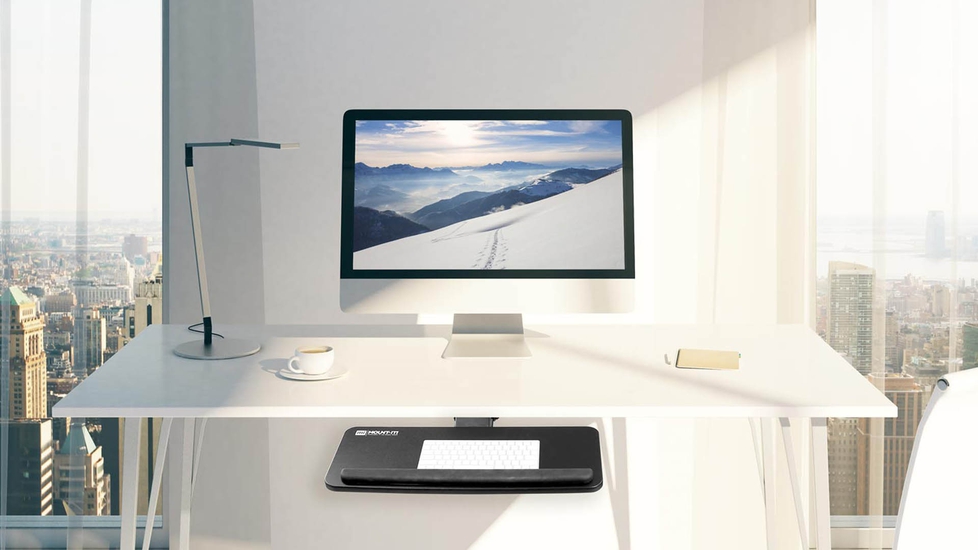 Mount-It! Keyboard & Mouse Platform: Wrist Rest Pad
20 reviews
Visit our store
Buy now
Add to cart
FREE shipping Dec 04 - Dec 06. FREE 30-day returns.
Bought by 2+ Apple employees.
Sold and shipped by Mount-It!

Price Match Guarantee
Mount-It! Keyboard & Mouse Platform: Wrist Rest Pad at a glance.
This space saving adjustable tray can be tucked away underneath your desk when not in use. Position your peripherals lower and closer to your body to adopt and maintain a neutral working posture. Enjoy optimum wrist placement and maintain healthier work posture throughout your workday.
• Compatible with small and large keyboards
• Height adjustable
• Tilt and swivel for optimum placement
• Gel wrist support pad
• Slides under your desk when not in use
• Tray dimensions: 25" long x 10" deep
NOTE: Not compatible with our SmartDesk
Deep dive into specs
Features
FAQs
Specs
reviews
4.6
Mount-It Adjustable Keyboard and Mouse Platform with Wrist Rest Pad
If you're a remote worker, you should know by now how important it is to have an ergonomic workstation. Since you spend a considerable amount of time on your desk, it's better to make sure that you'll be comfortable at all times. That doesn't only include your ergonomic chair – you should also look after other areas, especially your arms. That's where the Mount-It adjustable keyboard and mouse platform with wrist rest pad comes into play. An ergonomic wrist rest will allow you to prevent those physical complaints that often appear after finishing a work session. Still, that's not all – this adjustable keyboard tray under desk will also add a nice touch to your workstation, making it seem fancier.
What is an adjustable keyboard tray?
As their name suggests, an adjustable keyboard tray under desk allows you to modify its position, be it the height, swivel or tilt. This way, you can be comfortable while using your keyboard, regardless of your current position. It may look like a simple item, but it is indeed useful and can help you reduce the exhaustion you feel on a daily basis after finishing your obligations.
Benefits of using an adjustable keyboard and mouse stand
Using the Mount-It adjustable keyboard mouse platform with wrist rest pad comes with a set of advantages and benefits. If you're trying to make your current workstation more ergonomic and comfortable, here we describe some reasons why you should consider acquiring one. Position your keyboard and mouse correctly: Not all desks are suitable for comfortable office work due to their height. Typically, desks tend to be between 29 and 30 inches tall, which is not an appropriate height for most people. The result is a workstation with a keyboard and mouse that are too tall to reach, leading to wrist pain. This problem can be quickly solved with an adjustable keyboard tray under the desk. You will be able to modify the height, making sure it matches your body proportions. This could be especially helpful for people below the average height. Reduce the tension on your wrists: While we type, we typically put our hands on the desk in a positive position and continue like that for several hours. However, it's possible to reduce the stress your wrists feel while you're typing if the desk and mouse were placed in a way that allowed you to use your hands in a neutral position. Having a neutral position while you're typing will reduce the risk of injury while you're typing, as well as prevent conditions like carpal tunnel syndrome and cubital tunnel syndrome.
An adjustable keyboard tray under desk keeps your workstation organized: If you keep your desk and mouse on your desk, you will have significantly less space. Even organized people often find trouble trying to fit everything they want on their desk, but that's not a problem with the Mount-It! keyboard tray. Adding this adjustable keyboard tray to your desk will help you free some space on that surface, allowing you to keep it more organized and cleaner than ever. It can be especially helpful for you if you often have to do paperwork. Maintain your arms away from the desk's edge: Without a wrist rest, you're likely to put your keyboards as far away as possible so you can place a considerable part of your arms supported on the surface in an attempt to feel more comfortable. However, doing this can be exhausting, and we'll eventually drop our arms. As a result, the desk's hard edge will push into your forearms, which can cause discomfort and pain after a while. If you decide to add a desk drawer keyboard tray to your workstation, you won't feel the need to do this because it will be away from the desk. Furthermore, the wrist support will prevent you from placing your hands on a hard surface and eventually harming them. You'll be sitting in the proper desk posture. The Mount-It! adjustable keyboard and mouse platform with rest pad will help you feel comfy during each work session while keeping your workspace organized.
About Mount-It!
Mount-It! is a company dedicated to the manufacturing of ergonomic office solutions, including products like monitor mounts and desk drawer keyboard trays. The company is based in San Diego, California, and has been functioning for over 15 years. Thanks to Mount-It, we have access to high-quality ergo office solutions at affordable prices.