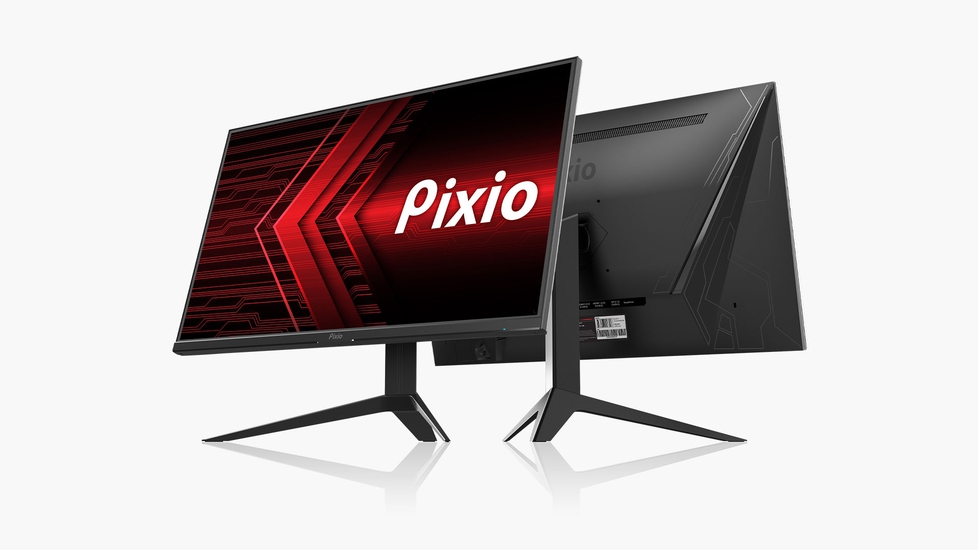 Pixio Gaming Screen PX277 Prime
15 reviews
Visit our store
Notify me when this item is available
Enter your email below. We'll let you know when it's back in stock.
Bought by 3+ Ic employees.
Sold and shipped by Pixio
Pixio Gaming Screen PX277 Prime at a glance.
The 2560 x 1440p display paired with a 165Hz refresh rate and a slim, bezel-less design provide a thoroughly modern and space-saving gaming experience.
• 27" flat glass, thin bezel display
• HDR compatible
• 165Hz refresh rate
• 1ms MPRT (response time)
• AMD FreeSync Premium and G-Sync compatible
• Wide 111% sRGB color gamut
• Eye saver mode
• VESA ready
Deep dive into specs
Features
FAQs
Specs
reviews
4.9
PX277 Prime Gaming Monitor – Enjoy the best quality while gaming
The PX277 Prime Gaming Monitor has become one of the most popular options among gamers. Its characteristics have made it the ideal PC gaming monitor, including the high image quality and the excellent performance it provides for gaming sessions. If you're trying to build your gaming setup, perhaps this Pixio monitor can help you achieve the highest quality you can imagine. Thanks to the 2560 x 1440p display and the 165Hz refresh rate, you will be able to enjoy the best gaming experience, no matter what game genre you prefer. It can be quite challenging to find a monitor that complies with all of your exigencies. However, this Pixio gaming monitor comes with certain advantages that you won't find in other monitors.
Benefits of a Flat Gaming Monitor
A gaming monitor 27-inch screen comes with multiple benefits that gamers should consider. These devices have been the traditional display option over the years for multiple reasons. Flat gaming monitors are usually lightweight, no matter how big they are. It supports each game's aspect ratio easily. Most games were designed, taking into account a flat monitor as the screen. They're usually affordable. You can find high-quality gaming monitors with a 165 Hz refresh rate at accessible prices. It will become a key piece of gaming furniture if you're trying to build a dual-monitor setup. Overall, we can say that flat monitors like the PX277 Prime Gaming Monitor are the safest option you can choose if you want to build your gaming setup or replace your current display. You won't have any visual problems with the games you try, and they're usually less bulky than other options. Thus, they can be excellent for gamers with enclosed spaces. Furthermore, you can use it pretty well along with the rest of your gaming desk accessories if you dedicate your time to other purposes besides gaming. This Pixio monitor is an excellent option for digital art or video editing as it can show you more realistic colors – therefore, you will be able to see an exact preview of what your audience will see once your work is published.
PX277 Prime Gaming Monitor - Best Experience
There is more to PX277 Prime Gaming Monitor that you should know. Its thin bezel design will help you have a space-saving, contemporary gaming experience. PX277 Prime Gaming Monitor compiles some of the best characteristics found in premium monitors, including the IPS and HDR technology for accurate display.
Image quality: Thanks to the bezel-less panel this Pixio gaming monitor includes, you will be able to experience realistic colors and the highest quality possible, regardless of the game you're playing. The IPS panel makes the monitor display an enhanced image quality that will not only be helpful during your gaming sessions but also with whatever piece of media you consume. Furthermore, the HDR technology makes the monitor display deeper, richer colors. This way, with the PX277 Prime Gaming Monitor, you can have the utmost gaming experience.
Performance: This gaming monitor 165Hz refresh rate has 1ms of response time. The AMD FreeSync technology will remove all the problems that may break the fluidity of what you're playing or watching. You can also choose to turn on or off certain features based on your preferences.
Features: The PX277 Prime Gaming Monitor compiles some of the best features found in contemporary gaming monitors. Here's what you'll enjoy if you choose the Pixio gaming monitor for your gaming setup. The 27-inch screen has a 2560 x 1440p display. Along with the 165Hz refresh rate, you will be able to experience an accurate, fluid display gaming experience. The combination between the IPS panel, HDR and AMD FreeSync technology will make sure that you get the utmost quality regardless of the piece of media you're consuming. It has a response time of 1 ms and an aspect ratio of 16:9.
Design & Connectivity: You can connect this Pixio monitor to your gaming PC or laptop via the HDMI 2.0 (144Hz) ports. It has two HDMI ports available. However, the Display Port 1.2 (165Hz) will allow you to enjoy the real experience with it. It has one audio output available.
About Pixio
Pixio is a company dedicated to the creation of high-quality, affordable gaming monitors. With almost six years in the market, Pixio has become one of the preferred options by gamers in the eSports community worldwide.