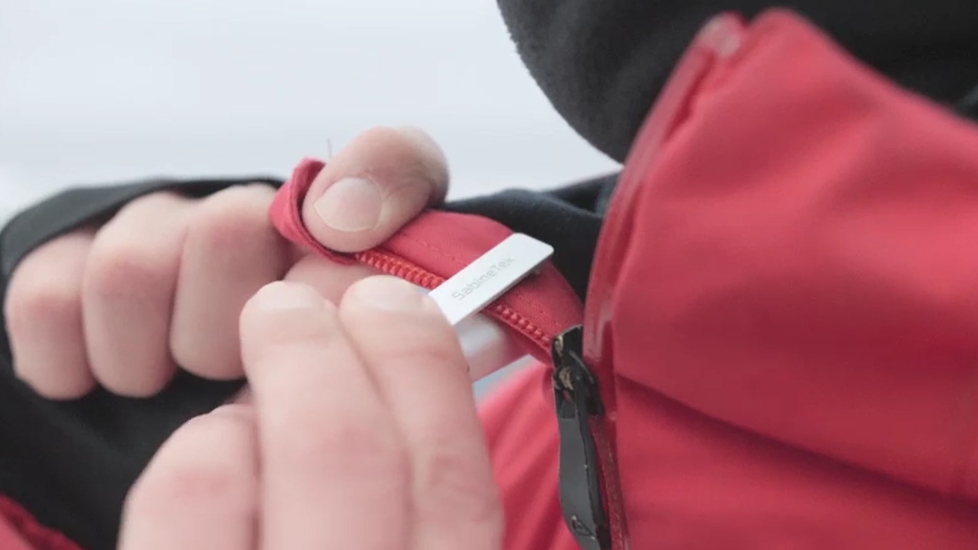 Sabinetek SmartMike+ Wireless Microphone
Buy now
Add to cart
FREE shipping Jun 04 - Jun 06. FREE 30-day returns.
Bought by 1 Cisco employee
Sold and shipped by SabineTek.
Sabinetek SmartMike+ Wireless Microphone at a glance.
Packed with innovative technologies such as full-duplex stereo CD quality audio mixing, transmission between smartphone and mic with Bluetooth technology, and high fidelity noise reduction. Say goodbye to messy and confusing cables!
• High fidelity sound quality
• Real-time mixing & monitoring
• 15g super light
• 4 noise reduction levels
• 20Hz - 20KHz pickup
• 6-hr battery life
• 15m transmission distance
• 1-year warranty
Deep dive into specs
The smallest true stereo wireless microphone.
TINY BUT MIGHTY
Powerfully compact.
Only 14 grams. SmartMike+ is the world's first True Wireless Stereo Bluetooth microphone with CD quality sound pickup. It's also the world's 1st TWS microphone for smartphones.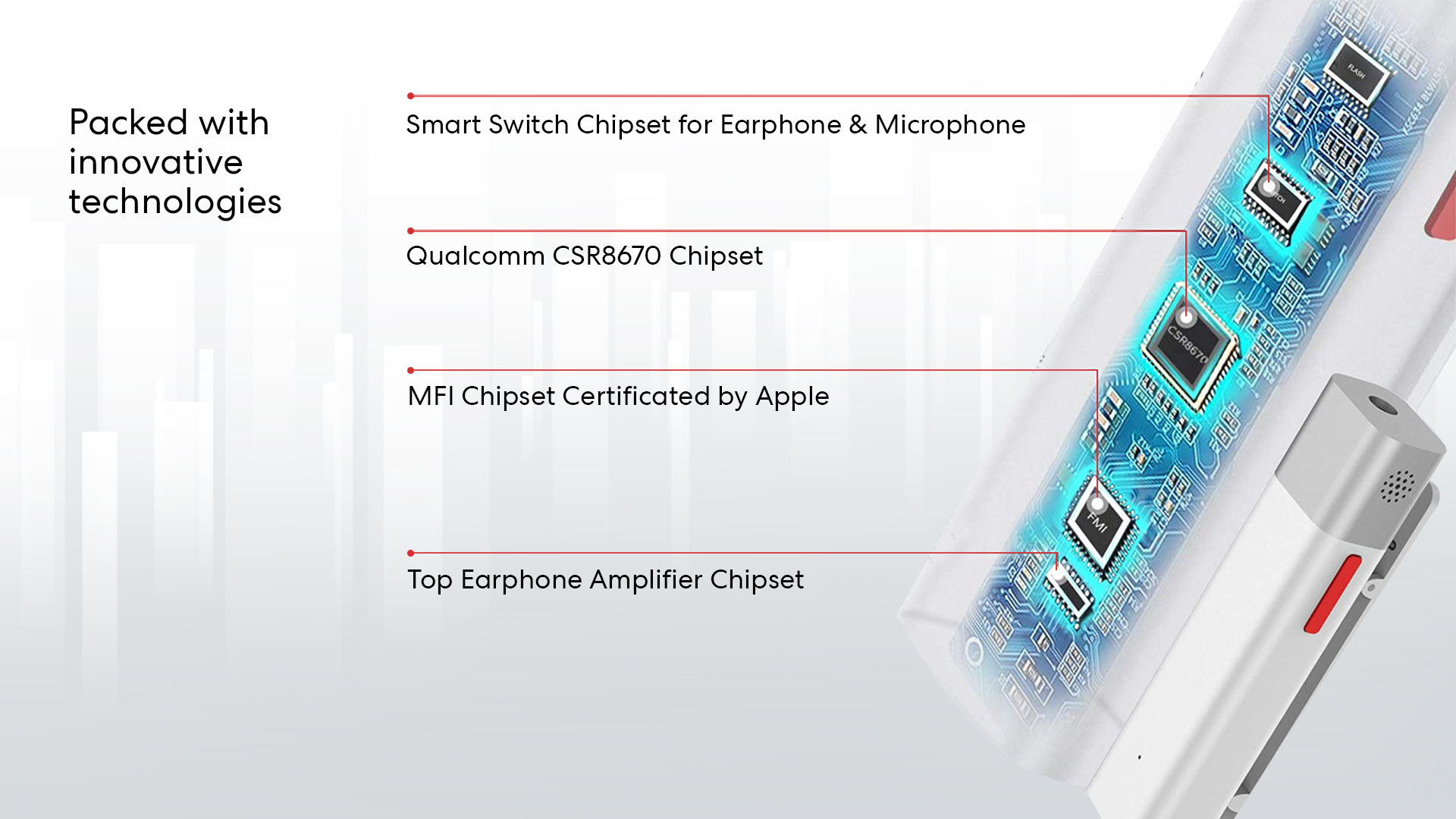 SERIOUSLY SMART APP
An app that does everything.
Tuning, audio/video record, output control speech recognition, subtitle generation, wireless mixing and more. All via the free SmartMike+ app. Only compatible with Android and iOs devices.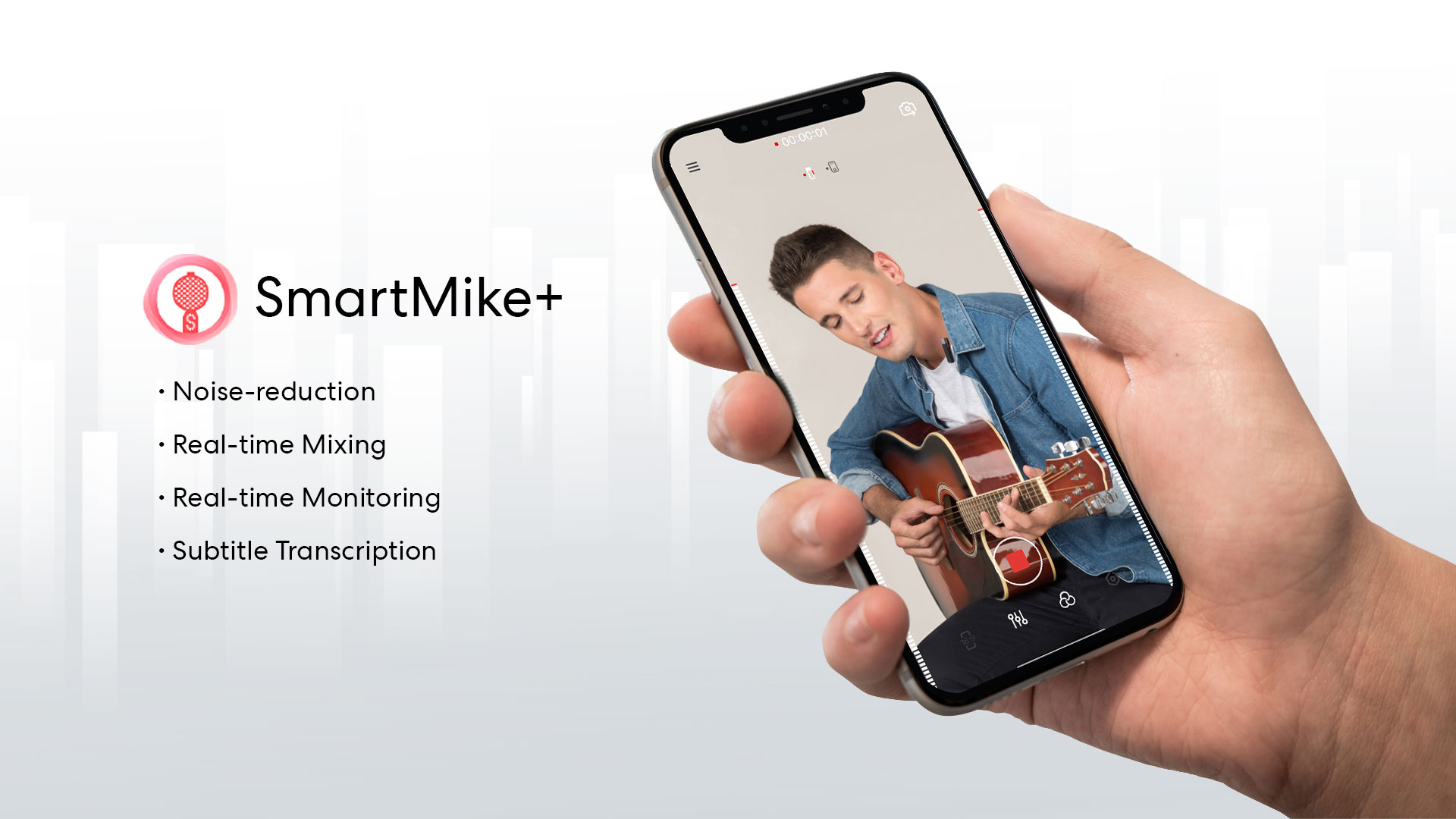 VLOGGER MODE
Real-time Monitoring
Simultaneously record and synchronize high quality audio and video using the SmartMike+ app. When filming, use the earphone plug on your mobile phone to monitor audio in real-time.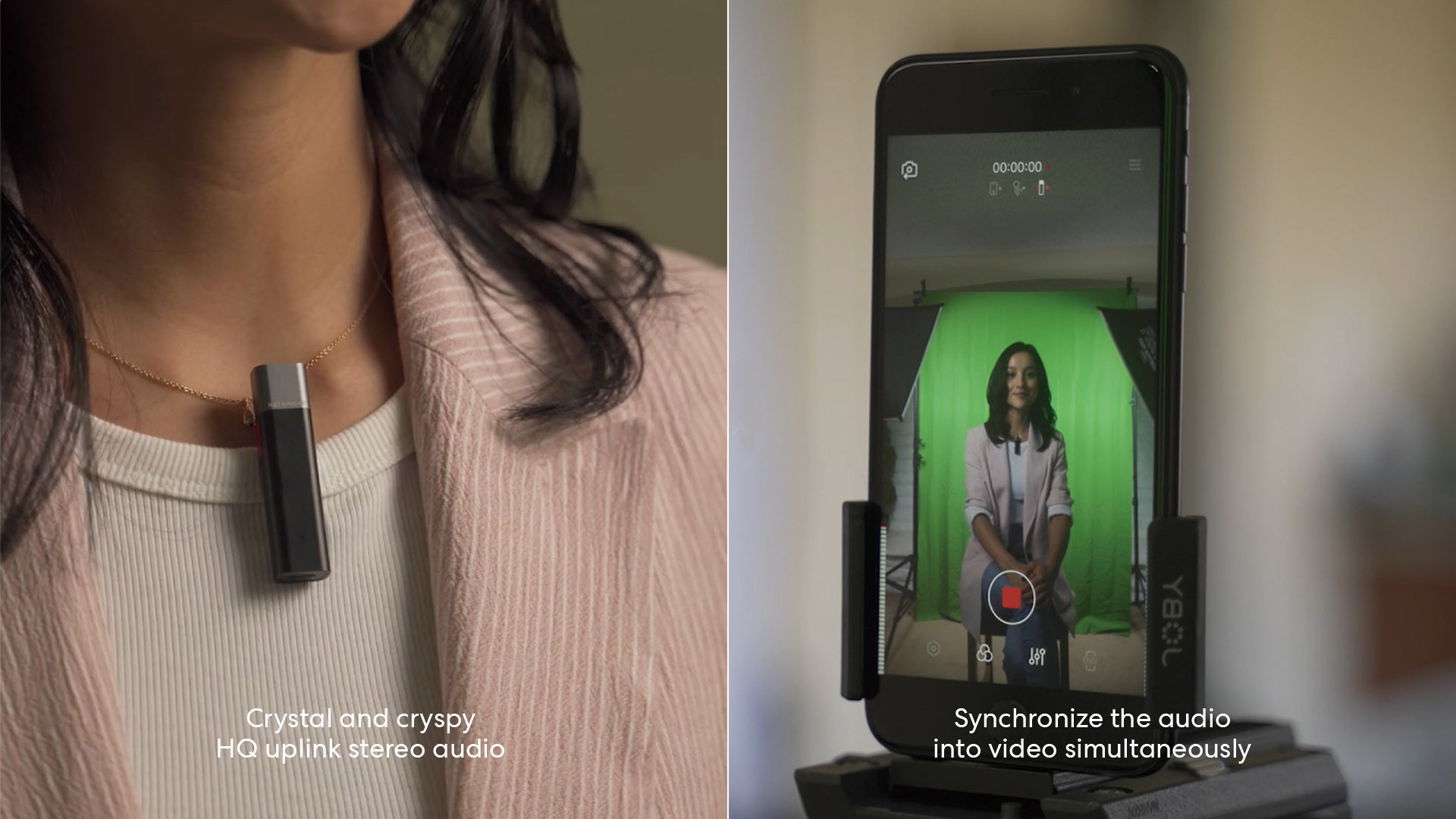 SELF-CLEANING MODE
Four Levels of Noise Reduction.
When recording in noisy environments, use the SmartMike+ app to adjust microphone gain and noise reduction grade to get crystal clear sound every time.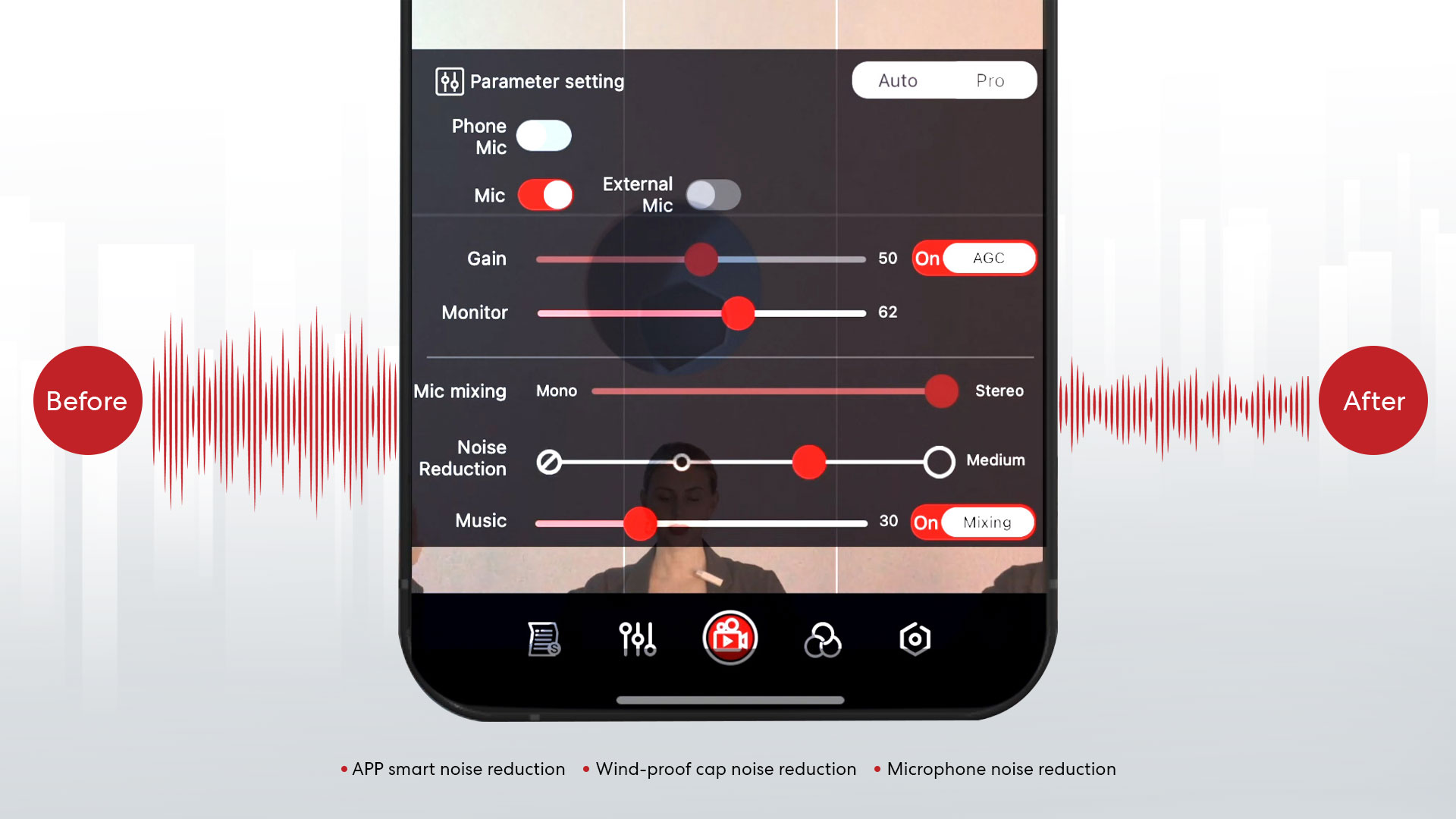 HANDY TELEPROMPTER
Never miss a line again.
The Slim Filing Cabinet features sturdy double-layer drawers. One drawer includes a lock and key for secure storage, while the other is unlocked for quick and easy access. Both drawers extend fully with a smooth ball bearing mechanism.
AI SPEECH RECOGNITION
Let's go international.
Recognize over 120 languages and transcribe editable subtitles. Post-editing is a breeze.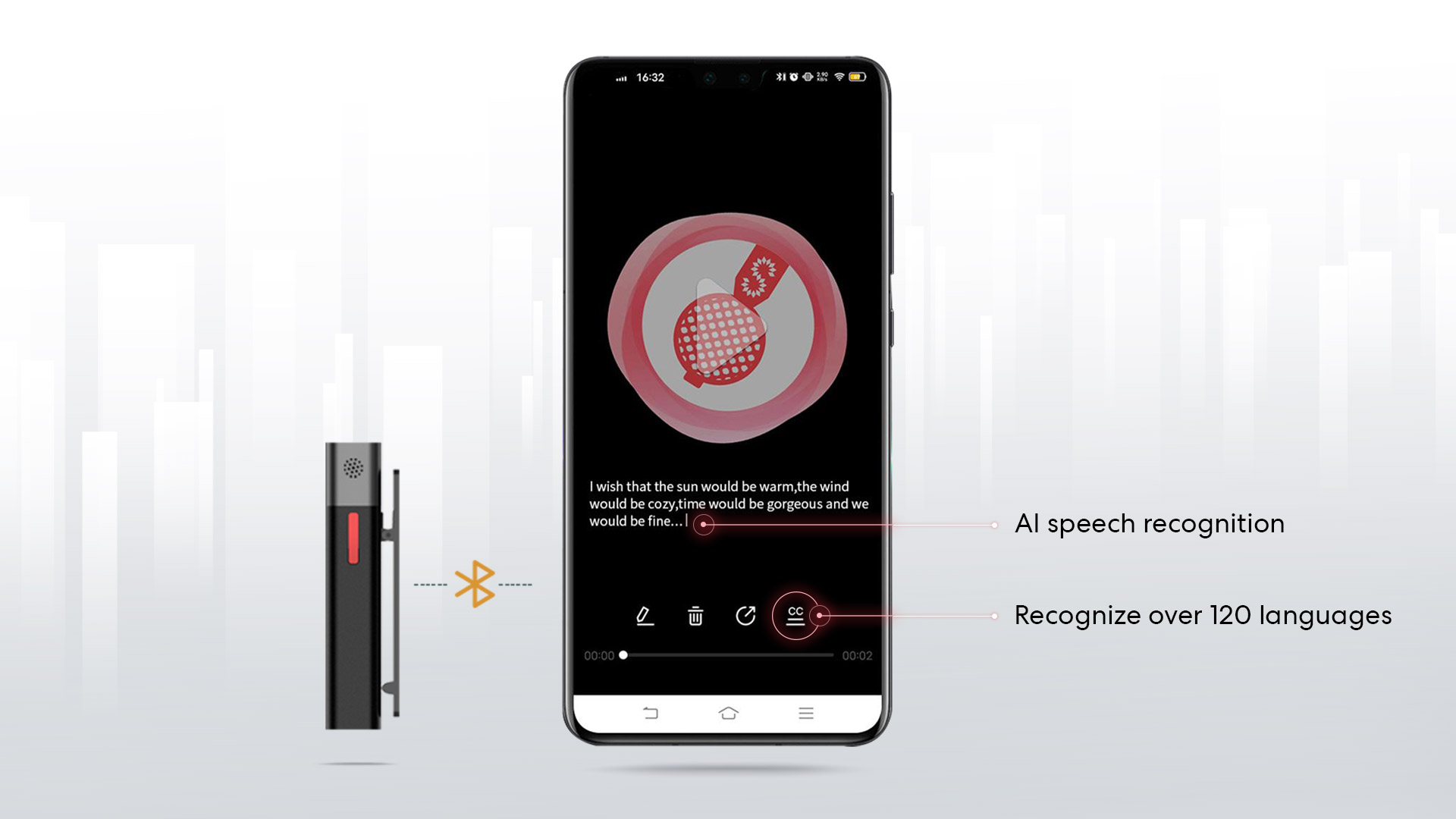 VERSATILE FUNCTIONALITY
Certified performance.
Quality certified by CE, RoHS and CNAS. Use your SmartMike+ mic for vlogging, recording podcasts, interviews, commentary, online training, and more.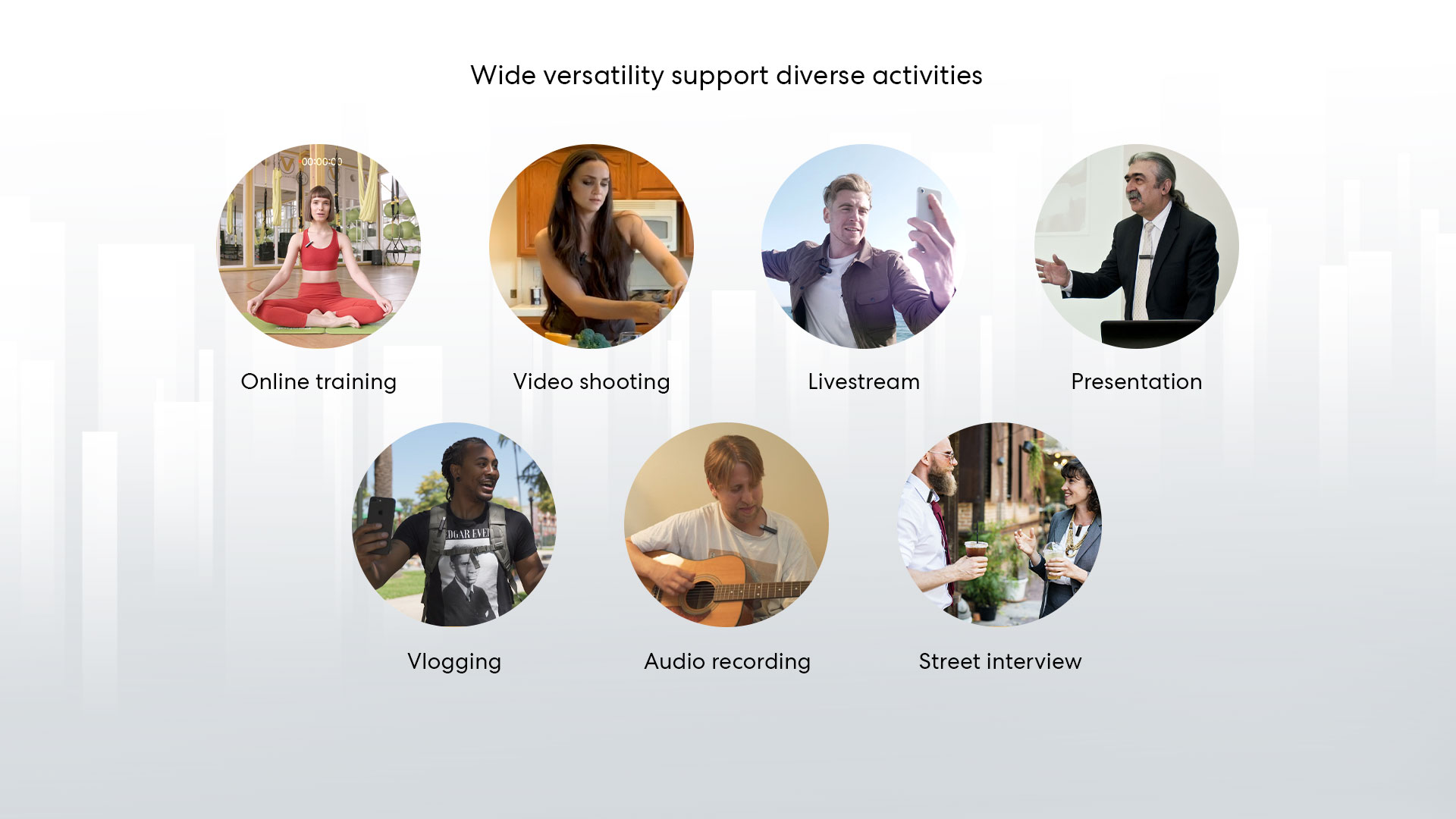 Sabinetek SmartMike+ Wireless Bluetooth Microphone: Level-up your communication
The Sabinetek SmartMike+ Wireless Bluetooth Microphone has arrived to be the perfect solution for your WFH communication. Suppose your job implies talking with different customers daily and keeping in touch with your coworkers via video conferences. In that case, this small wireless microphone will become one of the best additions to your workstation. The Sabinetek microphone has a compact size and compiles the best qualities found in premium microphones. You will find all of these features for an affordable price. If you're tired of the cable clutter and the mess in your desk, you can contribute to the organization of your workstation with this small wireless microphone.
What is a wireless Bluetooth microphone?
The Sabinetek SmartMike+ Wireless Bluetooth Microphone utilizes Bluetooth technology to function. A Bluetooth microphone is a type of wireless microphone that is compatible with most devices that support such technology. Wireless Bluetooth microphones are relatively new to the market; that's why there aren't too many options available. They are becoming must-have office accessories due to the prevalence of remote work. Even if it's hard to find a good Bluetooth microphone, the Sabinetek Microphone is one of the best options you can choose for various reasons. Before we start exploring the different features, it contains, let's learn how a wireless Bluetooth microphone works.
How does a wireless Bluetooth microphone work?
These devices have built-in transmitters that send output signals to the other device, in this case, a computer. Then, the computer decodes those signals and processes them so other people can hear you during a video conference, or the audio software you're using can detect the sound. Learning how the Sabinetek microphone works is not as complicated as it seems. It follows the same rules that regular Bluetooth connection complies to process other data; the only difference is that this time it is processing audio. Wireless Bluetooth microphones all work the same, but some variation in quality. It can be quite complicated to find a small wireless microphone that delivers the same results that a wired microphone does. However, that's not the case with the Sabinetek SmartMike+ Wireless Bluetooth Microphone. It is one of the best home office gadgets that have been created in the contemporary era.
What are the best features of the Sabinetek SmartMike+?
What we're describing here is the smallest Bluetooth microphone in the market. It looks like an accessory in your clothing and will not suppose a major disturbance while you're on a video call or recording a video, for instance. Its compact size makes it an excellent option for people that need to attend to customers and keep up with coworkers throughout the day. Still, the compact size and practical use are not the only features you will enjoy with the Sabinetek SmartMike+ Wireless Bluetooth Microphone. There's more to this productivity gadget than what meets the eye. This microphone is extremely lightweight. It only weighs 15g! You won't even notice you have it with you. It has a battery life of up to six hours. The battery has a capacity of 110 mAh, and it only needs about one hour to complete a full charge. It is extremely easy to use. Even if you've never used a wireless microphone before, you'll be familiar with how the Sabinetek microphone works in little time. You have options to block the external noise to provide clearer audio. If you are in a noisy environment, you can be sure that you won't have interference problems, be it gadget-related or environment-related. The Sabinetek SmartMike+ Wireless Bluetooth Microphone comes with a few accessories, an earphone included. Thus, you can use it for video calls, listening to music and other activities. You can connect two of the same devices together along with your smartphone to create high-quality audio pieces.
About Sabinetek
Sabinetek is a company dedicated to the creation of audio devices. The company was founded in 2014, and since then, it has become one of the leading brands in its category. It's also worth noting that Sabinetek works in association with other leading companies, such as Qualcomm. Thus, the quality of their products is more than guaranteed. This company has audio experts within its team that continue developing better technologies to improve their devices even more with each release.
FAQs
Don't see the answer to your question?
When recording, how do I mix video with background music?
Music from any music app on your smartphone can be mixed into SmartMike+ videos as background music. Choose the music you like in any music app on your smartphone and make sure to place your tracks at the start of your playlist. Then use the free SmartMike+ app to program the double-click function of your SmartMike+ microphone to start/pause background music.
What is the effective distance for wireless recording?
The effective distance is 15 meters. Your SmartMike+ microphone should be facing towards your mobile phone. This distance might change due to environmental factors such as too many surrounding Wi-Fi hotspots.
What do the light indicators on my SmartMike+ microphone mean?
There are three light indicators: OFF, for when the microphone is disconnected from the app // BLINKING, for when the microphone is successfully paired with the smartphone app // BREATHING, when the mic is currently being used to record audio.
How do I use the SmartMike+ as a remote control for recording via the app?
The power button on the SmartMike+ microphone also acts as a remote-control while recording. Press the button once (single click) to start/stop shooting/recording.
What else can I control with the SmartMike+ button?
Double Click: Adjust the function of your double-click control in the SmartMike+ app. While shooting/recording is in process, double-click to switch between front+back camera. Or you can set your double-click to start/pause background music playing from any background music app on your smartphone.
Can I use the SmartMike+ to take calls?
Yes! First connect your earbud to your SmartMike+. Then simply press the power button once (single click) to answer or hang up a phone c
How do I know the battery level of SmartMike+?
The battery power can be viewed on your smartphone through SmartMike+ APP.