Smart Products
15 Essential Home Office Gadgets That Boost Your Employee Productivity

Autonomous
|
Sep 24, 2021
4,426 Views
Office workers normally have to work for extended periods. Because of that, they can suffer from many problems, such as back pain or stress. However, using home office gadgets can keep those issues from happening.  
When talking about high-tech office gadgets, we mean ergonomic chairs, office desks, lamps, and everything that can boost your productivity and creativity while working. Dive into this page to know 15 essential home office gadgets that can improve your work performance!  
The items listed below vary in features, design, and price. There are options for all kinds of people, so don't worry about feeling left out, we may have something for you.  
Many companies offer office furniture wholesale. There, you can find the best ergonomic chair or office desk for you. Don't miss out on any discount and try to learn what are the best ergonomics companies out there. 
Top 15 Essential Home Office Gadgets in 2022
1. Autonomous SmartDesk
Autonomous has helped many office workers worldwide. It develops many office items each year that aim to make you feel more active and comfortable at your office. Two of its flagship products are the Autonomous SmartDesk Core and SmartDesk Pro. This standing desk reduces back pain and progressively corrects your posture. It is one of the high-tech office gadgets in any workspace.
You can customize this home office gadget as much as you want. That means you can switch from standing to sitting anytime you need to. Apart from that, Autonomous offers you many custom tabletops that can make your home office look more stylish and sophisticated. If you have an Autonomous promo code, you can use it to get discount office chairs.  
Desks are some of the best office gadgets. You can use them for many things. Whether it's holding your equipment while you use it or work as a laptop stand, having a decent desk can make a difference between how you worked before and how you work with it.  
2. Autonomous ErgoChair
Following up with another Autonomous product for your home office gadgets list, we have the ErgoChair lineup. That includes the ErgoChair Pro, ErgoChair Plus, and ErgoChair Recline. These chairs share some features that aim to improve your working experience to make it a more comfortable and enjoyable one.  
Lumbar support, full adjustability, and armrests are some of the features you can find on these products. If you are an office worker, you can get into the employee purchase program to get discount ergonomic chairs. Color availability is not an issue with this lineup, so choose the design you like better.  
When talking about lumbar and back support, the ErgoChair offers you the best one on the market. That's because it's fishbone design adapts to your spine's natural curvature. You can keep an ideal posture at all times while sitting on this chair, one of the cool desk gadgets. It reduces any sign of back pain.  
3. LumiCharge
Having good lighting is essential for office workers. That emphasizes if you are working at night. Not being able to see what you are doing can give you sight problems in the long term. That's the reason you need a desk lamp that can let you see everything crystal clear.  
Regardless of that, not all desk lamps are good enough to help you. The LumiCharge Lamp is the best lamp you can get on the market. You can adjust its height and even the type of lighting it provides you with.  
This home office tech also helps you save your favorite settings to use them the next time you can turn on your lamp. You can even use it during the day. That's because the illumination it gives you makes everything clearer for you. Use it to keep yourself from getting sight problems! 
4. Desk Organizers
It's useless to own a desk if you don't keep it organized. Having a disorganized work setup can distract you and significantly worsen your work performance. Getting a desk organizer can solve all your problems in no time. They help you keep everything where you need it to be at all times.  
You can use them to store your files, documents, and all the working gear you need to work. That way, you can easily pick them up when you need to use them. Some desks come with installed desk organizers, but it's never a bad idea to purchase one yourself.  
5. Calendar Desk Pad
You cannot miss this in your home office gadgets list. Working can be a stressful activity. That can make you forget important dates or miss some deadlines. Avoid those issues by getting a calendar desk pad! Doing that doesn't only help you remember important dates, but also represents an add-on to your office's aesthetic. 
Many people prefer to use a digital calendar. However, using a physical one gives you more flexibility when you need to schedule your week. There are many calendar desk pads on the market, so you can take all the time you need to choose the one you feel more comfortable with.  
6. Air Purifier
Dust and other contaminating agents can significantly affect your health. Working at a place with a lot of dust can make you catch some allergies and all kinds of viruses. Many offices tend to be filled with dust if you use a lot of equipment to work.  
The best way to get rid of that problem is by getting an air purifier. This best office gadget cleans the air and eliminates any contaminating agent in the place. Some people think that buying them is useless, but that couldn't be further from reality. Get an air purifier if you want your office to be safe from dust.  
7. Dual Monitors
Dual monitors encourage multitasking and help you boost your productivity. That's because you can open several programs and apps at the same time.  
If you can keep many apps open simultaneously, you can do more things in less time. That's excellent for people who need to work on different things or who use different programs to work. Additionally, using them allows you to browse different things without closing any tabs or programs.  
Some people like to watch videos while taking a break or working. You can use one of your monitors to work and the other to play music or some videos. It also lets you check social media on your breaks.  
8. Portable Phone Charger
Smartphones can be a distraction from your work. However, some people need to use them to work. The problem with that is that some smartphones need to be constantly recharged. That can make you lose tons of time. You can't wait for your phone to get completely charged, so you should get a portable phone charger.  
These home office gadgets address any battery issues you have. That's because you can charge your phone while they are plugged into the portable phone charger. Remember to recharge your phone charger every night, though. You can also use power banks as a solution to this problem.  
9. Desktop Clock
Keeping track of time is not always easy. Clocks can help you know the time whenever you need it. It is one of the must have home office gadgets. Yet, this item can help you in more ways than just telling you the time. If your clock can set up an alarm, you can take a lot of advantage of it.  
People with many to-dos and deadlines can use alarms to work faster. Setting an alarm encourages you to work faster and finish everything before the alarm goes off. That boosts your productivity and can significantly increase your work performance. Don't hesitate to buy this cool desk gadget and enjoy the benefits it offers you! 
10. Office Decorations
Unlike what many people think, decorations are perfect to make you feel better while working. If you like the place where you work, your brain makes you feel more active when you go to the office. Many things can make your office appealing to you.  
Try to look for paintings, plants, and even pictures to decorate your office. Doing that helps you feel more comfortable while working. Make sure to get decorations that can fit your office's aesthetic. If you get items that look different from each other, you can make your office look worse than before. 
11. Speakers
Do you like to listen to music while working? Get some speakers for your office! You can light up the mood by playing some of the latest hits or even classical music to help you focus more on your work. There are endless possibilities when talking about music.  
Regardless of that, make sure to get speakers that have decent sound quality. Playing distracting music or playing music too loud can make you lose your focus on your work. Experts recommend playing classical music or lofi beats while working. Try all the music combinations you feel like listening to and let the music boost your creativity.  
12. Noise-Cancelling Headphones
Here is another essential home office gadget. Unlike the people who tend to buy speakers for their offices, some workers hate to hear noises while working. That's because noise and music distract them from doing their job and can even cause them a significant deal of anxiety. The best way to solve that issue is by getting noise-canceling headphones.  
Make sure to constantly check your cellphone to see if someone's calling you. Wearing these headphones makes it almost impossible for you to listen to what's happening outside. You can also invest in soundproof walls. That tends to be more expensive than headphones, though.  
13. Webcam and Desktop Microphone
With the current lockdown, many companies have decided to stop their onsite operations. Businesses can't stop working overnight, though. The best alternative they have to keep working is managing everything with online platforms and apps. Because of that, many people have work video calls every day.  
High-quality webcams are excellent for video calls. They help the other workers see you with no trouble. You also need to get a decent microphone. Unless you can't, you may need to talk throughout your online meeting. If you want people to listen to you, it's essential to get a microphone that can catch all the sounds you make. 
14. LED Lights
Lighting is fundamental for your office. You may know that by reading other options in this article. However, LED lights are different from lamps. Some LED desk lamps even allow you to change their color. By doing that, you can change the office's environment any time you want.  
This product has become popular among young people these days. That doesn't mean office workers can't use them, though. You can take as much advantage as you can of these lights. They are not that expensive, so you can get them even if you are working on a budget. 
15. Desk Tray
Getting to the end of this home office gadgets list, we have desk trays. Many people confuse this product with desk organizers. Even if they do share some characteristics, they are completely different items. Desk trays are designed to store documents and files while desk organizers store all kinds of items. 
Managing paperwork is a nuisance for most people. It's easy to lose track of what you are doing. You can always lose an important file, so there's a lot of risk to it. All those issues are solved with desk trays. Use them to organize your files in the best way possible.   
Bottom Line
Using home office gadgets can significantly improve your work performance. As you could see, there are many products available for you on the market. We recommend you analyze your priorities and decide which office accessories are best for you. Getting the correct ones represents a profitable investment in the long run.  
We understand it can be a nuisance to look for the best items for you. Fortunately, you can rely on the products you read in this article and use them to boost your productivity. Check out our website if you want to know more things about ergonomics and office products!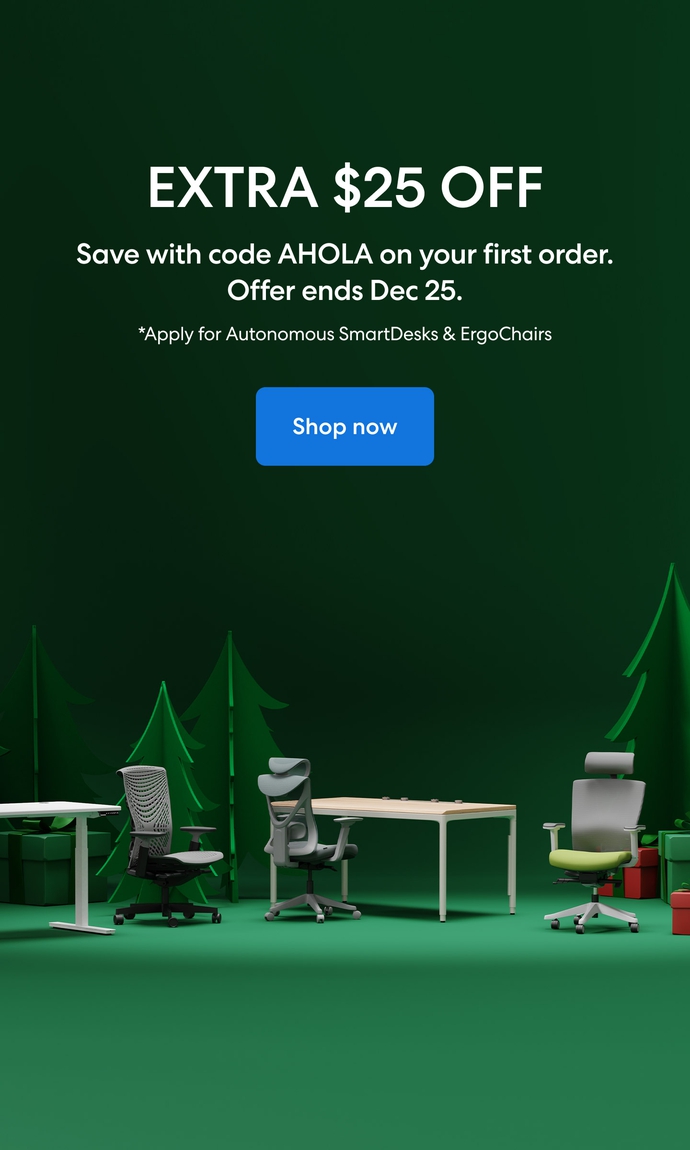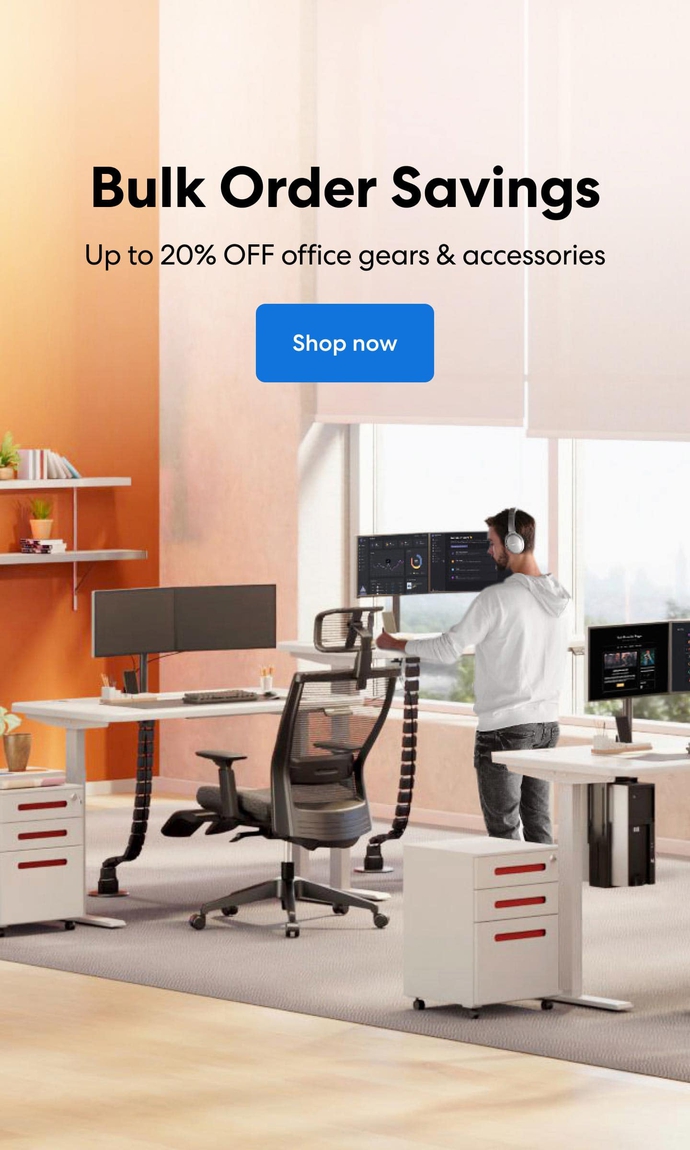 Subcribe newsletter and get $100 OFF.
Receive product updates, special offers, ergo tips, and inspiration form our team.