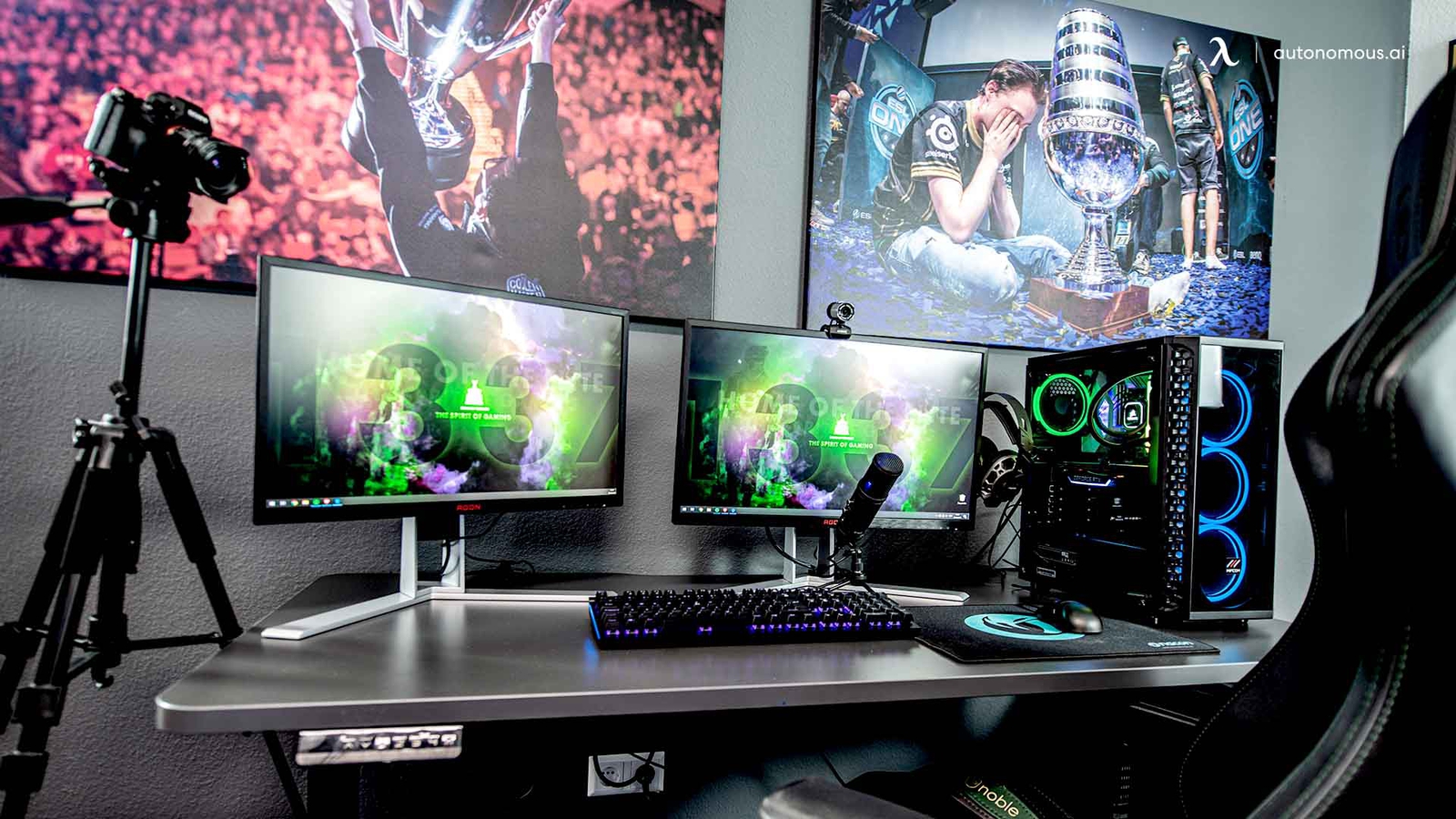 Workplace Inspiration
20 Best Streaming Desk Setup Ideas for Streamers

Autonomous
|
Feb 21, 2021
21,906 Views
Streaming continues to gain popularity as time goes on. Based on the current trend, one can only imagine that the industry is only going to grow from strength to strength. A part of being a successful streamer is having the right streaming desk setup to provide adequate entertainment to your audience. 
If you've ever seen professional streamers, such as Ninja, you may find yourself lost in the sheer number of different working parts that seem to yield that high production quality that they have. Everyone has a different opinion of what the streaming room setup may be, which can create doubt about how to achieve it.
Beginners often seek guidance on setup and streaming PCs after they have obtained their first PC. Beginners will know what to include in the construction if they have a few streaming desk setup ideas. Additionally, a pleasing streamer desk design can provide the user with a sense of professionalism, making it seem like an experienced player.
Many builders and streamers look to sample streamer desk designs when upgrading their current computers. Therefore, they can satisfy the streaming needs of their subscriber base in a new and unique way. If you're a beginner or a pro, you can learn the streamer setup of professional ones and content creators.
The main things that you need to remember are comfort and quality. As the person providing the entertainment, your ergonomic affairs must be taken care of. Your chair, desk, and even the computer desk multi-monitors you use, come into play here.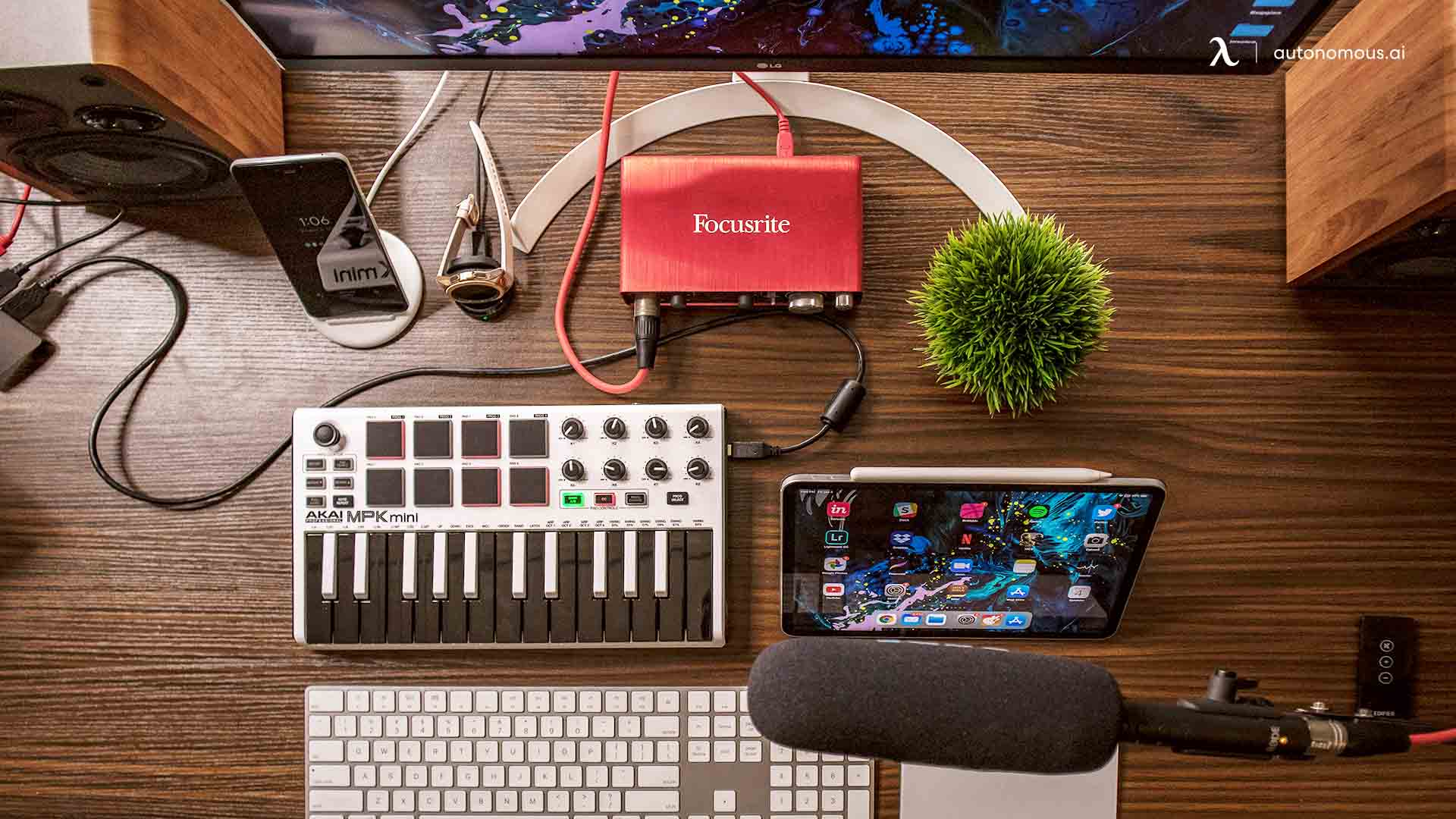 Below is a look at 20 elements that can make a tremendous difference in your streamer desk setup. As independent items, some of them may seem not to be that big a deal, but bringing it all together makes your stream stand out from the rest. Enjoy the recommendations, and happy streaming! 
20 Elements You Should Consider for Your Streaming Desk Setup
1. Use a Monitor Arm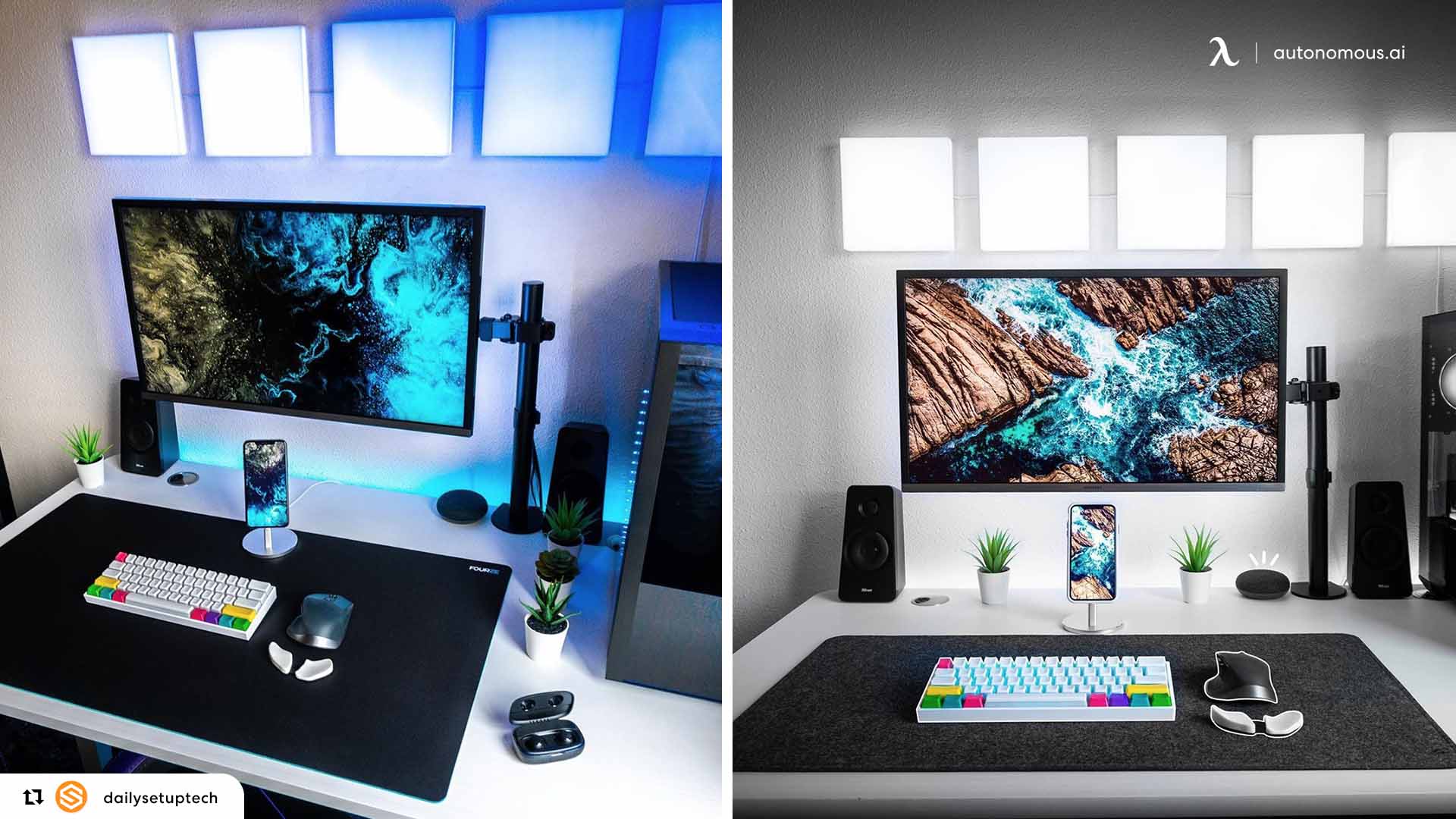 The first element of your streamer desk is a monitor arm. Even if you're not a professional, it's almost impossible to stream with a single monitor efficiently. When you have two or more, you want to be able to adjust them on demand easily. With a monitor arm, you can shift and rotate them without too much trouble.
It also helps you save space on your desk, as the monitors no longer need to sit on their designated bases. Though the items that can use the said space must have a low clearance height, it's still advantageous. 
2. Try a Camera with Built-in Lighting
Lighting is a massive part of the production value of your stream. You could hop onto Twitch or YouTube without a camera. However, research is all but conclusive on how much difference the live video feed makes to your stream's appeal. Streamers who use a microphone only don't attract much attention unless they already have a large dedicated follower base.
The camera is only a part of the equation, though, as enough lighting needs to be present for things to look smooth. A camera, such as the Razer Kiyo, which includes built-in lighting, is excellent for circumstances where there are not enough other external illumination options. 
3. Get a Short mechanical Keyboard
Your ergonomic keyboard is next on the agenda, and you can't go wrong with a mechanical one. Not only does it make for a more responsive feel, but it's also much better on your fingers. Throw in a platform that is conducive to ergonomic wrist placement, and you have a winner. The number keypad likely has no use to you. If it doesn't, consider getting a short keyboard that doesn't include it.
If nothing else, you save yourself some space, which works for a minimalist look, or if you want to have other accessories readily available.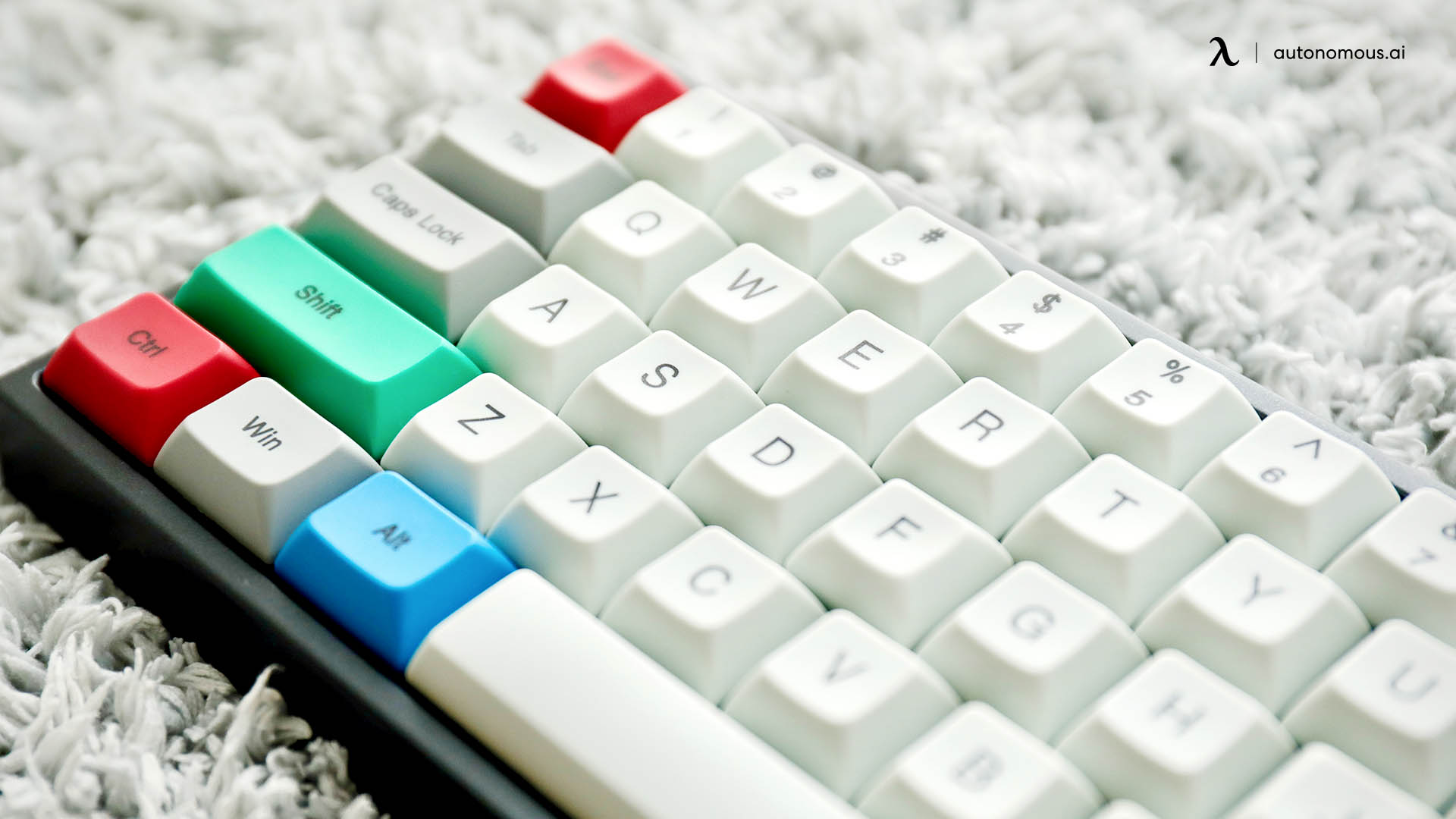 4. Get a Comfortable Ergonomic Chair
Your streaming desk setup is not complete without an ergonomic chair such as ErgoChair Pro and ErgoChair Plus present. Engaging in a passive sitting activity means that the chair you use needs to have adequate support. Headrests, lumbar support, and height adjustments account for some of the most important features an ergonomic chair should have in your streaming room setup.
What you want when you sit is comfort instead of the creation and worsening of chronic issues.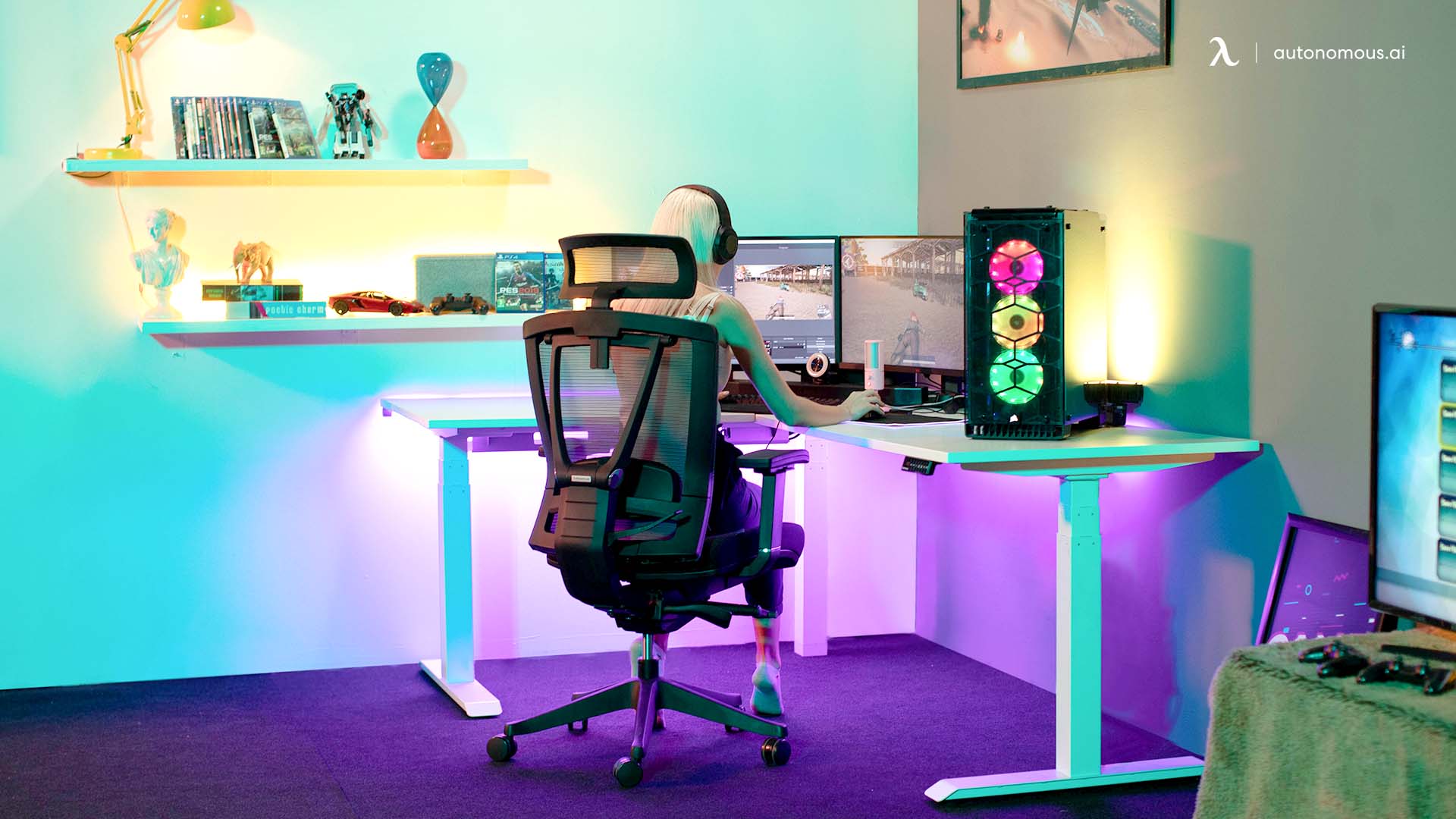 5. A Regular or L-shaped Standing Desk Is a Must
It's no surprise that the most critical part of your streaming desk setup is your desk. The Autonomous SmartDesk is the best streamer desk that you can find. When you are not using it to stream, It works well in various contexts, such as image design and even writing. While the SmartDesk Pro, a business version is great for office workers, it may be best for you to snag the SmartDesk Core version for your streaming needs.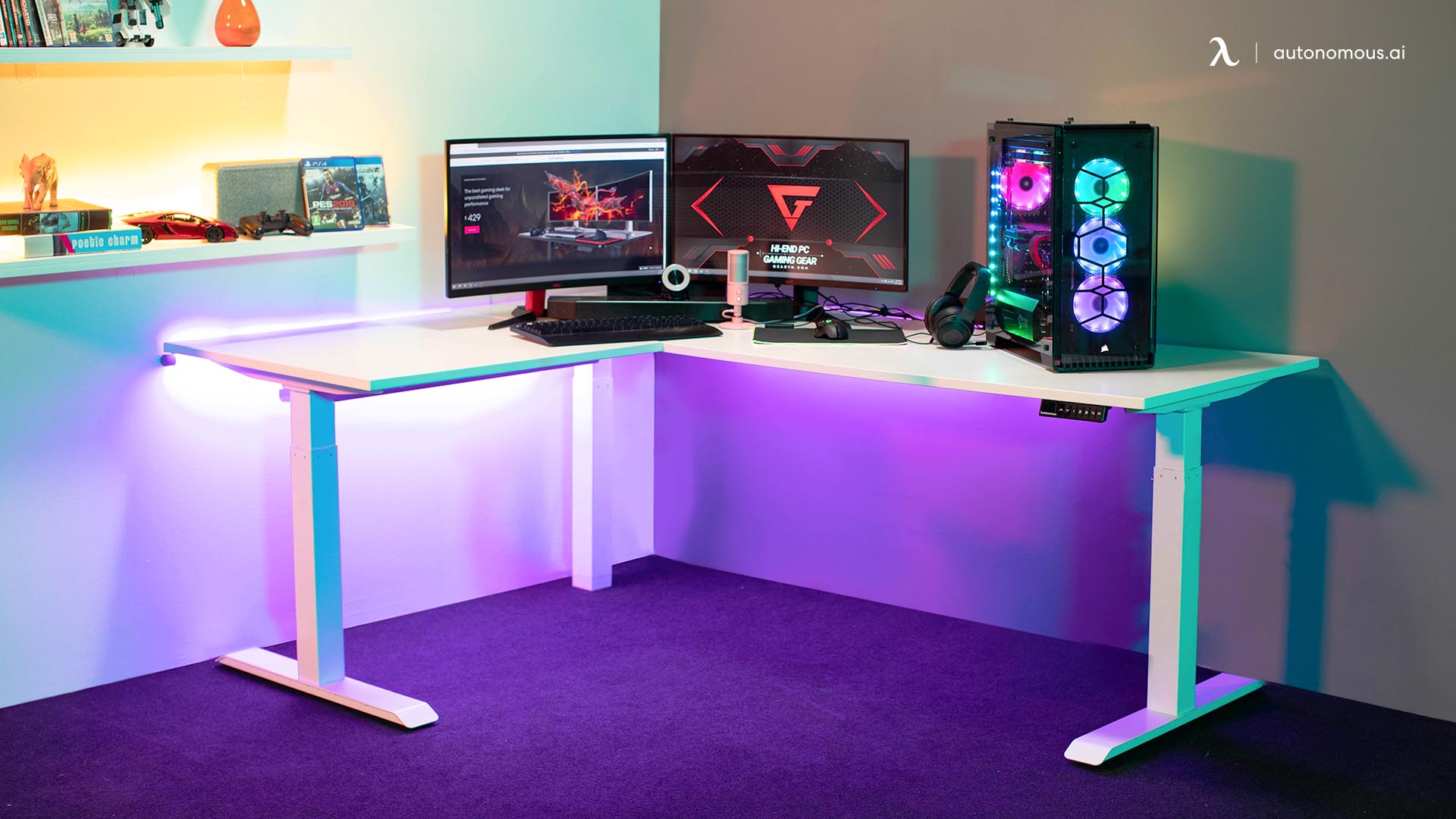 6. A Dedicated Microphone Is Your Friend
Headphones make up a big part of streaming accessories for the streamer desk, and they are usually built with an integrated microphone. If you are on a tight budget and cannot afford a dedicated microphone, then using the one on your headset is acceptable.
However, once you can buy a separate microphone, it's in your best interest to do so. Dedicated microphones tend to have better capture ranges and more effective noise cancellation. Additionally, integrated microphones have a terrible habit of picking up minimal audio from the headphone speakers.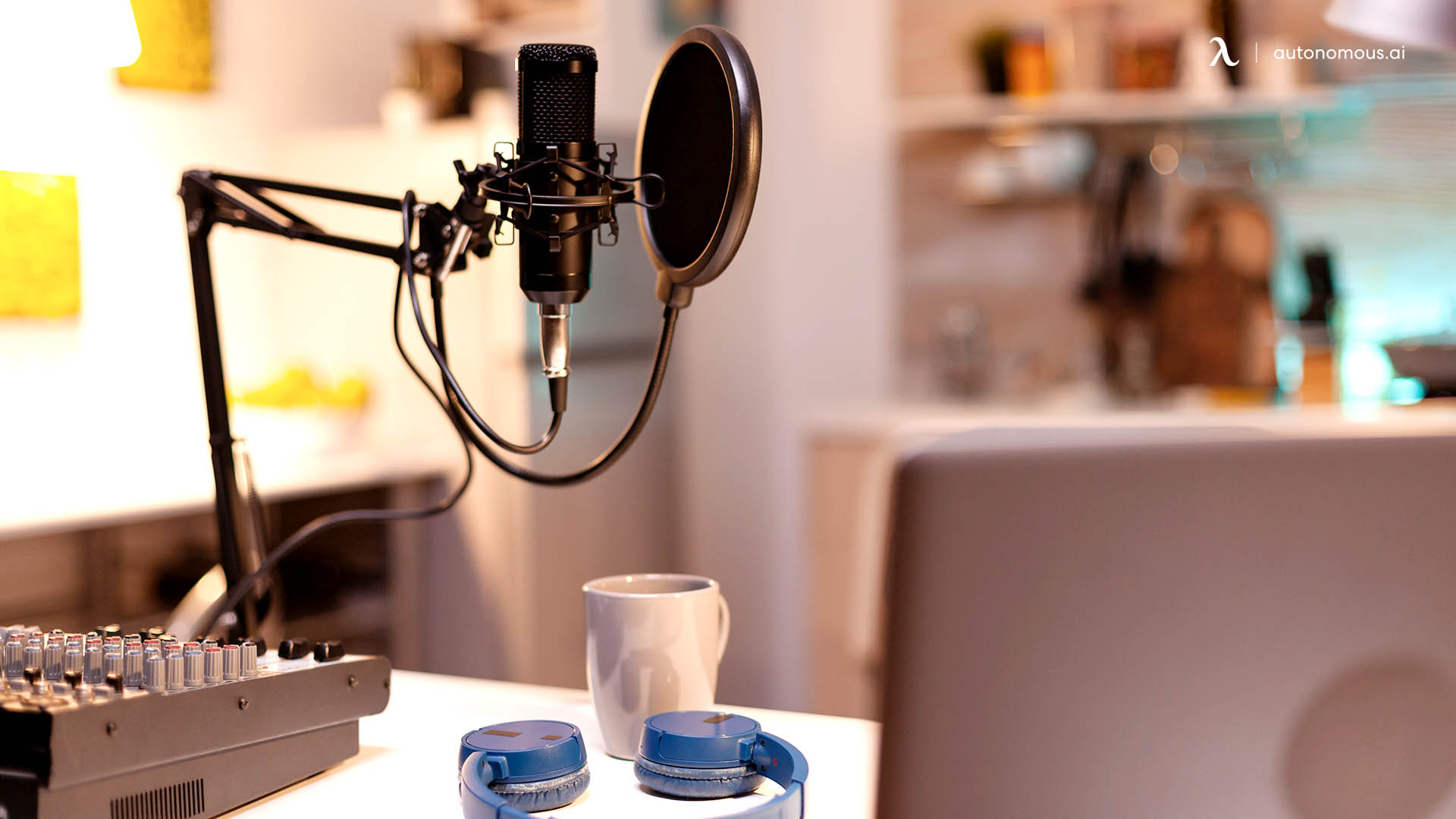 7. At Least Two Monitors Are Recommended
Monitors were touched on briefly during the monitor arm section. If you're wondering why you need multiple screens to stream, it boils down to the interactive experience that streaming should be. On one hand, you are going to be playing a video game. On the other hand, the appeal to your viewers comes from an interactive experience.
Therefore, one monitor is intended for your gameplay, while another can handle tasks, such as viewing comments, stream layout management, etc. 
8. No Wireless Peripherals
Your streaming desk setup should not make use of wireless peripherals. In most contexts, wireless technology makes things much more convenient. However, gaming is not one of them. In this context, you need the most responsive and precise controls possible. 
The travel of waves as a signal can't compete with a direct connection. If you've ever wondered why professional FPS players always opt for wired mice, that's the reason. 
9. Blue Light Glasses for the Win
Gaming requires a lot of effort on the part of your eyes. It often means that they may be absorbing a dangerous amount of blue light as you play. Once you're going to be looking at screens for a long time, you may want to consider glasses with blue light filters built-in.
This is technically not a part of your streamer desk setup, but you should think of it as coming with the territory. Even when you're enjoying your favorite video game, safety is critical.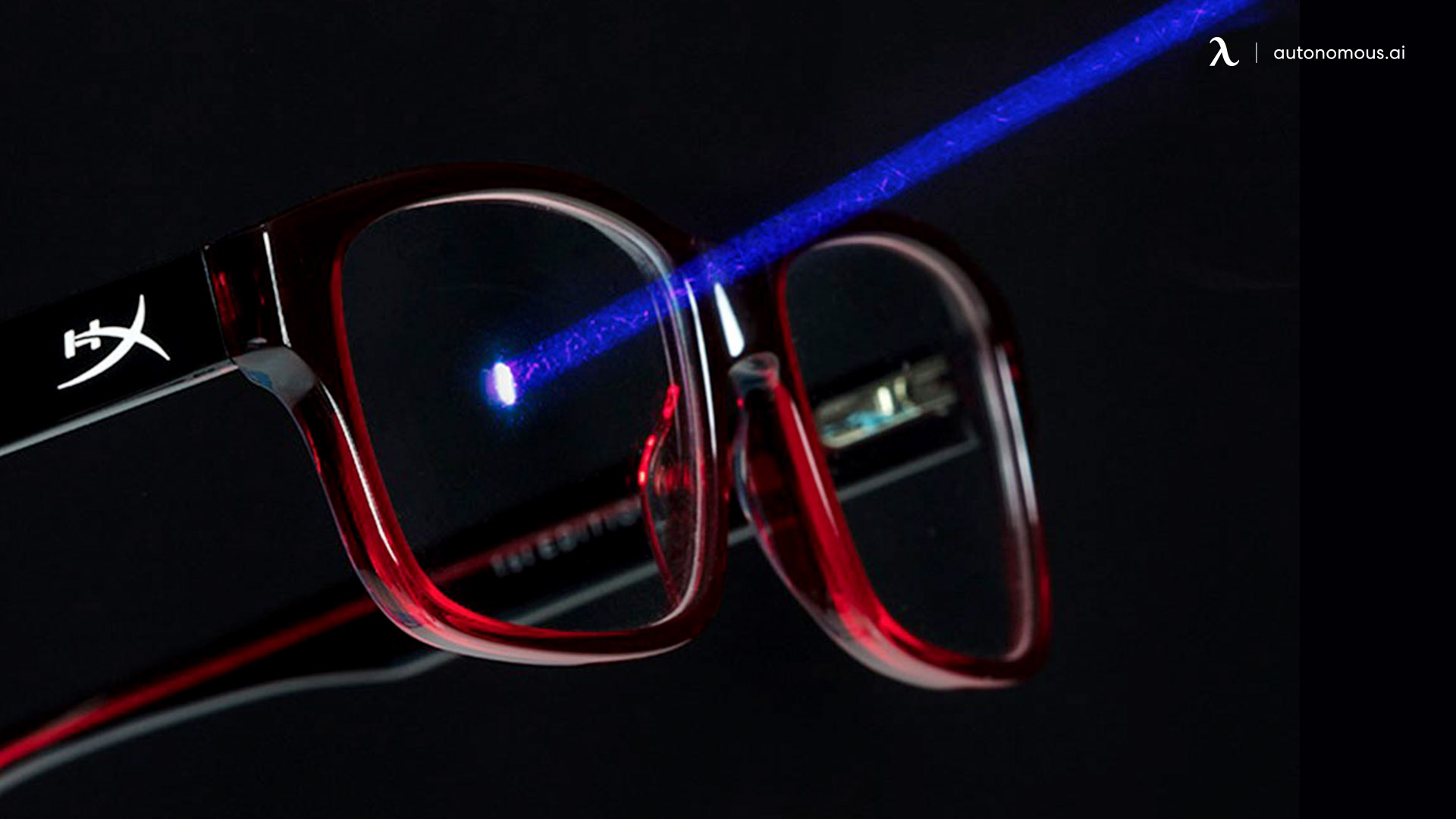 10. Keep a Headphone Stand Handy
Ironically, this is the part of your streamer desk setup that you are not going to be using during the stream. Its whole purpose is to hold your headphones when they are not in use. Using a headphone stand lends itself to better organization. A lot of streamers have problems with finding efficient places to keep their equipment between streams.
Your headphone stand makes this much easier for you, and you don't need to run the risk of tangling the device cable with other accessories. A subtle stand that compliments your desk color scheme should do the trick.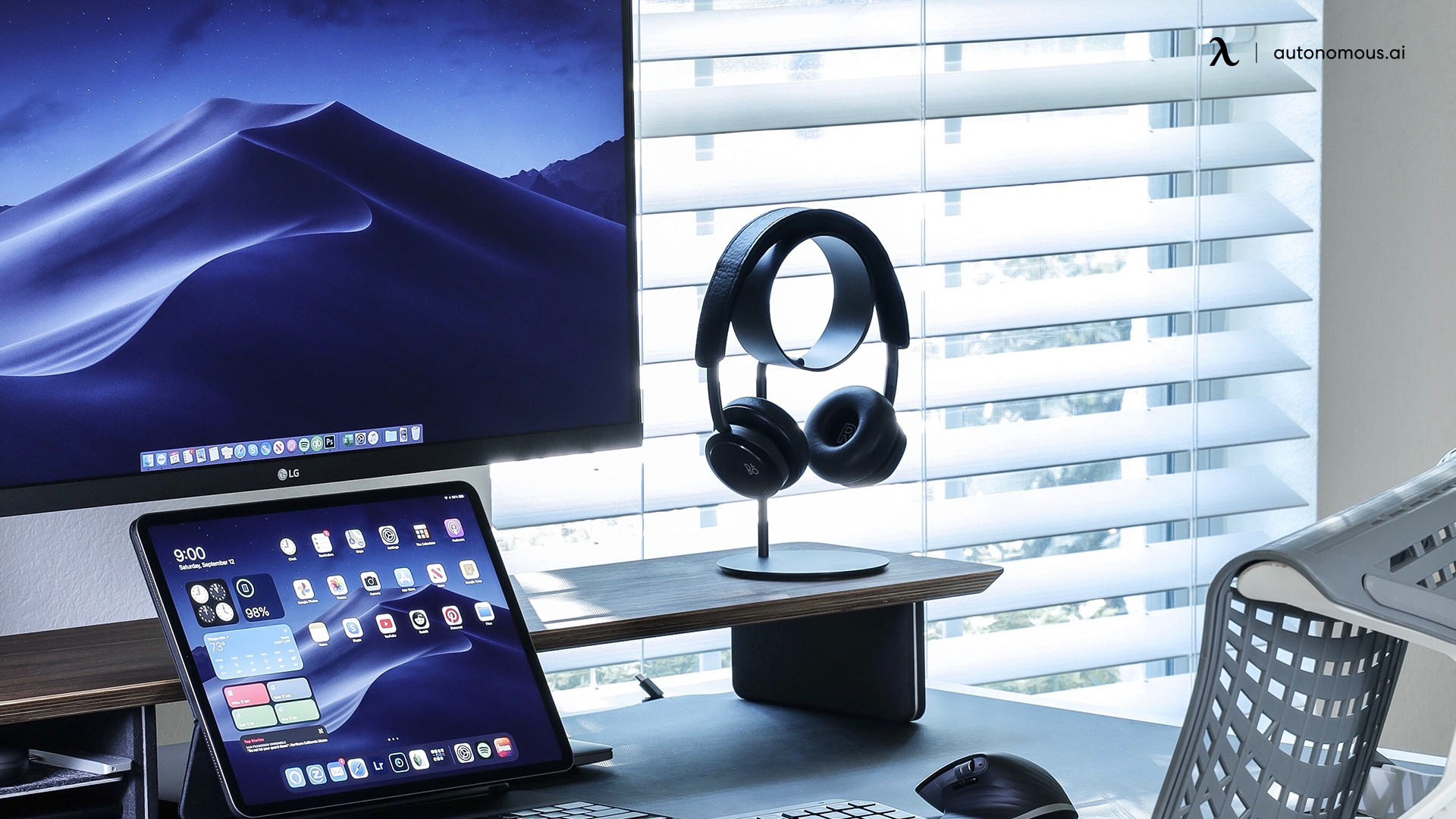 11. Try to Keep Your Microphone Arm Mostly Invisible
When you have a dedicated microphone, there must be a contemplation process to figure out how you're going to place it, so it doesn't disturb your stream too much. It may be coming from a microphone stand on the ground or mounted to your streamer desk. Either way, you don't want the microphone arm to be obstructing too much for the viewers.
Therefore, it's generally better to position the arm in a way where it is either above or below the camera's field of focus for the most part. 
12. Controller Chargers Are Mandatory
This part of your streaming desk is purely concerned with making things more efficient for you. Few things are more annoying or inconvenient than having a dead controller and no backups because the other ones you own are all dead too.
Get yourself a dedicated controller charger that you can dock the devices on. Always ensure that controllers that are not in use get all the charging that they need. Remember to check that the dock you choose to purchase stops charging the devices when their batteries are filled.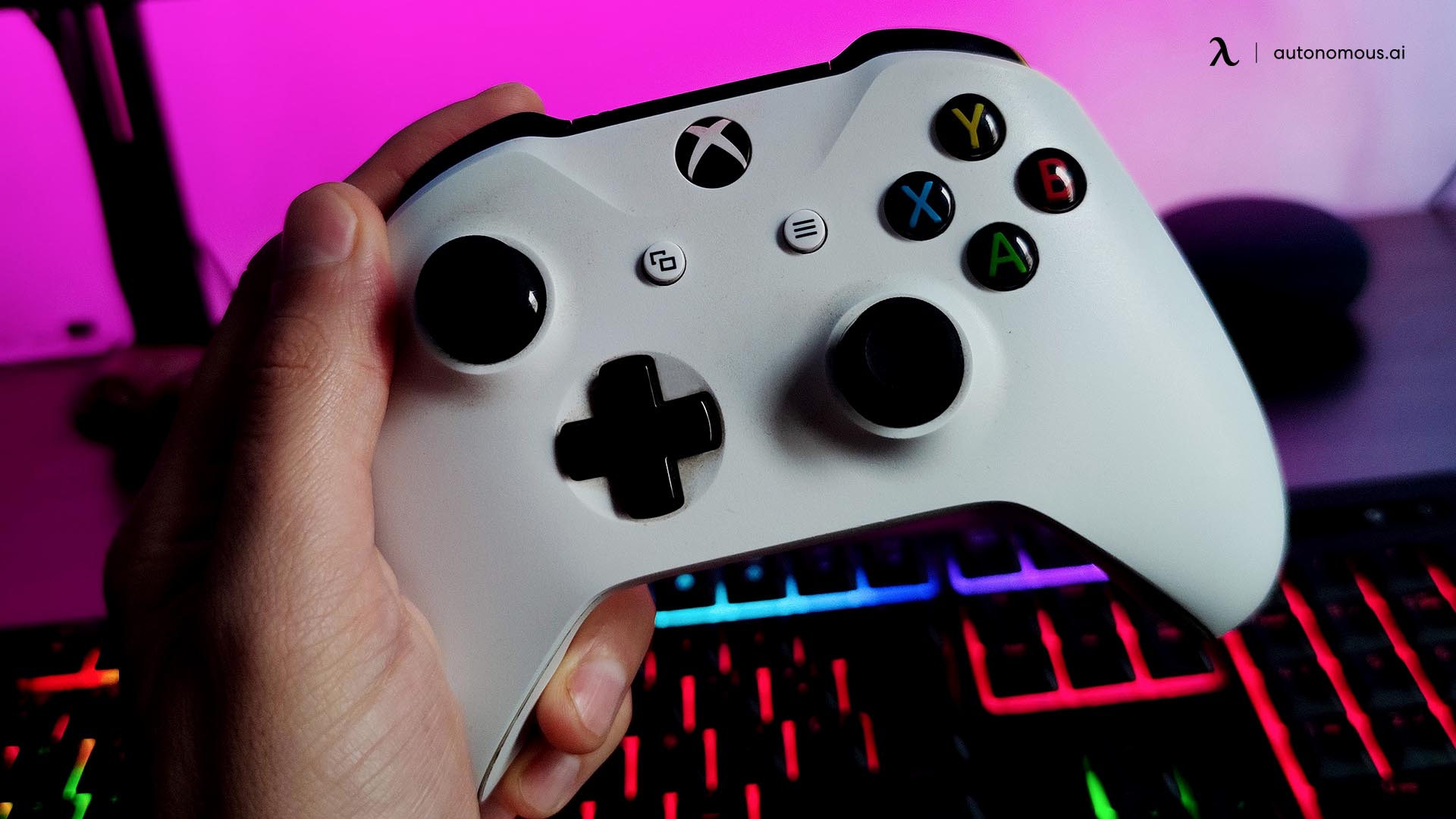 13. Don't Focus Too Much on Speakers if Streaming Is the PC's Purpose
Some people have a PC that serves a general-purpose function. There is no specific thing that it was purchased or built for. Streaming may happen to be one of the uses of such a PC. In that case, feel free to go wild with your speakers since they may be necessary for another function.
If the motivation for having this PC revolves around streamer desk, then stick to less powerful sets of speakers. Most, if not all, of the audio that comes from a stream, is going to be coming through your headphones. 
14. Implement Cable Grooves or Grommets
You can't claim to have the best streaming room setup when your cables are nothing more than a hot mess. The importance of cable management extends beyond the innards of your system unit. Your monitor, system unit extremities, peripherals, etc., all have cables that must be run effectively to minimize clutter and maintain a neat look. 
If your desk has built-in grooves or grommets, it's in your best interest to use them. Should none of these things be available by default, you are likely going to have to purchase and install one or the other. 
15. Consider Maintaining a Lighting Color Scheme
This is purely an aesthetic touch for your streaming desk setup. In some streams, you may notice that the equipment or even the room has a single color scheme going for it. Purple, for example, has become a trendy lighting color scheme for streaming setups. 
Not only do they help to give your streamer visual identity, but they also create an attractive layout for your viewers to see. Going full RGB with everything is possible, but the color combination could end up throwing things off, as well as being very distracting and confusing.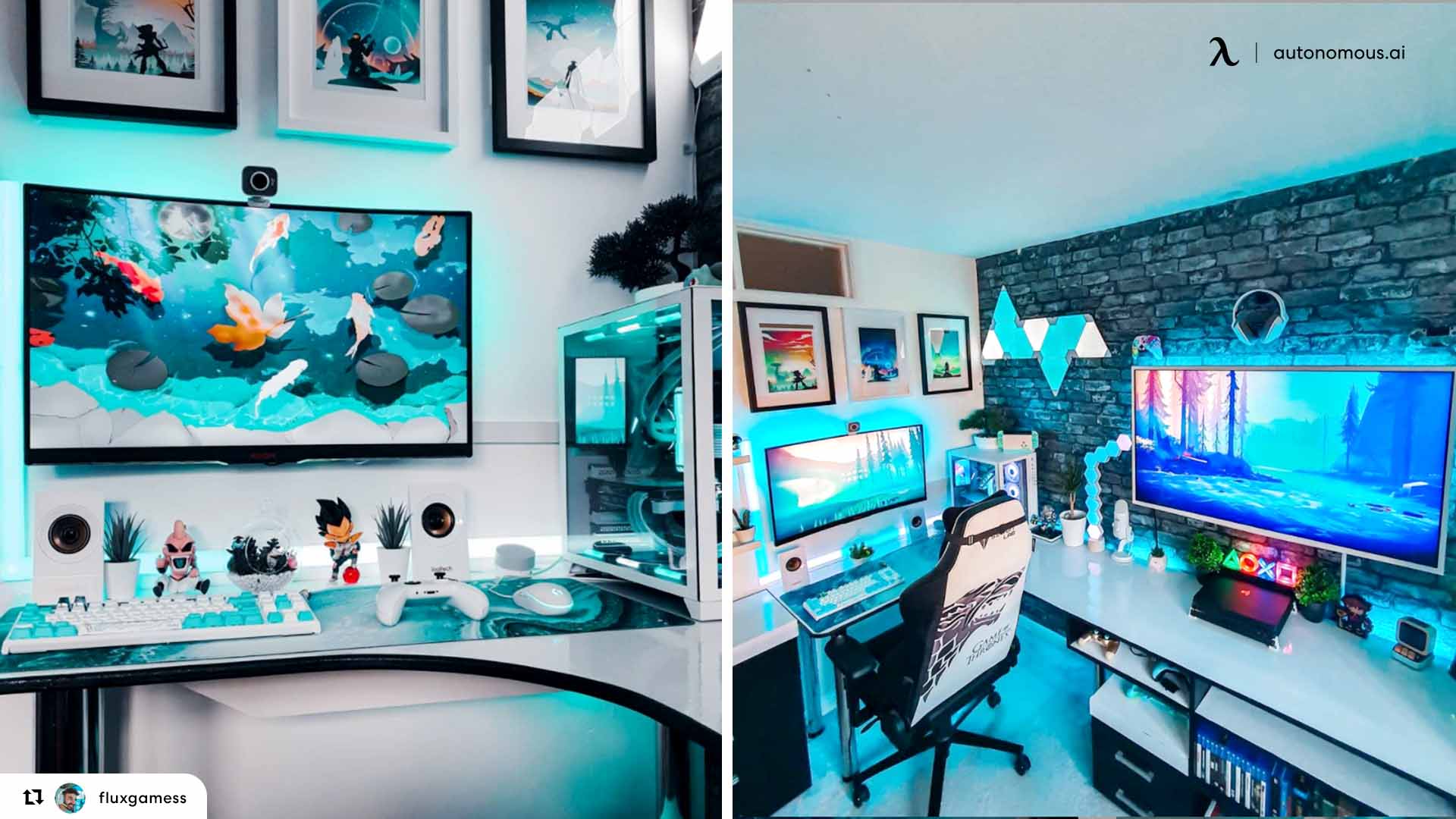 16. Have a Phone Stand Handy
Even when you're streaming, you sometimes want to check on random notifications. Alternatively, you may use your cell phone to check on comments and other alerts relevant to your stream. Wouldn't it be incredibly efficient to be able to put your phone in a resting position that is conducive to this?
If so, then get yourself a phone stand to complete your streaming desk setup. They should be available incredibly cheaply, so this one shouldn't feel like a pain to purchase. 
17. Use an Ergonomic Mouse Pad
This one should go without saying, but you need an ergonomic mouse pad as a streamer. It is a necessary ergonomic item for streaming setup ideas.It's almost inevitable that you are going to be spending long periods in a single position with limited movement. This means your wrists and fingers can take progressive damage.
Using an ergonomic mouse pad helps you to prevent that outcome from coming to pass. There is usually a raised area that supports the curve beneath your palm well, and it forces you to grip the mouse in the right manner. 
18. Work on an Accessory Drawer or Cabinet
Not all the accessories that you need for your stream are going to be conveniently located on your streamer desk. If they are, it either means your desk is overly cluttered, or it means that you don't use that many accessories.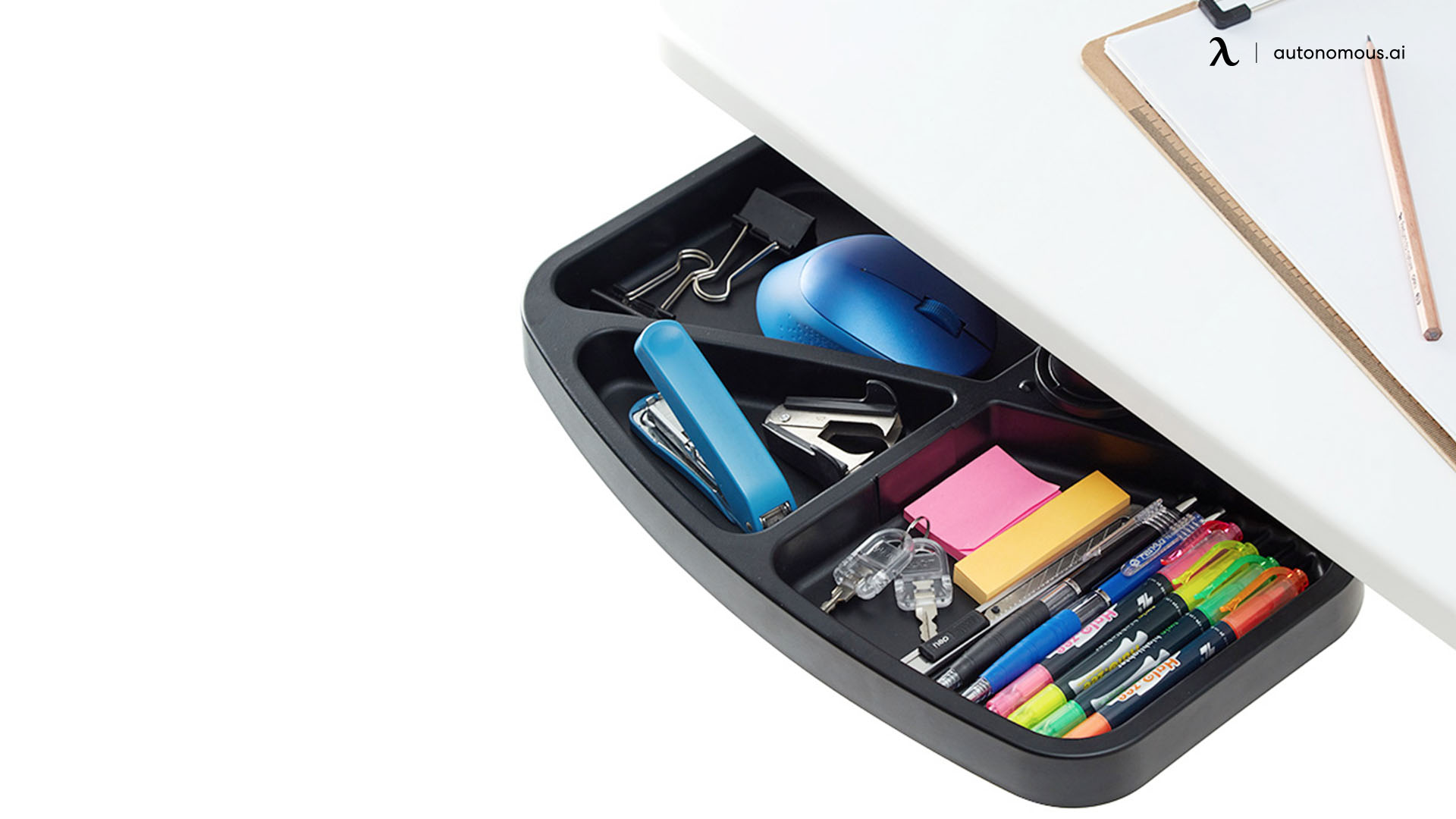 Even in the latter case, it can sometimes create frustration when things are too spread out. Correcting this means having a desk drawer or a filing cabinet. If your desk came with one, then get ready to start using it. If it didn't, then you're going to have to work on having access to one.
19. Noise-canceling Headphones Are Staples
The microphone that forms a part of your streaming desk setup shouldn't be the only noise cancellation source. In a perfect world, the headphones contribute to singling out audio for you to take in while the microphone adequately captures audio from you to send outward.
When you are playing a game, you want to hear the various sounds with as little interference as possible. Noise-canceling earphones help you in this regard, which ensures you're enjoying a complete streaming experience. 
20. Dedicate Space to Backup Controllers
Assuming you decided to get a controller charging dock from the earlier point for streamer desk, this one is already taken care of, as you can rest your controllers on the said dock. If not, remember to carve out a space that's dedicated to the placement of backup input devices. If the battery of the active one runs out, you want to reach your backups easily and without breaking the immersion of those who are viewing you.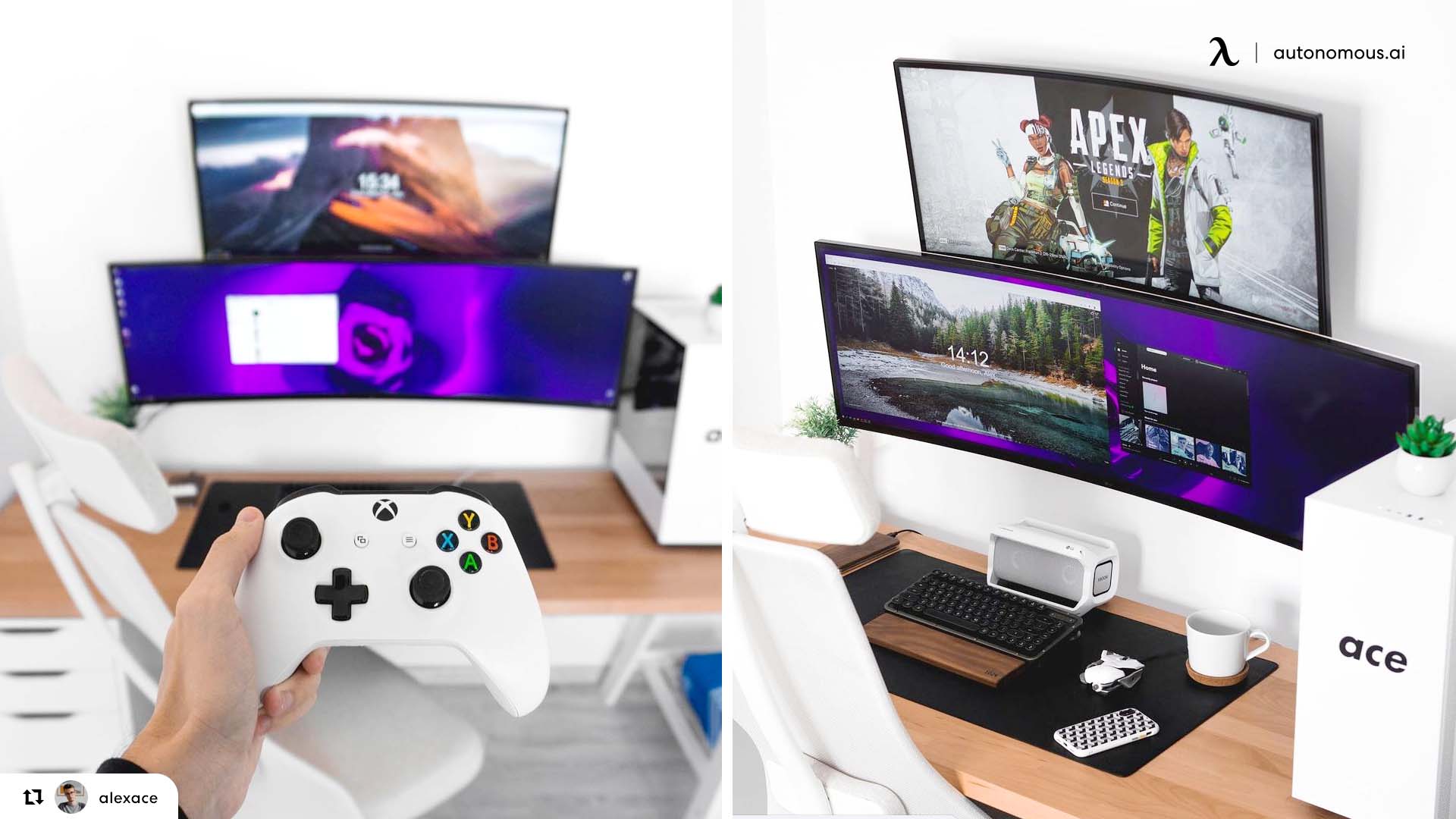 Some Interesting Streaming Room Ideas For A Streamers
There is no universally superior live streaming equipment. Choosing the right camera and microphone for streaming depends on your budget, streaming goals, and streaming room ideas. Our streaming setups guide includes three different price tiers for your reference.
All Black Setup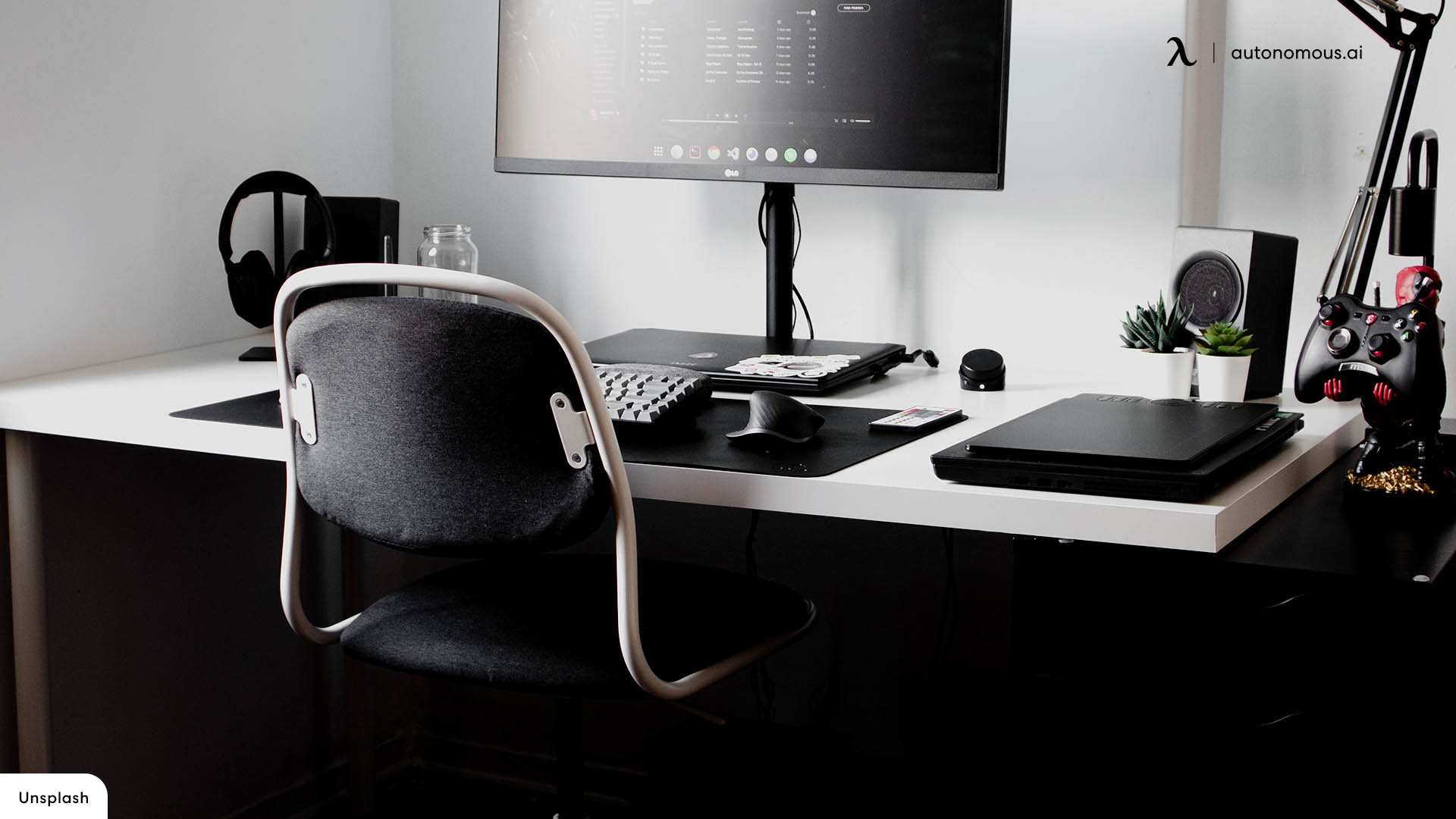 It is a very clean and minimalist dual monitor streaming room setup. It is perfect from all angles, especially the 60% keyboard, which creates a wonderful contrast. You can match it to anything. A black home office streaming desk design is timeless and simple. It includes everything from furniture to gadgets to the color of your walls.
A super sleek and stylish workspace can be achieved with an all-black setup. It is one of the good streamer ideas. Silver or white accessories go well with black technology. Consider incorporating leather or wood as elements of your desk design for a masculine aesthetic.
Utilize a grayscale computer screen saver or background to emphasize the black desk setup. Additionally, you can make an LED or screensaver more vivid using your monochromatic desk design.
Black and White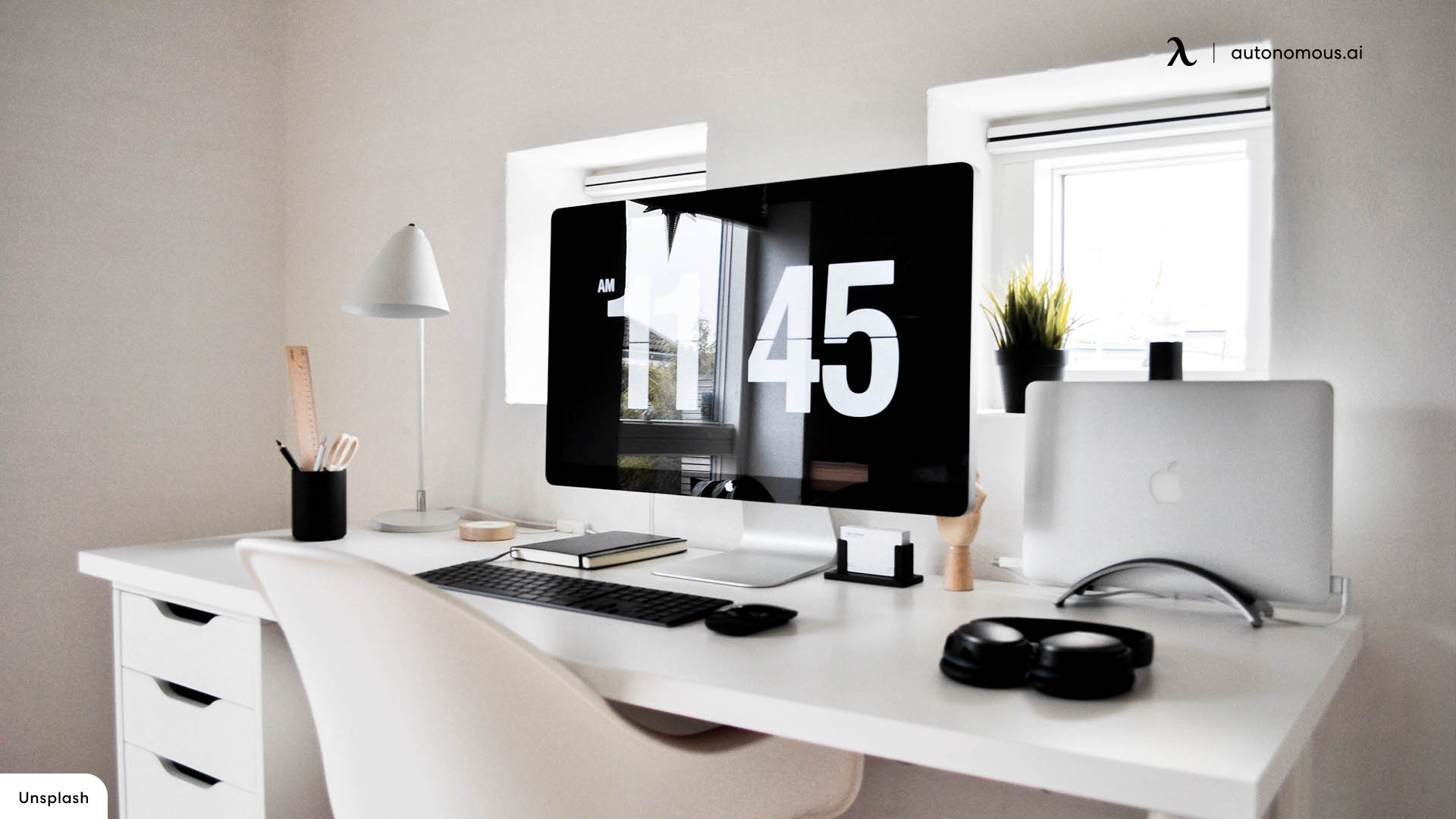 Nanoleaf Light Panels are very popular with lots of setups nowadays. These elements complement this setup's white and black aesthetic beautifully. The theme is simple, clean, and classic.
There is no need to spend a fortune on a sleek and stylish streamer setup when you have a minimalist design like this. A clean, minimalist setup creates an open and bright space, with cable management taking on a major role.
Contrasting color scheme gaming setup ideas immediately catch the eye. As a result, white logos on gear stand out more prominently, which also helps with cleanliness.
There are no RGB lights in any of the equipment, and the dynamic black and white colors immediately grab your attention. As opposed to a cluttered and untidy environment, the focus is on keeping everything in order.
Clean Wall Mounted Streaming Setup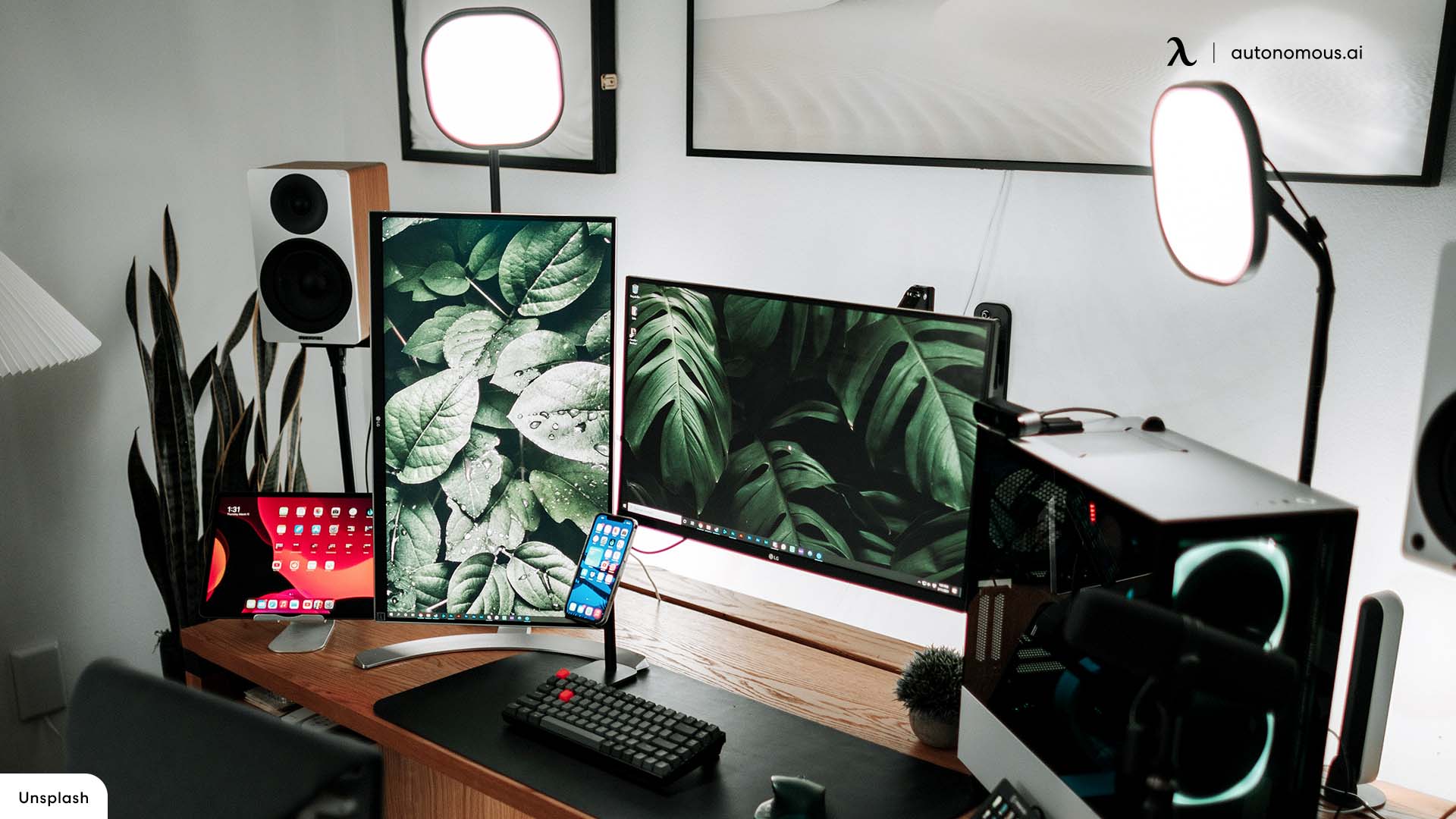 While wall mounting your computer can be challenging gaming PC setups, it can be an effective method to display your computer. Keep it dust-free by hanging it on the wall.
Make decorating a priority more than just looking good. A great place to start is with unique speakers or light fixtures. Adding classy intrigue to the space is easy with a solid wood grain or glass desktop.
A cool, calm, and collected streaming setups is easily achieved by organizing it—display decor and supplies on floating shelves. Make your workspace more accessible by adding a desktop shelf.
Sound Proof Setup
A poorly soundproofed streaming room can cause your audio quality to be compromised when you are live streaming. You can soundproof your streaming room by using soundproof panels or by covering the windows.
Streaming rooms are typically carpeted, then rugs are placed on the floor. Acoustic panels could occasionally be used to cover the ceiling of your streaming room.
RGB Setup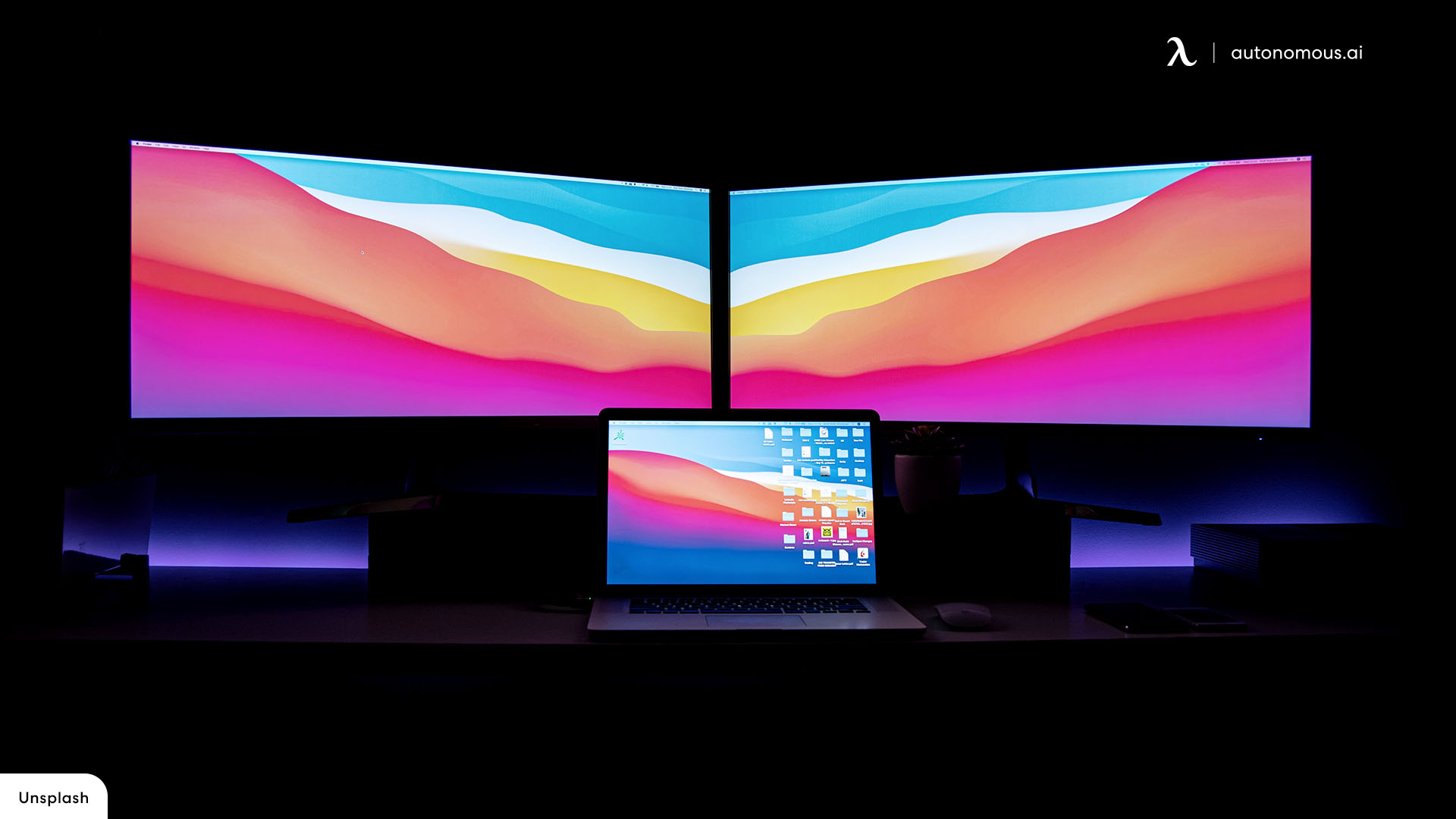 Add background ambient lights to your Twitch stream to take it to the next level. This will give your LED gaming desk a professional atmosphere. By combining the various RGB lights, you can give your background of the streaming setups many colors, be it a shelf, a bookcase, etc. It is possible to attach the LED lights above or below shelves and walls. RGB lights can be used to change the color of a wall behind you to match your stream.
Anime setup
Settle for an anime theme if you love this type of animation and want to fill your streaming setup with it. Depending on your budget, you can add anime statues from your favorite games or films and even on your headphones, mouse, and PC screen.
FAQs
1. What are good streaming setups?
Four items are needed to make a live broadcast successful: a camera, microphone, streaming software, and a stable internet connection. Aside from that, adding accessories to a live stream can improve quality without too much effort.
2. How much does a streamer setup cost?
Instead of covering up your weaknesses with overpriced gear, you should work on your streaming skills. You will likely need to spend $200 to $250 if your computer doesn't have the best specs and equipment. Once you start making money from streaming setups, you can scale to better gear once you have a $200 budget.
3. How much desk space do I need for two monitors streaming setups?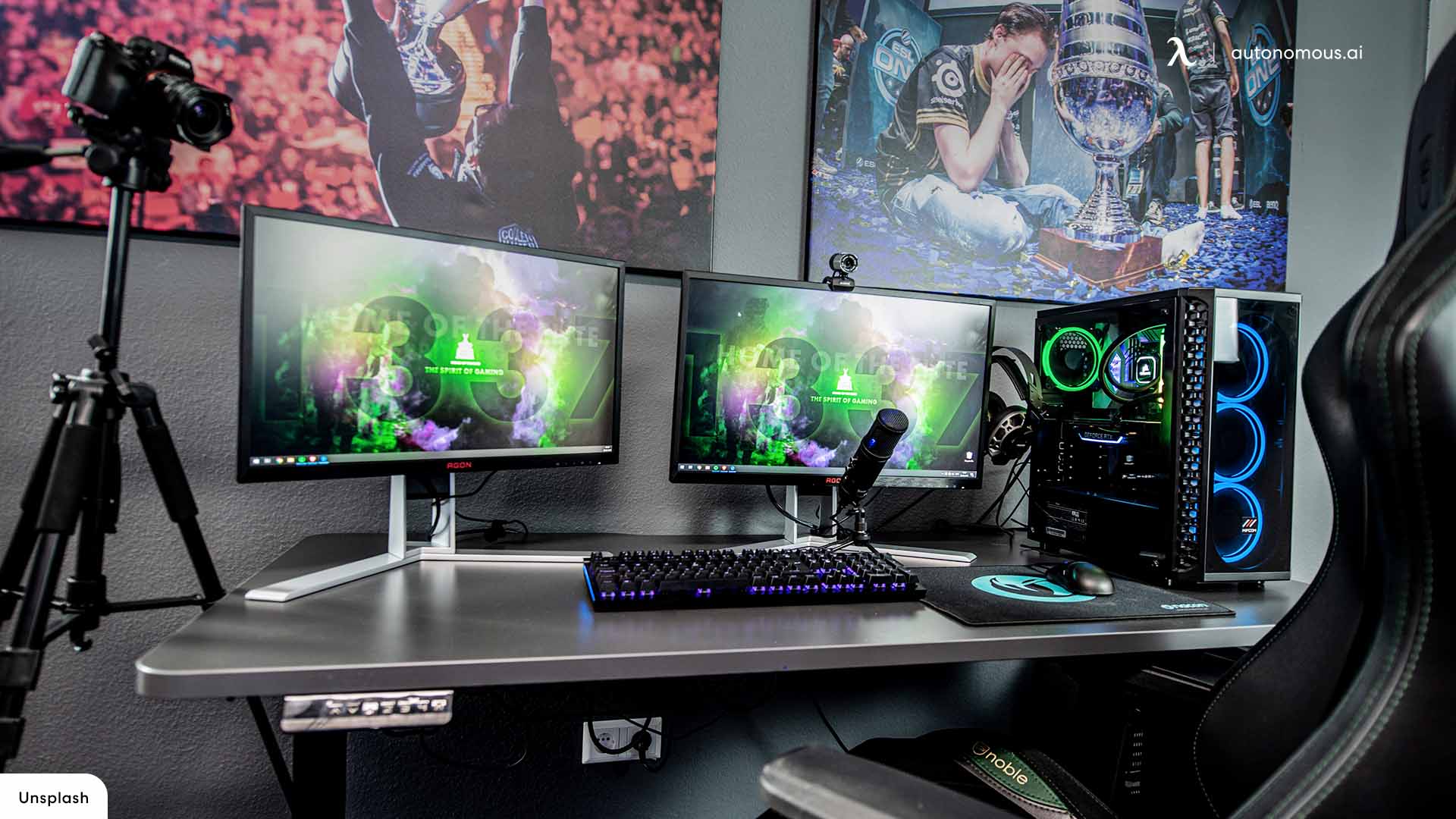 Streaming is done at your desk, so that's where your focus should be. You can find the biggest table for streaming setups if you have the budget to do so. You will stream more efficiently if you do this. You will quickly fill up the space on your streaming desk as you begin to add gaming peripherals, capture cards, streaming decks, and multiple screens. Additionally, the desk should be thin enough for multiple boom arms to support microphones, cameras, and lights.
4. What desk should pro streamers or gamers use for streaming setups?
Your desk is the centerpiece of your workspace when it comes to streaming. If you have the budget, look for the biggest table you can find. As gaming peripherals, capture cards, streaming decks, and multiple screens start to appear on your streaming desk, and the space will fill up quickly. Also, the desk should be thin enough to accommodate multiple boom arms, so your microphones, cameras, and lighting can be fixed there.
5. What is a quality streaming desk?
The quality of a streamer's desk is crucial. All of your broadcasting gear should be able to fit on this flat surface since it provides plenty of surface area for multiple monitor setups. It is important to look out for several features to make the experience as comfortable as possible. Ergonomics can be adjusted easily with adjustable legs, while headphone hooks and charging racks keep everything within easy reach.
6. Should I get an adjustable desk for streaming?
Two great desks specifically designed for streamers are the Designa and the Arozzi. When it comes to fixed desks in their price ranges, they are top of the line. All types of computer work can be done at an L-shaped gaming desk, which is now becoming more popular.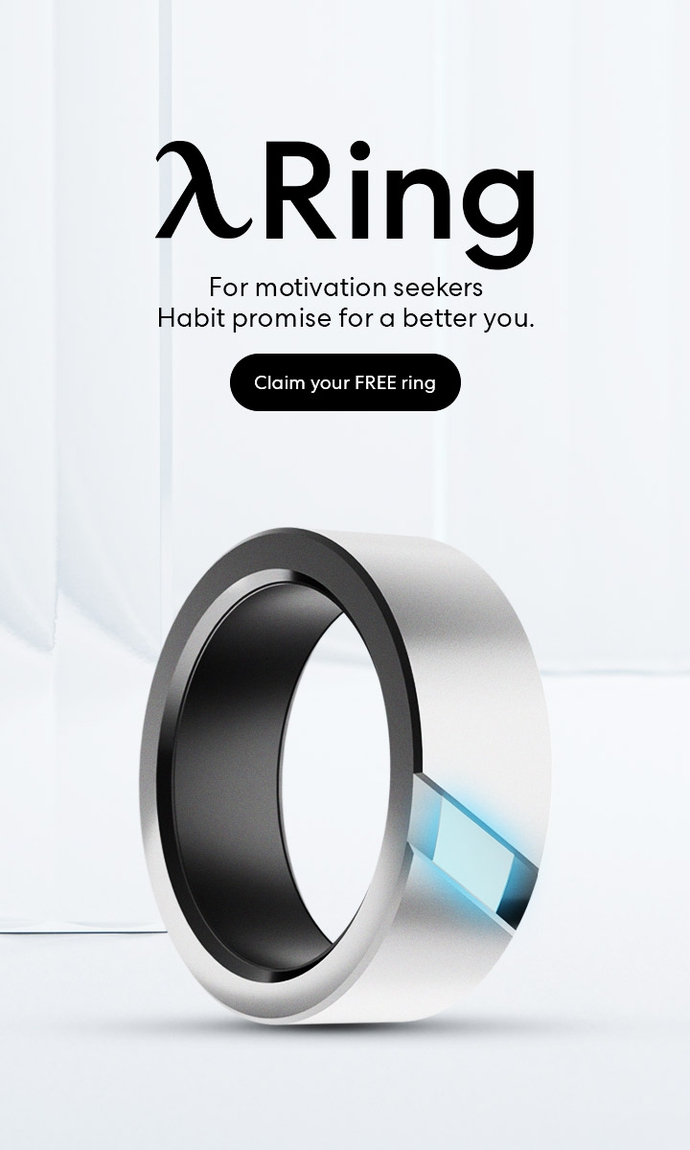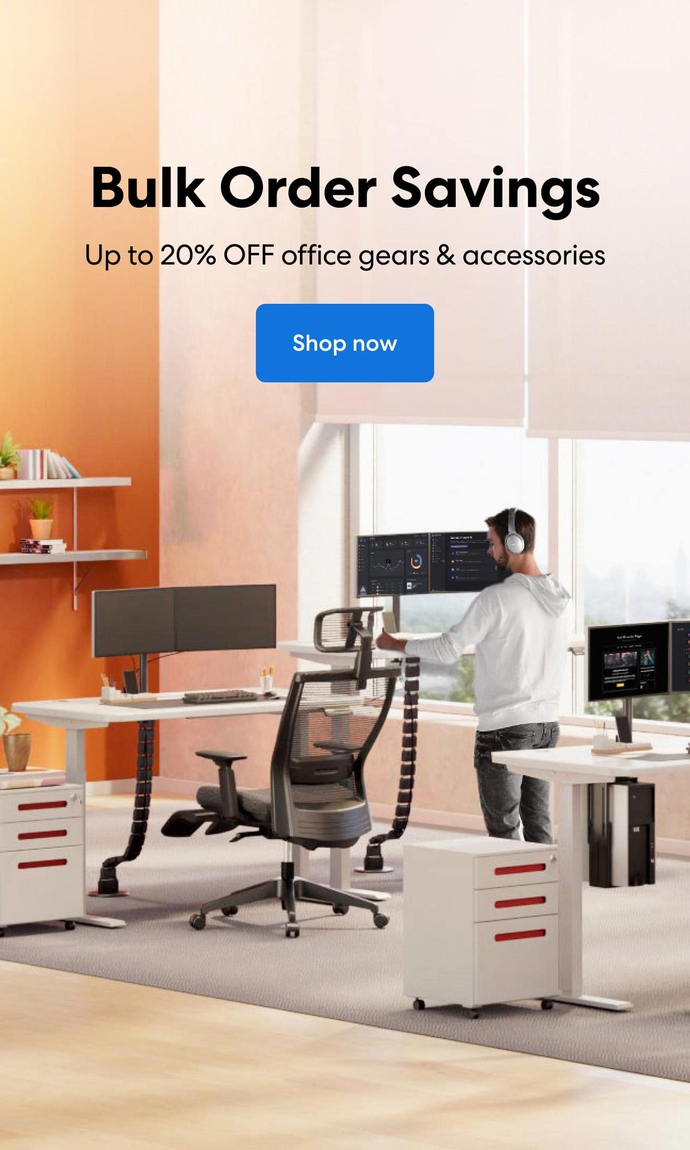 Subcribe newsletter and get $100 OFF.
Receive product updates, special offers, ergo tips, and inspiration form our team.